Chester Travel Essentials
Useful Information to Help You Start Your Trip to Chester
Our Chester Travel Essentials lays out the essential information you need to help you plan your trip to one of the most popular destinations in the UK. No matter how frequent you travel, some questions will always need answers: What's the weather like? How can I get from Manchester Airport (MAN) to my hotel? What currency and type of plug do I need?
We have all these answers plus other basic info about the best time to go, getting there, getting around, and a few useful travel tips. You'll also learn about the most popular landmarks in Chester such as the Eastgate Clock, Chester Castle, and the Roman Amphitheatre. It's all compiled in this Chester Travel Essentials. After going through this short and easy-to-read guide, you'll be a little more prepared to start your trip to Chester.
1
When is the best time to travel to Chester?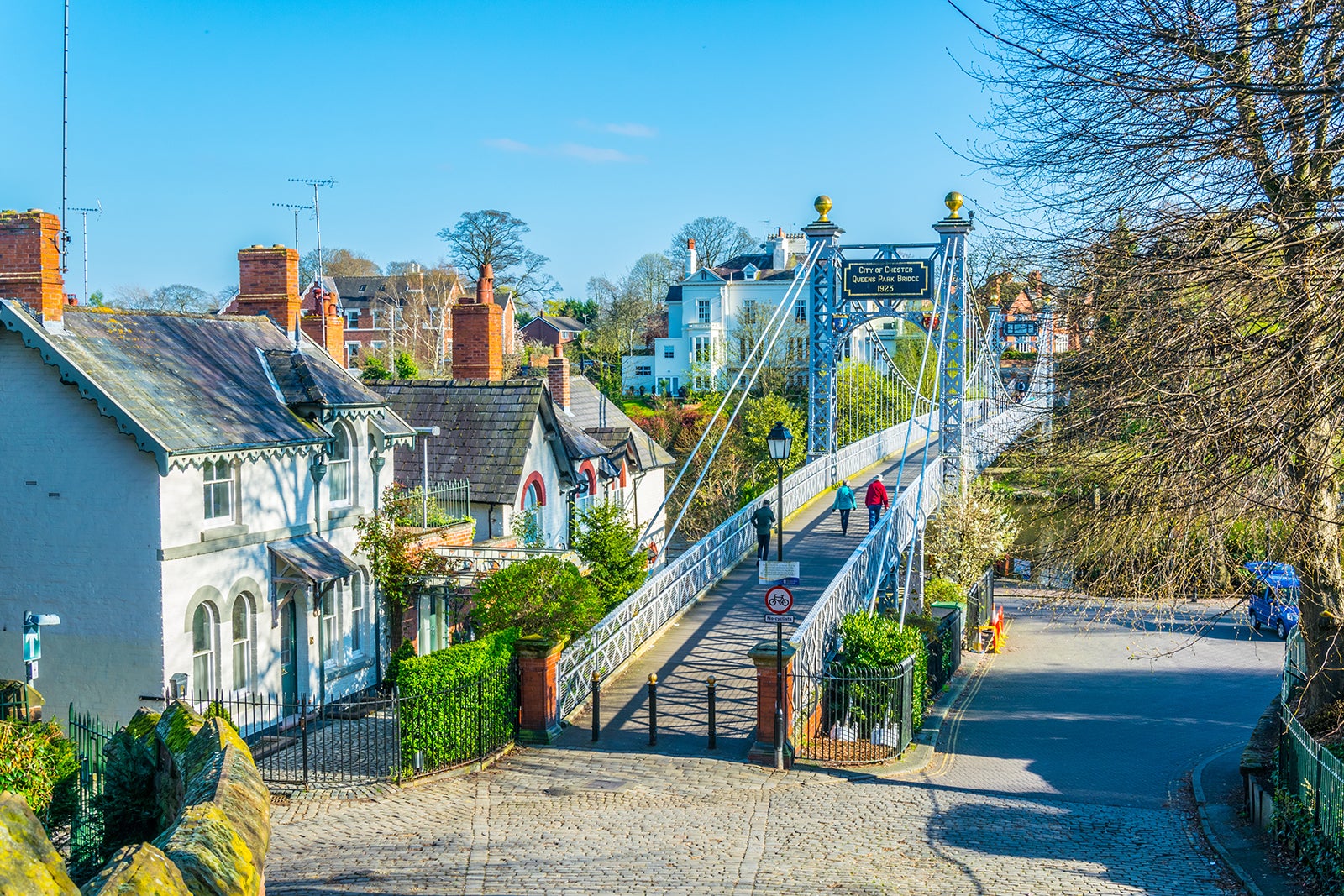 Chester is in northwest England, which enjoys a temperate maritime climate. Average temperatures range from 3°C in winter to 19°C in summer.
The most rainfall occurs from October to April, though you can expect a few rainy days in summer.
The warmest time of the year is from May to September.
The best time of the year to visit Chester is from June to August for its warm and pleasant weather. Spring, from late March to June, is also favourable for its lesser crowds.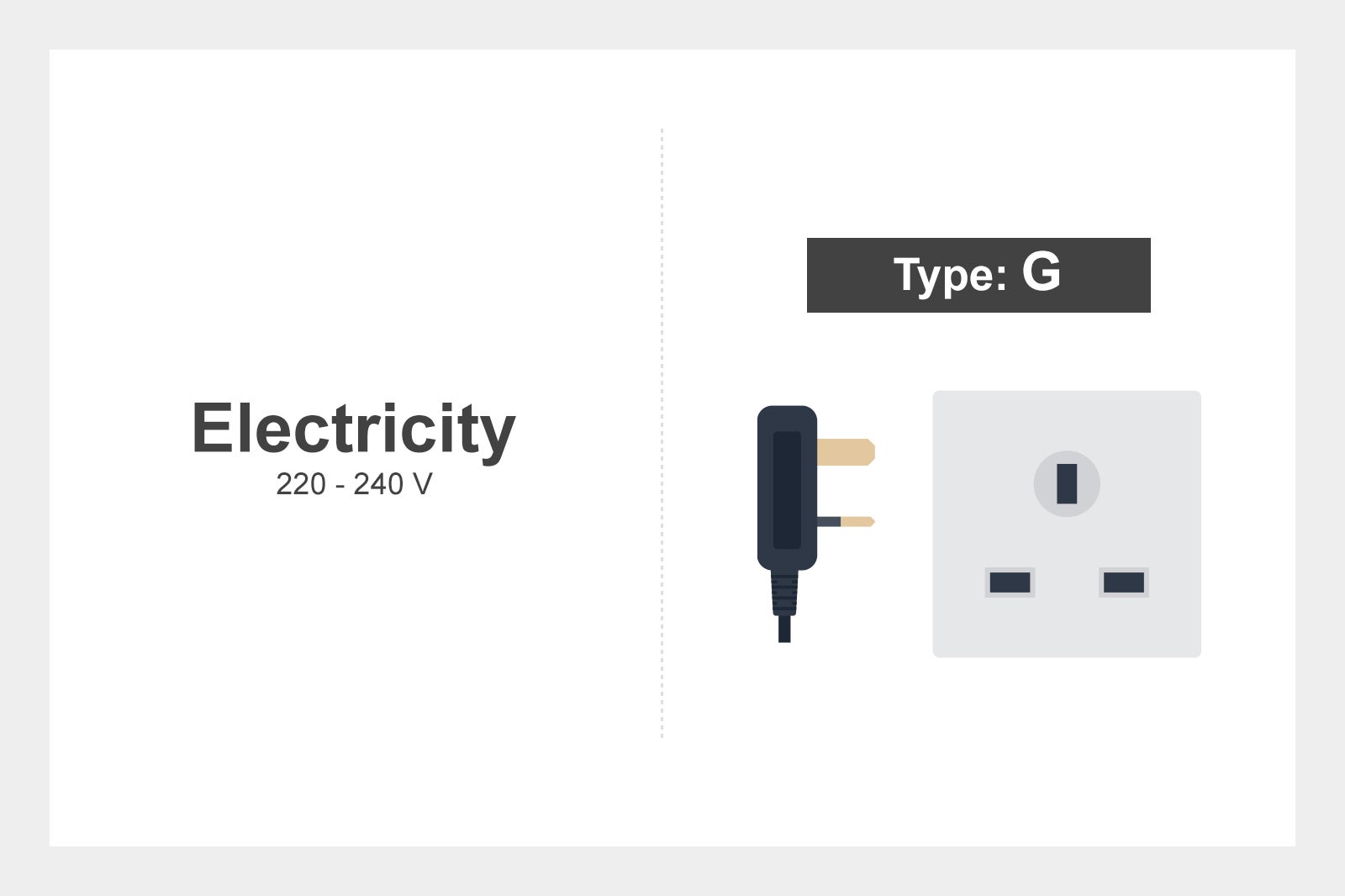 Plug type: G
Electricity: 220 - 240 V
Currency: Pound Sterling (£)
International dialling code: +44 (0)1244
Emergency telephone number: 999
3
How to get to my hotel in Chester?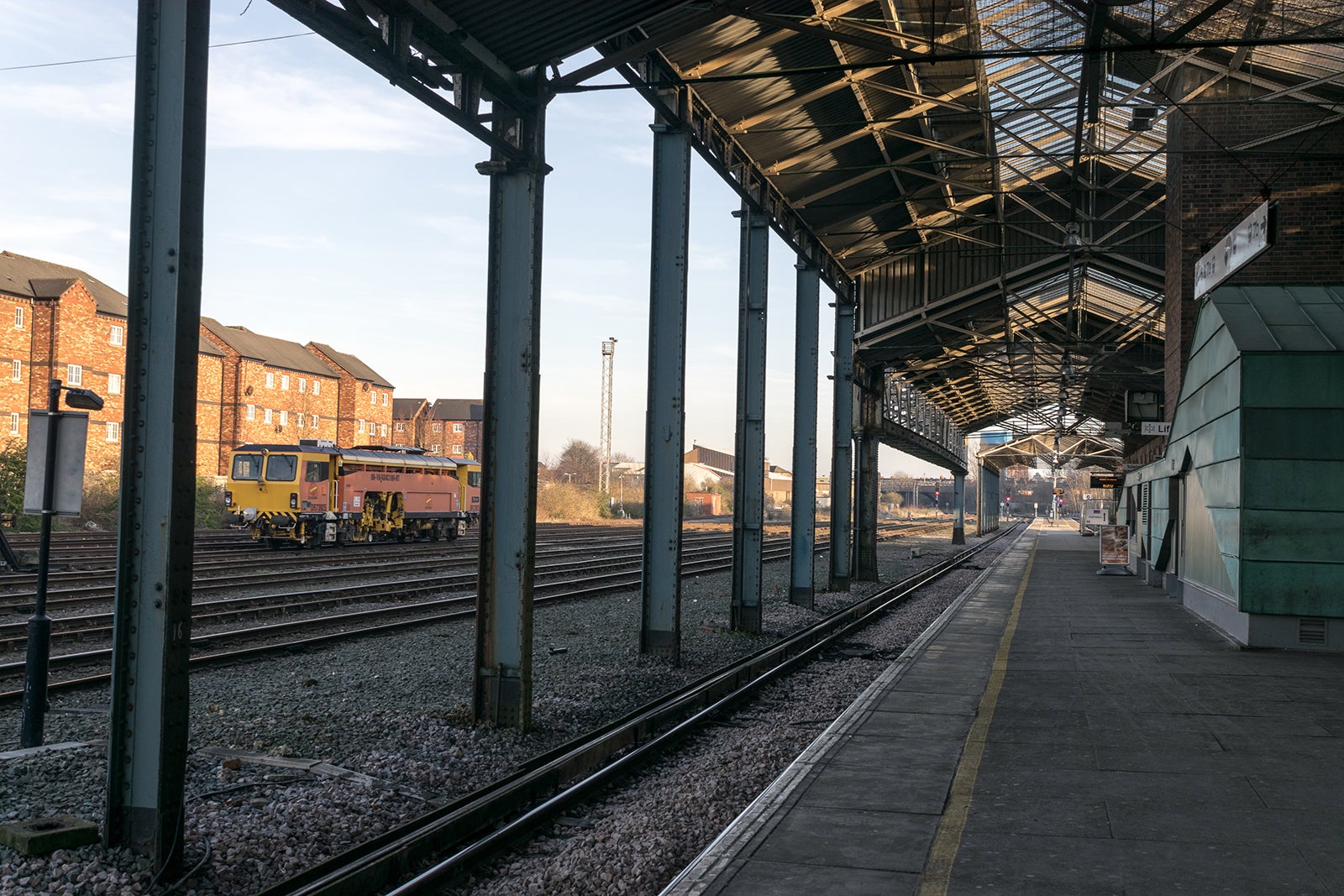 Chester doesn't have its own international airport. The nearest is Liverpool John Lennon Airport (LPL) that's about 1.5 hours away, north of Chester. Even so, most international flights are destined for Manchester Airport (MAN) thanks to the many major airlines serving it, with connections and long-haul flights from cities around the globe as well as short-haul services from throughout Europe.
If you're already in the UK, you can get to Chester by train with Chester station well-served by various UK rail companies from London, Liverpool, and Manchester. By coach, you can hop on a National Express coach from various cities and towns across the UK.
Manchester Airport
Manchester Airport is about 35 miles northeast of Chester and you can travel from the airport to the city centre easily by train, coach, or car. A train from Manchester Airport to Chester takes around 2 hours, with a few direct services taking just over 1 hour, such as the Transport for Wales train to Holyhead which stops at Chester Station. Trains run daily and frequently, even on the weekends.
Alternatively, you can hop on any of the several daily buses running between Manchester Airport and Chester, with rides taking just a little over an hour. You can also drive into Chester from MAN by hiring a car at the airport and taking the M56 – the drive will take only 30 minutes. Though renting a car may cost more, driving is the quickest way of getting into the city.
Chester railway station
Chester railway station is on City Road in Newtown, north-east of the city centre. It's run by Transport for Wales (TfW) with services by various other UK rail companies such as Avanti West Coast, Merseyrail, and Northern. Direct trains run between Chester and Birmingham, as well as Cardiff and Shrewsbury.
Avanti West Coast trains run hourly from London Euston and the rides take about 2 hours. Merseyrail trains from Liverpool take 40 minutes to get to Chester Station. Trains from Manchester Piccadilly station takes around an hour with a favourable second line that takes you on a rural and scenic ride via Northwich and Altrincham.
4
How to get around Chester?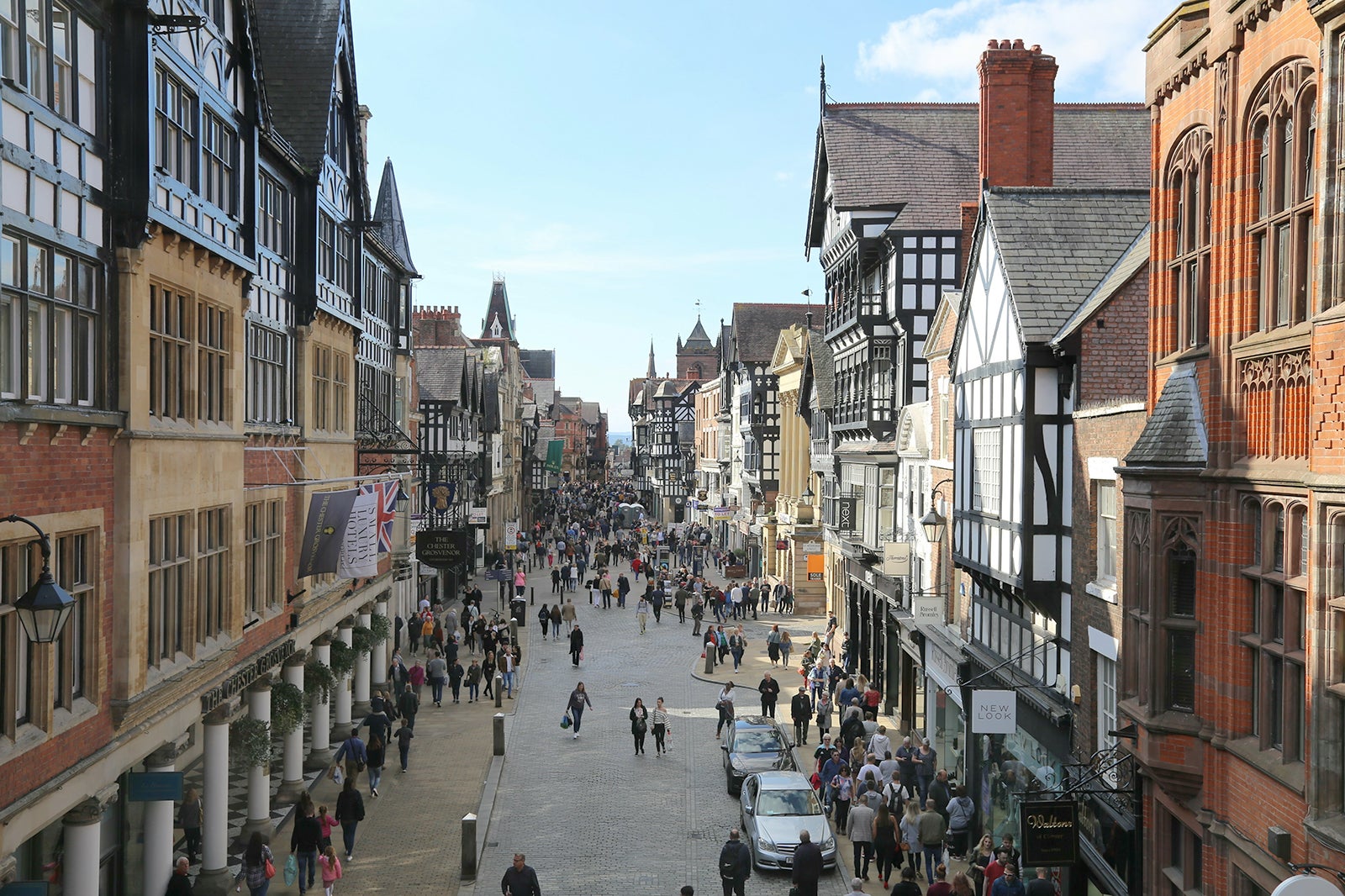 Travel tips
Chester's city centre is compact and is navigable on foot, with many of the city's main highlights such as the ancient city walls and historic landmarks within easy walking distance. If you've had enough of strolling and sightseeing, taxis are readily available throughout the day with night-time ranks spread throughout the city to take you back to your hotel.
For rides outside the city centre and throughout Cheshire, there are regular bus services that can take you out of Chester's city centre to nearby towns such as Wrexham and Crewe. Hiring a car and driving yourself is a favourable way of exploring the city.
Taking a taxi
Chester has a comprehensive list of taxi companies, meaning you won't find any difficulty in finding one. Among the reputable names are KingKabs (+44 (0)1244 343434) which offers private hire vehicles as well as iconic hackney carriages available 24/7. Other notable local taxis are Chester Taxi Services (+44 (0)1244 421024), Abbey Taxis (+44 (0)1244 318318), and Chester Radio Taxis (+44 (0)1244 372372).
Some of the taxi companies have minibuses that are wheelchair friendly. Others like Chester Taxi Services have online booking options as well as payments by credit card. You can easily hail a taxi on the street in Chester, provided they're the licensed black cabs and aren't the private hire ones. You can also easily find 24/7 taxi ranks around the city centre. Among these are at Chester Railway Station, Princess Street, Bridge Street, and Foregate Street.
You can order an Uber in Chester as well – they tend to be cheaper than regular taxis.
Renting a car in Chester
Renting a car in Chester allows you to explore and discover the city highlights and the surrounding areas as you please. There are many car rental companies available with branches throughout the city, such as Enterprise Rent-A-Car (+44 (0)8703 503000), Europcar (+44 (0)3713 843450), Avis (+44 (0)1244 318286), and Thrifty (+44 (0)1244 374600).
You can also make good use of the convenient Park and Ride service in Chester, at which you can park your car at any of the city's 4 car parks and catch one of the frequent buses to take you into the city or surrounding areas. It allows you to avoid unnecessary parking fees and get around with ease. Carparks are at Boughton Heath, Sealand Road, Upton, and Wrexham Road.
Travelling by bus
The local buses won't be of much use in Chester during your visit unless you're venturing further out of the city centre. Several operators run bus networks in Chester such as Stagecoach, Arriva, Arrowebrook, Aintree Coachline, D&G, and M&H Coaches.
They operate a convenient and affordable network which can get you anywhere in the city. Download the itravel smartphone app for a complete list of timetables or call +44 (0)8712 002233 for further information on the comprehensive bus services in Chester and the Cheshire West area.
Cycling around Chester
Cycling is a pleasant way of getting around Chester and exploring the beautiful rural areas of Cheshire West. There are plenty of routes available with scenic paths along the River Dee and towards Garden City, northwest of the city.
There are plenty of bicycle rental services around Chester. Among them are Cheshire Cycle Hire (+44 (0)1606 882223) and Buster's Cycle Group (+44 (0)7858 633874), to name a few. Some of the rental shops offer electric (e-bikes) besides conventional ones, which make pedalling through the countryside a breeze.
5
What are the main annual events in Chester?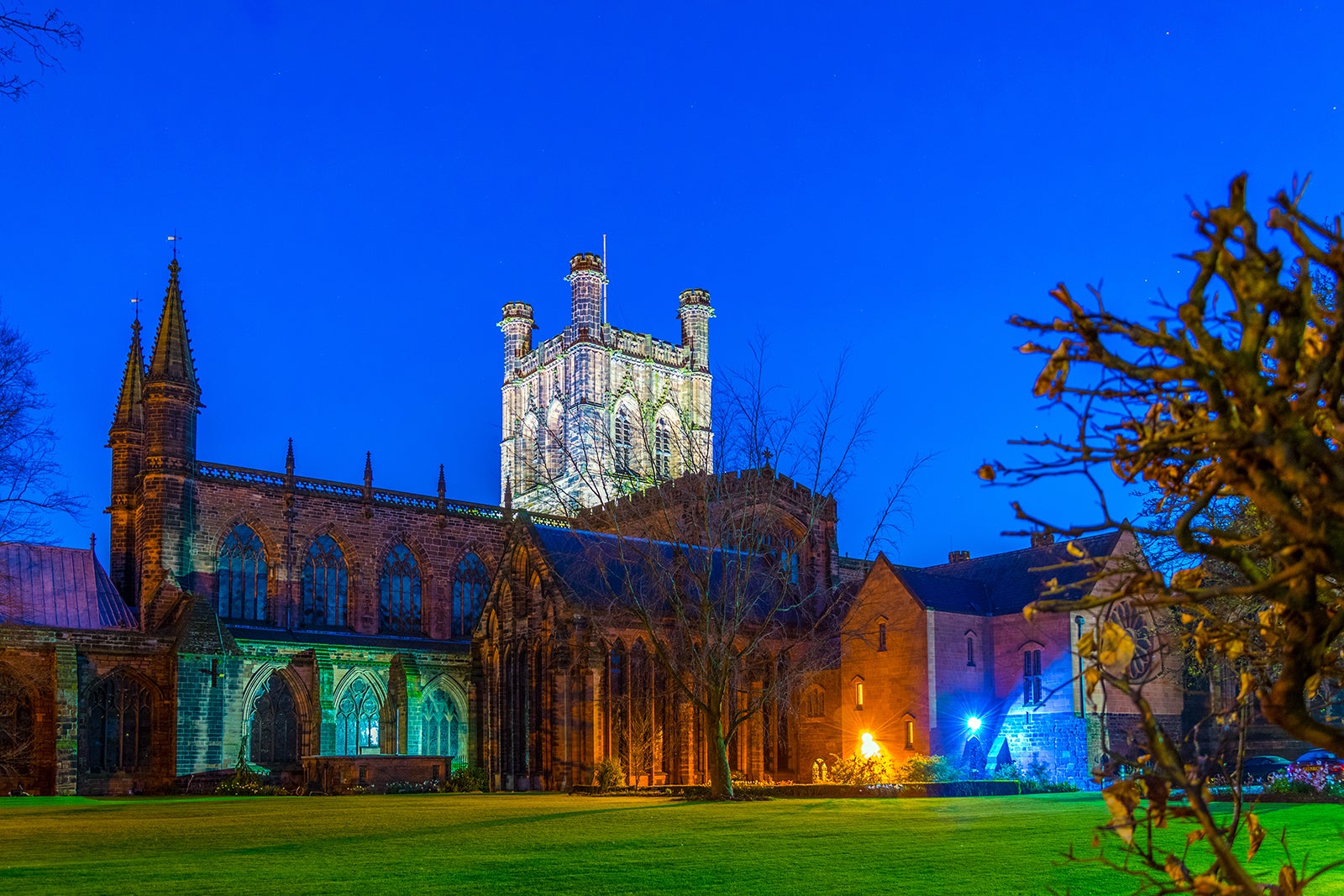 Chester's Midsummer Watch
June
One of the oldest festivals in Britain, this colourful parade starts from Chester Cathedral and down various streets towards the Town Hall. It features lavish costumes and spectacular acts.
Where: from Watergate Street to the Town Hall, Chester
Chester Heritage Festival
June
A week-long annual summer celebration of Chester's history and heritage through walks, talks, films, exhibitions, workshops, and more. Venues range from the streets and waterways to libraries and historic buildings.
Where: various venues, Chester
Chester Literature Festival
May
One of the UK's oldest literature festivals, featuring a week of activities such as readings and signings by bestselling authors, as well as standup comedy, poems, and stage performances.
Where: Storyhouse Theatre, Chester
6
What are the main landmarks in Chester?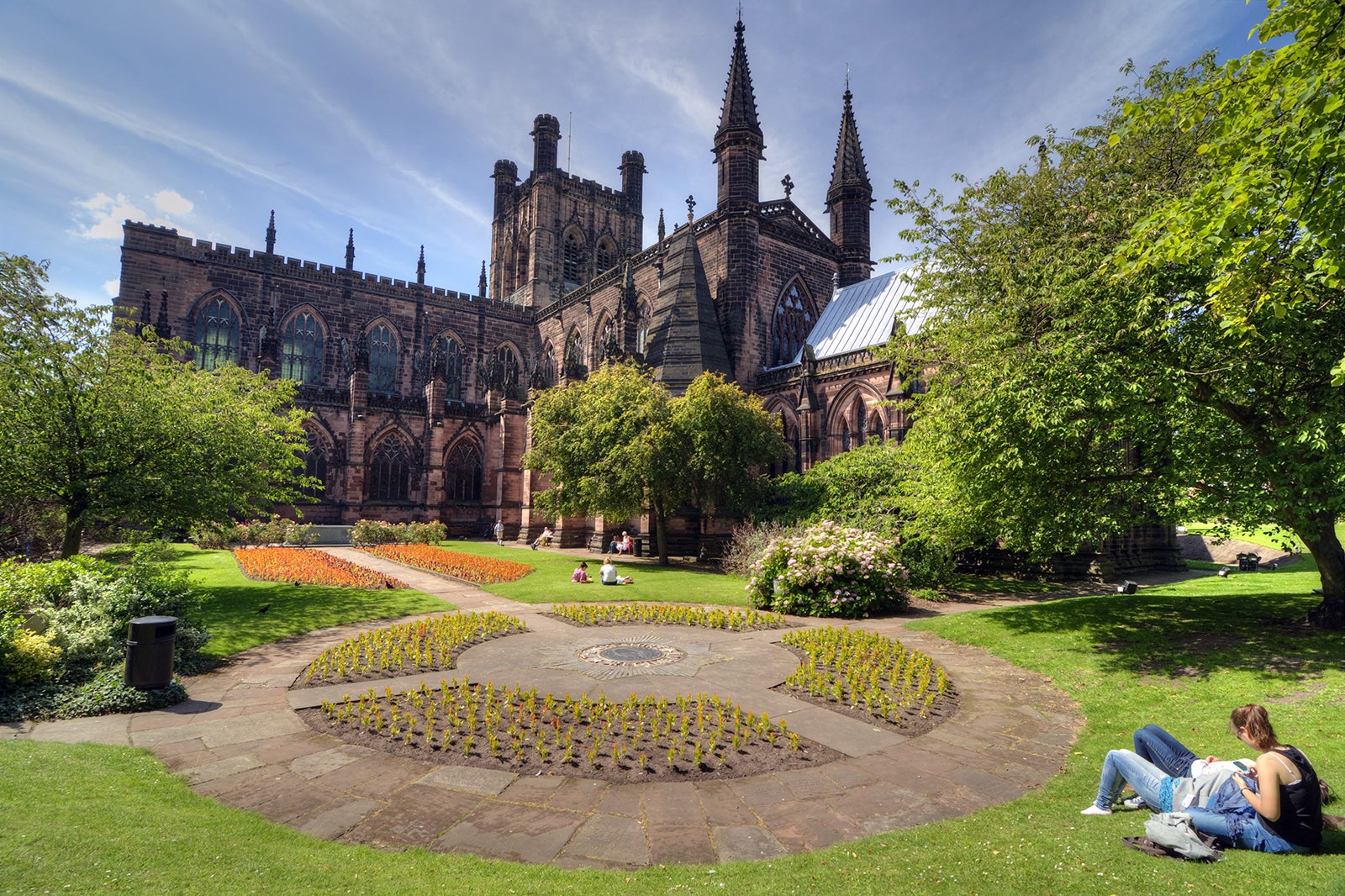 Eastgate Clock
Part of the city's ancient red-sandstone city walls and built to honour Queen Victoria's diamond jubilee, this ornate turret clock is a prominent Chester icon and an essential photo-op.
Chester Cathedral
An ancient abbey in the historic city of Chester that serves as a cultural hub, a centre of musical excellenc. It's also among the city's archaeological and architectural treasures.
Chester Castle
An architectural masterpiece in Chester's history cluster. You can visit the military museum at a section of the castle and the medieval remains of this sturdy landmark.
Chester Roman Amphitheatre
Excavated in 2005, this Grade I-listed building is the largest stone-built Roman amphitheatre in Britain. It regularly hosts various events and outdoor theatre productions.
Back to top