The Bellagio Botanical Gardens are home to impressive displays of vibrant plant life and feature different kinds of exhibits depending on the time of year. You'll find a seemingly endless array of flowers, trees, and shrubs amongst the stunning displays. In total, you'll find about 40 trees, 1,500 shrubs, and around 10,000 flowering plants.
Even if you don't have a green fingers or an interest in horticulture, the sheer beauty of the place is sure to impress you. Both adults and children are welcome here and can easily find themselves spending an hour or 2 within.
Bellagio Botanical Gardens in Las Vegas - one of the highlights of 10 Free Things to Do in Las Vegas (Read all about Las Vegas here)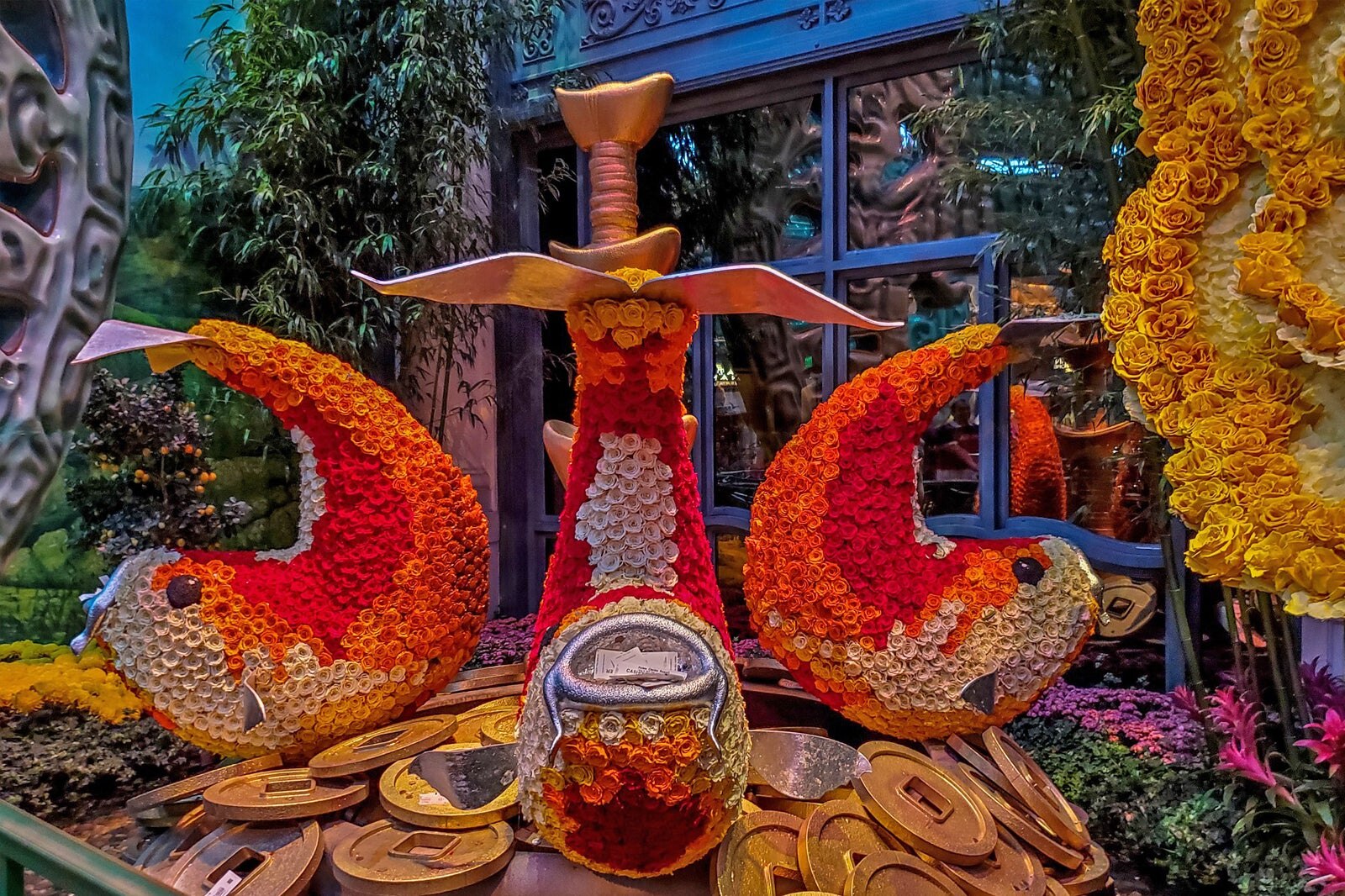 Bellagio Botanical Gardens highlights
This glass-domed conservatory has 3 floors full of impressive displays, but one of the biggest highlights is that the displays change every season as well as for the Chinese New Year. Each is viewable for 2 or 3 months, and the brilliant horticultural designs with flowers get switched out every 2 weeks before the design is replaced entirely.
The flowers that are switched out don't go to waste. Instead, they're turned into mulch so that they can help other plants grow and prosper. The conservatory completely recycles 90% of the flowers, taking their commitment to everything green to the next level.
Good to know when visiting the Bellagio Botanical Gardens
Upon your visit, you'll want to know what kind of displays to expect. You'll find 5 different displays throughout the year, starting with Chinese New Year from January to March. March through May hosts the spring display, while June through September sports the summer display. The autumn display is shown from September to November, and Winter is featured from December to January.
Visiting these gardens will put you right by the Strip and its accompanying casinos, roller coasters, and high-end restaurants. Of course, you can just take a few steps east to see the iconic Fountains of Bellagio.
Bellagio Botanical Gardens in Las Vegas
Location: Bellagio Hotel & Casino, 3600 S Las Vegas Blvd, Las Vegas, NV 89109, USA
Open: 24/7
Phone: +1 702-693-7111
Back to top