10 Free Things to Do in Houston
Houston for Budget Travellers
Houston has a vast collection of public urban spaces that add to its appeal as a city that's great for budget travellers. These range from hillside lawns with outdoor theatres where you can watch live concerts and performing arts for free, to beautiful nature parks where you can experience Houston's great outdoors.
Some of the free venues in Houston promote active lifestyles, featuring programmes and workshops that you can join at any time and at no cost. There are also quirky museums to discover, some that feature permanent exhibits that you can enjoy on free days. For the complete roundup of free things to do in Houston, read on as we show you that Houston can be truly enjoyable even if you're keeping your spending to a minimum.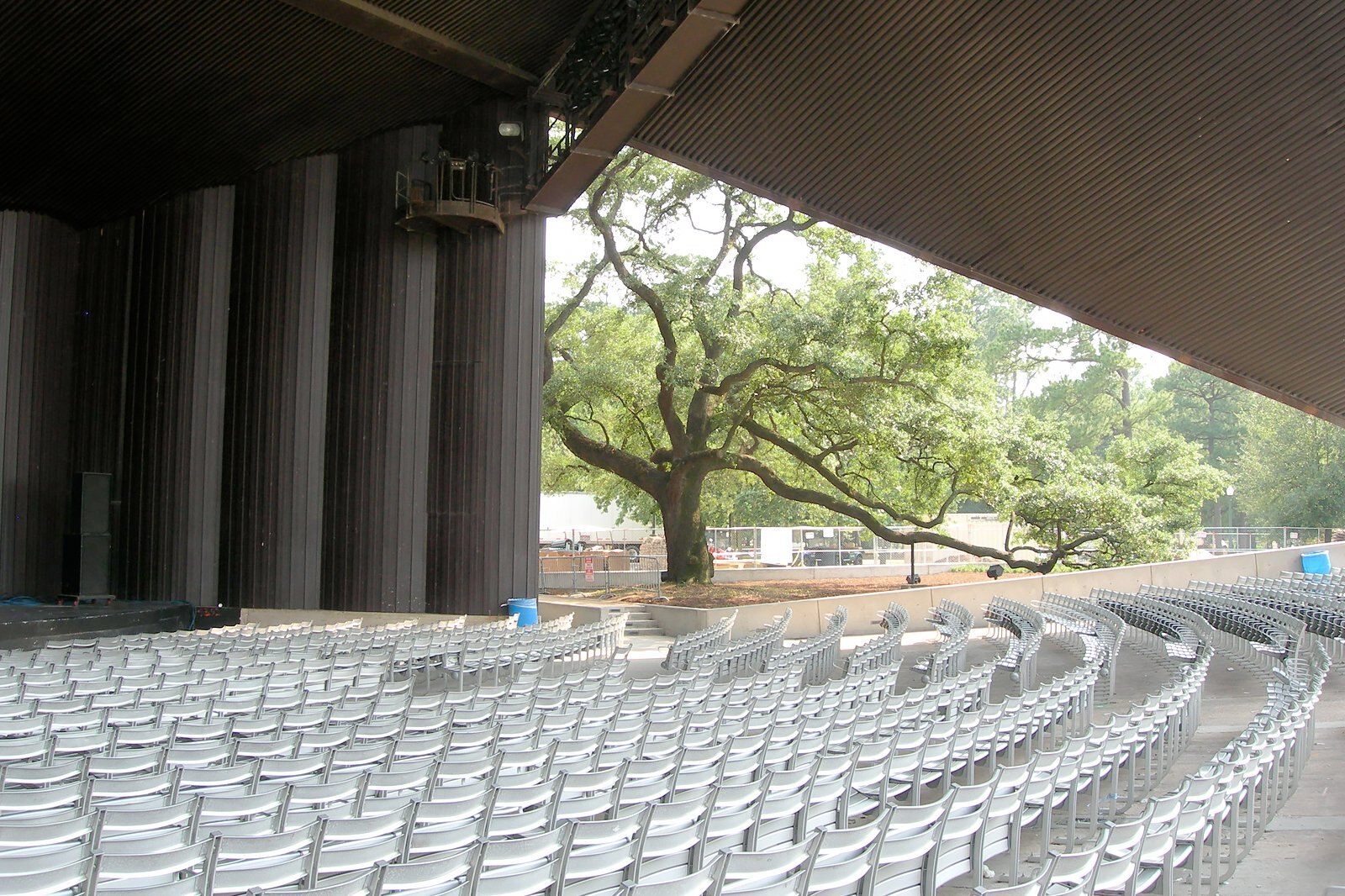 Watch gigs at the Miller Outdoor Theatre
Hit the lawn and enjoy live bands and art performances
You can bring your own food and beer or wine, hit the hillside lawn, and join the crowd as live bands perform on stage at the auditorium of the Miller Outdoor Theatre. This is Houston's main community venue, with all sorts of gigs that you can enjoy for free throughout the months of March through October. Their playlist is diverse, ranging from classical orchestras, jazz, and world music to ballet, Shakespeare plays and even retro film screenings.
Location: 6000 Hermann Park Dr, Houston, TX 77030, USA
Open: Sunday – Saturday from 11am to 11pm
Phone: +1 832-487-7102
photo by Dtobias (CC BY-SA 3.0) modified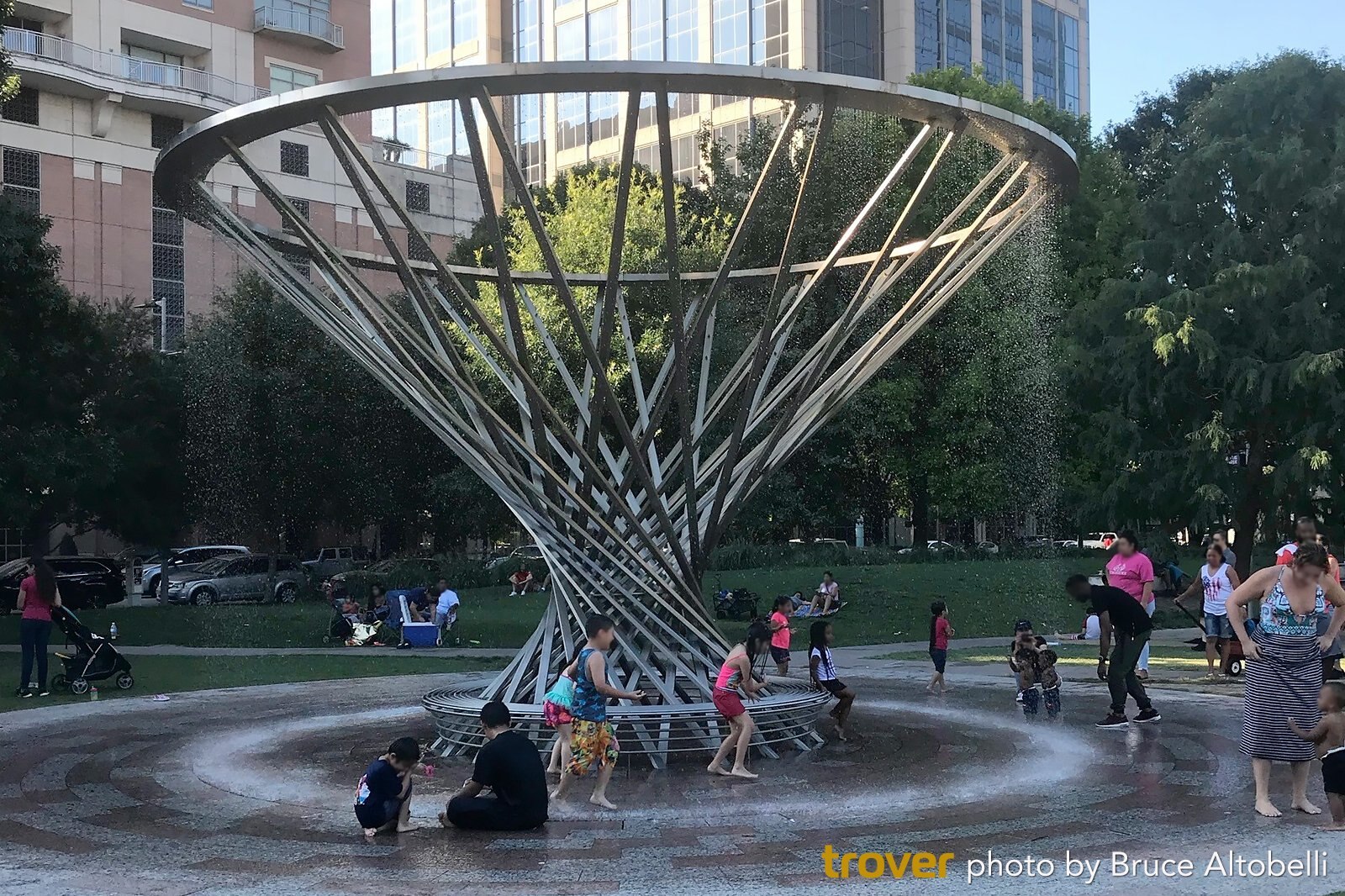 Take the kids to Discovery Green
Houston's urban park that's great for kids
The non-profit Discovery Green Conservancy partnered with the City of Houston to create this 12-acre urban park in Downtown Houston. It hosts various annual programmes, mostly promoting active lifestyles, which are totally free to the public. There are hundreds of community events held here each year, which you can freely join in. Among these are kayaking on Kinder Lake, circus arts, Zumba, core-focused yoga, dancing the tango, and parkour workshops. In good weather, you can expect a monthly flea market held every third Saturday night, featuring handmade goods and vintage items.
Location: 1500 McKinney St, Houston, TX 77010, USA
Open: Daily from 6am to 12am
Phone: +1 713-400-7336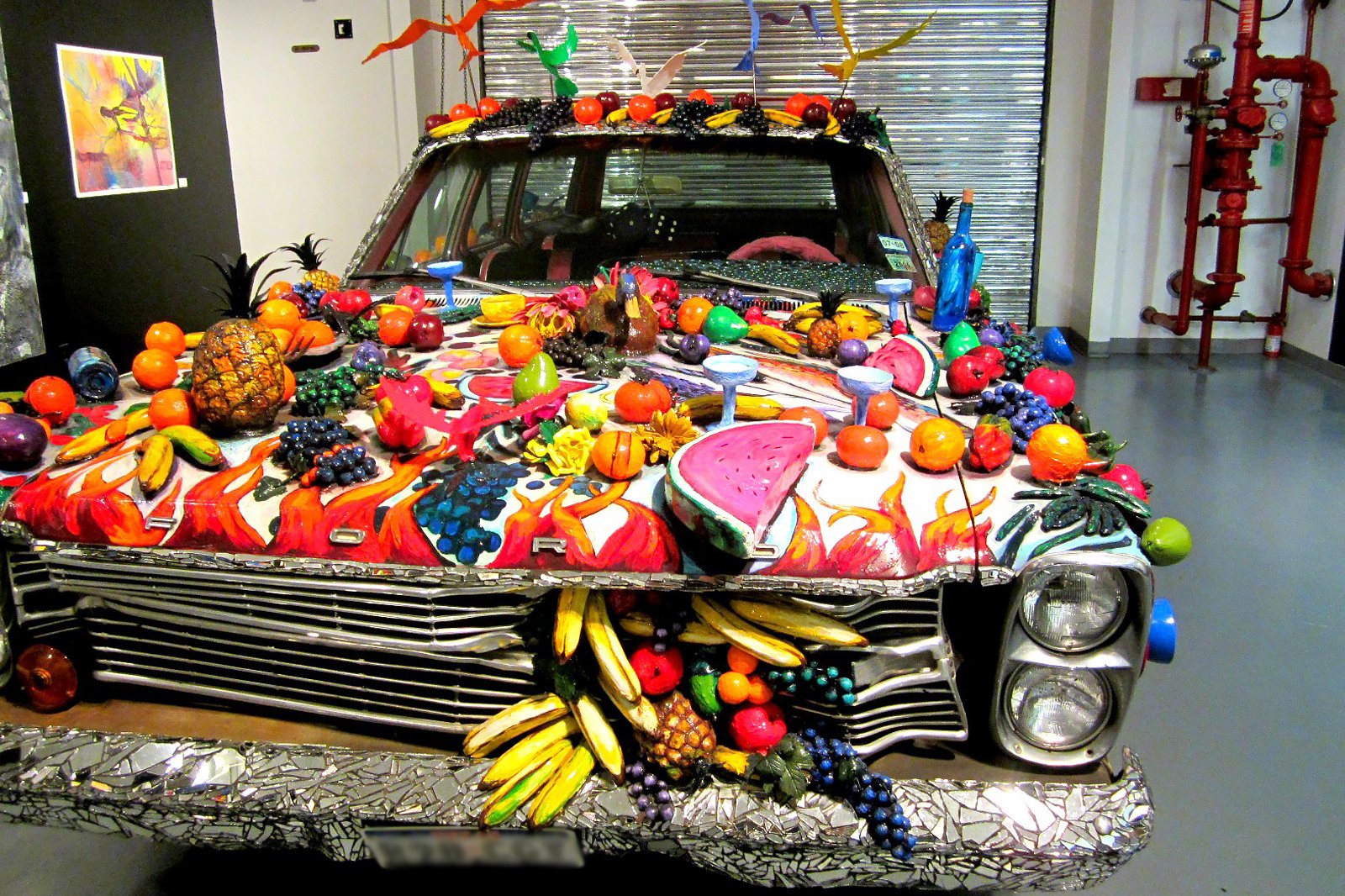 See whacky builds at the Art Car Museum
Centrepiece showcase of "the world's art car capital"
A motorhead's paradise in Houston, the Art Car Museum on Heights Boulevard isn't your average garage. This place is categorised as a contemporary art museum, thanks to its rich collection of whacky car builds that it has amassed since the '80s. The rich history of the art car movement has made Houston the so-called "art car capital of the world" and this museum serves as its centrepiece showcase. Among the dazzling builds is the Swamp Mutha by Ann Harithas, which features a gold-bodied and gold-rimmed Chevy, embellished with statues of alligators, rats, ducks, and snakes.
Location: 140 Heights Blvd, Houston, TX 77007, USA
Open: Wednesday – Sunday from 11am to 6pm, (closed on Mondays and Tuesdays)
Phone: +1 713-861-5526
photo by Cali4beach (CC BY 2.0) modified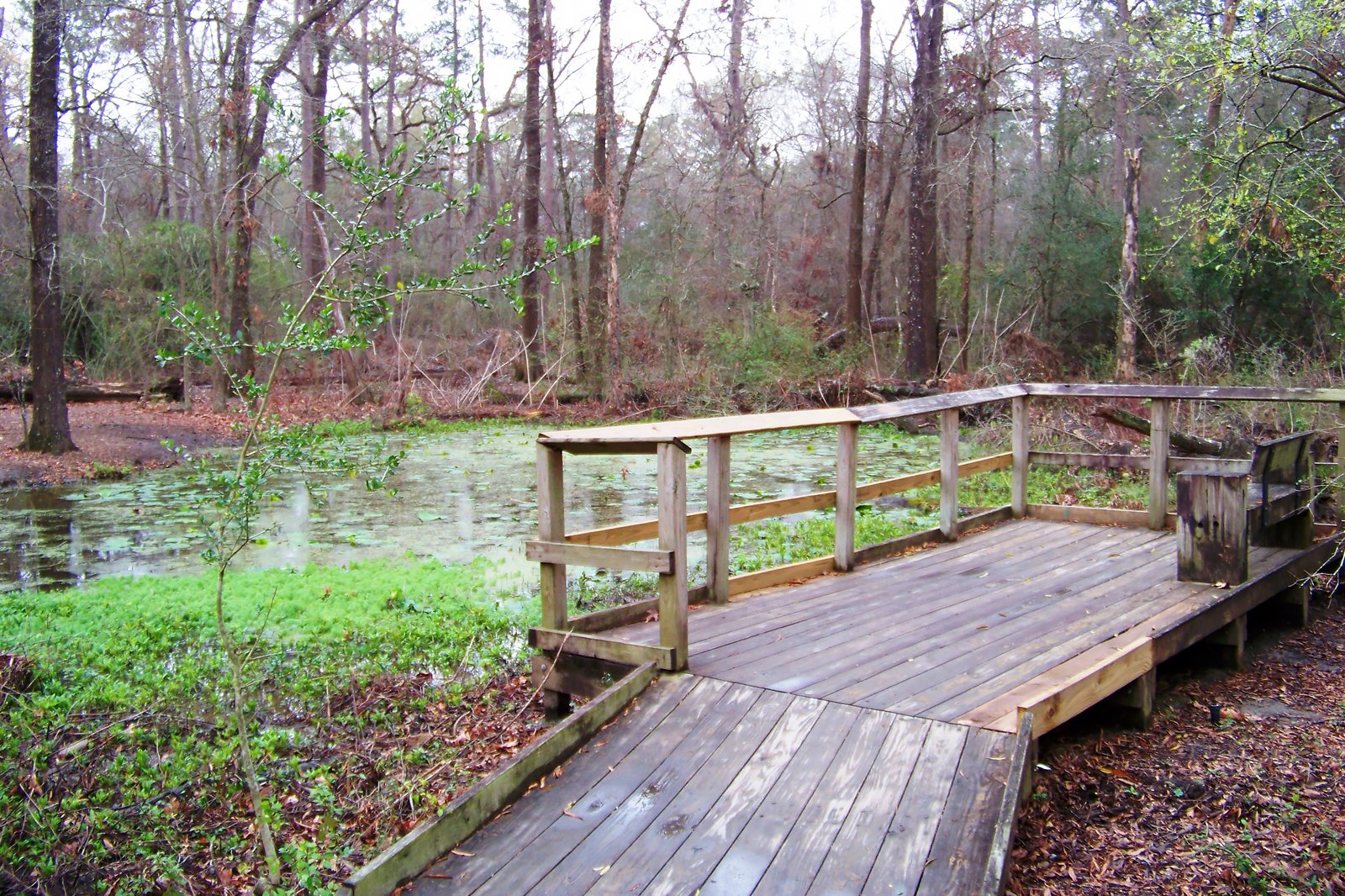 Birdwatch at the Houston Arboretum and Nature Center
Walks through beautiful gardens with exotic wildlife sightings
The Houston Arboretum and Nature Center is one in Houston's large and most beautiful green spaces. You can enjoy pleasant and scenic walks throughout this botanical garden, with a great variety of trees and flowering plants along the way. You'll come across water habitats where native birds and aquatic life thrive. There are well-shaded sections where you can take a rest, enjoy the views and enjoy the occasional animal sightings up in the foliage, down on the lawn and in the water.
Location: 4501 Woodway Dr, Houston, TX 77024, USA
Open: Daily from 7am to 6.30pm
Phone: +1 713-681-8433
Couples
Families
Photo
Budget
photo by Idawriter (CC BY-SA 3.0) modified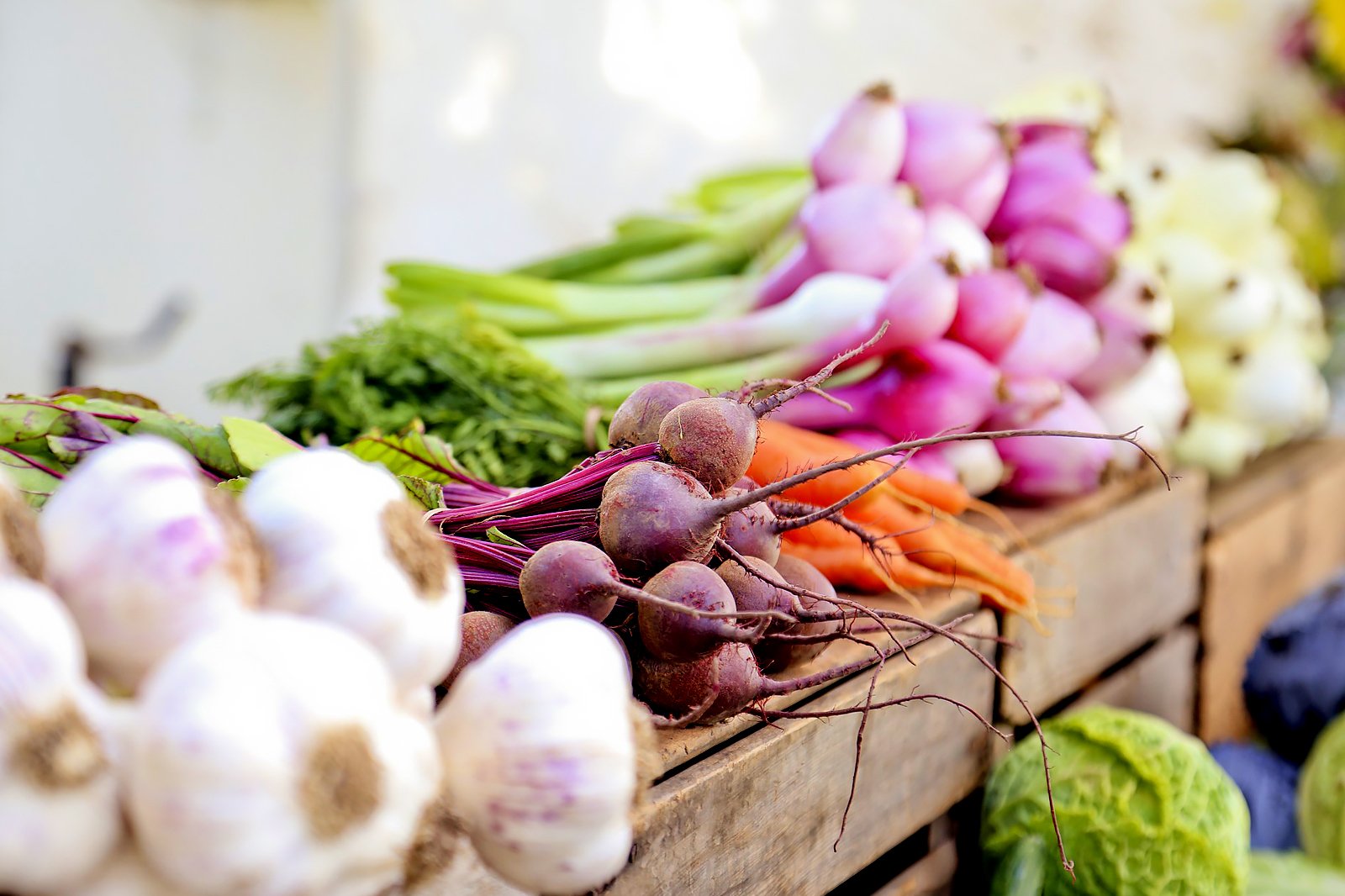 Browse the Urban Harvest Farmers' Market
Houston's largest weekly market
This large, weekly farmers' market takes place every Saturday on the Eastside drive off Houston's Richmond Avenue. The Urban Harvest Farmers' Market features a wide variety of vendors showing off their rich assortment of local products. These range from fruits and vegetables to cold cut meats, cheeses, poultry, eggs, and more. Head here earlier to sample the best and the freshest. Live music, as well as plenty of different food trucks offering snacks and refreshments, add to the lively vibes.
Location: 3000 Richmond Ave, Houston, TX 77098, USA
Open: Saturdays from 8am to midday
Phone: +1 713-880-5540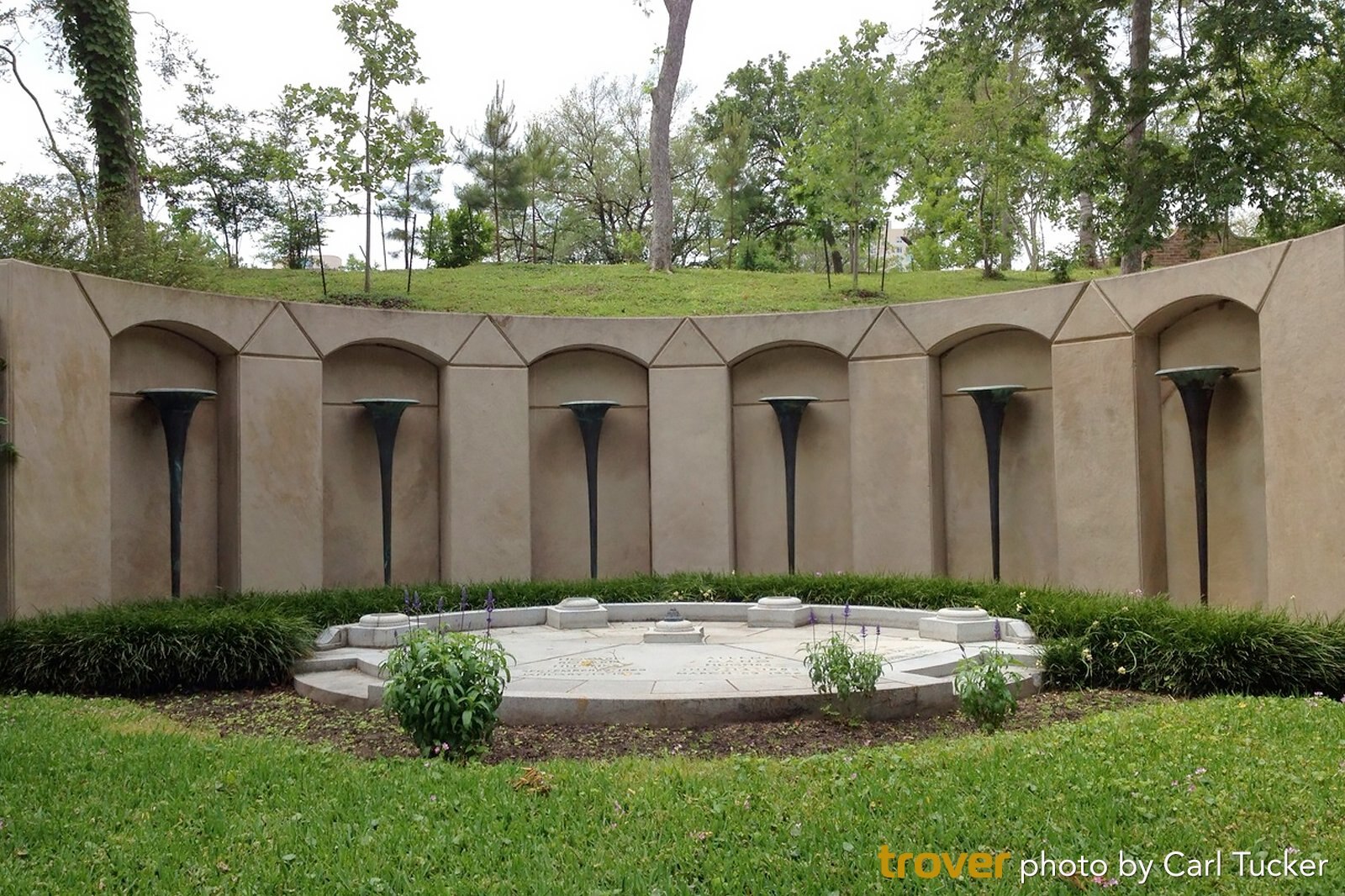 Visit Howard Hughes' tomb at Glenwood Cemetery
Resting place of some of Houston's most iconic figures
This 84-acre burial site is most notably the final resting place of Howard Hughes, a billionaire industrialist, aviator and philanthropist who is considered the real-life inspiration behind Marvel's Tony Stark, and subject of Martin Scorsese's biopic The Aviator. Glenwood Cemetery also features monuments and ornate headstones of some of Houston's past mayors and governors. Its beautifully laid out and is well-maintained. It shows that cemetery tours in Houston can be fun!
Location: 2525 Washington Ave, Houston, TX 77007, USA
Open: Daily from 7am to 5pm
Phone: +1 713-864-7886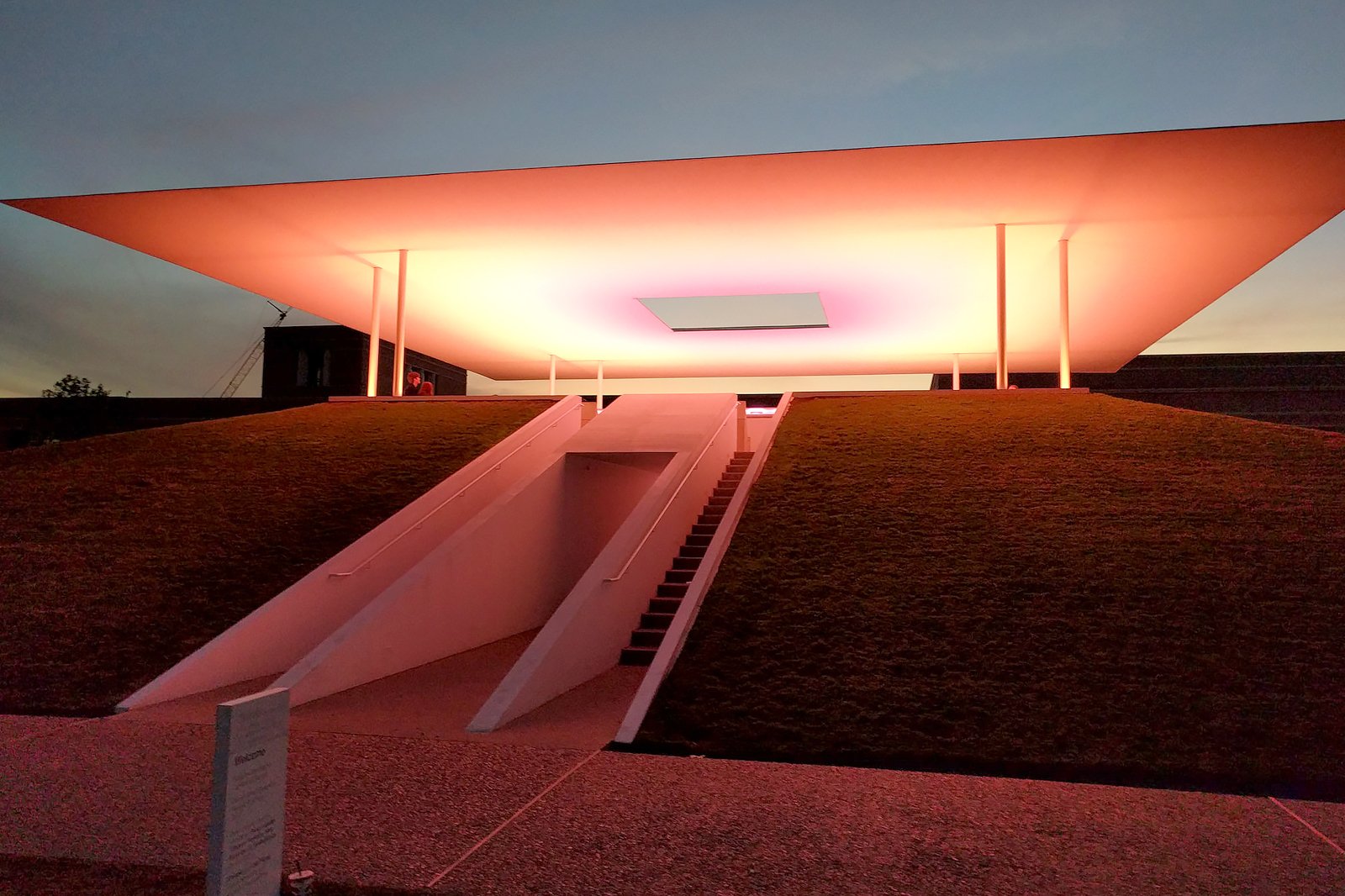 See the sunset LED show of the Twilight Epiphany Skyspace
An iconic Houston landmark with a dreamy light show
Houston is rich with impressive landmarks, and one of the stunning sights that's free to enjoy is the James Turrell's Twilight Epiphany Skyspace at the Suzanne Deal Booth Centennial Pavilion. You can find this massive pavilion near the Shepherd School of Music on the Rice University campus. Rice's music students usually jam on scheduled events here, making good use of its well-designed acoustics. Head down here before the sun sets for the stunning LED light show, with its amazing play of colours against the evening sky.
Location: Suzanne Deal Booth Centennial Pavilion, Houston, TX 77005, USA
Open: Wednesday – Monday from 5am to 10pm (closed on Tuesdays)
Phone: +1 713-348-4758
photo by Drew Tarvin (CC BY 2.0) modified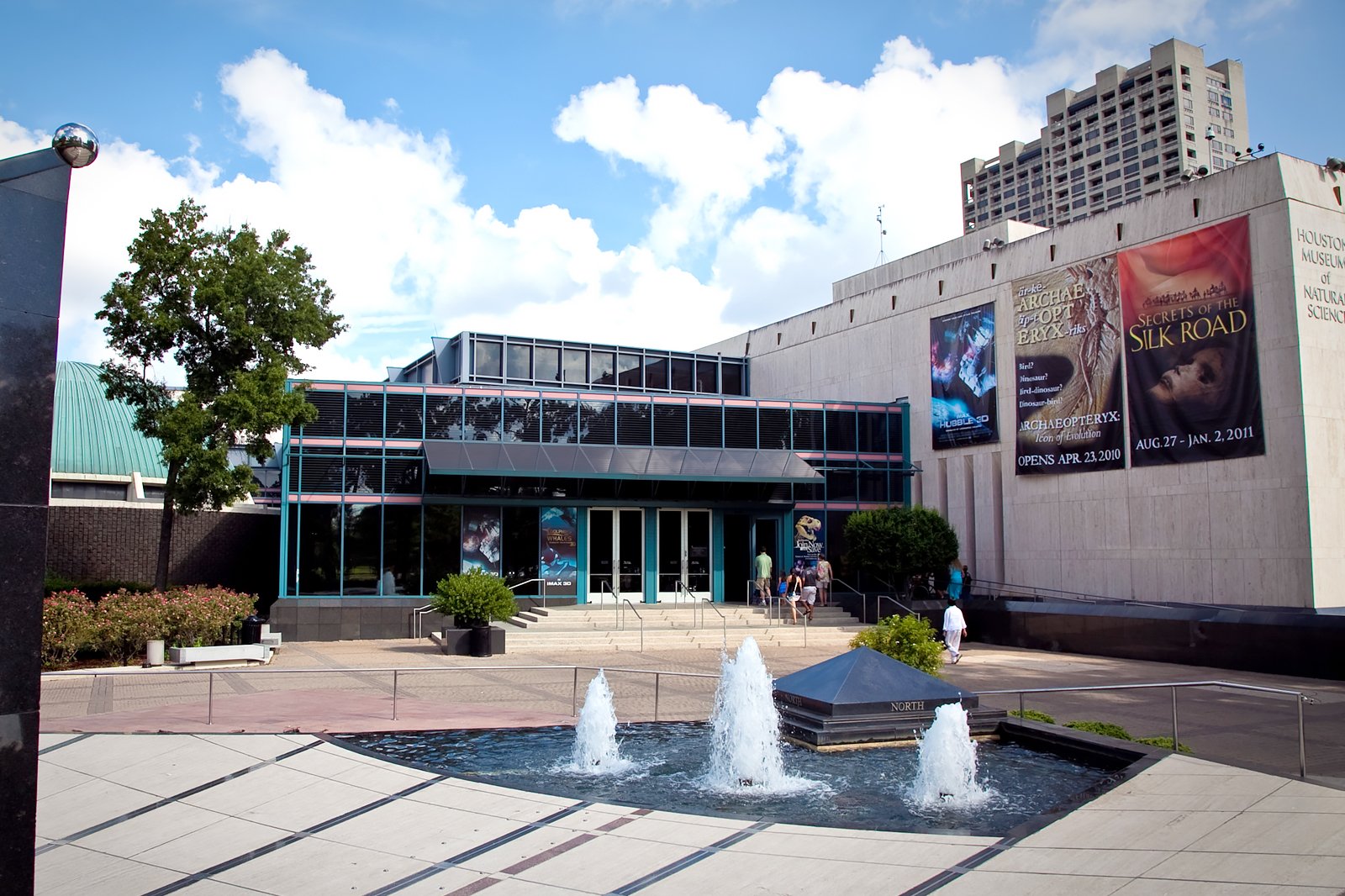 Enjoy interesting exhibits without spending a dime
Enjoy interesting exhibits without spending a dime
Among Houston's collection of museums and art galleries, here are a great few that offer free admission or features that you can enjoy. The Houston Museum of Natural Science on Hermann Park has permanent exhibitions such as its palaeontology collection free on Thursdays throughout the summer, from 6pm to 9pm. The Museum of Fine Arts Houston is free to visit on Thursdays from 10am to 9pm. You can enjoy the hands-on learning exhibits at the Children's Museum of Houston on its free family nights from 5pm to 8pm.
photo by Ed Schipul (CC BY-SA 2.0) modified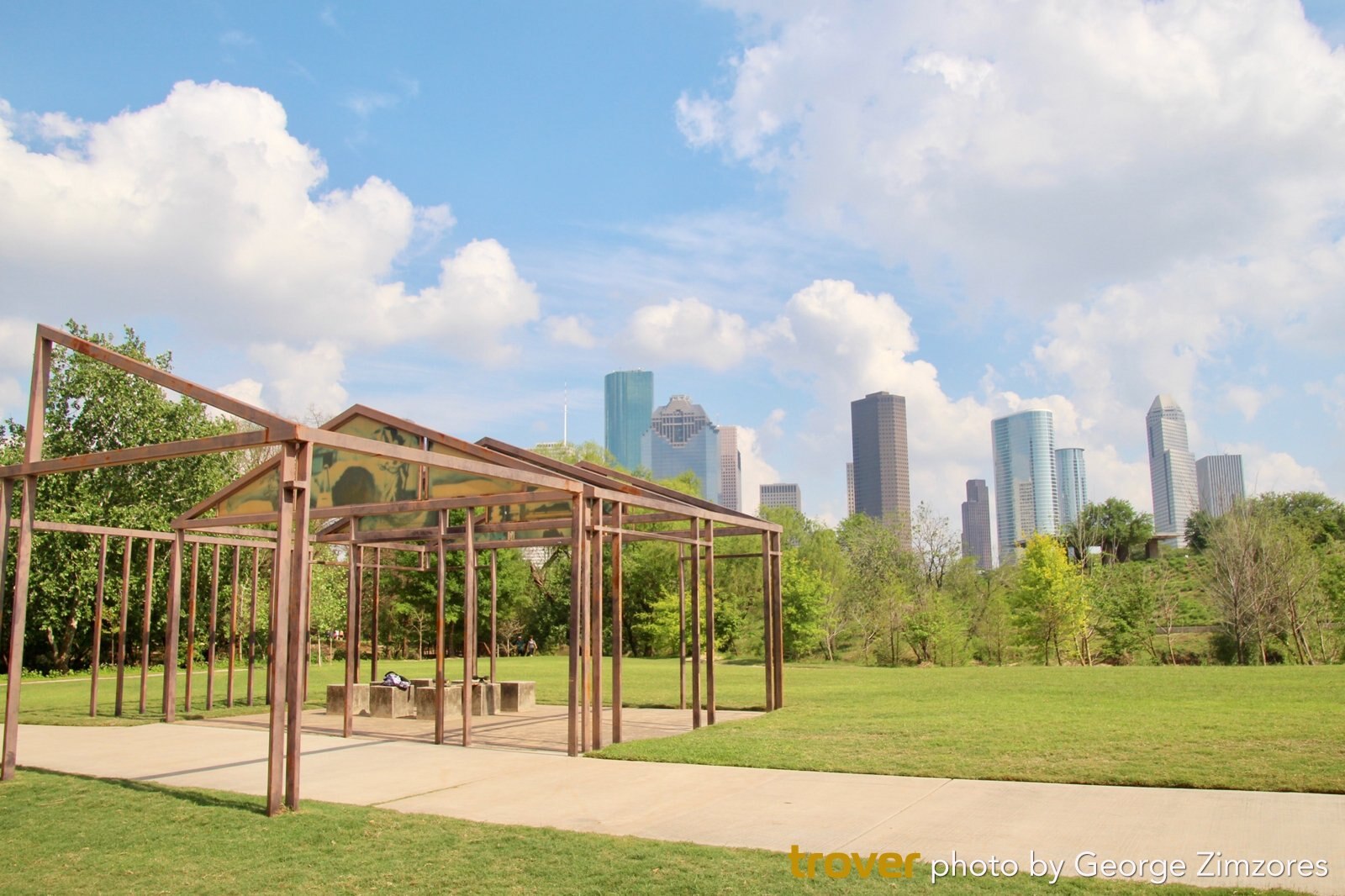 Explore the Buffalo Bayou Park by foot or bike
Scenic trails through Houston's vast green space
There are plenty of vast green spaces to explore in Houston, but the 160-acre Buffalo Bayou Park has fun and scenic trails that allow you to enjoy the city's riverside and great outdoors. Pathways and bridges lead you from one part of the park to another, and you can rent bikes from places at the park. The main rental company here is the Bike Barn, conveniently between the park's Water Works and the Lee and Joe Jamail Skatepark bowls. However, you can hike or jog around without spending a dime.
Location: Buffalo Bayou Park, Houston, TX 77019, USA
Phone: +1 713-752-0314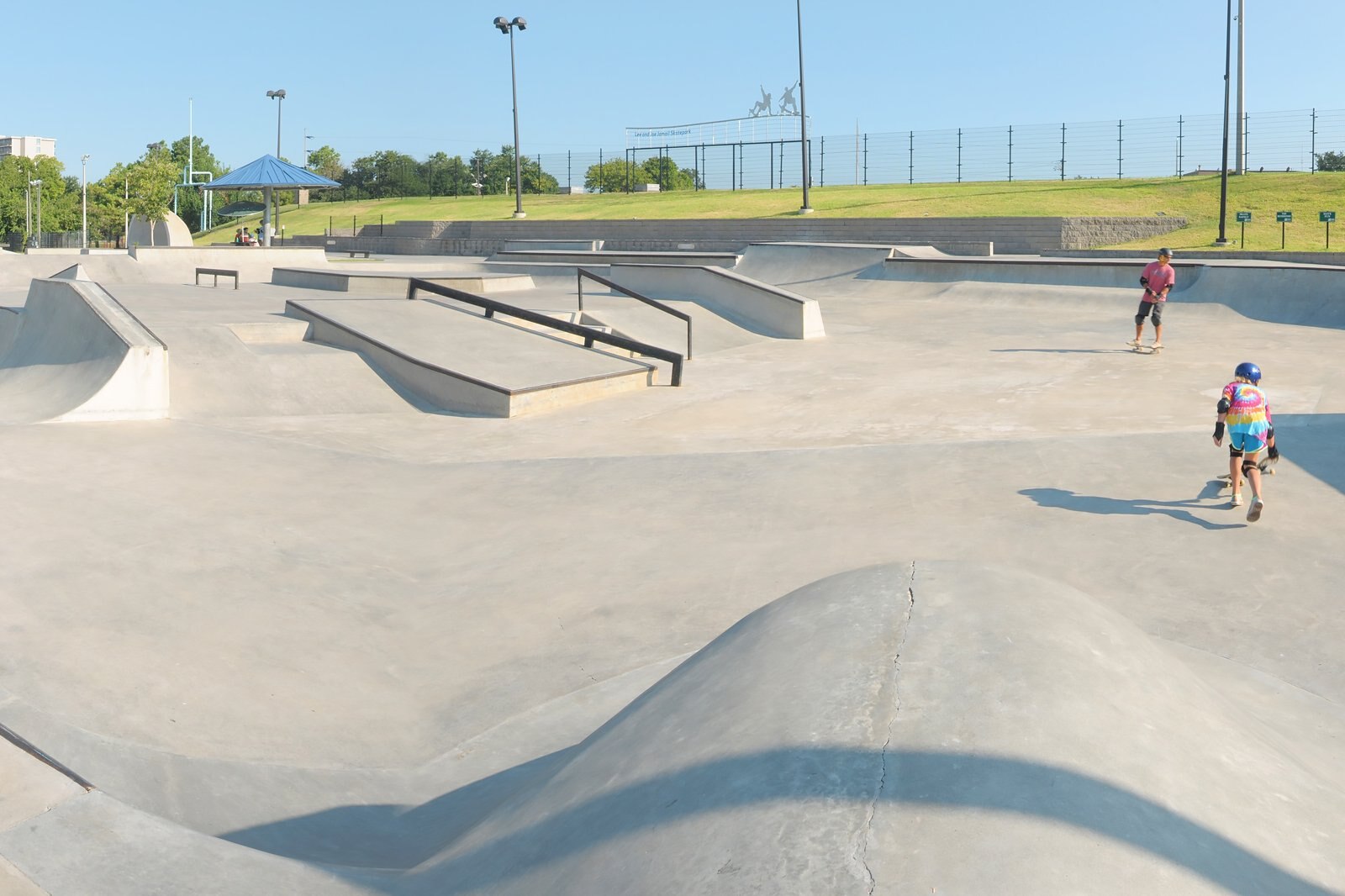 Take in the action at Lee and Joe Jamail Skatepark
The place in Houston for in-line and skateboarding fun
You can easily find these action-packed skate bowls right next to the Buffalo Bayou's Sabine Street bridge. It's where the local skater community gathers for fun hours. The Lee and Joe Jamail Skatepark features 30,000 sq ft of in-ground skating bowls, with sections for every skater skill level. This means you can show up as a total novice and learn to balance and cruise or go hard and show off your ollies and kick flips. Admission to the park is free but helmets are always required.
Location: 103 Sabine St, Houston, TX 77007, USA
Open: Daily from 9am to 10pm
Phone: +1 713-222-5500