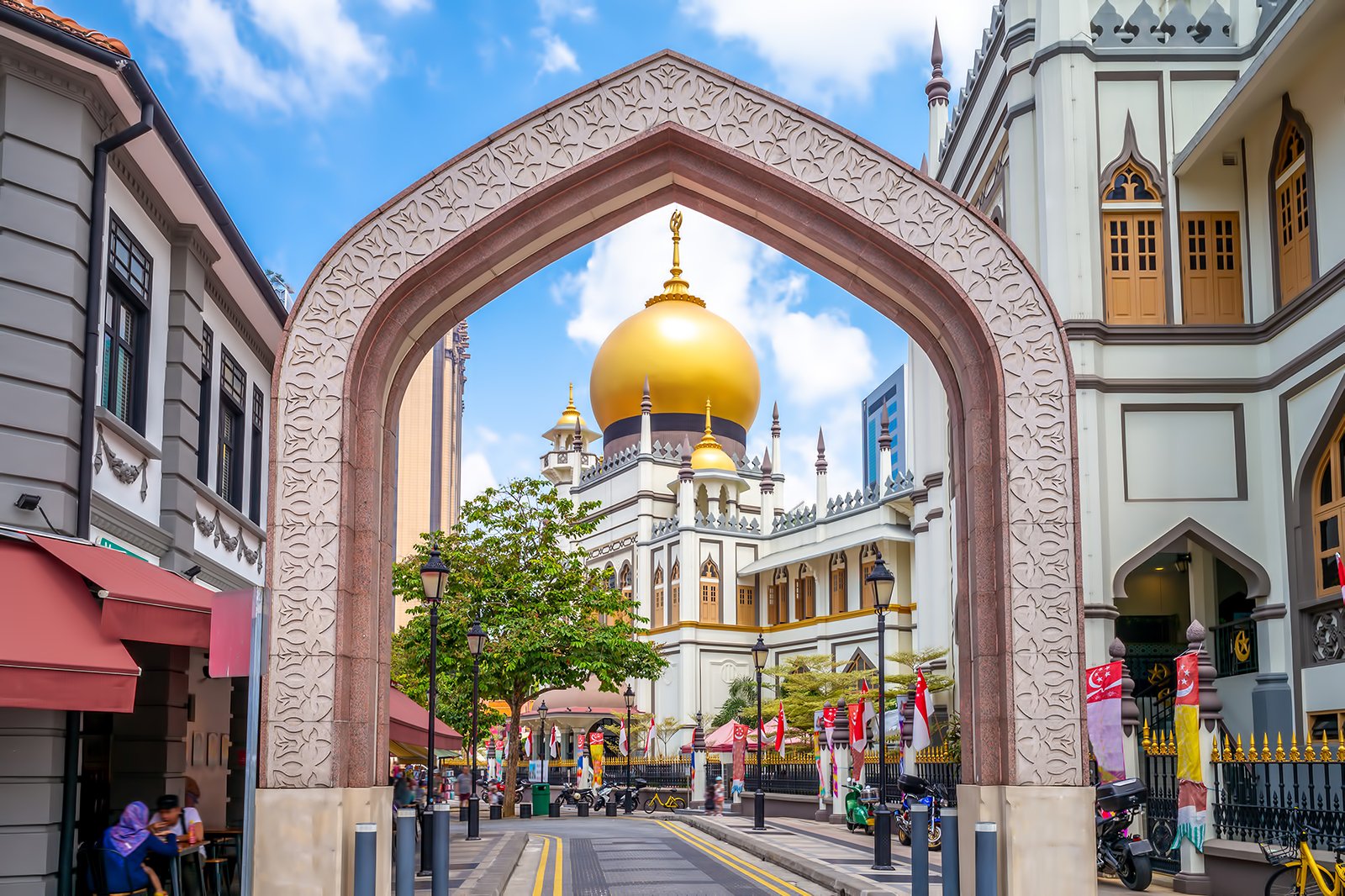 Sultan Mosque (Masjid Sultan) is a magnificent landmark at the heart of Kampong Glam – Singapore's 'Arabic Quarter'. The Islamic place of worship was built in 1824 by Sultan Hussian Shah (the first ever Sultan of Singapore). The impressive complex boasts a series of giant golden domes topping off the main prayer hall, and the outside is adorned in vibrant pastel shades of orange, cream and green, helping it shine even brighter in the strong Singaporean sun.
Sultan Mosque in Singapore - one of the highlights of 21 Best Temples in Singapore and 8 Best Things to Do in Bugis and Kampong Glam (Read all about Singapore here)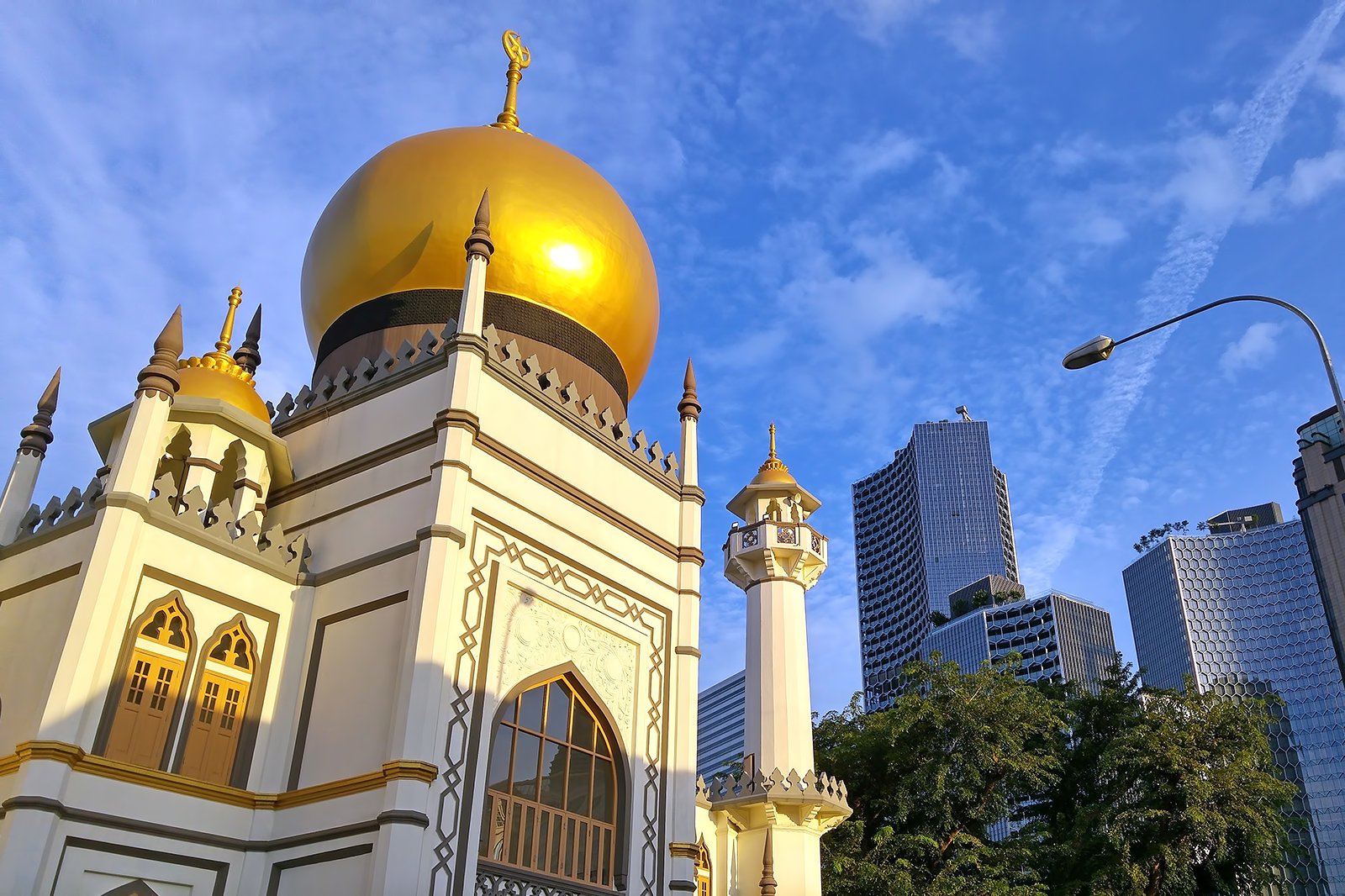 Along with Chinatown's Buddha Tooth temple, Sultan Mosque is definitely up there with Singapore's most impressive religious buildings, both in terms of appearance and sheer size. The main prayer hall can hold up to 5,000 worshippers, while the mosque's dome base can also be accessed, formed out of hundreds of glass bottles that were donated by devotees as part of the building's reconstruction.
A true testament to the multiculturalism of Singapore, authorities often block off the road during peak times to allow worshippers space to mingle around the mosque. The surrounding cafes and restaurants on Muscat Street and Arab Street also have a strict rule of not selling any alcohol (although these pleasant alfresco spots are still well worth a visit for their Middle Eastern menus, good coffee – and shisha pipes!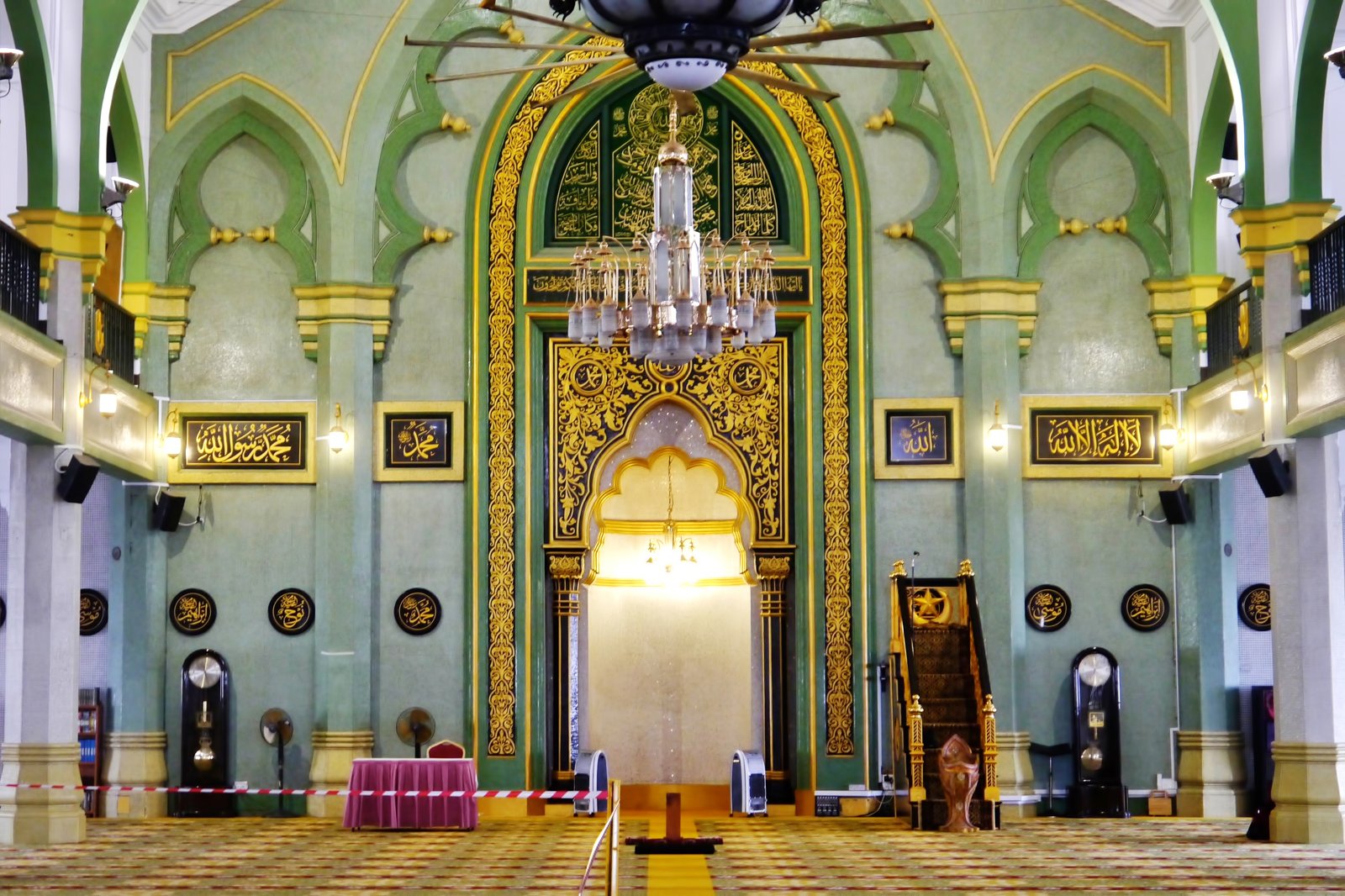 If you're around Bugis Street, the short walk to Kampong Glam (the Arab Quarter) should be high up on your priorities list. Combining a visit here with a quick look at this fantastic mosque is highly recommended too, even if it's just for a quick photo-op in between your shopping or cafe-hopping. A couple of roads down, you'll also find the fantastic Haji Lane, which does not enforce the no-alcohol policy and is also well-known for its range of boutiques and bars.
Find Singapore's Sultan Mosque at the top of Muscat Street – just look out for the crowds or its iconic glowing dome and it will be easy to find.
Sultan Mosque in Singapore
Location: 3 Muscat St, Singapore 198833, Singapore
Open: Daily from 9am to 1pm and from 2pm to 4pm
Phone: +65 6293 4405
Back to top