10 Most Popular Food & Dining Areas in Tokyo
Guide to Tokyo's Restaurant-lined Streets and Local Foodie Areas
Tokyo has plenty of areas where superb restaurants, cafés and bars are concentrated. Different areas cater to different styles, ranging from districts that are ideal for foodie tours on foot to upmarket streets for special occasions and bar districts that are suitable for a quick stop alone.
Just choose your destination according to the food you want to eat, be it gastronomy, fish, meat, exotic cuisines, or whatever else. Here we explore Tokyo's best foodie areas -- from atmospheric historical districts to up-and-coming gourmet sites.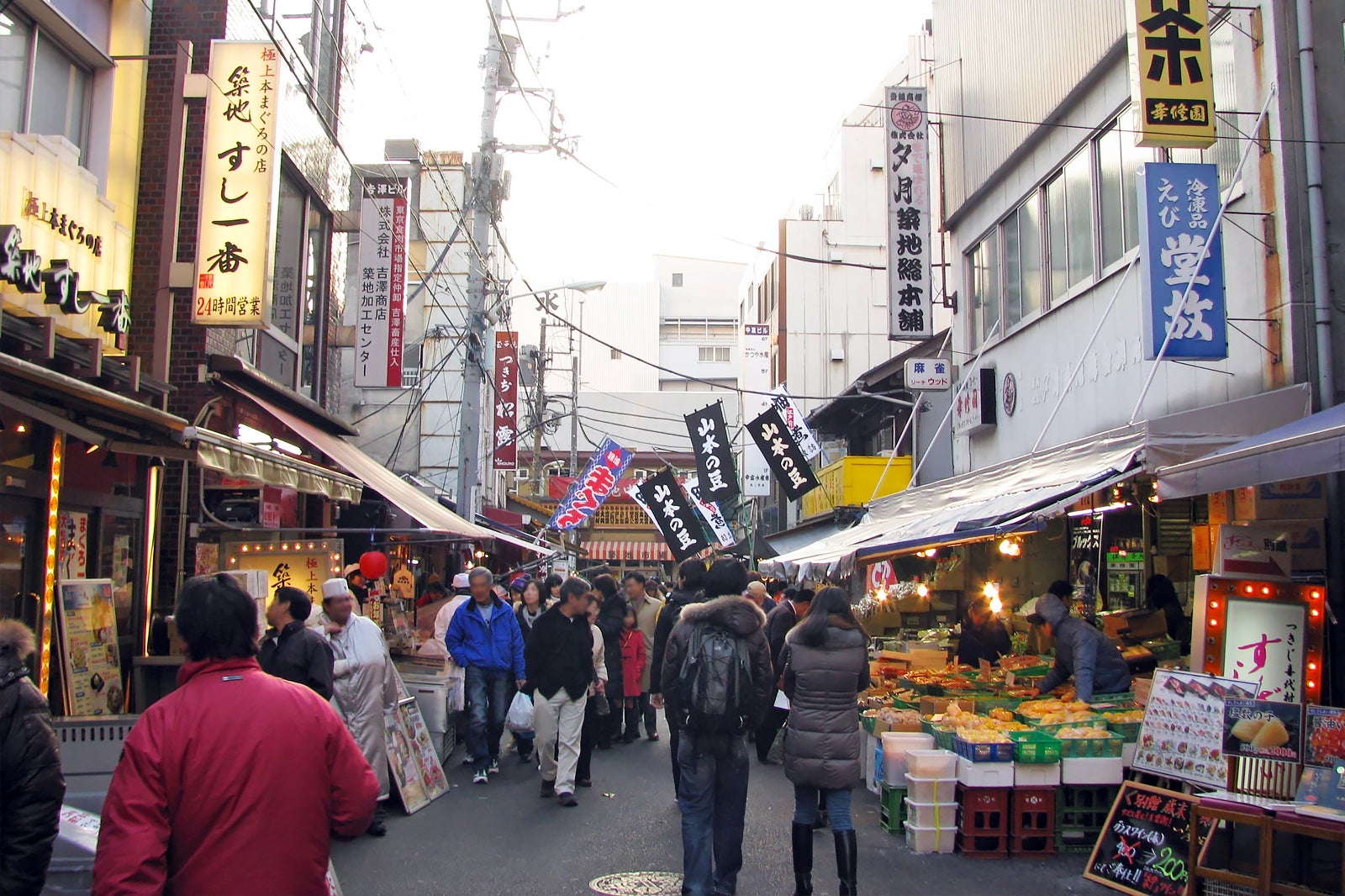 Although the inner area of Tsukiji Market moved in 2018, Tsukiji Outer Market still stands. Every day this place is crowded with people searching for delicious foods – from food professionals to tourists. There are more than 400 shops in the area. There are 60 retail shops on the first floor of Tsukiji Uogashi, and you can find not only fresh fish but also everything related to food, such as cooking utensils and dry goods.
General visitors are welcome from 9am. Uogashi Restaurant on the third floor offers a taste of the market in the form of set meals and fresh seafood. Around the building, there are various places which serve bowls of seafood on rice, sushi, ramen and soba noodles, as well as Japanese-style bars and Spanish-style tapas bars. Also popular are snacks such as skewered Japanese omelette and steamed fish paste, traditional Japanese desserts called daifuku to try while walking around the market.
Location: 4 Chome-16-2 Tsukiji, Chuo City, Tokyo 104-0045, Japan
Open: Opening hours vary from shop to shop
photo by Aimaimyi (CC BY-SA 3.0) modified
2
Under the tracks of Yurakucho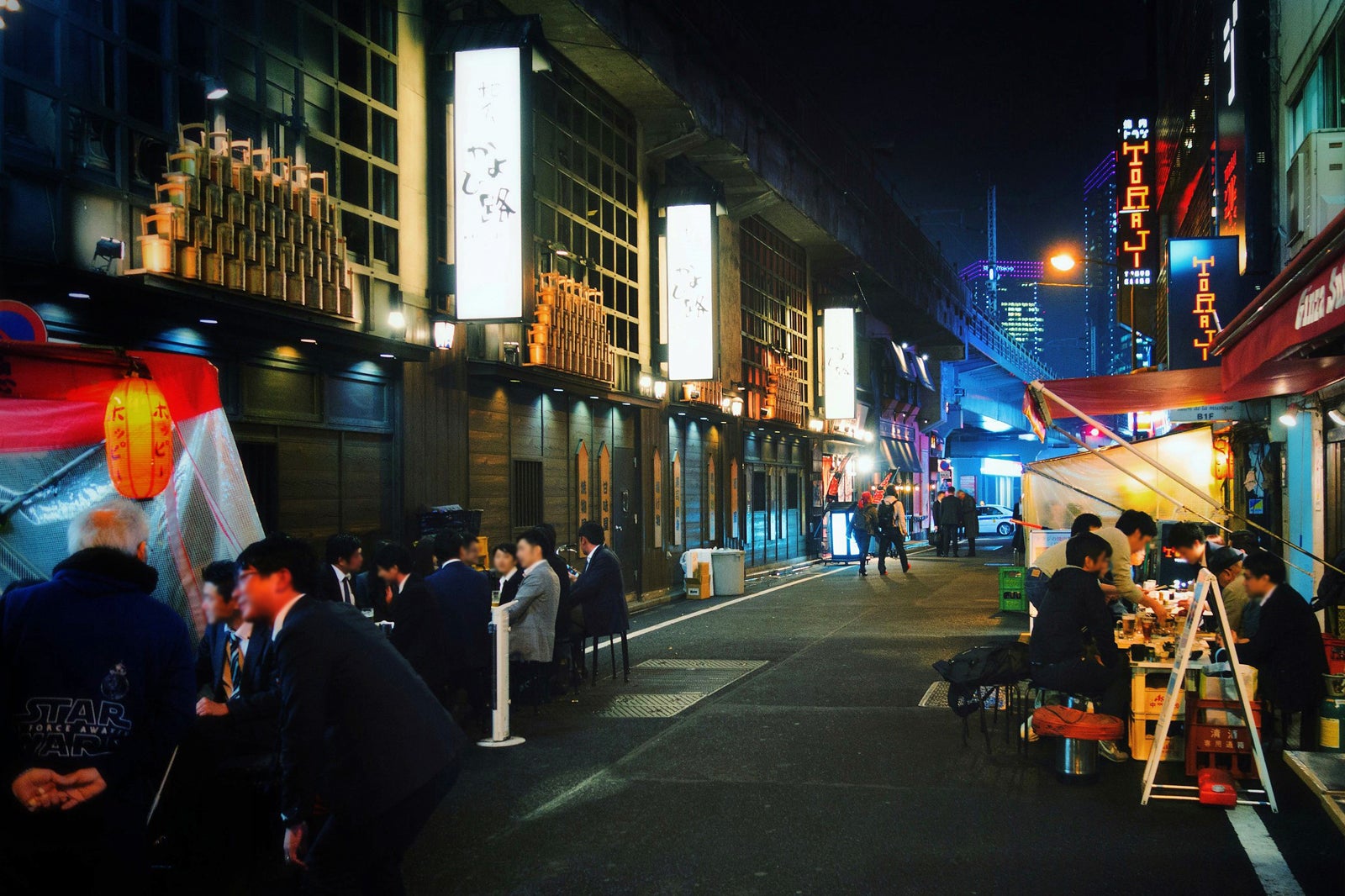 The area under the elevated train tracks of Yurakucho Station is famous as a bar district. There are not only cheap Japanese-style bars, which tend to be popular with male office workers, but also stylish places that female customers and others would enjoy. Make sure you try classic starters such as sashimi, simmered beef and tofu (niku dofu), tripe stew (motsuni), skewered chicken (yakitori) and potato salad, all of which can be enjoyed with beer or Japanese sake at reasonably-priced bars in the retro atmosphere of the Showa period.
There are also bars where you can enjoy wines and champagnes, Spanish bars, and French and Italian bistros. The area under the elevated train tracks is ideal for relaxing at places with inside seating or for drinking in a lively atmosphere at venues with outside seating. Don't miss this unique slice of urban Japan!
Location: Yūrakuchō, Chiyoda City, Tokyo 100-0006, Japan
photo by Jonathan Lin (CC BY-SA 2.0) modified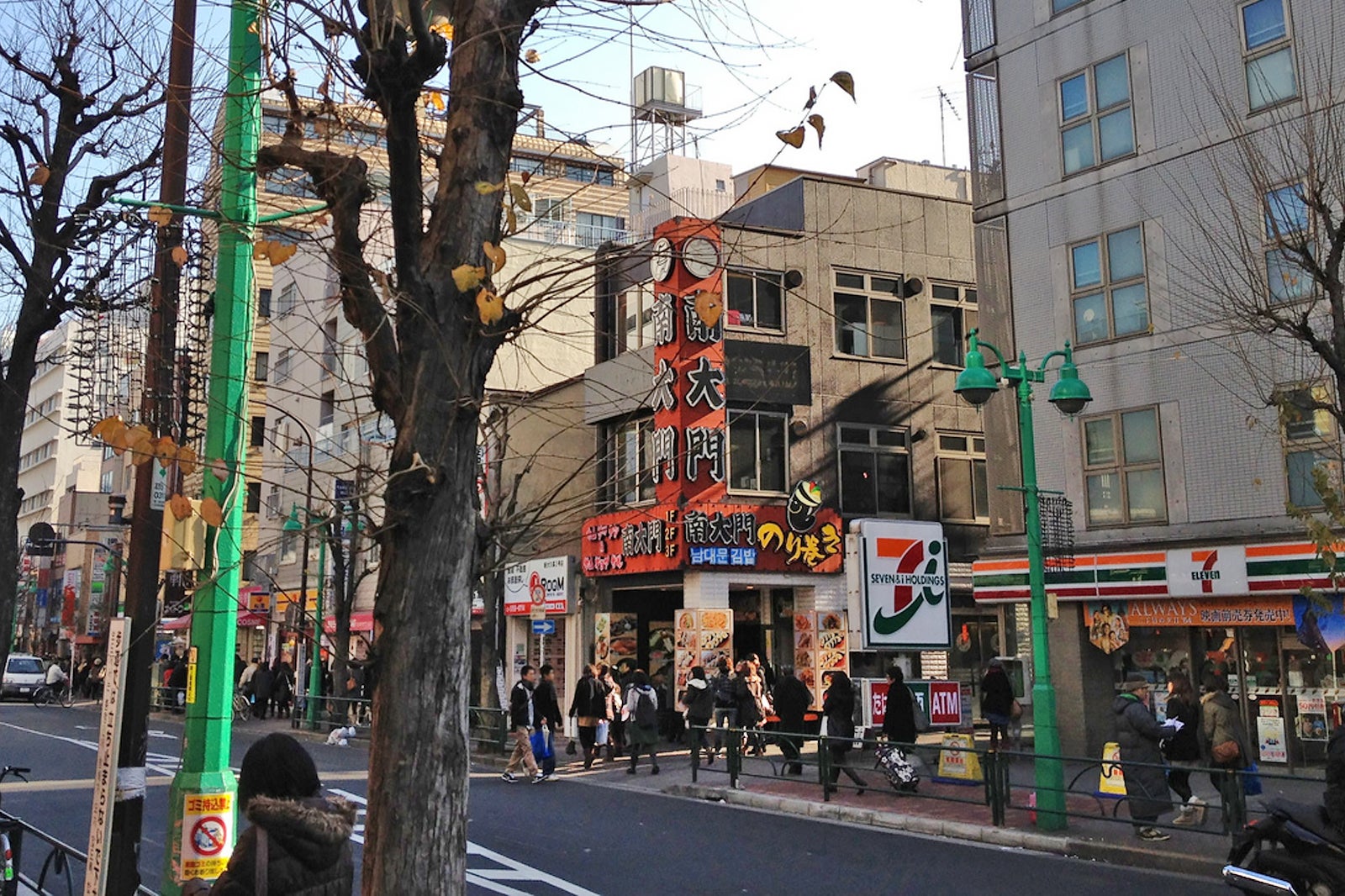 The Korean Town on the east side of JR Shin-Okubo station is popular as a foodie area where you can enjoy authentic Korean cuisine. This is a paradise of Korean home cooking, featuring dishes such as housemade spicy fermented vegetables (kimchi), Korean stew (jigae), stir-fried rice cakes (tteok-bokki), grilled pork belly (samgyeopsal), and grilled beef (bulgogi).
You can enjoy a filling lunch or dinner with Korean liquors such as Chamisul (a brand of Korean rice wine) or makgeolli. Korean desserts should not be overlooked either – they're every bit as good as the nation's savoury food. Beautiful fluffy shaved ice (kaki-gori) and Korean ice cream are extremely Instagrammable. A classic Korean snack called hotteok is a pan-fried bouncy pancake filled with a sweet mixture and nuts. You can try freshly made Hotteok at stalls specialising in this delicious treat.
photo by Ph0kin (CC BY-SA 3.0) modified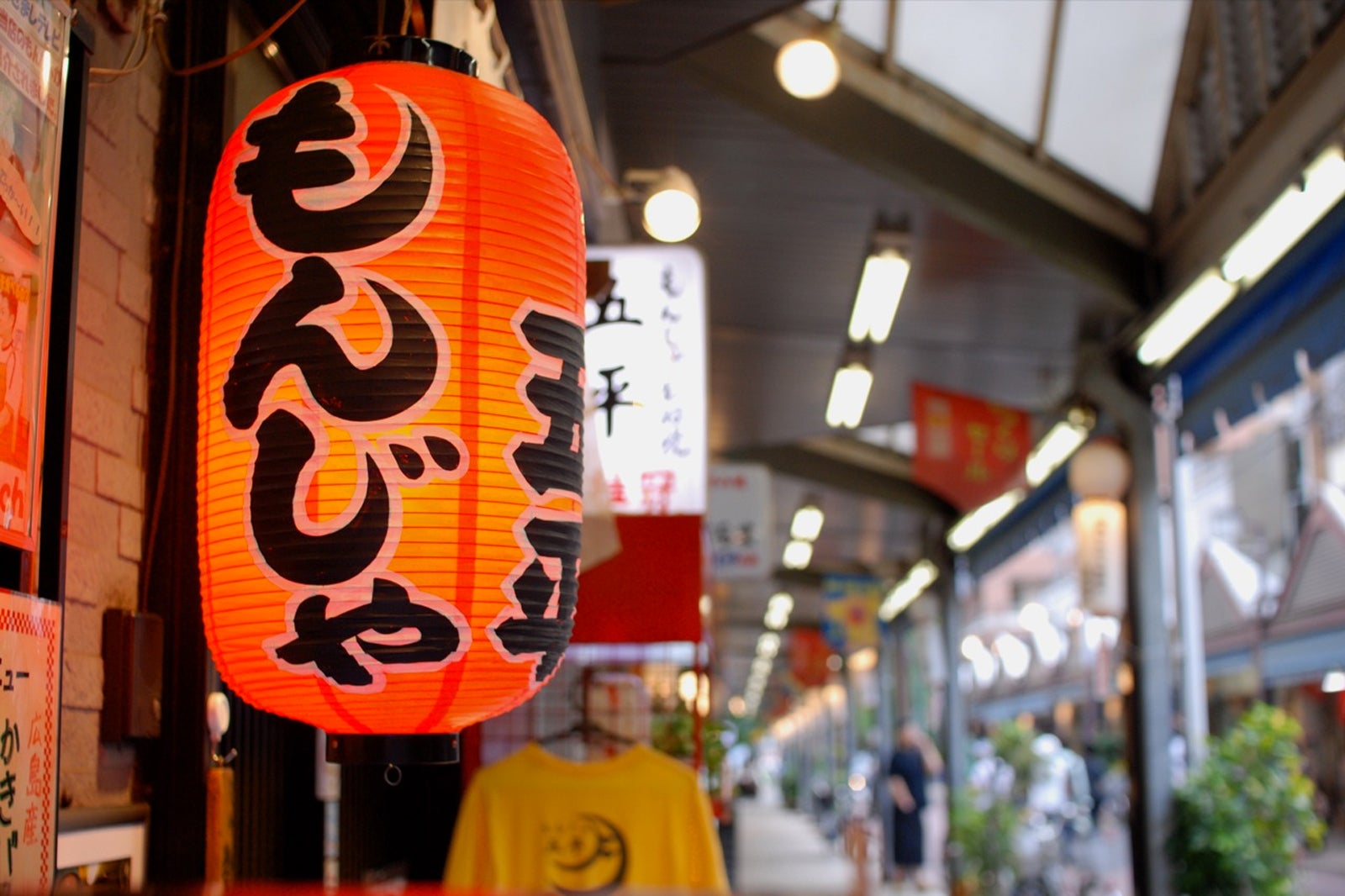 Tsukushima Monja Street is located just outside Exit 7 of Tsukishima Station on the Tokyo Metro or Toei Metro line. As its name suggests, the street is lined with restaurants which that serve the Japanese pan-grilled batter dish known as Monjayaki or Monja. These include well-established traditional restaurants founded in the Showa period, as well as restaurants where you can enjoy Japanese savoury pancakes (okonomiyaki) and teppan-yaki grilled meats with monjayaki.
Each restaurant has an extensive menu ranging from classic flavours to original takes on the dish, such as Monja with rice cake and seasoned cod roe (mochi-mentai monja), a version with crispy noodles called baby star monja, and other variations with noodles, meat or seafood, which are very filling. Monja is even served as a dessert with red bean paste (anko). If this is your first Monjayaki experience, why not go to a restaurant where the chef will cook it right in front of you? It's also fun to cook it by yourself, seated at a restaurant, where you can eat it little by little from the edges using a tiny spatula.
Location: 9 Tsukishima, Chuo City, Tokyo 104-0052, Japan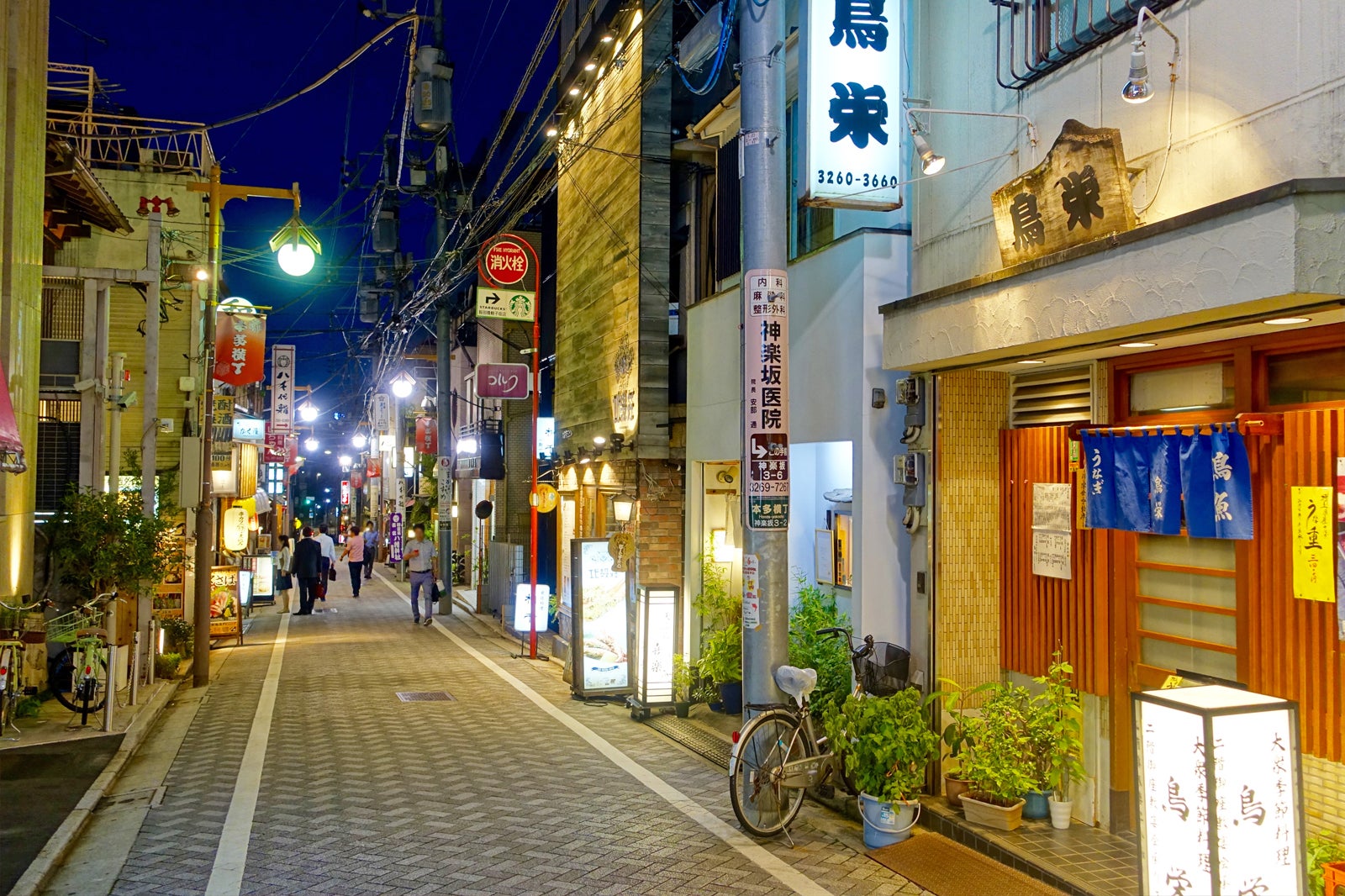 Kagurazaka Street slopes up north-west from Kagurazaka Shita, located near the JR/Subway Iidabashi Station. With shops founded in the Edo, Meiji, and Taisho periods, the scenery of preserved cobblestone and black walls gives full immersion in the history of this fascinating place. This is a chic and calm neighbourhood with plenty of delicious restaurants together with traditional arts and artistic culture on display at every turn.
You can find famous Michelin-starred restaurants that serve traditional multi-course Japanese meals (kaiseki cuisine), high-quality French, Spanish and Chinese restaurants, Japanese-style bars (izakaya), and soba noodle restaurants with excellent cost-performance. People here love to stroll around while visiting shops and stalls that serve rice balls (onigiri), steamed pork buns (nikuman), potato croquettes (korokke), bread and pastries.
Location: Kagurazaka, Shinjuku City, Tokyo 162-0825, Japan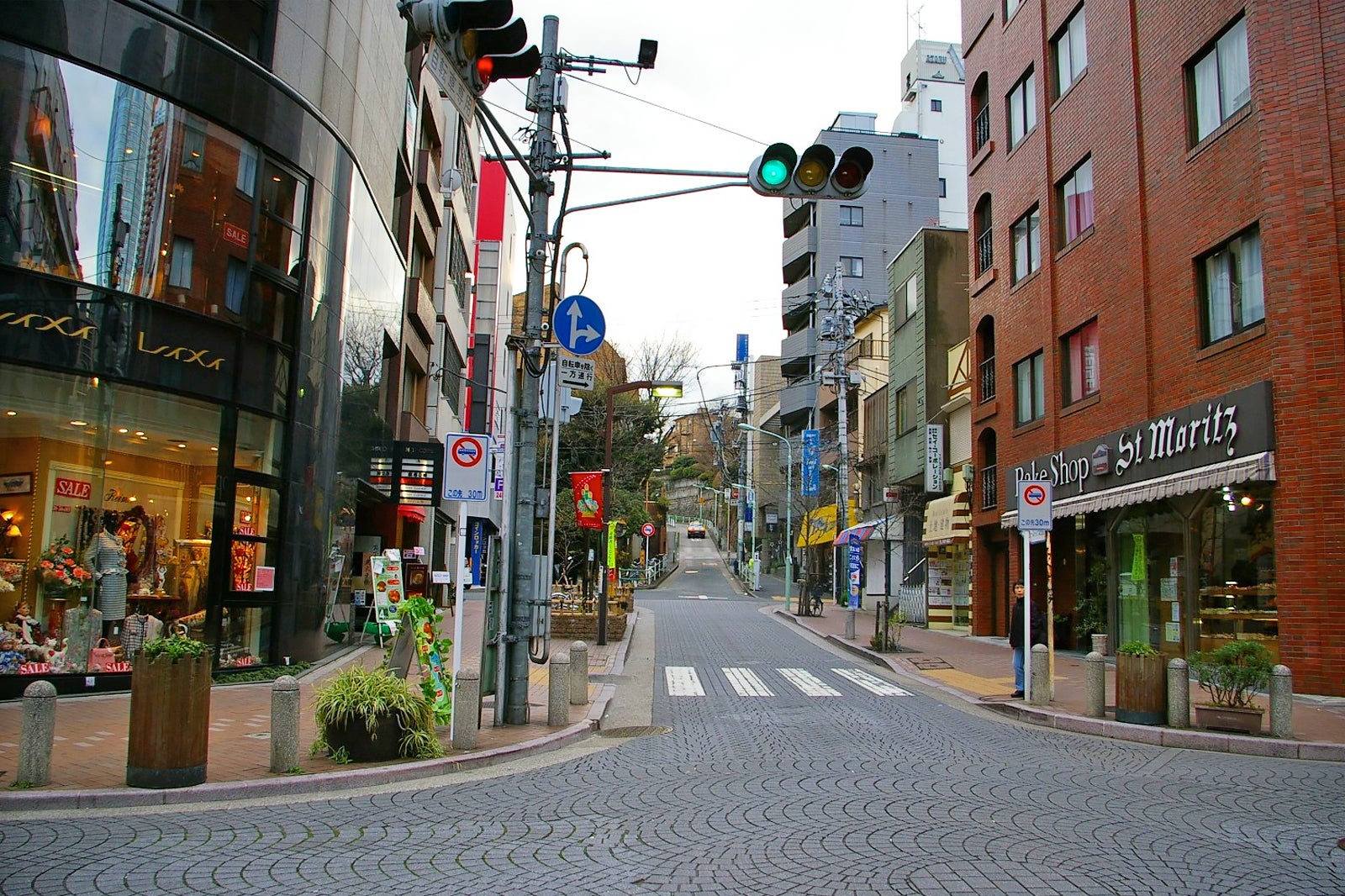 Azabu Juban is known as a fashionable neighbourhood for grown-ups in Tokyo. Unique, stylish dishes are the order of the day, be it at Italian or French bistros, soba noodle restaurants, skewered chicken (yakitori) restaurants, or even Japanese stew (oden) restaurants. It's definitely worth spending a special evening at a chic restaurant or bar while enjoying the night view of Roppongi.
Other highlights include the seafood and set meals served traditional restaurants with their old-town atmosphere. Take a leisurely stroll to explore the unique bakeries and shops selling fish-shaped pancakes (taiyaki), potato croquettes (korokke), fried dough cookies (karinto) and rice crackers (senbei).
Location: Azabu Juban, Minato City, Tokyo 106-0045, Japan
photo by Tokyo Watcher (CC BY-SA 3.0) modified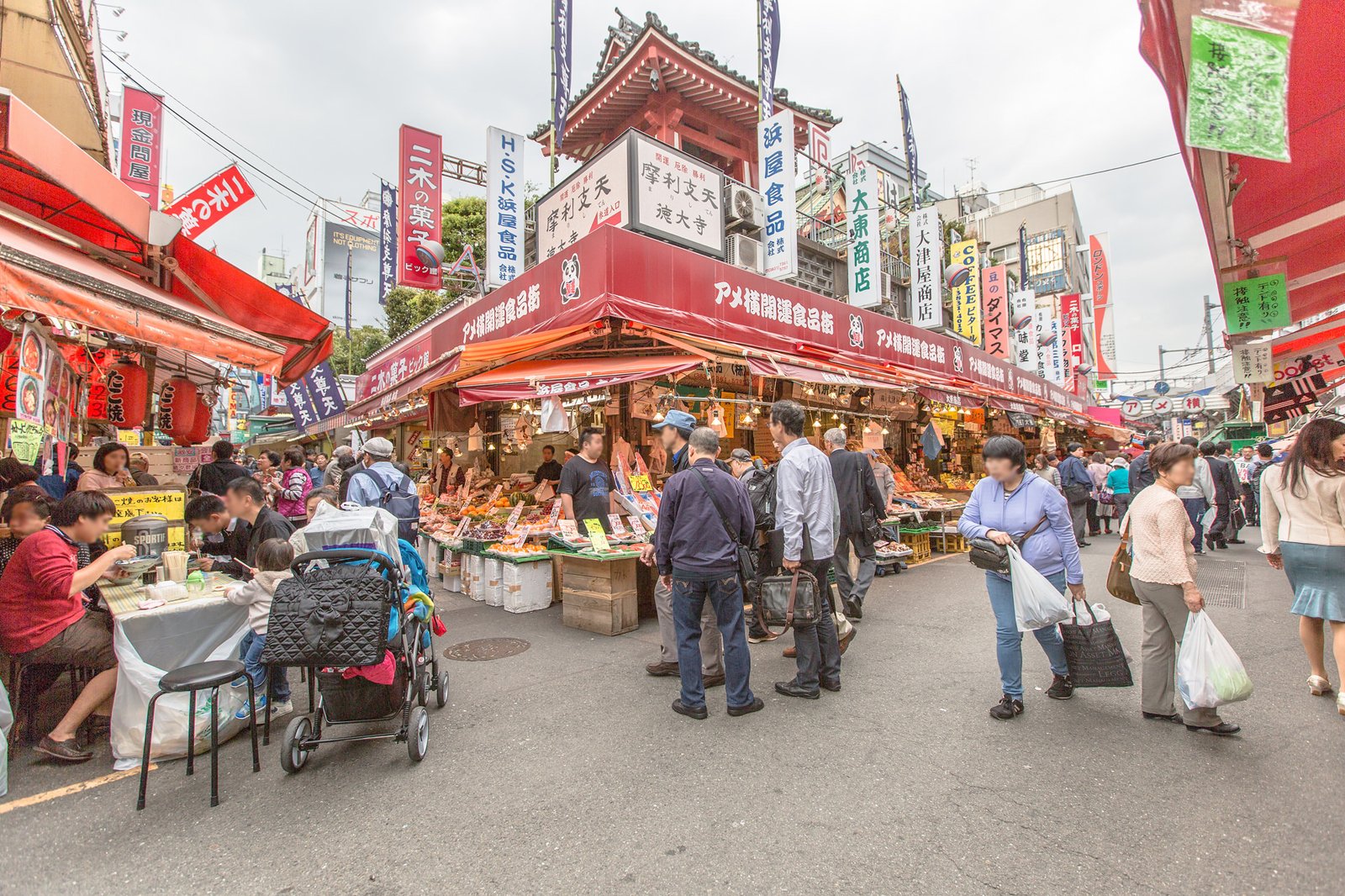 Some people say the origin of the name Ameyoko in Ueno comes from the fact that there were many candy shops ("ame" is candy in Japanese) here after the war, while others say that it's because many American goods were sold in the area. At any rate, the busy market selling traditional Japanese New Year foods (osechi) at the end of the year has been featured widely in the media, making it a famous destination at the end of the year.
There's a great buzz here, and you can enjoy chatting with the shop attendants while looking at their wares, which include seafood, dried foods and curious products from around the world. They may even give you a discount or extra products for free. You can also visit Japanese-style bars (izakaya) and stalls that retain the retro atmosphere of the Showa period to enjoy grilled tripe (motsuyaki), skewered chicken (yakitori), and Chinese steamed buns (xiaolongbao) with a glass of Shaoxing wine. If you're visiting around lunchtime, Ameyoko's famous kebabs are not to be missed. These are made of sliced meat grilled on a vertical rotisserie together with vegetables and stuffed into pita bread.
Location: 4 Chome-9-14 Ueno, Taito City, Tokyo 110-0005, Japan
photo by IQRemix (CC BY-SA 2.0) modified
Ginza Corridor Street (Ginza Corridor-gai) runs for about 400 metres under the elevated train tracks between JR Shimbashi Station and Yurakucho Station. This is a highly popular area thanks to its restaurants and bars from all over the world. You can enjoy fresh oysters at an oyster bar, or meat dishes served in generous portions with beer at Mexican or Brazilian restaurants.
Other recommendations include Spanish and French foods served in small portions with wine, tapas-style, and Chinese foods such as dumplings (gyoza) and Peking duck to be enjoyed with Shaoxing wine. There are also many restaurants where you can enjoy Japanese dishes such as teppan-yaki and shabu-shabu, or that serve skewered chicken (yakitori) and deep-fried skewers (kushi katsu) that go well with a quick drink.
Location: Ginza, Chuo City, Tokyo 104-0061, Japan
Yotsuya Arakicho is a district that once flourished as a Geisha town and still retains its unique appearance today. The cobblestone alleyways that spread like a maze are packed with all kinds of restaurants, from reservation-only hideaways with space for limited numbers of customers to Michelin-starred Japanese restaurants.
It's a great area to check out alone at a casual bistro or Japanese-style bar (izakaya), and enjoy food and drink while soaking in the local atmosphere. There are also many bars where you can hang out and have fun with your friends. The nearest stations are Toei Shinjuku Line Akebonobashi Station and Marunouchi Line Yotsuya-Sanchome Station.
Location: Arakicho, Shinjuku City, Tokyo 160-0007, Japan
If you're in the mood for meat tonight, Niku Yokocho in Shibuya is the perfect place for you. Getting off the train at Shibuya Station, you will find this restaurant zone on the second and third floors of Chitose Kaikan, a building located in Shibuya Centre Gai, and it's packed with about 30 famous meat restaurants.
There are all kinds of meat dishes on offer including Japanese fried chicken (karaage), fine Wagyu beefsteak and skewered chicken (yakitori) using free-range local poultry. You will also find places that serve beef tongue or tripe, and even a Brazilian-style churrasco restaurant. There are many restaurants that specialise in raw meat, such as meat sushi (nikuzushi) which is grilled with a burner, or meat sashimi (nikusashi). The restaurants open in the evening, and some are open until the morning on weekends and the days before national holidays.
Location: Chitose Kaikan, 13-8 Udagawacho, Shibuya Ward, Tokyo 150-0042, Japan