9 Best Things to Do in Key West
What is Key West Most Famous For?
Take a trip down to Key West and enjoy a beach-side vacation full of old-Florida charm and lively entertainment. You can enjoy sightseeing at locations such as Mallory Square and Mile Marker 0. Pay tribute to the country's history by spending an afternoon at Harry S. Truman's home or the Ernest Hemingway Museum.
Key West is also the perfect vacation spot to try local favourites such as fresh pink shrimp and famously crafted cigars. No matter what you're after, the Keys has you covered. For some ideas on things to do in Florida's Key West, check out the list below.
What are the best things to do in Key West?
1
Mallory Square
Home to Key West's lively entertainment scene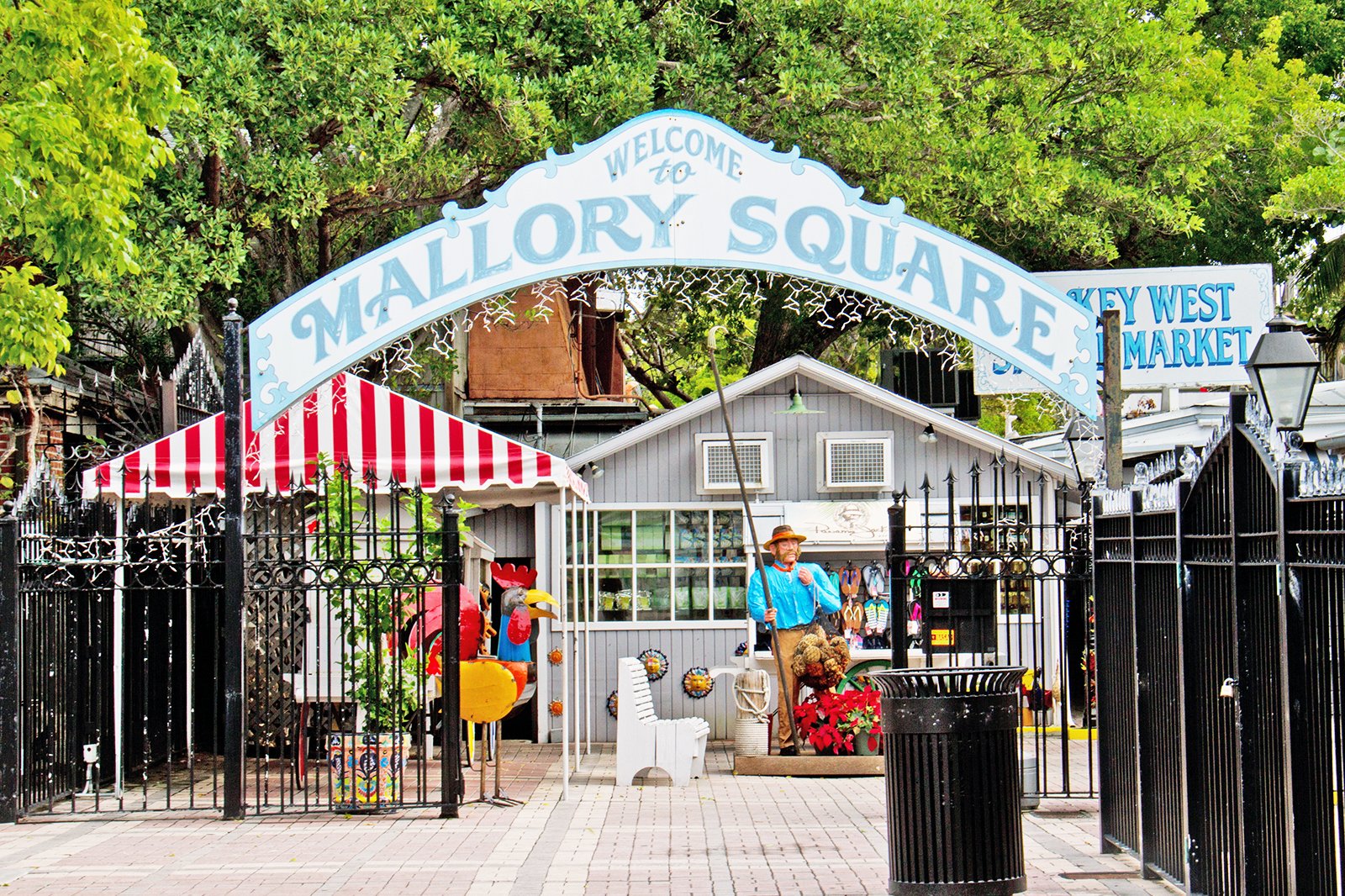 Couples
Families
Photo
Budget
Mallory Square is the central hub for the city's main restaurants, shops, museums, and theatres. Live entertainment abounds in every street corner, featuring everything from local bands to dynamic street performers. Here you'll find ice cream shops with just about every flavour your heart desires as well as many vendors offering colourful souvenirs and trinkets to bring back home.
Mallory Square is also famous for sunset celebrations – 2 hours before sunset, the festivities welcome hundreds of people with magicians, jugglers, clowns, psychics, local musicians, artists and, of course, the glowing Florida sun sinking into a red Gulf of Mexico horizon.
Location: 400 Wall St, Key West, FL 33040, USA
2
Smathers Beach
The largest beach in Key West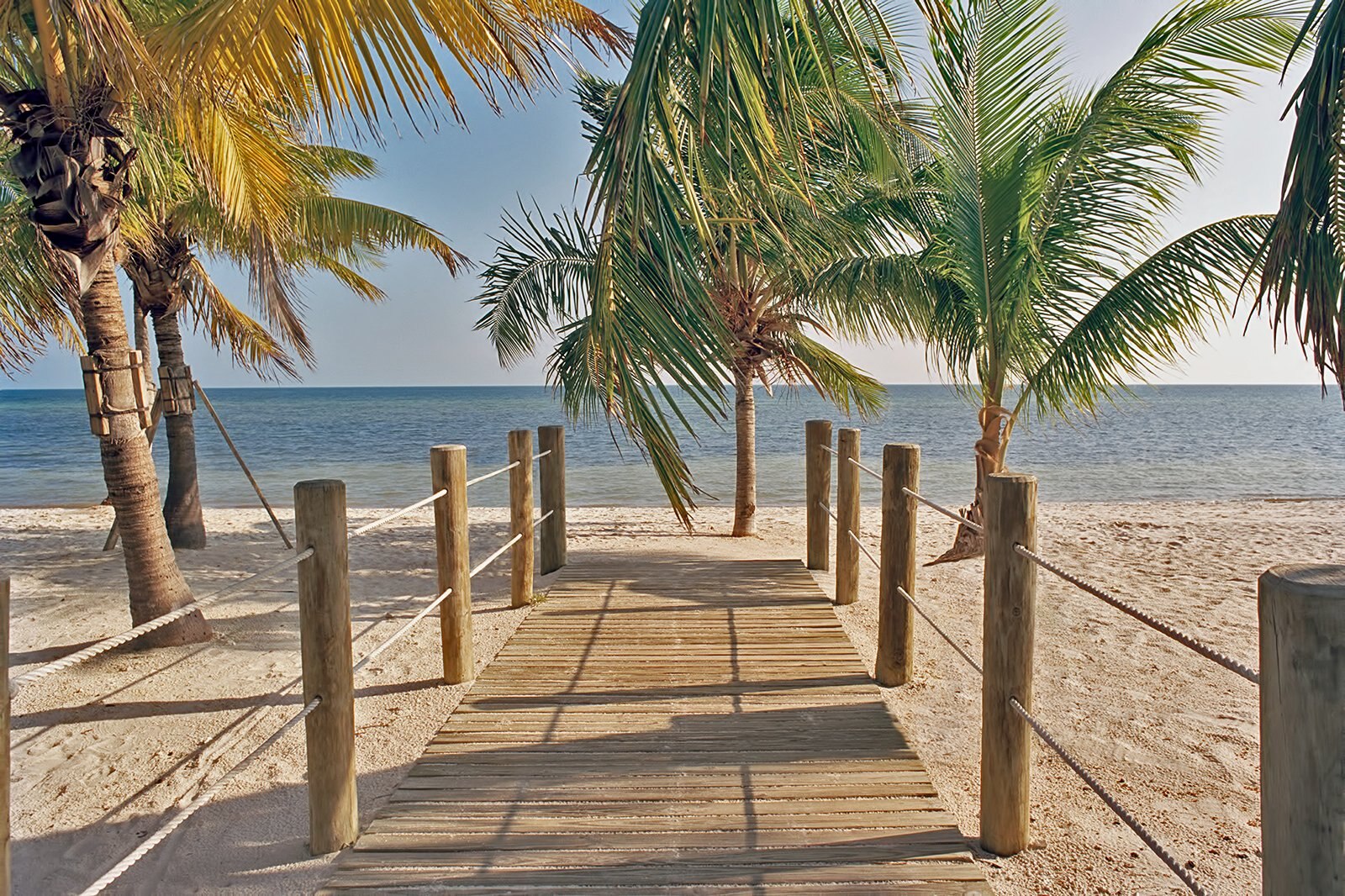 Couples
Families
Budget
Adventure
The small town feel of Key West makes it one of the best cities to explore by bicycle. Rent a bike (or bring your own) and ride down the southern coast to Smathers Beach, the largest public beach in the Keys. The beach begins at Mile Marker 0 and has fine white sand and turquoise waters. Spend the day kayaking or parasailing, before ending it with a classic Key West sunset viewing.
Location: 2601 S Roosevelt Blvd, Key West, FL 33040, USA
3
Ernest Hemingway Museum
Home of one of America's highest regarded authors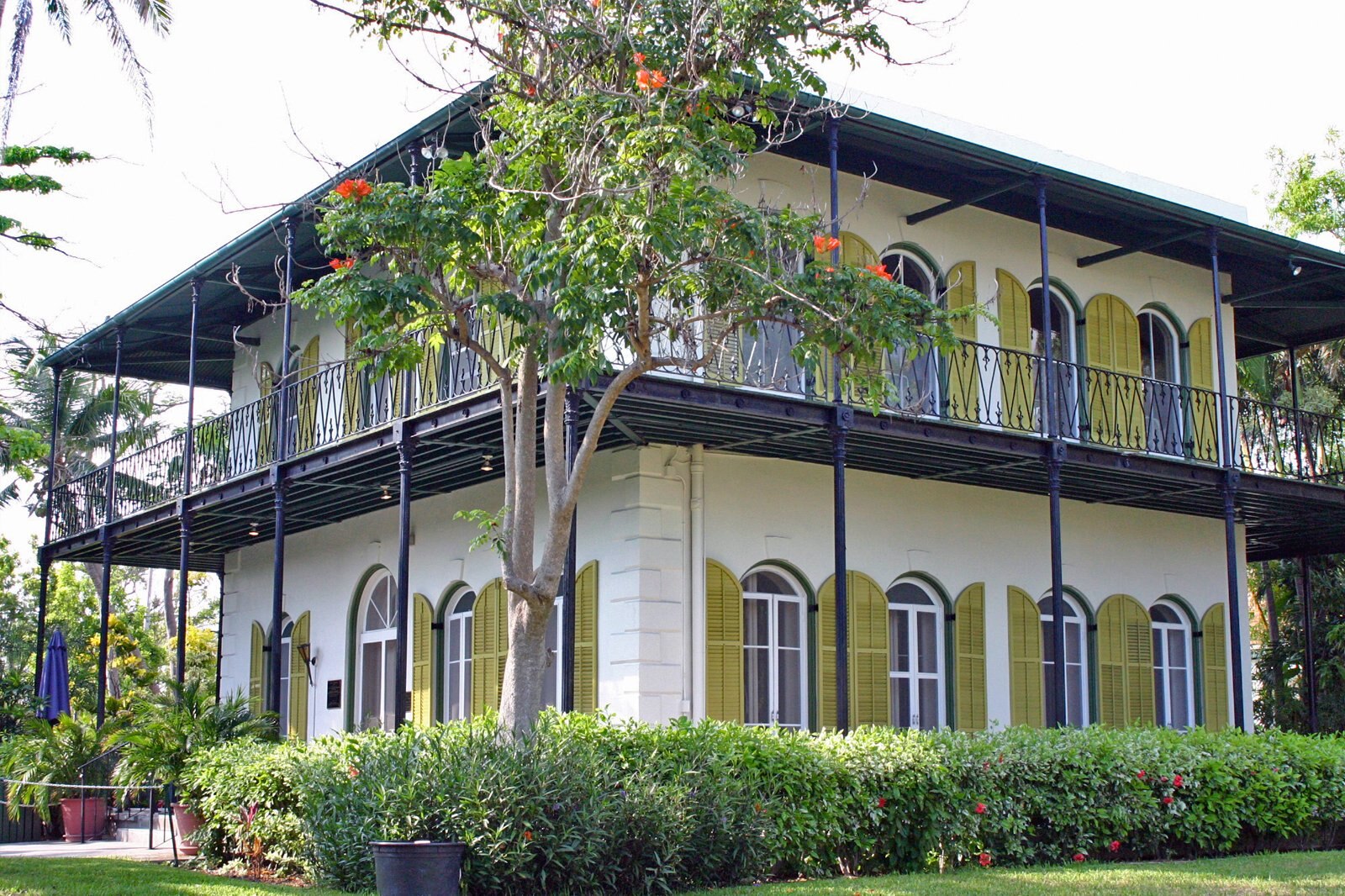 Located in the heart of Old Town Key West, the Ernest Hemingway Museum has been welcoming visitors since 1968. As the last home of one of America's highest regarded authors, the museum is open for 30-minute guided tours every day from 9am to 5pm.
Aside from showcasing each room as was left by the revered author, the tour also includes a showing of the home's famous gardens and pool. Cat lovers will be happy to hear that the museum is home to 40-50 six-toed felines, most of which are descendants from Hemingway's own polydactyl cat, Snow White.
Location: 907 Whitehead St, Key West, FL 33040, USA
Open: Daily from 9 am to 5 pm
Phone: +1 305-294-1136
photo by Andreas Lamecker (CC BY-SA 3.0) modified
4
Harry S. Truman House
Join a guided tour of the house and botanic garden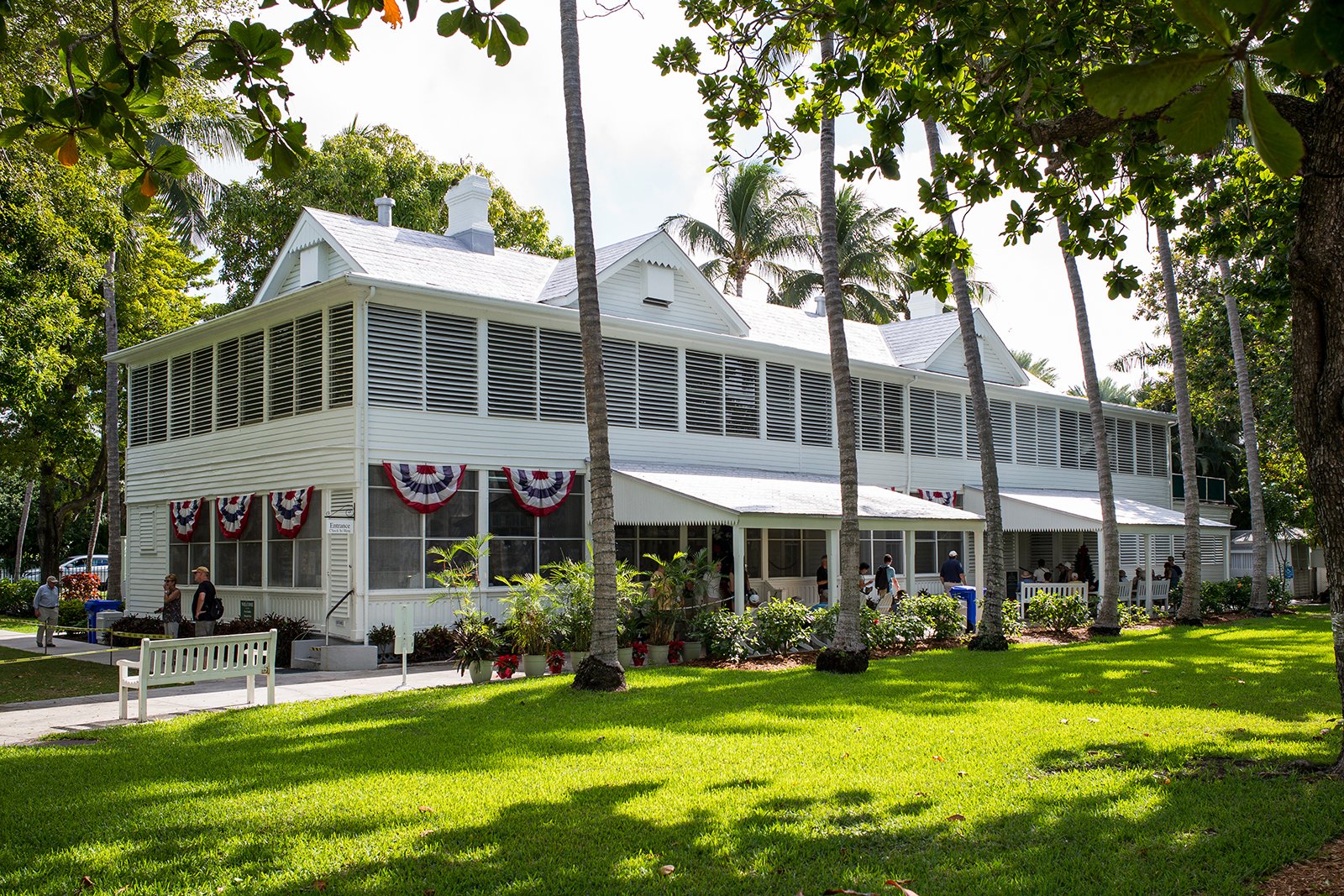 Truman's Little White House is a historic Key West site where presidents such as Taft, Eisenhower and Truman himself relaxed and decompressed. The house was used as Taft's winter White House from 1946 to 1952 and was also home to Thomas Edison during World War I.
These days, 20-minute guided tours are offered every day from 9am to 4:30pm. The tour includes a viewing of the botanical garden that surrounds the property with nearly 1 acre of tropical foliage.
Location: 8311, 111 Front St, Key West, FL 33040, USA
Open: Daily from 9 am to 4.30 pm
Phone: +1 305-294-9911
photo by Roman Boed (CC BY 2.0) modified
5
Join a boat tour
Enjoy views of the Atlantic Ocean and the Gulf of Mexico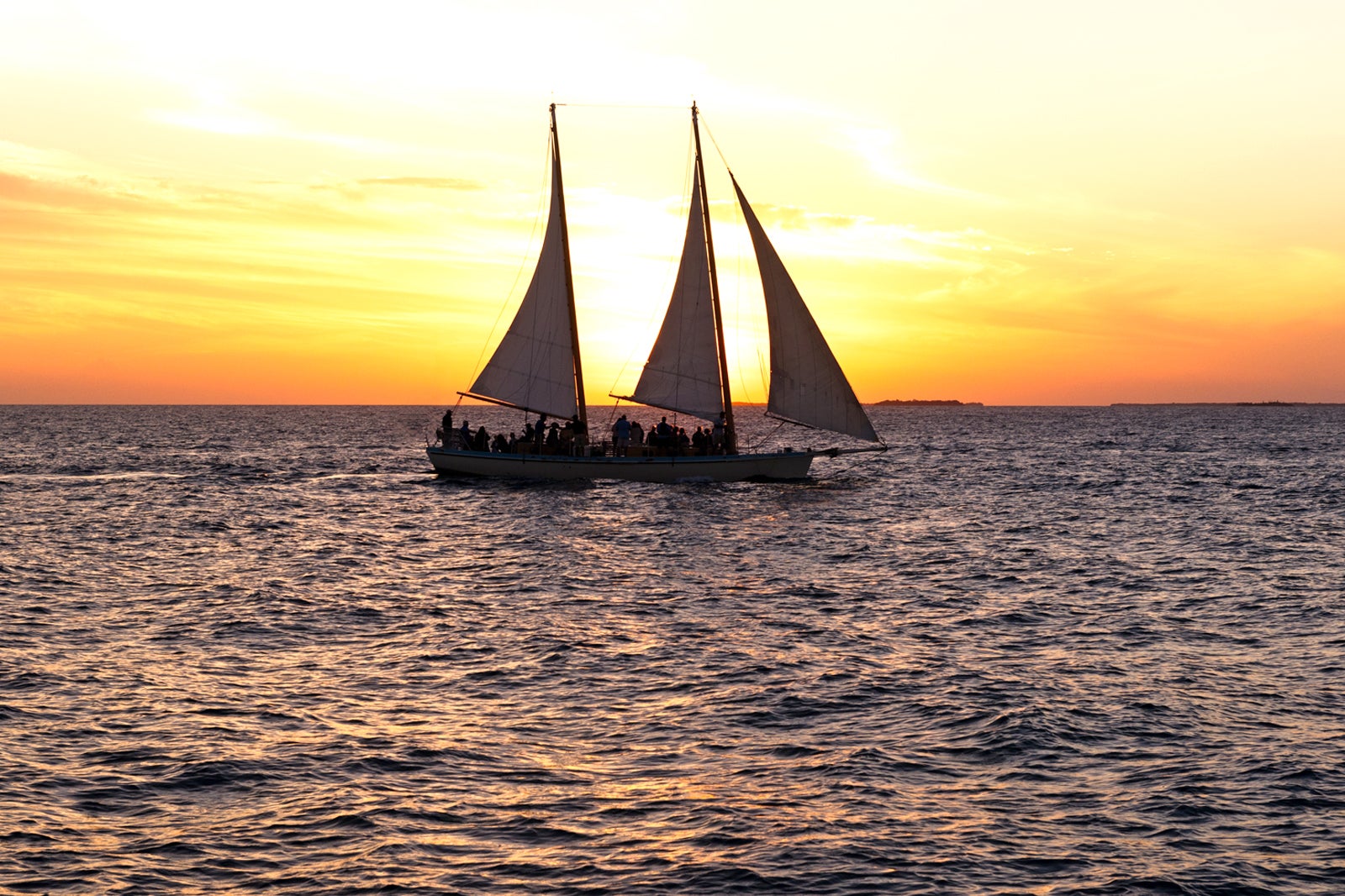 One of the best ways to take in the beauty of Key West is by boat! Watch the sun rise with an intimate yacht outing or view a splendid Florida sunset during a champagne-filled getaway. Various companies throughout the Keys offer just about everything, from all day party cruises to dinner focused boat trips.
Wakeboard, parasail, or water ski on emerald waters, or stay dry and enjoy them from aboard a glass-bottom vessel! Whichever way you wish to experience the coast, Key West's got it. Book in advance for great discounts off many tours.
6
Southernmost Point Buoy
Snap a selfie in front of this iconic buoy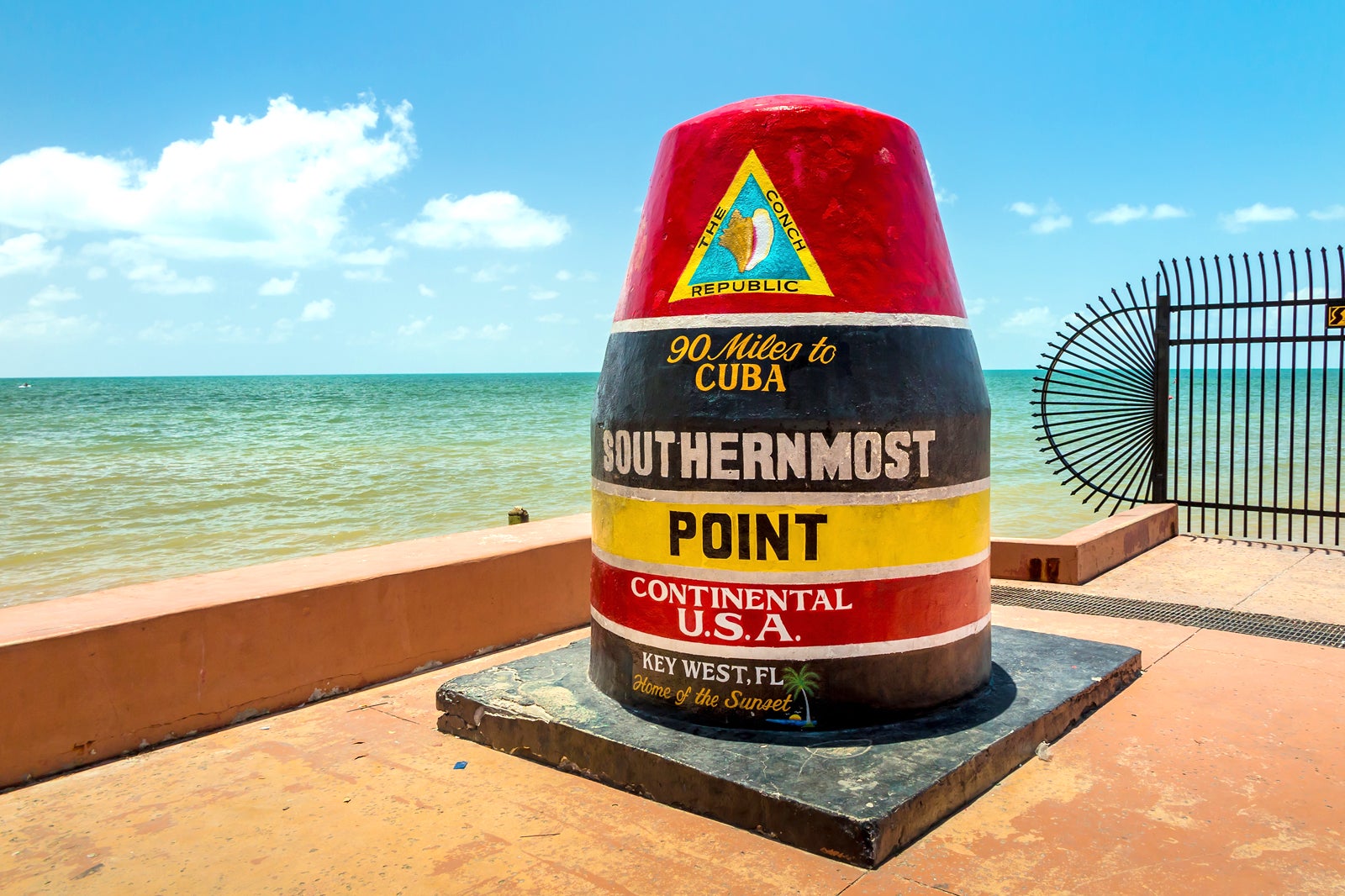 The Southernmost Point is a black and red concrete buoy in Key West. This small landmark marks the southernmost point in the continental United States. The buoy is located on the corner of Whitehead St. and South St. and is free to the public.
If you're travelling with a group, expect to wait in line for about 10–20 minutes, as only 1 person at a time can go up for a selfie. The buoy is located in an area that features classic Old Florida homes and plenty of beautiful photo-ops.
Location: Whitehead St & South Street, Key West, FL 33040, USA
7
US 1 Mile Marker 0
A sign that marks the beginning of interstate US 1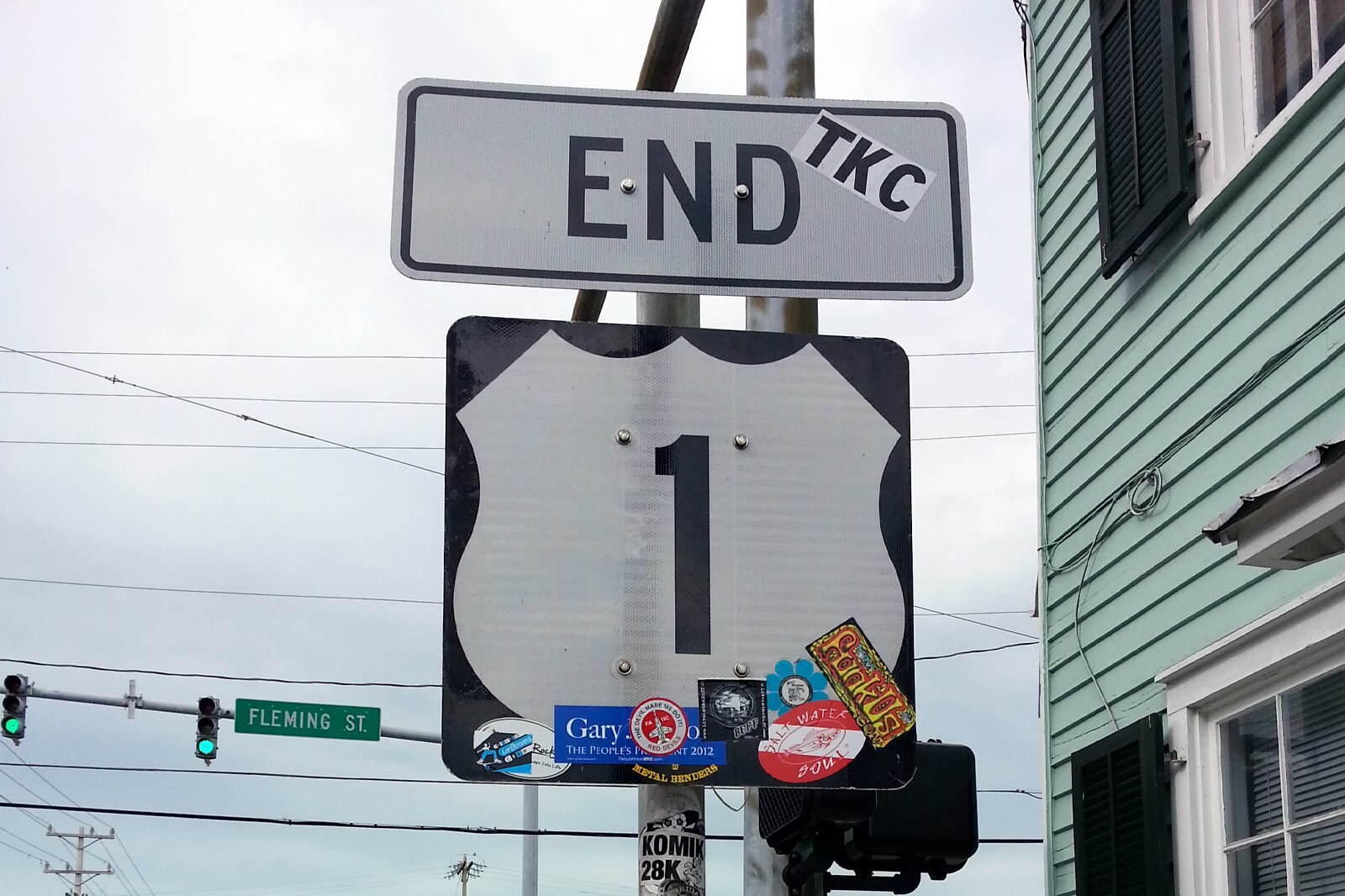 One of the most popular places to get your picture taken in USA is in front of the 'Mile 0' sign, which marks the beginning of the famous interstate US 1. Locally known as the Overseas Highway, US 1 stretches from Florida to Maine, and connects many major cities in the eastern side of the States. The street sign is usually surrounded by visitors wanting to get the perfect shot.
Location: 501 Whitehead St, Key West, FL 33040, USA
photo by Pietro Valocchi (CC BY-SA 3.0) modified
8
Eat pink shrimp
There's no fresher seafood than Key West seafood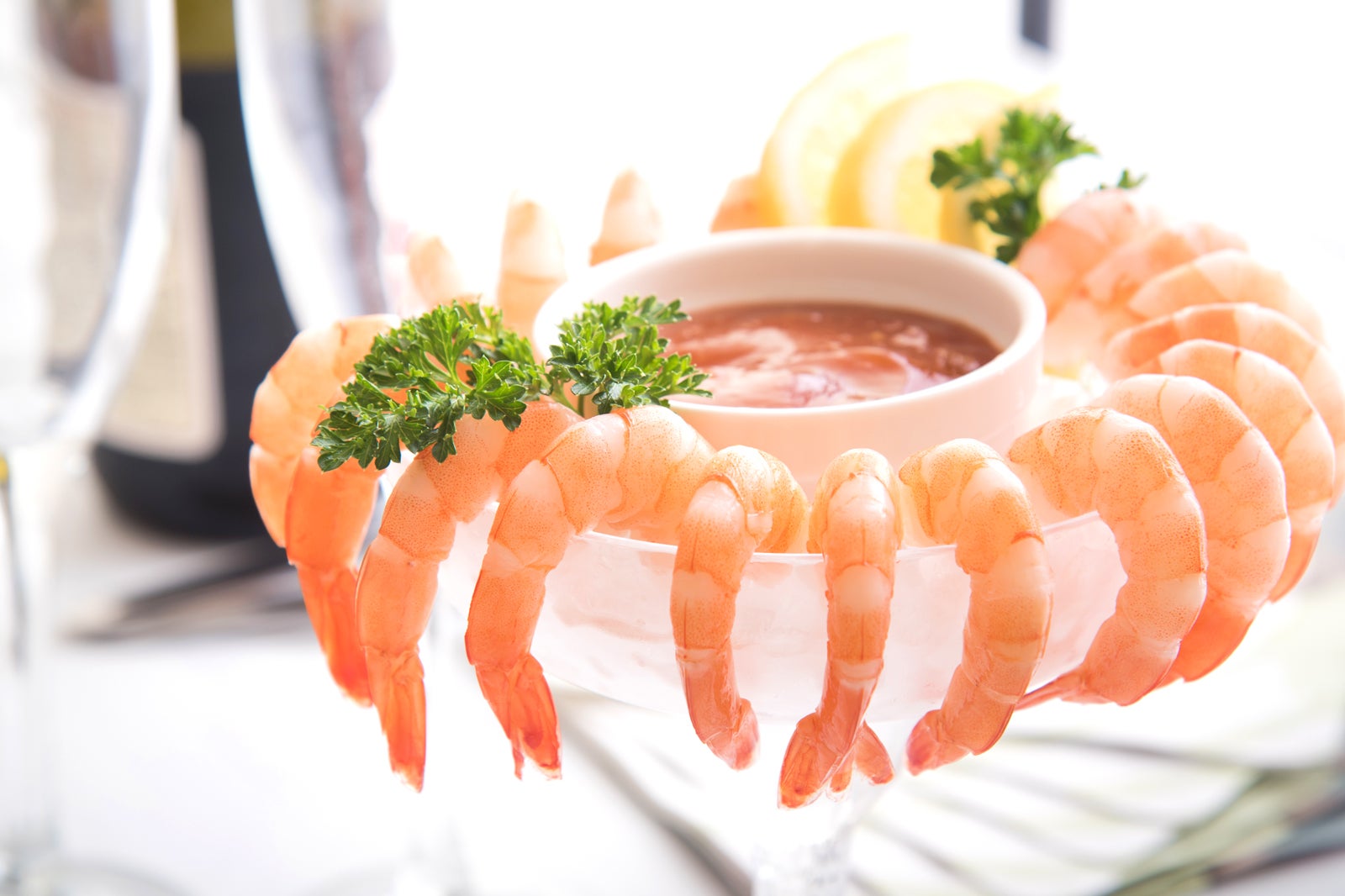 Located between the Gulf of Mexico and Atlantic Sea, Key West has an abundance of fresh Florida lobster, stone crab, and its famous pink shrimp. Seafood restaurants are plentiful throughout the Keys with places such as Conch Republic Seafood Company, DJ's Clam Shack, and Half Shell Raw Bar taking claim as the favourites among locals and visitors alike.
For something a little more low-key, head to BO's Fish Shack and try their grilled hogfish – a favourite all-around!
9
Duval Street
Check out drag shows at Aqua Nightclub and 801 Bourbon Bar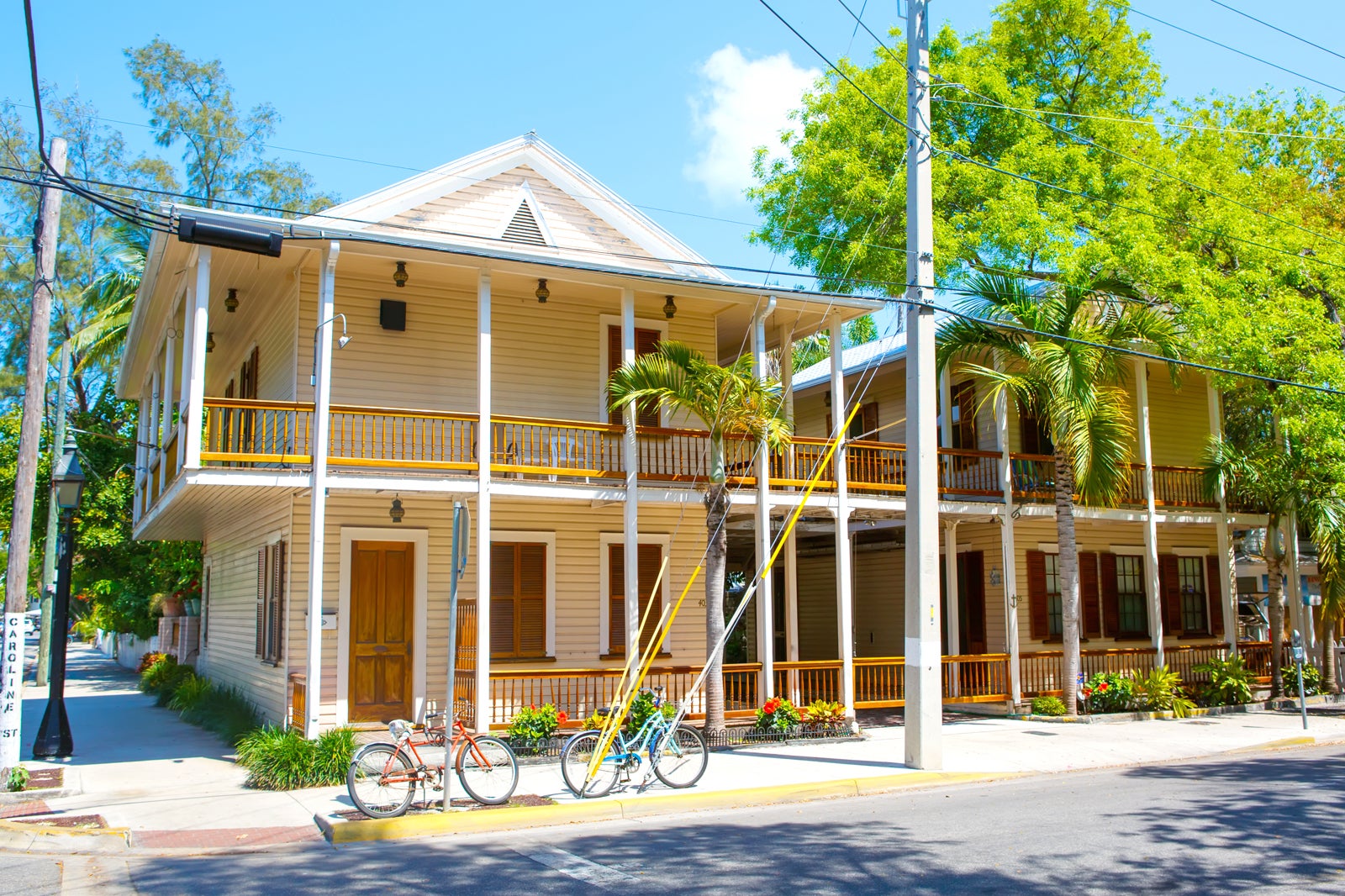 For those who enjoy a drink or 2 once the sun goes down, Duval Street is the place to be. Dozens of venues dotting this vibrant street become alive at night and lasts into the early morning. Classics such as Hogs Breath Saloon have been around for over 2 decades serving great food and unique cocktails.
Duval Street is also home to an active LGBT community and a great place to check out nationally recognised drag shows at places such as Aqua Nightclub, 801 Bourbon Bar, and Le Te Da Club.
Location: Duval St, Key West, FL 33040, USA
Back to top