10 Ways to Save Money in Minneapolis
How to Enjoy Minneapolis on a Budget
Minneapolis on a budget treats you to plenty of fair entertainment with its free museums, riverfront parks, wetlands and the Chain of Lakes. Explore vibrant street art, wander around parks and cemeteries, or go swimming in Bde Maka Ska without dipping too much into your savings.
Minneapolis' flourishing food scene includes markets, food trucks, and tons of budget-friendly options. If you're after a cheap night out, take advantage of happy hours at independent breweries dotting the Downtown and Uptown districts. Stick to your budget without missing out on any fun with our rundown of the best ways to save money in Minneapolis.
1
Use the light rail
The hassle-free way to get around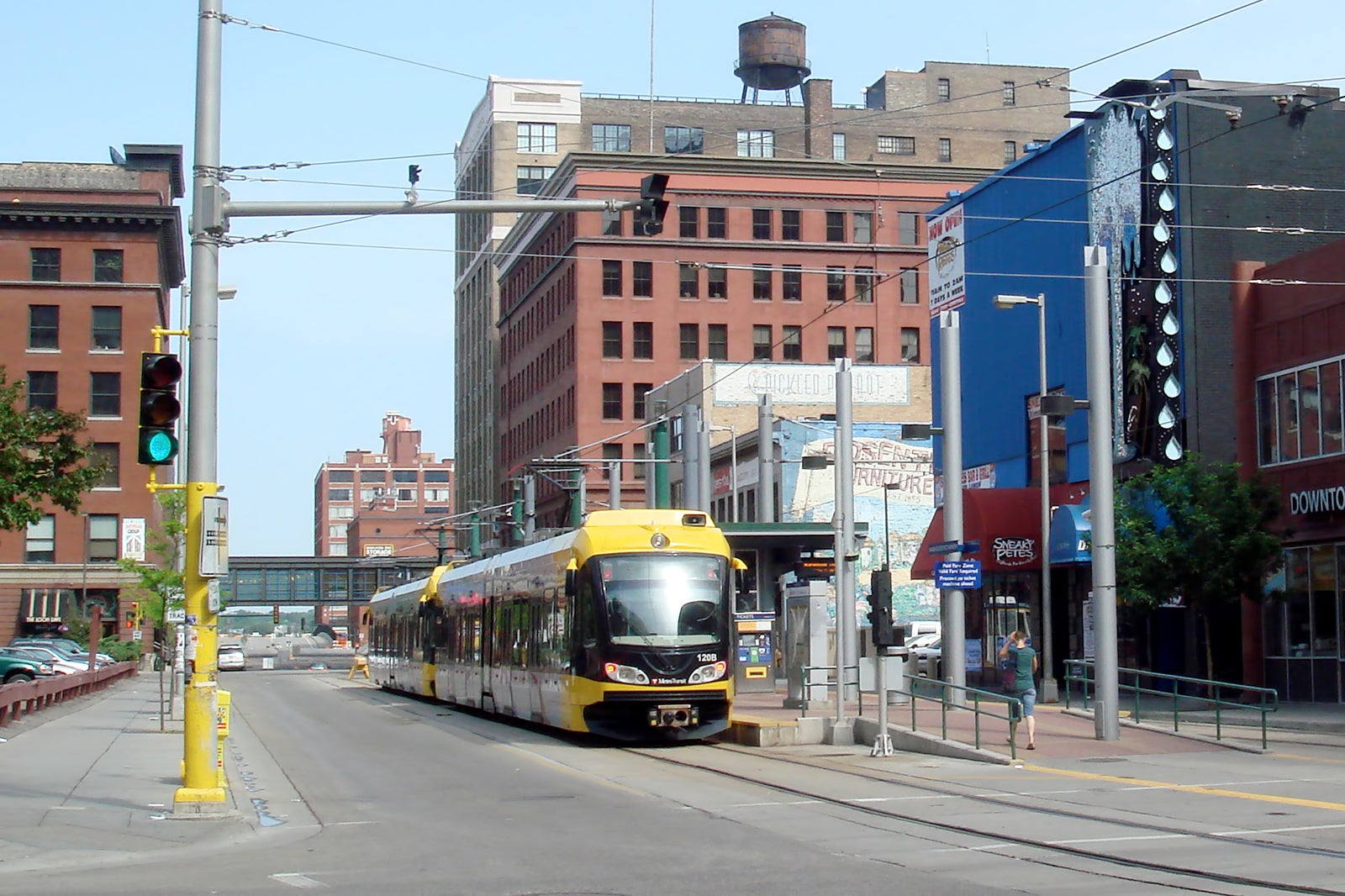 Skip the taxi rank at the airport and hop on the light rail's Blue Line, which takes you straight from Terminal 1 to the centre of downtown. The trip takes around 30 minutes, with fares starting from $2. The light rail's Green Line is the fastest way to get between downtown Minneapolis and the centre of St. Paul.
To get around the downtown area, your best bet is the city bus service. Riding a few blocks in the Downtown Zone costs less than $1, while fares to other areas start from $2. The shuttle buses that run up and down Nicollet Mall are completely free, so it's easy to hop between shops, cafes and art galleries.
photo by Bobak Ha'Eri (CC BY-SA 3.0) modified
2
Minneapolis Institute of Art
A vast collection of world-class art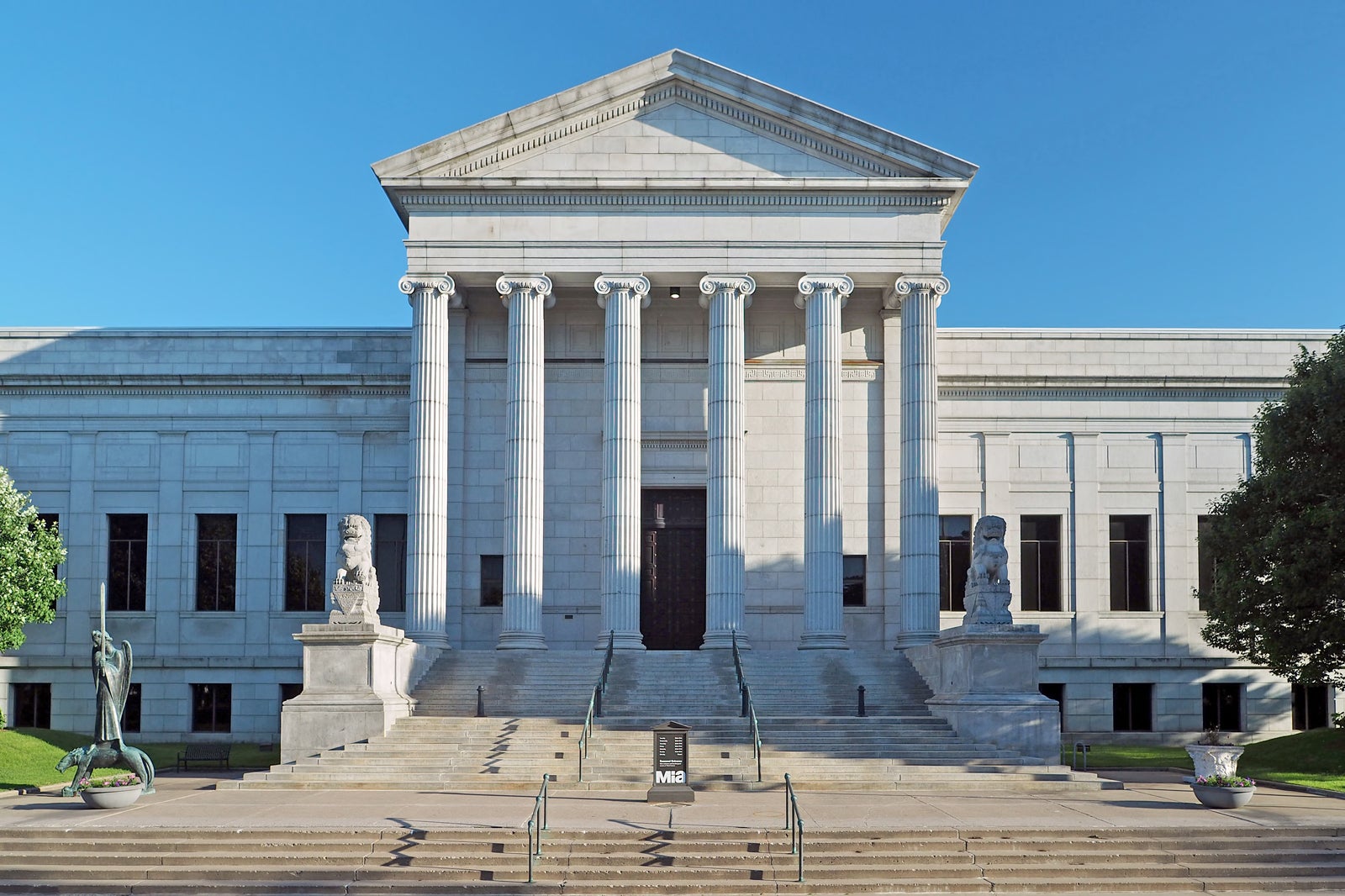 Minneapolis Institute of Art is an inspiring museum that covers 5,000 years of art history from across the globe. The museum's paintings, sculptures and historical objects are split into 10 galleries by geographical origin. Highlights from among the 90,000 works include an elaborately carved jade sculpture from China, a 15th-century figurine from Mali, and paintings by Matisse, Gainsborough, and Monet.
Entry to the main exhibit is free, as are the daily 1-hour tours which explore themes like ideas of home or women in art. The museum also curates the Purcell-Cutts House, an outstanding example of Prairie School architecture, which is open on the 2nd weekend of every month.
Location: 2400 3rd Ave S, Minneapolis, MN 55404, USA
Phone: +1 612-870-3000
photo by McGhiever (CC BY-SA 4.0) modified
3
Minneapolis Farmers Market
Grab a bite to eat on the go
Minneapolis City Farmers Market is a great place to grab lunch on the cheap. Try the hot dogs and breakfast wraps at Smokehouse Stacks, extra-spicy tacos and burritos at Caribbean Heat, or the delicious deep-fried eggrolls at Rainbow Chinese. Freshly baked cupcakes, caramel bars, organic ice-cream and ethically sourced coffee are some of the many other things on offer.
The market is also a good choice for grocery shopping, especially if you're self-catering during your visit. Stock up on fresh produce, bread, raw-milk cheese and artisan sausages, or buy sandwich fixings and have a picnic at one of Minneapolis' many parks and lakes.
Location: 312 East Lyndale Ave N, Minneapolis, MN 55405, USA
Open: Daily from 6 am to 1 pm
Phone: +1 612-333-1718
photo by Jason Riedy (CC BY 2.0) modified
4
Mall of America
Vast shopping mall that attracts visitors from across the USA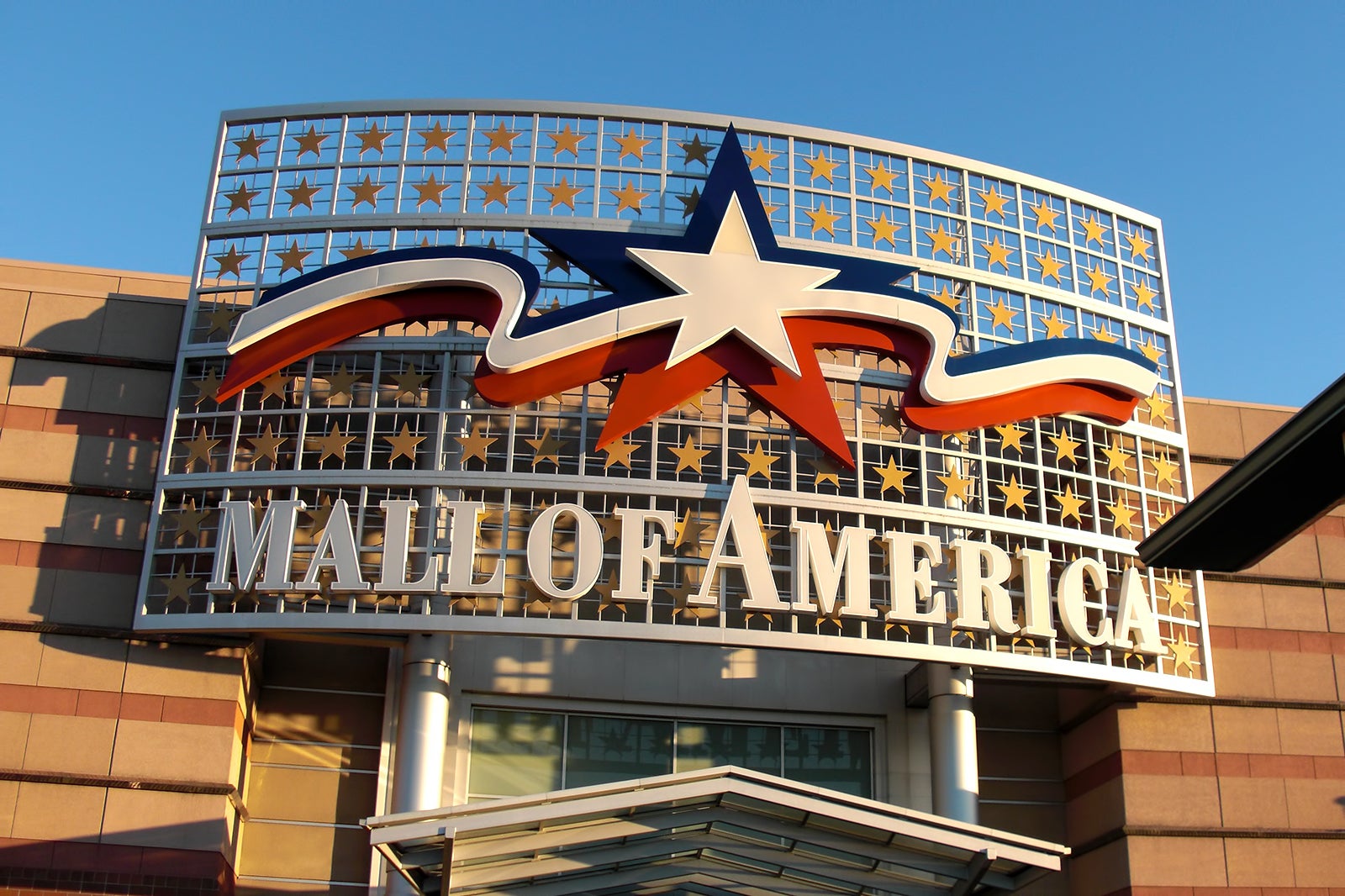 Mall of America has endless entertainment options with more than 500 stores, 60 restaurants, an aquarium, and an indoor amusement park. Play mini-golf at Moose Mountain, make art at the Museum of Memories, get lost in the Amazing Mirror Maze, or challenge yourself on the Dutchman's Deck adventure course.
The mall puts on a free program of musical events, fashion shows and celebrity appearances for visitors. Nickelodeon's free Universe of Light Show is loved by kids and adults alike. Stop at the LEGO store to build at their free play tables, or head to the atrium to admire the Kaleidoscope art installation, made up of 300 monarch butterflies.
Location: 60 E Broadway, Bloomington, MN 55425, USA
Open: Monday–Saturday from 10 am to 9.30 pm, Sunday from 11 am to 7 pm
Phone: +1 952-883-8800
photo by Aine (CC BY-SA 2.0) modified
5
Lakewood Cemetery
A peaceful haven between 2 lakes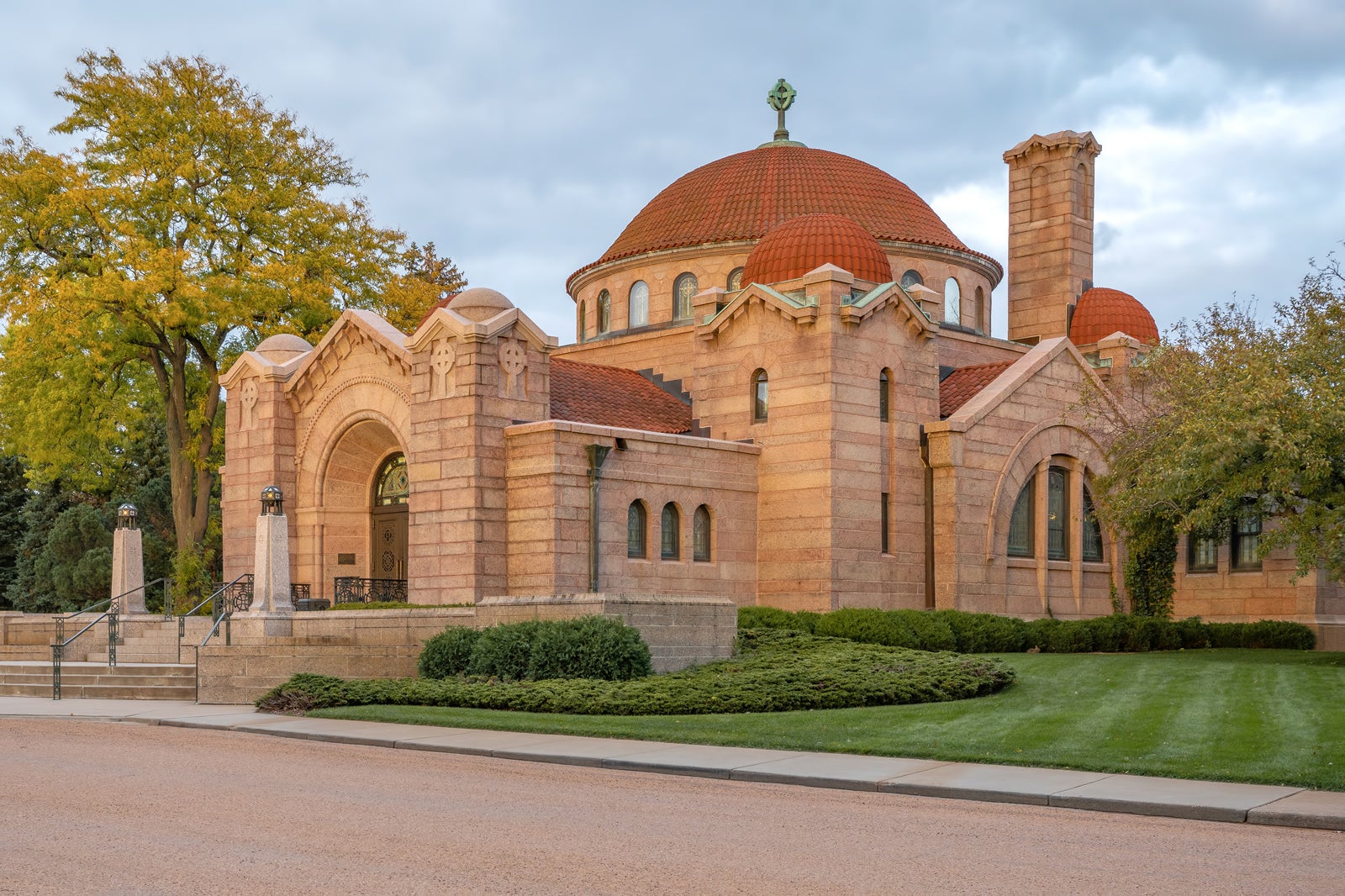 At the leafy retreat of Lakewood Cemetery, you can explore nearly 150 years of Minneapolis history. The historic chapel in the grounds was modelled after the Hagia Sophia in Istanbul, containing a sundial made of stained-glass windows and some genuinely stunning Byzantine mosaic art. Many respected Minneapolis residents are buried here, including Congressman Charles Lindbergh, writer Robert Menzies McAlmon, and violinist and composer Emil Oberhoffer.
Entrance is free, and there are free self-guided tours of the numerous unusual plant species in the grounds, the beautiful sculptures, and the tranquil Pool of Reflections. The complete walking tour takes 2 to 3 hours, so be sure to wear comfortable shoes.
Location: 3600 Hennepin Ave, Minneapolis, MN 55408, USA
Open: Daily from 8 am to 8 pm
Phone: +1 612-822-2171
photo by chaddavis.photography (CC BY 2.0) modified
6
Nice Ride Minnesota bike share
A scenic way to get some exercise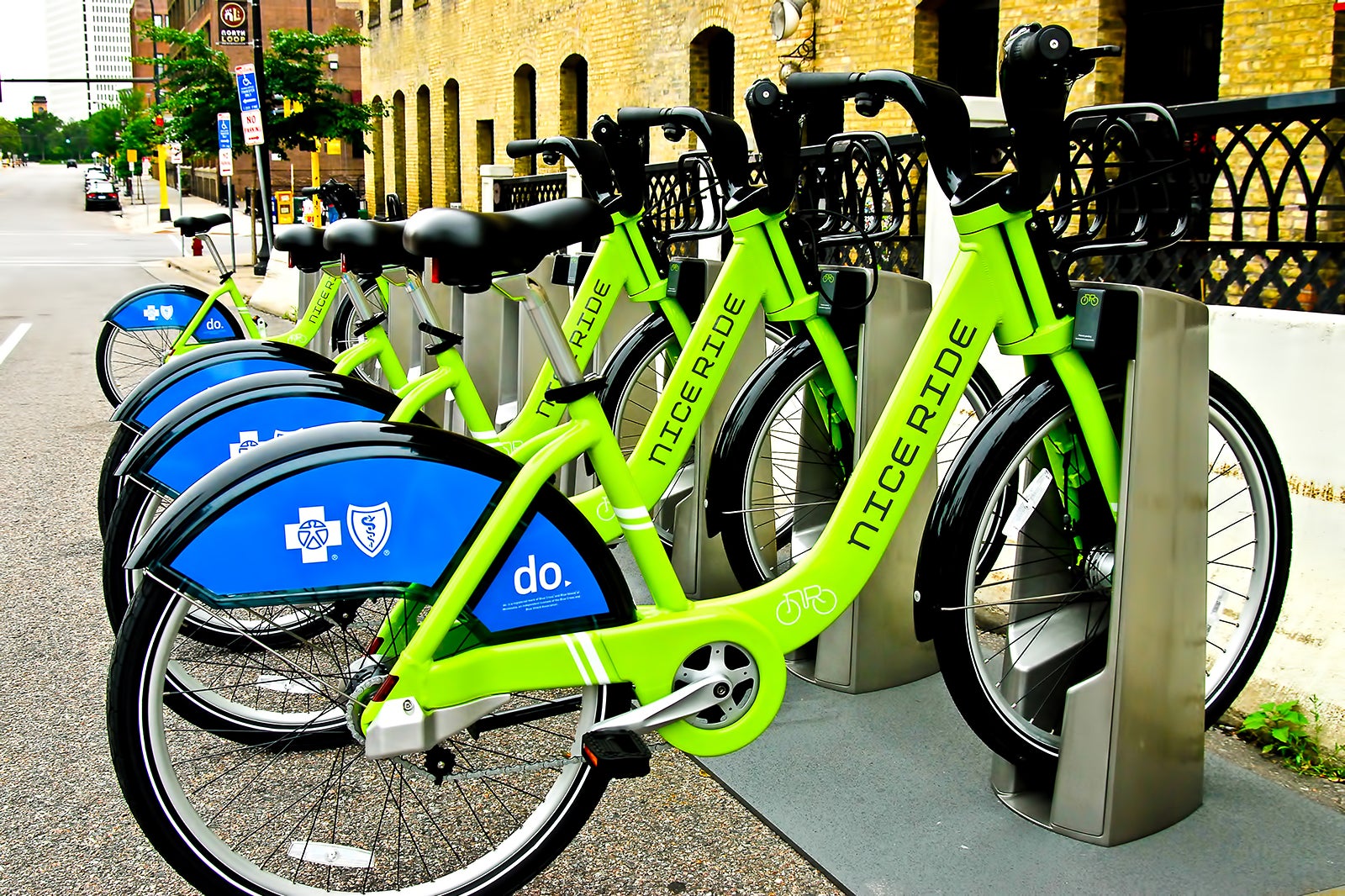 See more of the city in a way that's healthy and eco-friendly with the Nice Ride Minnesota bike share. There are more than 400 Nice Ride stations across the city, so it's easy to grab a bike and go exploring. Rides start from around $2, through the easy-to-use Nice Ride app.
Don't know where to go riding? The Chain of Lakes cycle route covers 15 miles and connects some of the city's most picturesque scenery around Brownie Lake and Cedar Lake, and both banks of the Mississippi River are covered in verdant cycle routes. If you want to get off-road, the Back 40 Loop around Theodore Wirth Park has 3 miles of single-track riding.
7
Minneapolis' street art
Admire tributes to the city's most famous residents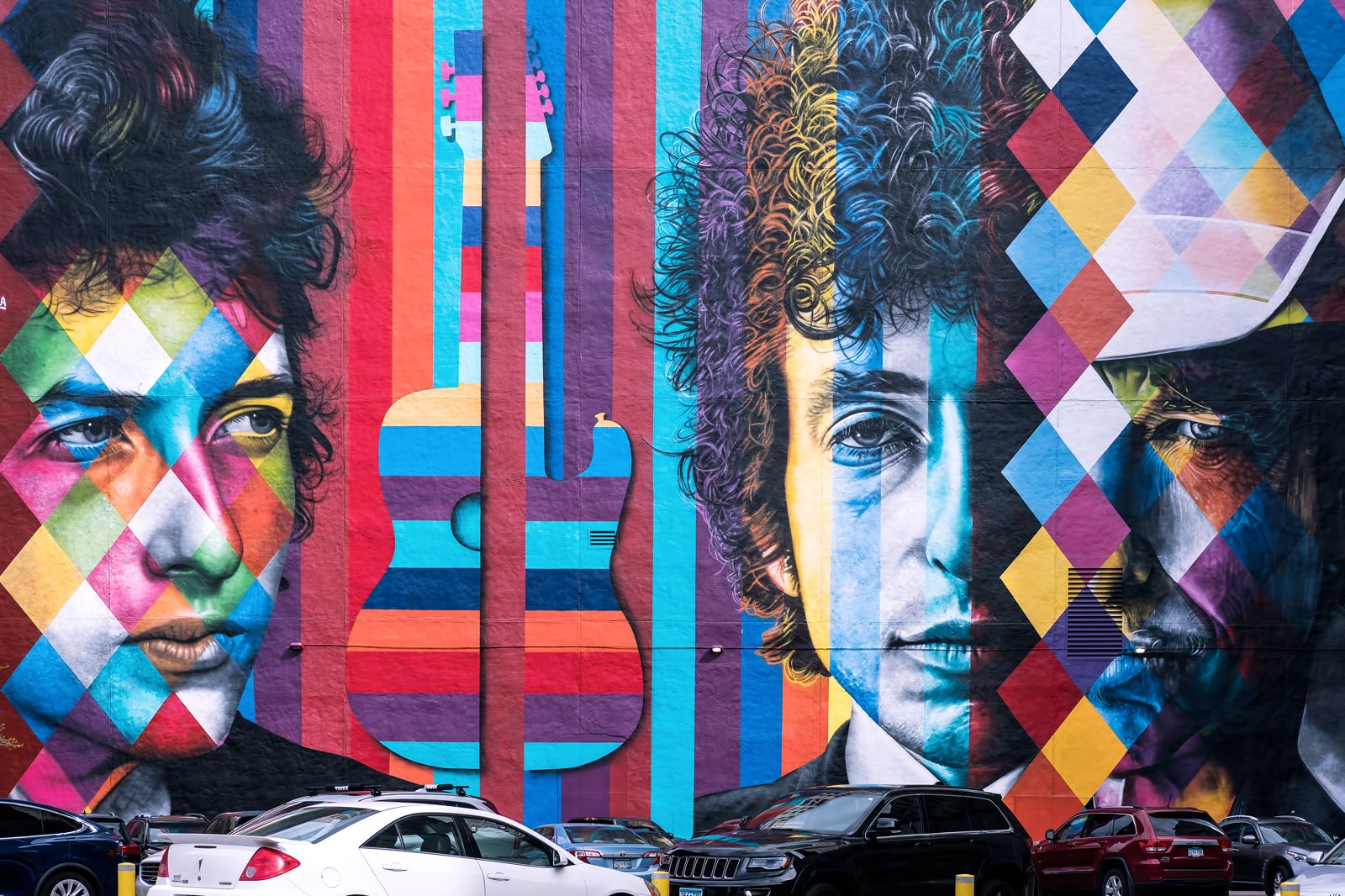 Minneapolis has more than 300 pieces of funky street art that rival those hanging in the city's galleries. Possibly the most famous is the Bob Dylan mural in the centre of downtown, measuring 160 ft and featuring an eye-catching kaleidoscope of colours. It's also worth checking out the Prince mural in Uptown, designed by local artist Rock Martinez.
Other interesting pieces include the enormous attacking shark that seems to leap off the side of the building at Part Wolf MPLS, and the pop-art style 'Take A Picture' mural across from the Orpheum Theatre. The City of Minneapolis website has a map of all the public art in the city along with several self-guided tours.
photo by Sharon Mollerus (CC BY 2.0) modified
8
Ted Mann Concert Hall
Evening entertainment without the expense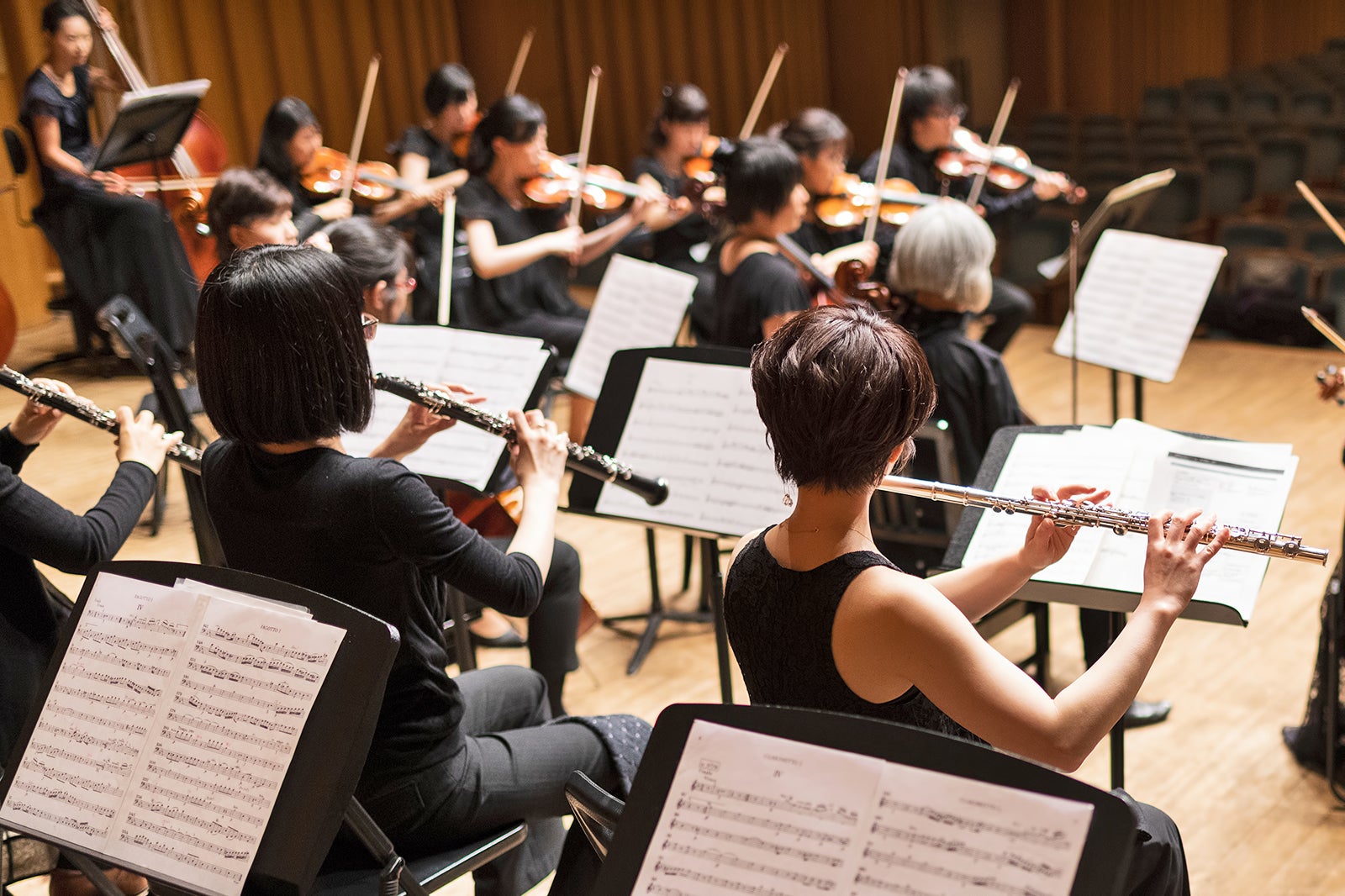 Ted Mann Concert Hall, located on the Mississippi River, offers stunning panoramas through floor-to-ceiling windows in the lobby. The auditorium was designed for superb acoustics and can accommodate more than 1,200 people. Their schedule includes performances by the St Paul Chamber Orchestra, the Lincoln Center Jazz Orchestra, the Joe Henderson Trio, and Martha Graham Dance Company.
The hall hosts a regular program of free concerts performed by students of the University of Minnesota's School of Music. Choose from classical, jazz or chamber music performed by the Campus Orchestra, or see a child-friendly concert.
Location: 2128 S 4th St, Minneapolis, MN 55455, USA
Open: Hours vary by showtimes
Phone: +1 612-625-5000
9
Bde Maka Ska
Swim and sunbathe on the city's loveliest beaches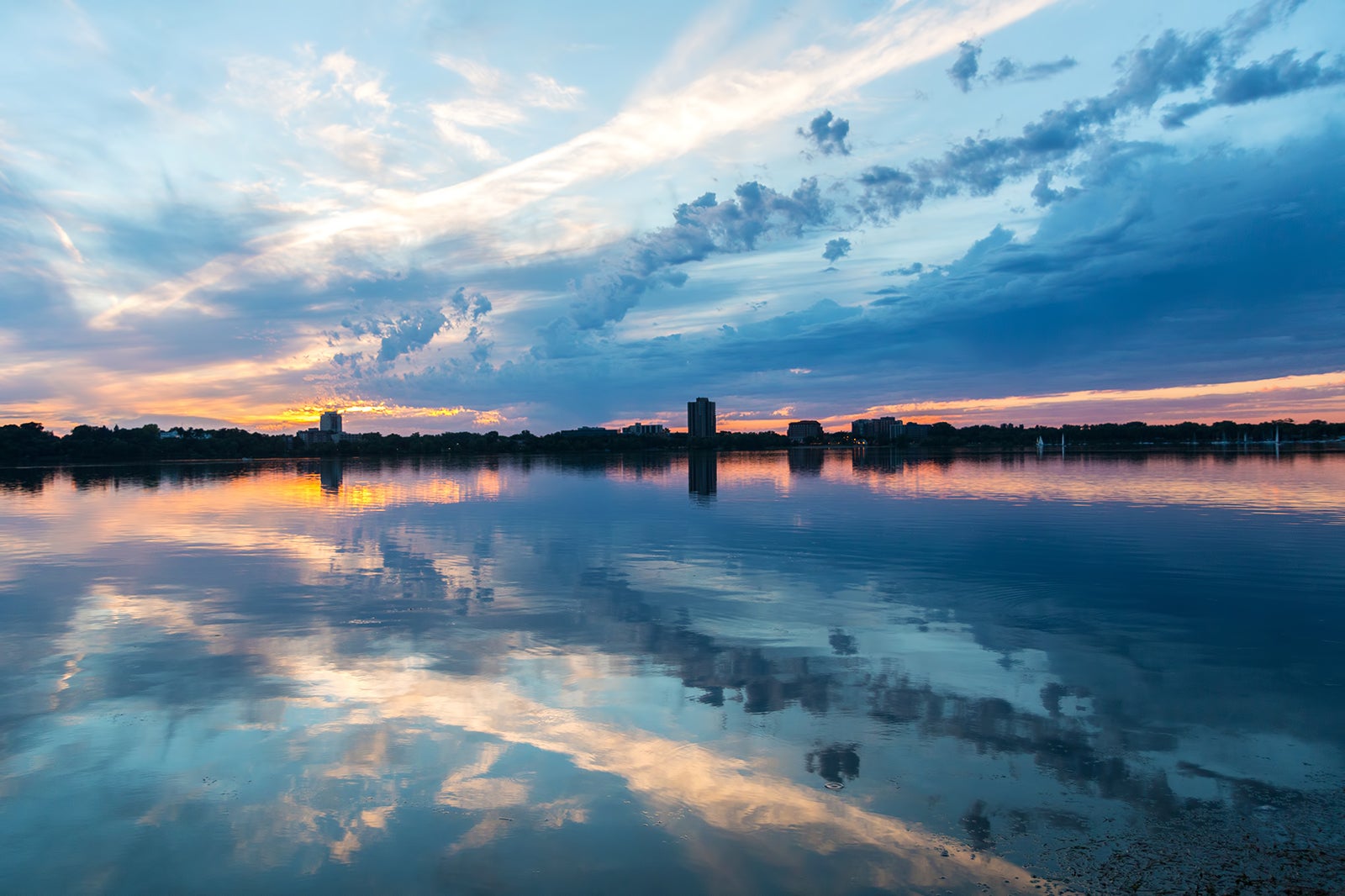 Budget
Couples
Families
Photo
Bde Maka Ska is the largest of city's Chain of Lakes, surrounded by 3 miles of bike and pedestrian paths. Indeed, Minneapolis is blessed with dozens of lakes that make for a great day out at little cost. Besides gardens and picnic spots, Bde Maka Ska has a softball field and volleyball court, along with canoe, kayak and paddleboard rentals.
Three beaches surround the lake, perfect for swimming or lounging in warm weather. Don't miss the Bde Maka Ska Public Art Project, which commemorates the Dakota agricultural community – they have been around since the 19th century. End your day by enjoying dinner with a view at Lola on the Lake Restaurant.
Location: 3000 East, W Bde Maka Ska Pkwy, Minneapolis, MN 55408, USA
Open: Daily from 6 am to midnight (closes at 10 pm in undeveloped areas)
10
Happy hour at craft breweries
Try a wide range of tasty beers and ales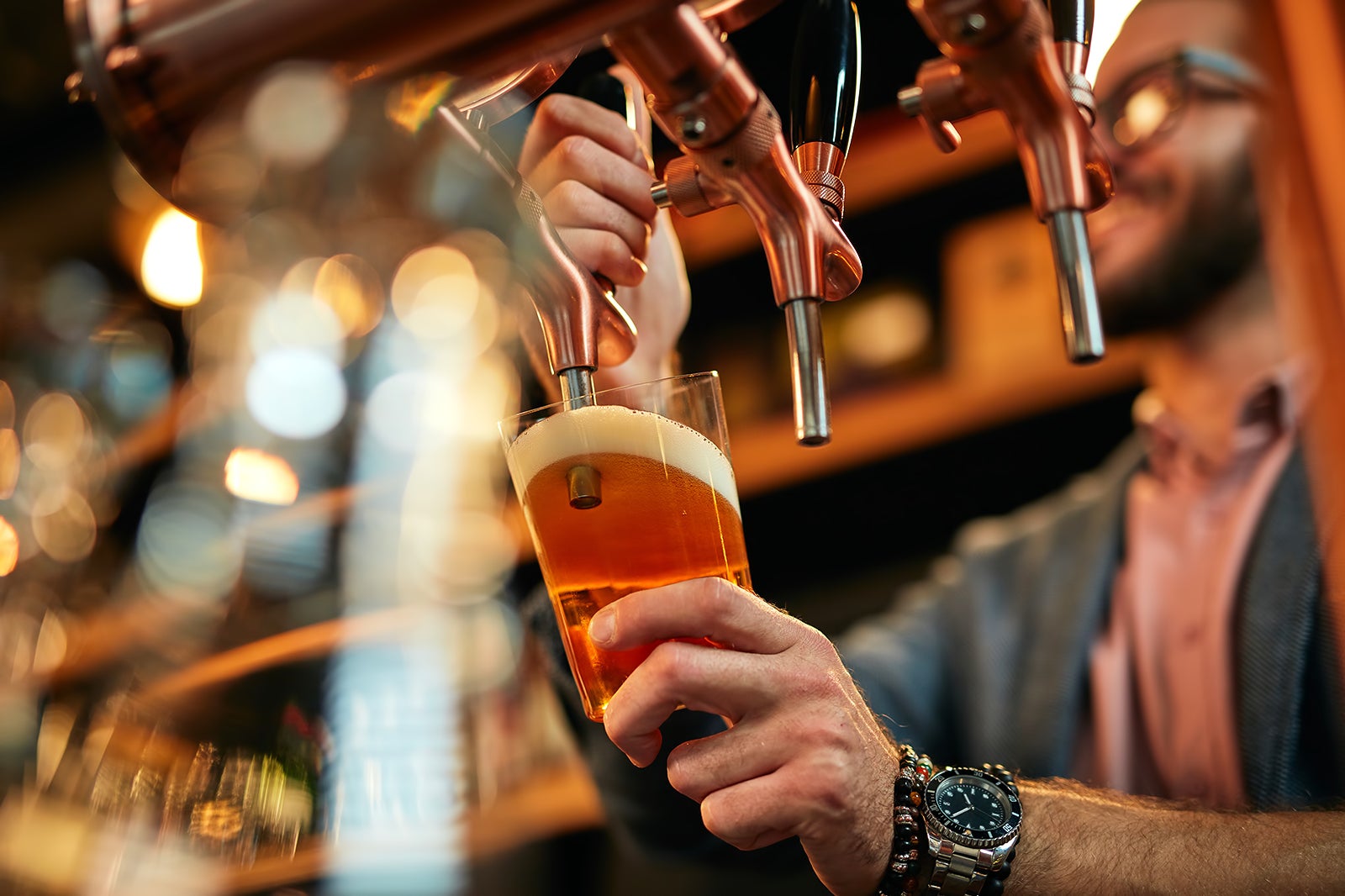 If you're hoping to try some of Minneapolis' award-winning craft beer, save money by getting to the breweries early. Most locations have happy hours in either the late afternoon or late evening, and if you time your bar crawl right you can have discounted drinks all night.
Eastlake Craft Brewery in Midtown has $2 off all beers from Sunday to Thursday between 9 pm and 11 pm, while The Herkimer Pub & Brewery in Uptown has special offers on its most popular brews between 3 pm and 6 pm daily. Indeed Brewing Company in Northeast Minneapolis also has $2 off its tap beers between 3 pm and 6 pm, and their food truck is a good option for cheap eats.
Back to top