10 Ways to Save Money in Memphis
How to Enjoy Memphis on a Budget
There are plenty of ways to save money in Memphis that only require a bit of smart planning before your visit. While many popular landmarks – Graceland and Sun Studio, for example – have rather hefty admission fees, you still can find many inexpensive and free activities to enjoy throughout your city break.
Free or pay-what-you-can days or hours are available at most museums and galleries in Downtown Memphis, allowing you to learn about the city's rich history, musical roots, and arts scene. Summer is one of the best times to visit the Birthplace of Rock 'n' Roll, as concerts and family-friendly events often take place in areas like Beale Street and the South Main Historic Arts District. Enjoy Memphis on a budget with our comprehensive guide below.
1
Sun Studio Shuttle
Enjoy a free trip to Memphis' music attractions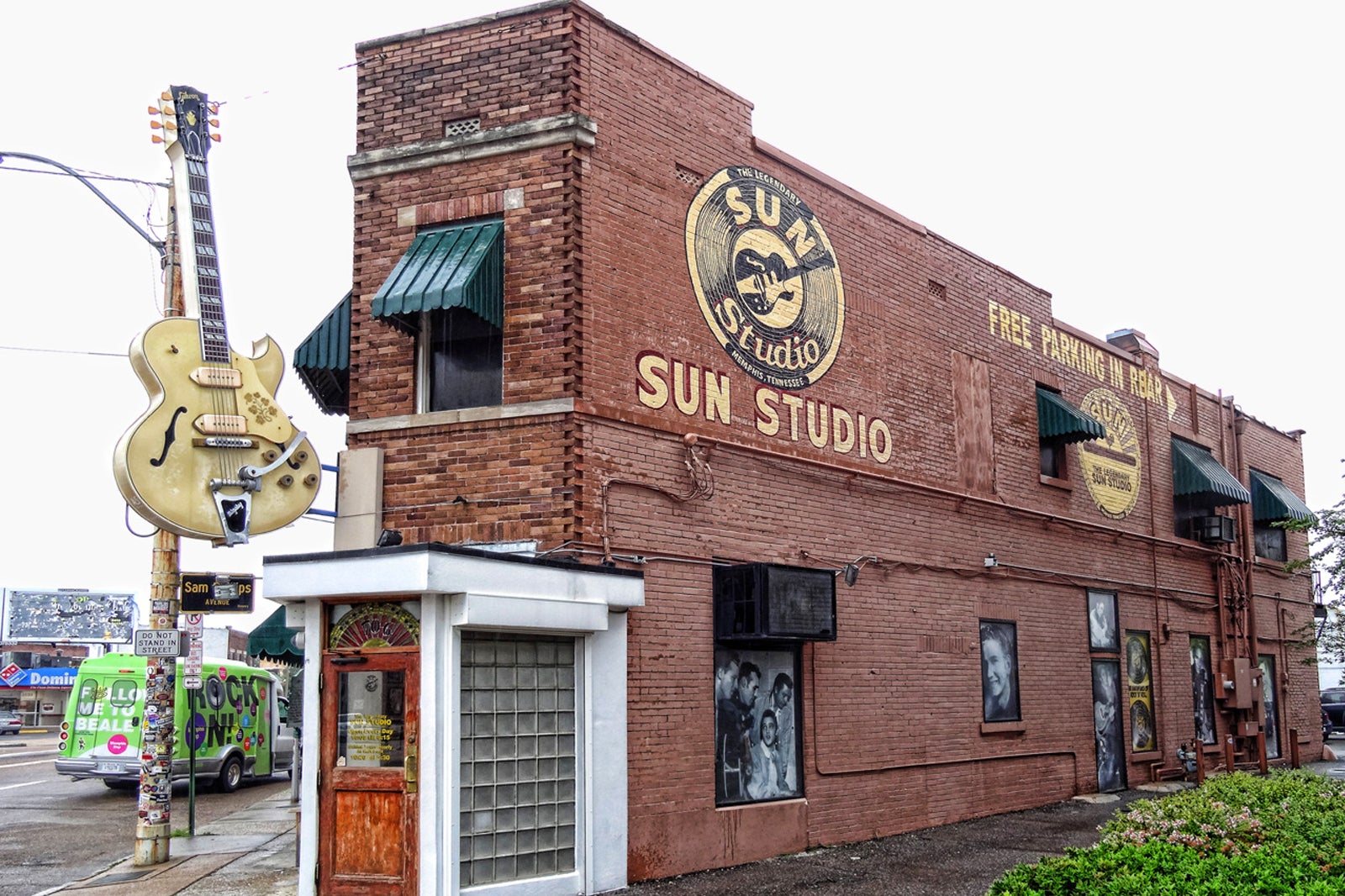 The Sun Studio Shuttle is a free public bus that takes you to Memphis Rock 'n' Soul Museum, Graceland, and Sun Studio. It runs almost hourly every day, making it one of the most convenient ways of getting around 3 of Memphis' most popular music landmarks.
The Sun Studio Shuttle's drop-off/pick-up point is directly in front of Sun Studio, with seats available on a first-come, first-served basis. While the shuttle is complimentary for Sun Studio visitors, note that there are entry fees to explore the attractions. You should carry some cash to tip your friendly driver, too, and it's a good idea to check the shuttle schedule for any changes.
Location: 706 Union Avenue, Memphis, Tennessee, USA
Open: Daily from 10 am to 6.30 pm
Phone: +1 800-441-6249
photo by Allan Grey (CC BY-SA 2.0) modified
2
Look for free or pay-what-you-can museum days
Plan a day of museum-hopping in Memphis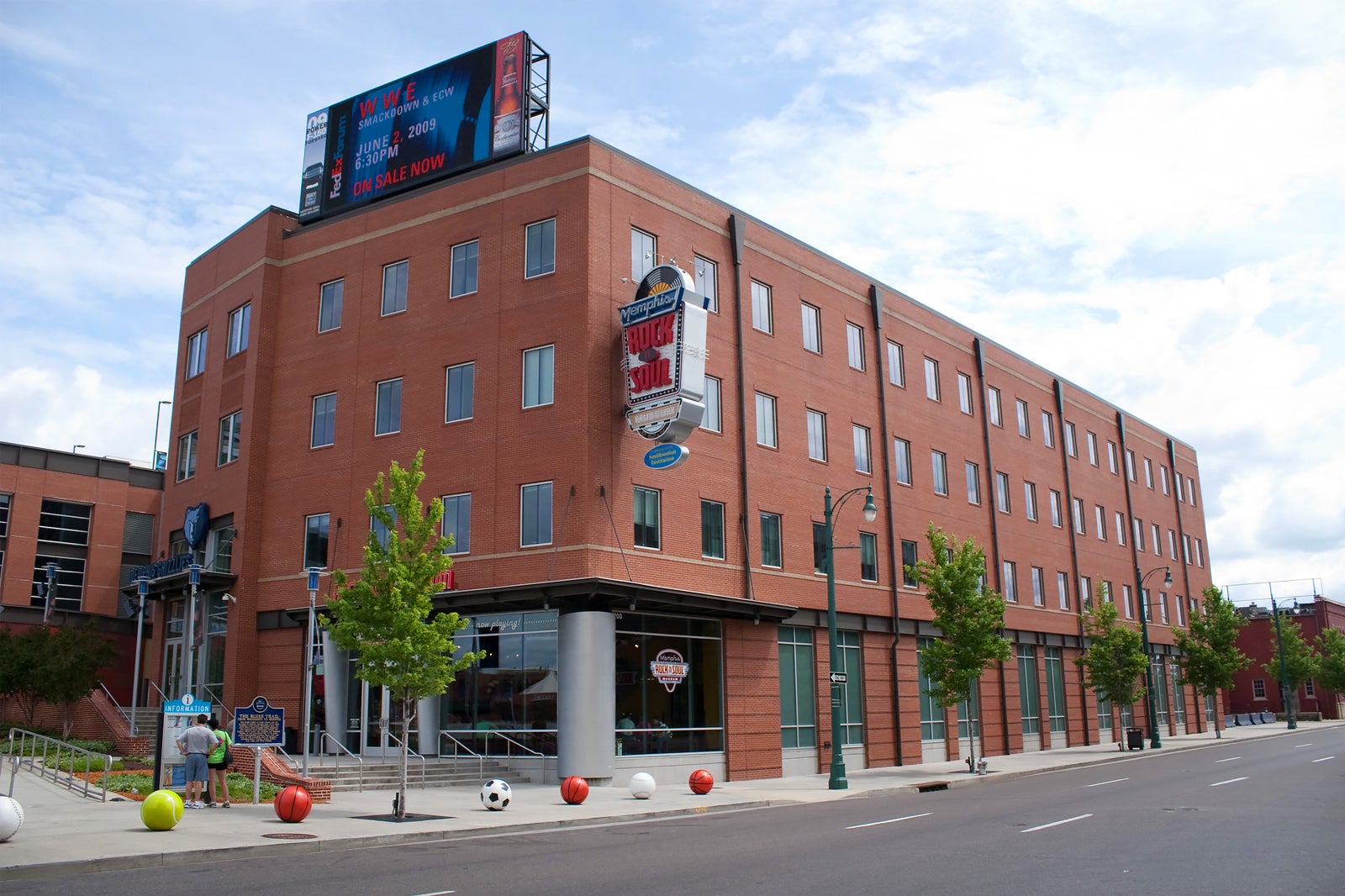 Many of Memphis' museums and landmarks have days or times when you can visit for free. It might need a bit of researching, but you'll save quite a lot in the long run. Tennessee residents can enjoy free admission to Memphis Zoo on Tuesday afternoons, Memphis Rock 'n' Soul Museum on Tuesdays from 2 pm to 7 pm, and the National Civil Rights Museum on Mondays from 3 pm onwards.
If you're not a local, there are pay-what-you-can days to look out for – visit Memphis Brooks Museum of Art on Wednesdays from 10 am to 8 pm, or the Dixon Gallery and Gardens on Tuesdays from 10 am to 5 pm.
photo by Gary J. Wood (CC BY-SA 2.0) modified
3
Explore Memphis by trolley
A fun ride for families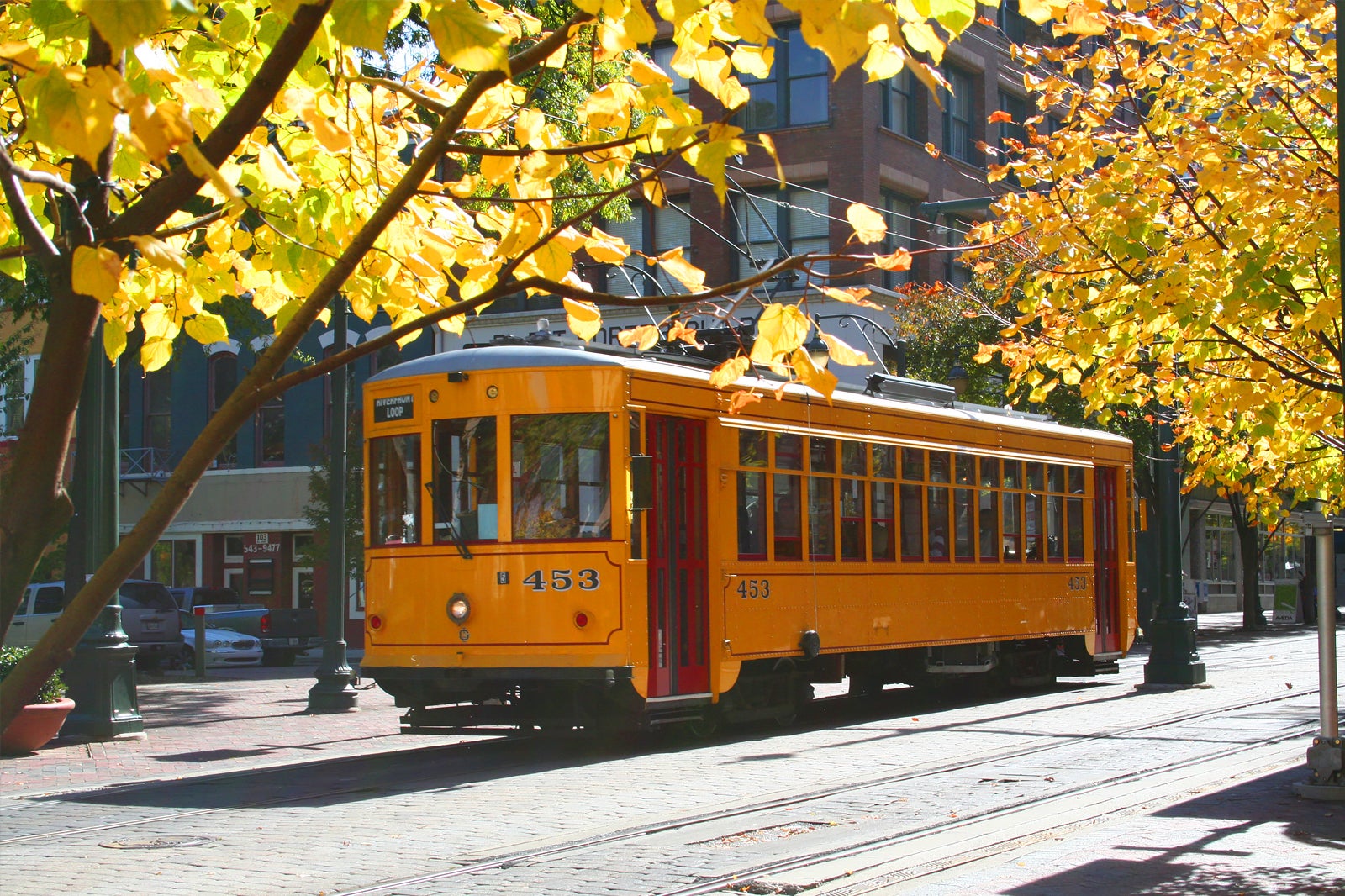 The Memphis Trolley has 3 routes that take you to different parts of the city for a base fare of about $1. The Main Street Line stops near prominent hotels and landmarks such as Beale Street, National Civil Rights Museum and the South Main Arts District. Trolleybuses on this line usually operate every 12 minutes.
The Riverfront Shuttle Line is a 2.6-mile-long loop that offers a scenic view of the Mississippi River, while the Madison Avenue Shuttle Line takes you along Madison Avenue in Midtown Memphis. Day passes are available for better value for money.
4
Mud Island River Park
Walk alongside a scale replica of the Lower Mississippi River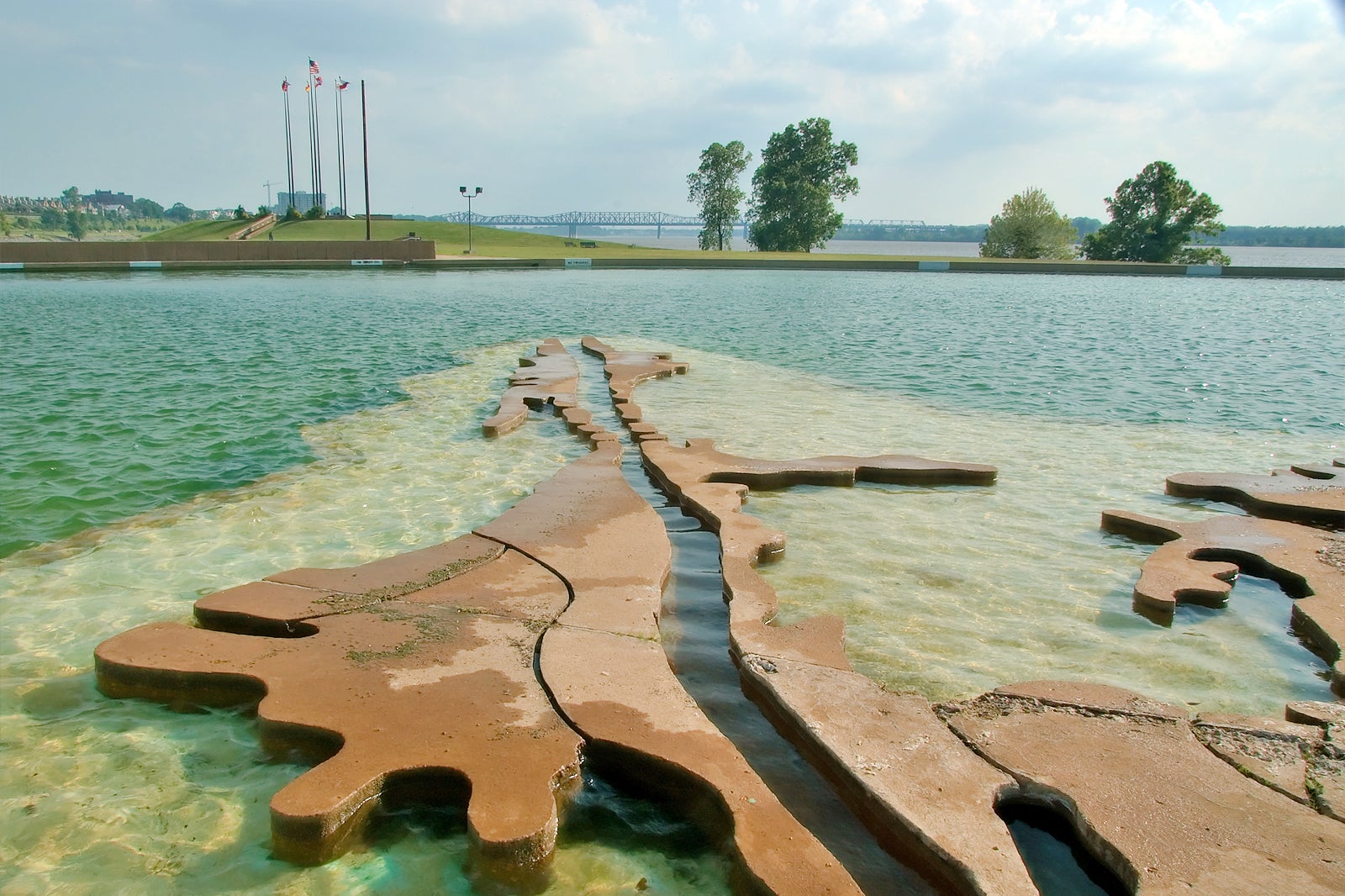 The Mud Island River Park offers a wide range of activities for families in Memphis. One of its most popular features is the free Riverwalk, a scale replica of the Lower Mississippi River. Spanning roughly 5 city blocks, it's marked with miniature cities, bridges and historic landmarks found between Cairo in Illinois and the river estuary south of New Orleans. There's also a pool that represents the Gulf of Mexico.
The Mud Island River Park also has an amphitheatre that hosts live concerts, mainly in the summer. Check out the twice-monthly Soulin' on the River for performances by up-and-coming soul musicians of Memphis. A Vibe on the Island takes place every month, showcasing different genres to keep things interesting.
Location: 125 N Front St, Memphis, TN 38103, USA
Open: Daily from dawn to dusk
5
Visit Dixon Gallery and Gardens on a Saturday morning
See a permanent collection of paintings and artworks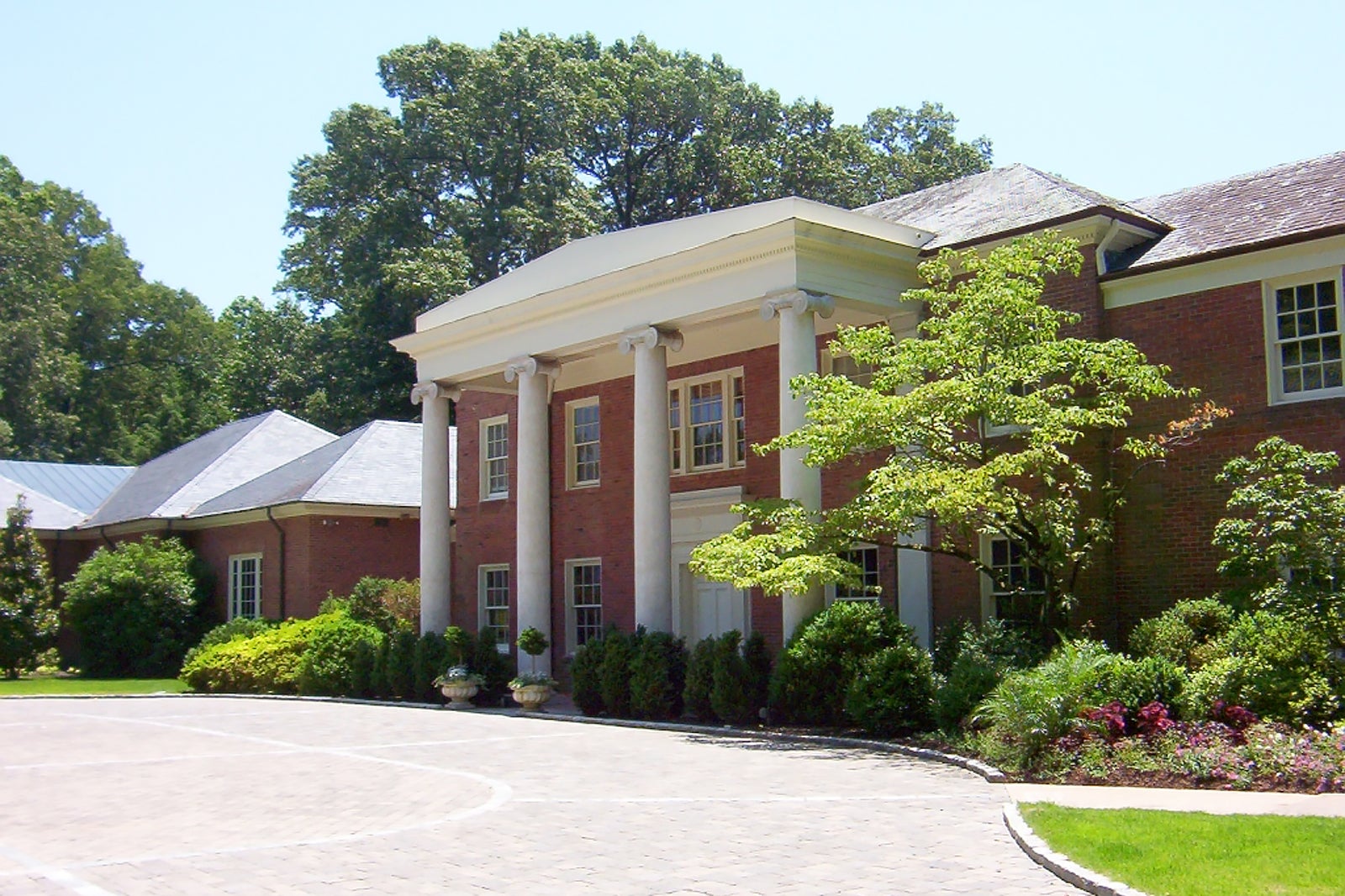 Budget
Couples
Families
Photo
The Dixon Gallery and Gardens combines art and horticulture with an extensive collection of world-class artworks. You can explore around 17 acres of English-style gardens, which are decorated with classical sculptures. Its permanent collection of over 2,000 objects includes late 19th-century Impressionist paintings by Edgar Degas, Claude Monet, and Berthe Morisot, along with 18th-century German and English porcelain.
Tickets to the Dixon Gallery and Gardens cost around $7 but visit on a Saturday (10 am to noon) to enjoy free admission. The gallery also has a pay-what-you-can policy on Tuesdays. You can find the Dixon Gallery and Gardens in East Memphis, just 0.3 miles south of the Memphis Botanic Garden.
Location: 4339 Park Ave, Memphis, TN 38117, USA
Open: Tuesday–Saturday from 10 am to 5 pm, Sunday from 1 pm to 5 pm (closed on Mondays)
Phone: +1 901-761-5250
photo by Thomas R Machnitzki (CC BY-SA 3.0) modified
6
Big River Crossing
Walk or bike across the Mississippi River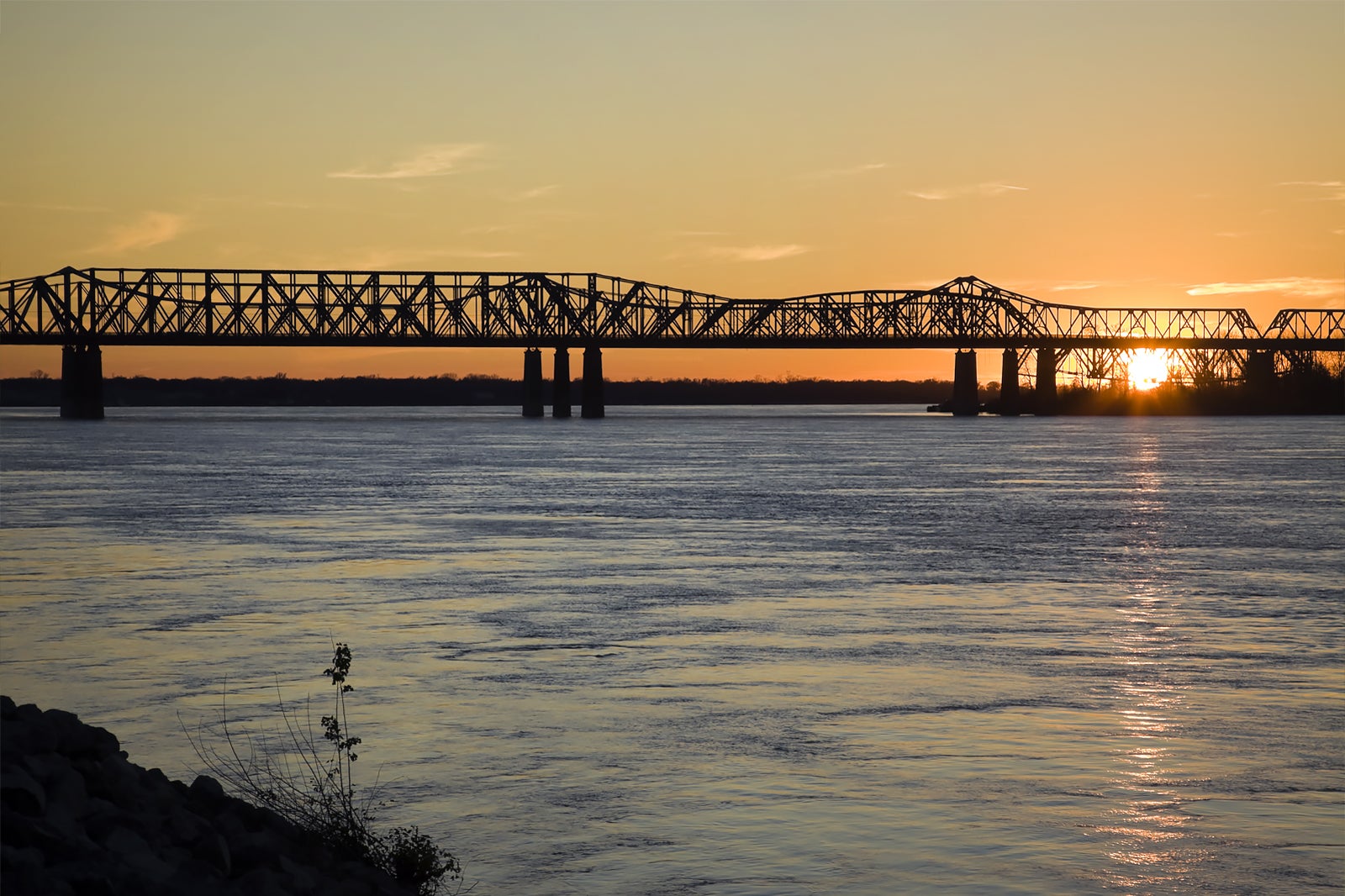 Big River Crossing stretches nearly 1 mile across the Mississippi River, making it one of the longest pedestrian bridges in the USA. This protected pathway on Harahan Bridge connects Downtown Memphis and Arkansas, giving you spectacular views of the river and the city skyline throughout the day.
You can walk or ride your bike across the bridge. If you need to rest afterwards, there's a covered patio with benches, picnic tables and bike racks at the Arkansas end of the crossing. Big River Crossing hosts a light show from dusk until 10 pm – more than 100,000 LED lights produce impressive patterns to commemorate holidays and special events.
Location: Big River Crossing, Memphis, TN 3810, USA
Open: Daily from 6 am to 10 pm
7
Elmwood Cemetery
The final resting place of Memphis icons
Elmwood Cemetery dates back to 1852, making the first rural garden cemetery in the South. The 80-acre cemetery is the final resting place of 85,000 Memphians, many of whom were military veterans, civil rights leaders, and Blues singers. You're free to explore the lush grounds – must-sees include the 19th-century Phillips Cottage (Elmwood's visitor centre and office) and the Gothic Victorian Lord's Chapel.
Elmwood Cemetery is also the official Bird Sanctuary and Arboretum of Memphis. Look for a shaded spot in Miller Garden to rest and enjoy views of blooming azaleas, hydrangeas, lilies, ferns, as well as ginkgo, oak, and maple trees.
Location: 824 S Dudley St, Memphis, TN 38104, USA
Open: Daily from 8 am to 4.30 pm
Phone: +1 901-774-3212
photo by Snickersnack30 (CC BY-SA 3.0) modified
8
Levitt Shell
Check out live music concerts at this amphitheatre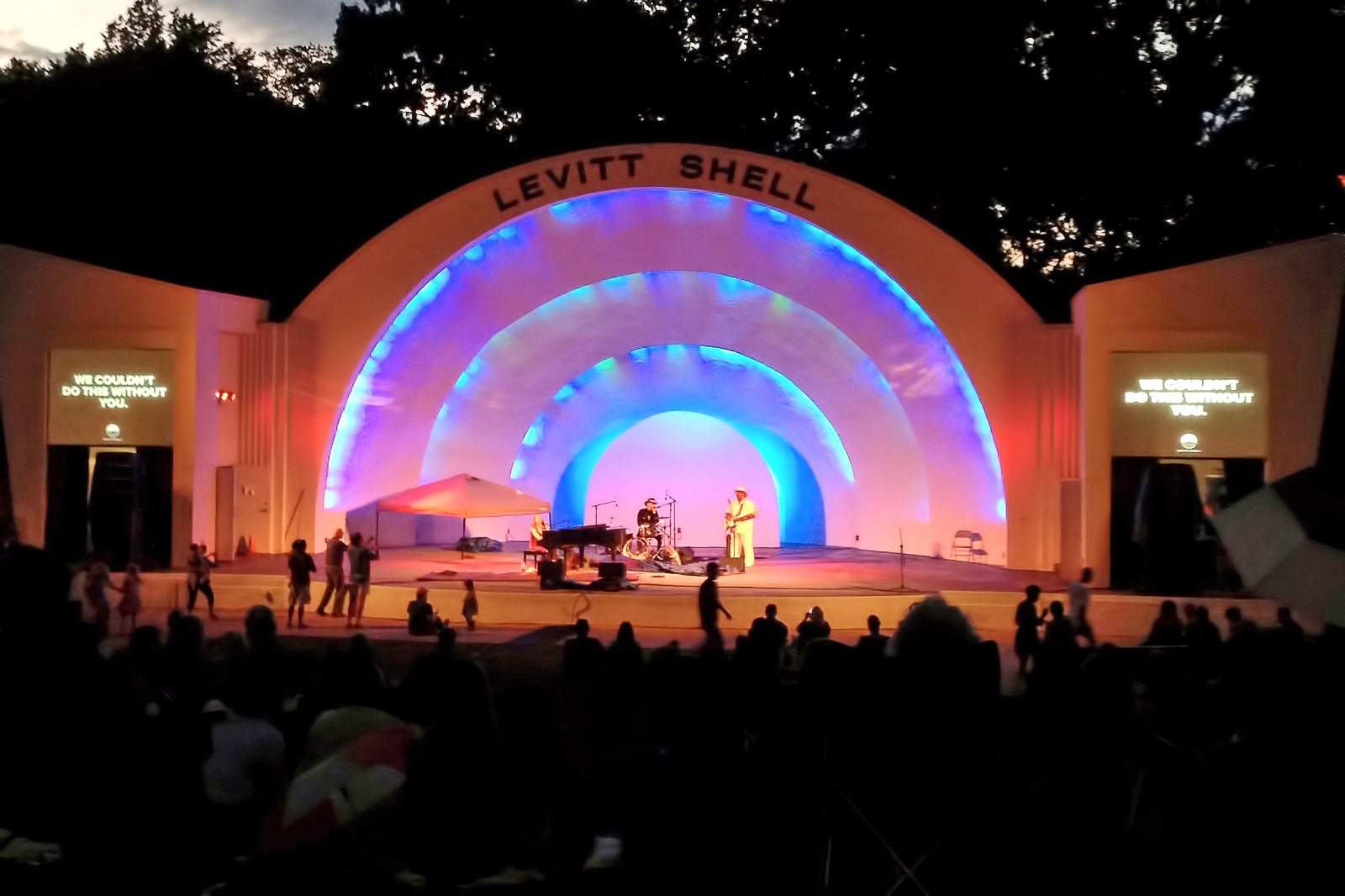 Nightlife
Budget
Couples
Families
Group
Levitt Shell is an open-air amphitheatre in Overton Park, hosting more than 50 free concerts every year. It's also historically significant, as this is where Elvis Presley performed his first paid concert back in 1954.
The amphitheatre has lawn seating available on a first-come-first-served basis, as well as bench seats that are reserved for the physically challenged. Be sure to bring a blanket or chair if you're planning a visit to Levitt Shell. You can find food trucks at the Shell Eats community area, while drinks are available at the Levitt Shell Bar. You can bring your own food if you're catching the Orion Free Music Concert Series.
Location: Overton Park, 1928 Poplar Ave, Memphis, TN 38104, USA
Open: Hours vary by show
Phone: +1 901-272-2722
photo by Debby white (CC BY-SA 3.0) modified
9
South Main Trolley Night
Memphis' longest-running street festival
The South Main Trolley Night is a monthly festivity where shops, restaurants, bars and art galleries in the South Main Historic Arts District host live events and special discounts for all. It takes place on the last Friday of the month, usually between 6 pm and 9 pm, though celebrations often last until late.
You're free to explore world-class exhibitions at the district's galleries, many of which offer free snacks and drinks during your visit. There are also games, live music and dance performances out on the streets, resulting in a fun and vibrant atmosphere. If you're getting around Memphis by trolley, rides are free between Beale Street Station and Central Station during this time.
Location: South Main, Memphis, TN, USA
Open: Last Friday of the month from 6 pm to late
Phone: +1 901-270-0106
10
Peabody Duck March
See 5 mallard ducks waddling on the hotel's red carpet
The Peabody Duck March is a unique tradition of the Peabody Hotel in Downtown Memphis since the 1930s. You can see 5 North American mallards marching through the hotel lobby to swim in its marble fountain. The procession takes place every morning, which includes a red carpet, photographers and an official announcement of the ducks' arrival.
In the evening, there's another procession for the ducks to return to their home, located on the hotel's rooftop. You can enter the hotel and watch the Peabody Duck March for free – it's especially popular with families.
Location: 118 S 2nd St, Memphis, TN 38103, USA
Open: Daily from 11 am to 5 pm
Phone: +1 901-529-4000
Back to top