10 Best Things to Do in Savannah
What is Savannah Most Famous For?
Savannah is the oldest city in the state of Georgia. It has a centre that's filled with historic buildings in styles ranging from French Gothic to Greek Revival. The best things to do in Savannah include sipping cocktails at rooftop bars or drinking beers in colonial-style pubs. Alternatively, you can relax on the beach, take a walk through the wilderness, or simply relish the Southern charm of this warm and welcoming city.
Whether you want to explore the battle sites of the Revolutionary Wars or kick back by the waterfront and feel the sand slip between your toes, there's plenty to enjoy in this coastal city.
What are the best things to do in Savannah?
1
Savannah River
Watch the sunrise by the river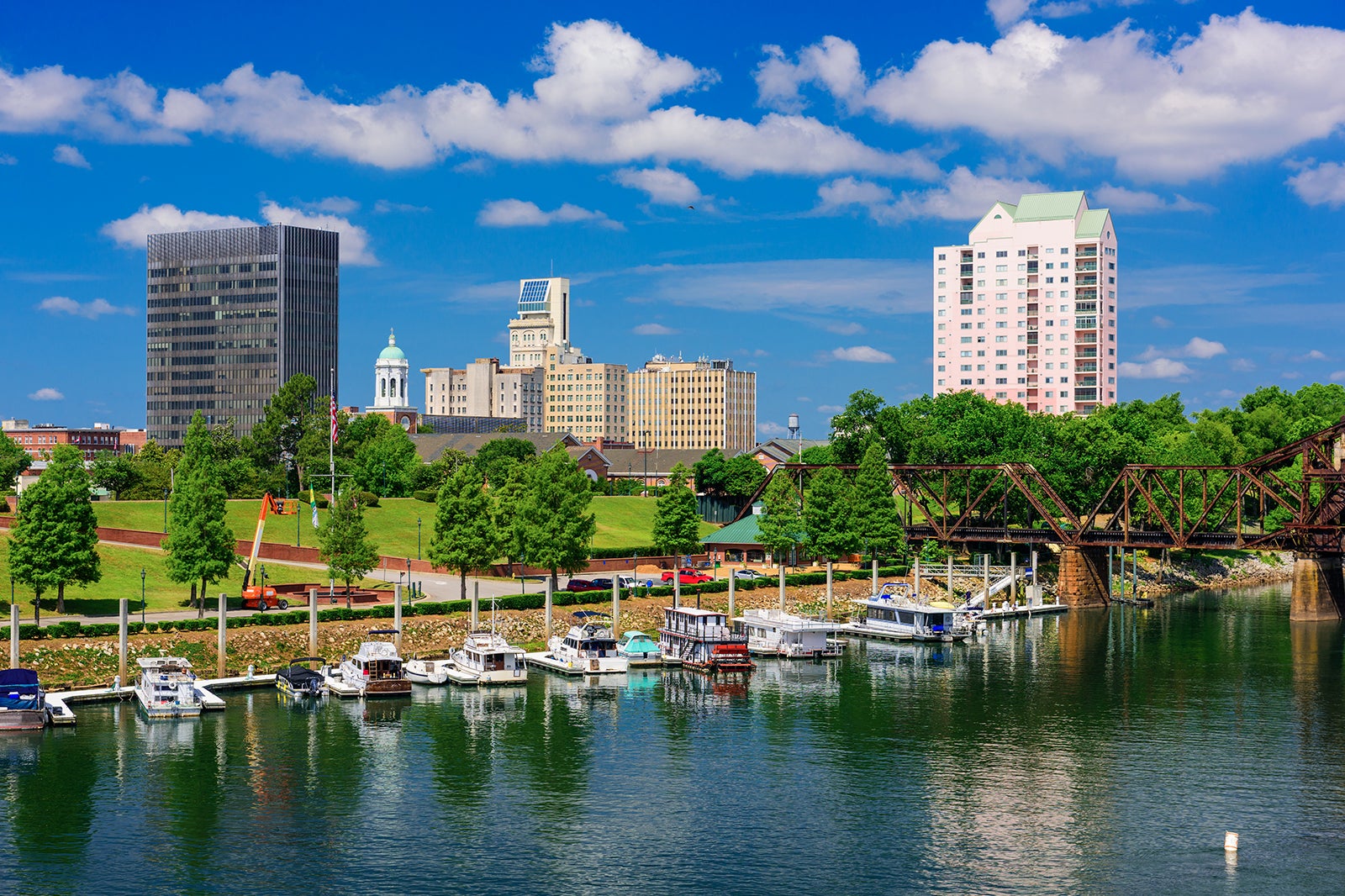 If you want to escape the morning crowds, take a stroll by the Savannah River where you can watch the sunrise over the city and waterfront. South Carolina is located just across the river – the Savannah River itself serves to define much of the border between the two states.
There are plenty of attractions along and near the waterfront, including the restored 19th century Old Fort Jackson. You'll find nearby Tybee Island where the river meets the Atlantic Ocean. You can also explore the creeks and streams by boat or on foot. Alternatively, stop off at a cosy café to start your day while admiring the natural beauty of Savannah.
2
Cathedral of St. John the Baptist
Learn about the rich history of this impressive structure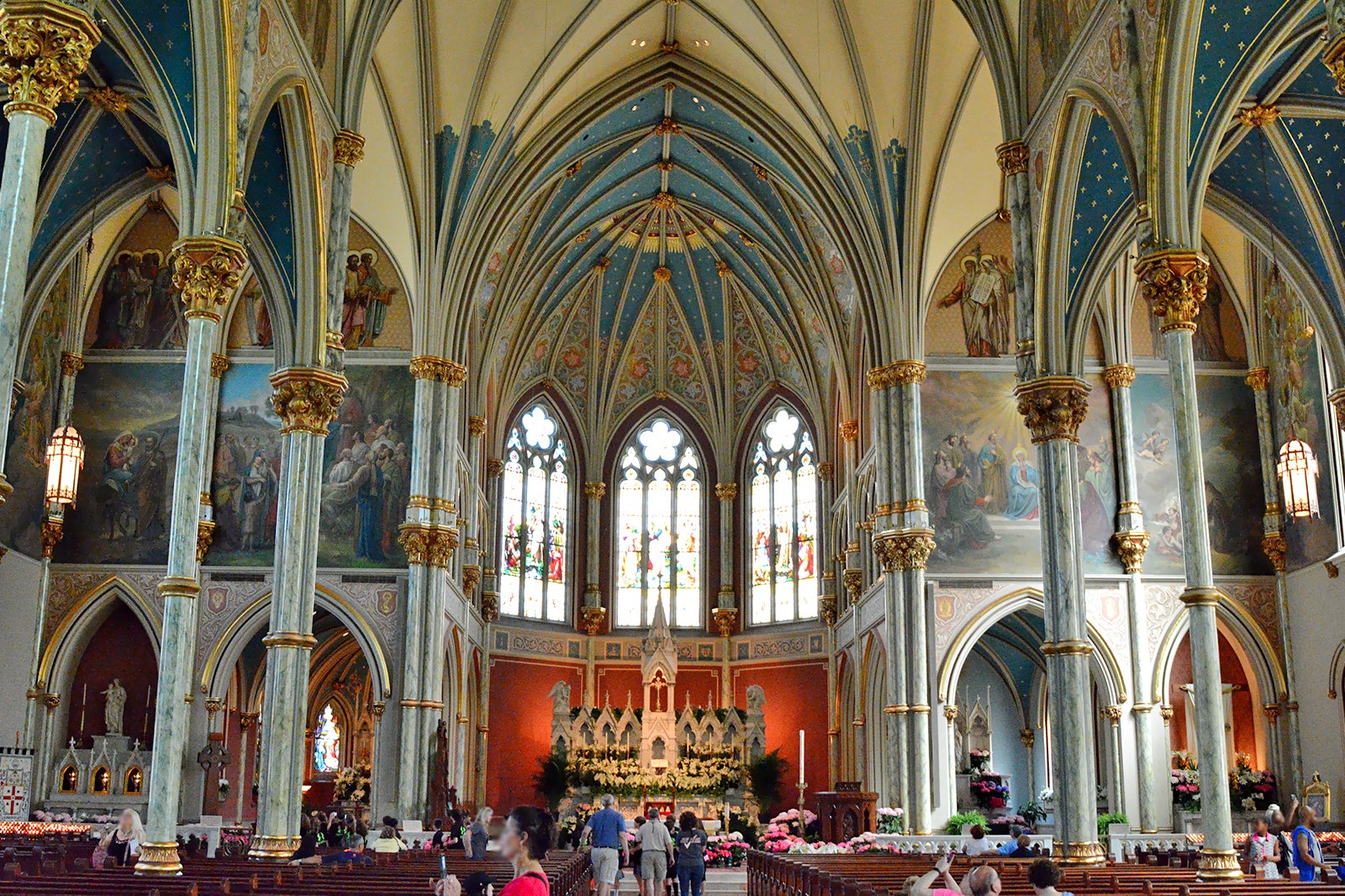 The Cathedral of St. John the Baptist is one of Savannah's most iconic structures. The original building dates back to the 18th century, though the one you can visit today was completed in 1873. The spires, which can still be seen from most parts of the city, were constructed in 1896.
Over the years, the church has served as a protestant church while under British colonial rule, the city's main church for freed slaves, and a Roman Catholic cathedral, which is what it is today. The structure was nearly destroyed by a fire in 1898, but thanks to the diligence of the locals, it was rebuilt just a year later. If you want to catch a glimpse into Savannah's past and present, it's worth paying a visit to The Cathedral of St. John the Baptist.
Location: 222 E Harris St, Savannah, GA 31401, USA
photo by Judson McCranie (CC BY-SA 3.0) modified
3
First African Baptist Church
Visit a place of worship that once served as a safehouse for escaped slaves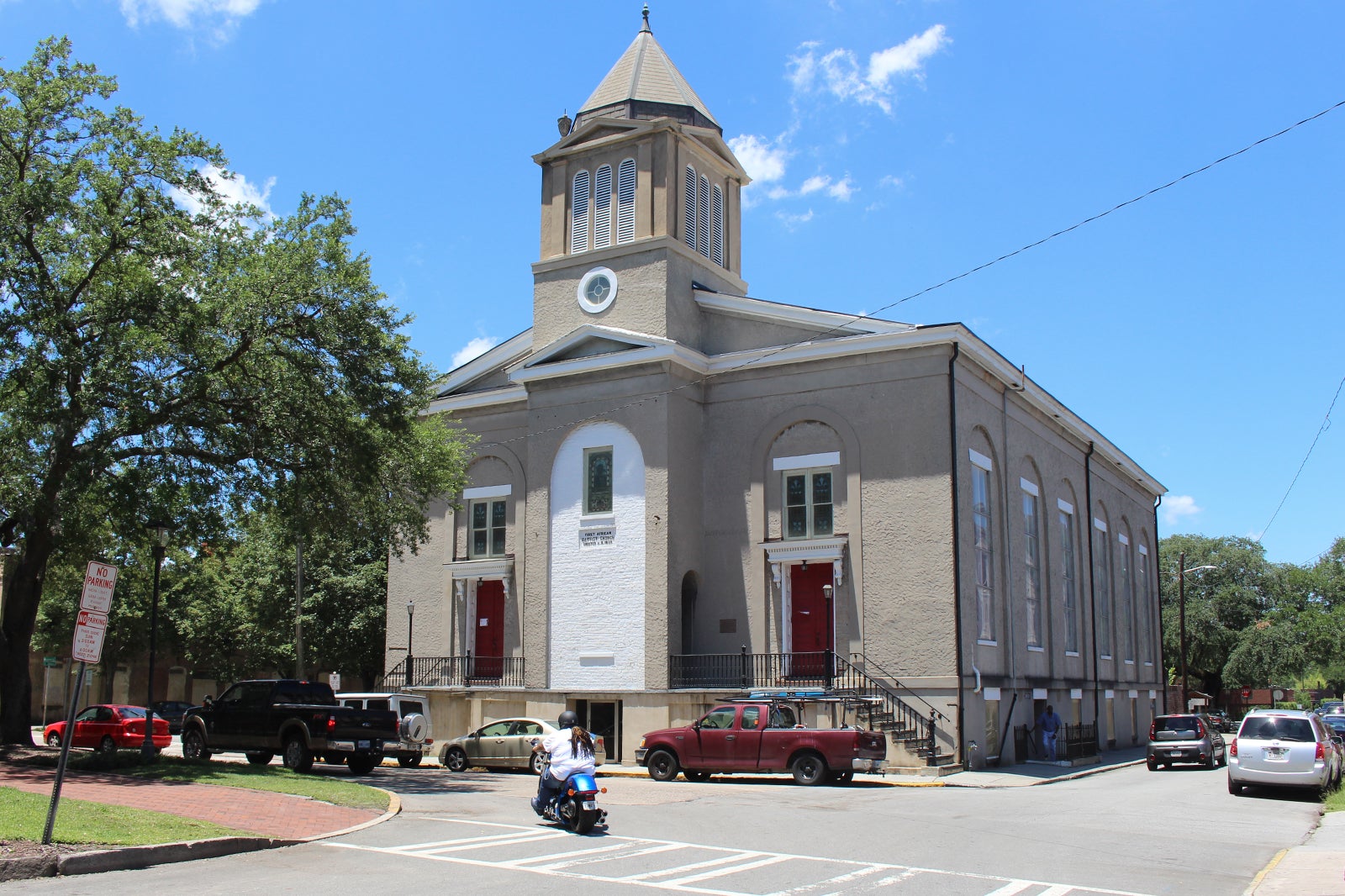 The First African Baptist Church played a prominent role in the shaping of North American history. Before the church was formed by its congregation in 1773, slaves were visited at their plantations by preachers. This humble church gave slaves a place to hold baptisms and services for the first time. It was also used as a safehouse for escaped slaves on the Underground Railroad Network.
You can view the cramped spaces where escaped men and women would hide under the church floorboards in this historically important museum. You can also browse archives, exhibitions, and memorabilia to gain an insight into the rich history of this building.
Location: 23 Montgomery St, Savannah, GA 31401, USA
Phone: +1 912-233-6597
photo by Michael Rivera (CC BY-SA 4.0) modified
4
Old Fort Jackson
View the impressive displays of 19th-century weaponry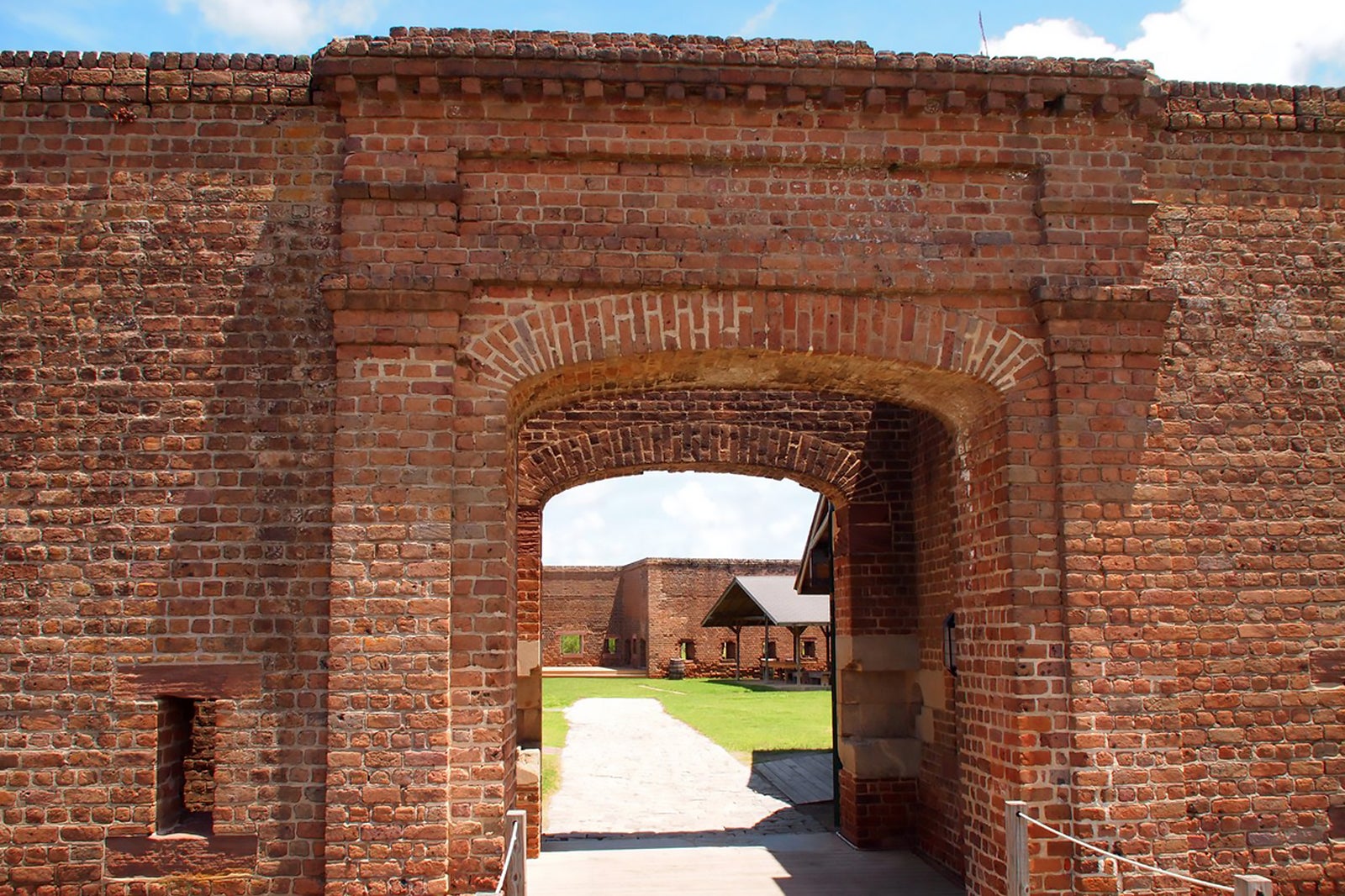 If you're interested in military history, a visit to Old Fort Jackson comes highly recommended. Established in 1808, here you can view displays of 19th-century muskets, cannons, and other restored weapons. Tour guides dressed in authentic military uniforms will guide you around the well-preserved buildings and give you some insight into what life was like back in the day.
You can also add a touch of excitement to your tour by watching the firing of the cannons, an event that takes place daily. History buffs will enjoy attending the lectures and educational days that run here – check ahead for events running at Old Fort Jackson during your visit.
Location: 1 Fort Jackson Rd, Savannah, GA 31404, USA
Open: Daily from 9 am to 5 pm
Phone: +1 912-232-3945
5
City Market
Local and international art plus boutique shops and art galleries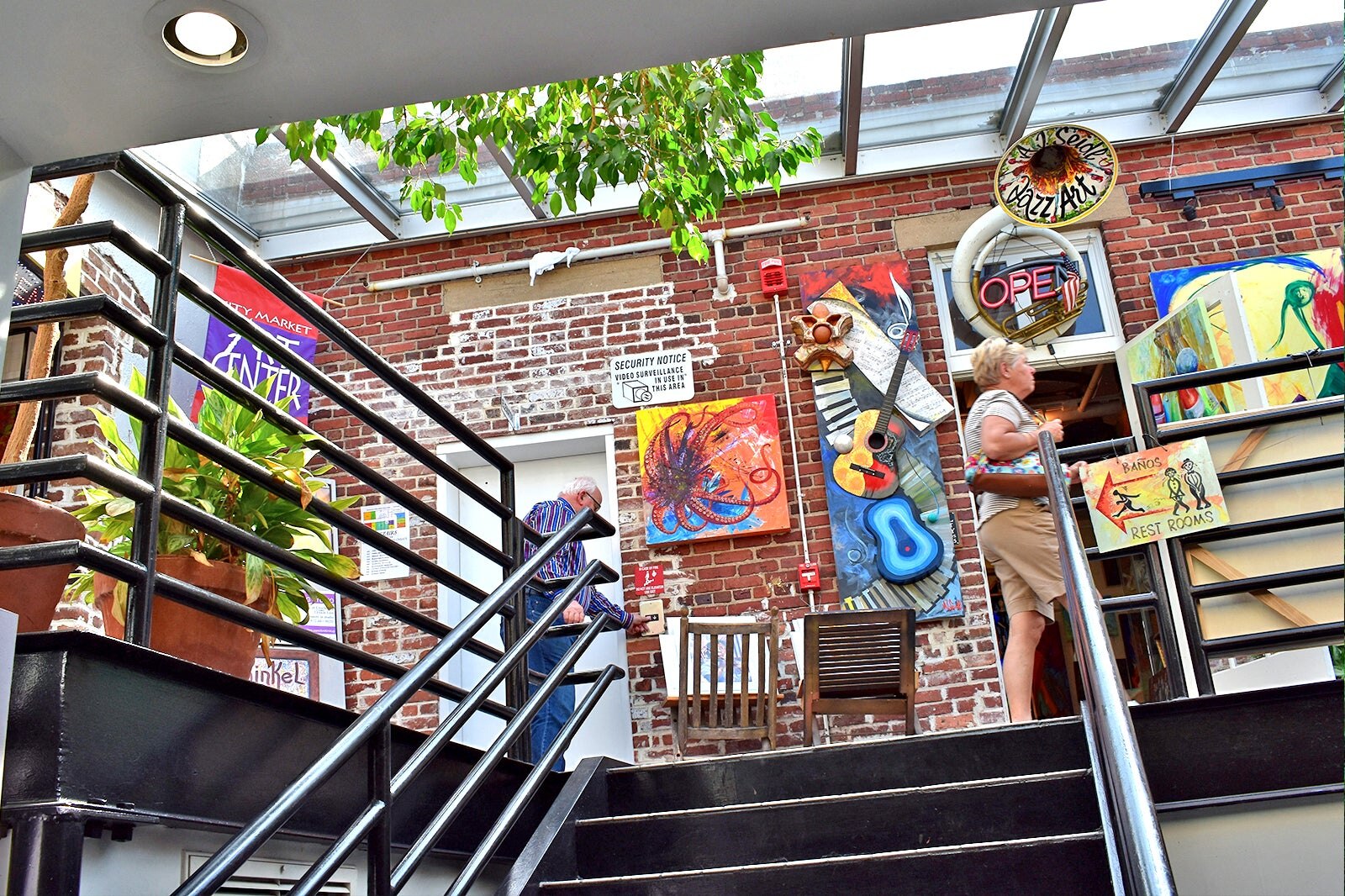 Savannah is the oldest city in Georgia, and it's widely renowned for its works of art. Even though the city has been through several conflicts and seen some significant cultural shifts, many buildings in the Gothic, Greek Revival, and Italianate style remain intact. If you want to take an artistic souvenir home with you, we recommend heading to the City Market.
The old City Market was once a place where local farmers sold their wares. Today, it's been restored as an attractive location to browse and buy works of art, handcrafted items, and boutique goods. Even if you leave empty-handed, the historical significance of this place makes it well worth a visit.
Location: 219 W Bryan St, Savannah, GA 31401, USA
Open: Monday–Wednesday from 10 am to 6 pm, Thursday–Saturday from 10 am to 8 pm, Sunday from 1 pm to 5 pm
Phone: +1 912-232-4903
6
Explore malls, boutiques and independent shops
The city has a diverse shopping scene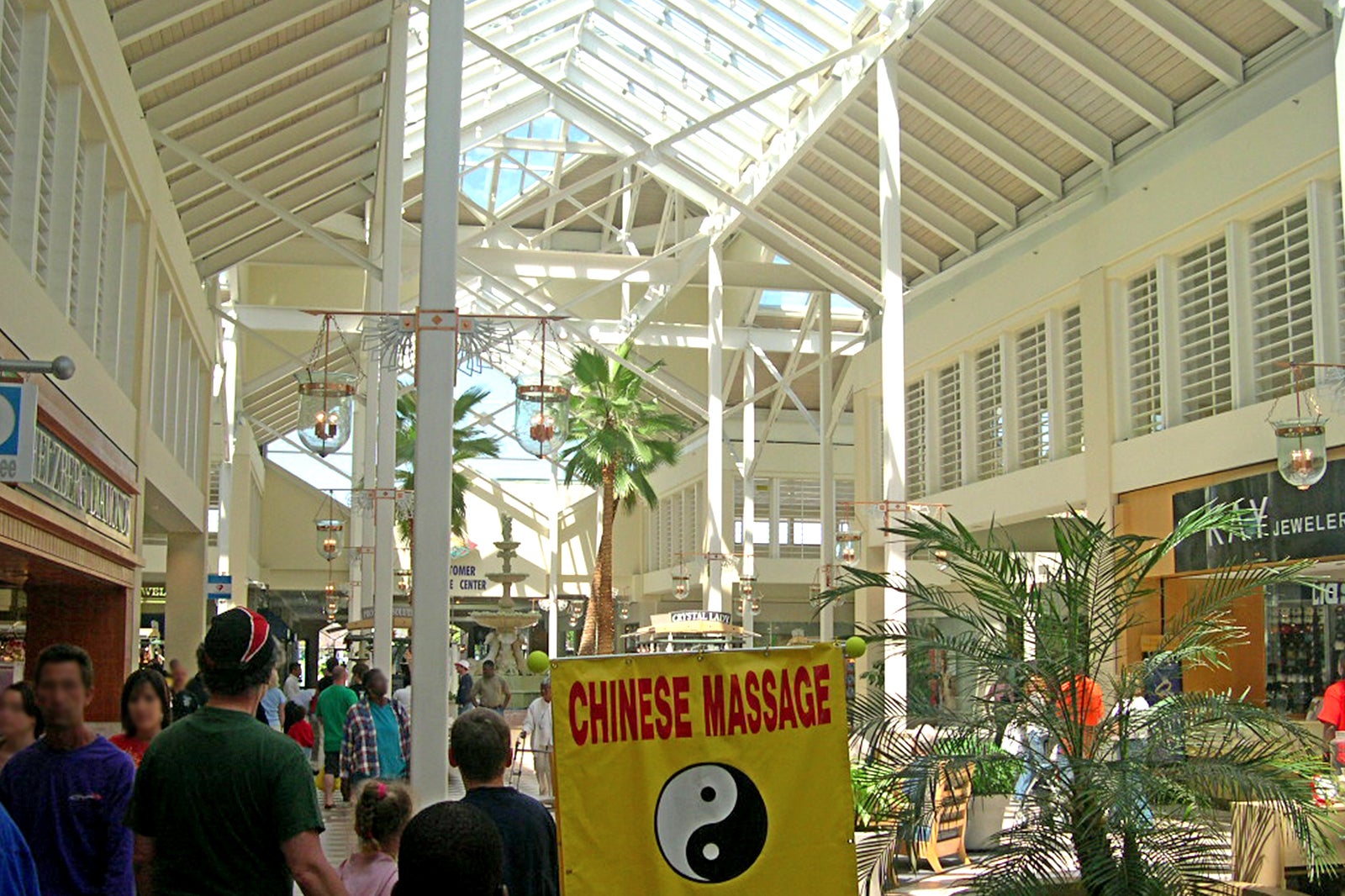 Throughout Savannah, locally-owned galleries and boutique stores reflect the city's love of the arts. If you're looking for handcrafted goods and souvenirs, the City Market is well worth a visit. If you prefer a more contemporary shopping experience, head to Oglethorpe Mall, which has over 100 stores under its glass roof.
You'll find one of the most unique shopping experiences at Twelve Oaks Shopping Center, which is a large mall filled with locally owned shops selling goods ranging from designer clothes to kitchenware. It also houses the Savannah Wine Cellar, where you can sample up to 40 varieties of wine.
7
Savannah National Wildlife Refuge
Embark on a journey through diverse natural habitats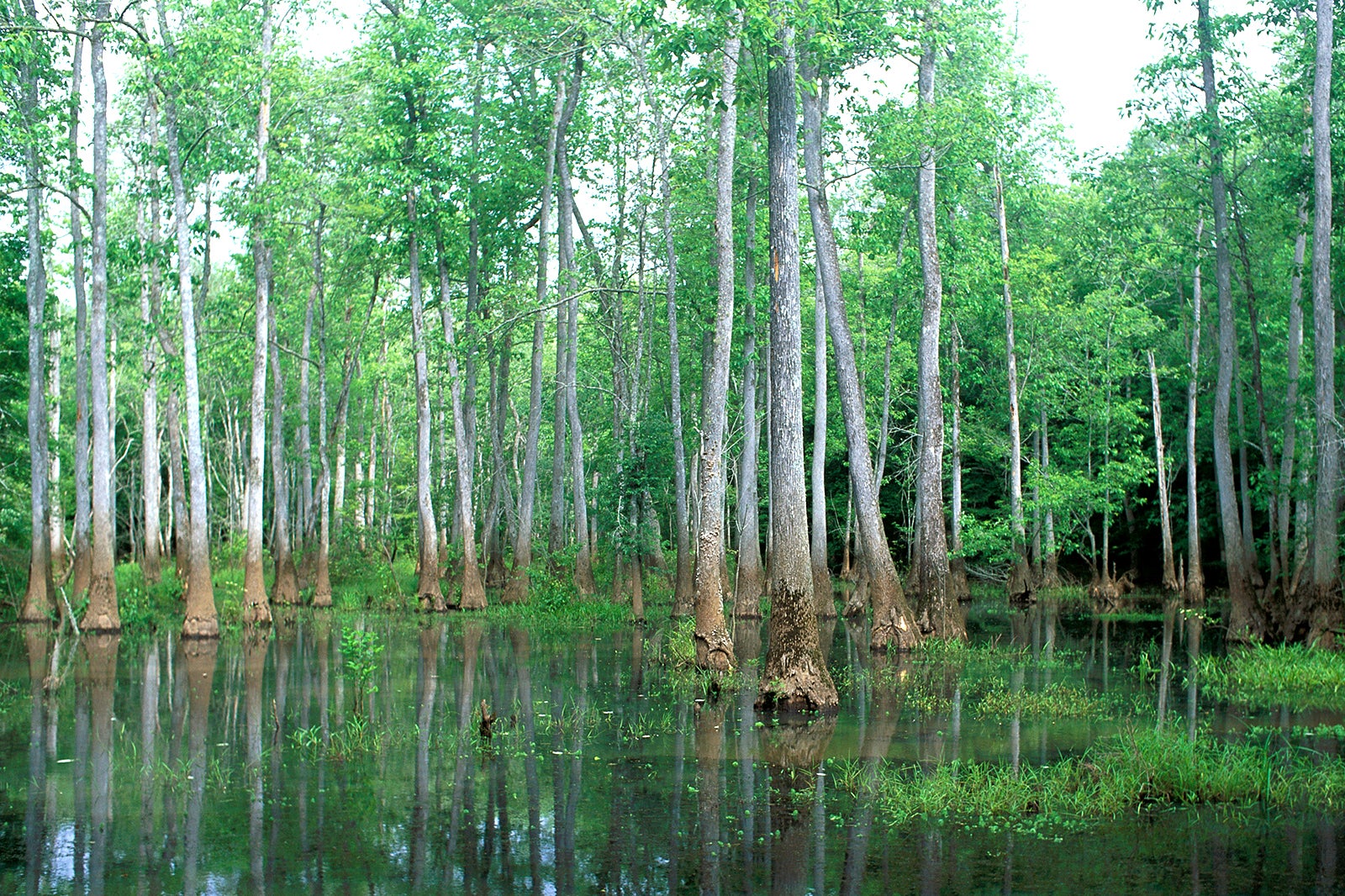 Just across the Savannah River from Port Wentworth, you'll find Savannah National Wildlife Refuge, which lies on the border between Georgia and South Carolina. The Refuge covers an area of over 31,000 acres, about half of which lies in Georgia. Whether you're an avid hunter, or you just fancy a trek through a diverse natural landscape, Savannah National Wildlife Refuge has something for you.
While you're here, watch out for a glimpse of wildlife such as squirrel, deer, turkey, waterfowl, and feral hogs. Besides wildlife watching, popular activities here include hiking, fishing, photography, and cycling. You can access most areas of the refuge 7 days a week without having to pay an admission fee.
Location: 694 Beech Hill Ln, Hardeeville, SC 29927, USA
8
Tybee Island
Enjoy sunbathing, swimming, and watersports
History
Food
Couples
Families
Photo
Tybee Island is a beach resort just half an hour from Downtown by car, providing a welcome break for those looking to escape the city crowds. In place of upscale resort complexes, here you'll mostly find charming bed and breakfasts and boutique inns with sea views and on-site swimming pools.
Whether you want to feast on a seafood dinner or get your fill of US history, Tybee Island has you covered. You can relax on the long stretches of sand by the seafront, or explore some of the historic buildings that played important strategic roles for the Union Army during the American Civil War. CoCo's Sunset Grille is a popular seafront restaurant that serves locally caught seafood such as wild shrimp, Atlantic salmon, and fried oysters.
Location: Tybee Island, GA 31328, USA
9
Dine in a historic restaurant
Savour the local flavours with an atmospheric dining experience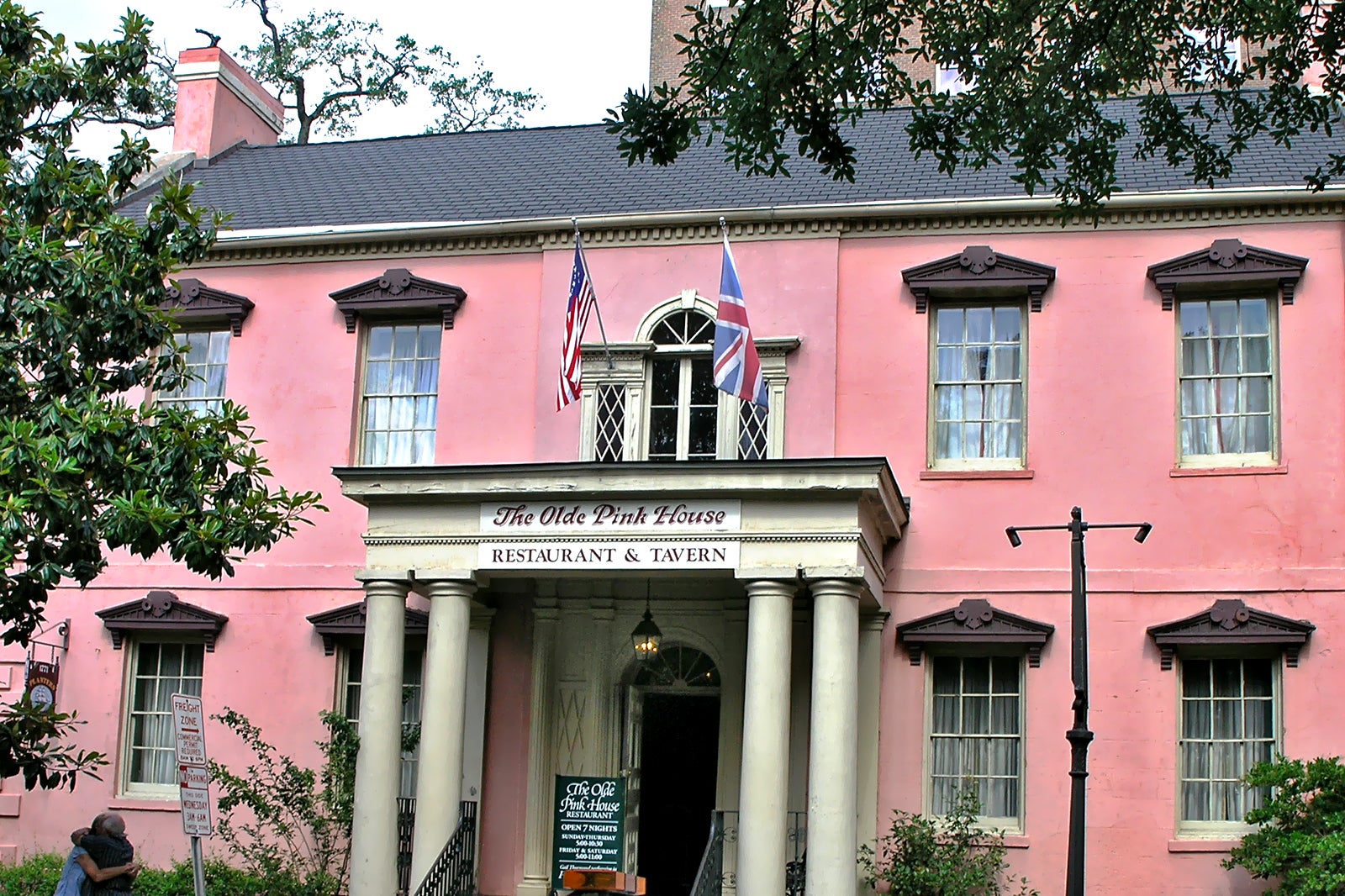 Enjoy the warm hospitality of the south by tasting some local bites in either a hole-in-the-wall joint or an upscale restaurant in Savannah. Typical dishes here include barbecue favourites, such as deep-fried chicken, as well as seafood dishes like locally caught shrimp. Many meals come with a side of Savannah red rice, which is cooked with tomatoes and distinctive Southern seasonings.
You'll find plenty of welcoming restaurants on Tybee Island, in Midtown, and around Oglethorpe Mall, but some of the best fine-dining establishments are located in the Historic District. For a more relaxed experience, The Olde Pink House is a cosy tavern that serves local favourites ranging from shrimp to fried pork.
Location: 23 Abercorn St, Savannah, GA 31401, USA
Open: Tuesday–Friday from 11 am to 2.30 pm and 5 pm to 10.30 pm. Friday and Saturday from 11 am to 2.30 pm and 5 pm to 11 pm. Sunday and Monday from 5 pm to 10.30 pm.
Phone: +1 912-232-4286
photo by Daniel Mayer (CC BY-SA 3.0) modified
10
Historic District
Watch live performances or grab a drink at a rooftop bar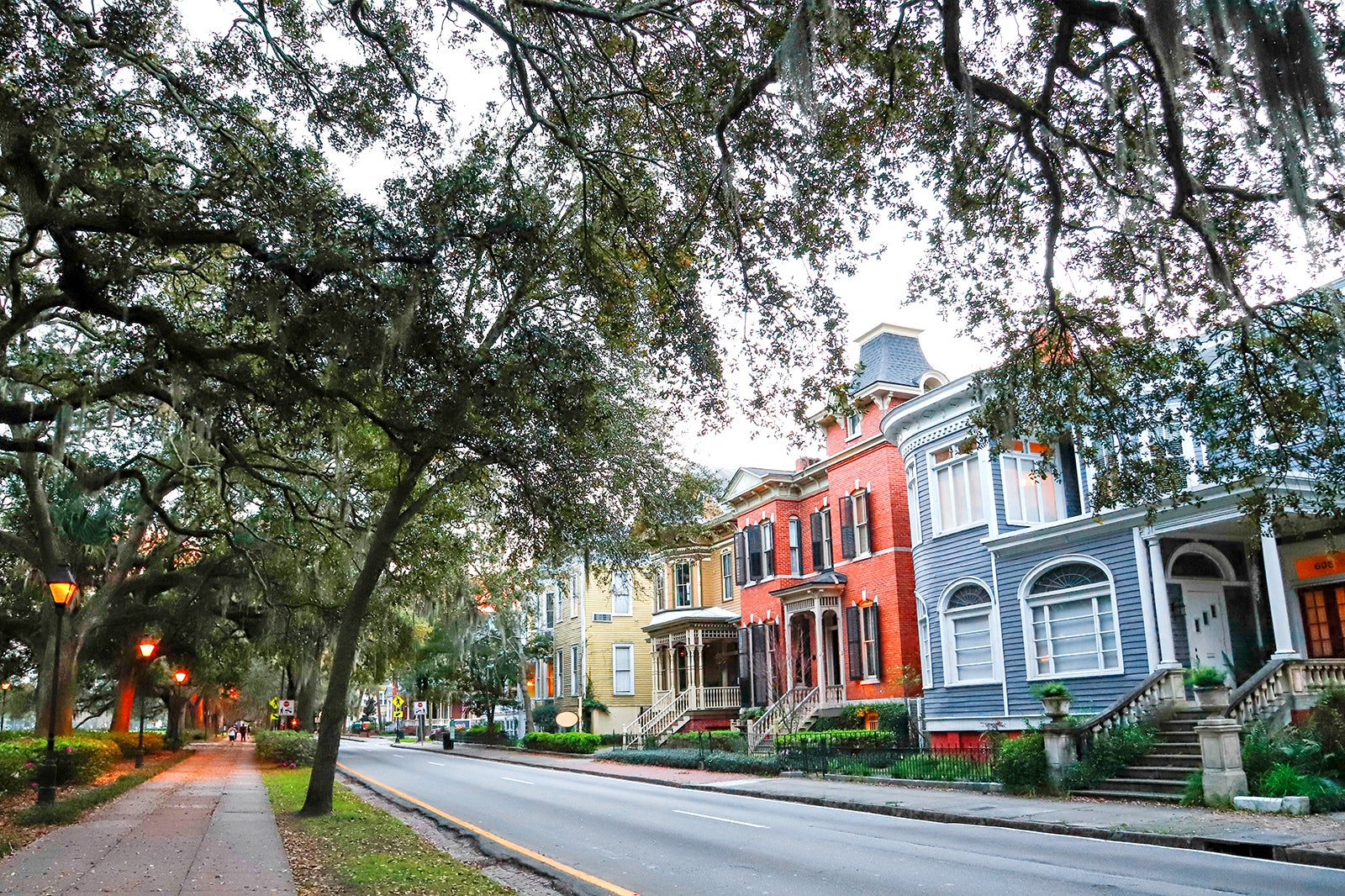 Savannah is known for its British and Irish inspired pubs, many of which you'll find in the city's Historic District. Some of the most popular colonial-style bars include the Six Pence Pub, Molly MacPherson's Scottish Pub and Grill, Kevin Barry's Irish Pub, and Churchill's Pub and Restaurant.
One of the best places to mingle with tourists and locals is Rocks on the Roof, which is a rooftop bar situated at the top of the Bohemian Hotel. Here, you can enjoy cocktails, craft beers, and international favourites while watching the sunset over the Savannah city skyline.
Location: 301 Martin Luther King Jr Blvd, Savannah, GA 31401, USA
Back to top