10 Best Things to Do in Oahu
What is Oahu Most Famous For?
Oahu, a palm tree-fringed Hawaiian island that's home to the state capital, is one of the world's most iconic vacation destinations. Visitors arrive in droves to kick back on the world-famous Waikiki Beach, where a buzzing 24-hour vibe holds true to Oahu's name: "gathering place". Even though Honolulu's renowned stretch of sand is undoubtedly picturesque, there are plenty of other exciting attractions on the island to tempt the intrepid traveller.
From fascinating cultural excursions to ancient historical sites and stunning nature trails around the island, let's take a look at the top things to do in Oahu.
What are the best things to do in Oahu?
1
Get the quintessential Hawaiian experience with a luau at Paradise Cove
The archetypal Hawaiian event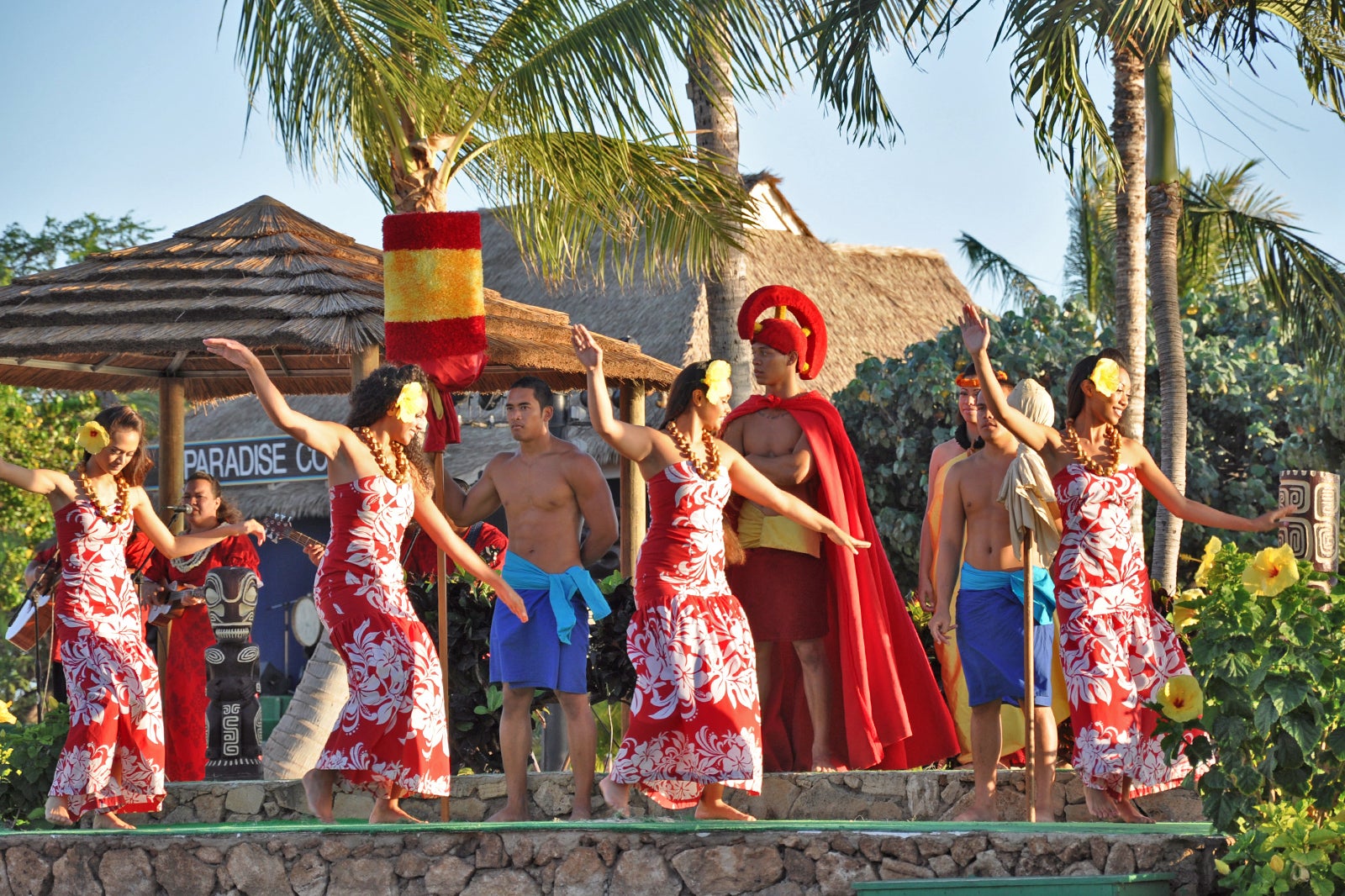 Make your way to the Ko Olina Resort at Paradise Cove if you're looking to experience Hawaii's enchanting cultures and traditions firsthand through a luau ceremony. Upon arrival, you'll be greeted with a heartfelt "Aloha!" and a floral lei to drape around your neck.
After you've explored the Hawaiian village and tried your hand at a few Hawaiian games, relish in an extravagant banquet that includes a delectable array of local favourites such as poi and kalua pork. All this, of course, is best accompanied by a cheeky mai tai as you enjoy the evening entertainment of classical Hawaiian music and seductive hula displays. Luau ceremonies take place across the island, so check out some other options if Paradise Cove isn't convenient for you.
Location: 92-1480 Ali'inui Dr, Kapolei, HI 96707, USA
Open: Daily from 5 pm to 10 pm
Phone: +1 808-671-2512
photo by Jennifer Boyer (CC BY 2.0) modified
2
Get a history fix in Honolulu
Discover Hawaii's colonial past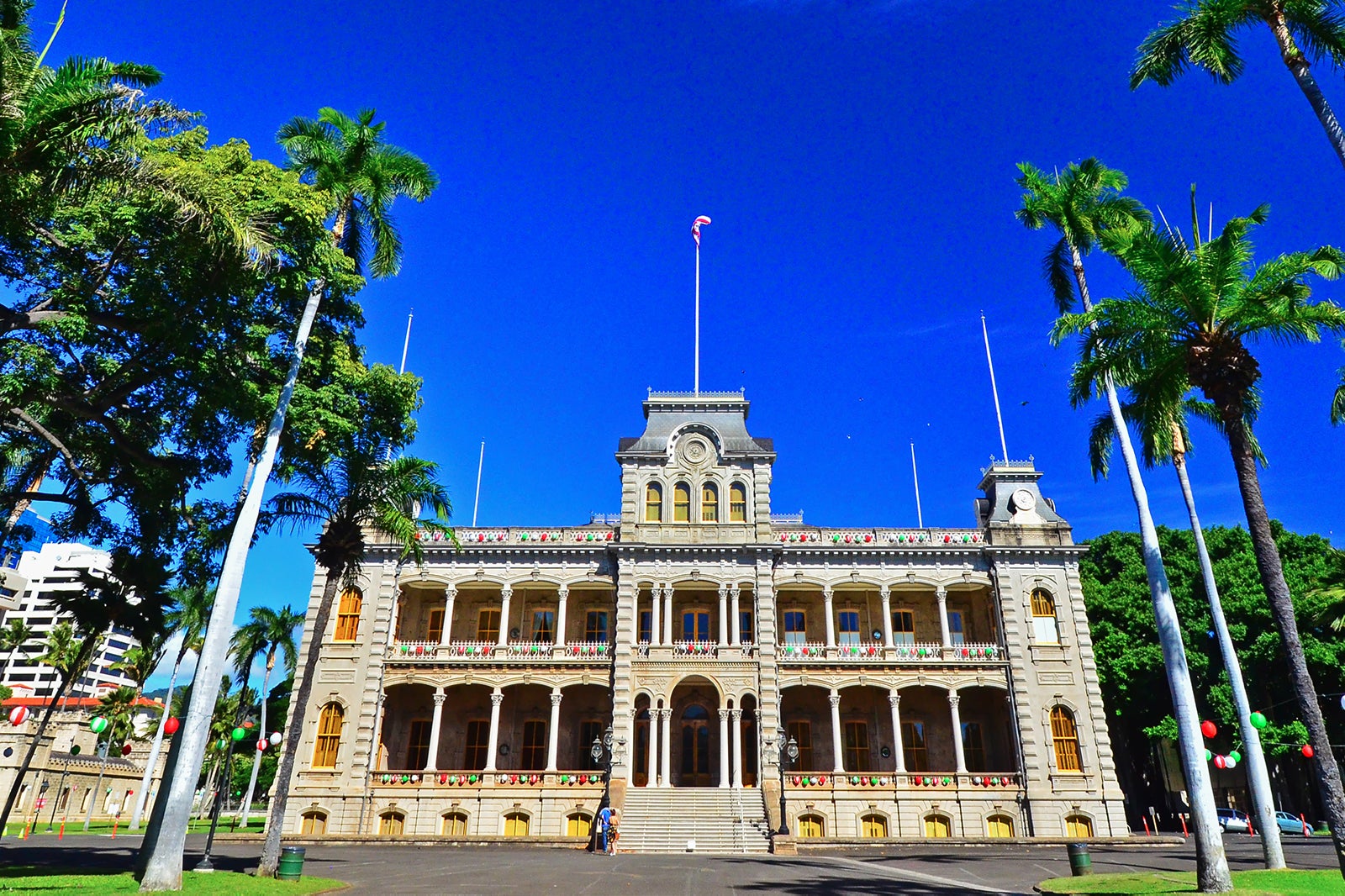 You wouldn't guess it from the glitzy row of beachfront skyscrapers that line Waikiki, but Honolulu is a historically significant town with ample ancient attractions to explore. In fact, some of its colonial-era edifices date back to the 18th century.
The painstakingly restored Iolani Palace is the only royal building to reside on US soil. The lavish architecture of the era is proudly displayed at the Spanish Revival-style King David Kalakaua building and the Italian Renaissance-style Ali'iolani Hale. Other worthy sites include the Kamehameha I Statue, the Mission Houses Museum, the Kawaiaha'o Church, the Hawaii State Capitol, and the Old Federal Building. All of these landmarks reside in downtown Honolulu, making it easy to visit them on foot.
Location: 364 S King St, Honolulu, HI 96813, USA
photo by Edmund Garman (CC BY 2.0) modified
3
Chill out on the North Shore
Hang ten or feast on tasty shrimp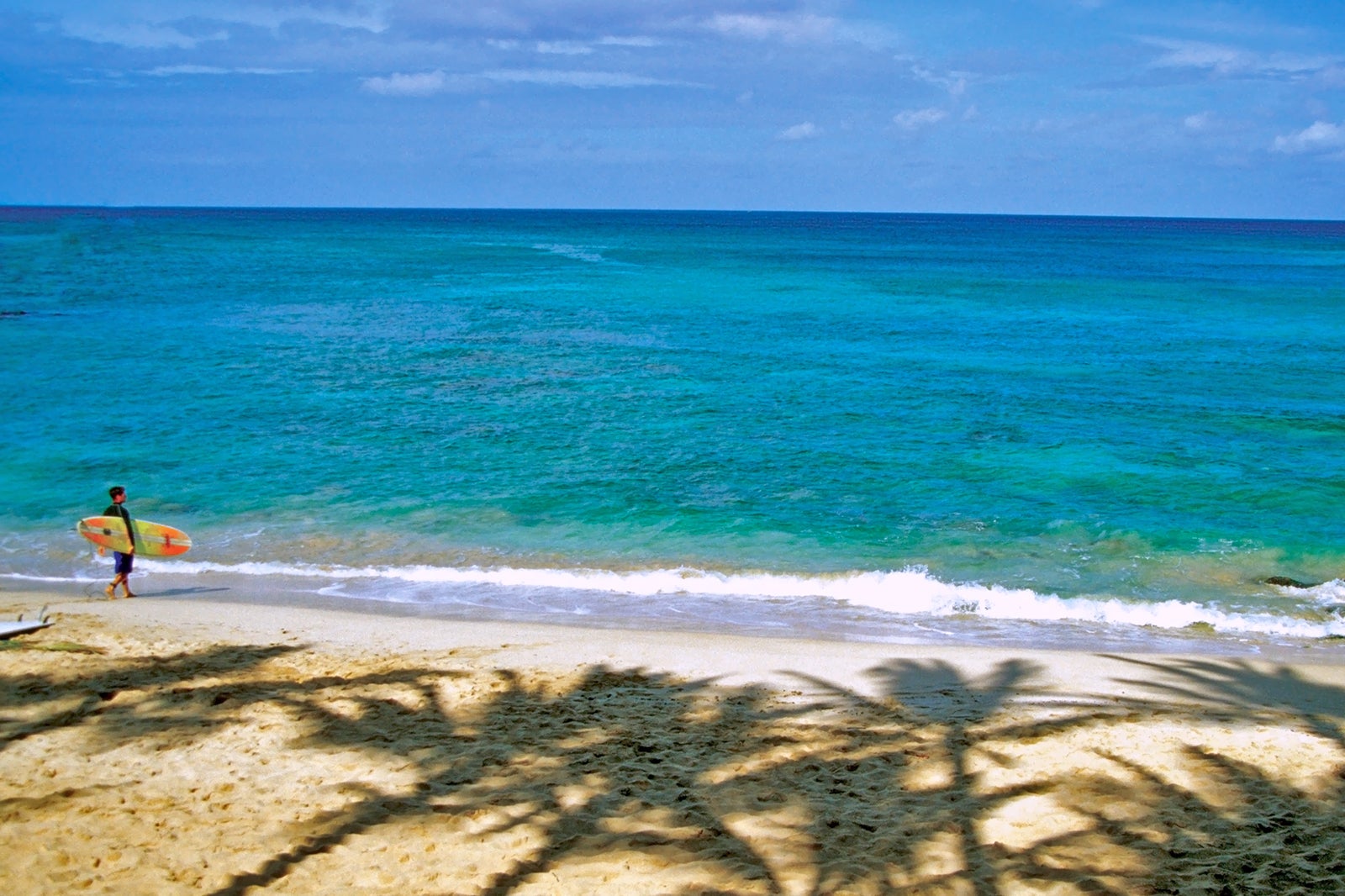 North Shore is otherwise known as the "surfers capital of the world." A quick 25-minute journey from Honolulu brings you to the Waimea Bay and the Banzai Pipeline, both of which attract pros from around the globe for their gnarly breaks. There's so much more than perfectly sculpted barrels to lure you north, as this laidback stretch of coastline offers some of the best food, culture, and scenery in Oahu.
Drop by the hippie surfy town of Haleiwa to pick up local handicrafts and try a refreshing snack of fruit-infused shaved ice. If you fancy something savoury, head further north to sample garlic prawns from shrimp trucks along the highway. If you're after a day on the sand without the surfy vibe, give Waimanalo Bay, Kailua, Lanikai, or Sunset Beach a try.
Location: Waimea Bay, Hawaii 96712, USA
4
Reflect on US history at Pearl Harbor
An important moment in history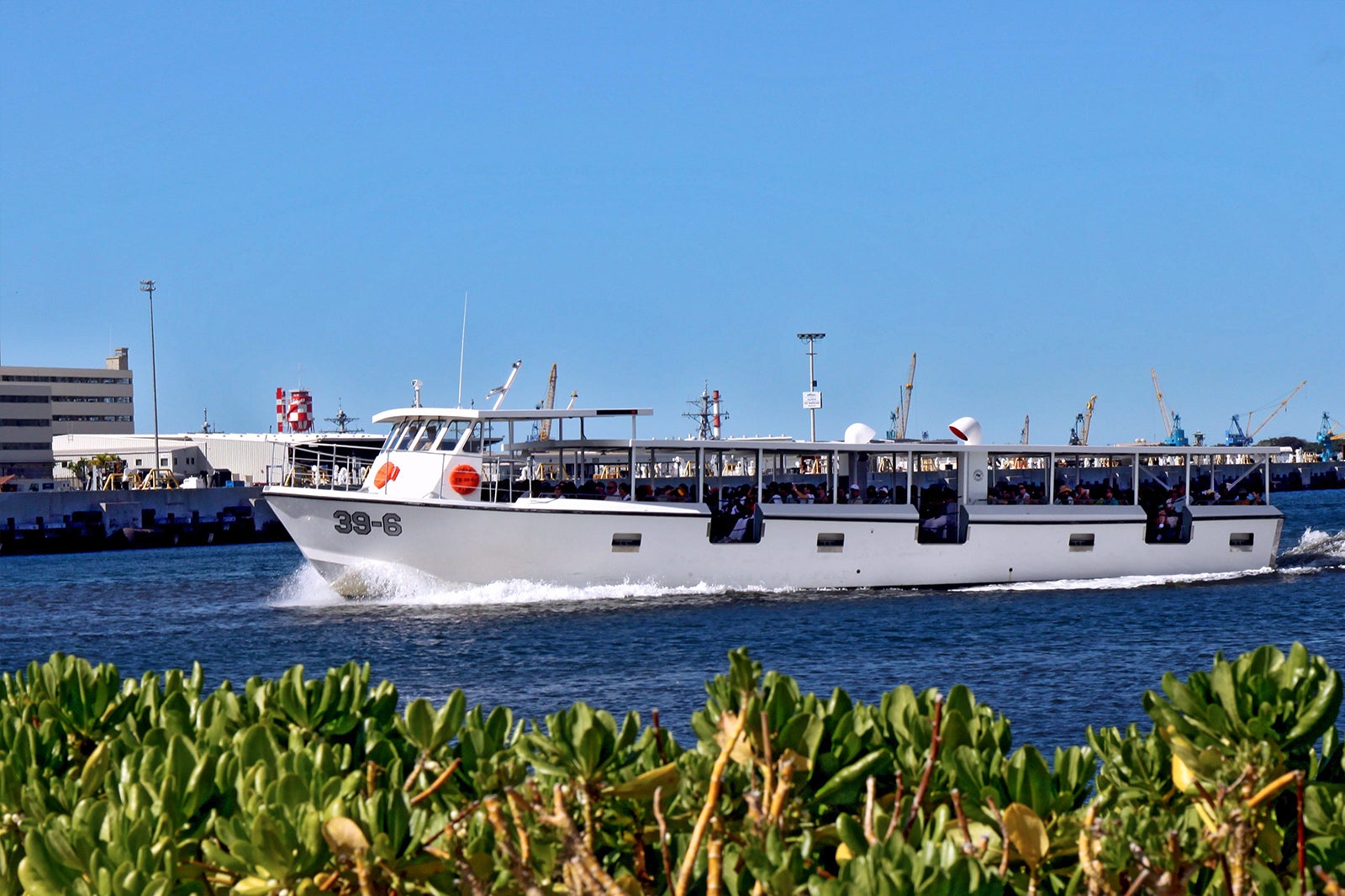 Few visit Oahu without paying their respects to the 1,117 American sailors who lost their lives in Pearl Harbor on 7 December 1941. A navy boat ferries visitors out to the offshore USS Arizona Memorial, which marks the spot where the famous battleship and its crew sunk to a watery grave. The surprise aerial attack was the tipping point that launched the United States into World War II, a moment which changed the course of history forever.
Back on shore, the Pearl Harbor Visitor Center displays artefacts and detailed information about the event. Given its historical significance, both Americans and foreign visitors will appreciate a visit to the sombre site.
Location: 1 Arizona Memorial Pl, Honolulu, HI 96818, USA
Open: Daily from 7 am to 5 pm
Phone: +1 808-422-3399
5
Pay homage to the Hawaiian gods at Hale O Lono Heiau
A pre-colonial Hawaiian history fix
Hale O Lono Heiau is a must-visit if you're curious about the pre-colonial culture of the region. The largest ancient site in Hawaii resides within the picturesque Waimea Valley on Oahu's North Shore. The centuries-old temple is dedicated to one of the 4 major Hawaiian gods: Lono, the lord of agriculture, harvest, and weather.
Over time, worshippers sacrificed animals – and even humans – to appease Lono in the hopes of receiving a bountiful harvest in return. Hale O Lono Heiau serves as a shrine for indigenous residents to pay homage to their god, especially during the Makahiki season (October).
Location: 59-864 Kamehameha Hwy, Haleiwa, HI 96712, USA
photo by Farragutful (CC BY-SA 4.0) modified
6
Venture off the beaten track at Byodo-In Temple
Discover a different side of Hawaiian culture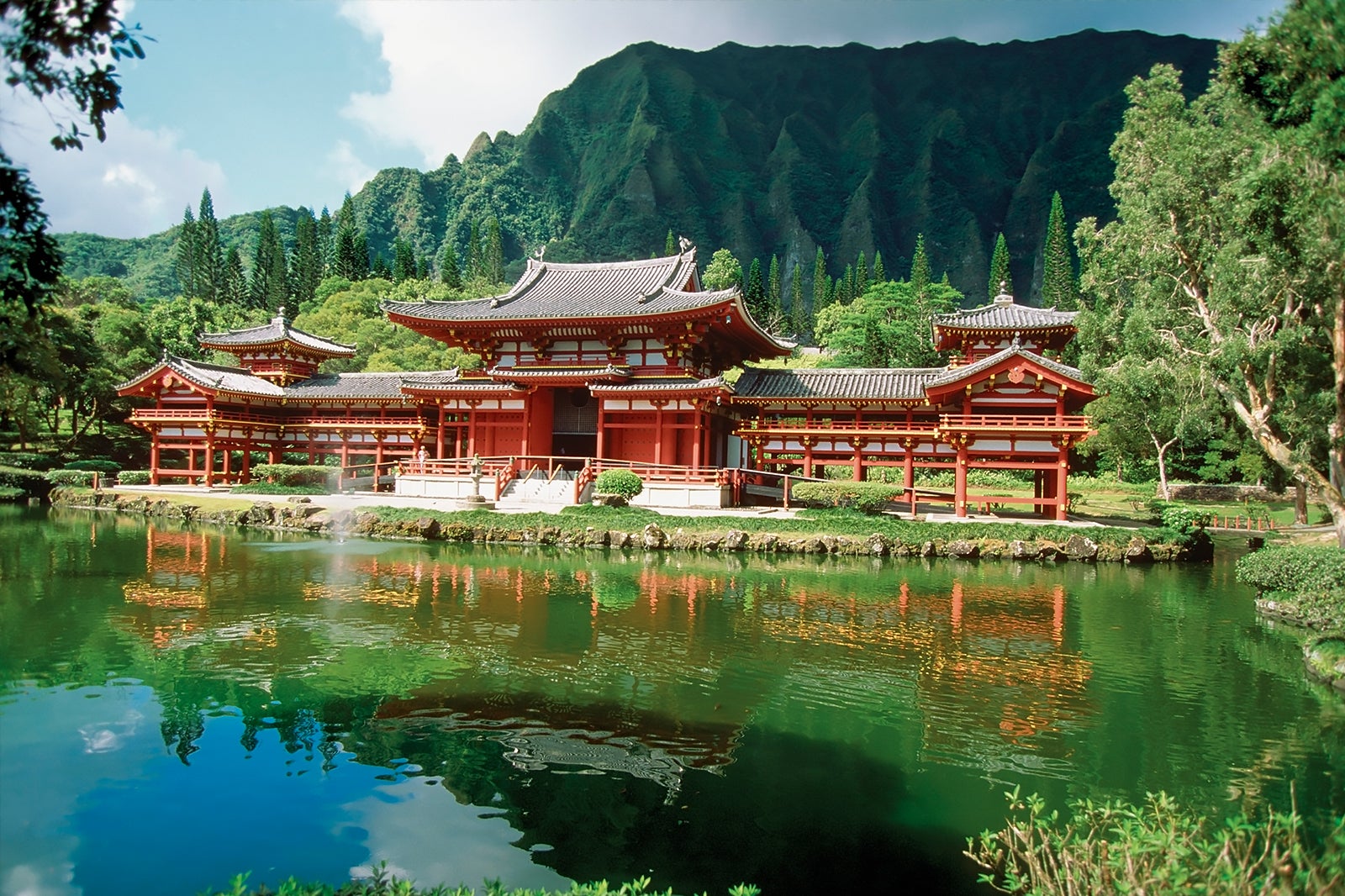 For an uncrowded temple experience, make your way to this non-denominational Buddhist shrine at the Valley of the Temples cemetery beneath the Ko'olau Mountains. The site was inaugurated in 1968 to mark the centenary of Japanese immigration to Hawaii and was modelled after a 900-year-old temple in Kyoto.
Be sure to ring the 300-tonne bell before wandering around the site to marvel at its lush Japanese gardens, expansive koi-filled ponds, and an 18-foot statue of the Lotus Buddha. The seldom-visited site is surrounded by spectacular scenery and offers a glimpse into a unique aspect of Hawaiian culture.
Location: 47-200 Kahekili Hwy, Kaneohe, HI 96744, USA
Phone: +1 808-239-8811
7
Scale the Koko Head Stairs
Enjoy a gruelling workout with sweeping views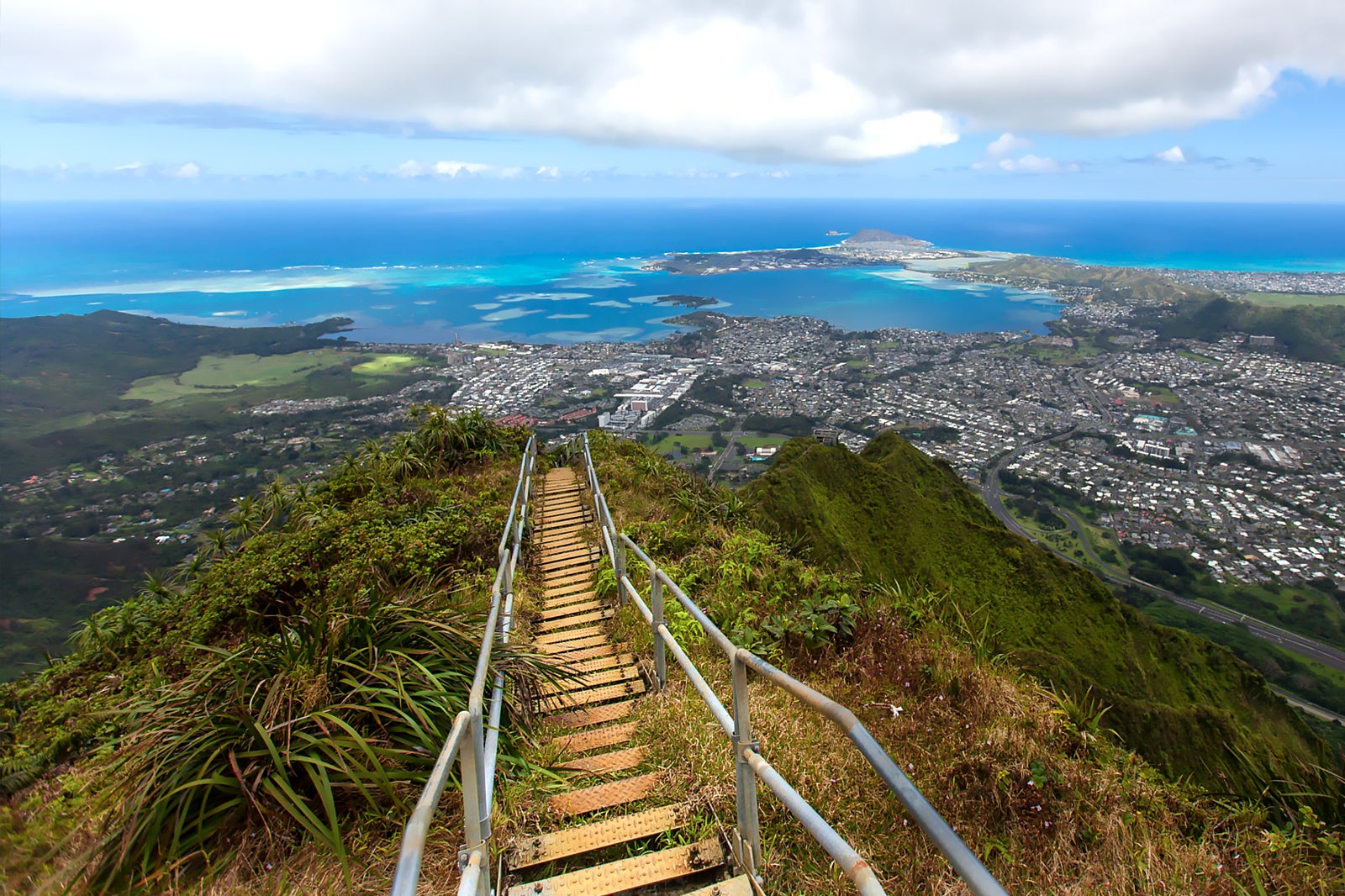 Active travellers yearning for a solid workout in Oahu should head to the Koko Head Park in the South Shore, where they can scale the 1,000 or so steps to the top. The strenuous ascent follows a disused railway line that once hauled military supplies to the fortified bunkers above. These days, it's a calorie-busting playground for local fitness fanatics and a popular photo stop for camera-toting tourists.
Bring plenty of water, sunscreen, and sturdy shoes to tackle the gruelling climb, which you should attempt at sunrise or sunset to beat the midday heat. You'll be exhausted upon reaching the summit, but its sweeping 360-degree views of the island and the ocean will be worth it in the end.
Location: 7604 Koko Head Park Rd #7602, Honolulu, HI 96825, USA
Open: Daily from 6.30 am to 11 pm
8
Learn about local traditions at the Polynesian Cultural Center
Discover ancient Polynesian traditions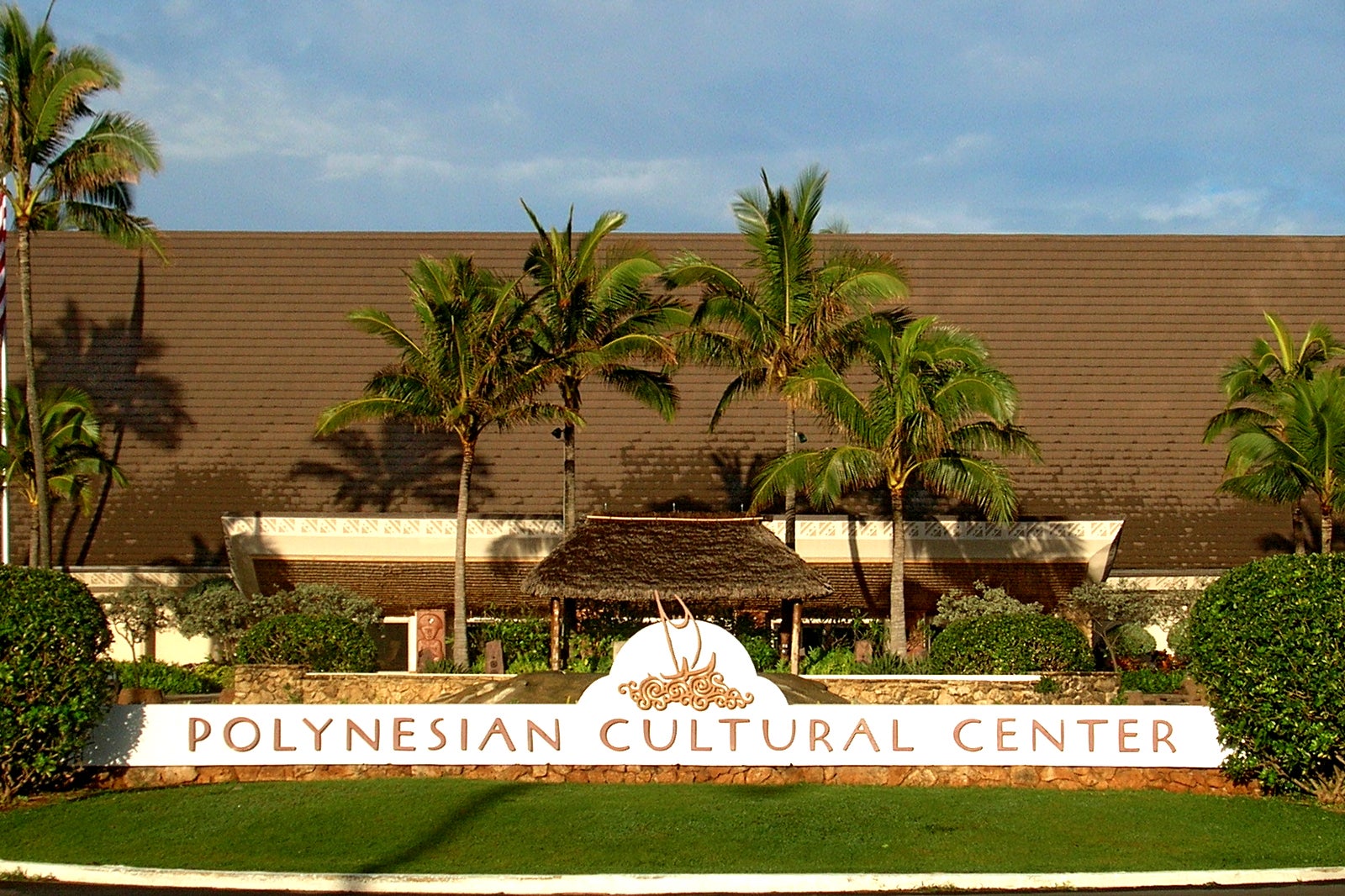 For a fascinating insight into the Polynesian culture in Hawaii and abroad, check out the Polynesian Cultural Center in Laie on Oahu's North Shore. The expansive institution adopts a fun-loving theme park kind of approach to education, ensuring the whole family will adore learning about the region's eclectic culture.
6 Pacific countries – Tahiti, Fiji, Tonga, Samoa, Aotearoa, and Hawaii – are showcased throughout the 42-acre park. You can sample the delicacies of each (save room for the smoked imu pork!). Arts and crafts stalls, canoe pageants on the lagoon, and feverish live performances add to the exotic appeal.
Location: 55-370 Kamehameha Hwy, Laie, HI 96762, USA
Open: Monday–Saturday from 12 pm to 9 pm
Phone: +1 800-367-7060
9
Spot humpback whales from Makapu'u Lighthouse
Admire the gentle giants of the sea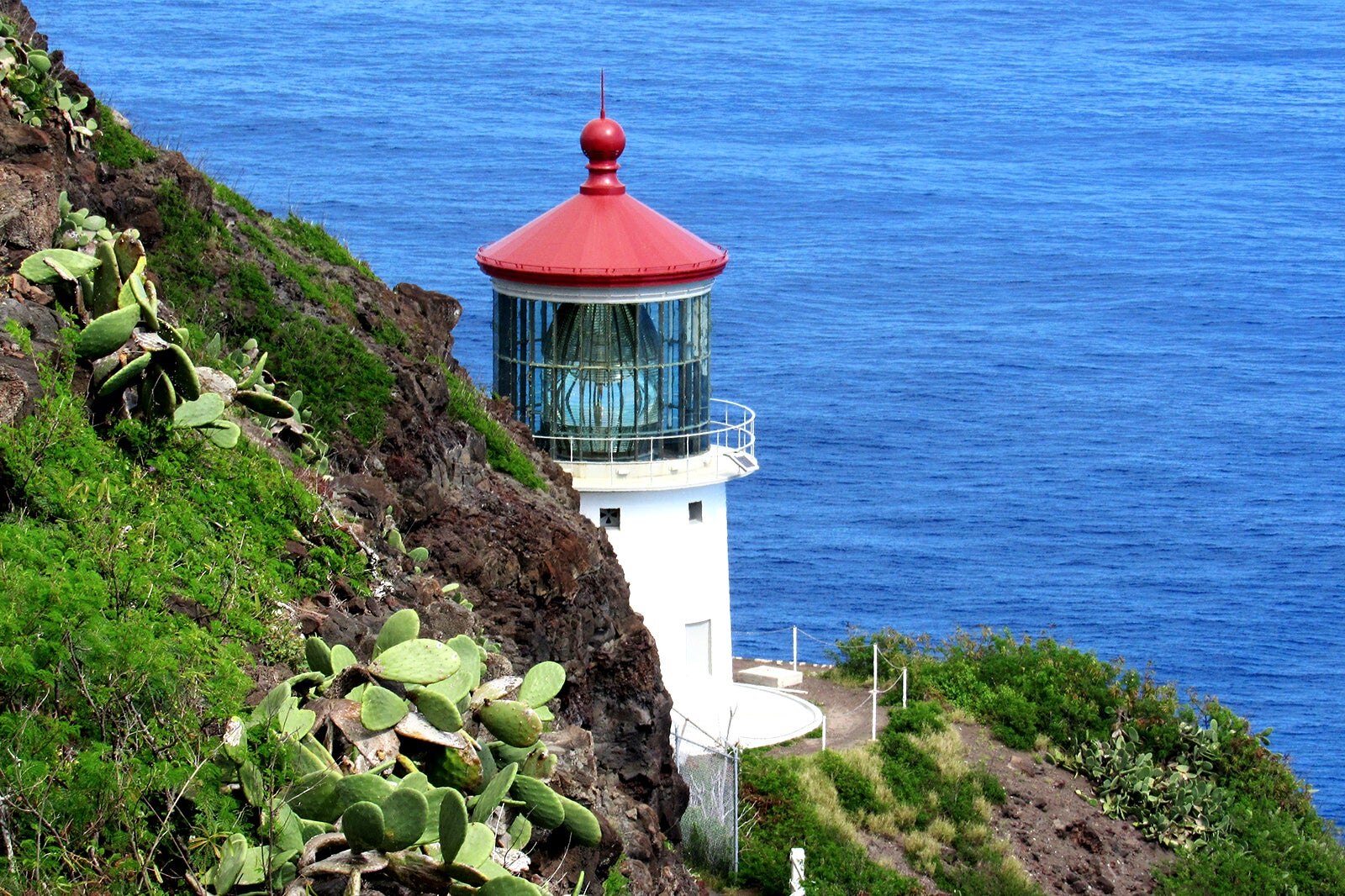 Between November and May, a school of humpback whales migrate to Hawaii from Alaska to breed in its warm tropical waters. A lighthouse on Makapu'u Point is one of the island's best spots to marvel at these majestic creatures as they breach from the sea.
Once you're at the top, you'll get to admire panoramic views of Waimanalo Bay, Sandy Beach and Koko Head. Aim to tackle the 1-hour ascent in the morning when the sun is behind the cliff. If you don't fancy an uphill hike or just want a closer look at the enormous aquatic mammals, there are plenty of whale-watching cruises departing from Honolulu as well.
Location: Waimanalo, HI 96795, USA
Open: Daily from 7 am to 6.45 pm
Phone: +1 808-587-0300
photo by Farragutful (CC BY-SA 4.0) modified
10
Go on a road trip around the island of Oahu
Take a road trip in paradise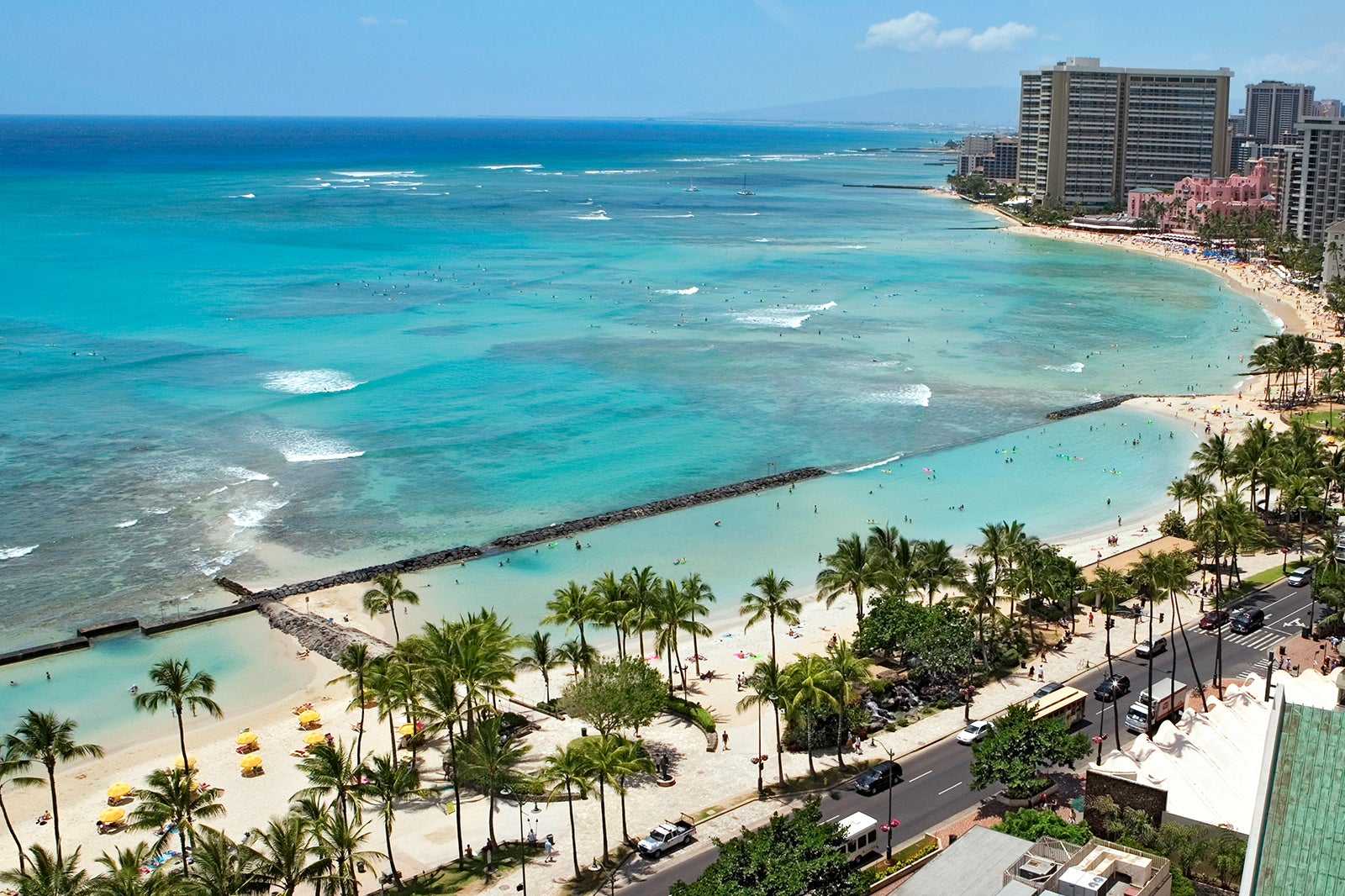 Many of Oahu's exciting attractions are best explored on a holo holo, an infectious Hawaiian term for a 'leisurely drive'. Circumnavigating Oahu only takes around 2 hours, though you'll need more to stop and appreciate the sites. It's a good idea to stretch your road trip for several days to make the most of your experience.
There are plenty of car rental companies in Honolulu and other parts of the island. Compared to the cost of forking out for organised tours to each site, self-driving is quite the bargain. Hawaiian roads are generally well-marked and maintained, which makes exploring Oahu by rented car a breeze.