10 Best Things to Do for Couples in Kaohsiung
Kaohsiung's Most Romantic Places
Many of the most romantic things to do in Kaohsiung are centred around the city's harbour, where you can enjoy the atmosphere of the bustling port city and watch ships entering and leaving Cijin.
If you're an outdoor enthusiast, a bicycle ride is an excellent way to explore the countryside. You can see lush mountains reflected in the water at A Gong Dian Reservoir, as well as rainbow bridges and pavilions above Lake Zhongzheng. Don't forget to bring and a fully charged camera – you'll want to take lots of pictures at Kaohsiung's most romantic places.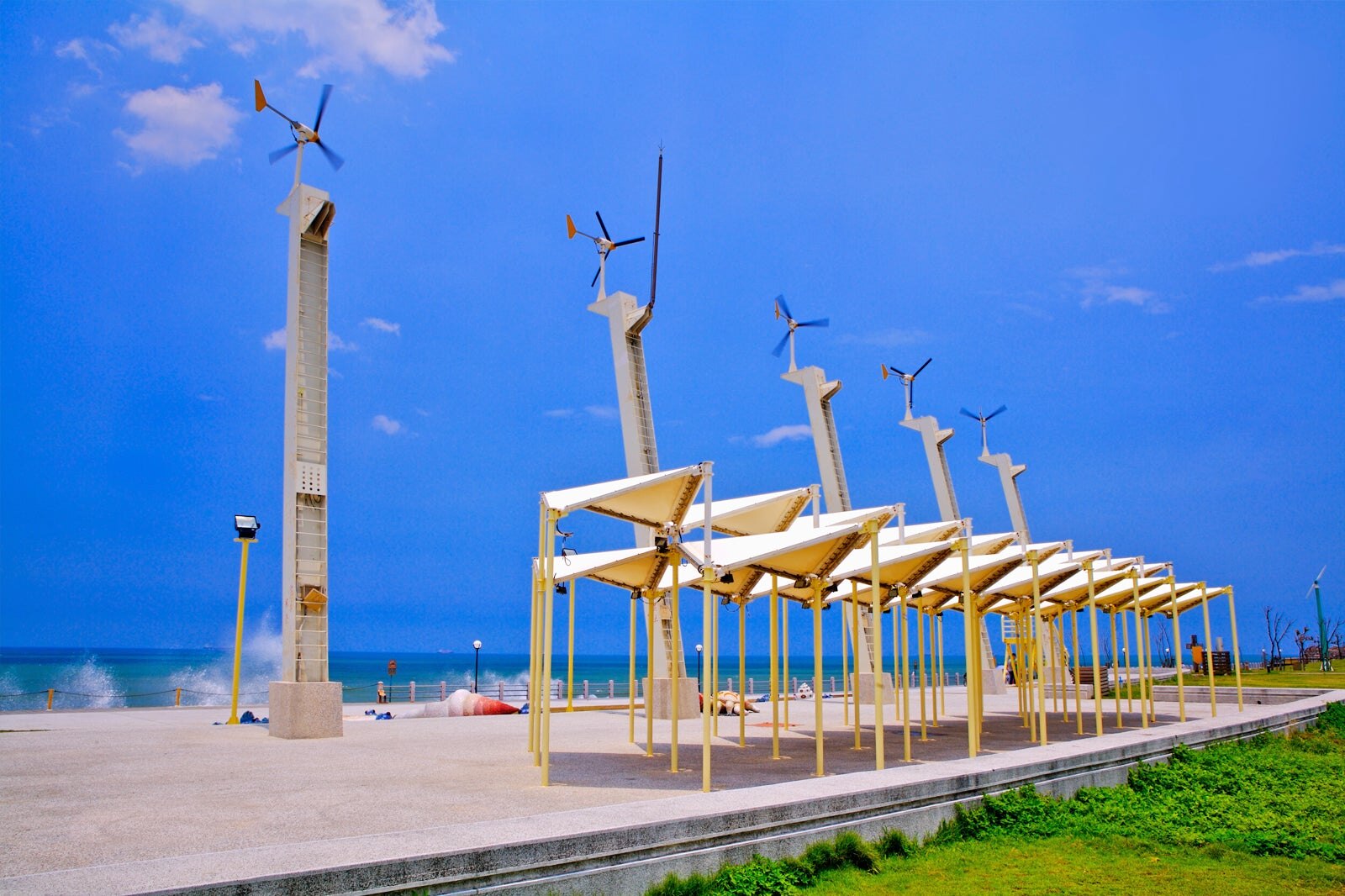 Cijin Windmill Park is a popular spot for watching the sunset in Cijin. There are 7 wind turbines in the park, each with 3 black blades and a yellow base. There's a coastal trail in the park that's suitable for walking and cycling. At dusk, you can see waves crashing on the beach, enjoy the mild sea breeze, and watch cargo ships entering and leaving the Port of Kaohsiung. The shadow of the guardrails on the beach makes for a beautiful picture at sunset.
Couples will enjoy spending time and watching the sun sink slowly below the horizon. Many people choose to fly kites in Cijin Windmill Park's square. Kaohsiung's landmark, the 85 Sky Tower, can be seen from here, too. The colourful Rainbow Church and the Shell Museum are nearby, both of which are reachable by bike.
Location: Cijin 2nd Road, Cijin District, Kaohsiung City, Taiwan 80546
Phone: +886 (0)7 571 2500
The Pier-2 Art Center is a refurbished warehouse on a wharf in Kaohsiung's Yancheng District. Local artists have made dramatic changes to the old building with new forms of art in 2006, resulting in a vibrant display of modern paintings and art installations. Gigantic sculptures of popular cartoon characters decorate the art centre's square and rooftop. A series of Workers and Fisherwomen statues can be seen everywhere, along with satirical pieces aimed at Taiwanese traditions.
You can find many unique and original products at the Pier-2 Art Center, including creative wooden toys and hand-painted shirts. The centre often holds exhibitions by up-and-coming artists to keep things interesting.
Location: No. 1, Dayong Road, Yancheng District, Kaohsiung City, Taiwan 80343
Open: Monday–Thursday from 10 am to 6 pm, Friday–Sunday from 10 am to 8 pm
Phone: +886 (0)7 521 4899
Lake Zhongzheng is the 2nd-largest lake in Kaohsiung, after Chengcing Lake. It has a rich and diverse wetland ecosystem – over 60 species of migratory birds live here in winter, making it a popular place for birdwatching. Surrounded by mountains and hills, it's very quiet and secluded. The sky and mountains are reflected in the lake and, together with the red-tiled pavilion in the middle, create a picturesque atmosphere.
Every spring, blooming red and yellow flowers add beauty to the lake and the mountain views. This is the perfect time to cycle on the lakeside paths and enjoy the rural scenery. Bicycles are available to hire at the lake's entrance.
Location: Minquan Road, Meinong District, Kaohsiung City, Taiwan 84348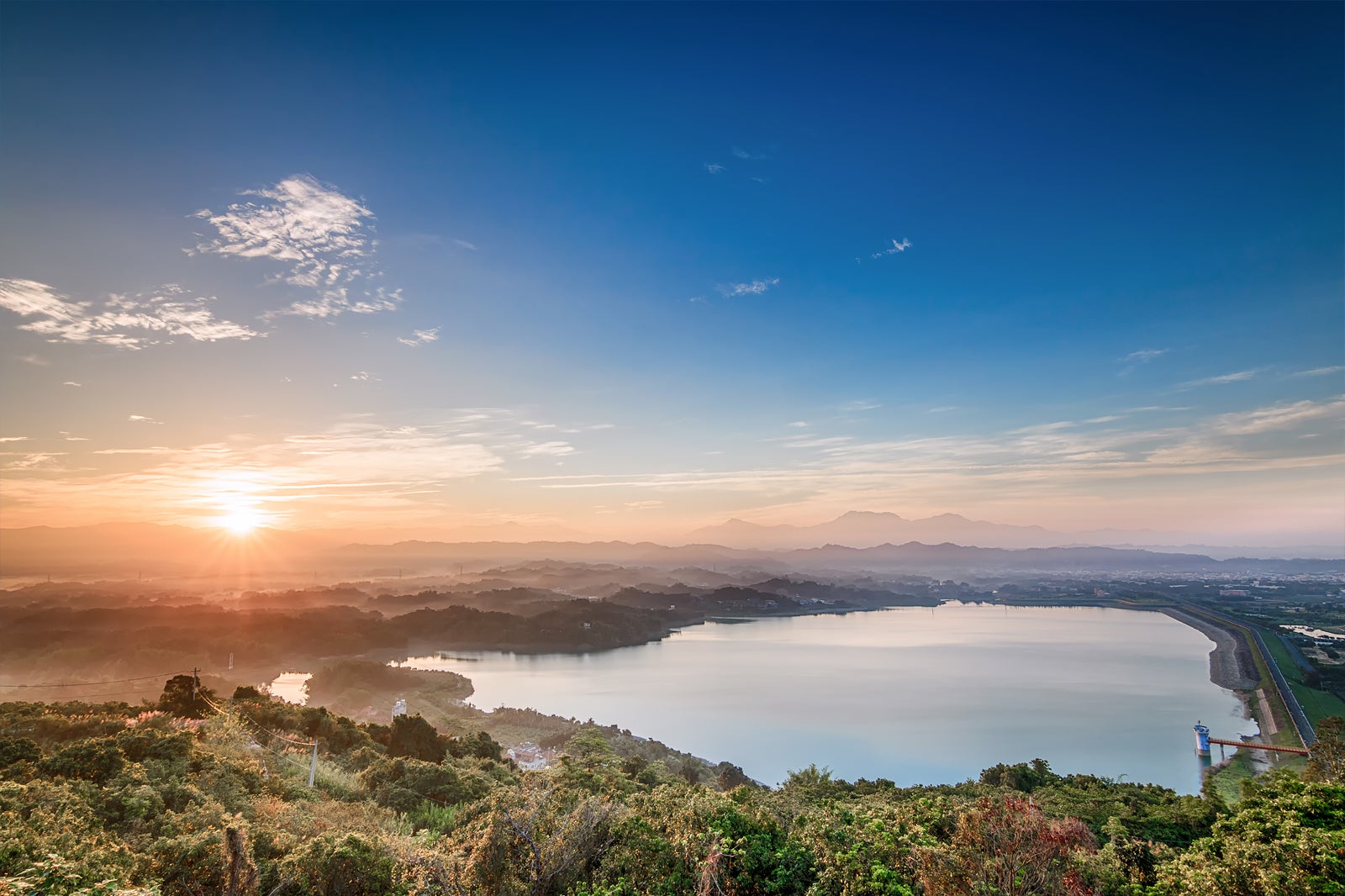 A Gong Dian Reservoir is the largest reservoir in Taiwan, spanning nearly 1,500 acres. Dagang Mountain and Xiaogang Mountain are close by and reflections of the mountains can be clearly seen in the water. Visit the causeway at sunset to enjoy a fascinating view of the reservoir. The 2.8-km-long causeway is located in the centre of the reservoir, making it the best place for panoramic views. In the distance, there are 2 red suspension bridges across the lake, with the Gangshan Mountains behind them.
If you walk across the suspension bridge, you can get an even better view of the reservoir. There's a bicycle path around A Gong Dian Reservoir, which is about 10 km long. If you cycle around the reservoir, you will be rewarded with views of A Gong Dian Reservoir, Penglai Suspension Bridge, and Yanbo Rainbow Suspension Bridge.
Location: No. 9, Gongcheng Road, Xiyan Village, Yanchao District, Kaohsiung City, Taiwan 82442
5
Hongmaogang Cultural Park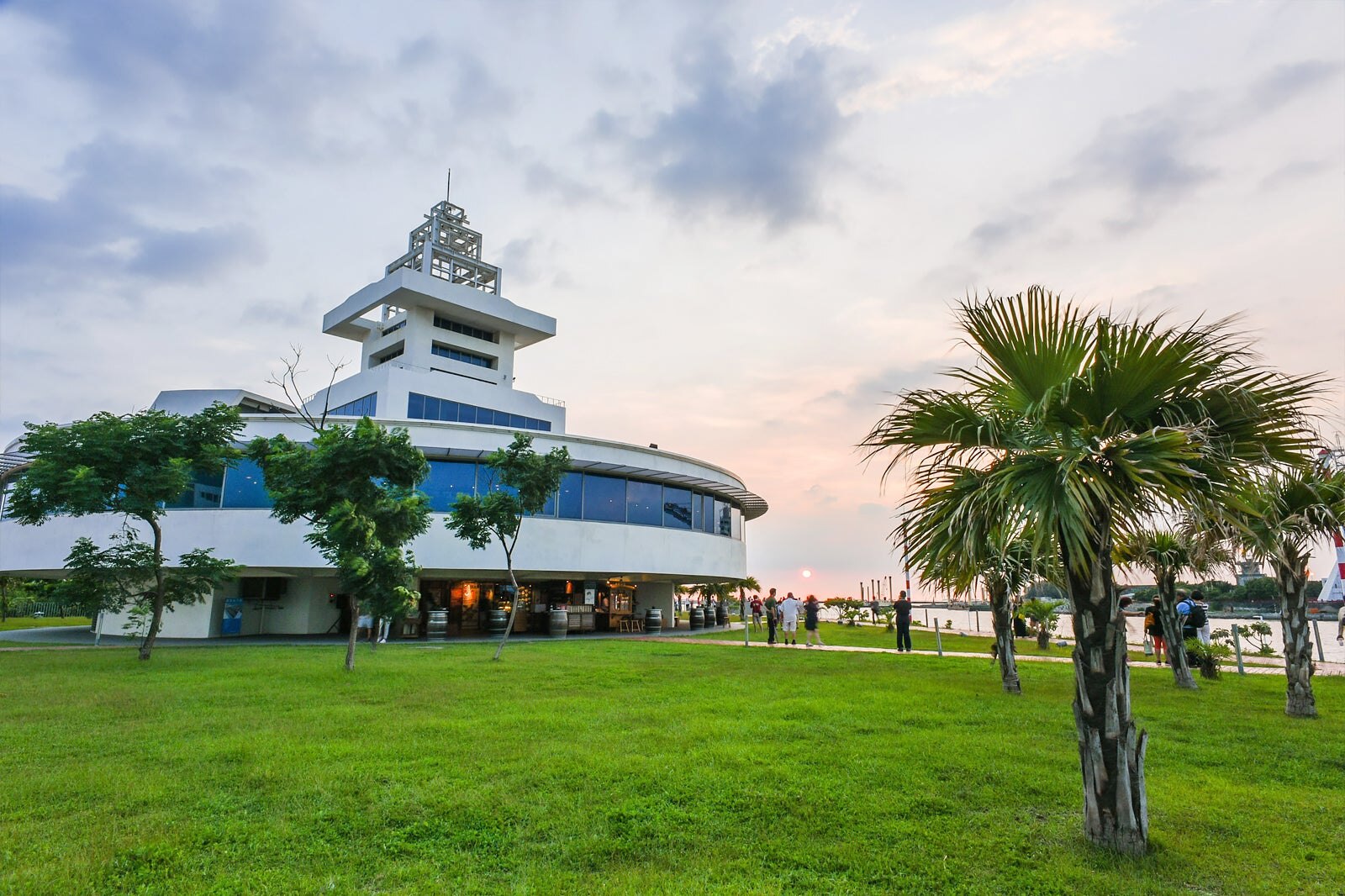 Hongmaogang Cultural Park used to be a fishing village in Xiaogang District. Buildings in the park are built in a historic style, with features such as stair handrails and wooden doors, to recreate the atmosphere of the old settlement.
A sky walkway, which has been converted from a coal transport belt of the Talin Power Plant, gives you a panoramic view of the Hongmaogang Cultural Park. Taking a cruise from the park to Kaohsiung Harbour is a very special experience. You can see tall bridge cranes lifting and lowering containers on the wharf. After the harbour tour, you can dine at the Gao Zi Tower Revolving Restaurant, while enjoying a panoramic view of the harbour at sunset.
Location: No. 2808, Nanxing Road, Xiaogang District, Kaohsiung City, Taiwan 81261
Open: Monday–Tuesday and Thursday–Friday from 3 pm to 8 pm, Saturday–Sunday from 10 am to 9 pm (closed on Wednesdays)
Phone: +886 (0)7 871 1815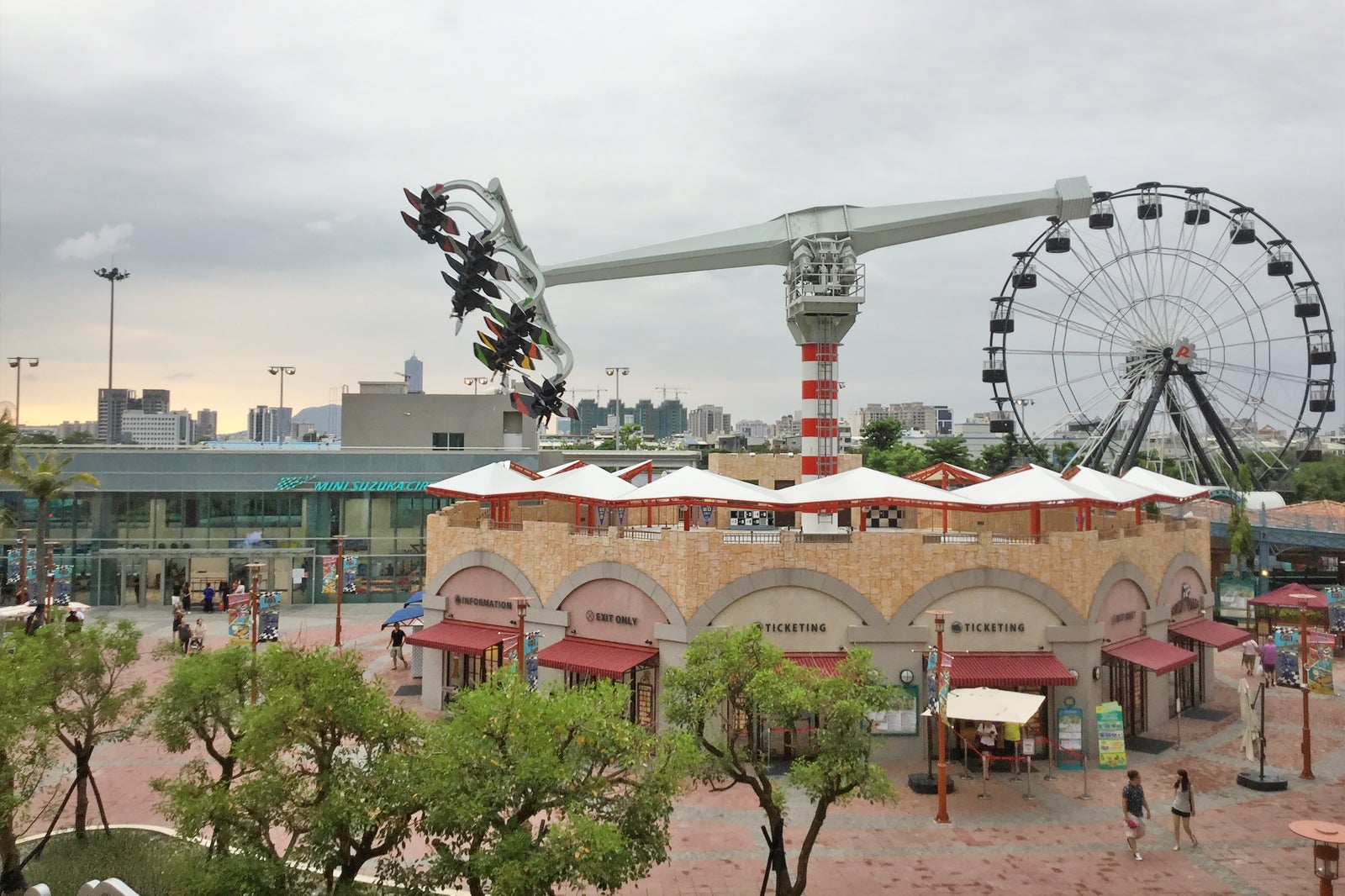 Taroko Park is one of the largest shopping malls in South Taiwan, offering an extensive range of well-known local and foreign brands. There are also plenty of exciting recreational facilities, such as a free-fall experience, a spinning ride, and a racing track.
Baseball and softball courts, indoor basketball courts, and laser-shooting ranges are available, too. If you're tired, you can take a leisurely vintage train ride through the mall or enjoy night views from the Ferris wheel.
Location: No. 1-1, Zhongan Road, Qianzhen District, Kaohsiung City, Taiwan 80665
Open: Monday–Friday from 11 am to 10 pm, Saturday–Sunday from 10.30 am to 10 pm
Phone: +886 (0)7 796 9999
photo by Tze Chiang Hao (CC BY-SA 4.0) modified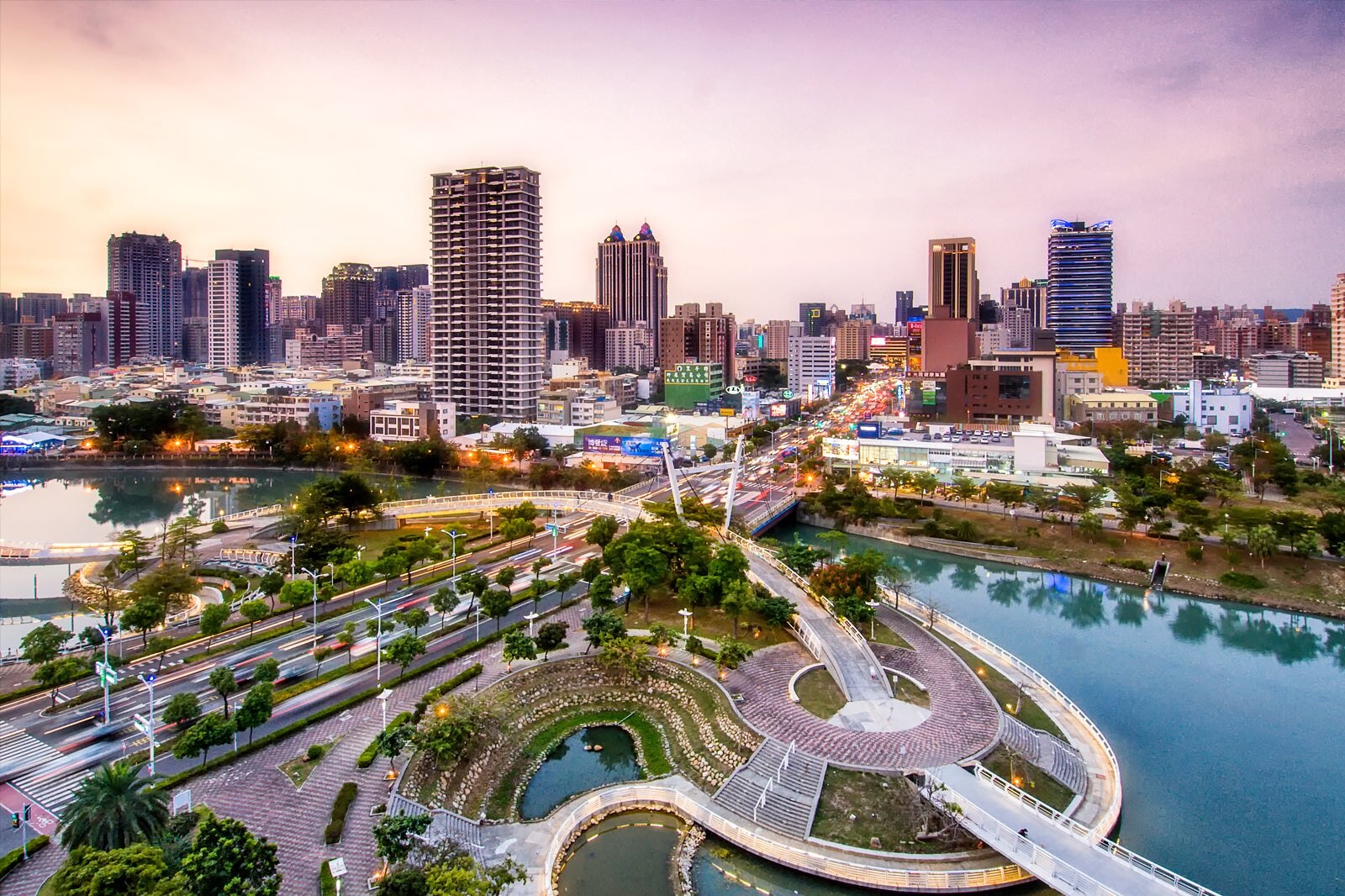 The Heart of Love River is a cove that's formed by 2 artificial flood storage lakes, with an aerial bridge between them. It's very pleasant and romantic to walk along the riverbanks in the evening. The area is even more beautiful at night when the aerial bridge is covered in dazzling illuminations.
Couples often enjoy spending time together in this romantic setting. The Love River sightseeing boat also comes this way, allowing you to enjoy views of the bridge. You can also cycle on well-paved paths along the Love River.
Location: No. 2, Longde Road, Gushan District, Kaohsiung City, Taiwan 804
8
Shoushan National Nature Park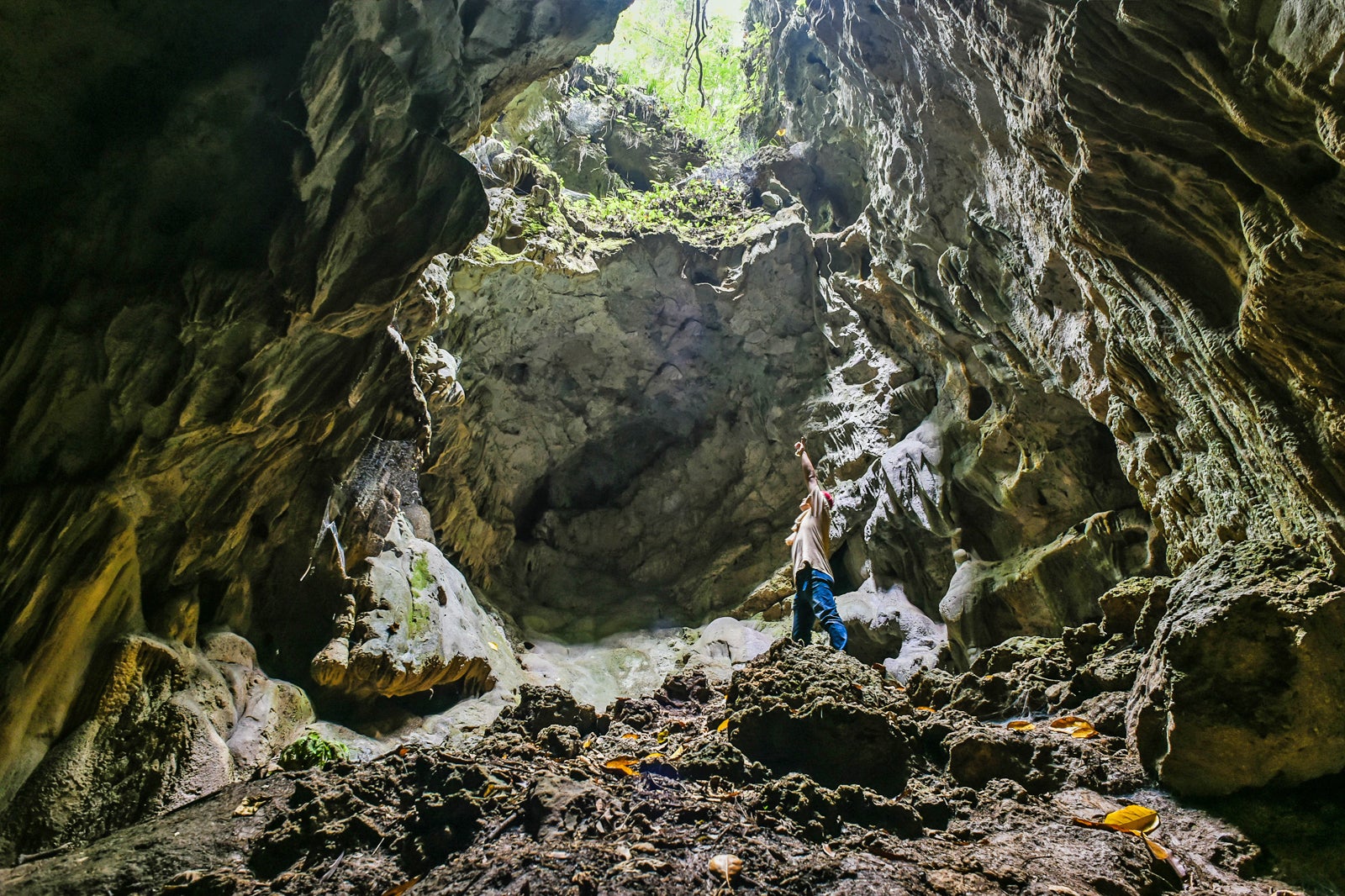 The Shoushan National Natural Park is home to many untouched spots and exotic wildlife. Tianyu Cave is one of the most famous and accessible limestone caves in the park – after squeezing through its narrow entrance, you'll be treated to unique stalactites and stalagmites. If you follow the trail from the exit of Tianyu Cave, you will soon see Dreams Links, which has massive aerial roots of purple princess plants dangling down from above like a curtain of beads.
The southern part of Shoushan National Natural Park has many hidden natural wonders, including Shaonu Mountain and Jiulong Banyan. Make sure to plan your route before exploring the mountain. It's a good idea to bring a torch when making your way through Tianyu Cave.
Location: Shoushan National Nature Park, Gushan District, Kaohsiung City, Taiwan
Phone: +886 (0)7 522 1010
Cat Lane in Jiaxian is a bright and colourful alleyway dedicated to cats that used to roam the area. More than 300 colourful umbrellas hang above the 100-metre-long lane, while the walls of local houses are decorated with funny paintings of cats acting out human roles, such as teachers, builders, and chefs.
Jiaxian is famous for bamboo shoots and taro, so you'll also see murals of cats hanging up bamboo shoots with sickles in their hands and harvesting taro in wellingtons. The post office at the entrance of the Cat Lane has a mailbox in the shape of an orange cat, waiting to pass mails to the postman.
Location: No. 44 Linsen Road, Jiaxian District, Kaohsiung City, Taiwan 84742
10
Diamond Beach at Yongxin Fishing Harbor
Diamond Beach at Yongxin Fishing Harbor is an uninhabited area in Yong'an District. It's made up of shells that have been pushed ashore and shaped by the waves. From a distance, these shells resemble camellia petals. Decorative artworks on the beach have been made jointly by the local residents.
You can enjoy a quiet stroll and collect all kinds of interesting shells while listening to the waves and colourful carp-shaped windsocks fluttering in the cool breeze. All of these reflect the calm and peaceful lifestyle of a fishing village in Kaohsiung.
Location: Diamond Beach at Yongxin Port, Shiban Road, Yong'an District, Kaohsiung City, Taiwan 828
Back to top