Best Things to Do in Bukit Timah
What is Bukit Timah Most Famous For?
Bukit Timah in the western part of Central Singapore is home to forested hills and is the place to go in Singapore if you're an enthusiast of all things botanical. The hill is the highest natural landmark, Bukit Timah Hill, which is also one of Singapore's important nature reserves.
Bukit Timah is also the location of the National Orchid Garden with its exotic plants, trees and flowers. Not only that, but you'll also find Singapore Botanic Gardens here. Chill, take in the sights and exotic scents and bouquets – it's a once-in-a-lifetime experience.
The Singapore Botanic Gardens is a national landmark and features a small tropical rainforest, a ginger garden and an orchid garden. The tropical rainforest is one of among the only few pieces of original jungle left on the island and it's reported to have more than 300 species of flora. The tallest trees stand about 40 metres in height.
This picturesque spot is not only a perfect location to view exotic plants, trees and flowers but also all kinds of colourful birds and insects. Among them are oriental pied hornbills, spotted wood owls, crimson sunbirds and Stork-billed kingfishers, thanks to the ponds and lakes which attract the birds to the area. Some geese, black swans and ducks have made the gardens their permanent home, too.
Read more
Location: 1 Cluny Road, Singapore 259569, Singapore
Open: Daily from 5 am to midnight. National Orchid Garden open daily from 8.30 am to 7 pm
Phone: +65 6471 7138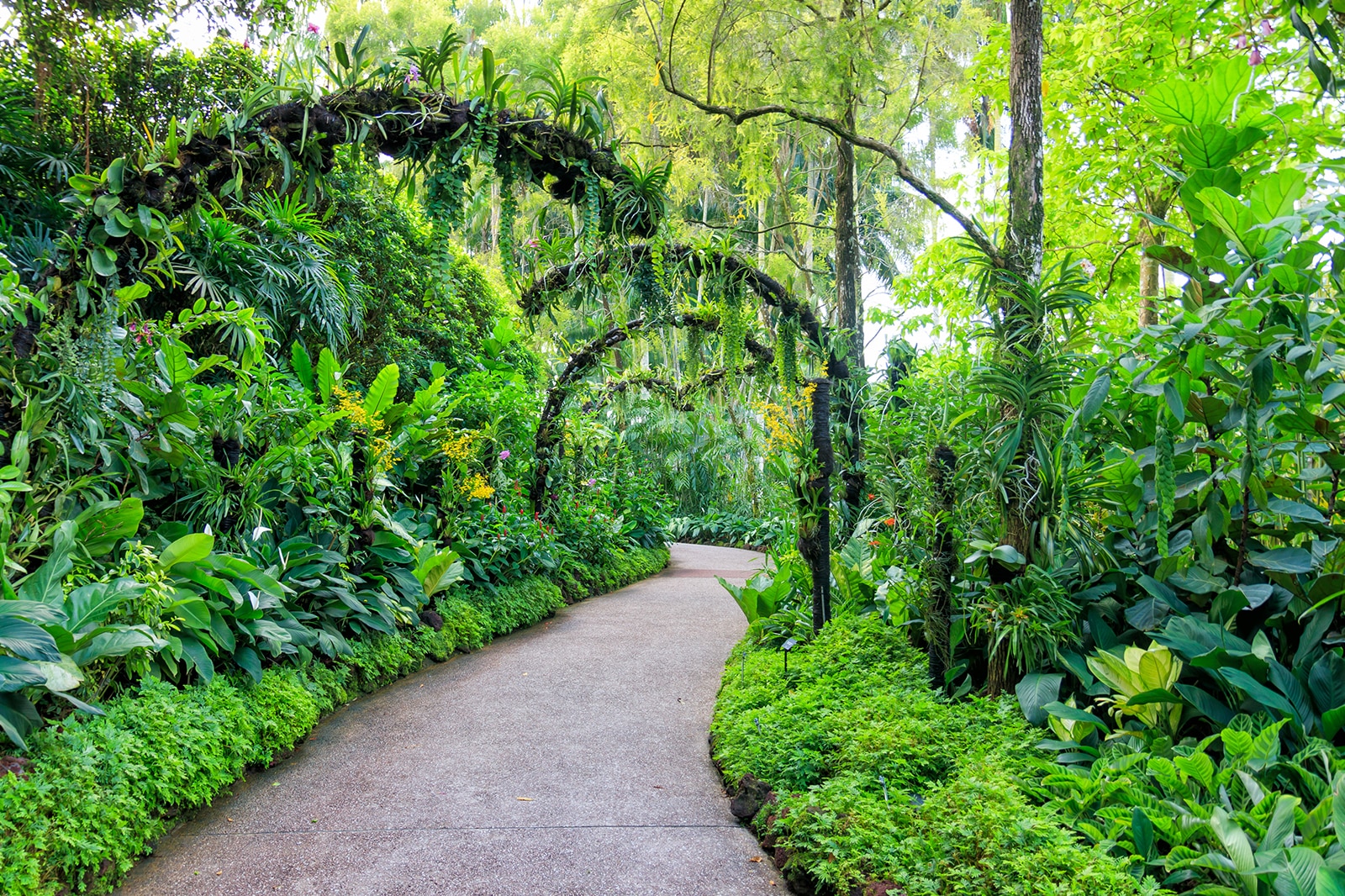 Centrally located within the lush settings of Singapore Botanic Gardens is the National Orchid Garden, with some of the most exotic orchid collections on the planet. Even though the National Orchid Garden was opened in 1995, beautiful and rare orchids have been a part of the Singapore Botanic Gardens since its founding in 1859.
As a result of an orchid collection programme instigated by Henry Ridley – the first director of the gardens – an orchid house was opened in 1899 whose further expansion was initiated by successive directors such as I H Burkill and R E Holttum.
Read more
Location: 1 Cluny Road, Singapore 259569, Singapore
Open: Daily from 8.30 am to 7 pm
Phone: +65 6475 5060
Back to top