10 Ways to Experience the Great Outdoors in Yorkshire
Enjoy Exciting Activities in England's Biggest County
Not only is Yorkshire the biggest county in the UK, it's also one of the most beautiful. Home to countless areas of stunning natural beauty, you'll never be short of incredible outdoor adventures to here. Don your comfiest walking boots, grab your camera and discover beautiful moors, cascading waterfalls, staggering cliffs and historic rock formations.
Whether you're a nature enthusiast, a fitness fanatic or you're just looking to create unforgettable memories with your family, this magnificent county delivers it all. Here are some of the best ways to experience the great outdoors in Yorkshire.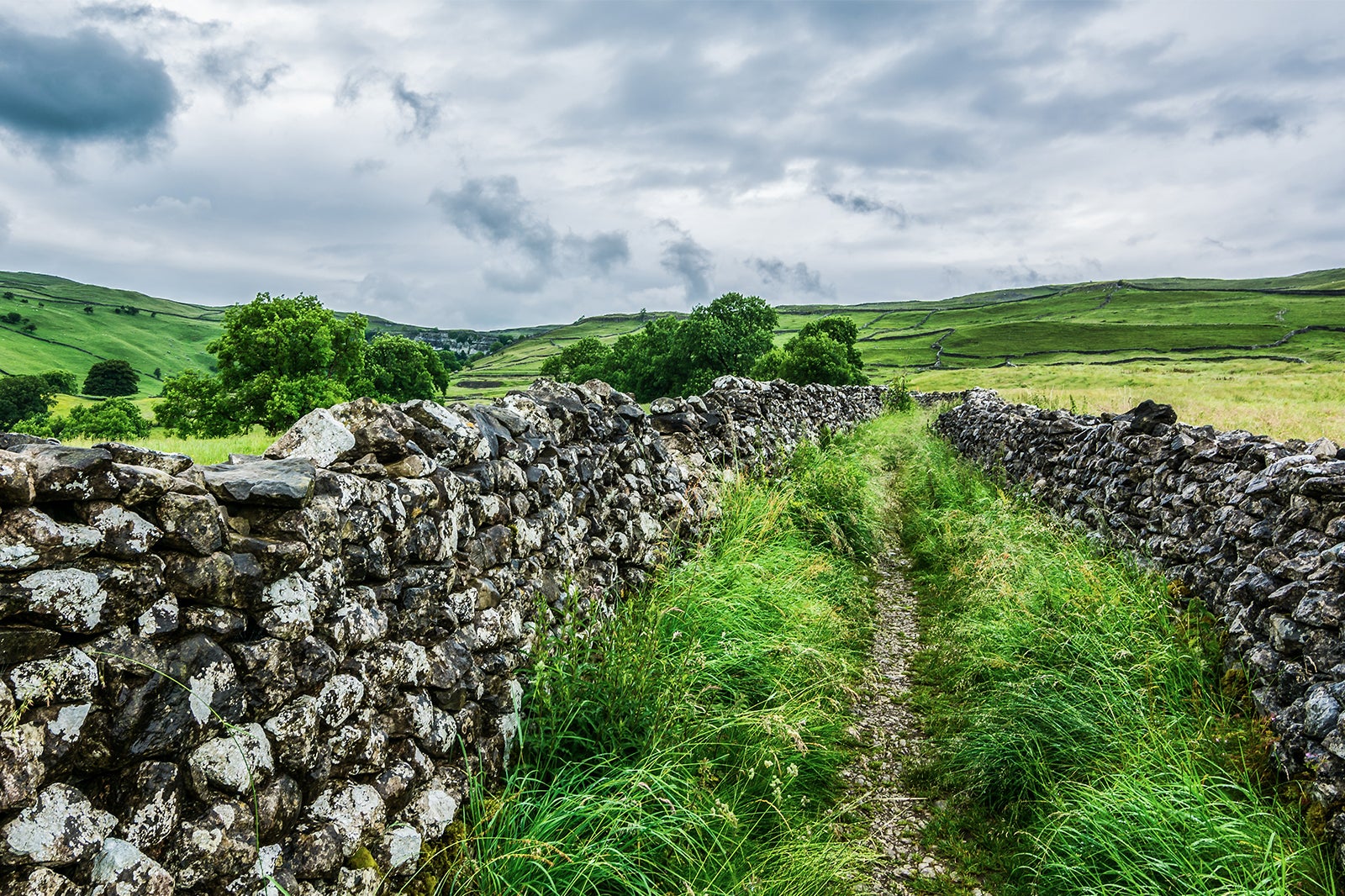 The Yorkshire Three Peaks Challenge
Climb 3 mountains in 12 hours
If you're feeling up for an adventure, head to the Yorkshire Dales and attempt the Yorkshire Three Peaks Challenge. This collection of mountains dominates the landscape and is made up of Pen-y-ghent, Whernside and Ingleborough – the 3 tallest peaks in the Dales.
People travel from far and wide to put their stamina to the test and attempt to climb all of the mountains within 12 hours. Whernside is the highest summit of the 3 (2,415 ft), closely followed by Ingleborough (2,372 ft) and finally Pen-y-ghent (2,277 ft).
Hardcastle Crags
Spot wildlife along woodland trails
Just north of Hebden Bridge, Hardcastle Crags is a Pennine valley with rugged ravines, flowing streams and woodland areas teeming with wildlife. Owned by the National Trust, they've introduced a number of walking trails, suitable for all abilities. The crags' main attraction is the early-19th century Gibson Mill, which offers tours and features regular exhibitions.
Hardcastle Crags is open year-round and provides a different experience with every visit as the seasons change. It's free to enter, with just a parking charge, unless you're a National Trust member. Alternatively, you can take the bus or walk from Hebden Bridge. Dogs are welcome everywhere inside, including the mill and on-site café.
Location: Hardcastle Crags, Gibson Mill, Midgehole Rd, Hebden Bridge HX7 7AW, UK
Phone: +44 (0)1422 844518
Families
Photo
Budget
Adventure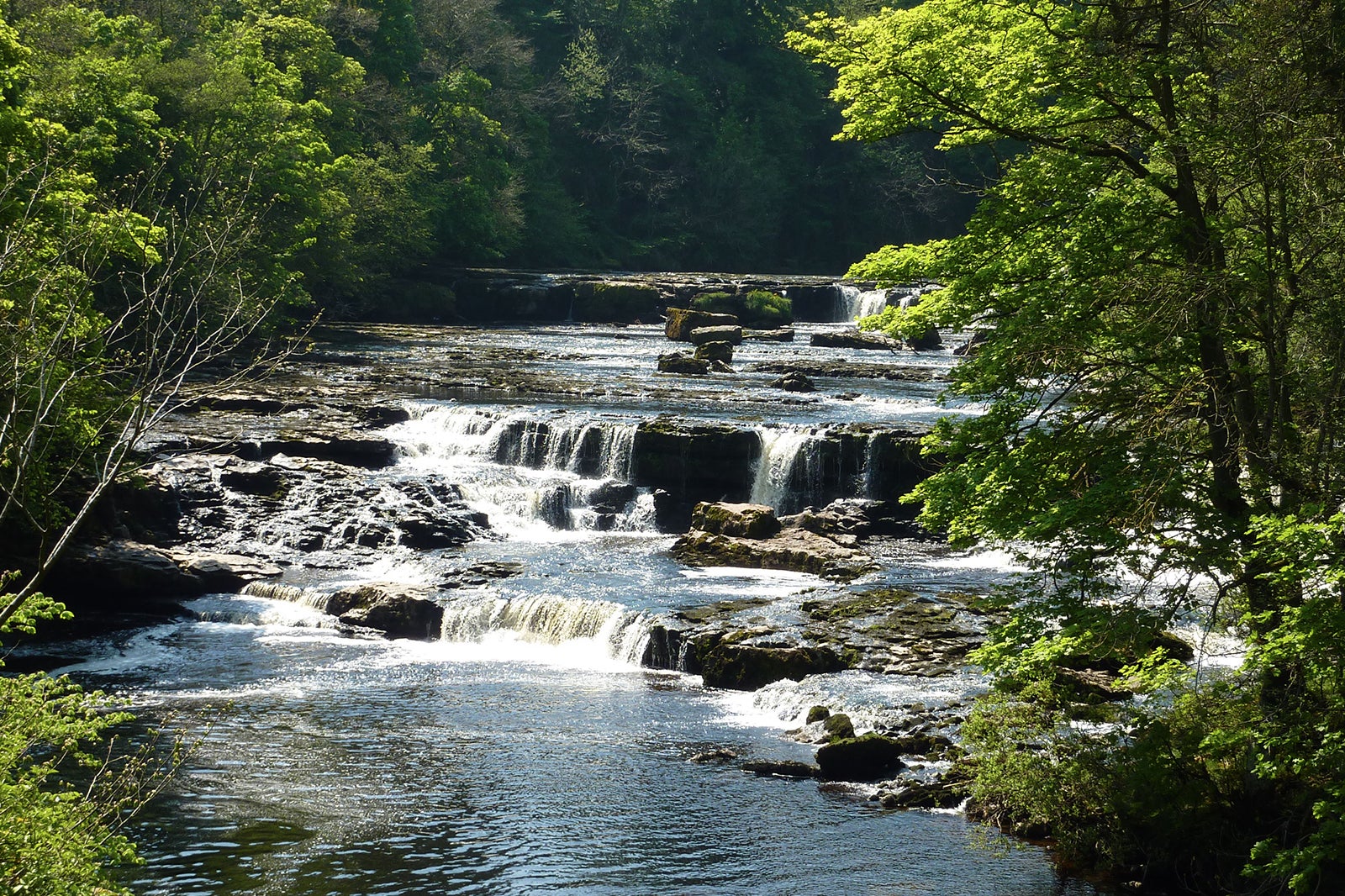 Aysgarth Falls
Some of Yorkshire's most picturesque waterfalls
Head to Aysgarth Falls National Park Centre in Wensleydale and discover some of Yorkshire's most picturesque waterfalls. They may not be the tallest in the area, but there are walking trails that lead around the upper, middle and lower falls, where you can view the water cascading over limestone steps.
The falls are a 10-minute walk from the village of Aysgarth or there's a car park, making it easily accessible. The Coppice Café at the National Park Centre serves meals made from locally sourced ingredients to refuel after you've enjoyed your walk around the area. Visit after heavy rain to see the falls at their most dramatic.
Location: Aysgarth Falls National Park Centre, Aysgarth, Leyburn DL8 3TH, UK
Open: Opening hours vary by season
Phone: +44 (0)1969 662910
photo by Wehha (CC BY-SA 3.0) modified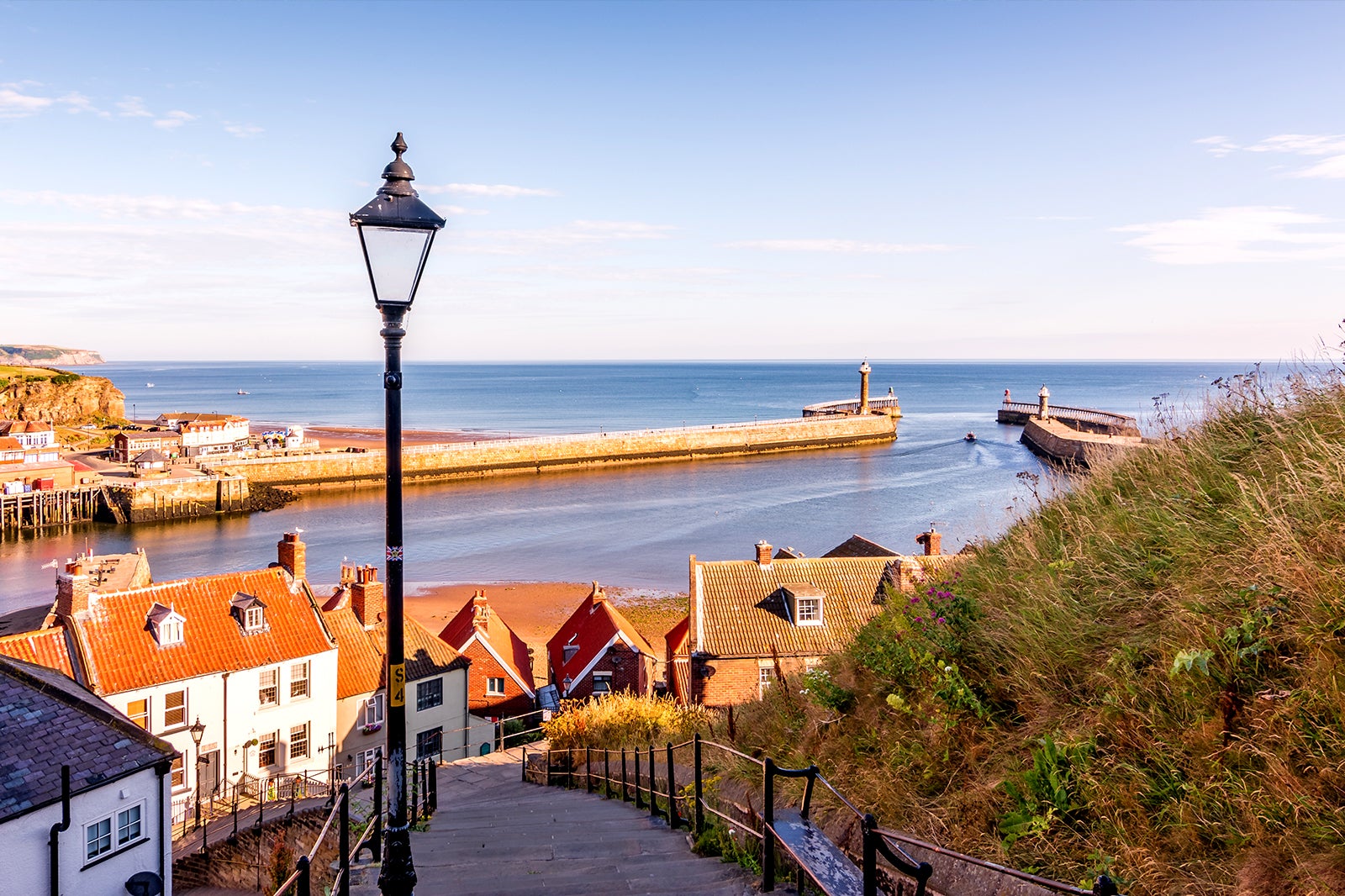 Whitby Beach
The only Blue Flag beach in Yorkshire
A popular seaside town on the Yorkshire coast, one of the biggest draws to Whitby is its fantastic beach. Lined with brightly-coloured beach huts and set to a backdrop of dramatic cliffs, it's been awarded Blue Flag status, meaning that the water and sand are both exceptionally clean and safe.
Paddle in the sea, discover interesting marine life in the rock pools or simply hire a deckchair and relax in the sun. If you're feeling a little more adventurous, Whitby is a popular spot for surfers. There's a surf school right on the beach if you fancy learning how to hang 10.
Location: Whitby Beach, 1 Pier Road, North Yorkshire, Whitby YO21 3PT, UK
Families
Photo
Budget
Adventure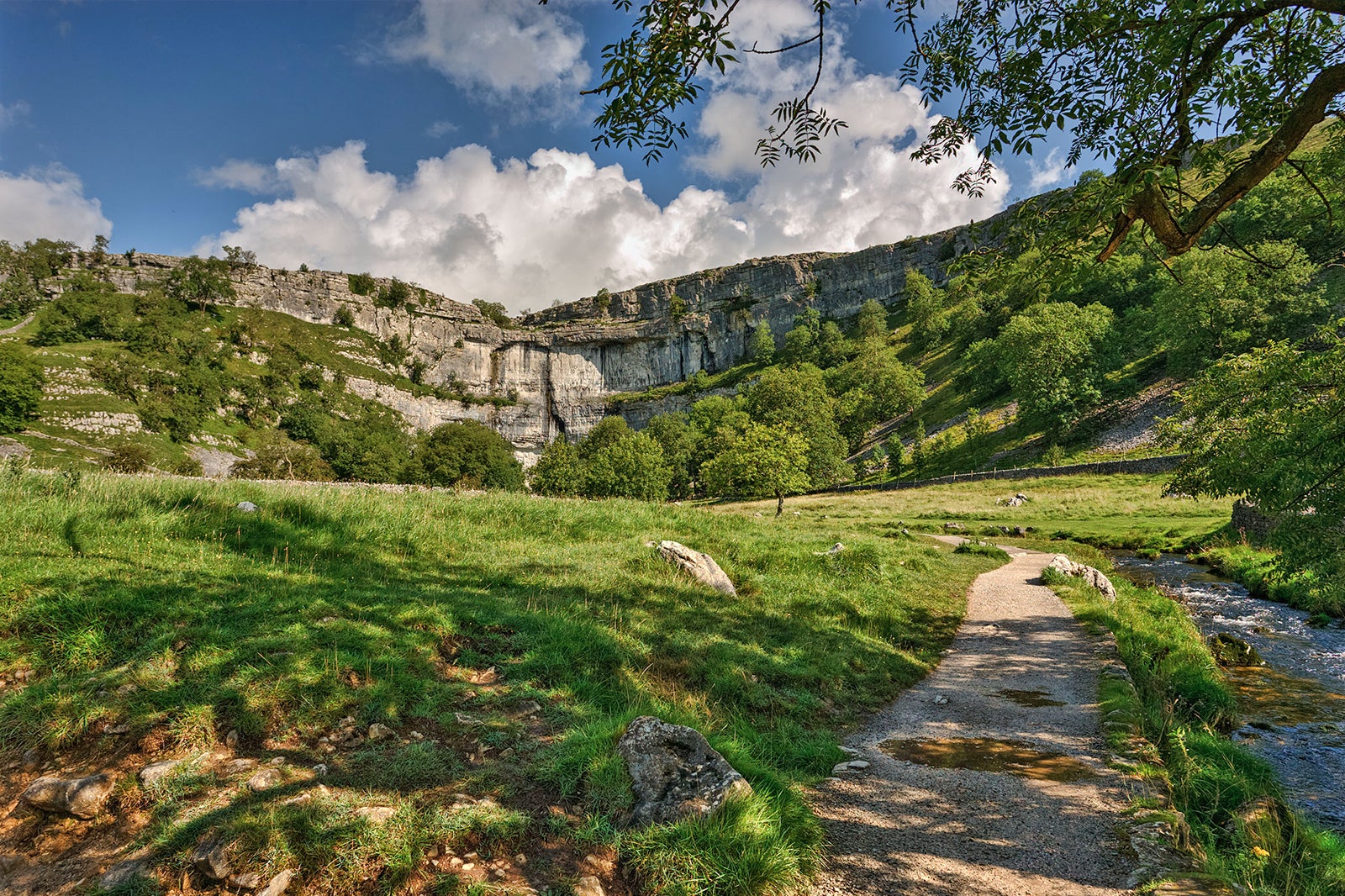 Malham Cove
A filming location for Harry Potter
A breathtaking natural landscape in the heart of the Yorkshire Dales National Park, Malham Cove is a fascinating place to explore. Once a waterfall carrying glacial meltwater during the last Ice Age (more than 12,000 years ago), it's now an impressive limestone rock formation.
The 230-foot-high sheer rock face attracts climbers in search of a challenging scramble and walkers who want to enjoy a more leisurely hike to the top. Soak up the views of the surrounding valley and traverse the mesmerising Malham Limestone Pavement, as seen in Harry Potter and the Deathly Hallows – Part 1.
Location: Malham Cove, Malham, Skipton BD23 4DJ, UK
photo by Brian Townsley (CC BY 2.0) modified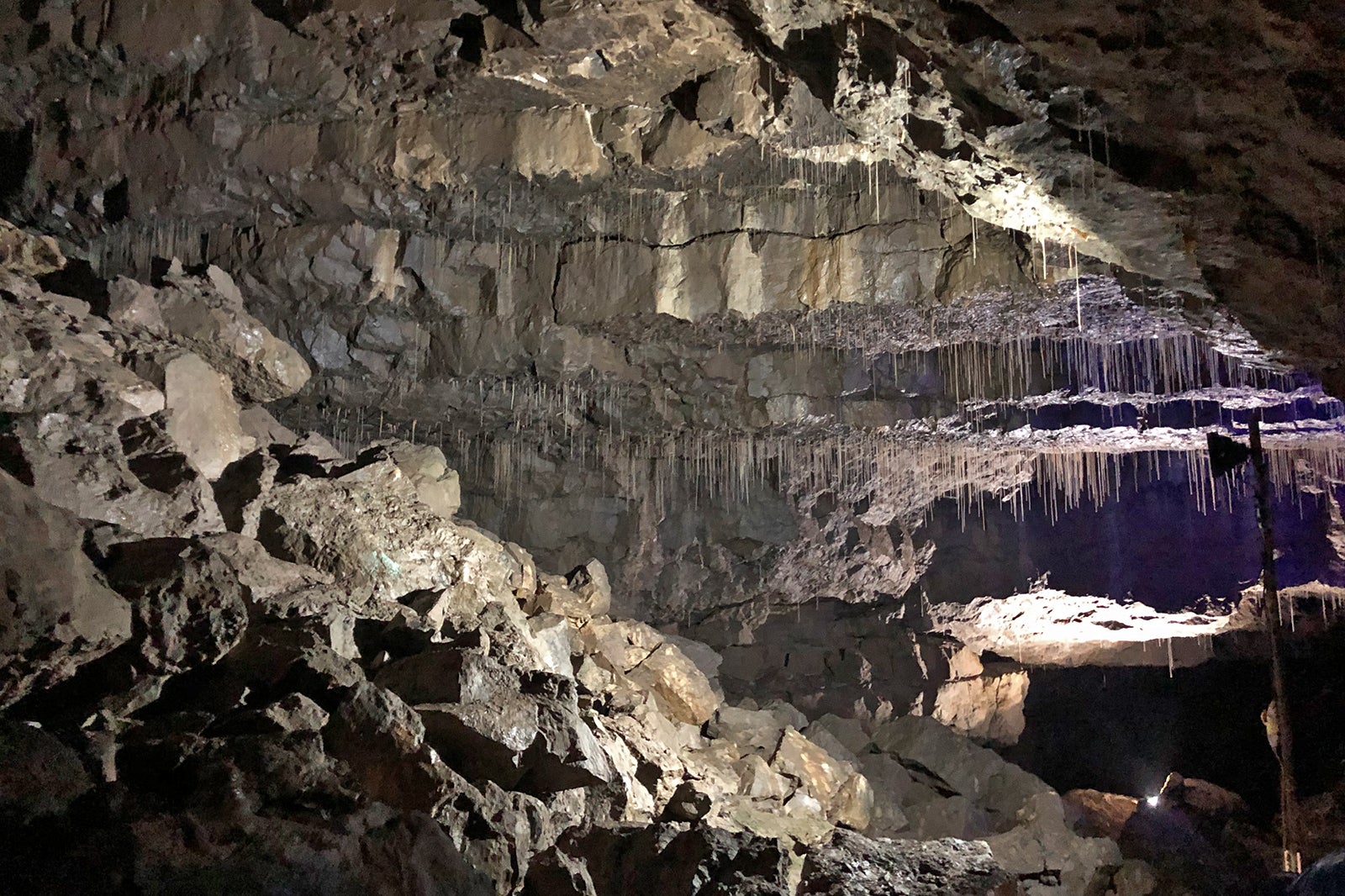 White Scar Cave
The longest show cave in the UK
At 1,700 yards long, White Scar Cave is the longest show cave in the UK. Discovered by a Cambridge student in 1923, it's now a popular tourist attraction in the Yorkshire Dales National Park, where visitors can go on a guided tour.
The 80-minute tour leads you on a mile-long trail, past cascading underground waterfalls, flowstone banks, stalagmites and stalactites. See fascinating rock formations such as Judge's Head, Arum Lily and Devil's Tongue and enjoy the highlight of the tour, the 200,000-year-old Battlefield Cavern – one of the biggest in the country. There's a visitor centre, café and picnic area outside the cave.
Location: White Scar Cave, Carnforth LA6 3AW, UK
Open: Daily from 10am to 4pm (Weekends only November–January)
Phone: +44 (0)1524 241244
photo by Malcolm Manners (CC BY 2.0) modified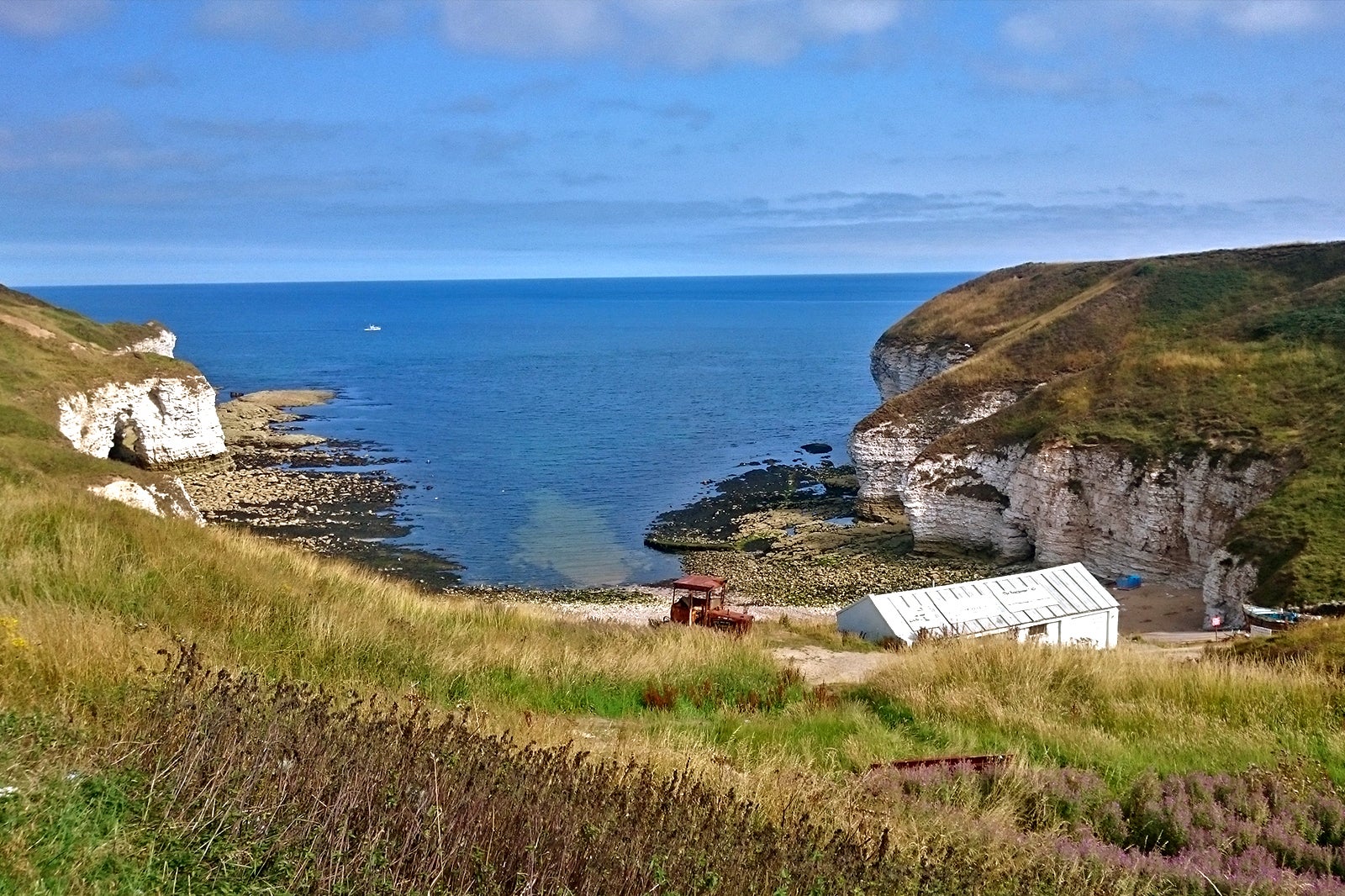 Bempton Cliffs
The highest chalk cliffs in England
The towering Bempton Cliffs in the East Riding of Yorkshire are the highest chalk cliffs in England. A haven for wildlife, the area is a protected nature reserve run by the RSPB. Nature lovers and people with a head for heights can visit the clifftops and be rewarded with spectacular views along the coast towards Flamborough Head.
Between March and October each year, the cliffs are home to around half a million breeding seabirds, including gannets, guillemots and puffins. There's a visitor centre, car park, toilets and a gift shop where you can hire binoculars. Before you visit, check to see if there are any guided walks taking place.
Location: Bempton Cliffs, Cliff Ln, Bempton, Bridlington YO5 1JF, UK
Open: Reserve open at all times. Seabird Centre open daily from 9.30am to 5pm (until 4pm in winter)
Phone: +44 (0)1262 422212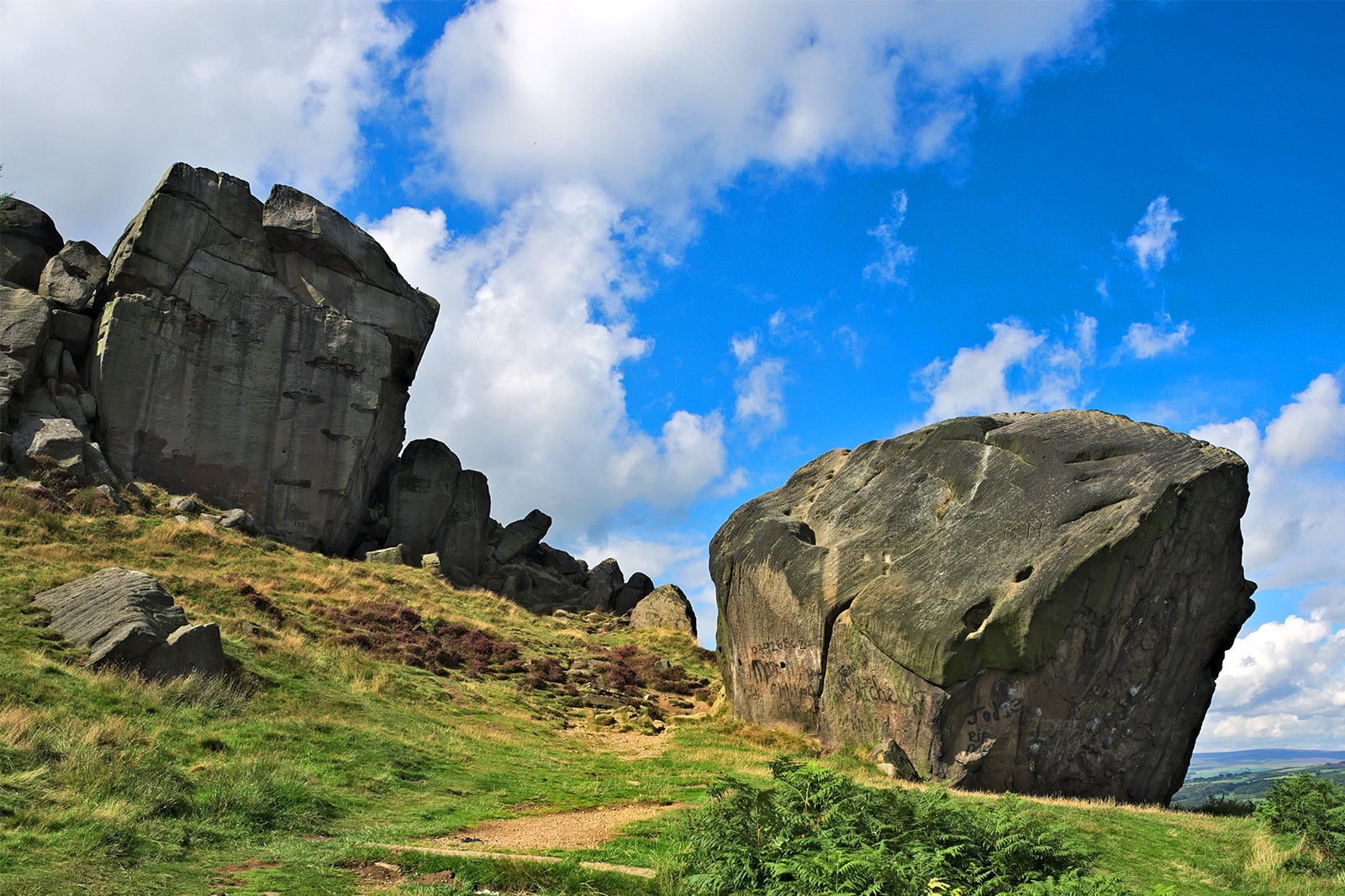 Ilkley Moor
Enjoy a picturesque moorland walk
Located in West Yorkshire, between Ilkley and Keighley, Ilkley Moor is one of the most beautiful areas of moorland in the country. It's a popular spot for walkers who want to experience the quintessential Yorkshire outdoors. One of the best times of year to visit is towards the end of summer and beginning of autumn, when the landscape is covered in a blanket of lavender for as far as the eye can see – an outstanding habitat to enjoy.
As well as the lavender, the moor is famous for its iconic rock formations, such as the Cow and Calf Rocks and the Twelve Apostles stone circle. It's also where one of the UK's most renowned alien sightings took place back in 1987.
photo by Kreuzschnabel (CC BY-SA 3.0) modified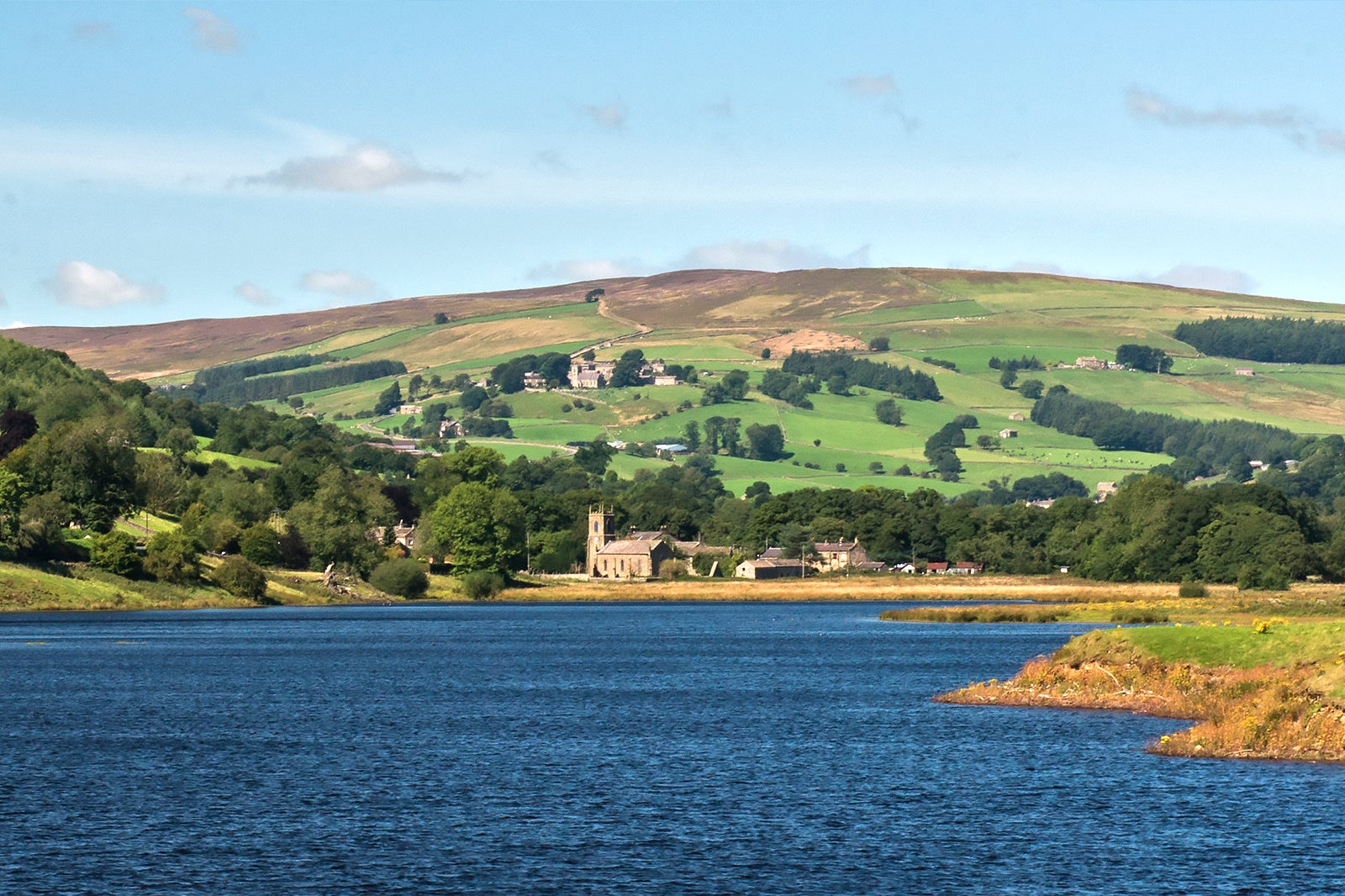 Nidderdale
An Area of Outstanding Natural Beauty
Nidderdale is many people's favourite Yorkshire Dale and it's easy to see why it's deserving of its status as an Area of Outstanding Natural Beauty. With its rolling green meadows, picturesque moorlands and charming villages, you'd be hard-pushed to find a more magnificent landscape in the county.
The area boasts countless stately homes, colourful gardens and tranquil reservoirs to explore, but perhaps the most fascinating attraction to visit is the National Trust Brimham Rocks. A true wonder of nature, these mysterious towers of balancing rocks are spread across 50 acres of moorland and cause much debate as to whether they're manmade or a natural phenomenon.
photo by Skizzwizz (CC BY-SA 4.0) modified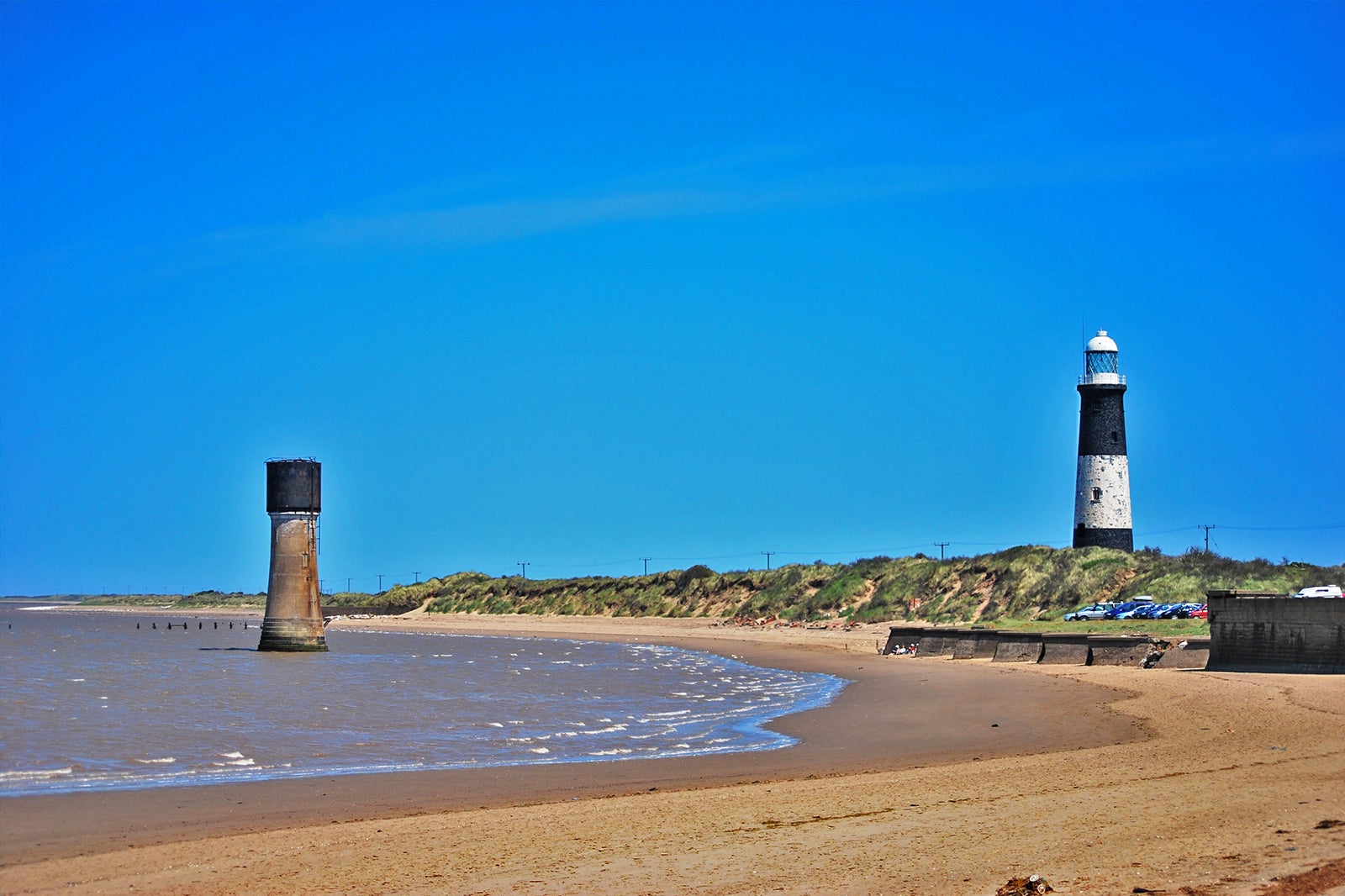 Spurn Point
Yorkshire's very own 'Land's End'
Spurn is a unique and iconic National Nature Reserve, recognisable by its long, thin sandbank that curves out into Humber estuary. It's known for being a resting place for thousands of migratory birds, but other wildlife you can expect to see can include numerous insect species, lizards and roe deer.
The sandbank is 3.5 miles long and only about 50 yards wide in places, so you can only access it on foot, on a bike or on an organised Spurn Safari. Stop by the Spurn Discovery Centre before heading onto the reserve and learn all about its history, wildlife and defence system.
Location: Spurn Discovery Centre Spurn Head, south of, Kilnsea HU12 0UH, UK
Open: Reserve open at all times. Discovery centre open daily from 9am to 6pm
Phone: +44 (0)1964 650144
photo by Paul J. Clarkson (CC BY-SA 3.0) modified