10 Best Things to Do in Valencia
What is Valencia Most Famous For?
Valencia has a mix of Gothic cathedrals, cobblestoned squares, and futuristic complexes, giving you plenty of memorable sightseeing opportunities. Its many neighbourhoods, especially the Old Town, are easily navigated on foot or bicycle. There are many fun-filled activities and events held throughout the year, featuring impressive street performances, fireworks displays, and costume parades.
Once a thriving European trading port during the 15th century, Valencia is now a popular holiday destination in Spain. A short distance from the city centre is a lively seaside promenade, where you can find plenty of open-air restaurants, bars, and cafes overlooking the Mediterranean Sea. If you're visiting Valencia for the first time, check out our guide on the best things to do for a truly immersive holiday experience.
What are the best things to do in Valencia?
1
Catedral De Valencia
See the Holy Grail in this Gothic church
Catedral De Valencia is a 13th century Gothic cathedral within Ciutat Vella's Plaza de la Reina. Romanesque, Gothic and Baroque features were added to the historical structure throughout the years, giving you plenty of opportunities to capture beautiful snapshots. One of its most popular sights is the Santo Caliz Chapel, which houses the Vatican-recognised Holy Grail. There's a museum that displays Renaissance paintings and sculptures by artists like Goya and Jacomart. For about €2, you can climb to the top of the Miguelete bell tower to enjoy expansive views over the Old Town.
Location: Plaza de la Reina, 46003 Valencia, Spain
Open: November–March: Monday–Saturday from 10 am to 5.30 pm. April–October: Monday–Saturday from 10 am to 6.30 pm, Sunday from 2 pm to 6.30 pm
Phone: +34 963 918127
2
Mercado Central
Shop for Spanish wines, cheese, and cured meats at this modernist marketplace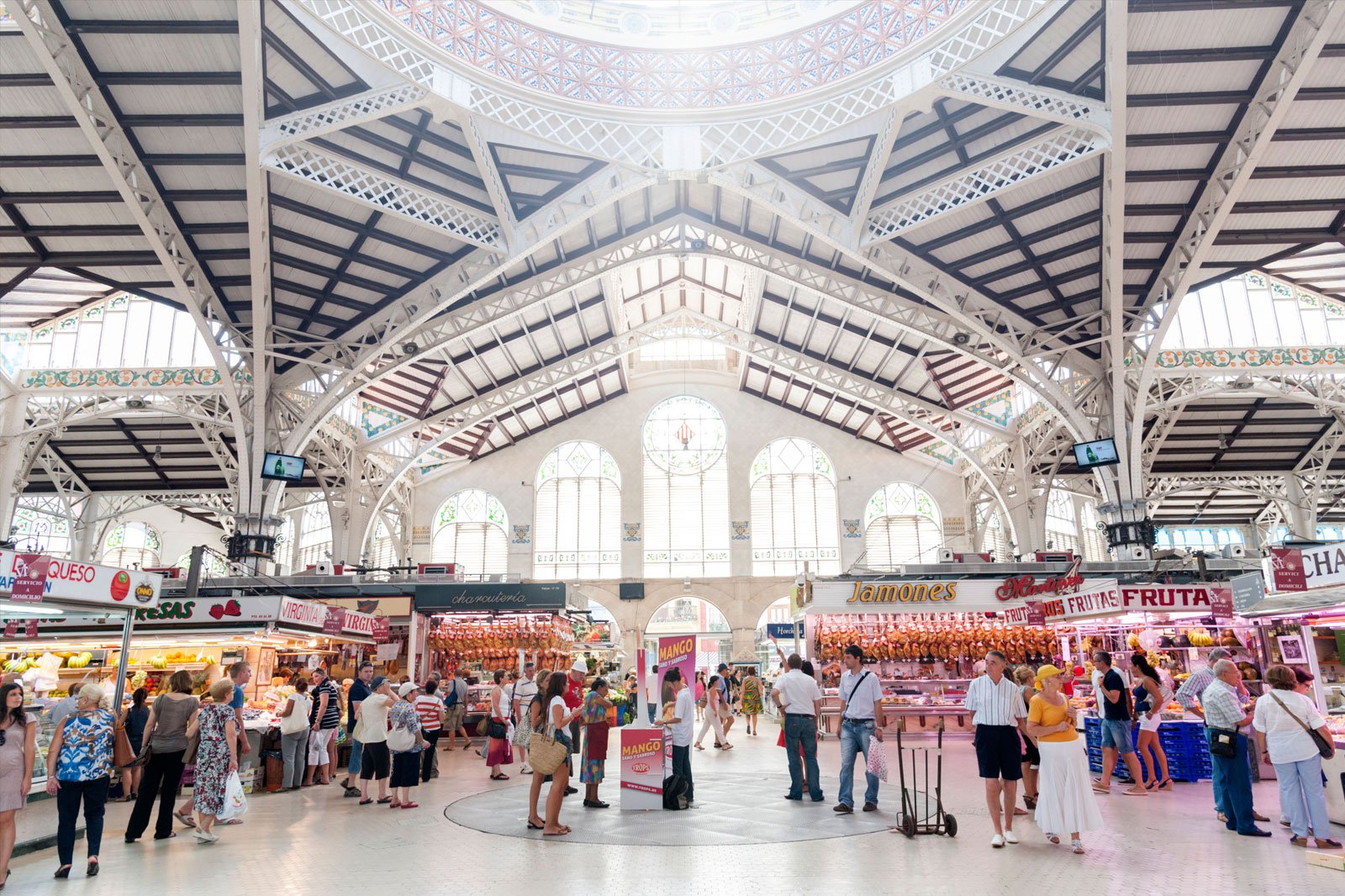 Mercado Central is an Art Nouveau-style market with over 1,000 stalls selling a variety of Spanish produce and delicacies. Founded in the 1910s, the building is fitted with beautiful stained glass, colourful mosaics, and large central domes with iron fixtures. It's a beautiful building, but it's also a working market. Locals often frequent this market to shop for fresh vegetables, fruit, meat, wines, and cheeses. There are many reputable restaurants and bistros surrounding Mercado Central, where you get to enjoy Spanish fare such as jamón ibérico, paella, churros, and sangria.
Location: Plaza Ciudad De Brujas, 46001 Valencia, Spain
Open: Monday–Saturday from 7 am to 3 pm (closed on Sundays)
Phone: +34 963 829 100
3
Barrio del Carmen
See colourful wall murals in Valencia Old Town
Families
Couples
History
Photo
Ciutat Vella (Old Town) is Valencia's historical district, where you can find many Gothic buildings, cobblestone streets, and picturesque squares. A great place to explore on foot, Valencia Old Town houses most of the city's impressive monuments, including an Art Nouveau-style train station, a bullfighting museum, a 15th-century silk exchange hall, and a Roman cathedral housing the mythical Holy Grail.
You should head for Barrio del Carmen and take your pick from the several bars and cafés that spill out onto the streets. This popular neighbourhood has some cool wall murals and urban art, best seen along Carrer de Salvador Giner.
Location: Ciutat Vella, Valencia, Spain
4
Plaza del Ayuntamiento
Shop for fashion and antiques at this vibrant square
Plaza del Ayuntamiento is one of Valencia's busiest squares, where you can find plenty of Art Deco buildings, high-street and luxury boutiques, department stores, antique shops, and flower vendors. A 5-minute walk from Estació del Nord Railway Station, it's also a place to enjoy annual festivities such as Fallas Festival, Region of Valencia Day, and the re-enactment of Christmas Nativity Scenes. Popular sights here include the neoclassical Ayuntamiento (Town Hall), Edificio de Correos (Central Post Office), and the large fountain in the middle of the plaza.
Location: Plaza del Ayuntamiento, 1, 46002 Valencia, Spain
Open: Daily from 10 am to midnight
5
La Lonja de la Seda
Visit the 15th-century Silk Exchange building on Sundays for free
La Lonja de la Seda (the Silk Exchange) is a UNESCO World Heritage Site in central Valencia. This building was built in the 15th century, when Valencia was one of Europe's main trading ports. Today, it's well-preserved monument of Gothic civil architecture with its pointed arched windows and doorways, vaulted ceilings, stone gargoyles on its rooftop, and 40 Renaissance medallions of Roman leaders. One of La Lonja de la Seda's most iconic features is its stone spiral stairway which is built without a central axis.
Location: La Lonja de la Seda, Carrer de la Llotja, 2, 46001 Valencia, Spain
Open: Monday–Saturday from 9.30 am to 7 pm, Sunday from 9.30 am to 3 pm
Phone: +34 962 084 153
6
Jardín del Turia
Check out the massive playground shaped like a giant human
Jardín del Turia (Turia Gardens) in central Valencia is a landscaped park with many beautiful gardens, playgrounds, sports facilities, and tree-lined paths. It's possible to explore the entire park on foot, but bicycles can be rented for a few euros. A unique attraction here is the Gulliver Park, which features a gigantic model of Gulliver, the fictional character from Gulliver's Travels. It's fitted with slides, staircases, and obstacle courses for children.
Location: Antiguo Cauce del Turia, 46010 Valencia, Spain
Open: September–June: daily from 10 am to 8 pm, July–August: daily from 10 am to 2 pm and from 6 pm to 9 pm
Phone: +34 963 370 204
7
City of Arts and Sciences
Dive in a tank filled with sharks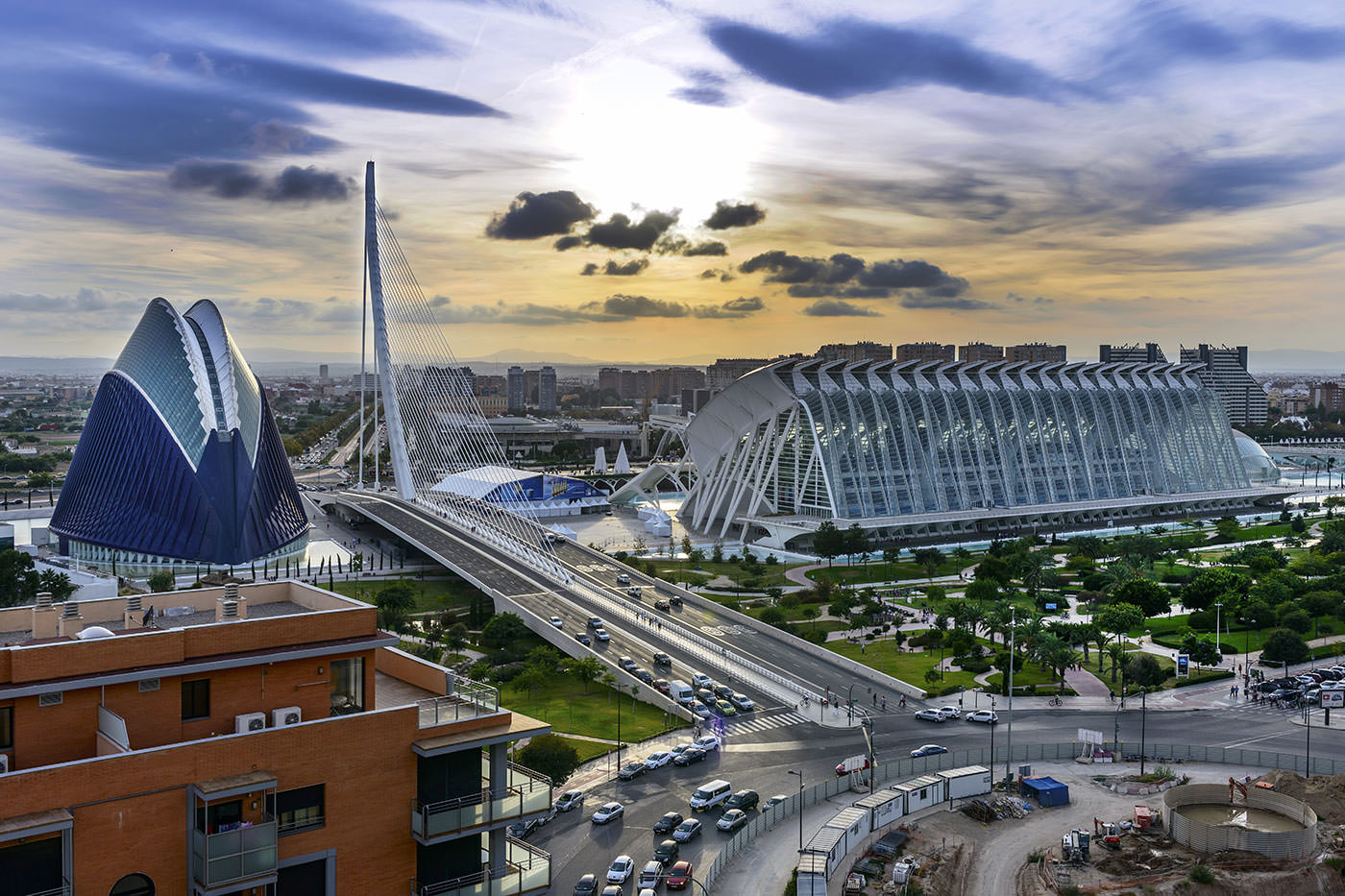 The City of Art and Sciences, located 3 km south of Ciutat Vella, is an impressive complex dedicated to science and culture. It's divided into a digital 3D cinema, a science museum, an opera house, an aquarium, and an event space. Museo De Las Ciencias Principe Felipe is a fully interactive science museum that hosts educational programs and workshops all year long. The Oceanogràfic is one of Europe's largest aquariums, where you can find over 500 species of marine life, while open-air garden L'Umbracle has large terrace overlooking the entire complex.
Entrance fees vary by building, starting from €6. You can enjoy a combined admission to the aquarium, cinema, and science museum are available for about €29.
Location: Ciudad de las Artes y las Ciencias, Av. del Professor López Piñero, 7, 46013 Valencia, Spain
Open: Daily from 10 am to midnight (hours vary by season)
Phone: +34 902 100 031
8
Malvarrosa Beach
Check out the annual kite festival in April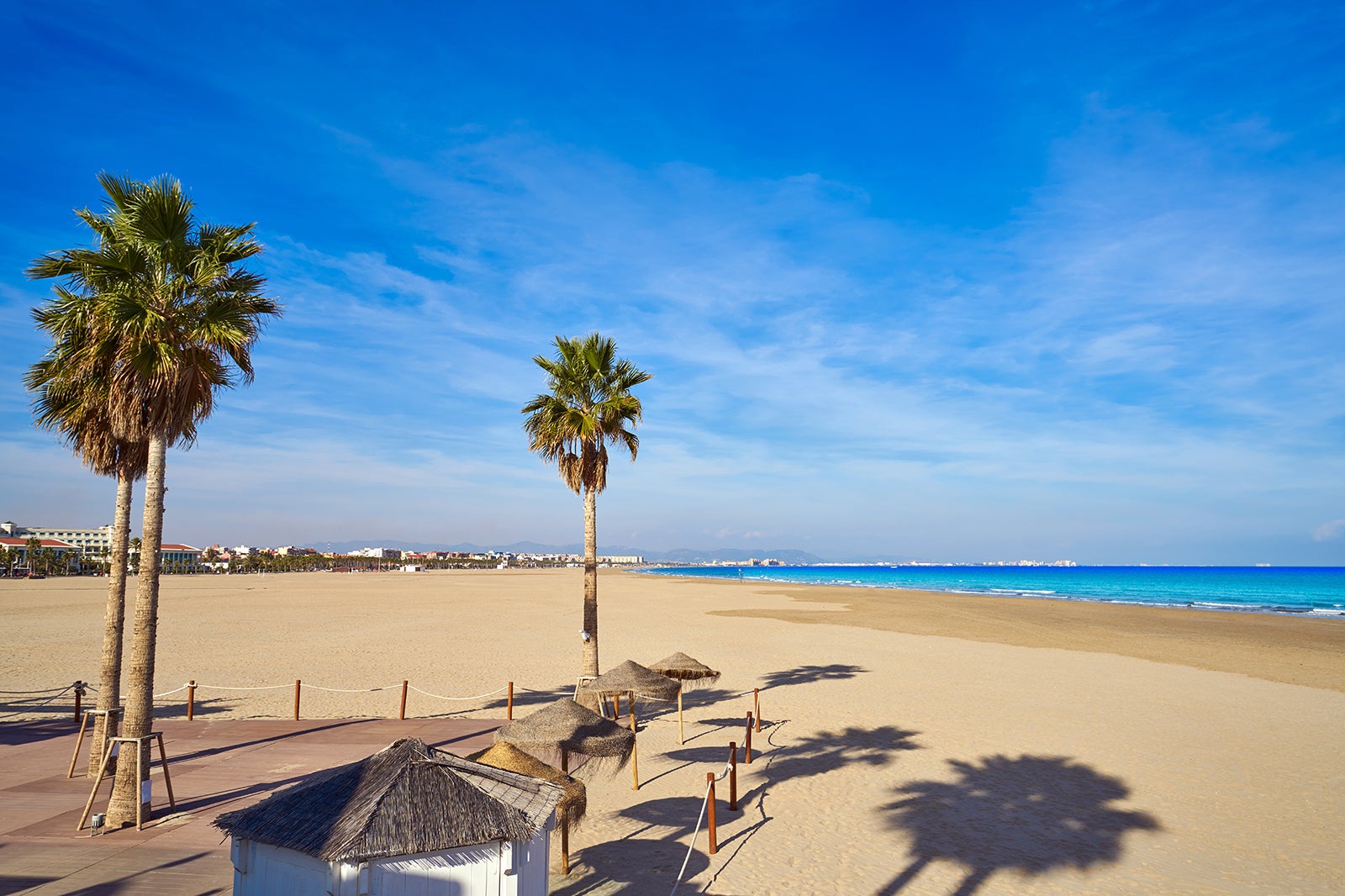 Families
Couples
Photo
Luxury
Playa de la Malvarrosa is an expansive beach, 8km east of central Valencia. A popular spot during warmer climates, it offers plenty of space for sunbathing, swimming, and beach games. There is a seaside promenade built in the 1980s, where you can find many cafes, restaurants, food kiosks, and souvenir shops along the boardwalk. At the southern end of the beach is Port de Valencia, one of the busiest seaports in Spain. International events are also held in Playa de la Malvarrosa, including the International Festival of the Wind of Valencia in mid-April.
Location: Playa de la Malvarrosa, Valencia, Spain
9
Palau De Les Arts Reina Sofia
Watch classical theatre and music performances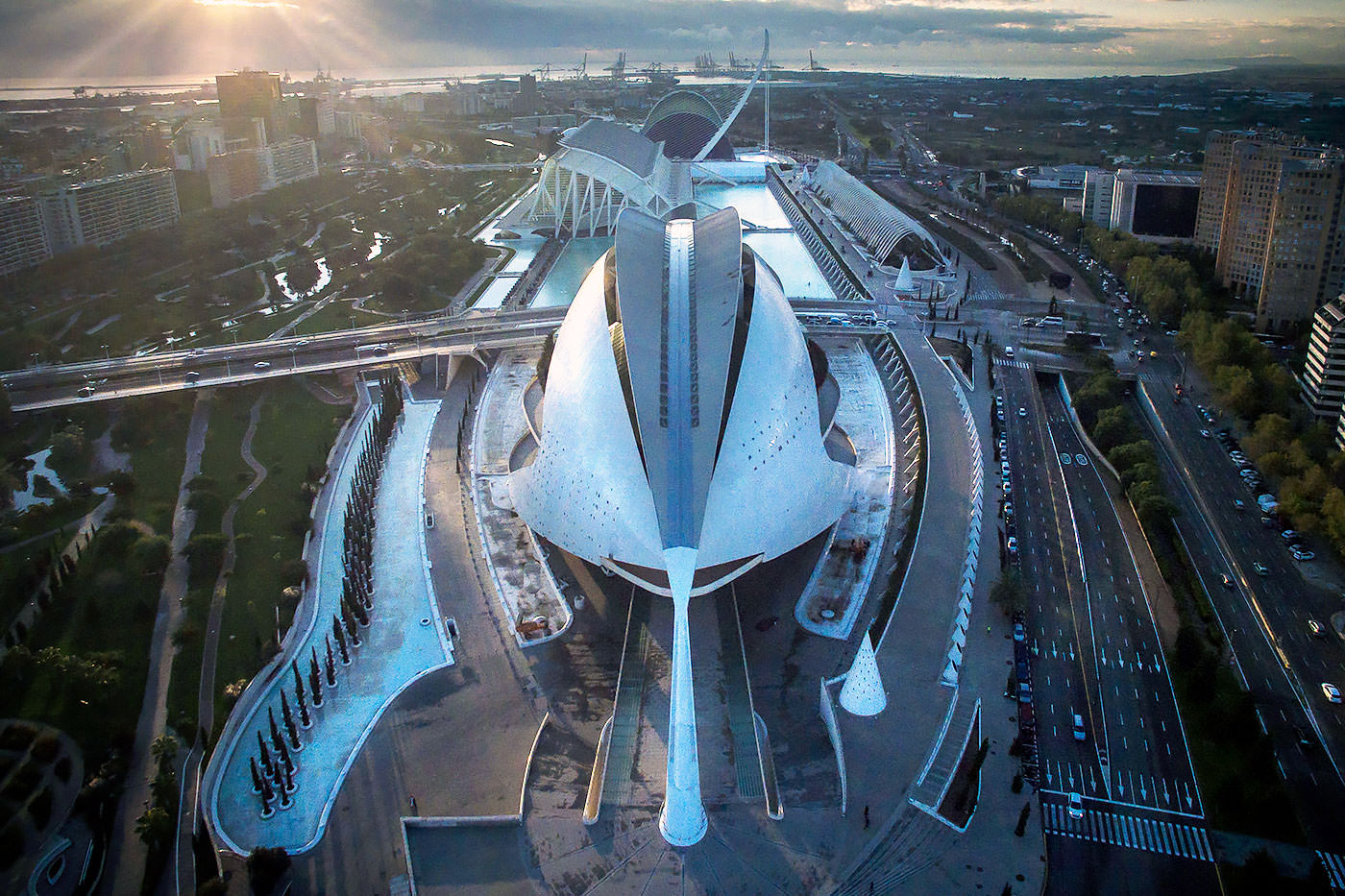 Families
Nightlife
Couples
Luxury
Palau De Les Arts Reina Sofia (Queen Sofia's Art Palace) is a picturesque opera house in Valencia and part of the futuristic City of Art and Sciences complex. There are 4 venues dedicated to opera, music, ballet and theatrical performances. The main hall accommodates over 1,800 people and features a state-of-the-art sound and light system to host a variety of live events. The building is also worth exploring for its impressive design, symmetrical corridors, Mediterranean gardens, and reflecting pools. Guided tours are available for a few euros, that includes a 30-minute opera recital at the start of the tour.
Location: Avenida del Professor López Piñero, 1, 46013 Valencia, Spain
Open: Monday – Friday from 10 am to midnight
Phone: +34 961 975 800
10
Paella
Dine at La Pepica, a historical restaurant that serves authentic Paella Valencia
Paella originates from Valencia and has since been known as one of Spain's most iconic dishes. The most traditional variation of paella consists of short grain rice, chicken, rabbit, and locally grown beans cooked in olive oil, saffron, paprika, and tomatoes. Today, many restaurants have their own interpretation of this communal dish, with ingredients such as artichokes, pork prawn, mussels, and snails. Paella is often cooked al fresco, using a massive pan over a wood fire. One of the best paella restaurants in Valencia is La Pepica, which has been a local favourite since the late 1800s.
Location: Paseo de Neptuno, 6, 46011 Valencia, Spain
Open: Daily from 1 pm to 3.30 pm and from 8.30 pm to 10.30 pm
Phone: +34 963 710 366
Back to top