Stavanger Travel Essentials
Useful Information to Help You Start Your Trip to Stavanger
Our Stavanger Travel Essentials lays out the essential information you need to help you plan your trip to one of the most popular destinations in Norway. No matter how frequently you travel, some questions will always need answers: What's the weather like? How can I get from Stavanger Airport, Sola to my hotel? What currency and type of plug do I need?
We have all these answers plus other basic info about the best time to go, getting there, getting around, and a few useful travel tips. You'll also learn about the most popular landmarks in Stavanger such as Pulpit Rock (Preikestolen), Sverd i fjell, and Gamle Stavanger. It's all compiled in this Stavanger Travel Essentials. After going through this short and easy-to-read guide, you'll be a little more prepared to start your trip to Stavanger.
1
When is the best time to travel to Stavanger?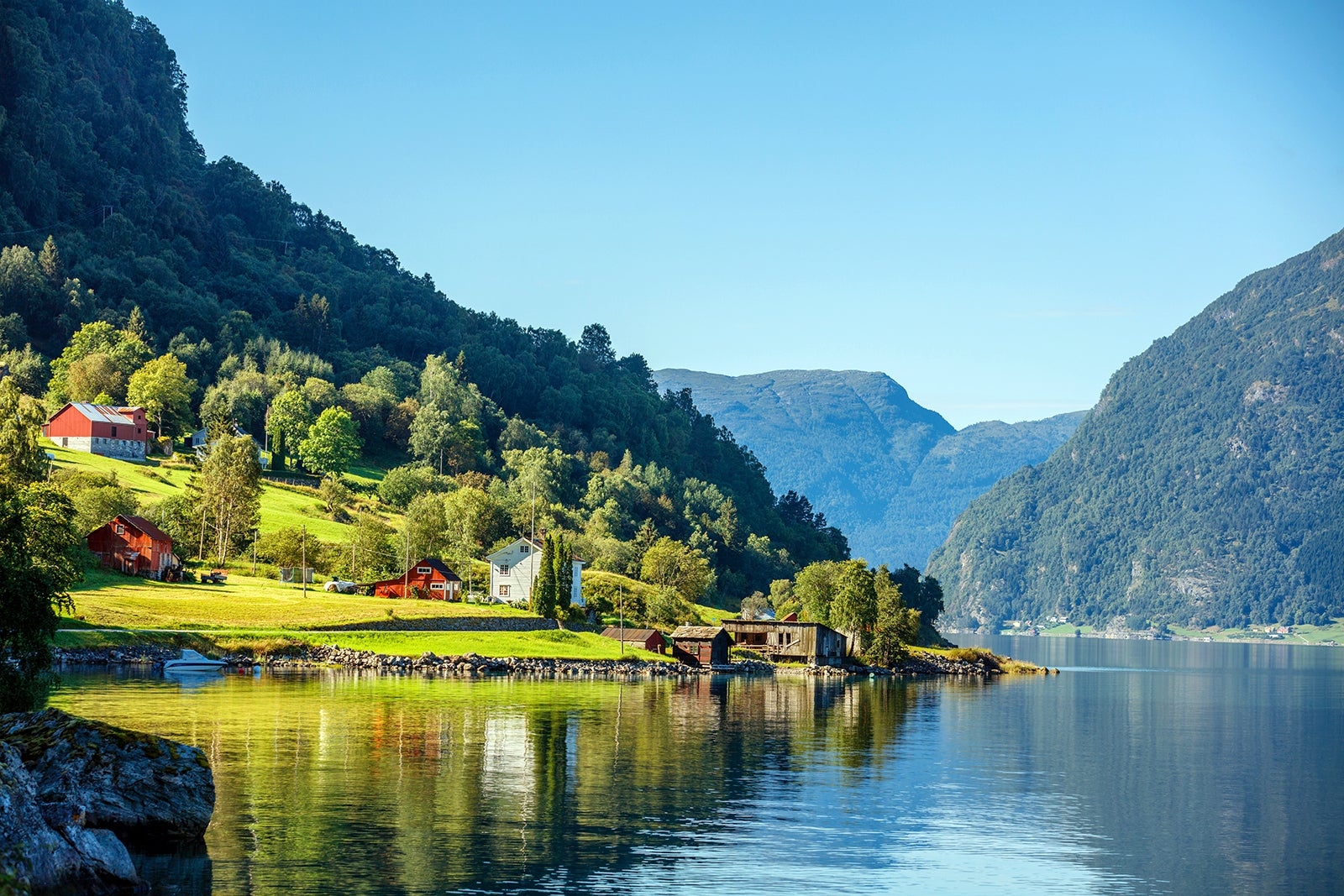 Stavanger has an oceanic climate with long and cold winters and cool and cloudy to overcast summers. The temperature typically varies from -1.6°C to 18°C throughout the year.
It rains evenly throughout the year in Stavanger, with an average of 15 days with rain per month – it's advisable to bring a jacket, even in the mild summer. December is the wettest month. Expect moderate snowfall from November through April.
The summer months in Stavanger are between June and August – July being the hottest month.
Summer is also the peak season in Stavanger, with the most pleasant weather for outdoor activities. It's advisable to book your travels ahead of time for better accommodation rates, though, as this is a popular time to visit. Autumn, from September through December, often has more affordable rates – it's a great time for hikes through the countryside such as to the cliffs of Pulpit Rock (Preikestolen).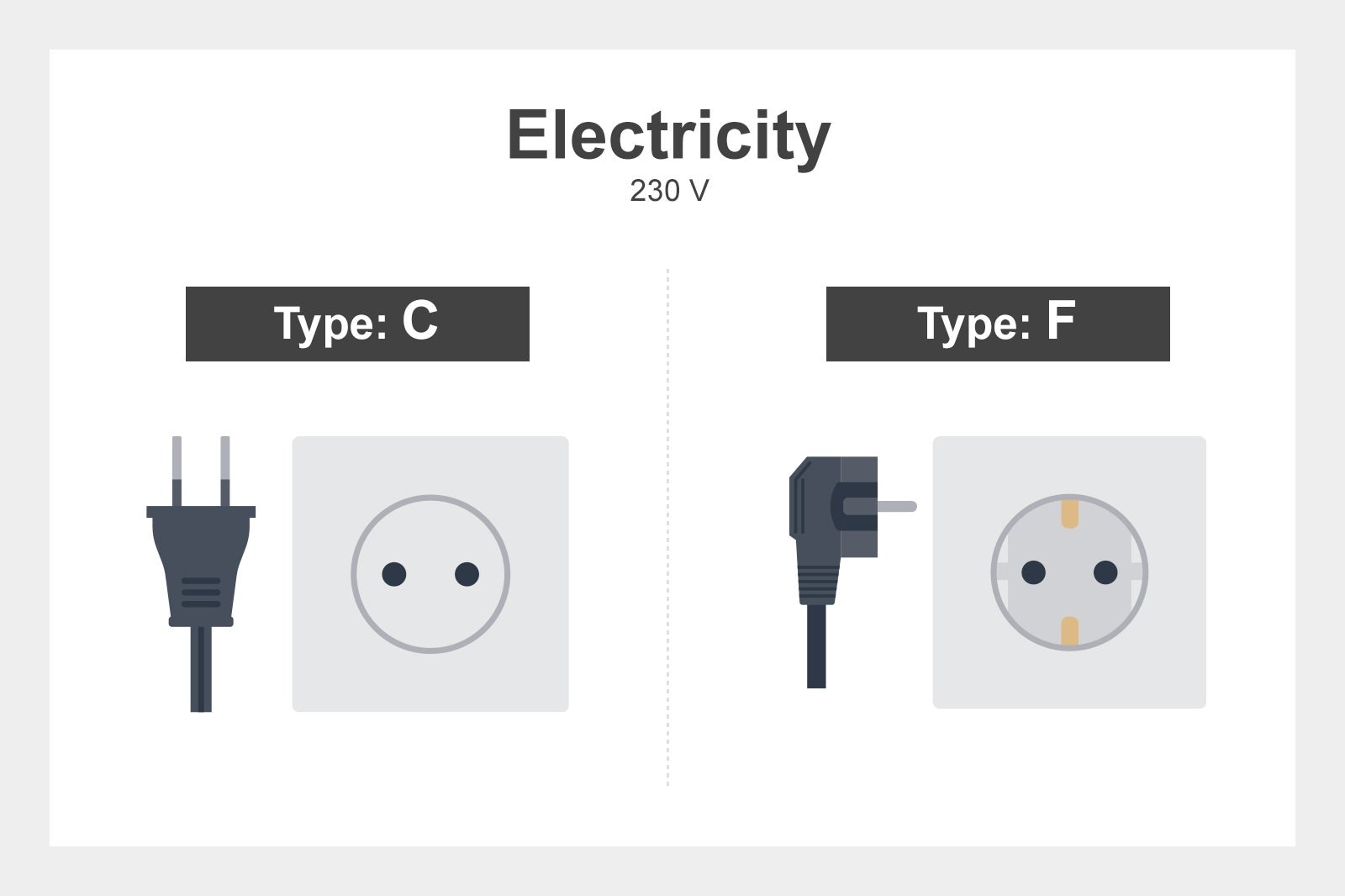 Plug type: C and F
Electricity: 230 V
Currency: Norwegian krone (kr)
International dialling code: +47 5
Emergency telephone number: 112
3
How to get to my hotel in Stavanger?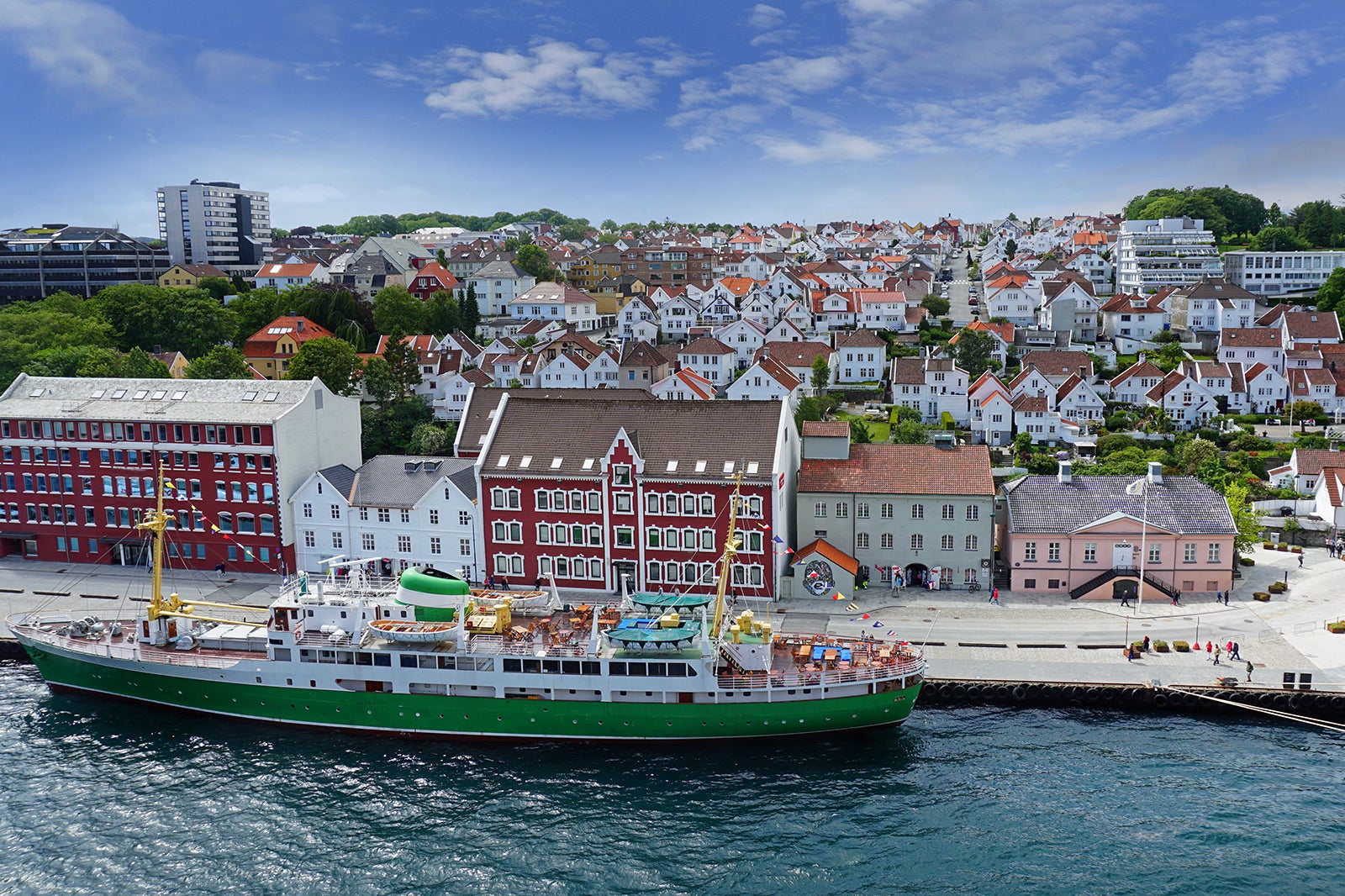 By air, Stavanger Airport is your main gateway to the city. It's a 45-minute direct flight southwest from the Norwegian capital of Oslo. The airport is served by flights from most major European countries, as well as a limited number of intercontinental charter flights.
Other means of getting to Stavanger include train, car, or long-distance bus service from other Norwegian cities. You can also get to the city by daily ferry from Bergen, calling at Risavika Port, which is a half-hour transfer from the city centre.
Stavanger Airport (SVG)
Stavanger Airport is in the municipality of Sola in Rogaland county, about 15 km southwest or 15 minutes' transfer from central Stavanger. It serves airlines such as airBaltic, KLM, Scandinavian, DAT, and Wizz Air, from countries such as Latvia, Denmark, Turkey, Netherlands, Poland, Sweden, the UK, Croatia, Spain, and Greece. SAS and British Airways fly into Stavanger from London-Heathrow. Overseas flights from elsewhere require connecting flights to/from other major cities.
Free Wi-Fi is available at Stavanger Airport. From the airport, the options for getting to Stavanger city centre include:
Airport shuttle buses run by Flybussen – they take you to the city centre within half an hour.
Bus line number 42 run by Kolumbus takes you to Stavanger via Sande terrasse and Strømsbrua in about 45 minutes.
Taxis are available at the airport, with the taxi stand between the terminal and the parking garage. Go left as you leave the arrival hall. You can also pre-book your taxi ride. Among the taxi companies available are Stavanger Taxi (+47 51 90 90 90), Sandnes Taxi (+47 51 66 16 00), Sola Taxi (+47 51 65 04 44), and Miljøtaxi Stavanger (+47 51 58 66 66).
Car rental agencies are at the P10 parking lot – you'll need to take the shuttle bus from the terminal to get there. The car rental companies that you can prebook from include AVIS (+47 51 71 89 50), Budget (+47 51 71 89 50), Europcar (+47 51 65 10 90), and Hertz (+47 51 65 10 96).
Stavanger Station
Locally known as Stavanger S (Stavanger stasjon), the city's central bus and railway station dates back to 1872. It serves as the terminus of the Southern Railway or Sørlandet Line (Sørlandsbanen) between Drammen to Stavanger via Kristiansand.
Stavanger Station is served by the Jæren Commuter Rail as well as regional trains bound for Kristiansand. From Oslo, it's about an 8-hour ride aboard NSB's train via Kristiansand. The station is an easy 5-minute walk from the heart of the city via the Olav Vs gate by the Byparken park.
Port of Stavanger
Stavanger's Port is within the beautiful and historic Vågen harbour, right on the northern border of the city centre. The port serves pleasure cruises, cargo ships and boats, as well as passenger ferries. The ferry company Fjordline has services sailing regularly between Stavanger and Bergen.
The ferry terminal Fiskepirterminalen is located east of the port, and you'll need to get a shuttle bus ticket with your ferry ticket purchase for an easy transfer to town. Travelling by ferry to Stavanger is great for the budget traveller, and it offers a memorable and scenic voyage by sea.
4
How to get around Stavanger?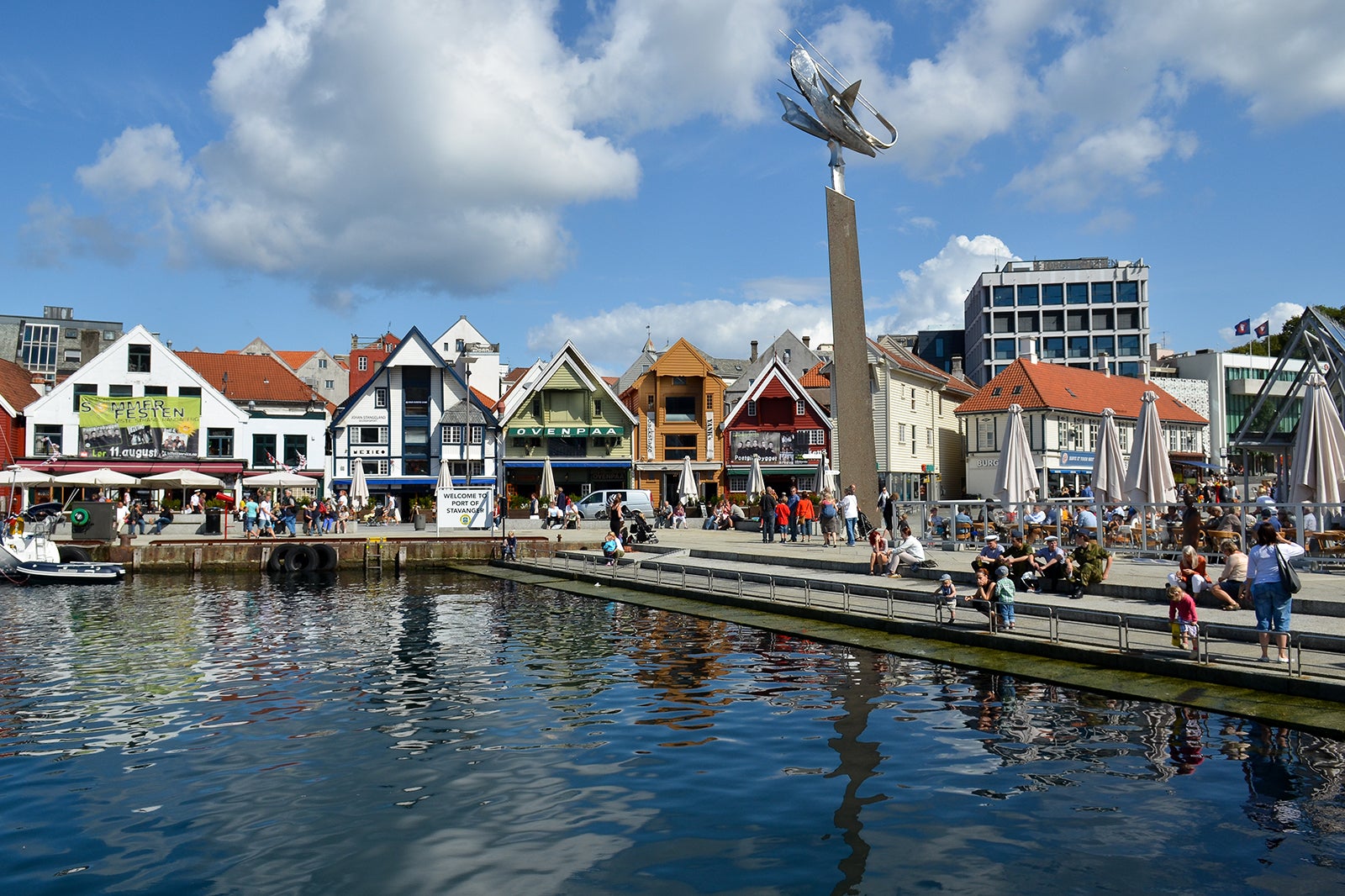 Travel tips
Stavanger's U-shaped waterfront area that surrounds the inner harbour of the historic Vågen bay is very walkable. It's also one of the city's most beautiful spots for sightseeing strolls. Gamle Stavanger, the old town, as well as landmarks such as the Stavanger Cathedral and the manmade Breiavatnet lake, are all within easy reach of the harbour area.
The city centre itself is compact, with narrow streets and open spaces safe from any traffic. For getting farther afield from the city centre, you can use Stavanger's well-developed public transport system comprising a comprehensive bus network or enjoy a fun ride around town using the local bike-sharing scheme. You can also hop on a local train to explore towns and villages south of the city.
Travelling by bus
Besides providing bus line number 42 from Stavanger Airport to the city centre, the well-developed bus network run by Kolumbus also comprehensively covers the whole of Stavanger. Most long routes terminate at Byterminalen, the terminal just south of the Byparken park in the city centre and next to the Stavanger S train station. All buses by Kolumbus are painted green.
You can get a prepaid Kolumbus Card for ease of travel using the network. You can also download the Kolumbus ticket app and buy single- and multiple-day tickets, as well as the sanntids app which shows bus locations in real-time.
Taking a taxi
Taxi fares can be quite expensive in Stavanger and Norway in general, though it's a good option if you're travelling as a group or staying somewhere that isn't central in the city. Among the various taxi companies in Stavanger are Rogaland Taxi (+47 51 90 90 20), Environmental Taxi Stavanger (+47 51 58 66 66), and Norgestaxi Stavanger (+47 08 000).
Most taxi meters accept payment by credit card. You can hail one on the street. Tipping for taxis aren't required, but you may round up the fare as a friendly gesture. Ridesharing services such as Uber and Lyft are not currently available in the country.
Renting a car in Stavanger
Getting around by car can be a little frustrating to new drivers in Stavanger thanks to the many one-way streets. Even so, parking spots are easy to find in the city centre. Note that there are many automatic toll stations throughout Norway.
You can use your valid, country-issued driving licence for up to 3 months in Norway. Otherwise, an international driving permit is required to be able to drive in Stavanger. Besides those available at the airport, notable car rental agencies in the city include Hertz Stavanger (+47 51 53 82 02), Rent A Wreck–Stavanger (+47 45 95 01 00), and AVIS (+47 90 22 80 01), among others.
Cycling around Stavanger with Bysykkelen
Getting around Stavanger on 2 wheels and using your own leg power is both efficient and fun. The Bysykkelen bike-sharing scheme in Stavanger is run by Kolumbus. You simply download the Kolumbus Billett app and set up your account.
Along with any ticket purchase for public transport in the city, you also get access to the array of electric shared bicycles. You simply get to a bike station, unlock one, and the first hour of use is free. After use, park it at the nearest charging station and finish your trip via the app.
5
What are the main annual events in Stavanger?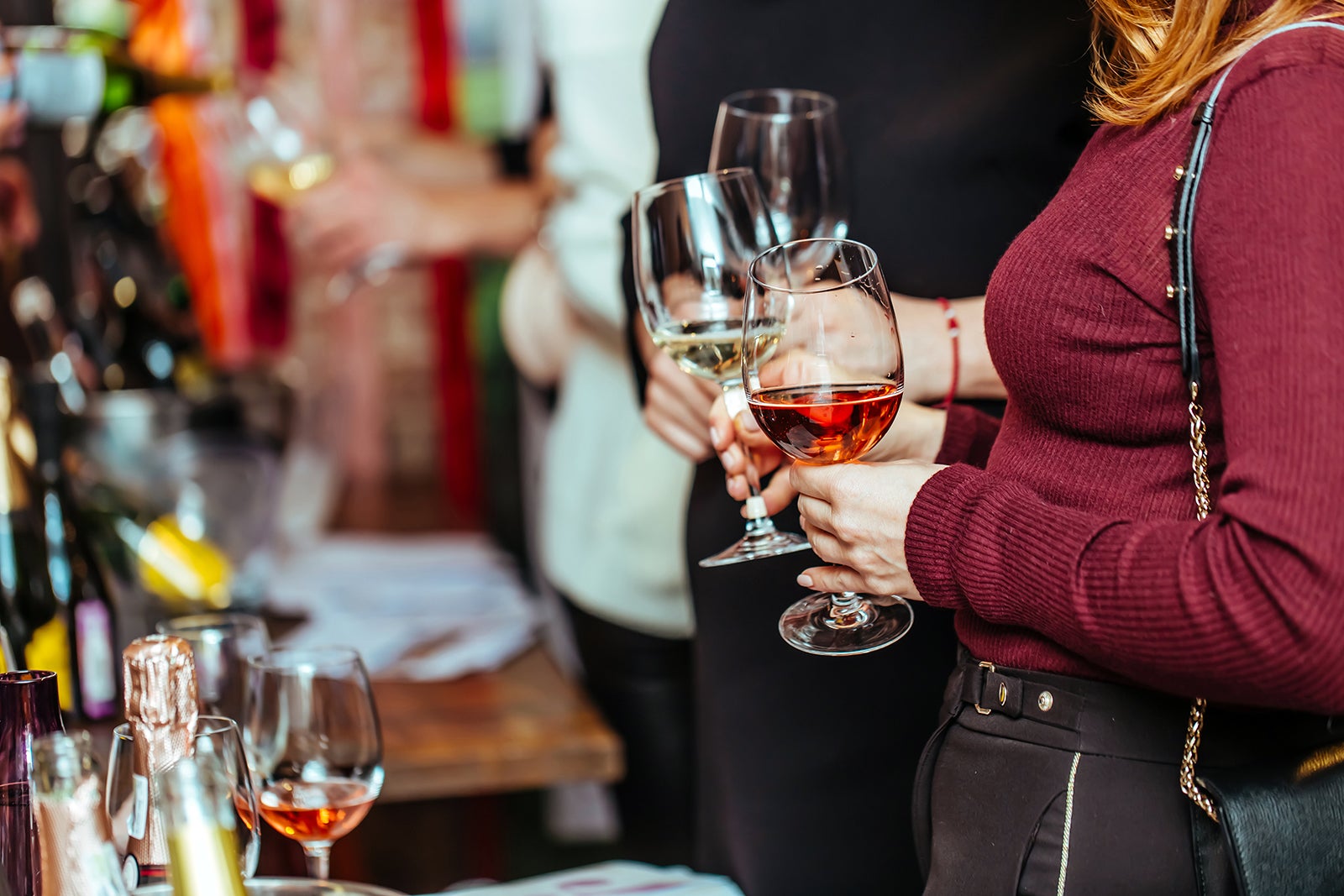 Stavanger Wine Festival
March/April
An annual celebration of regional Scandinavian and international wines as well as gastronomy, with around a dozen bars and restaurants in the city participating with exhibitors from all around Europe.
Where: various venues, Stavanger
Maijazz
May
An annual jazz festival in Stavanger first held back in 1989. It has since developed into one of Norway's leading jazz festivals, with international and national jazz performers taking to the stage each year.
Where: various venues, Stavanger
NuArt Festival
September
An independent international contemporary street and urban art festival in Stavanger, when the streets and public spaces come alive with colourful murals and art installations. Film screenings and workshops are also featured.
Where: Stavanger
6
What are the main landmarks in Stavanger?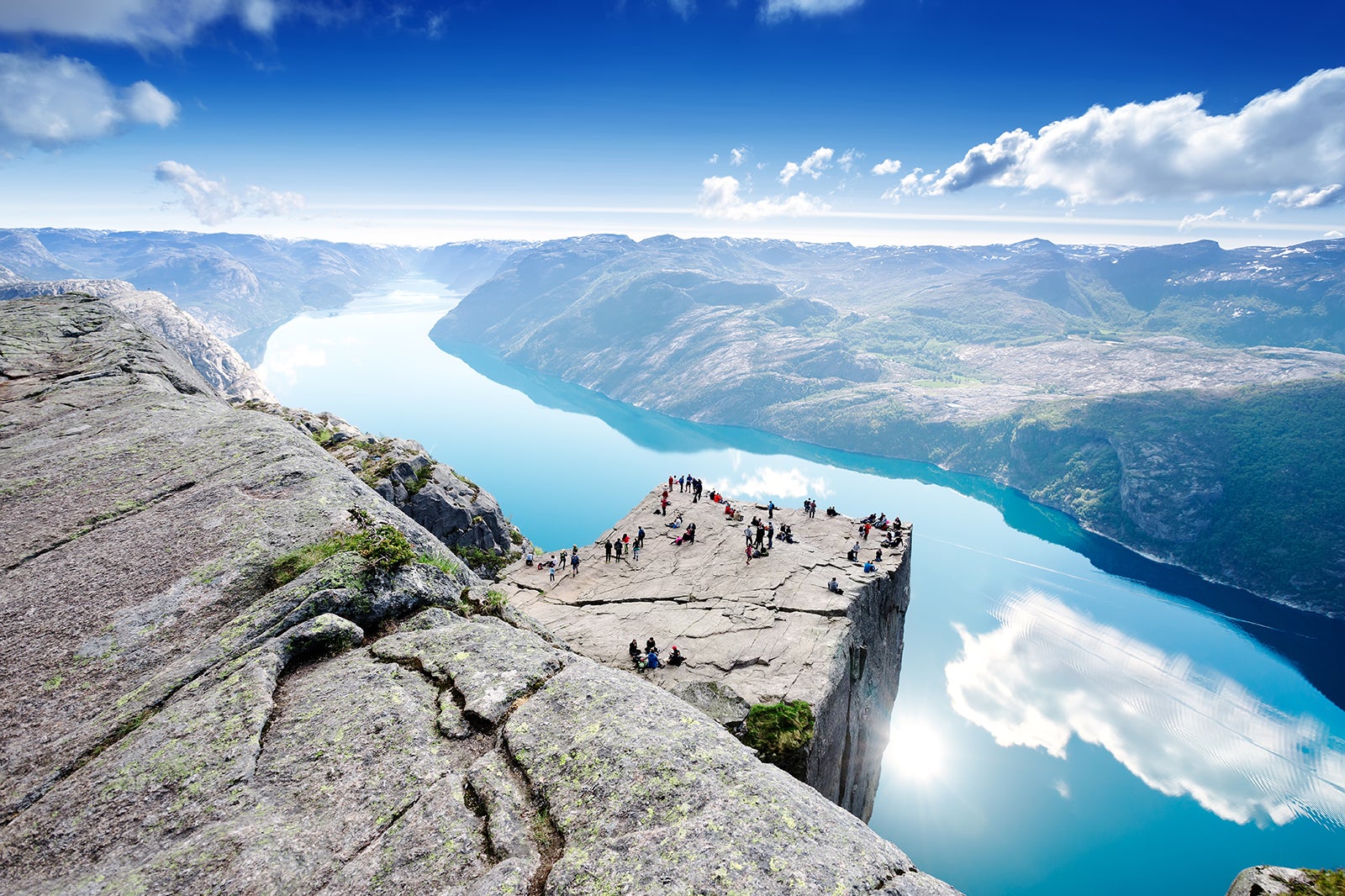 Pulpit Rock (Preikestolen)
A steep cliff that towers 604 metres above the Lysefjorden, with a wide and almost flat top offering breathtaking views across the fjord. It's also the highlight of an annual hiking festival.
Sverd I fjell
A magnificent monument featuring 3 Viking swords overlooking the fjord in Hafrsfjord, 10 minutes' drive southwest of Stavanger. It commemorates the Battle of Hafrsfjord between AD 872 and AD 900.
Gamle Stavanger
The historic area of Stavanger with cobbled streets lined with restored wooden 18th-century buildings, as well as many galleries and boutiques.
Stavanger Cathedral
Norway's oldest cathedral, built in the early 1100s. The imposing medieval cathedral is the seat of the Bishop of Stavanger and is located right in the heart of the city.
Back to top