10 Best Things to Do for Couples in Amsterdam
Amsterdam's Most Romantic Places
Couples in Amsterdam can enjoy plenty of romantic sights and activities throughout their vacation. The best time to visit the Dutch capital is in the spring, when the flower fields and city parks are vibrant with blooming tulips, daffodils, and crocuses. Take a trip down the canals on a pedal boat or join an evening boat ride for views of canal homes and bridges, most of which are beautifully lit up with fairy lights.
Amsterdam's rich cultural roots can be found at museums and galleries within Museumplein (Museum Quarter). Art lovers will enjoy the extensive collections of Dutch masterpieces at Rijksmuseum and Van Gogh Museum. The cobblestoned streets are lined with centuries-old houses, ornate old churches, and patches of green parkland all around. Check out our list of Amsterdam's most romantic places.
1
Tour the canals on a pedal boat
Enjoy views of Amsterdam with a boat ride along the canals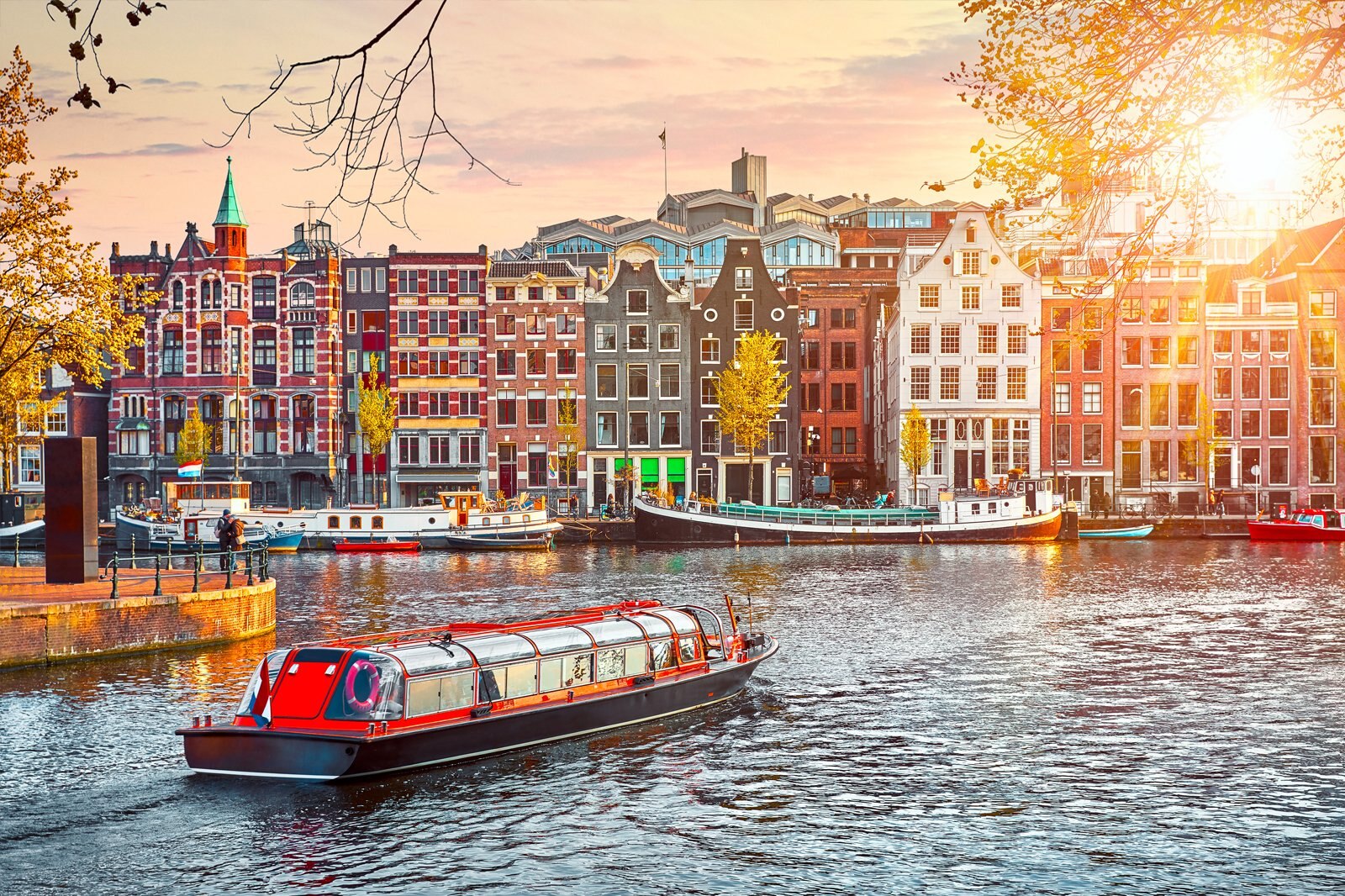 Amsterdam's Canal Ring is a unique landscape made up of over 165 serene canals, which you can explore by boat. A good option for couples is renting a pedal boat from Centraal Station. Most of these 17th-century waterways offer views of Amsterdam's historical buildings and gable homes. Be sure to visit Prinsengracht (Prince's Canal), as it's where you will find some of the most interesting houseboats in Amsterdam.
2
Pathé Tuschinski movie theatre
Watch the latest films in this lavish cinema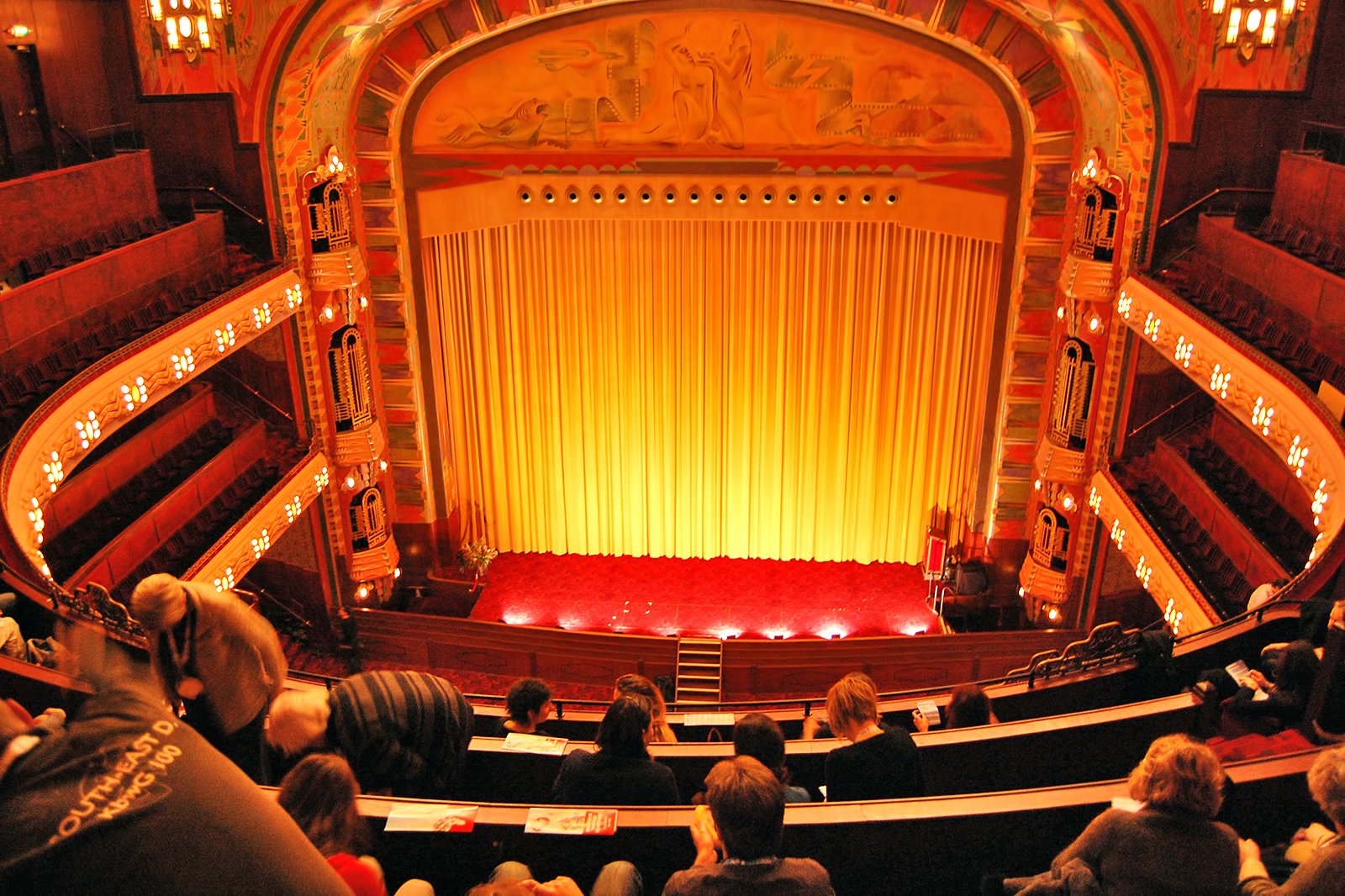 Pathé Tuschinski showcases contemporary and arthouse films in Amsterdam. The ornate theatre dates back to 1921, and features a mix of architectural styles such as Art Deco and Art Nouveau.
With large sweeping curtains and a ceiling with artistic motifs, the main auditorium serves as a movie theatre and a stage for classical performances such as opera, orchestra, and ballet. Pathé Tuschinski is about a 5-minute walk from Rembrandtplein via Reguliersbreestraat.
Location: Reguliersbreestraat 26-34, 1017 CN Amsterdam, Netherlands
Open: Daily from 9.30 am until show ends
Phone: +31 (0)20 900 1458
photo by Fabio (CC BY-SA 2.0) modified
3
Explore Amsterdam by bike
Travel together by renting a tandem bicycle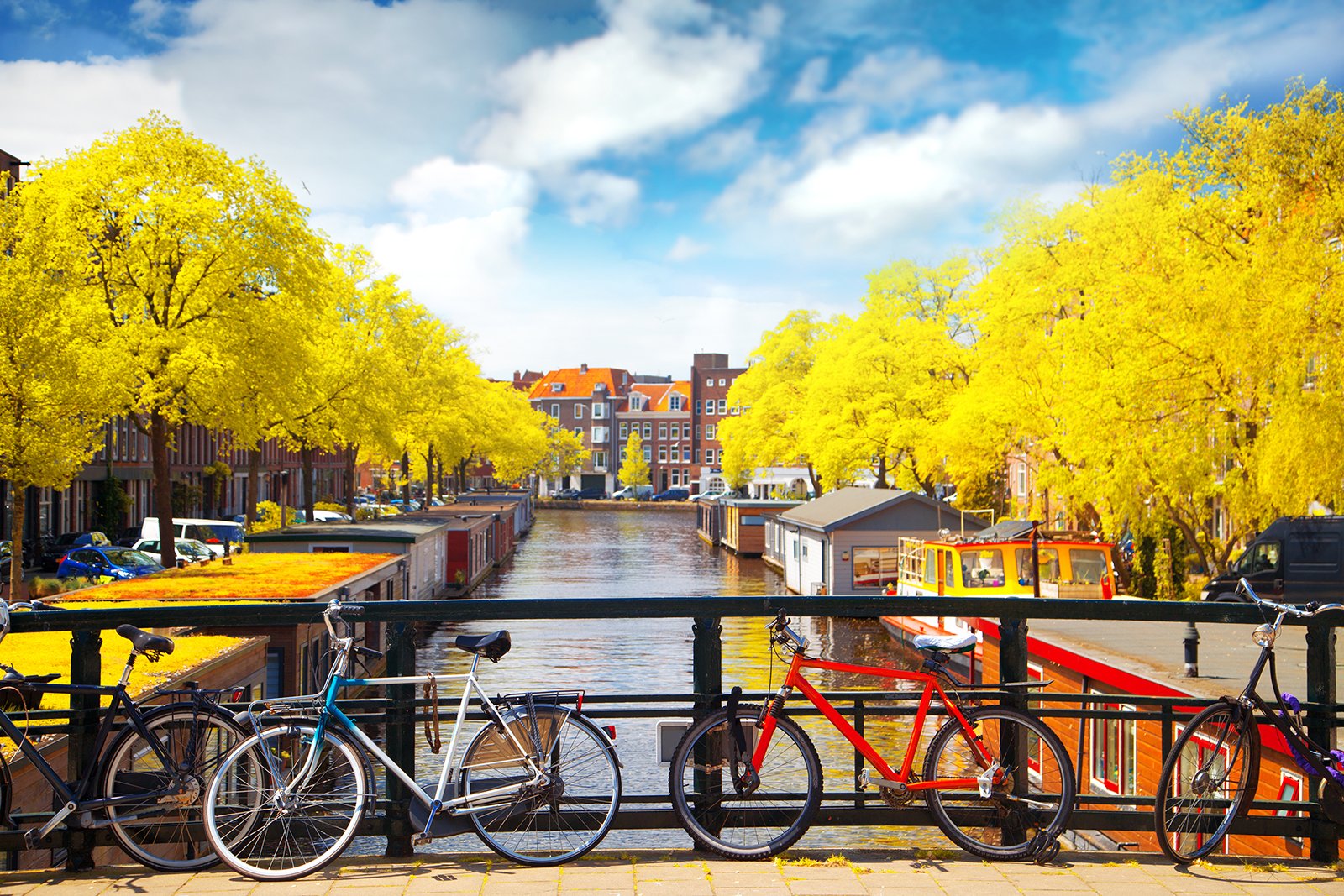 Amsterdam is renowned as a bicycle city, with its winding canals and gable houses connected by a large network of well-kept cycle tracks that are easy to navigate. Couples get to stay active while vacationing in this city by renting a tandem bicycle for a few euros.
A popular cycling route is though Rijksmuseum's internal bike path, which runs past its main entrance towards Amsterdam's Museumplein (Museum Quarter).
4
Bimhuis
Watch impromptu jazz sessions at 10pm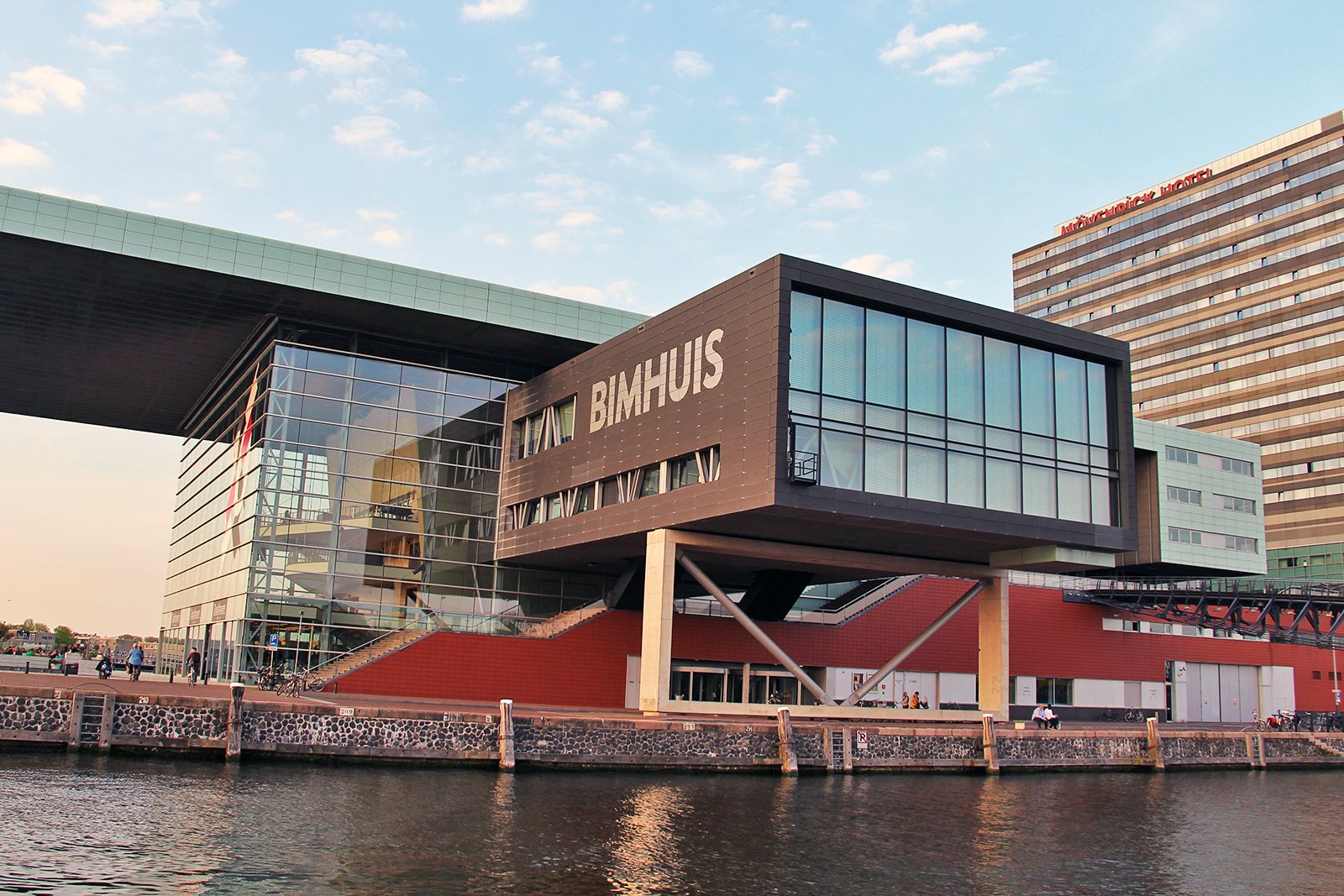 Bimhuis is one of Amsterdam's most influential music venues, showcasing over 300 live jazz and improvised music every year. It occupies a riverfront building at Piet Heinkade 3, next to the Muziekgebouw Complex.
Every Tuesday, Bimhuis Café hosts an improvisation workshop at 8pm, followed with a jamming session at 10pm. Both sessions are free for all to enjoy, whether you're a budding musician or simply a fan of jazz.
Read more
Location: Piet Heinkade 3, 1019 BR Amsterdam, Netherlands
Open: Box office: concert evenings from 6.30 pm until late (opens 1 hour before showtime for matinee concerts)
Phone: +31 (0)20 788 2150
photo by Fred Romero (CC BY 2.0) modified
5
Westerkerk
Enjoy Westertoren carillon concerts in the afternoon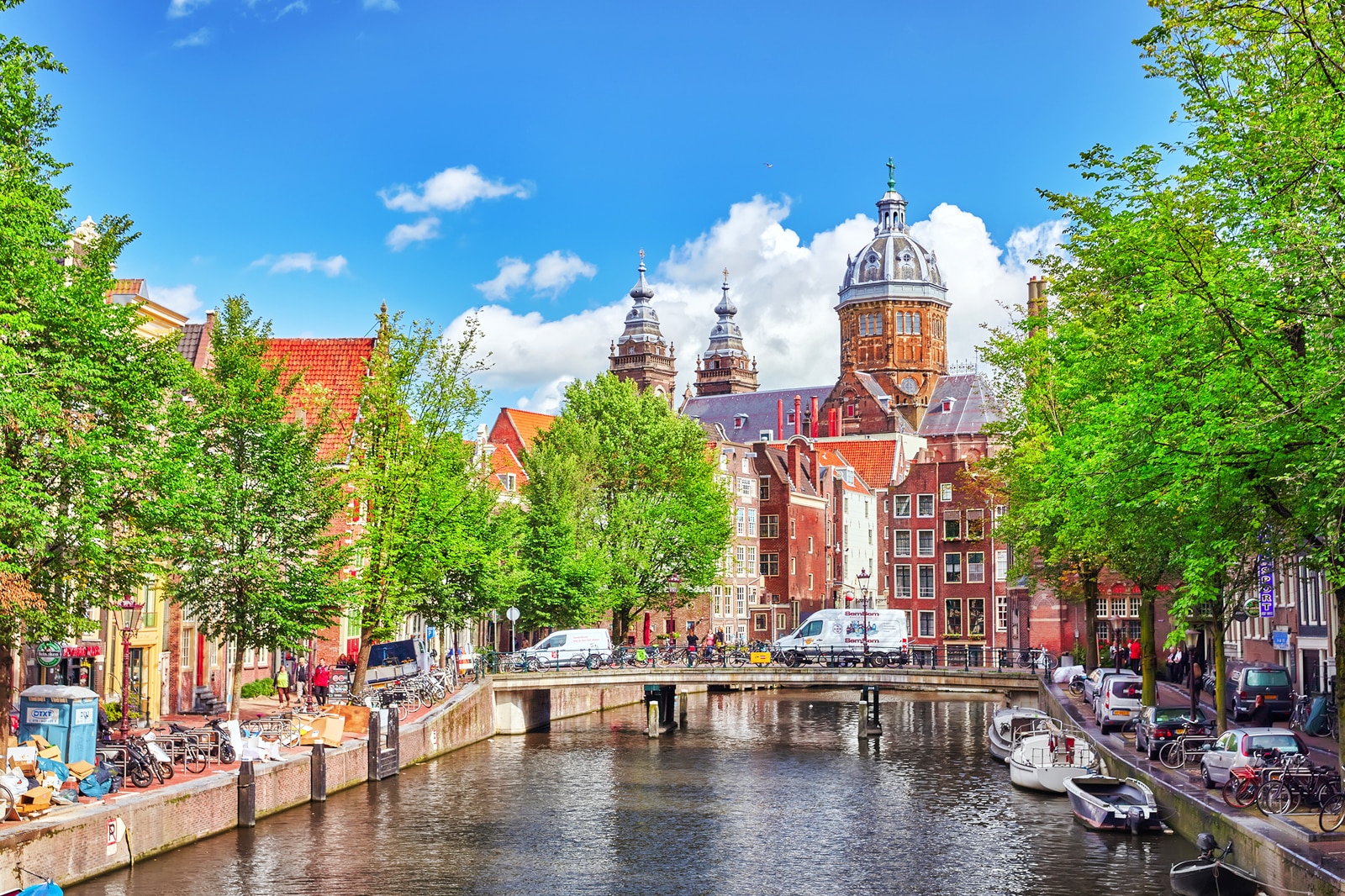 Couples
Photo
Budget
History
Westerkerk, located in Prinsengracht, towers over Amsterdam's city centre with its 85-metre-tall. Step inside this 17th-century church, and you'll see a grand organ above the entrance, with panels painted by Flemish painter Gerard de Lairesse. The church serves the local Protestant community, with religious services taking place on Sundays from 10.30am till noon. Westerkerk is typically busy on Tuesdays from 12pm to 1pm, when it showcases carillon concerts.
Read more
Location: Prinsengracht 279, 1016 GW Amsterdam, Netherlands
Open: April–November: daily from 10 am to 3 pm. December–March: Monday – Friday from 10 am to 3 pm
Phone: +31 (0)20 624 7766
6
Vondelpark
Catch dance and music concerts in summer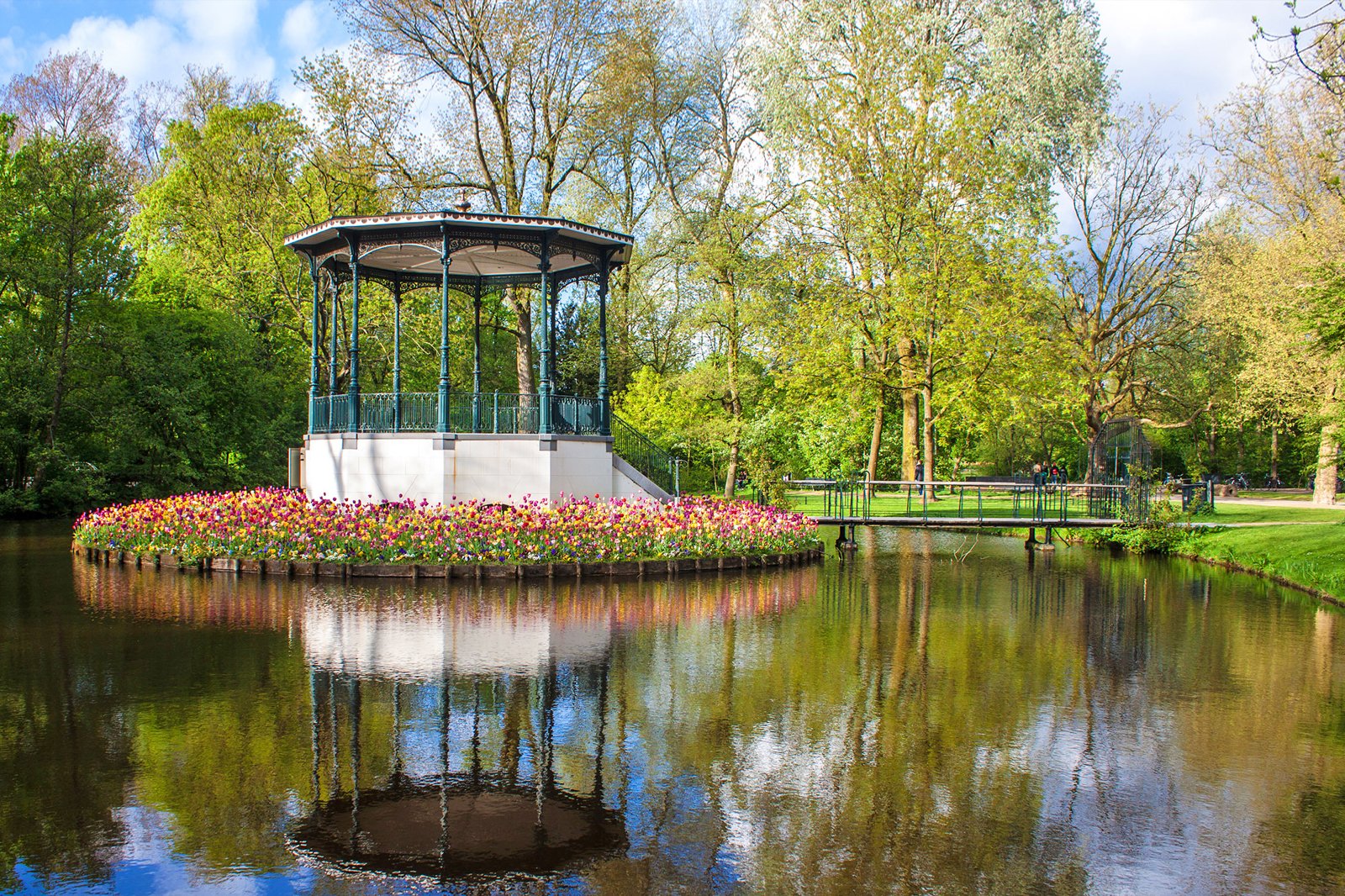 Vondelpark covers 120 acres of green space, consisting of flowery lawns, ponds, playgrounds, and pathways. It is Amsterdam's equivalent to New York's Central Park, where families get to frolic about at the park's 6 play areas, rent skateboards or bicycles, and enjoy picnics with views of a large pond.
Vondelpark is particularly special in summer when a never-ending festival vibe takes place at the Openluchttheater, an open-air theatre in the middle of the park.
Read more
Location: Amsterdam, Netherlands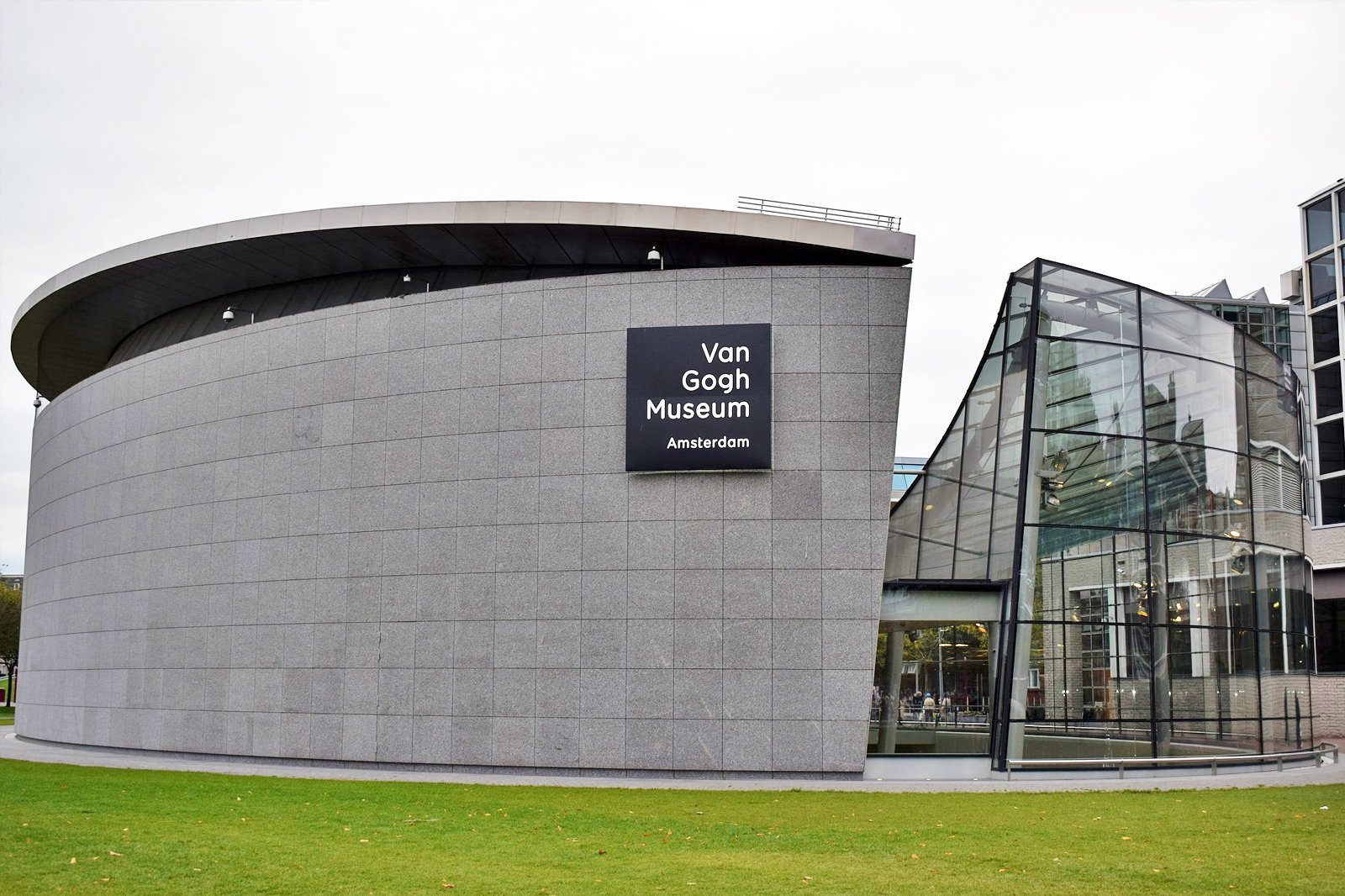 The Van Gogh Museum displays the world's largest collections of works by Dutch artist Vincent Van Gogh. Located at Amsterdam's Museumplein, Van Gogh Museum's main exhibition takes place at the Rietveld building, where you get to see iconic paintings such as The Potato Eaters (1885), Skull of a Skeleton with Burning Cigarette (1886), and Sunflowers (1889). You can also see his sketches, drafts, and heartfelt letters detailing his art and personal issues.
The Van Gogh Museum caters to visually-impaired visitors with an interactive programme, called 'Feeling Van Gogh'. It has a 3D replica of Sunflowers, which enables you to touch and feel the brush strokes on the painting.
Read more
Location: Museumplein 6, 1071 DJ Amsterdam, Netherlands
Open: Daily from 9 am to 5 pm (closed at 9 pm on Fridays)
Phone: +31 (0)20 570 5200
8
Daytrip to Bollenstreek
Stop by Keukenhof Gardens in Lisse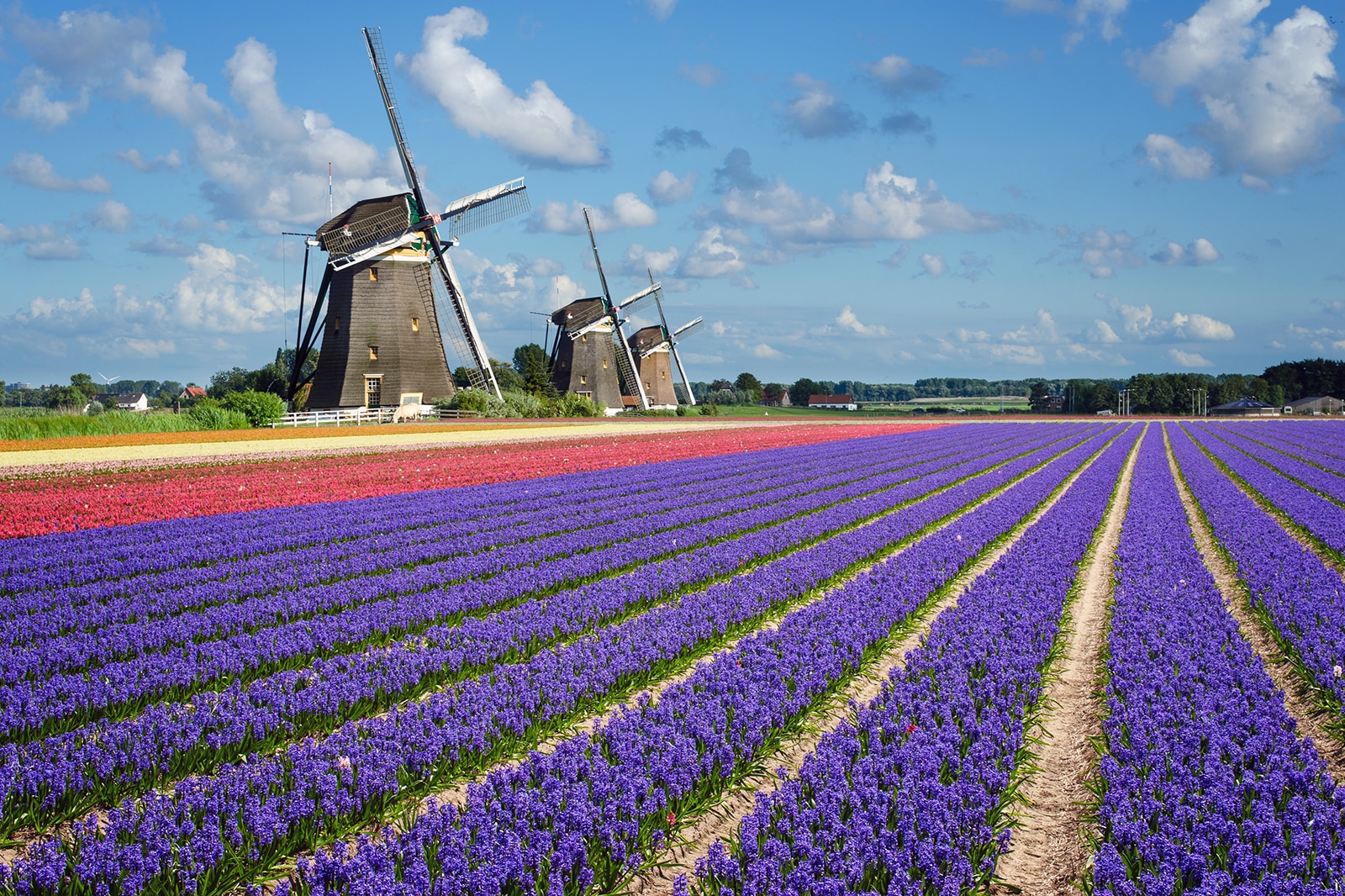 Bollenstreek (Bulb District) has over 30 km of flower fields spanning between Leiden and Haarlem. Springtime (between March and May) is the best time to visit, as the region becomes vibrant with blooming flowers, such as tulips, daffodils, and crocuses. Most opt for a train ride from central Amsterdam to Leiden, where they can rent a bicycle to embark on an almost 2 hour-long route to Haarlem.
If you're travelling to Amsterdam in mid-April, see over 7 million tulips in full bloom at the Keukenhof Gardens.
9
Dinner at a classy restaurant
Dine at over a dozen Michelin-starred restaurants
There is no better way to end a romantic day out than with a delicious meal in a romantic restaurant. As Amsterdam is the capital of the Netherlands, it contains hundreds of cosy restaurants that are perfect for couples. There are 16 Michelin-starred restaurants in the city, which are definitely worth trying out if you have the budget.
De Kas has its own greenhouse, from which it harvests its own ingredients, while De School serves a changing 7-course set menu and is attached to an extremely trendy nightclub of the same name. For dinner with panoramic views of Amsterdam, check out Moon, a rotating restaurant located on the 19th floor of A'DAM Tower.
photo by Dorine Ruter (CC BY 2.0) modified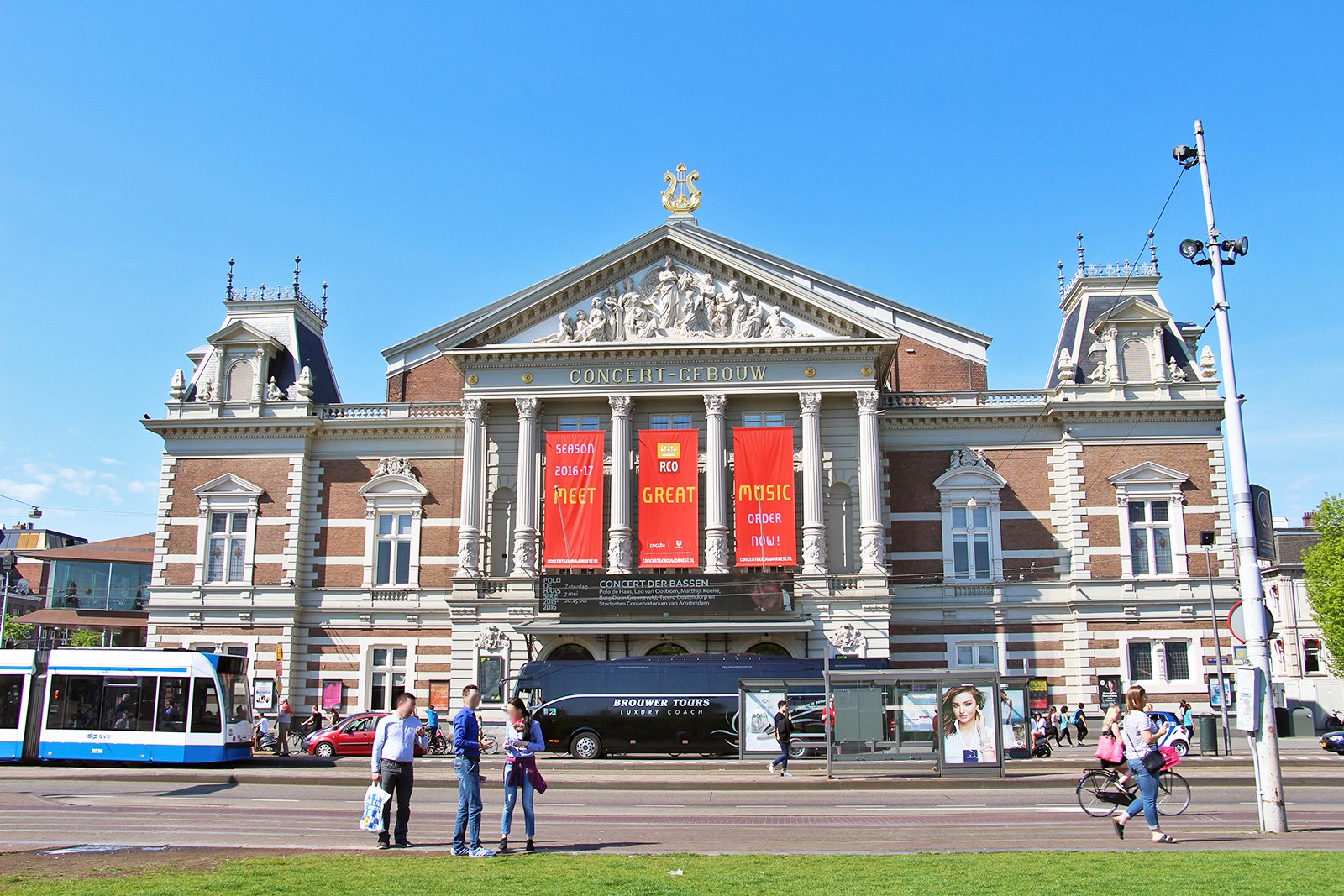 Concertgebouw is Amsterdam's lavish concert hall, built in a decorative Neo-Classical style during the 19th century. Renowned for its impressive acoustics, it's where you can enjoy shows from master pianists, world-class orchestras, and legendary composers all year round. Concertgebouw also hosts free concerts during lunchtime, mostly on Wednesdays. These range from public rehearsals by the Royal Concertgebouw Orchestra in the main hall, to chamber music by young, up-and-coming artists in the recital hall.
Read more
Location: Concertgebouwplein 10, 1071 LN Amsterdam, Netherlands
Open: Box office: Monday–Friday from 1 pm to 7 pm, Saturday–Sunday from 10 am to 7 pm
Phone: +31 (0)20 671 8345
photo by Fred Romero (CC BY 2.0) modified
Back to top