11 Best Things to Do in Kobe
Kobe Attractions
Kobe's main attractions are an integral part of the city's landscape and history, with museums celebrating its past bumping up against high-tech, sleek showcases for fashion and art. In 1868, Kobe was one of the first ports in Japan to open up to international trade and soon after the city was welcoming settlers from Europe, America, China and elsewhere, who created a collection of homes and shops in small foreign enclaves within the city that still stand to this day. Also a centre for sake production, many of Kobe's centuries-old rice wine making facilities are proud to welcome visitors for a taste and a tour.
Much of Kobe life centres around its port, located close to the vibrant downtown area and lined with numerous parks and recreational facilities. Kobe is also home to some astonishing achievements in infrastructure development including the world's longest suspension bridge and large man-made islands.
What are the best things to do in Kobe?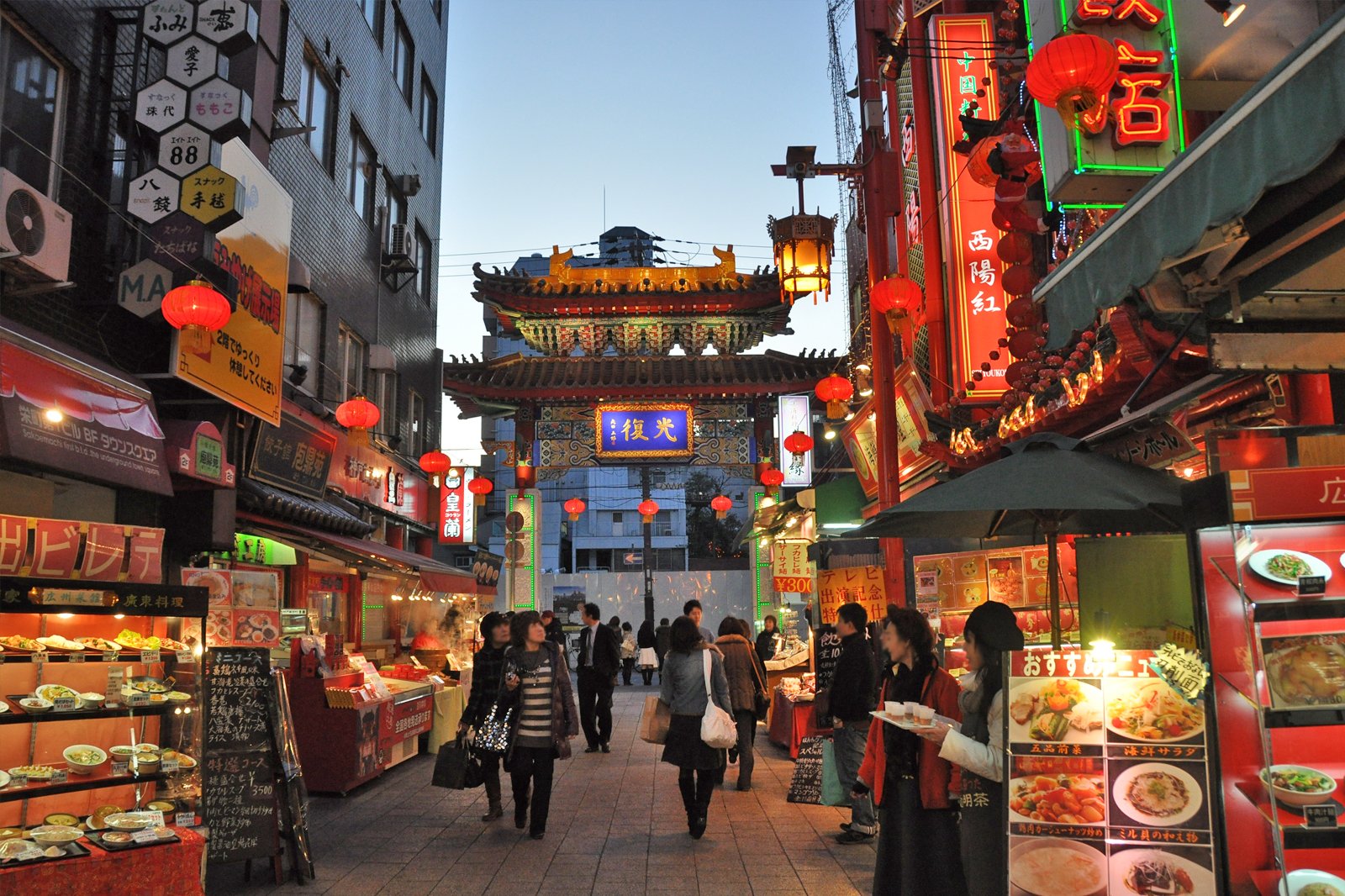 In the late 1800s, around the same time that Western settlers were building homes up in Kitano-Cho, Chinese merchants set up shop in a two-block area now known as Nankin-machi, or Chinatown. Today, its Chinese flavour remains in this tightly-packed, vibrant area filled with streetside vendors selling snacks and souvenirs. At its central square in Nankin Park, animal statues represent each of the 12 years of the Chinese astrological calendar.
Public restrooms are not usually something to note, but the one in Chinatown, called Garyoden, or "palace of a secluded wise man", has an outer wall that is spectacularly designed with dragons. Chinatown is also a great place to find a good, reasonably priced meal.
photo by Marufish (CC BY-SA 2.0) modified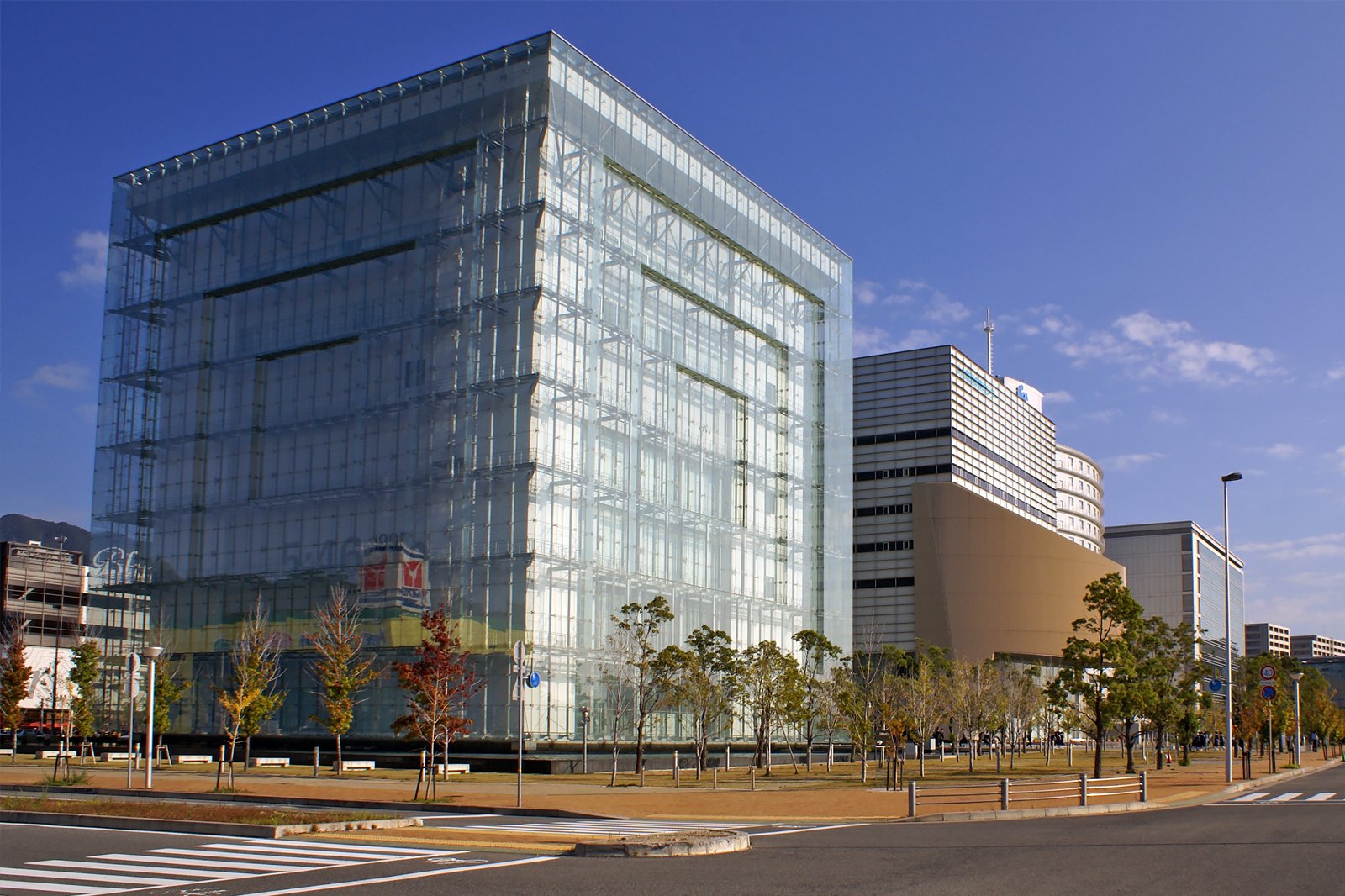 Great Hanshin-Awaji Earthquake Memorial
Opened on the 10th anniversary of the Great Hanshin-Awaji Earthquake of 1995, this complex houses 2 impressive museums dedicated to explaining what happened during Kobe's 7.3 Richter scale disaster as well as the dynamics of earthquakes in general. In the Disaster Reduction Museum, vivid documentary films bring viewers into the heart of the destruction and show how the city and its people coped and rebuilt in the aftermath. English signs, electronic guides, and English-speaking volunteers are available for all exhibitions.
The Human Renovation Museum focuses more on life, nature and ecology, with a 3-D film and a number of interactive displays that kids in particular will enjoy. The museum is a 10-minute walk from JR Nada station.
Location: 1-5-2 Wakinohamakaigandori, Chuo Ward, Kobe, Hyōgo Prefecture 651-0073, Japan
Open: Daily from 9.30am to 5.30pm
Phone: +81 (0)78 262 5050
photo by 663highland (CC BY-SA 3.0) modified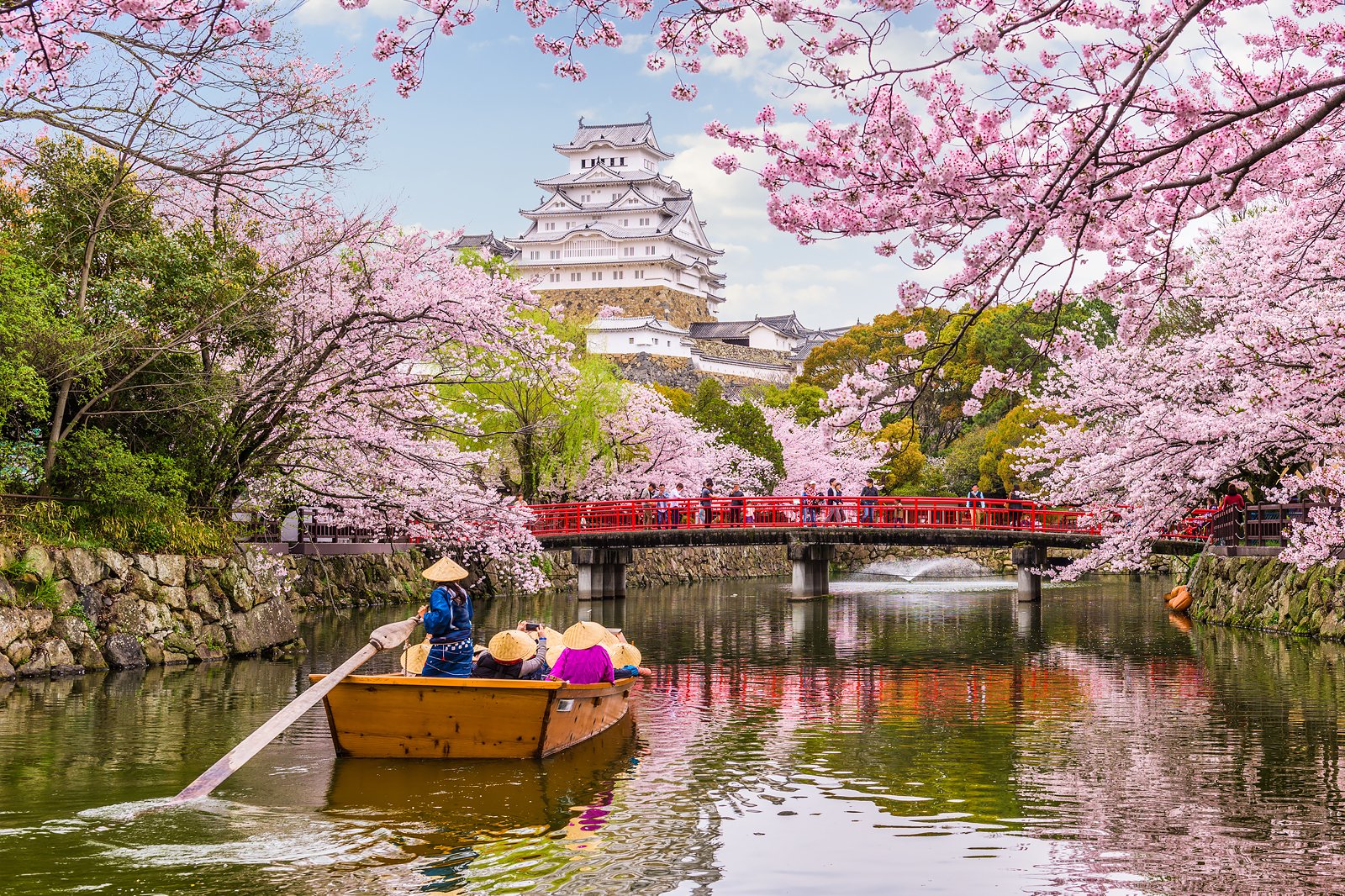 Unlike many other Japanese castles, Himeji Castle was never destroyed in wars, earthquakes or fires and survives in its original form. It is both a national treasure and a UNESCO world heritage site. Many locals and visitors come in early spring to admire the cherry blossoms in the surrounding grounds and to picnic and spend the entire day in this pleasant location.
Many people hold cherry blossom viewing parties under the bright and colourful perimeter of trees that ring the Sannomaru Hiroba field just outside the paid area of the castle. However, if you head up the steps towards the Senhime Peony Gardens you'll find a less crowded area covered in a canopy of cherry blossoms that is a better place to picnic. Himeji City is around 60 km west of Kobe.
Read more
Location: 68 Honmachi, Himeji, Hyogo Prefecture 670-0012, Japan
Open: Daily from 9am to 5pm (May–August until 6pm)
Couples
Families
History
Photo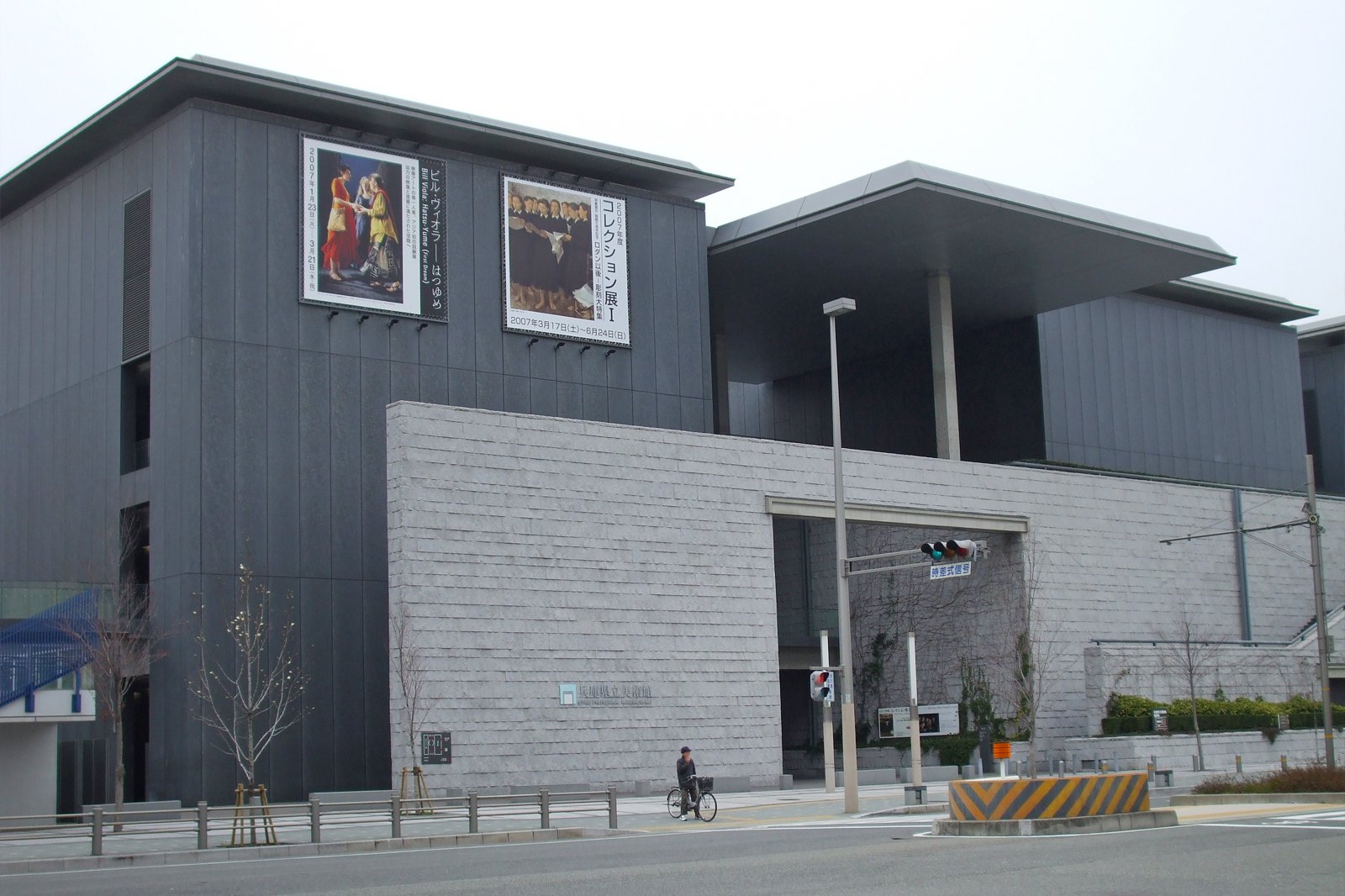 Hyogo Prefectural Museum of Art
Just a short walk away from Great Hanshin-Awaji Earthquake Memorial, the Hyogo Prefectural Museum of Art is a stunning building that contains a vast collection of art from Japan and around the world. Designed by the famed architect Tadao Ando, the museum is a good example of his skills, blending indoor and outdoor spaces together.
Permanent exhibitions feature the works of two painters from Kobe, Ryohei Koiso and Heizo Kanayama, who were acclaimed for their Western-style paintings. Exhibitions of modern and contemporary art include Goya, Manet, Klinger, Picasso, Kandinsky, Warhol and Jasper Johns. There is also an extensive Japanese woodblock print display, as well as sculptures by a range of well known Japanese and Western artists.
Location: 1-1-1 Wakinohamakaigandori, Chuo Ward, Kobe, Hyogo Prefecture 651-0073, Japan
Open: Tuesday–Sunday from 10am to 6pm (closed on Mondays)
Phone: +81 (0)78 262 0901
photo by Mass Ave 975 (CC BY-SA 3.0) modified
Kobe's Kitano-Cho is a former settlement area of foreign traders who arrived to the city when it was among of the first of Japan's ports opened to international shipping in the late 1800s. About a 15-minute walk north from Sannomiya Station, Kitano's streets are lined with ijinkan – foreign residences – in Victorian or Gothic style. Many have been converted into trendy boutique shops and restaurants, while others have been restored to their former glory and operate as museums.
One ijinkan worth a visit is Choueke Yashiki, a mansion built in 1889 that is still inhabited by members of its original family. It has an impressive display of antiques and memorabilia including Namban woodblock prints.
The 100-year-old former home of American consul general Hunter Sharp, Moegi no Yakata, has a treasure trove of antiques, while just across the road is the elaborately designed Kasamidori-no-Yakata, built in 1909 by a German merchant. It's more commonly known as the 'Weathercock House' because of the cockerel weathervane perched on its spire. Admission to each home is 300 yen or 500 yen for a ticket to enter both; it's free for kids.
Kitano-Cho is still home to a large and diverse international community, with Catholic, Baptist and Russian orthodox churches, Muslim mosques, a Jewish synagogue and a Jain temple among the places to worship here.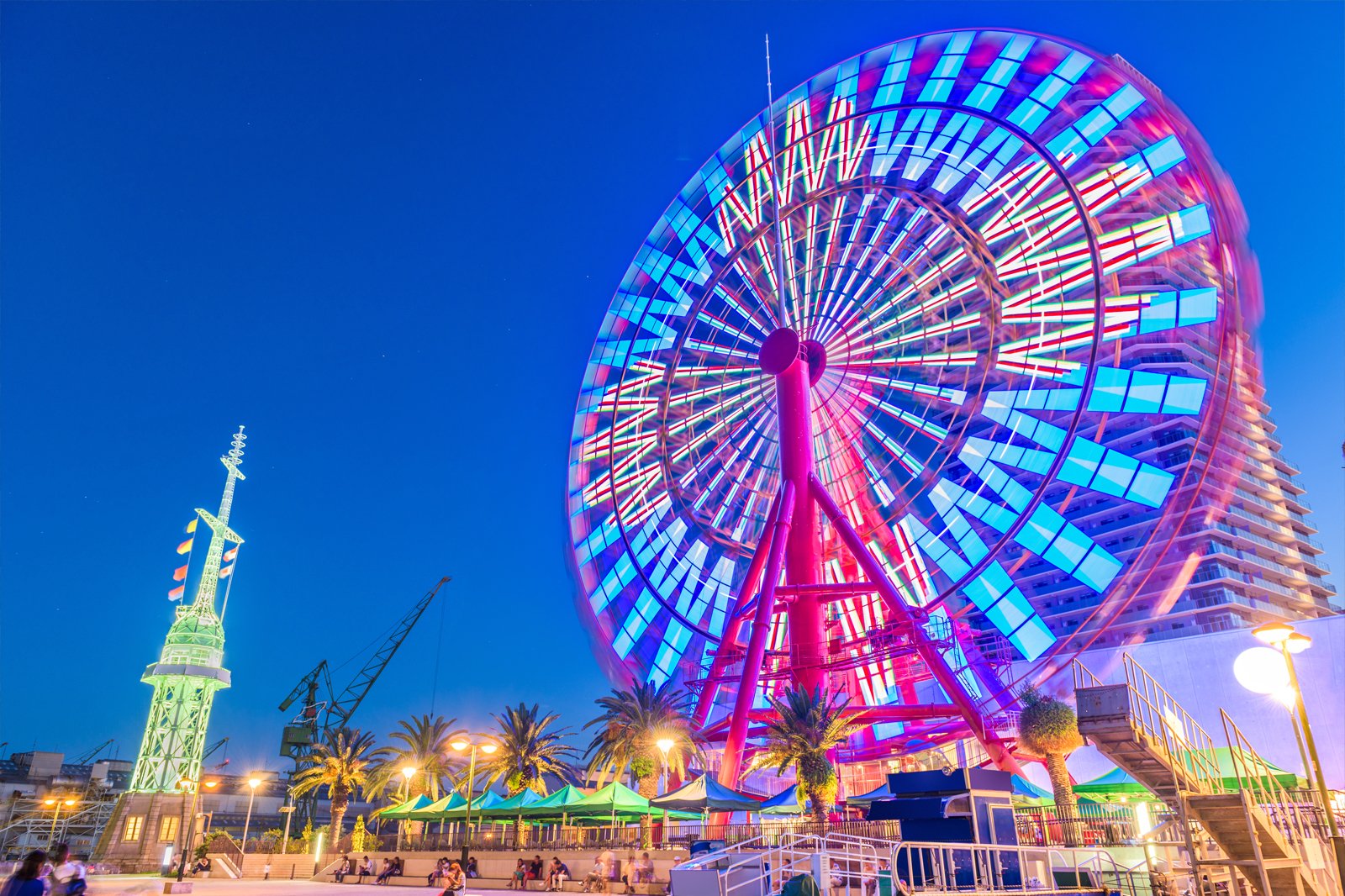 A few minutes' walk down a pathway from Kobe Port Tower and Meriken Park is Kobe Harborland, one of the city's most popular destinations for visitors and locals. Watch the ships coming to and fro in the busy port or grab a bite to eat in one of the many restaurants and cafes. Harbor Circus and Kobe Hankyu department store are great places to shop, or stop by Mosaic, a shopping and dining complex with a relaxed Mediterranean ambiance. Mosaic Garden next door is a small amusement park with a Ferris wheel and other rides and games.
Location: 1, Higashi Kawasaki-cho, Kobe, Hyogo Prefecture, 650-0044, Japan
Open: Daily from 10am to 9pm
Phone: +81 (0)78 360 3639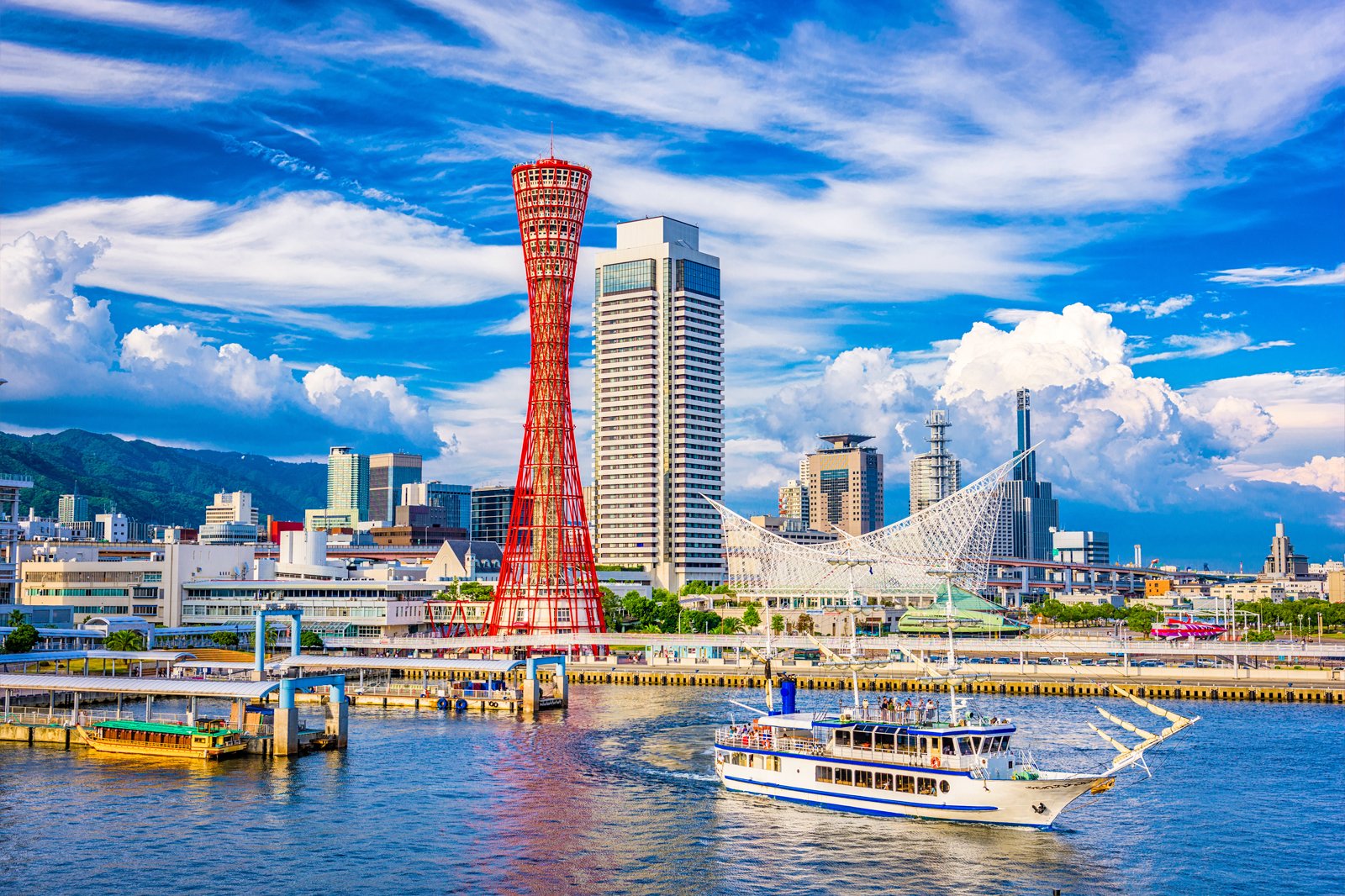 Kobe Port Tower has been a seafront landmark for Kobe since it was erected in 1963. The 108-metre-high red lattice tower features an observation deck with views across the bay and out to the Rokko mountain range. Kobe's airport and the Hanshin Expressway can also be seen. Night-time views are particularly dazzling with the nightly "light show" on nearby Ashaki Kaiko Bridge.
Kobe Port Tower's curved tube-like shape is called hyperboloid in architectural terms, but its design was inspired by the tsuzumi traditional drum instrument used in kabuki plays. The unusual design proved to be sturdy as well as attractive when it held firm during Kobe's great earthquake of 1995. Many other buildings in the port area collapsed.
The tower is set in Meriken Park, site of the first American Consulate, where there's a small earthquake memorial as well as a launching point for harbour cruises. If you have time, the Kobe Maritime Museum nearby is worth a visit.
Location: 5-5 Hatobacho, Chuo Ward, Kobe, Hyōgo Prefecture 650-0042, Japan
Open: Daily from 9am to 7pm (March–Nov until 9pm)
Phone: +81 (0)78 391 6751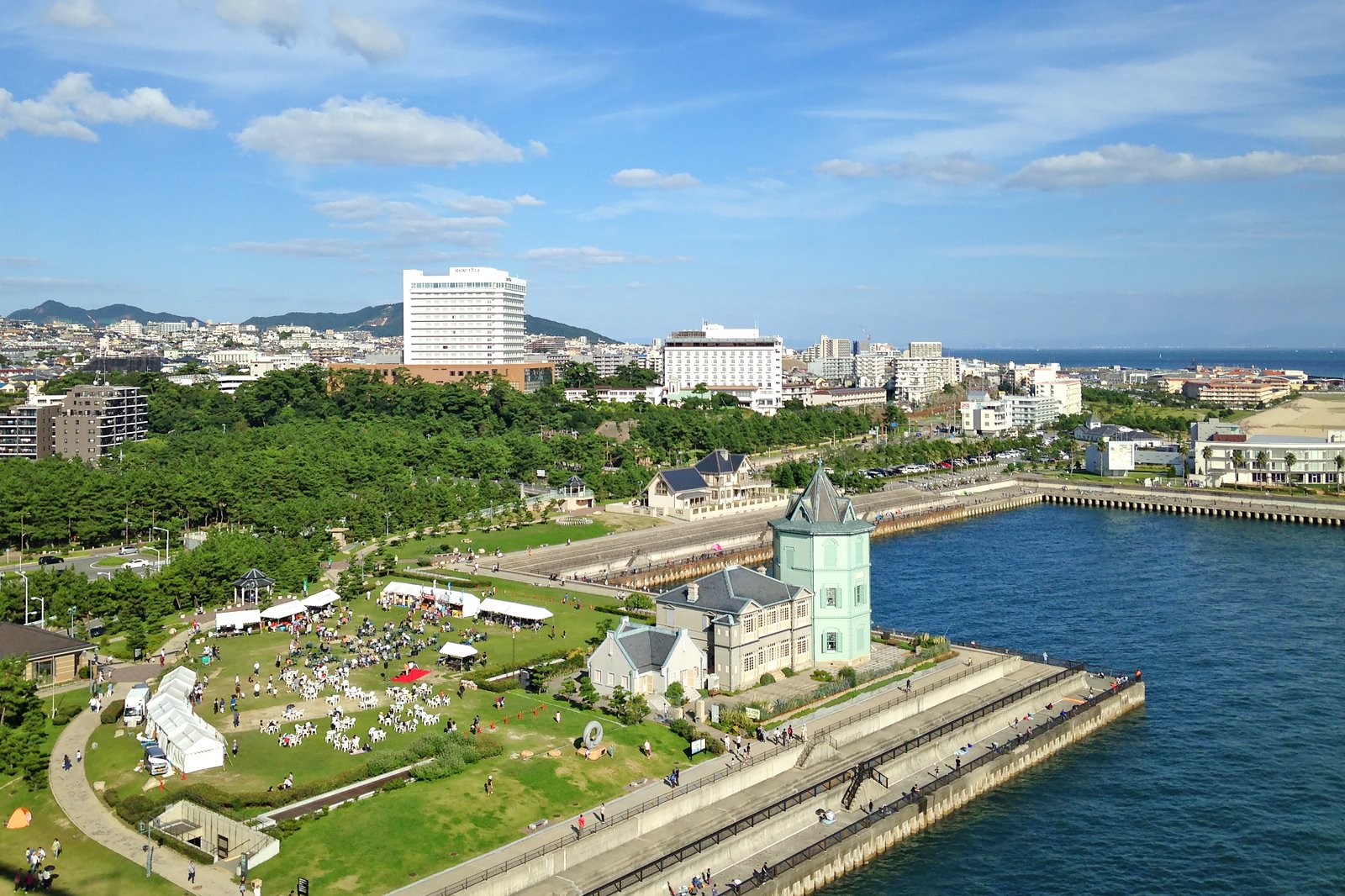 Maiko Park is a seaside recreational area near the base of Akashi Kaiko Bridge - the world's longest suspension bridge. Connecting Kobe to Awaji Island, this engineering feat spans 3,911 metres and its two main towers are 300 metres high, only 33 metres shorter than Tokyo Tower. The centre span alone is 1,991 metres long.
See the bridge up close in the observatory halls at Maiko Marine Promenade, under the bridge's platform. Some 50 metres up and reached by elevator from the base of the bridge, the observatory area also offers nice views across Akashi Straight and Osaka Bay. The promenade's Observation Lounge has a café, restaurant and shop selling bridge memorabilia. The Bridge Exhibition Centre nearby provides a full spectrum of information on the Ashaki Kaiko Bridge and other suspension bridges around the world.
Location: 2051 Higashimaikocho, Tarumi Ward, Kobe, Hyogo Prefecture 655-0047, Japan
Phone: +81 (0)78 785 5090
photo by そらみみ (CC BY-SA 4.0) modified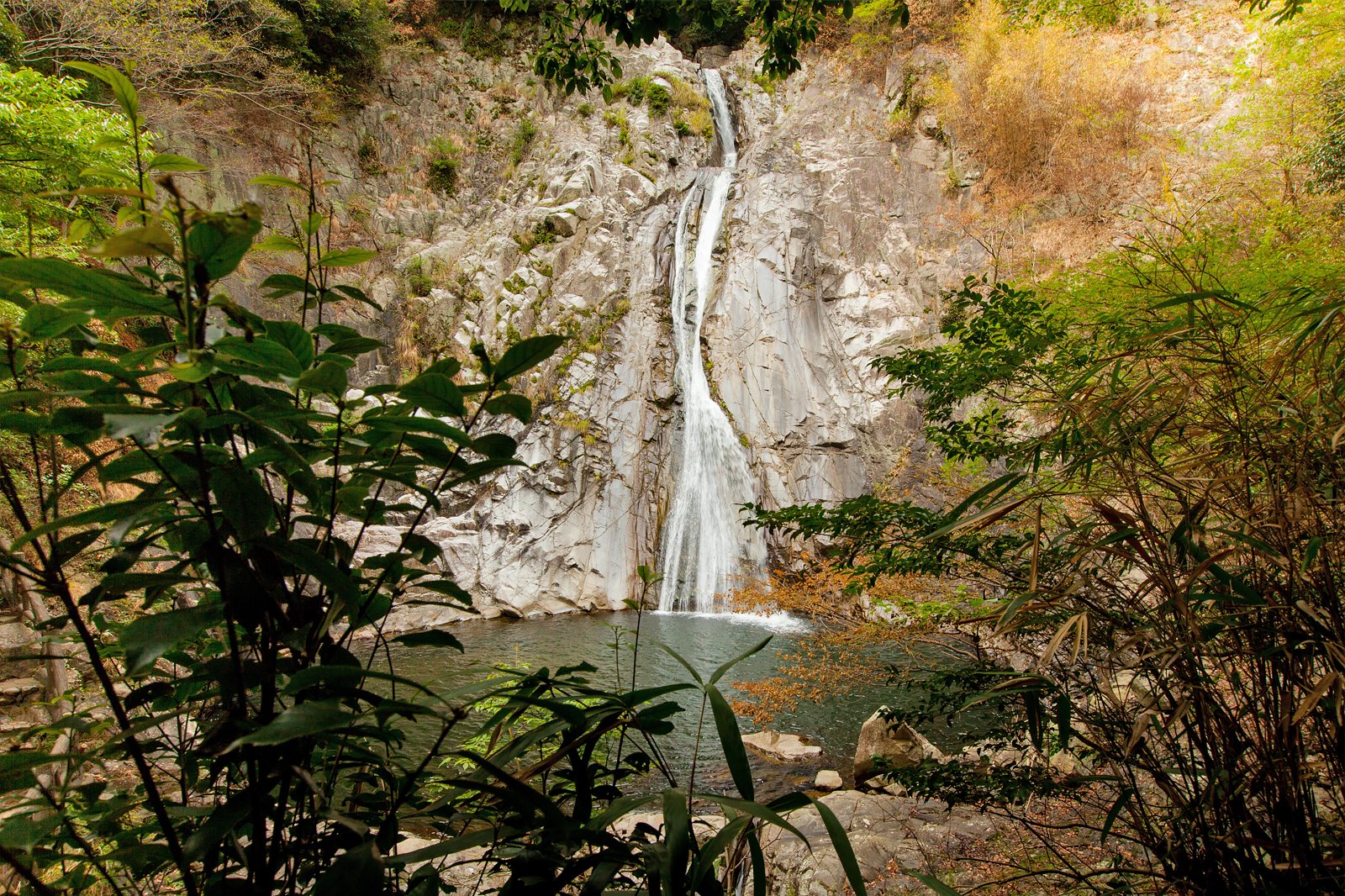 A quick and peaceful excursion from the bustling city, the Nunobiki Falls in Mt Rokko have been inspiring poets and writers for many generations, first appearing in Japanese literature in the 10th century. The Japanese consider Nunobiki one of the country's "divine falls" together with Kegon Falls and Nachi Falls. Nunobiki is a set of four separate cascades: the 43-metre Ondaki (male), Mendaki (female), Tsusumigadaki (drum), and Meotodaki (couple). The cave behind the waterfall is known as the Palace of the Dragon.
From the falls you can catch the nearby Shin-Kobe Ropeway, which leads further up the hills for even more impressive views of the city and to Nunobiki Herb Garden, or if you have time to wander, simply hike along the scenic pathways nearby and enjoy the fresh air. The closest subway station is Shin-Kobe, which is around a 20-minute walk from the base of the waterfalls.
Location: Fukiaicho, Chuo Ward, Kobe, Hyogo Prefecture 651-0058, Japan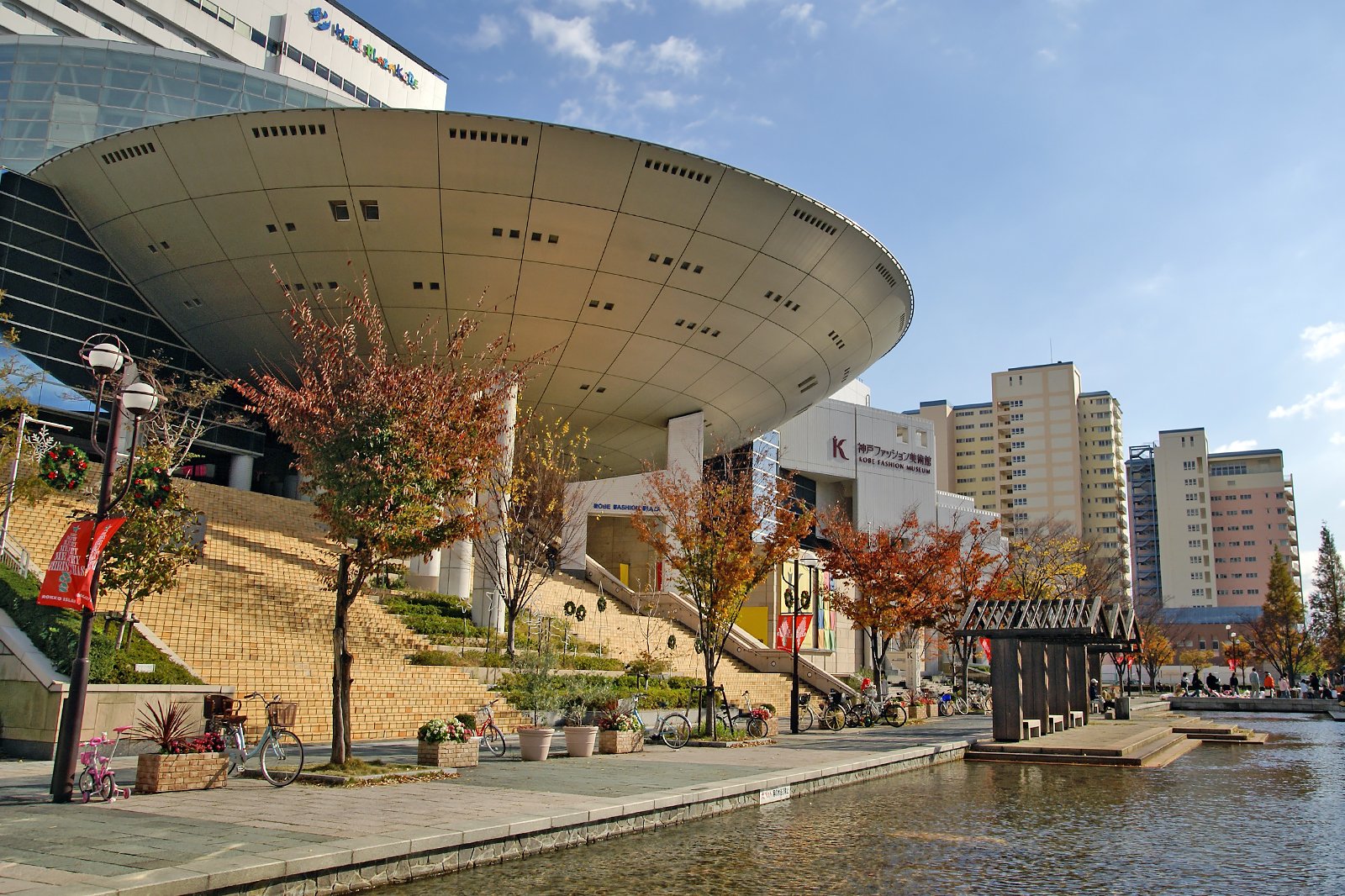 Wedged between mountains and sea, Kobe city is spread along a narrow strip of land with few options for expansion. To solve this problem Kobe has pioneered some major land reclamation projects, with Port Island and Rokko Island the most prominent examples. Rokko Island took nearly 20 years to build, and since the man-made island opened in 1992, it has developed into a major residential, tourist and commercial district. Locals and visitors come to Rokko Island to enjoy its water amusement park, sports and convention facilities, jogging paths, restaurants, cinemas and museums.
Style aficionados will not want to miss a visit to Rokko Island's Fashion Museum, an elaborate celebration of fashion, both Japanese and international. Permanent, high-tech displays show a wide range of beautiful clothing from traditional tribal costumes to ballroom gowns by Christian Dior. To get to Rokko Island, take the JR train to Sumiyoshi Station, then transfer to the Rokkoliner monorail.
photo by 663highland (CC BY-SA 3.0) modified
The eastern part of Kobe, called Nada, is one of the best known sake-making regions in Japan, producing more than a quarter of the country's sake. Nada's rice wine industry dates back more than 700 years and is famed for being made with pure mineral-rich 'Miya-mizu' water from Rokko Mountain springs and top-quality 'Yamada Nishiki' rice. Nada is dotted with more than 30 sake breweries, many of which have museums with free tastings and tours of the production process.
One such place is Kiku-Masamune Shuzo, the sixth largest brewery in Japan. It has been in operation since 1659. It first began exporting to the UK in 1877 and now has a long list of customers from around the world that serve its signature drink. The brewery's museum, Kiku-Masamune Brewing Memorial Museum, has informative displays on the sake-making process and exhibits of ancient production techniques.
Location: 1-9-1 Uosakinishimachi, Higashinada-ku, Hyogo Prefecture, 658-0046, Japan
Open: Wednesday–Monday from 10am to 4pm (closed on Tuesdays)
Phone: +81 (0)78 854 1042
photo by Oilstreet (CC BY-SA 3.0) modified