The Amalfi Coast
A Scenic Road Trip in Italy
The Amalfi Coast has a 50-km coastal road running along Italy's Sorrentine Peninsula, which has written itself into folklore thanks to waves of artists, celebrities and royalty. A journey along this rugged shoreline puts you on course to discovering a series of spectacular coastal towns and medieval villages clinging to towering cliffs.
With blustery winds and tight turns along the route, you should stop often to soak up the extraordinary sights and enjoy the local flavours through fresh seafood and Mediterranean cuisine. Some of the idyllic towns are also popular for unique arts and crafts, such as Amalfi with its papermaking and Vietri with its ceramics.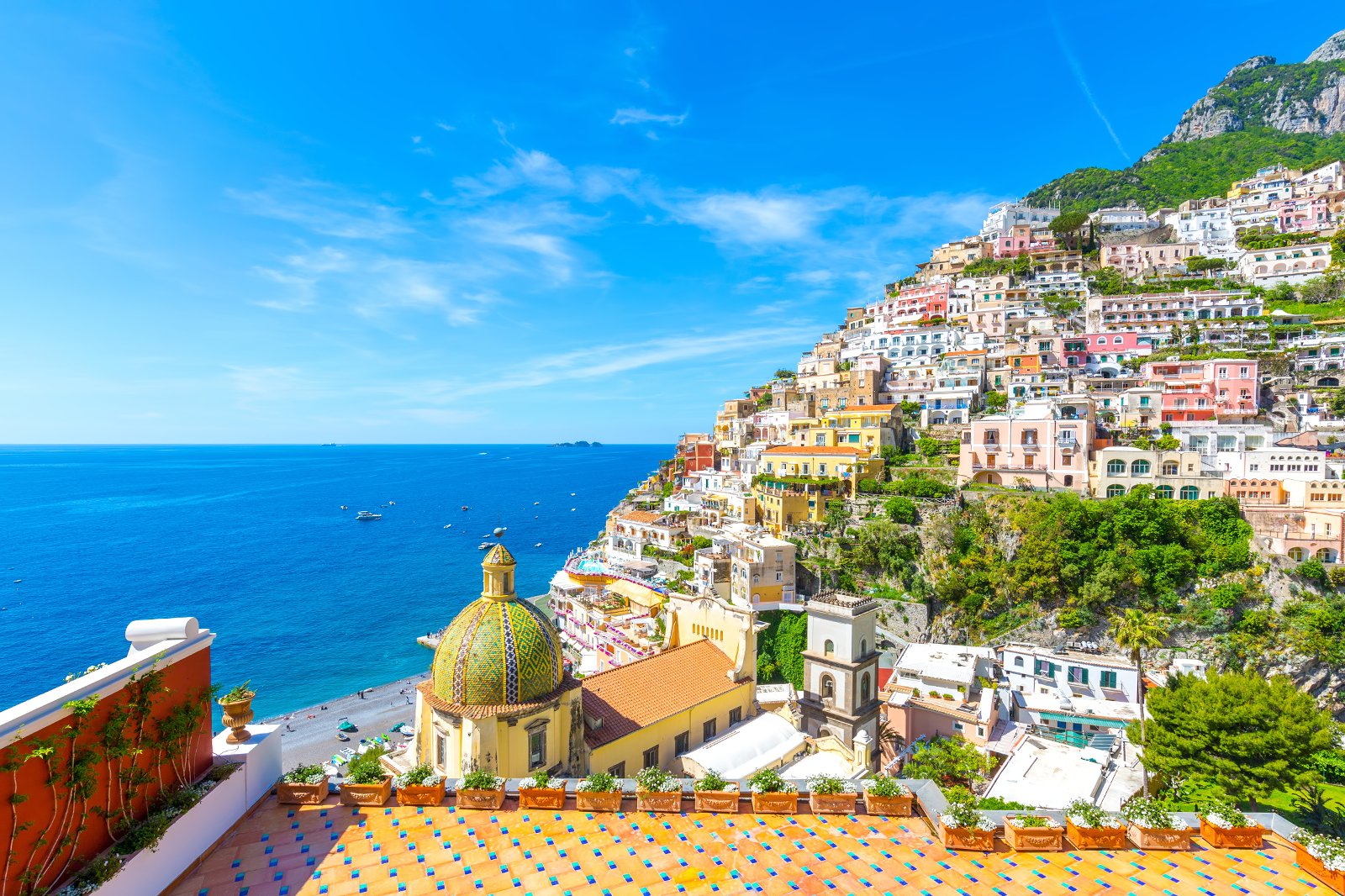 Positano
A small town that's big on breathtaking views
Spread a stack of photos from the most stunning coastal towns in Italy and you'll most likely have the snapshot of Positano catching your attention. The scene is nothing short of fantasy-like: a colourful array of villas that seemingly cascade down the rock face and into the calm blue waves of the Tyrrhenian Sea at its base.
Positano puts on an even more dramatic sight after dusk – the town lights up while the shimmering waves reflect its gleam. It's no wonder that Positano captivated the likes of Mick Jagger and Keith Richards, who wrote a song here together.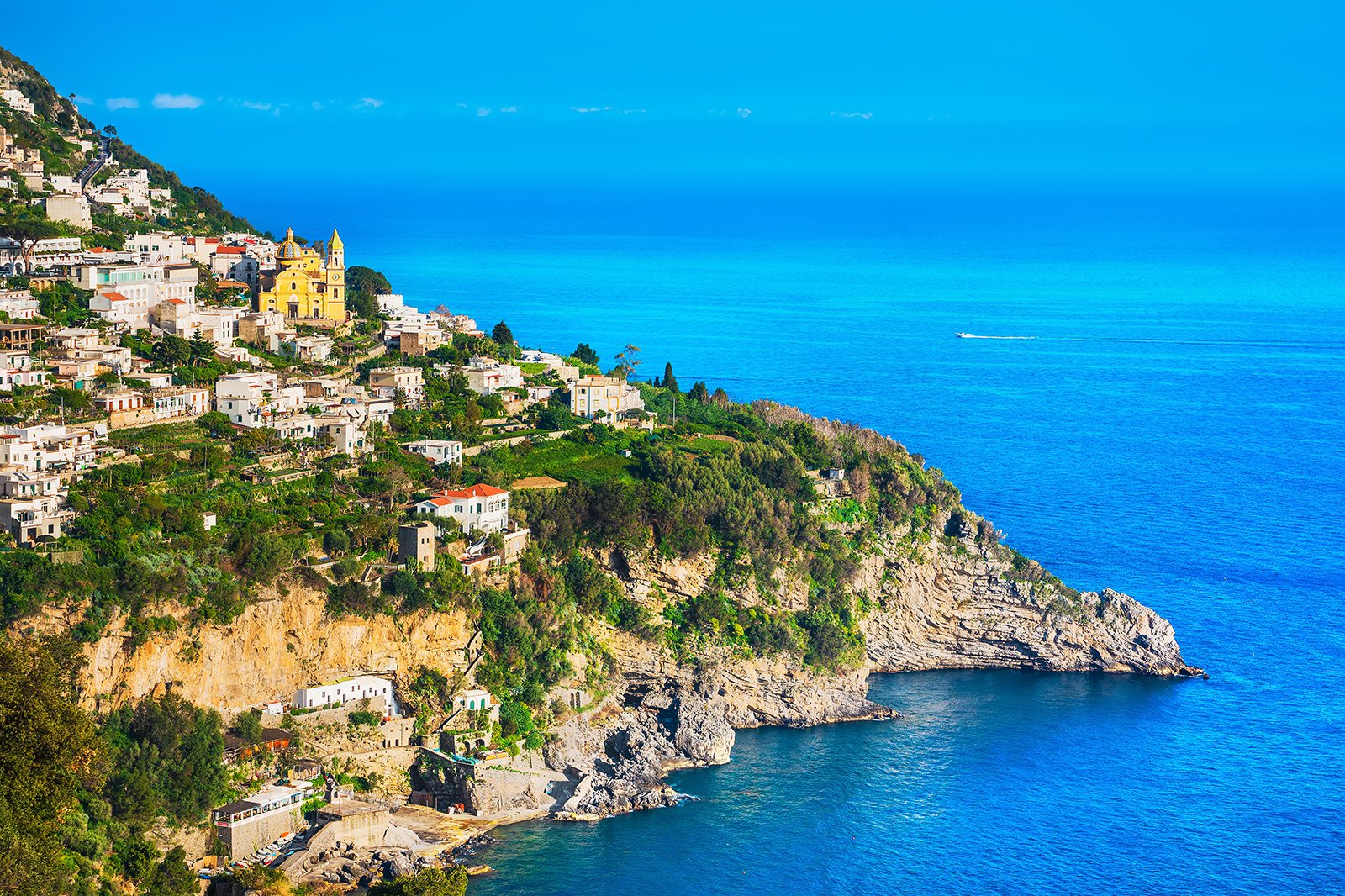 Praiano
Positano's neighbour… and picturesque rival
The small town of Praiano is a just half-hour drive northwest from its more famous sister – the Amalfi Coast icon and charming seaside commune, Positano. Praiano is similarly striking, set against a cliff and with secluded pebble beaches around the rock base. What sets Praiano apart is a quieter and less touristy vibe.
Don't miss the beautifully decorated churches of San Gennaro and San Luca – both solemn yet vivid in the evenings with their exquisite tile works. There's cool nightlife to be had with its collection of bars and nightclubs, yet the atmosphere throughout the town remains downbeat.
Amalfi
The namesake town of Italy's stunning coast
As the former seat of one of Italy's most powerful maritime republics, Amalfi retains much of its old-world charms. It's set below steep cliffs and is larger than most other towns along the Amalfi Coast, with bustling squares connected by walking streets lined with restaurants and shops.
Take a stroll down cobbled streets that date back to the Byzantine era and stop by the 13th-century Sant'Andrea cathedral, whose splendid bell tower is visible from the harbour. Learn about Amalfi's past at Museo Arsenale Amalfi, formerly a medieval shipyard, or about the town's famous papermaking history at Museo della Carta.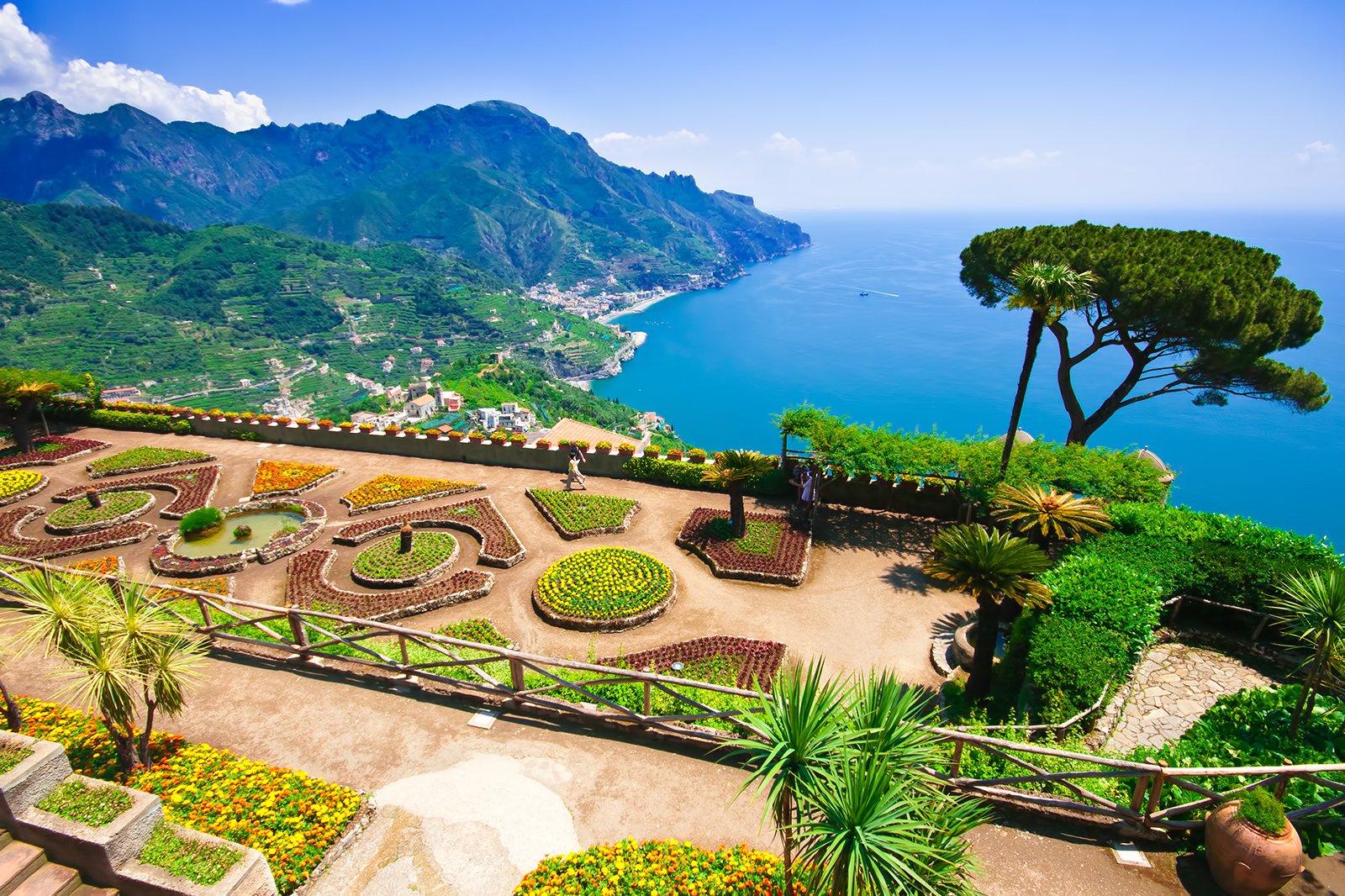 Ravello
Lush hilltop town with sweeping coastal views
Ravello is known for a music festival, nicknamed the summer Wagner Festival after the great German composer. It's when the town celebrates classical music with a variety of operas and concerts and is the star attraction on the town's calendar of events.
Besides arts and culture, Ravello offers sweeping seaside panoramas from about 360 metres above the Tyrrhenian Sea – best taken in from its variety of villas and cliffside gardens. Among the best spots for capturing Ravello's most iconic views are the 13th-century Villa Rufolo and medieval Villa Cimbrone, with its verdant flower gardens.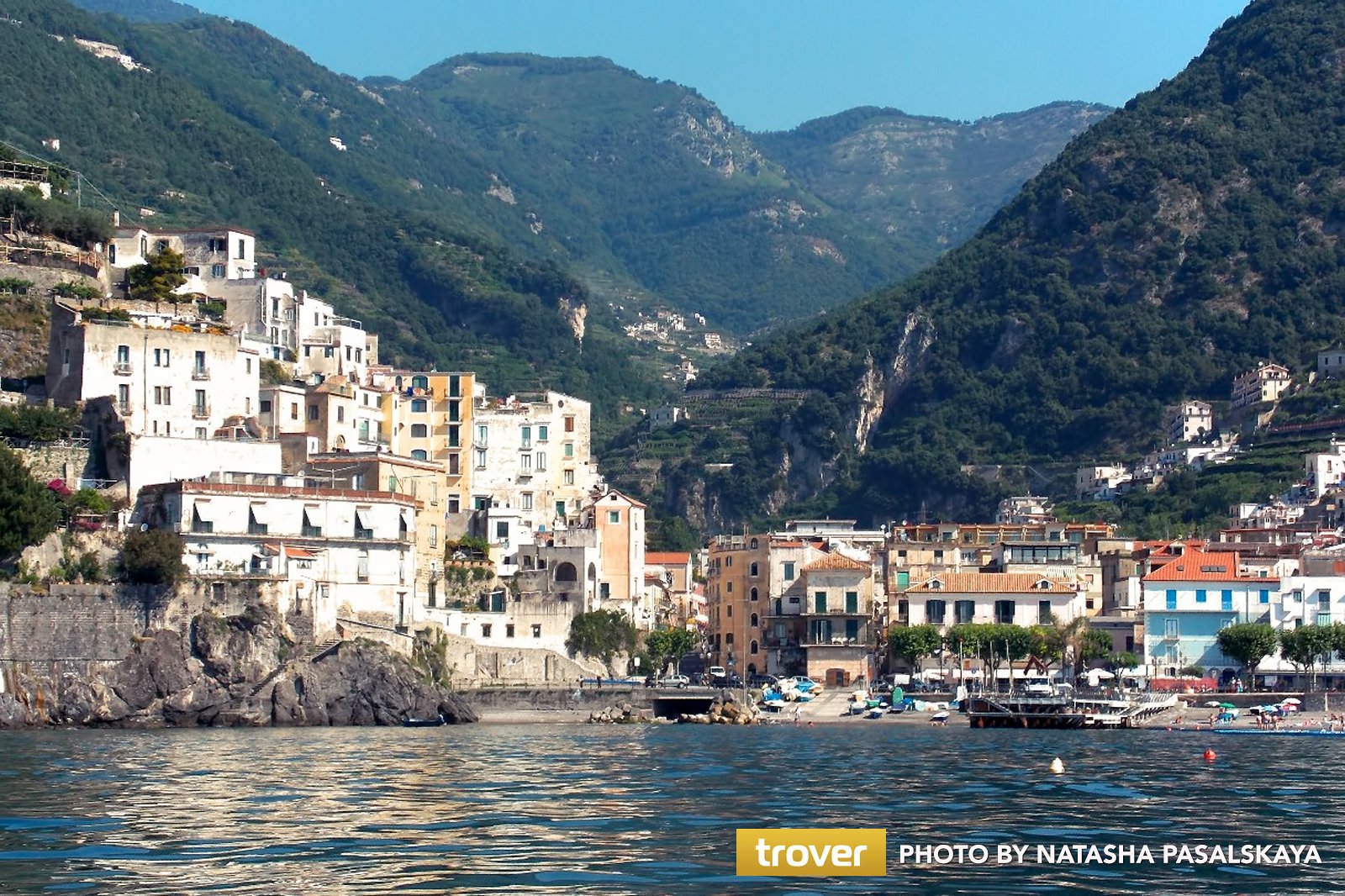 Minori
A quaint seaside retreat since Roman times
Minori is one of the quaint seaside communes along the Amalfi Coast offering a hushed vibe. Unlike the cliff-perched setting of its famous sister towns like Positano, Minori has an array of Roman villas spread down near the shore. You'll find plenty of baroque churches in town and landmarks like the 11th-century Fountain of the Lions by the sea.
Popular among holidaying locals, Minori offers an authentic vibe, with Roman villas overlooking the calm beachfront. The town is also a great destination if you're looking for heritage traditional Italian pasta – plenty of local restaurants offer pasta varieties whose recipes date back to medieval times.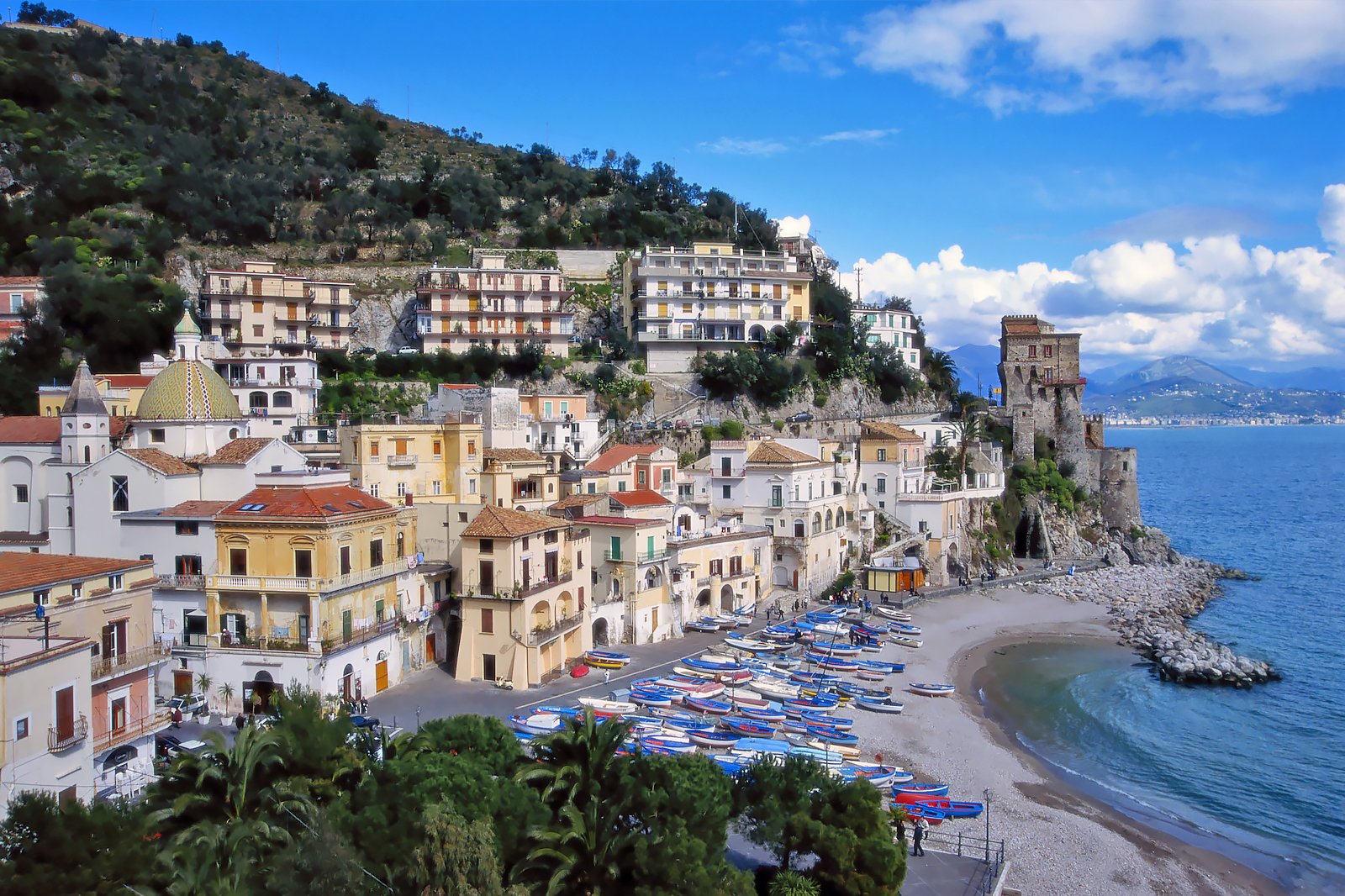 Cetara
A charming tuna fishermen's town
Cetara is a small harbour and tuna fishing town at the base of Mount Falesio on the Amalfi Coast, which dates back to the time it became a Saracen settlement. It's where you can find remnants of ancient traditions of the maritime republic living on through the busy fishing and processing of tuna and anchovies.
A stop by Cetara on your road trips along the Amalfi Coast makes for a great opportunity to experience the local heritage and Mediterranean treats, such as fermented anchovies called colatura di alici. For sightseeing, check out the Viceroy Tower on the beach, and many churches like the 9th-century St. Peter the Apostle.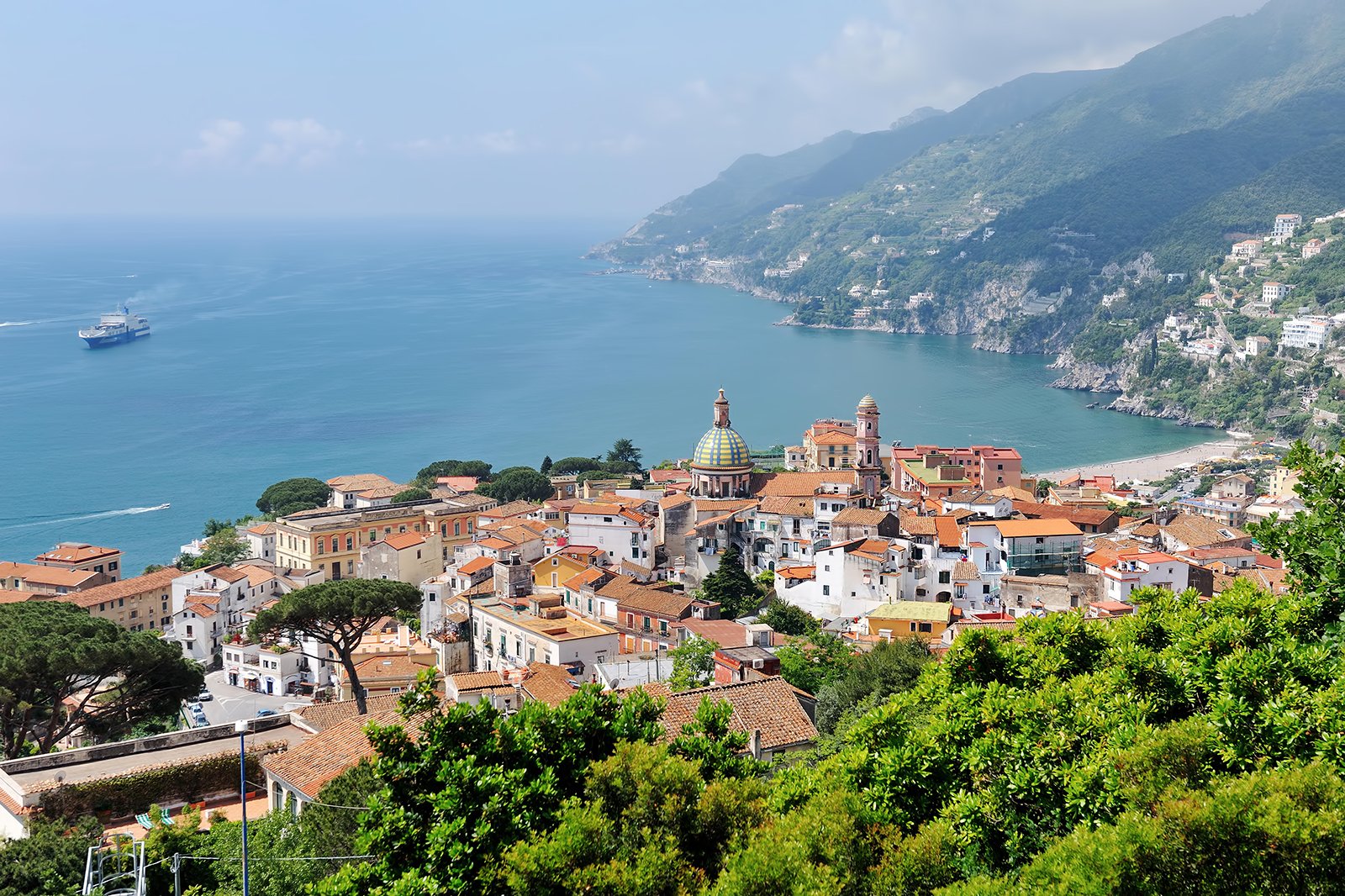 Vietri sul Mare
The seaside city is known for its ceramics
Among the beautiful towns and communes lining the Amalfi Coast, Vietri sul Mare stands out not only for its picturesque seaside setting, but also for its ornate ceramics. Scenic road trips through the region mostly end here, just next door to the Port of Salerno.
Drop by the many different ceramic workshops that dot the streets of Vietri, each of which offers their own sets of signature motifs and colours that have been passed on and tweaked through generations. Dining pleasures also abound, ranging from local family-run diners serving fresh seafood dishes to gourmet restaurants with stunning sea views.