Strasbourg Travel Essentials
Useful Information to Help You Start Your Trip to Strasbourg
Our Strasbourg Travel Essentials lays out the essential information you need to help planning your trip to one of the most popular destinations in France. No matter how frequently you travel, some questions will always need answers: What's the weather like? How can I get from the airport to my hotel? What currency and type of plug do I need? We have all these answers plus other basic info about the best time to go, getting there, getting around, and a few useful travel tips.
It's all compiled in this Strasbourg Travel Essentials. After reading this short and easy-to-read guide, you will be a little more prepared to start your trip in Strasbourg.
1
When is the best time to travel to Strasbourg?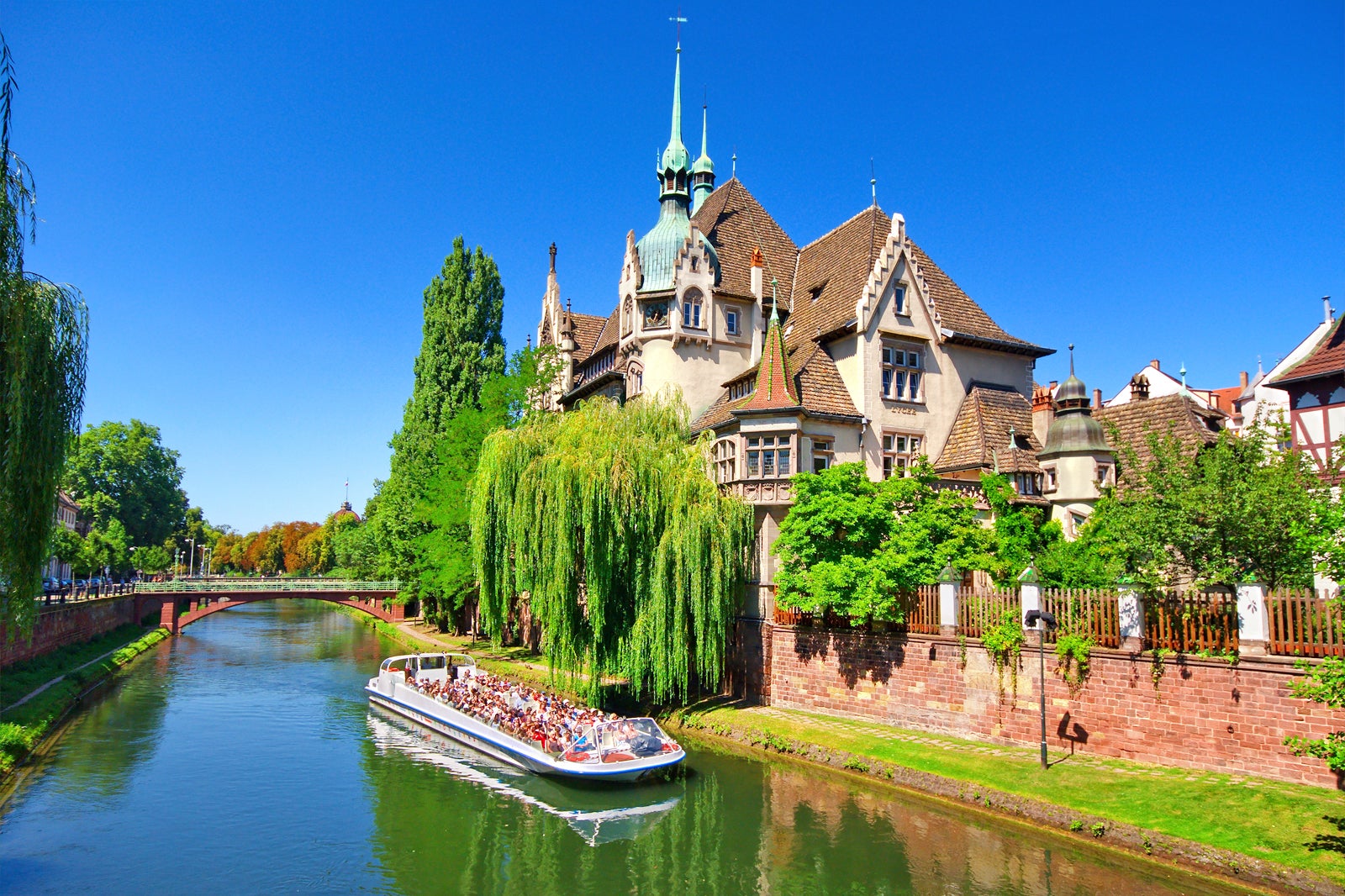 Despite its location far from the sea, Strasbourg has an Oceanic climate, with cool winters and warm summers.
Average temperatures range from 1ºC in winter to 20ºC in summer.
Rain can occur anytime, the wettest months are May to July, with an average of 10-11 rainy day per month. You can also expect a few snowy days from November to April.
The best times to visit are from May to October. You'll avoid the crowds of December (the busiest time of the year) and enjoy more affordable hotel and flight prices.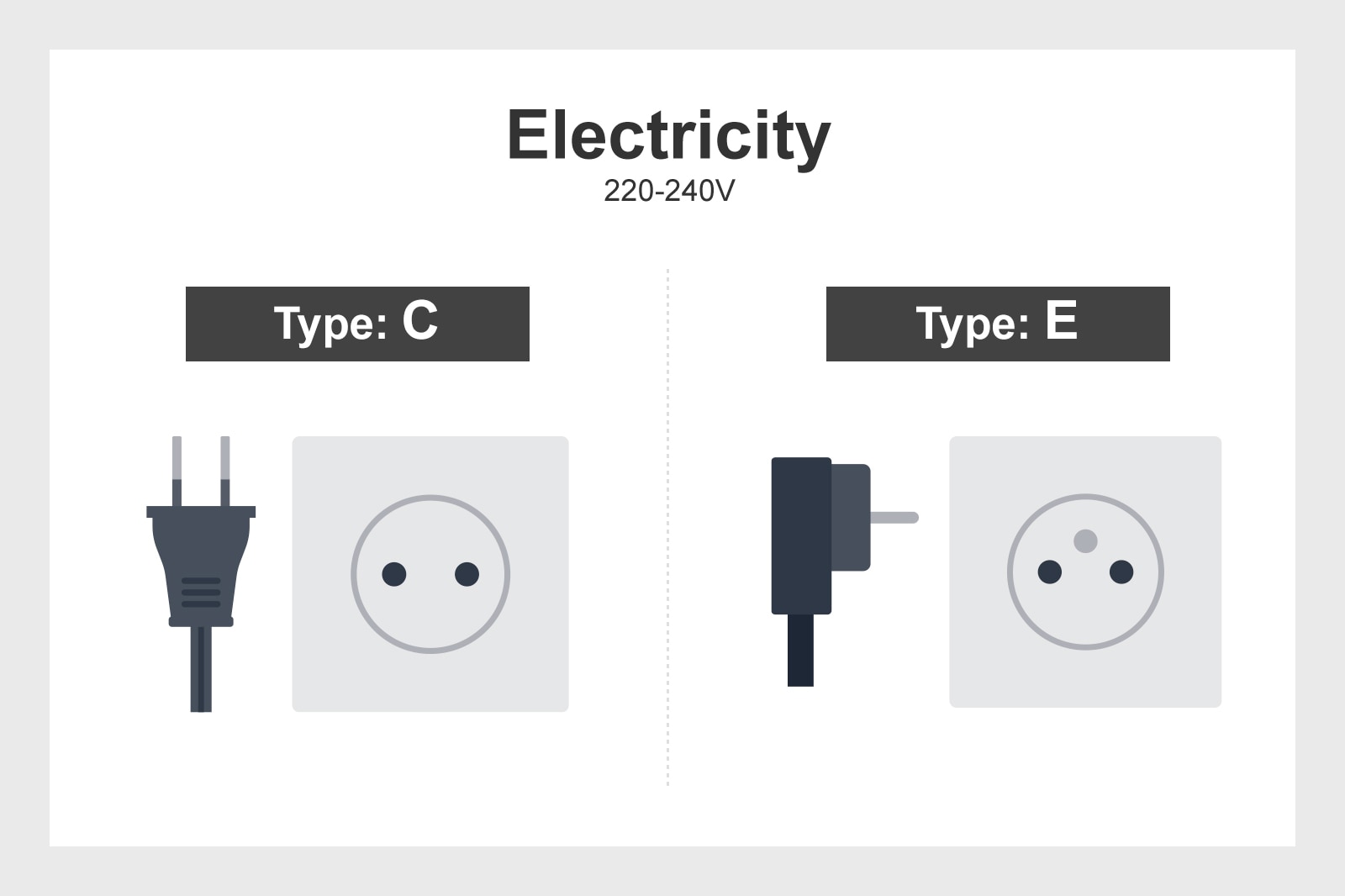 Primary languages: French
Plug types: C, and E
Electricity: 220-240 V
Currency: Euro (€)
International dialling code: +33 3
Emergency telephone number: 112
3
How to get to my hotel in Strasbourg?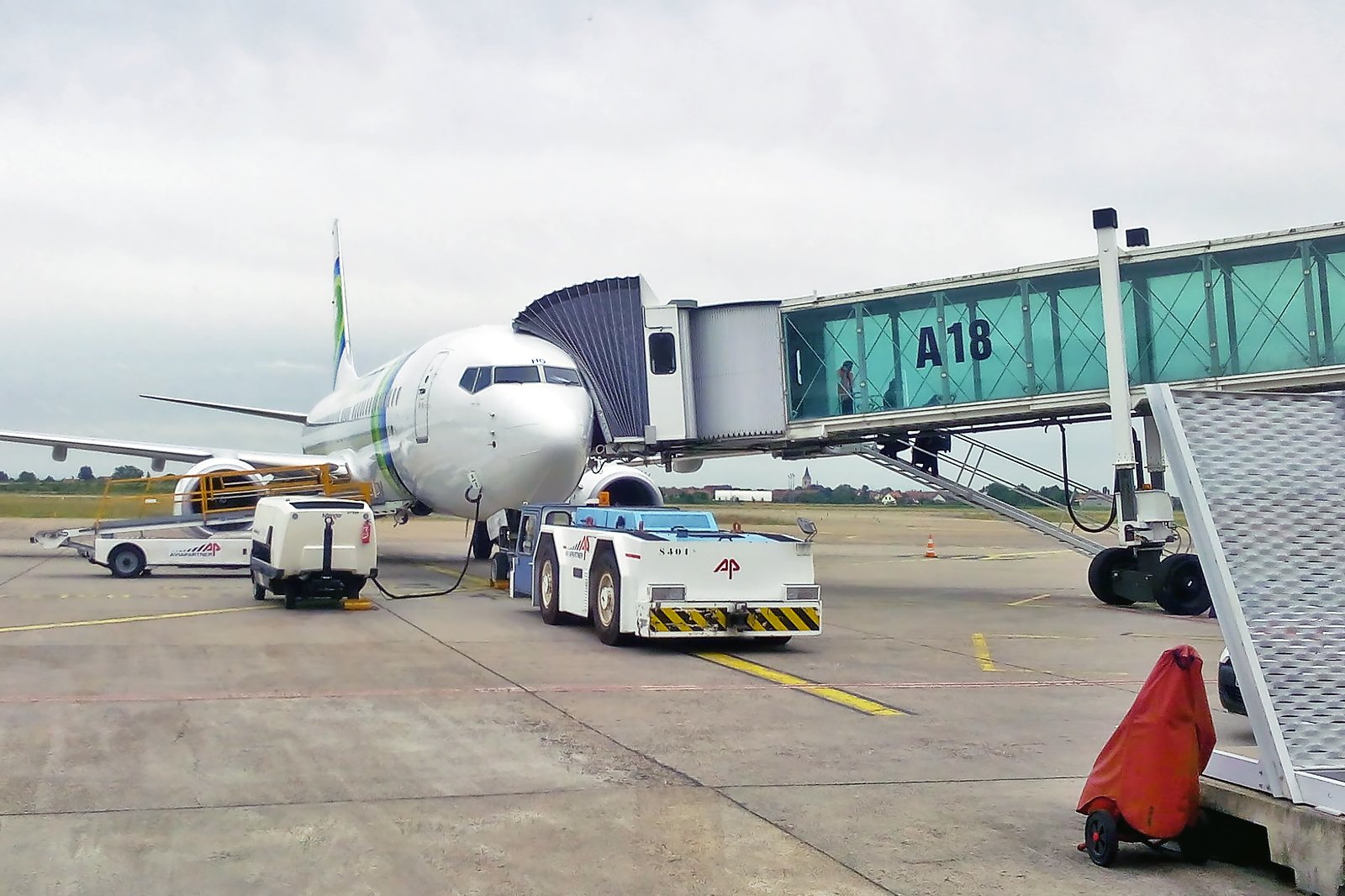 Strasbourg Airport
Strasbourg hosts a small international airport 10 km southwest of the city centre. The airport features a single 2-storey terminal home to a few dining and shopping options as well as facilities such as banking services. There are several transfer options to reach central Strasbourg:
A taxi to the city centre takes around 20 minutes. Taxi ranks can be found outside the arrivals hall.
The shuttle train takes around 15 minutes. Get to the Entzheim Airport Train Station by crossing the covered pedestrian footbridge departing from the terminal and take your ticket at one of the vending machines. The shuttle train takes you to Strasbourg-Ville Railway Station from where you can catch a tram or bus to your hotel with the same ticket.
Car rental agencies can be found in the main terminal.
Strasbourg-Ville Railway Station
Strasbourg-Ville Railway Station sits in the heart of Strasbourg, a stroll away of the Old Town. It's established in a splendid 19th-century building covered with a glass roof in 2007. One of the busiest train stations in the country, Strasbourg-Ville is connected by TGV (Train à Grande Vitesse – High-Speed Train) to major cities in France and Germany including Paris, Marseille, Munich and Frankfurt. From the train station, transfer options to your hotel include bus, tram, taxi and cars for hire.
photo by Kevin.B (CC BY-SA 4.0) modified
4
How to get around Strasbourg?
Travel tips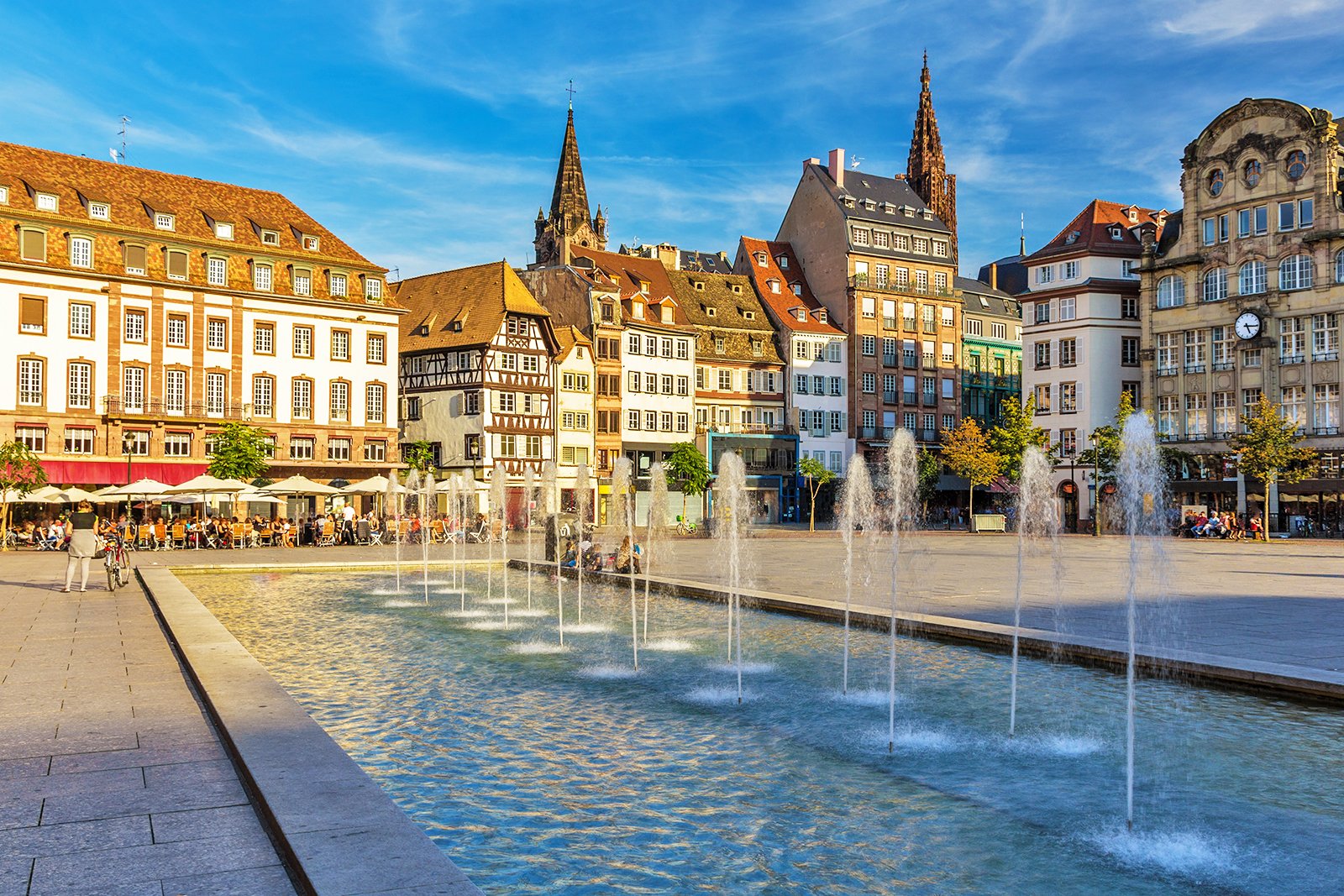 The best way to explore Strasbourg Old Town is on foot. It's home to many attractions such as the cathedral, the Vauban Dam, the Historical Museum of the City of Strasbourg and many more which can be found within a 1-km circumference circle around the city centre. It also hosts a great choice of dining and shopping options.
For longer journeys, Strasbourg public transport provides with an affordable and efficient way to move around the city. Run by the CTS (Compagnie des Transports Strabourgeois), 29 bus routes and 7 tram lines permit you to comfortably explore Strasbourg, with a single ticketing system.
Single and 24-hour Solo tickets are available.
You can also purchase a 3-day Strasbourg Pass. It doesn't include the use of public transport but free admission or discount to many museums and attractions.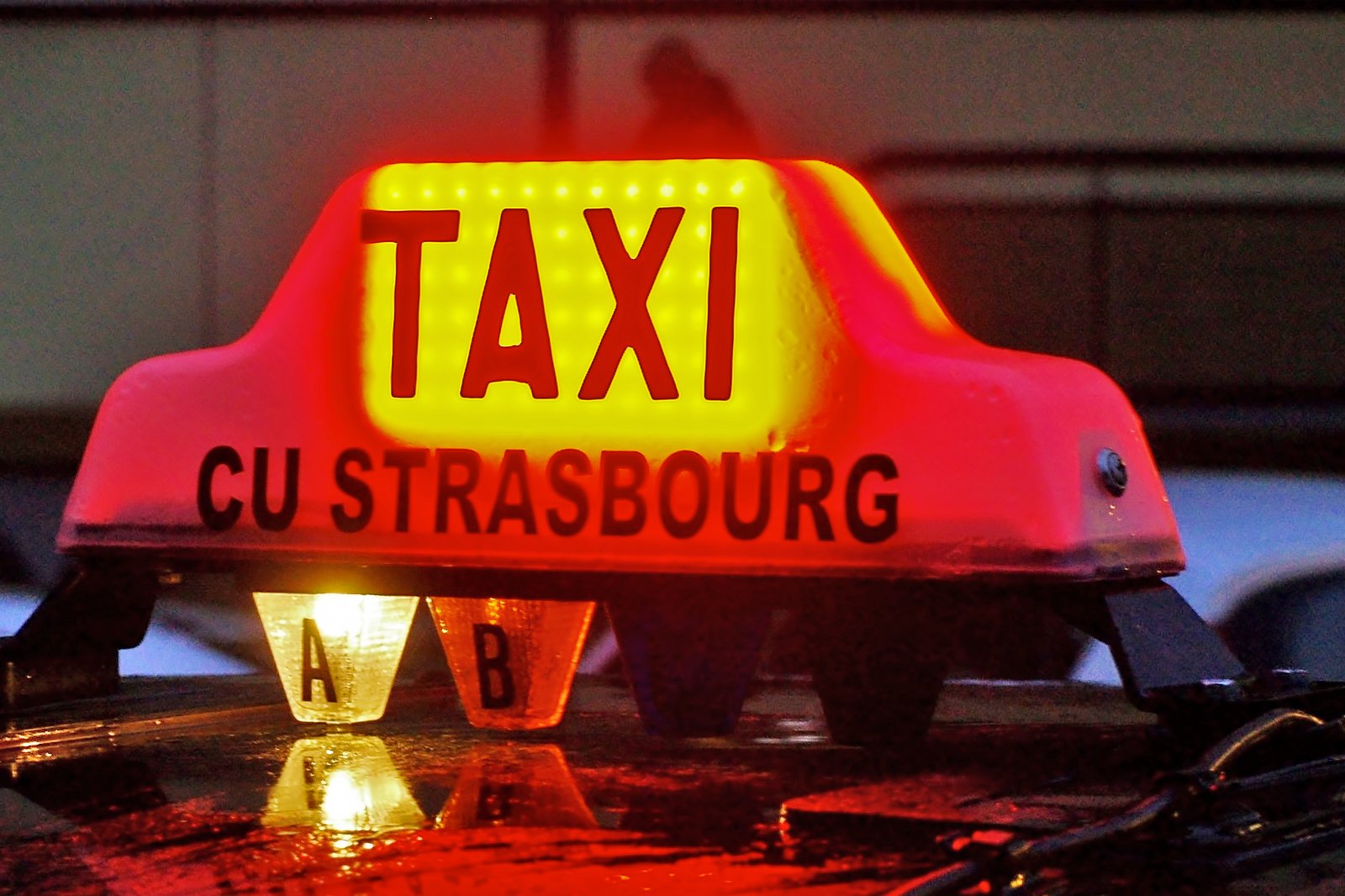 Taxi rates are fixed by the prefecture.
Rates are slightly higher at night and on weekends.
Most taxis accept the payment of the fare by credit card.
If you do not speak French, a good way to tell the taxi driver where you want to go is by showing him a piece of paper, or your smartphone, with the address of your destination written on it.
As usual when travelling abroad, beware of taxi scam and double-check that the meter is on.
Taxi ranks can be found at Strasbourg-Ville Railway Station and near the main attractions in the city centre. It's also possible to hail a cab on the street if there's no rank within 50 metres.
You can book a taxi on the phone with companies such as Strasbourg Taxi (03 88 122 122) or Taxi 13 (03 88 36 13 13). These 2 companies have a downloadable app.
Uber can also be used to get around the city.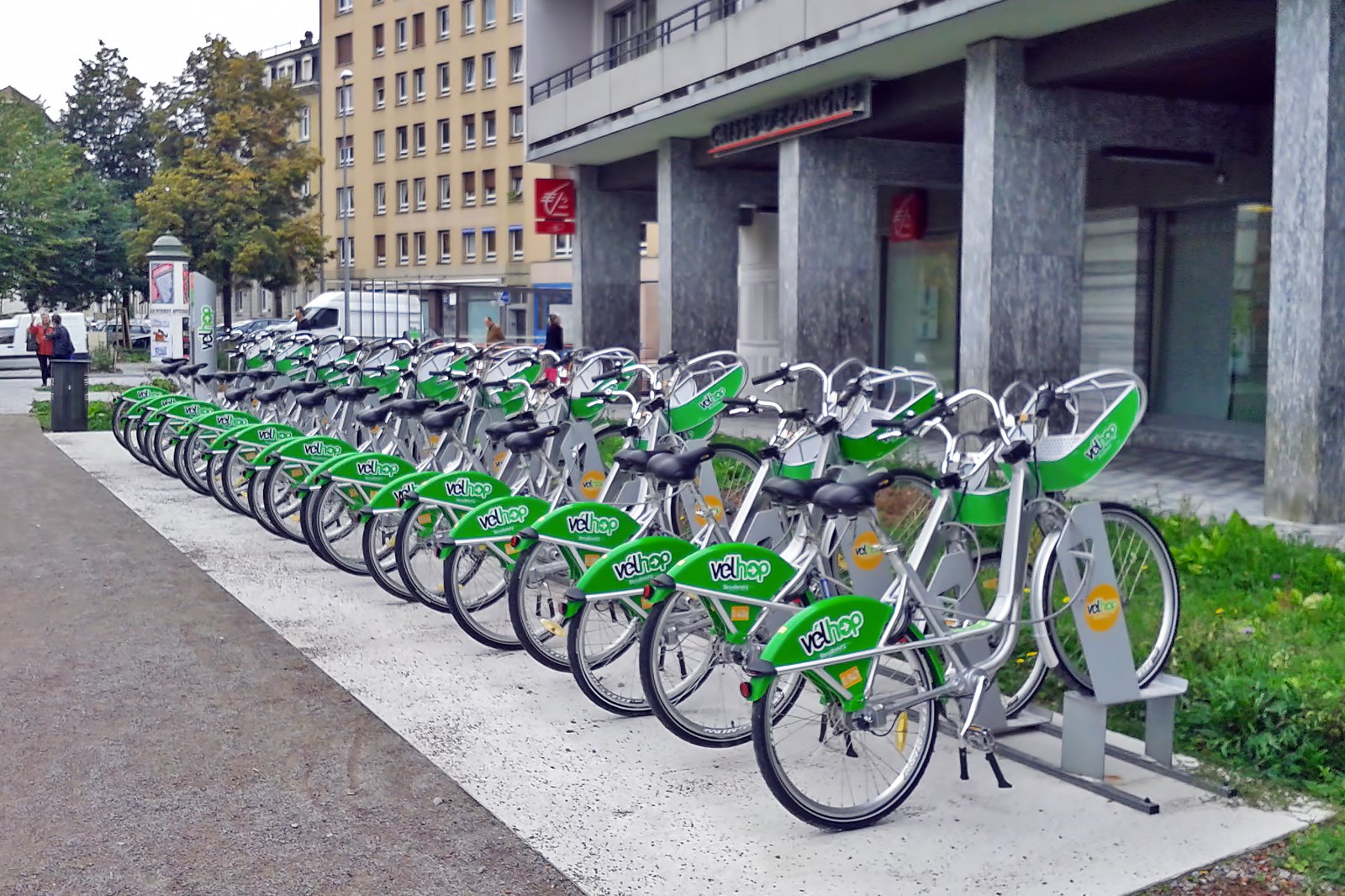 Vélhop is a bike-sharing scheme run by the city of Strasbourg. Available 24/7, it features standard, electric, tandem, child and trailer bikes that offer an affordable and healthy way to get around the city.
photo by Kevin. B (CC BY-SA 3.0) modified
7
What are the main annual events in Strasbourg?
Carnaval de Strasbourg (Strasbourg Carnival)
What: Strasbourg Carnival marks the arrival of spring. It's a festive moment with floats, dancers, musicians and costumed characters in the streets.
When: March
Where: Downtown Strasbourg
Fête de la Musique (Music Day)
What: This popular festival marks the summer solstice and features street concerts as well as bars that encourage partying. Amateurs and professional musicians perform all around the city.
When: 21 June
Where: Downtown Strasbourg
Christkindelsmärik (Christmas Market)
What: Founded in the 16th century, Strasbourg Christmas Market features over 300 exhibitors selling Christmas decorations and traditional delicacies such as bredele (small Christmas cookies) and mulled wine.
When: Late November–December
Where: Place Broglie
Back to top