9 Best Things to Do in Normandy
What is Normandy Most Famous For?
Normandy is a very charming region just north of Paris. It's both a rural and seaside area famous for producing excellent cheeses, apple cider, and seafood, such as sea-scallop and herring. The quality of the cuisine of Normandy makes it a must-visit area if you're a gourmet.
Normandy is also filled with an important historical heritage. For a long-time disputed between France and England, Normandy hosts many medieval towns and one of the most iconic landmarks in France: The Mont Saint-Michel. Embark with us for a short tour through the best things to do in Normandy so you'll be ready to fully enjoy this pleasant region when you get there.
What are the best things to do in Normandy?
1
Mont Saint-Michel
Explore one of France's most famous landmarks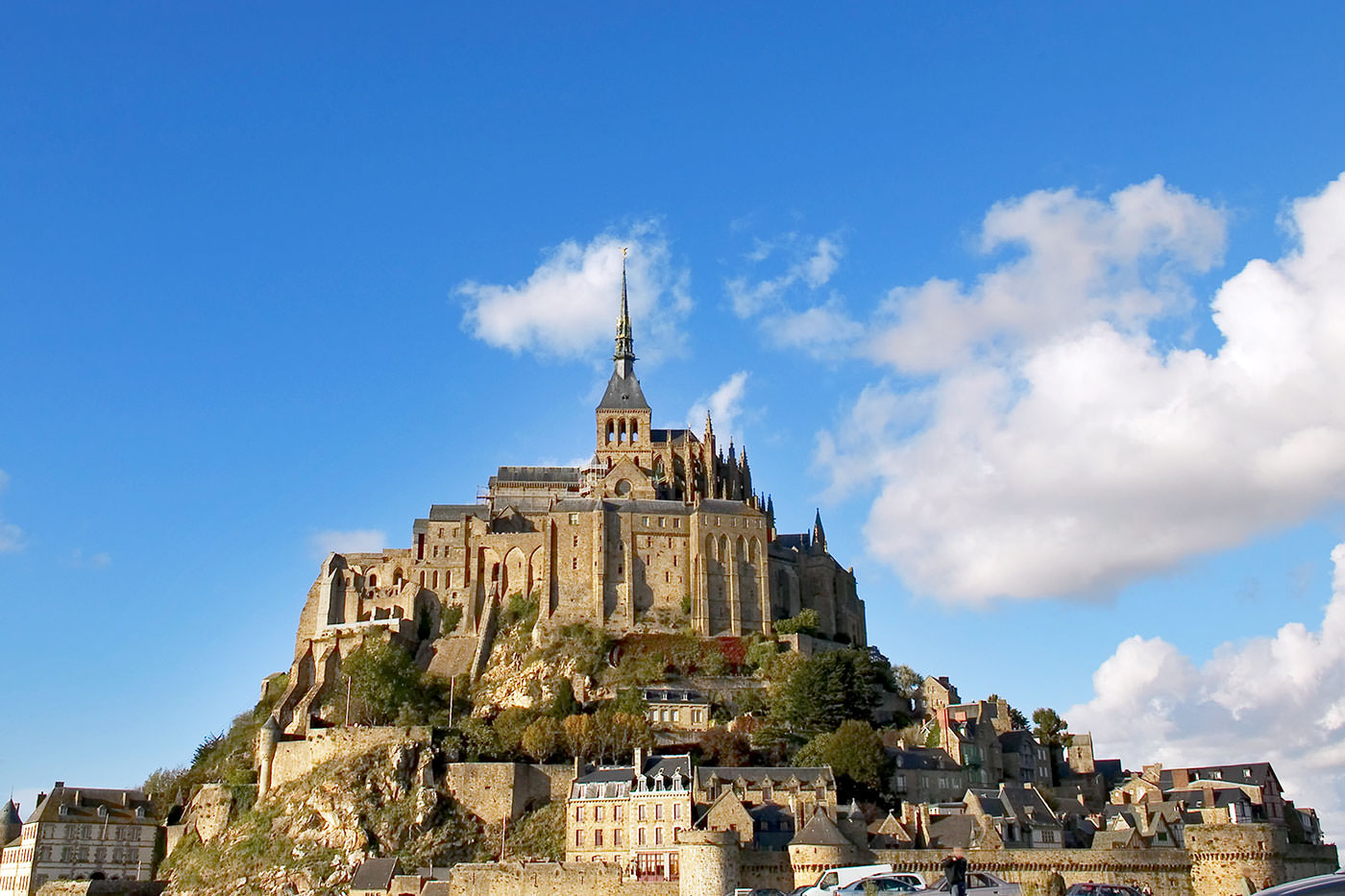 Mont Saint-Michel is one of the most iconic sights in France. Located at the mouth of the Couesnon River near Avranches, it's a medieval village built on top of a huge rock, including an abbey built in the 8th century. Listed as a UNESCO World Heritage Site, it's like you've travelled back in time. The Abbey of Mont Saint-Michel and Notre-Dame Sous Terre Chapel are just two of the must-see places here. Food-wise, you'll find many crêperies - wheat flour and buckwheat pancakes restaurants - as well as the world-famous Omelette de la Mère Poulard – a restaurant reputed to serve the best omelet in the world, but also one of the most expensive.
Location: At the mouth of the Couesnon River near Avranches, France
2
Étretat cliffs
Stroll along the Étretat Chalk Complex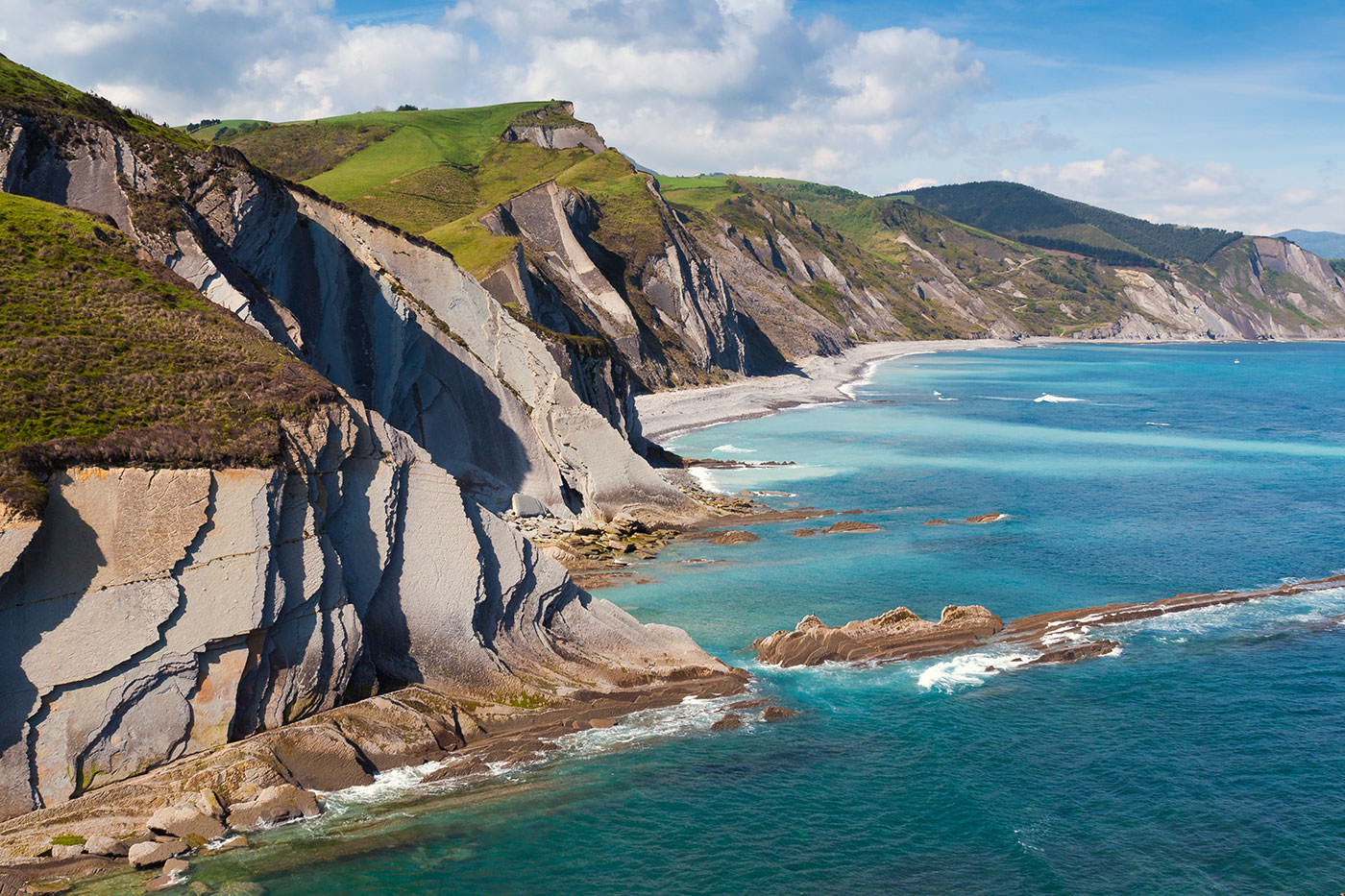 Étretat is a small town located on the coast of the Pays de Caux, 30 km northeast of Le Havre. It's famed for its tall white chalk cliffs which reach heights of up to 90 metres above the sea. Three rock arches and one rock needle are especially worth mentioning; the Porte d'Aval and the Porte d'Amont can be seen from the beach of Étretat, while the Manneporte, the largest of the 3, is located further southwest. The Aiguille d'Étretat is a 70 metres high needle rock that juts out from the sea right next to the Porte d'Aval.
Location: Étretat is a town located 30 km northeast of Le Havre, France
3
D-Day Beaches
Vsit museums and memorials dedicated to WWII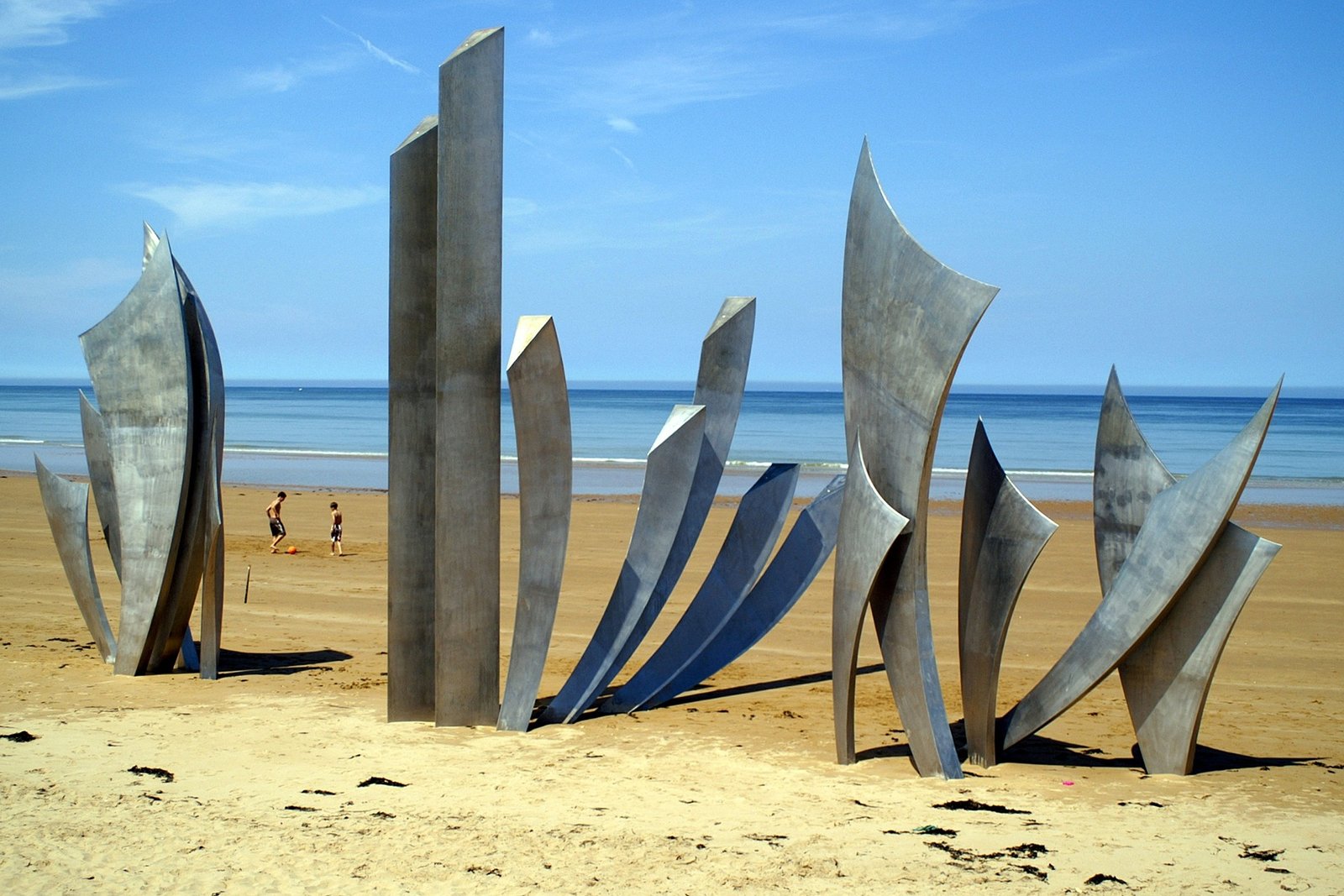 On June 6th 1944 the Normandy landings began the crucial battle to deliver France and Europe from the Nazis. This historic military operation – first of its kind at such a scale – has left many memorials, monuments, museums, and cemeteries that gives you the opportunity to learn more about this period. Many people come here to pay tribute to those who sacrificed their life. From the extremely moving Normandy American Cemetery & Memorial near Omaha Beach to the informative D-Day Museum in Arromanche, there are many sites dedicated to these tragic events along the Norman Coast.
Location: There's around 60 km between Utah Beach near Sainte-Mère-Église and Sword Beach in Ouistreham. In between, from west to east, you find Omaha, Gold and Juno Beaches.
4
Vieux Rouen
Lose yourself in Rouen Old Town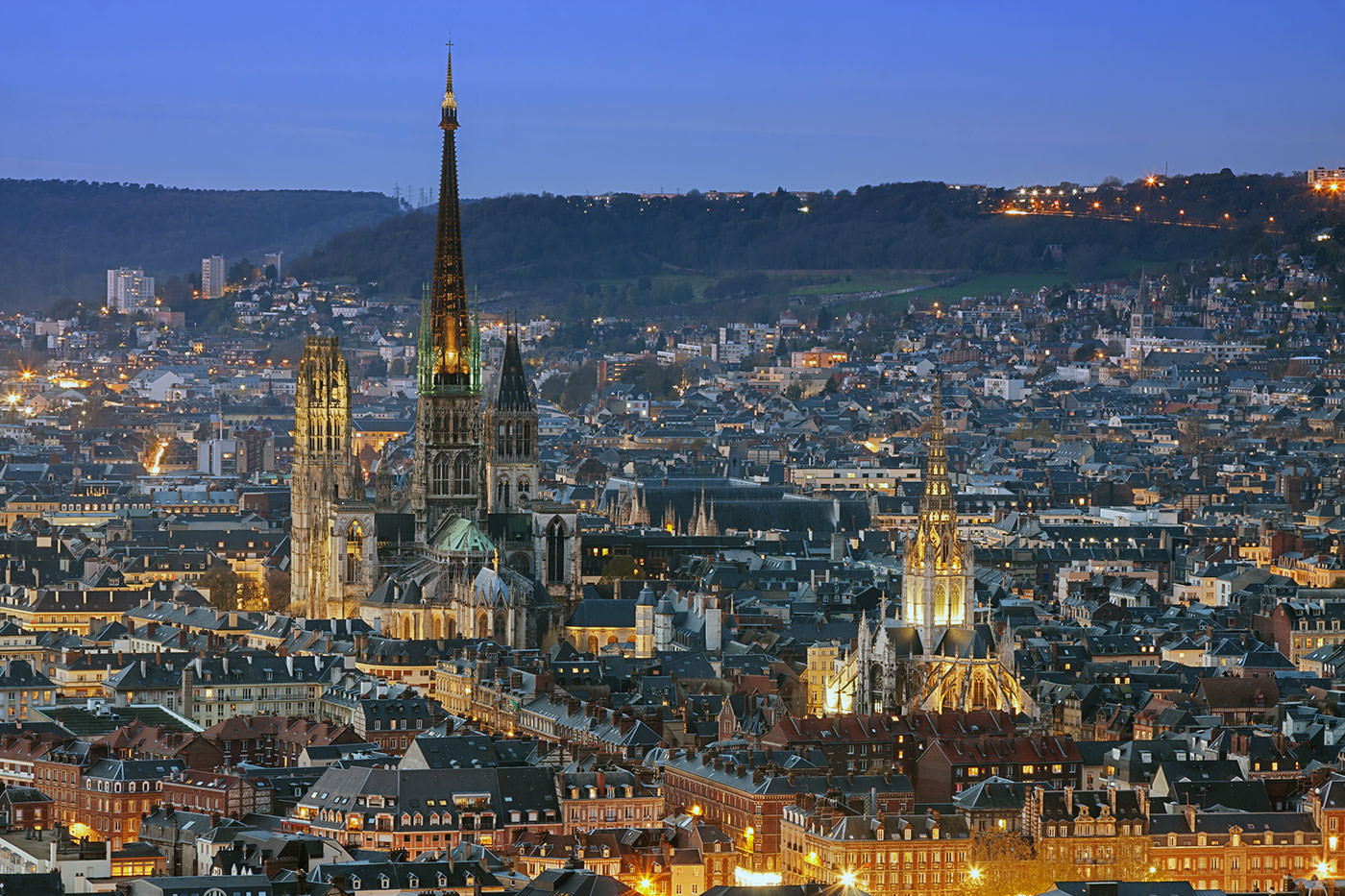 Explore the nooks and crannies of Rouen Old Town which features some splendid edifices dating back to the 13th century. From Notre-Dame Cathedral to The Grand Horloge, and from Sainte-Jeanne-d'Arc Church to Saint-Ouen Abbey, you'll wander through narrow cobblestoned streets bordered by well-preserved timbered houses. For lunch, head to the Vieux-Marché (the Old Market), a city square that hosts a good choice of restaurants for all budgets, including the excellent Un Grain De, which serves dishes made from local products.
Location: In the centre of Rouen, just north of the Seine River
5
Honfleur Old Town
Wander along a quaint medieval pier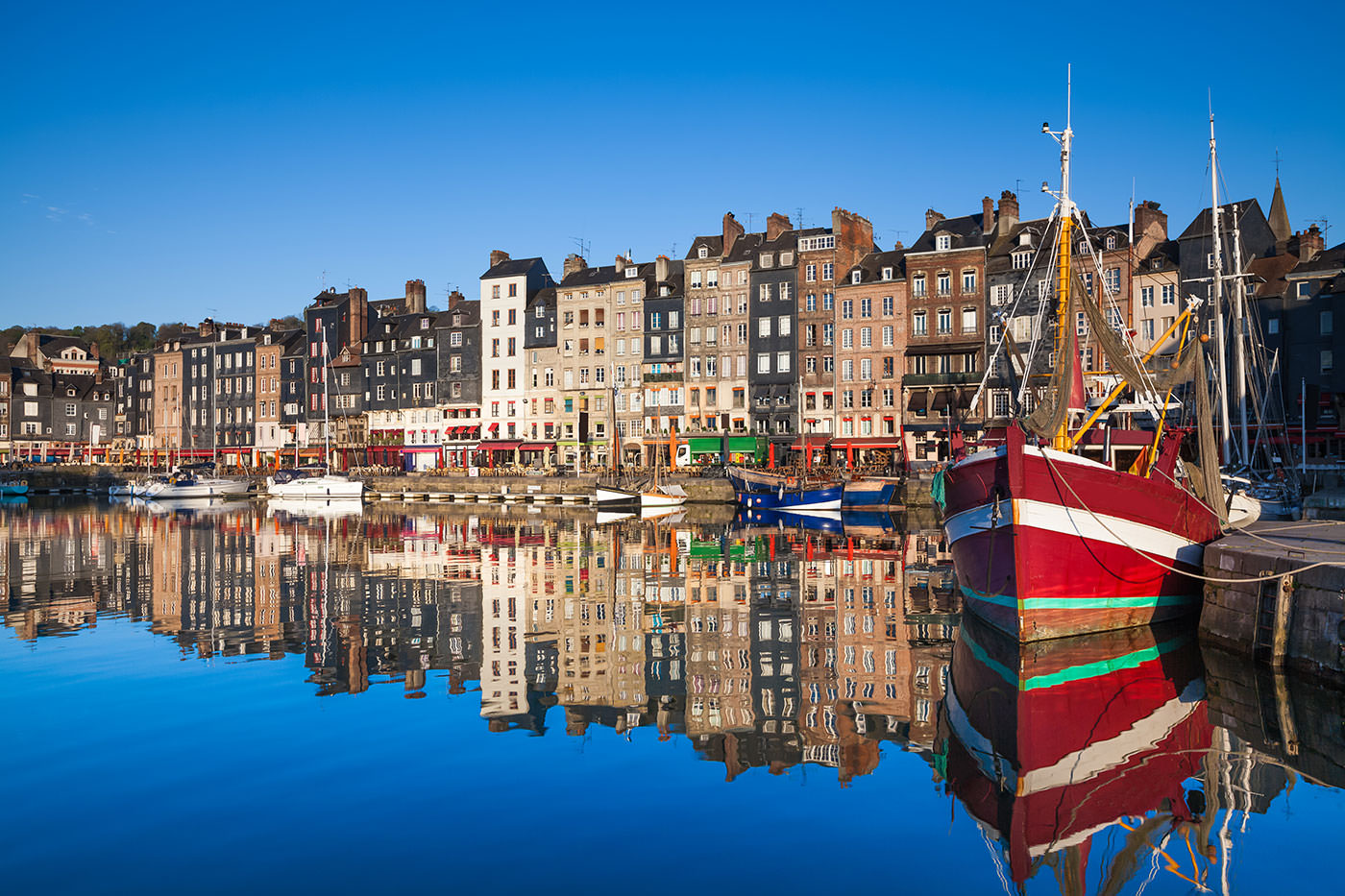 Originally founded by the Vikings and positioned around the Vieux Bassin (the Old Basin), Honfleur Old Town went through many renovations yet kept its historical soul featuring buildings from the 16th century onward. The edifices you should not miss during your walk around the narrow cobblestoned lanes of Honfleur Old Pier are the Lieutenancy, Saint-Catherine Church, and the Attic Salt. As for lunching, two popular spots include Le Perroquet Vert to L'Écailleur. This very picturesque harbour hosts a good choice of excellent seafood restaurants located right on the quays of the Old Basin.
Location: The Vieux Bassin is located right next to the city hall, in the centre of Honfleur, France
6
Bayeux Tapestry Museum
Discover the 'Cloth of the Conquest', a unique medieval relic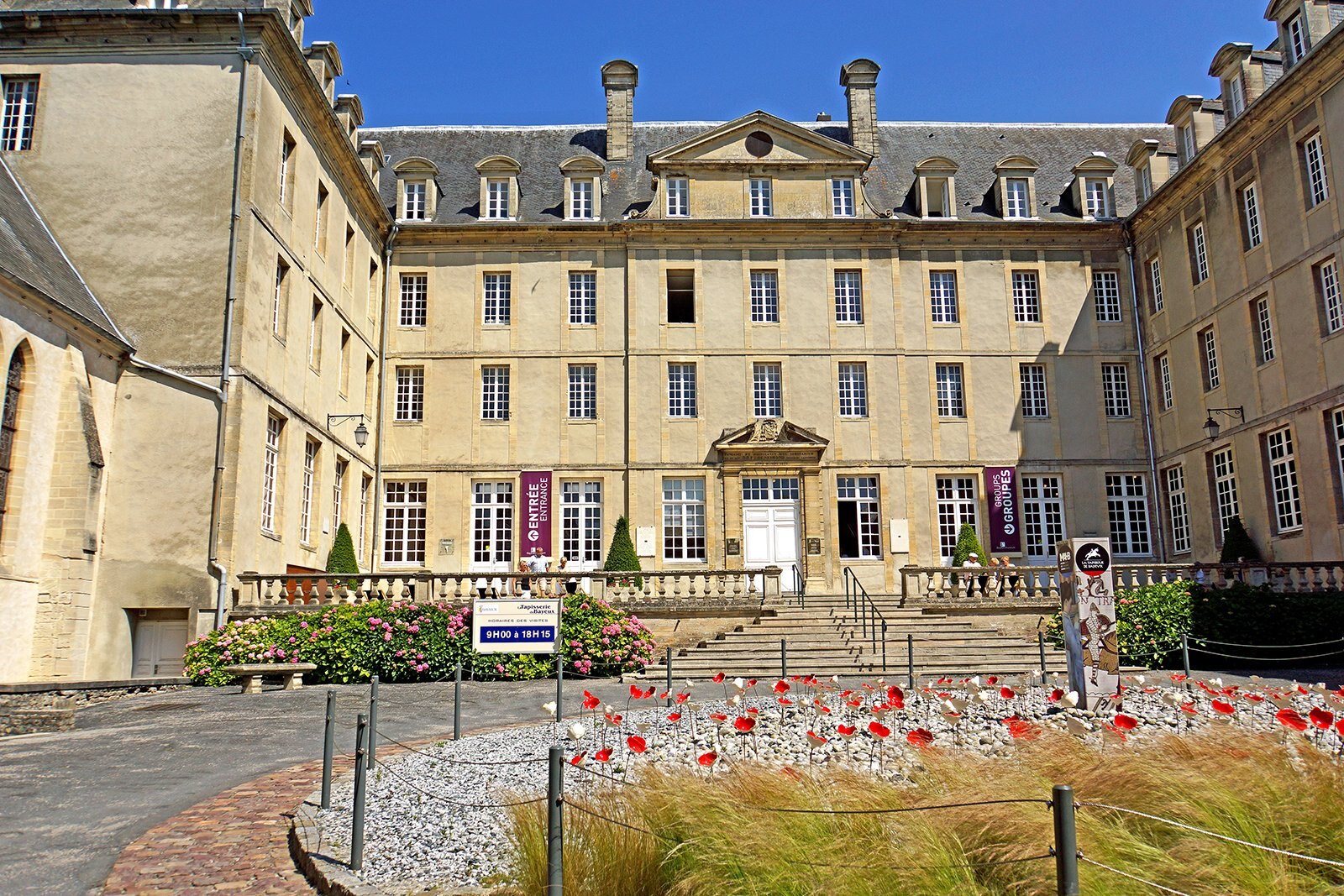 Embroidered on linen during the 11th century, the Bayeux Tapestry is 69 metres long and 50 centimetres high. It tells the story of the Conquest of England by William the Conqueror, Duke of Normandy, in 1066. Listed as a 'Memory of the World' by UNESCO, the Bayeux Tapestry is the main highlight of this museum which counts 2 other branches in Bayeux: The Memorial Museum of the Battle of Normandy and the MAHB, which offers a journey through the history of European art. If you come by Bayeux, take a stroll in the medieval centre, it's really charming and deserves to be seen.
Location: 13bis Rue de Nesmond in the south of Bayeux Town, France
Open: Daily from 9.30 am to 12.30 pm and from 2 pm to 6 pm
Phone: +33 (0)2 31 51 25 50
photo by Dennis Jarvis (CC BY-SA 2.0) modified
7
Deauville
Indulge yourself with a few days stay in a stylish seaside resort town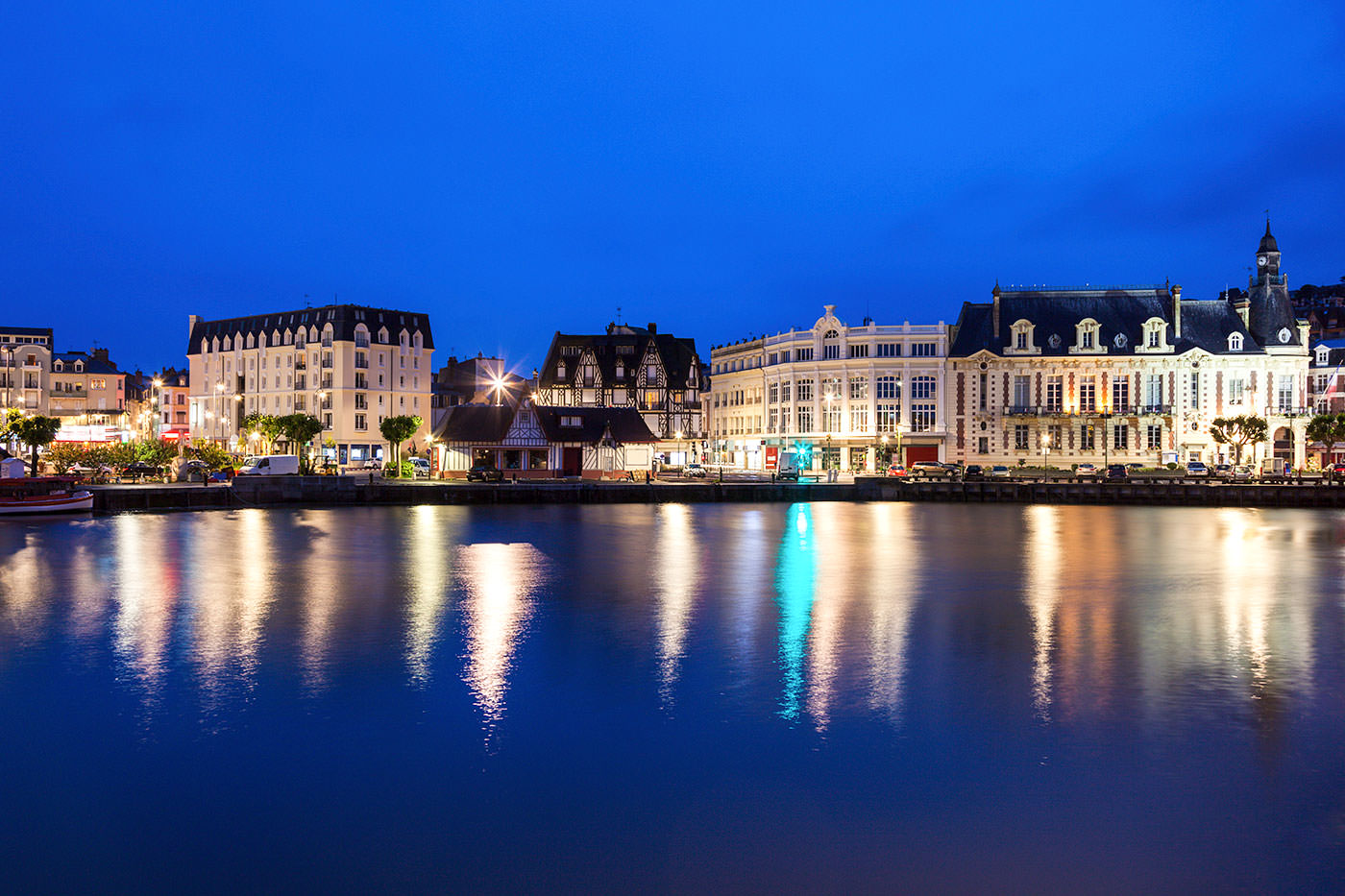 Often referred to as the Parisian Riviera, Deauville is a seaside town that hosts all that's required for an upscale style of holiday in France. You'll find here opulent resorts, a casino, a marina, 2 hippodromes, and splendid 19th-century houses and villas. The Promenade des Planches (the wooded boardwalk) that runs along the beach, is the place to see and to be seen. If you're passionate for cinema, the best time to go to Deauville is during the American Film Festival, held yearly at the end of August.
Location: On the Norman Coast, 30 km southwest of Le Havre, France
8
Cider & cheese in Livarot
Tour Normandy's cheese and cider route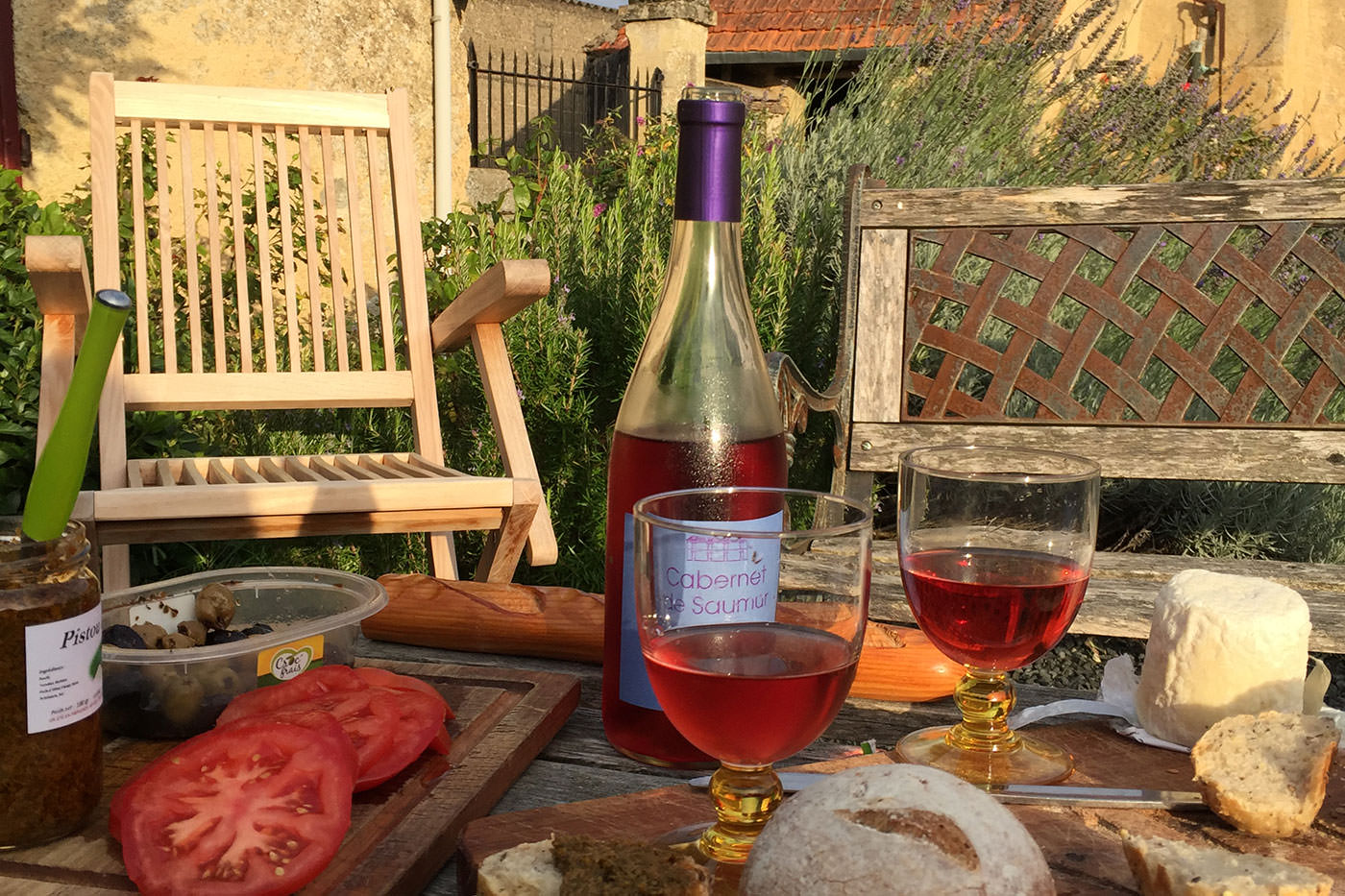 Normandy is a rural region well known for its cheeses and apple cider. Head to Livarot to sample 1 of the 4 famed cheeses produced in Normandy, called Livarot. The 3 others are Camembert, Pont l'Evêque and Pavé d'Auge. Accompanied by a glass of sweet and crisp apple cider, the nutty and fruity taste of Livarot is sublime. The best place to sample Livarot is at the Fromagerie Graindorge. You'll learn how this cheese is produced and have the possibility to sample and purchase many local products. Accommodation wise, there's a variety of hotels in the city of Lisieux, 15 km away from Livarot and somewhat livelier.
Location: Rue Général Leclerc in Livarot, France
Open: Monday-Friday from 10 am to 12.30 am and from 2.30 am to 5.30 pm, closed on Sundays
Phone: +33 (0)2 31 48 20 00
9
Herring and scallops in Dieppe
Sample healthy and tasty seafood on the Port of Dieppe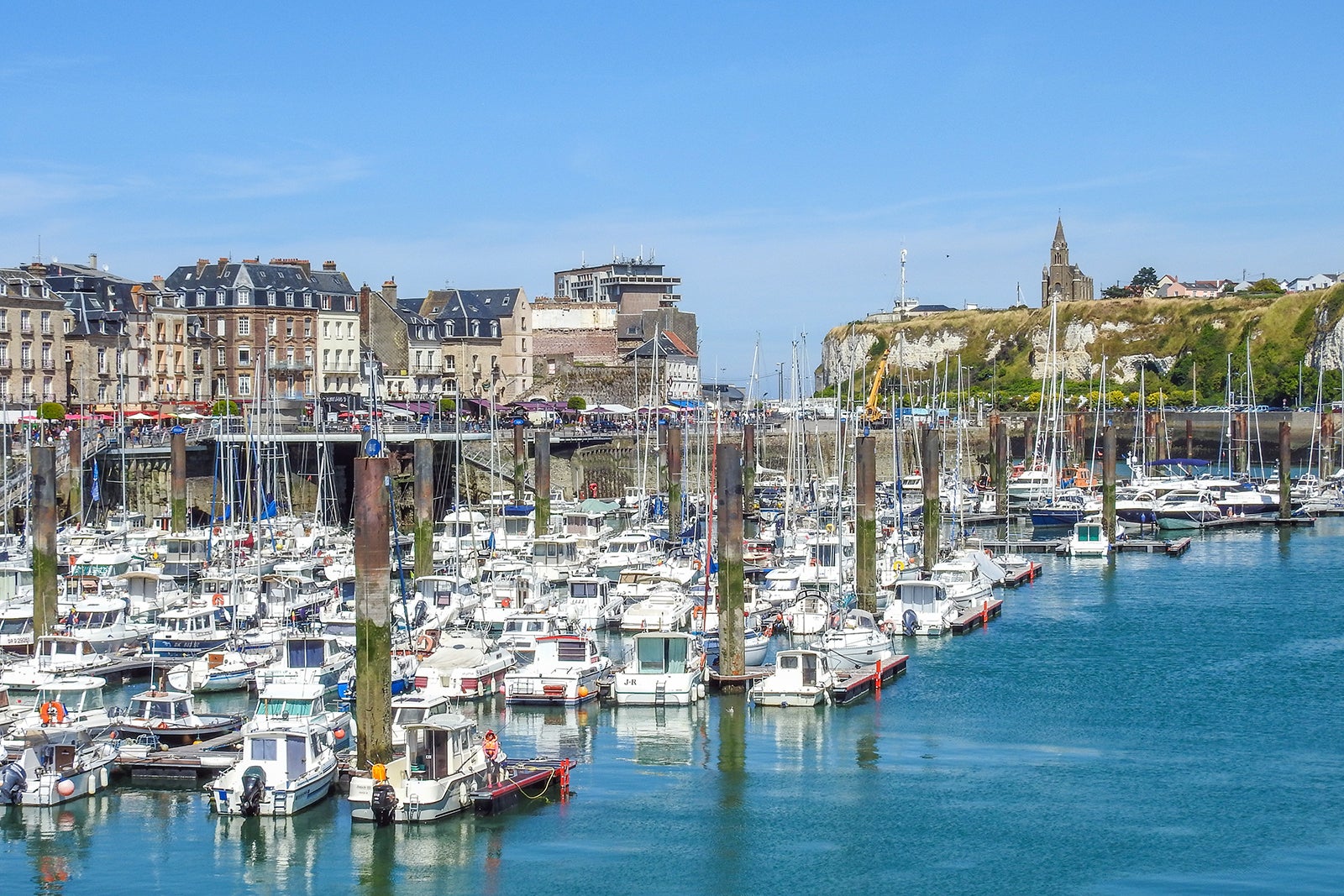 If you're looking to indulge in healthy food during your holiday in Normandy, head to Dieppe. Two beneficial and delicious sea products can make your day if you head to the Port of Dieppe: herring (a fish full of Omega 3) and scallop (a shellfish that contains 80% of protein). Dieppe is a quaint seaside town located about 50 km north of Rouen. On the pier, some of the recommended seafood restaurants include Restaurant du Port and Taverne du Pirate on Quai Henry IV, and Le Turbot on Quai du Carénage. Besides your culinary visit, you could extend your stay by booking an extra night in a hotel located in central Dieppe to visit the 15th-century castle and the churches of Saint-Jacques and Saint-Rémi.
Location: The Port of Dieppe is located next to the beach, on the northeast side of the city
Back to top