13 Weird and Quirky Places in and Around Prague
Why Prague is a Peculiar Capital
Beneath Prague's cityscape of monumental castles and towering landmarks, there's a host of weird and quirky places that you can stumble upon in and around the Czech capital. We've gathered most of the unusual sights and experiences that can add some fun colours to your visit to this remarkable city.
Prague has long been known for its affinity with the occult, so why not pay a visit to an old alchemist's lab in the city? Or, if you're one with a knack for the macabre, head out to an ossuary that's built of human skeletons. A handful of spots are entwined in myths and legends, and theatres offer unordinary yet spectacular shows. Read on to learn why Prague is a peculiar capital to visit.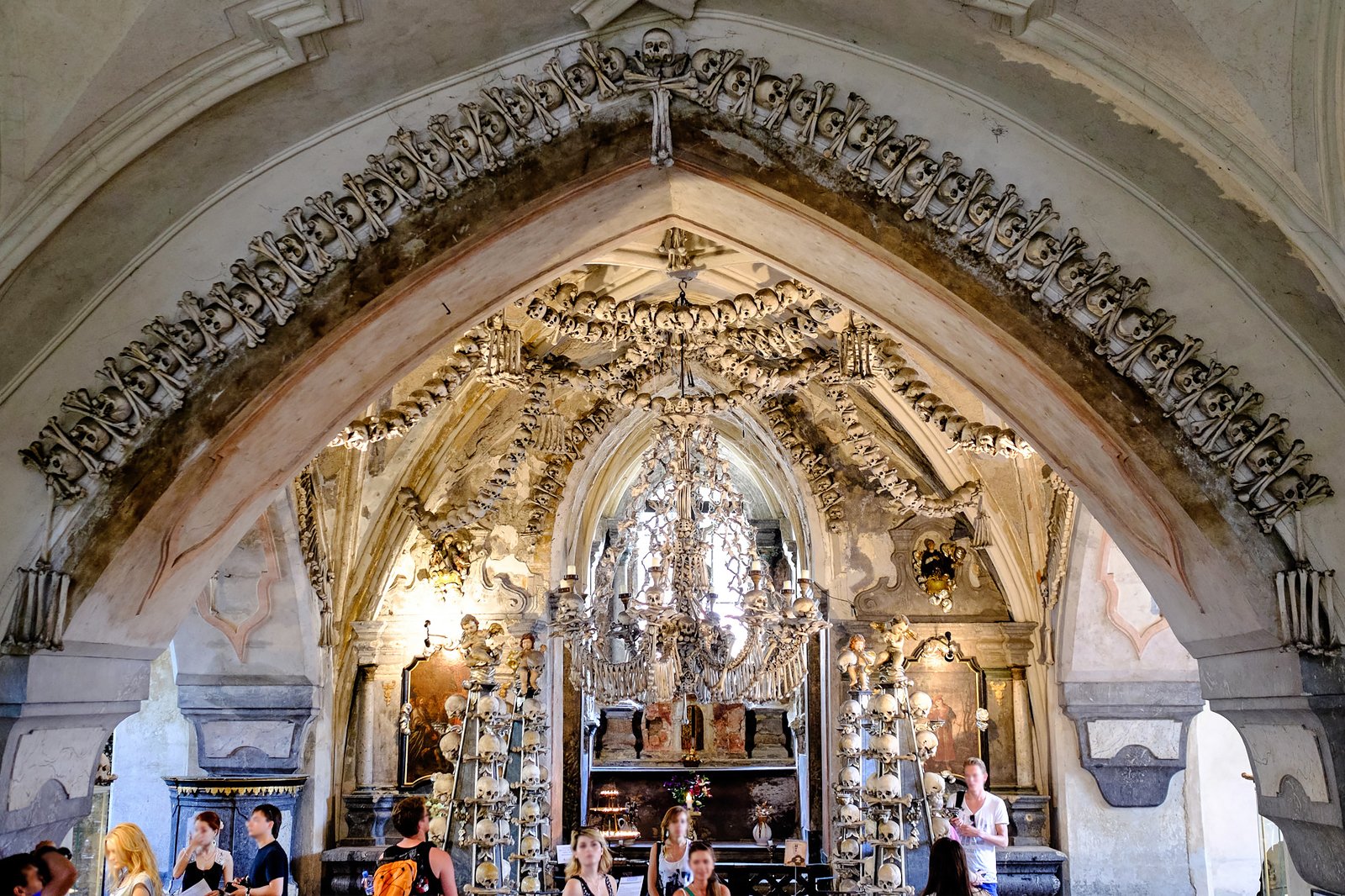 Sedlec Ossuary
Enter a chapel of bones
Sedlec Ossuary is probably the most macabre Roman Catholic chapel you'll ever visit. Europe has a good collection of 'bone churches' – places of worship made up of human skulls and skeletons – and this one in the Czech Republic has an especially intricate design.
The chapel of bones features skeletal remains from about 70,000 people, made into décor and furniture: a big and ghastly chandelier, skull candelabras and glass cabinets displaying hundreds of bones. You can reach the ossuary in an hour's drive east from Prague.
Location: Zámecká, 284 03 Kutná Hora, Czech Republic
Open: April–September: daily from 8am to 6pm (9am to 5pm in October and March). November–February: daily from 9am to 12pm and 1pm to 4pm
Phone: +420 326 551 049
photo by Davis Staedtler (CC BY 2.0) modified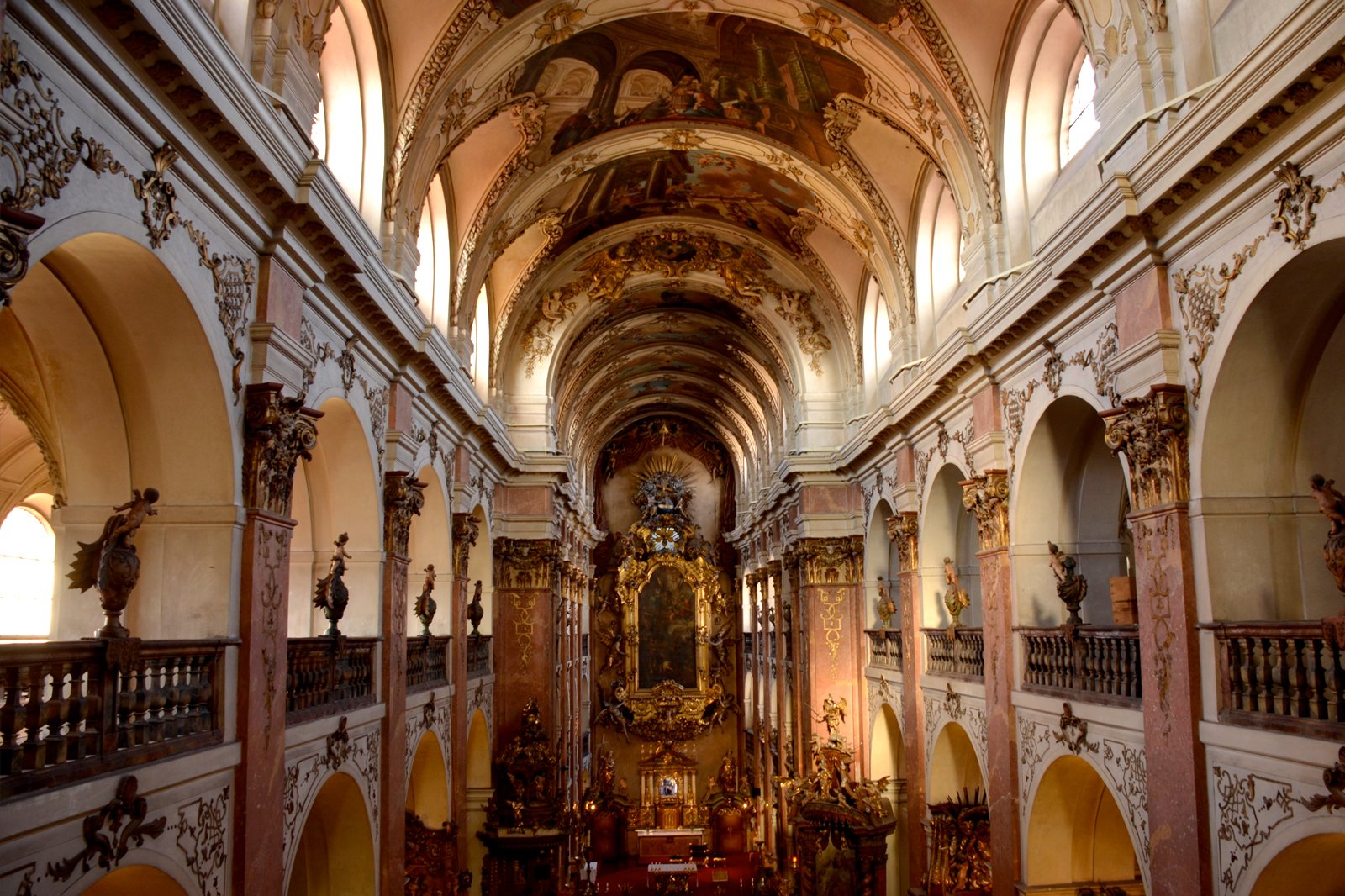 Basilica of St. James
Spot the dangling mummified thief's arm
The 13th-century Franciscan Kostel svatého Jakuba Většího (Basilica of St. James the Greater) is a baroque church in the heart of Prague's Old Town. Past the impressive mosaics, beautifully gilded altar, and tomb of Count Vratislav of Mitrovice, play 'I spy' for a peculiar dangling object near the tomb entrance.
This black and withered thing is the 4 centuries-old forearm of a thief who attempted to steal from the high altar, but somehow got his arm 'seized' by the statue of the Virgin Mary. The monks caught the stuck thief and cut his arm off.
Location: Malá Štupartská 635/6, 110 00 Staré Město, Czech Republic
Open: Daily from 9.30am to noon and from 2pm to 4pm
Phone: +420 224 828 814
photo by Flejberková Monika (CC BY-SA 4.0) modified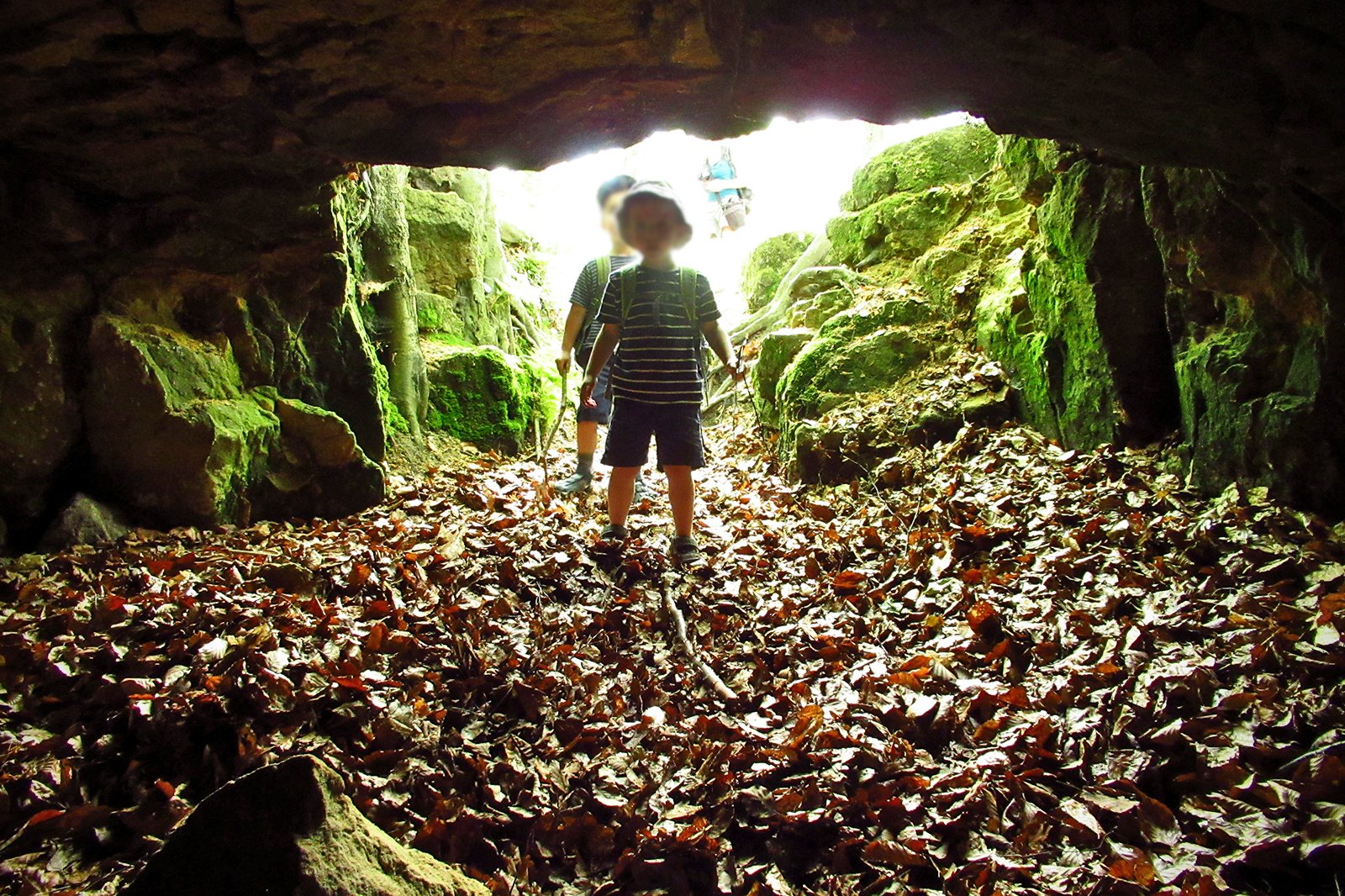 Houska Castle
A 'gateway to hell'
Houska Castle, a historical gothic landmark north of Prague, may not look fairytale-like, but it's a site of eerie legends. This 13th-century, rocky cliff fortress is believed to have been built over a large bottomless hole, a 'gateway to hell', to seal it. Dark, winged beasts and otherworldly creatures were said to have crawled out of it.
Having served as a place where the Germans used to conduct inhumane experiments on prisoners of war during WWII simply makes way to crazier imaginations.
Location: Houska 1, 471 62 Doksy, Czech Republic
Open: Tuesday–Sunday from 10am to 6pm (closed on Mondays)
Phone: +420 728 351 101
photo by Ondrej Pospisil (CC BY-SA 2.0) modified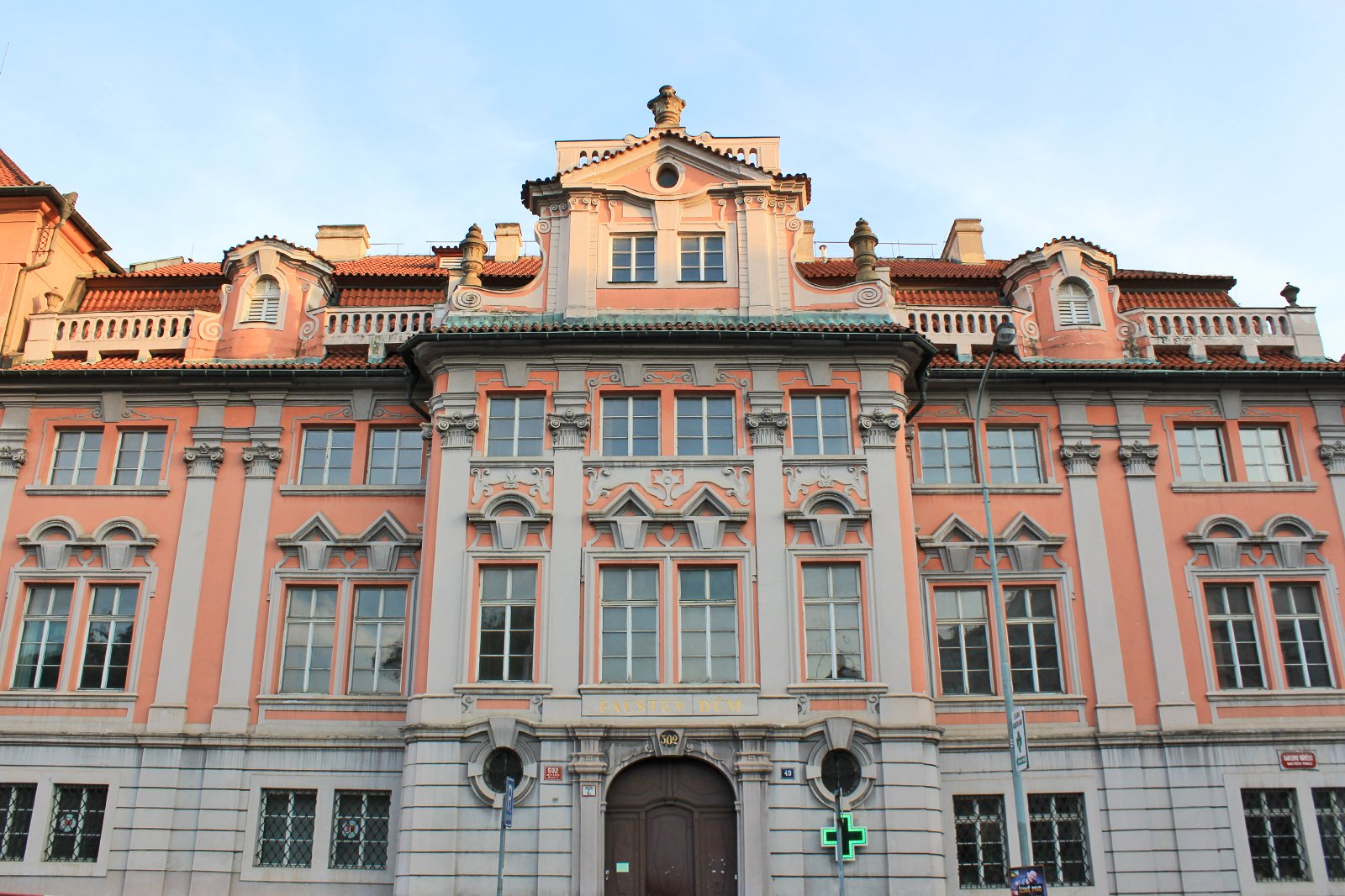 Faust House
Prague's 'haunted house'
The Faust House in Prague's Charles Square was named after the legendary German figure who's known for black magic and having made a pact with the devil. The mansion had a long list of successive inhabitants, ranging from alchemists and eccentrics who've mostly contributed to the house's reputation.
To name a few, an astrologer lived there with his sons, only to have one kill another over a rumoured treasure hidden in the mansion. A mad scientist blew big holes in the ceilings during his chemistry experiments and even mechanically rigged the doors to open by themselves.
Location: Na Slovanech, 128 00 Nové Město, Czech Republic
photo by Øyvind Holmstad (CC BY-SA 3.0) modified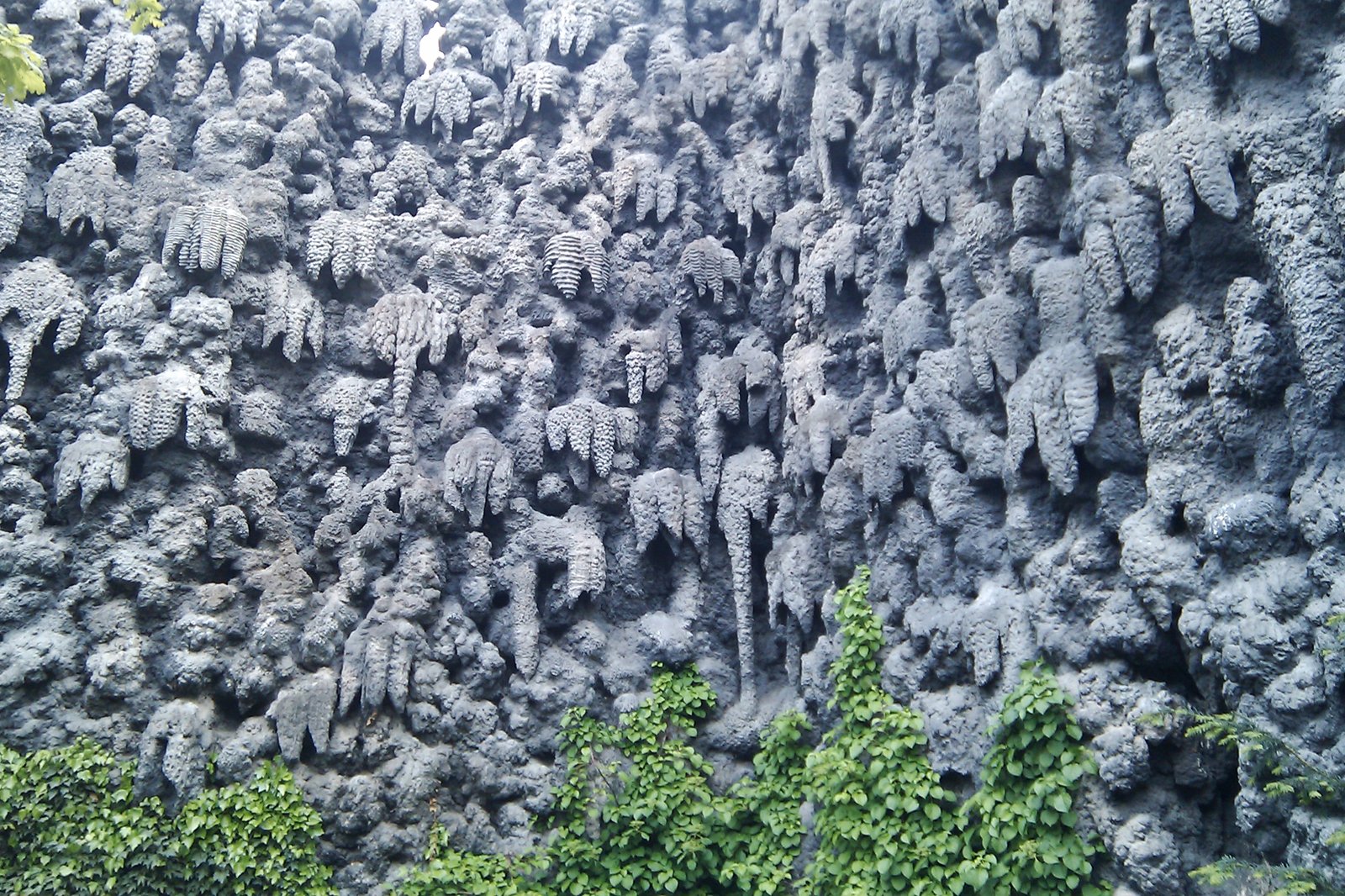 Dripstone Wall at Wallenstein Palace and Gardens
A grotesque grotto
Deep within the lush and beautifully manicured gardens of Prague's baroque Wallenstein Palace, you'll come across a hidden grotesque feature known as the Dripstone Wall. It is believed that the grey wall was designed to mimic stalactites in a limestone cave. The result, however, made way to varying interpretations.
The wall is set in such stark contrast to the green lawns and colourful flower gardens. Look long enough, and the reliefs start to look like deformed hands and faces, and sometimes even animals.
Location: Letenská 123/4, 118 00 Malá Strana, Czech Republic
Open: Monday–Friday from 7.30am to 6pm, Saturday–Sunday from 10am to 6pm
Phone: +420 257 075 707
Families
History
Photo
Unusual
photo by Tugrul Kagan Ates (CC BY 3.0) modified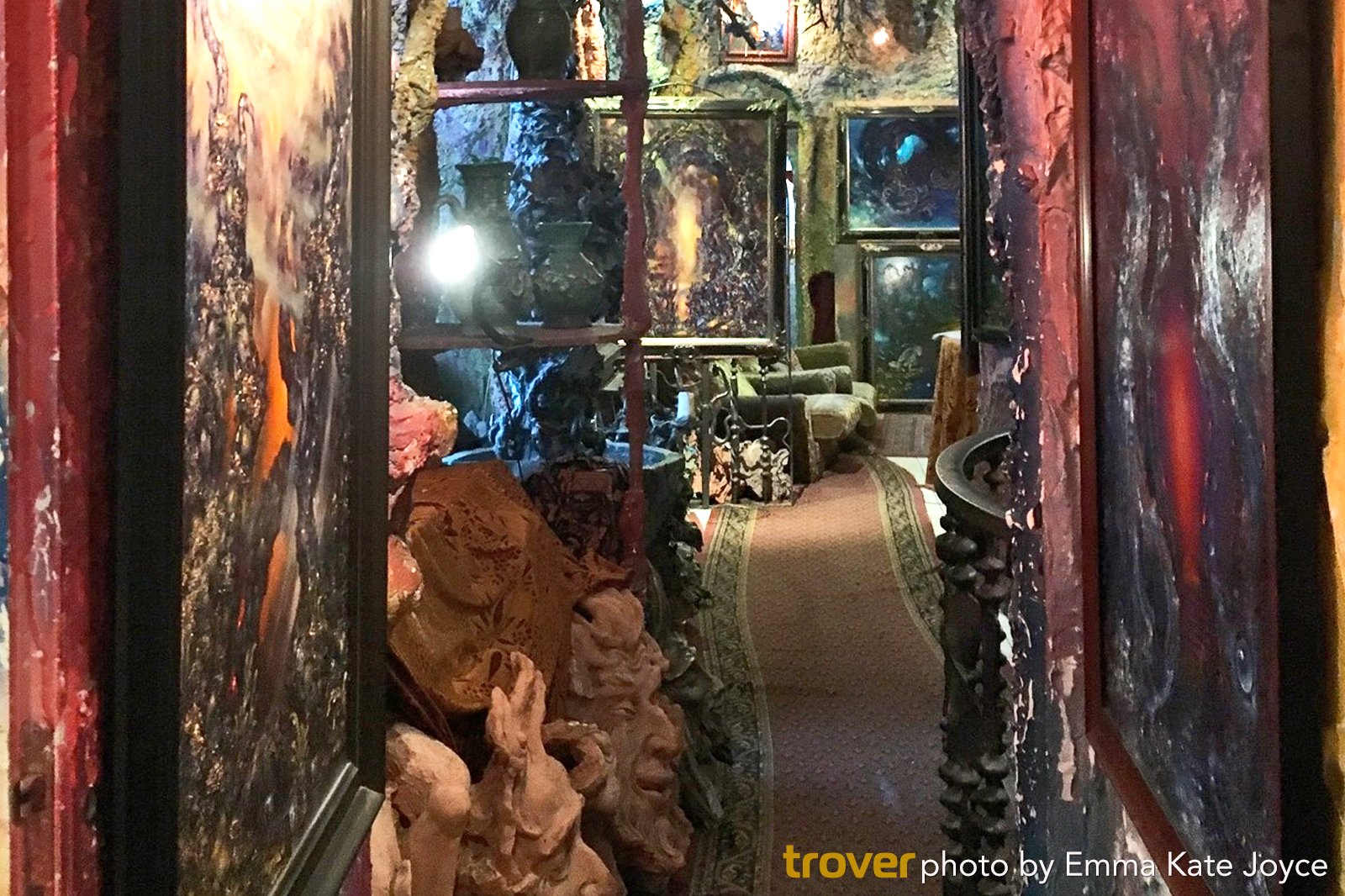 The Magical Cavern in Petrin Park
Enter a mad artist's lair
This quirky art gallery, deep within Prague's Petrin Park, might be one of the most imaginative places you'll ever visit. It isn't for everyone, though – it can be a tad creepy. Free to enter, the gallery's weird décor and vibe inside is accentuated by the peculiar hospitality of the artist-host himself, the eccentric Reon Argondian.
Reon won't hold back to passionately talk to you about astrology and his fantasy, dream-like paintings. Most of his unicorn art and dreamscapes are set in his dreamland called Argondia.
Location: Petřínské sady 417/5, 118 00 Prague 1, Czech Republic
Open: Daily from 10am to 10pm
History
Photo
Budget
Unusual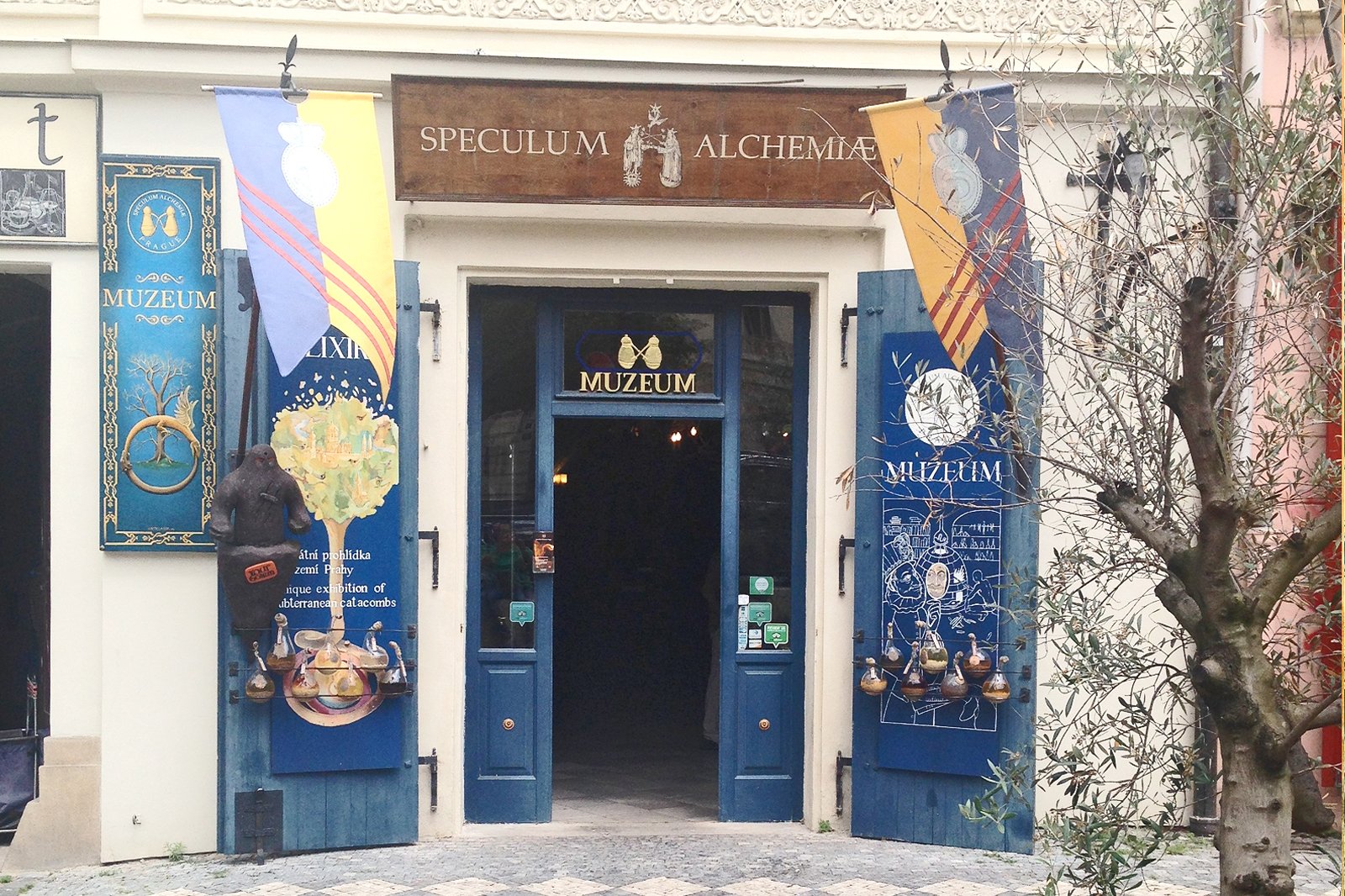 Speculum Alchemiae
The museum of alchemists and magicians of Old Prague
For a better grasp of the Czech Republic's medieval affiliation with alchemy, enter Speculum Alchemiae. Dubbed the 'museum of alchemists and magicians of Old Prague', this small museum features an old, underground lab, complete with dusty vials, pestles, scrolls and distillers.
Tour guides (who speak English) show you around the museum, which happens to be one of the oldest houses in Prague. You'll also get to hear mythological stories and learn about interesting legends. You can buy an elixir at its gift shop and bring a bit of the occult home.
Location: Haštalská 1, 110 00 Staré Město, Czech Republic
Open: Daily from 10am to 6pm
Phone: +420 773 645 234
photo by Davide Mauro (CC BY-SA 4.0) modified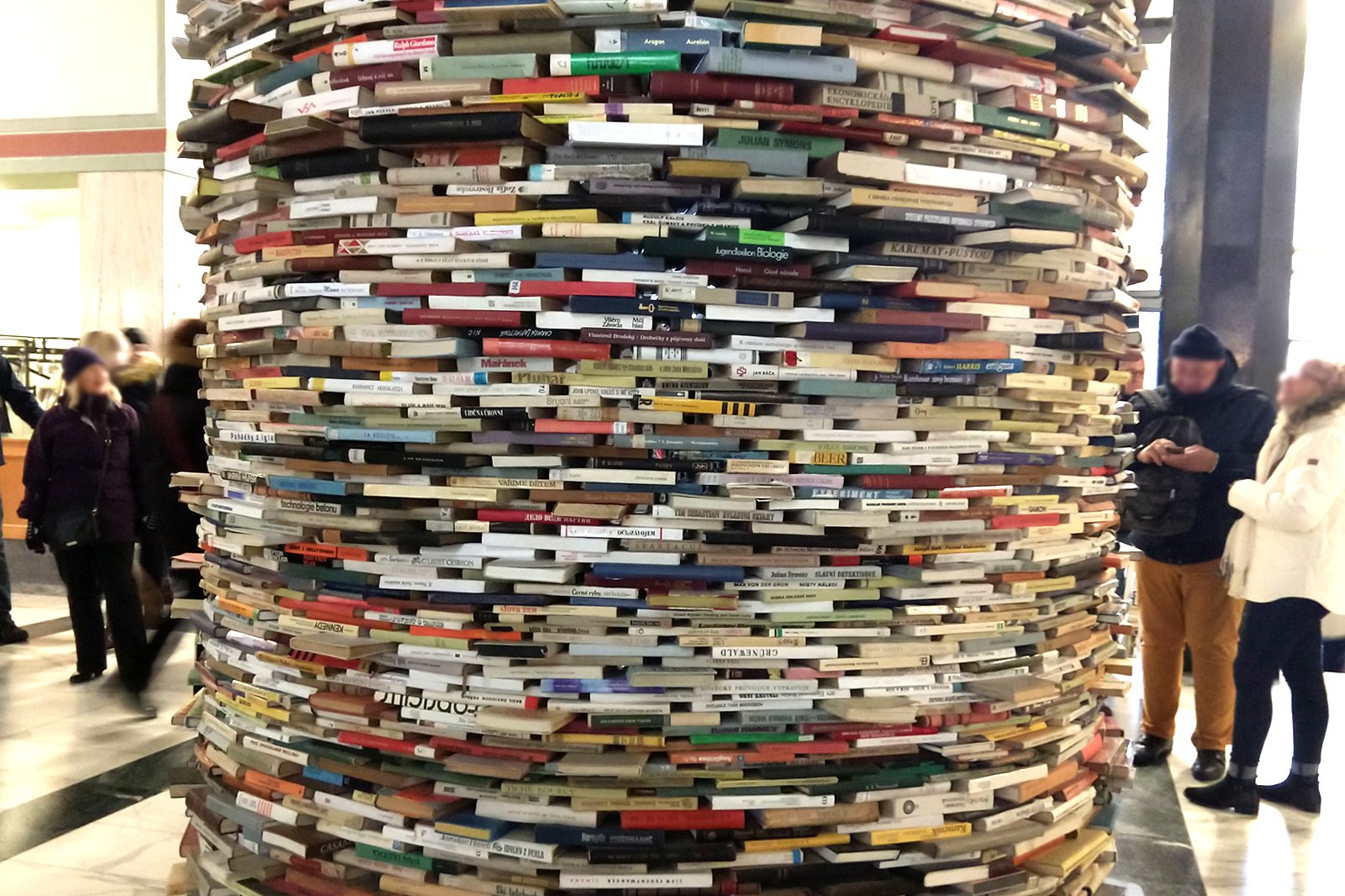 Idiom Installation at the Municipal Library of Prague
A spiralling tower of books
The Municipal Library of Prague is home to the Idiom Installation, a mesmerising art installation that's made entirely of books. It's the work of Slovakian artist Matej Kren, who carefully stacked hundreds of books into a spiralling tower that reaches up to the library's ceiling.
Kren deliberately left a crag in one side of the towering installation for viewers to easily peek through. She also placed mirrors, resulting in a dizzying illusion of a never-ending spiral of books.
Location: Mariánské nám. 98/1, 110 00 Staré Město, Czech Republic
Open: Monday from 1pm t0 8pm, Tuesday–Friday from 9am to 8pm, Saturday from 1pm to 6pm (closed on Sundays)
Phone: +420 222 113 555
photo by amanderson2 (CC BY 2.0) modified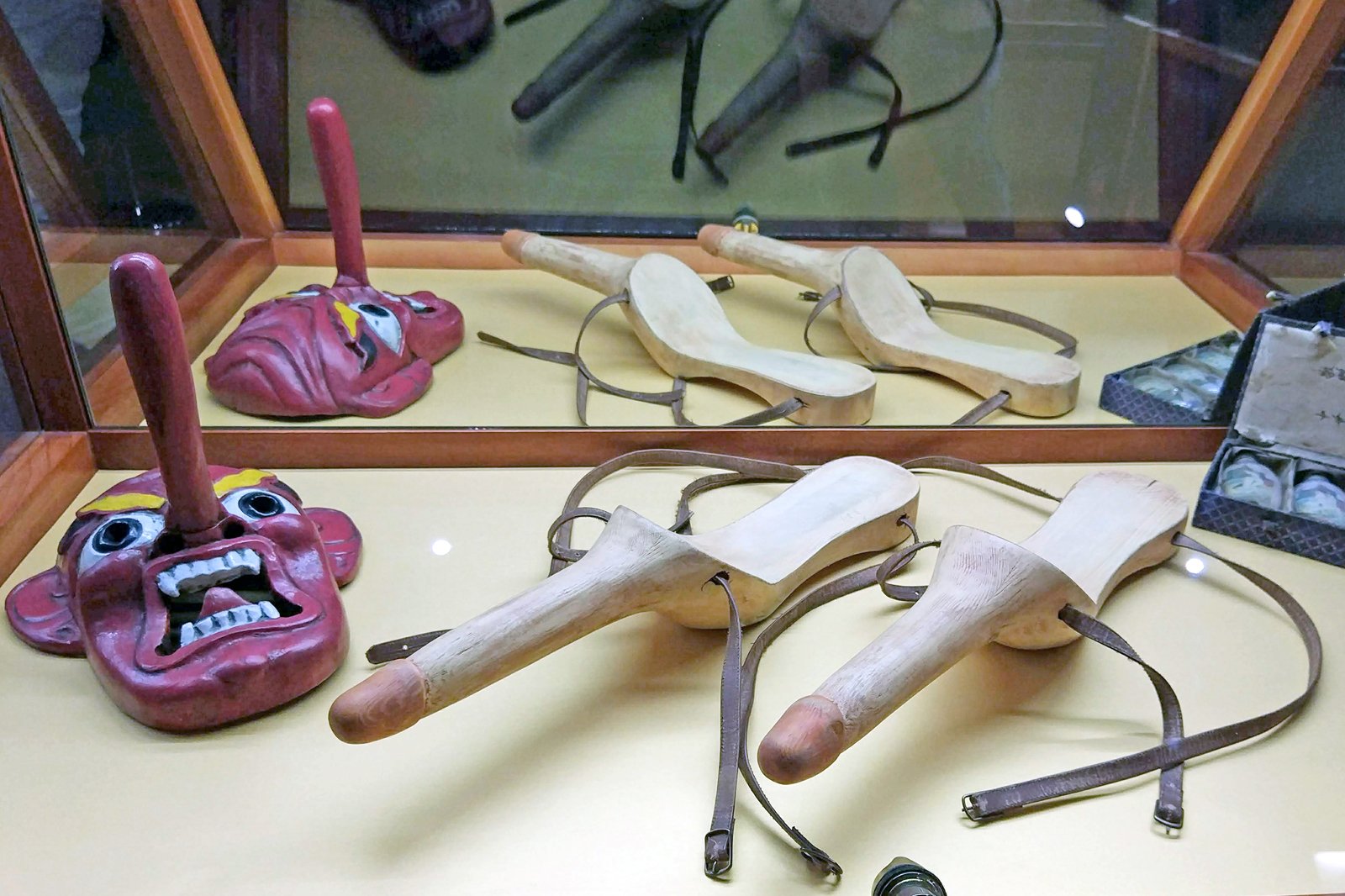 Sex Machines Museum
You know you're curious
Prague's Sex Machines Museum is not your regular arts and jewellery showcase. It features interesting exhibits that range from glass dildos in varying shapes and sizes to toys and devices that are testament to human ingenuity.
There are modern static bikes with saddles bearing pleasure contraptions as well as furry teddy bears with phalluses.
Some items on display come straight from the land of fetishism and BDSM, like leather suits, gas masks, straps, and locks and chains.
Location: Melantrichova 476/18, 110 00 Staré Město, Czech Republic
Open: Daily from 10am to 11pm
Phone: +420 227 186 260
photo by Zoq-Fot-Pik (CC BY-SA 4.0) modified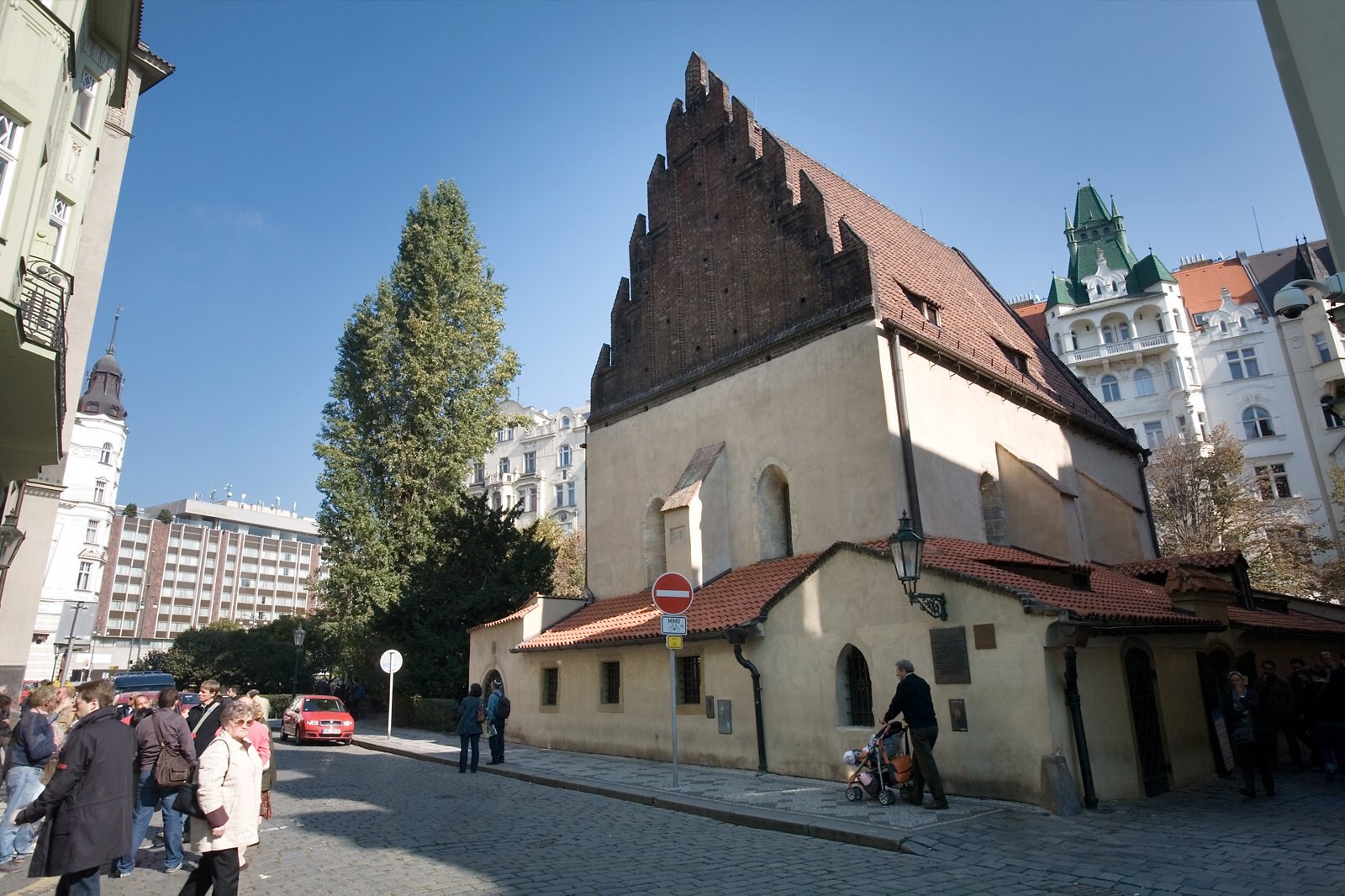 Old-New Synagogue
Home of Prague's legendary Golem
The Old-New Synagogue is a well-preserved 13th-century synagogue and a monumental landmark in Prague's Jewish Ghetto. You can usually take a seat to absorb the place's historical atmosphere. Tall and enduring tales tell of the medieval building's attic (not open to the public) keeping the body of the legendary Jewish mud monster known as golem.
Legend says that to defend the ghetto from anti-Semitism, the late 16th-century rabbi of Prague, Judah Loew ben Bezalel, created golem by taking clay from the Vltava riverbank and bringing it to life through magic spells. Rather, the monster wreaked havoc through the village, and was deactivated and never to be brought to life again.
Location: Maiselova 18, 110 01 Staré Město, Czech Republic
Open: January–March: Sunday–Thursday from 9am to 5pm, April–October: Sunday–Thursday from 9am to 6pm, November–December: Sunday–Thursday from 9am to 5pm
Phone: +420 224 800 812
photo by Jorge Royan (CC BY-SA 3.0) modified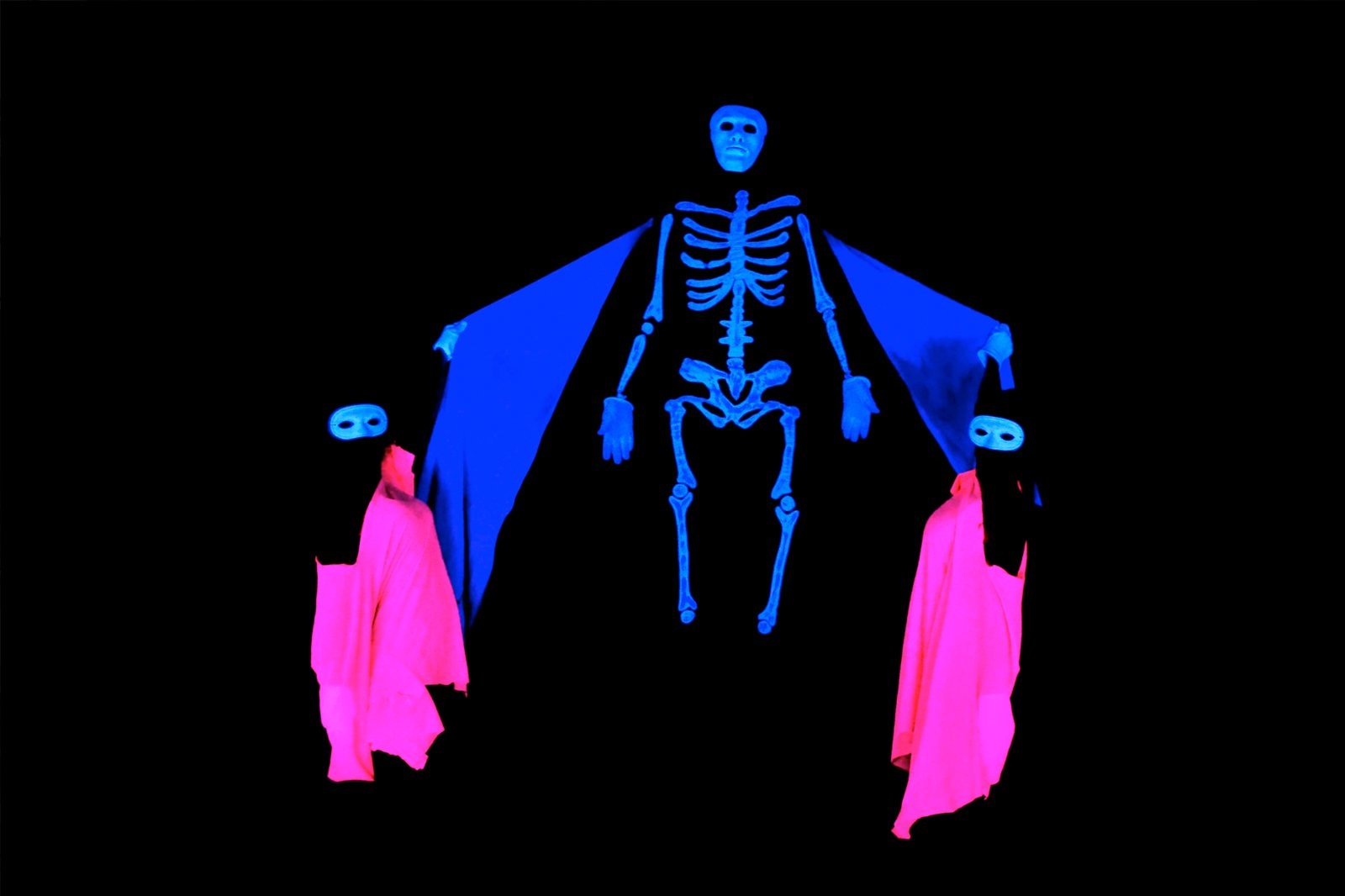 HILT Black Light Theatre
For a different kind of spectacle
Prague's Černé Divadlo (Black Light Theatre) uses black light and special lighting techniques to bring out the dramatic and illusory effect of its onstage performances. Against a pitch-black backdrop, projection and 3D mapping help bring floating and colourful figures, from classic tales like Cinderella, to life.
The shows aren't always classic retellings, though. They can range from cool breakdancing skeletons, ballets and other trippy dance routines to unusual magic shows. Tickets are from 590 Kč for adults and 390 Kč for kids under 12 years.
Location: Betlémská 286/5, 110 00 Staré Město, Czech Republic
Open: Shows mostly start at 8pm
Phone: +420 735 995 934
Couples
Families
Nightlife
Unusual
photo by Black light theatre Prague (CC BY-SA 4.0) modified
The Brno Dragon at Moravia's Old Town Hall
Climb the tower for great views
The gothic Old Town Hall of Moravia is home to the Brno Dragon, a legendary creature that threatened the town's citizens and livestock. Well, the 'dragon' looks more like a large, stuffed croc rather than any winged dragon of medieval folklore. It now hangs from the hall's passage ceiling.
The majestic town hall itself is a sight for sore eyes with its gothic architecture and Renaissance wall reliefs. It also boasts a gallery. You can climb the hall's 63-metre-high tower for great views over the town.
Location: Radnická 8, 602 00 Brno-střed, Czech Republic
Open: Tuesday–Sunday from 9am to 10pm, Mondays from 11am to 10pm
Phone: +420 542 427 150
Museum of Medieval Torture
For when you have 'time to kill'
Interested in how people liked to brutally inflict pain upon others in medieval times? Enter Prague's Museum of Medieval Torture. It has all the macabre torture devices and weird-looking ancient instruments used during those dark ages. All are paired with clear descriptions (mostly also in English), to help you understand how they worked.
Weird stuff on display range from chastity belts (both for him and her), spiked chairs, dunking tanks and cucking stools, as well as straightforward tools and devices like jagged saws and hooks.
Location: Křižovnické nám. 194/1, 110 00 Staré Město, Czech Republic
Open: Daily from 10am to 10pm
Phone: +420 222 221 972