10 Best Foods in Melbourne You Must Try
Local Australian Dishes That Locals Love
Melbourne is arguably Australia's foodiest city, welcoming a wide range of exotic cuisines and making them part of the culture of the city. While famous for its coffee shop culture and a liberal, forward-thinking scene, you'll still find the 'true blue' Aussie classic dishes in Melbourne – especially meat pies if you go to watch live rugby or cricket. Have a look at some of the best food to eat in Melbourne.
1
Salt and pepper calamari
Classic seafood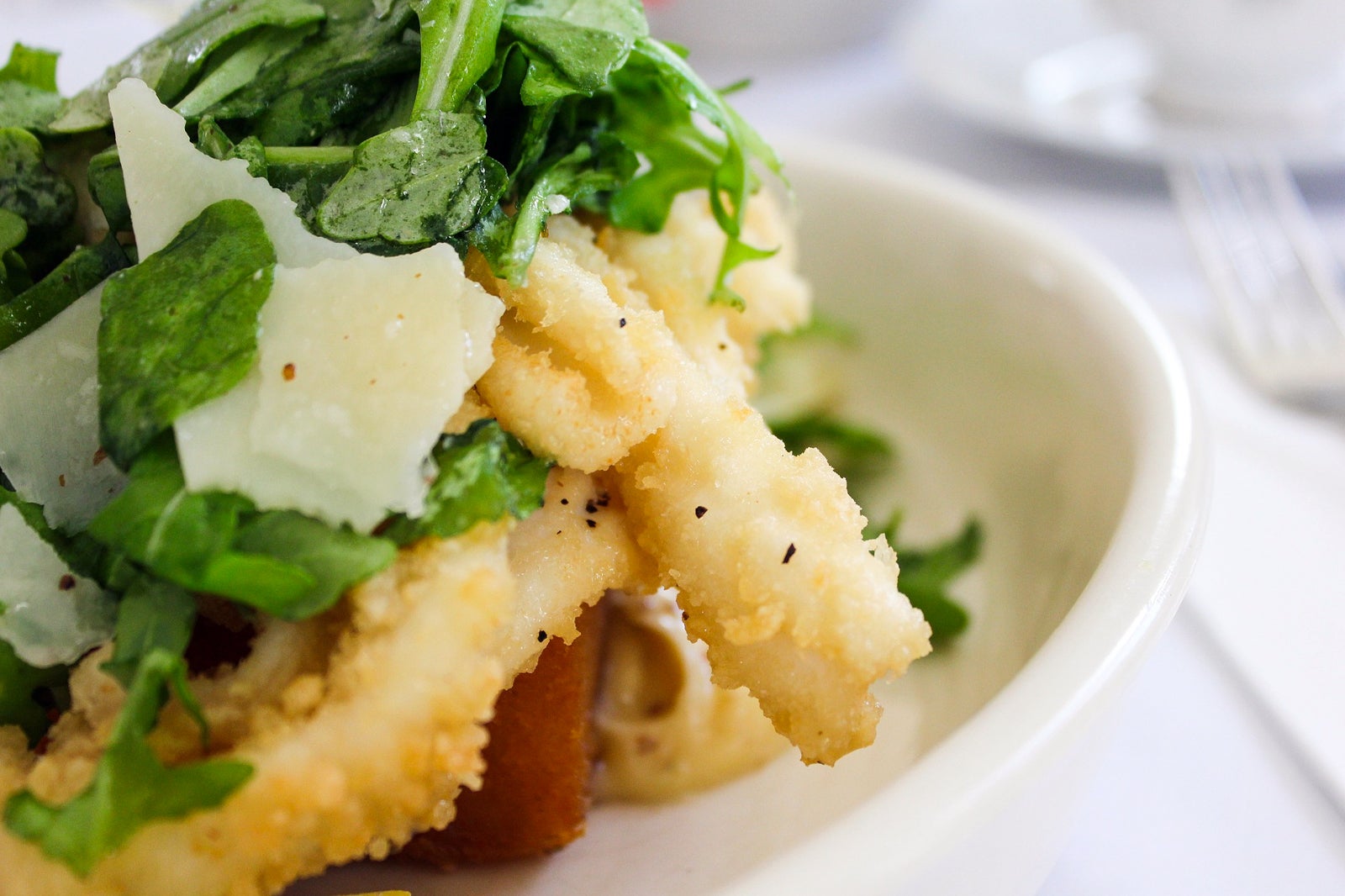 Salt and pepper calamari is a unique Australian twist on classic calamari from Cantonese cuisine. The squid or calamari is covered in a salt-and-pepper batter of rising flour and deep-fried, then served with a side salad and dipped in a spicy sweet chilli sauce.
With this simple preparation and flavours, the crunch and crispiness of the finished batter and the firm texture of the calamari rings give the dish its lightness and distinctive taste. The basic seasoning of the batter also works with the sweet heat and thickness of the chilli sauce.
2
Fairy bread
Makes you feel like a kid again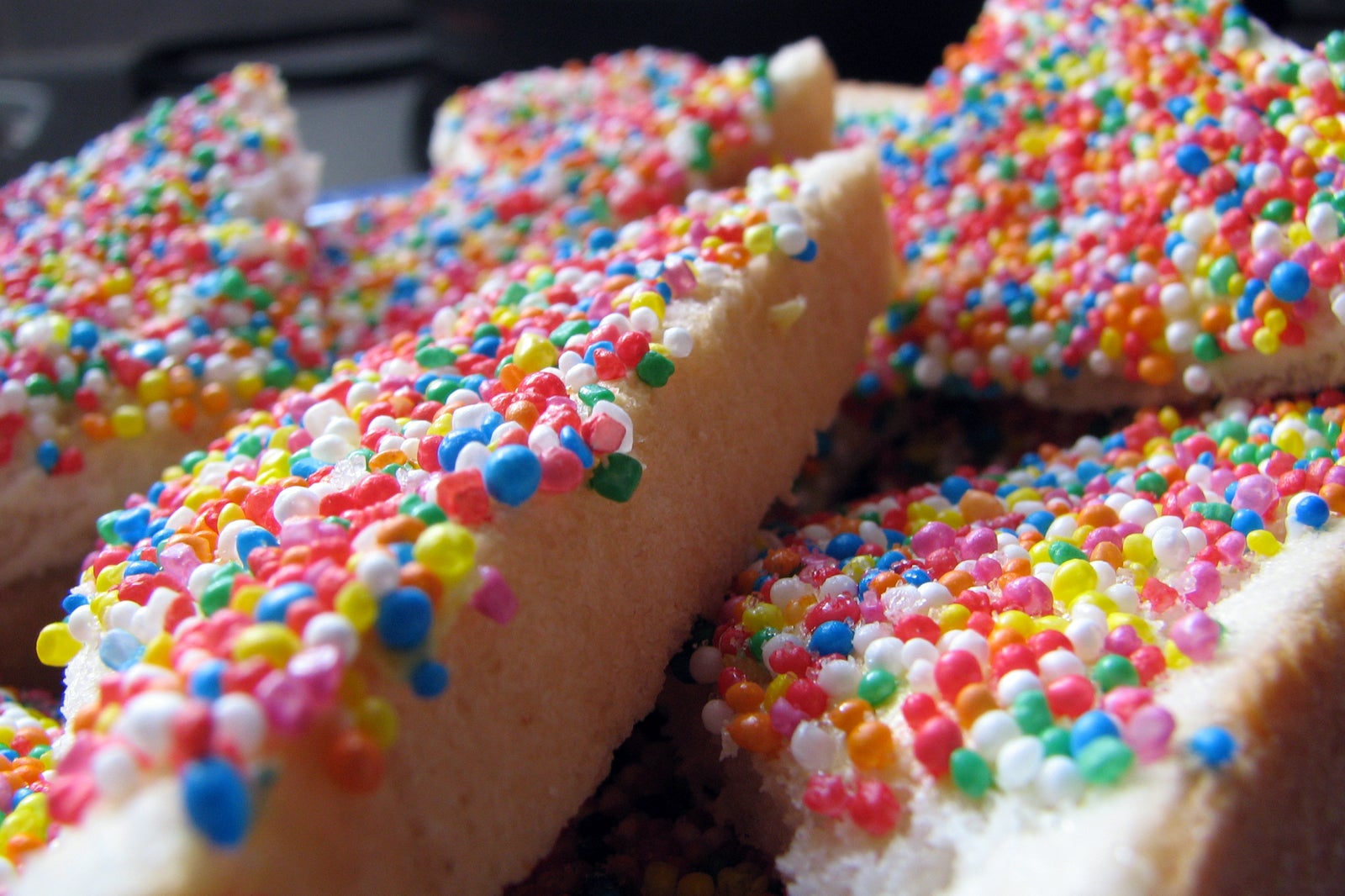 Fairy bread is an Australian staple at children's parties, due to its sweet flavour and colourful, festive appearance. The recipe is simple, combining plain, sliced white bread with rich butter or margarine, which is then covered with hundreds of sweet, colourful sprinkles and cut into small triangles.
This simple, sweet recipe is a mainstay in Australian culture and nostalgic for adults, as well as a delightful and much-loved treat for children. Though the recipe remains unchanged, it's common to find fairy bread in unique shapes, themed colours or iced for a creative twist on the classic.
photo by Jellyfish juice (CC BY-SA 3.0) modified
3
Chicken Parma
A deep-fried meat cutlet topped with mozzarella and parmesan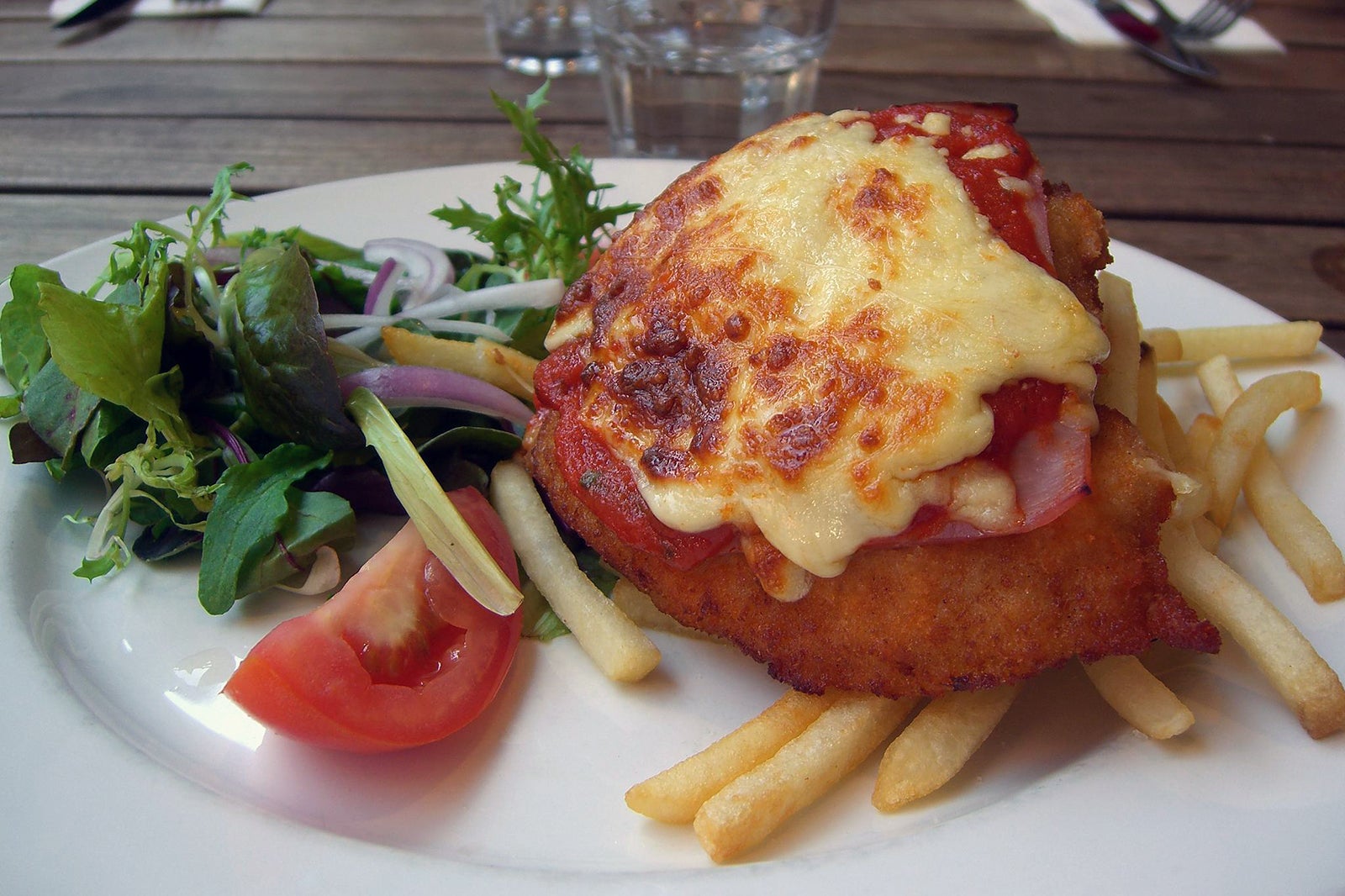 Parma has Italian origins, but the Australian-style version is commonly found in pubs and restaurants. Like the Italian version, chicken parma in Australia may use ripe eggplant, chicken or other meats and a tomato-based sauce with Italian seasonings and melted cheese, such as mozzarella.
For a unique twist, some recipes include ham or prosciutto with complementary flavours. Parma may also be used for sandwiches, pies or with pasta or combined with a side of chips or a salad. Parma is a popular staple in pub food, and Melbourne even has its own specialised chicken parma restaurant.
photo by Alpha (CC BY-SA 2.0) modified
4
Anzac biscuits
Taste a bit of Aussie history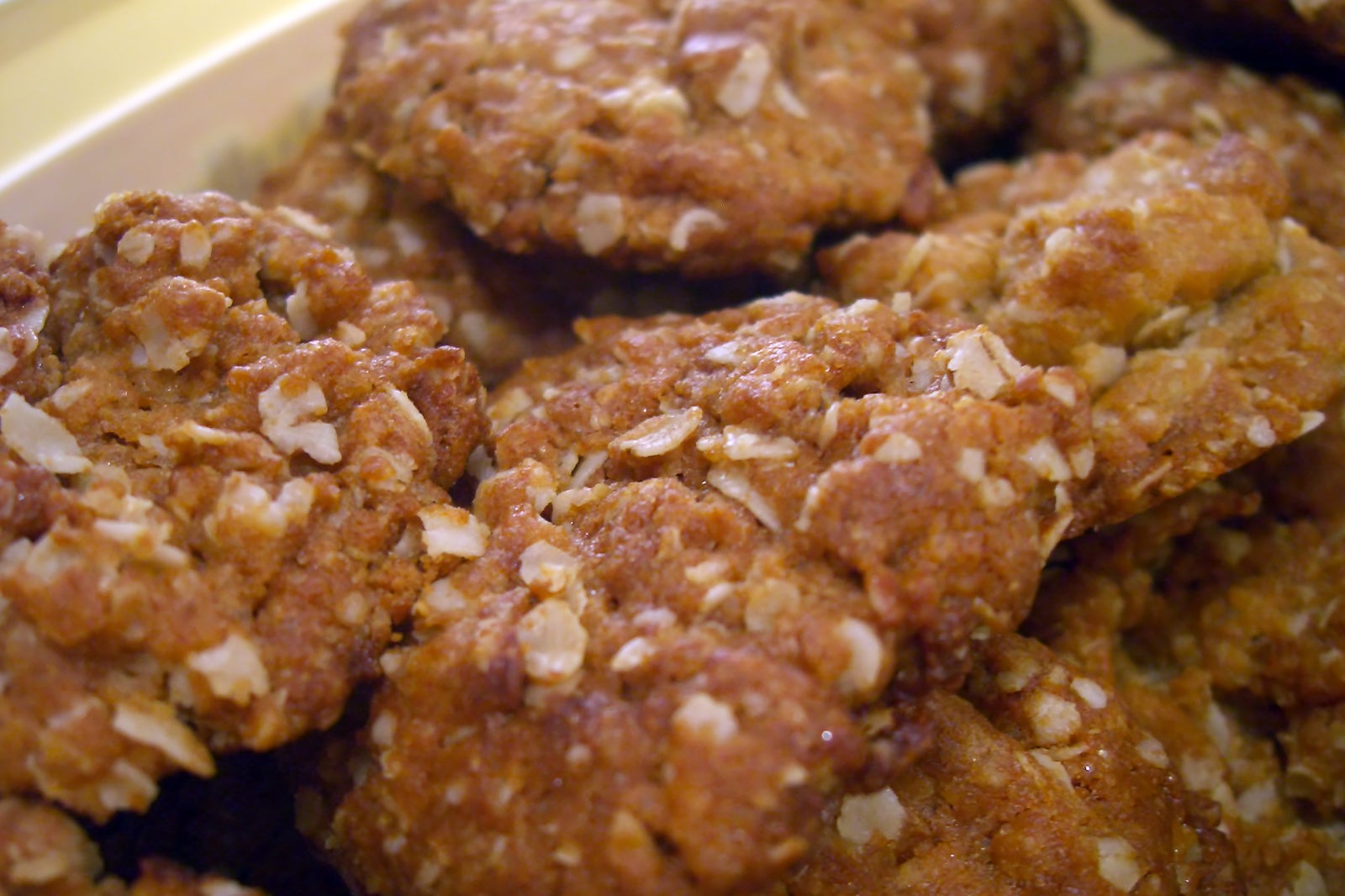 Originally known as a 'soldier's biscuit' or 'Anzac tile', the Anzac biscuit was a favourite of travelling sailors and soldiers for its simplicity and hardiness. Though it become more flavourful and sweeter over the years, the Anzac biscuit still uses traditional, primal ingredients to create its distinctive taste.
The modern Anzac biscuit favours oats, flour, coconut, butter, golden syrup and baking soda for a fluffy, light and sweet taste and a satisfying snack. These ingredients not only give it a unique flavour, but also give it the ability to be stored and preserved over long distances.
photo by pfctdayelise (CC BY-SA 2.5) modified
5
Dim sim
East meets west down under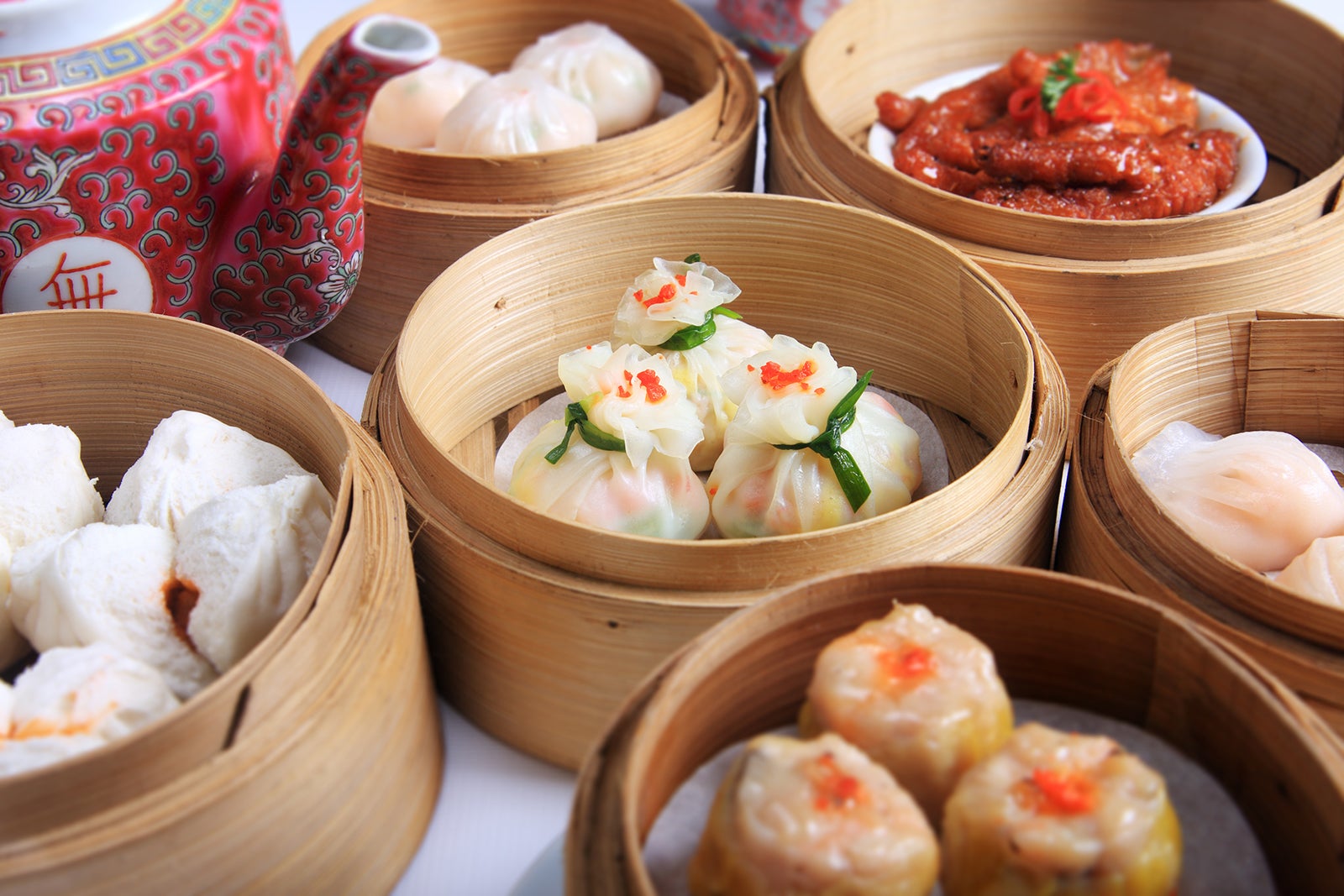 Melbourne's Chinatown is famous for its culinary invention, dim sim, a Chinese-inspired meat and vegetable dumpling snack. Consisting of minced meat, such as pork, lamb or chicken, cabbage and a unique blend of seasoning, the dumpling may be steamed, deep-fried or barbecued and dressed with soy sauce.
Restaurant and family recipes typically use traditional Chinese ingredients, such as shiitake mushrooms, cabbage or water chestnuts, though the dumplings have a thicker, doughy skin and robust flavour in comparison to Chinese-style dim sum dishes. Dim sim got its name when it was misspelled on a menu, which was then picked up by other Australian settlers.
6
Pigs in a blanket
Bite-sized goodness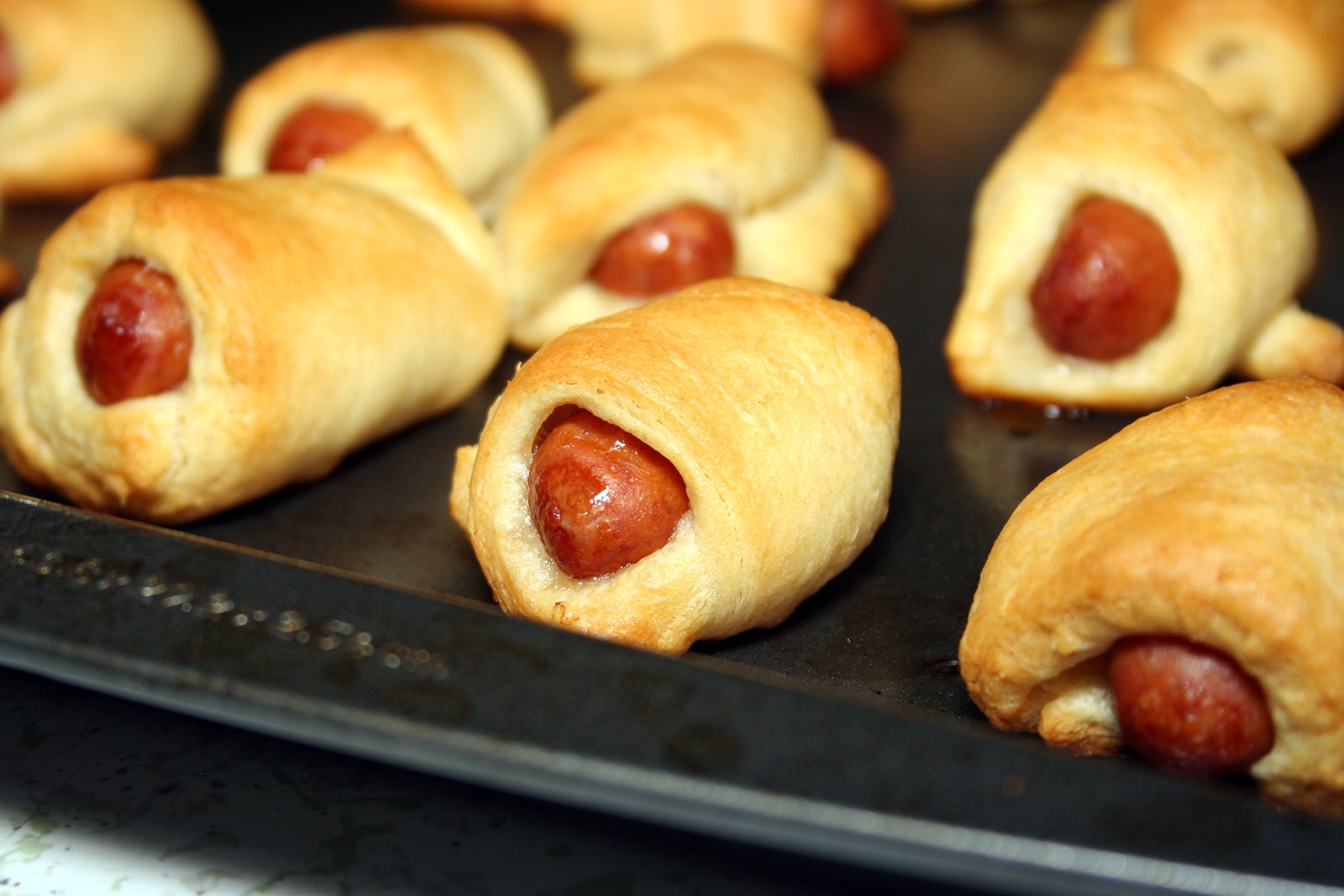 Pigs in a blanket is a sausage-based dish that is often found as an hors d'oeuvre, side dish or appetiser at pubs, restaurants and cocktail parties. This dish includes a cocktail frankfurter wrapped in bacon for a salty, savoury taste, or a puff pastry to balance the robustness of the meat with the light, airy texture and flavour of the pastry.
These bite-sized treats are typically served with mustard or aioli dipping sauce, as well as other unique condiment recipes. On occasion, the small sausage may be filled with cheese to add another layer of flavour to the recipe.
photo by David Kessler (CC BY-SA 2.0) modified
7
Spag bol
A modern take on classic Italian food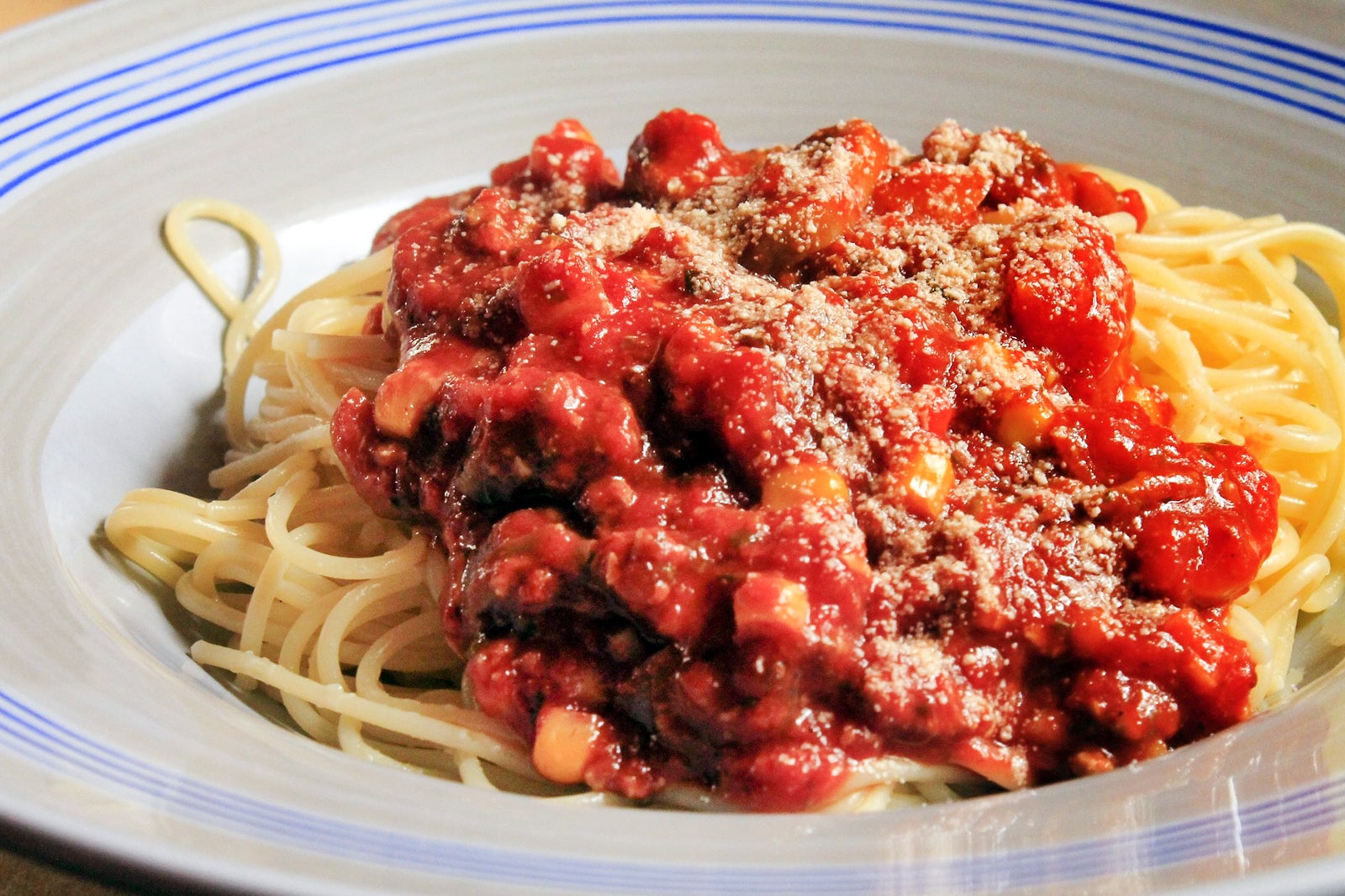 Inspired by Italian cuisine, spaghetti Bolognese, or spag bol, is a meat-based sauce that is used to dress lasagne or pasta. The Italian version uses several cooking styles, including sautéing and braising, as well as a sofrito of celery, onion and carrot with chopped beef or pork.
In the Australian version, the spag bol uses succulent Aussie beef or veal and locally grown mushrooms, truffles and herbs for a twist on the classic dish with the distinctive flavours of the country.
8
Vegemite
You either love it or hate it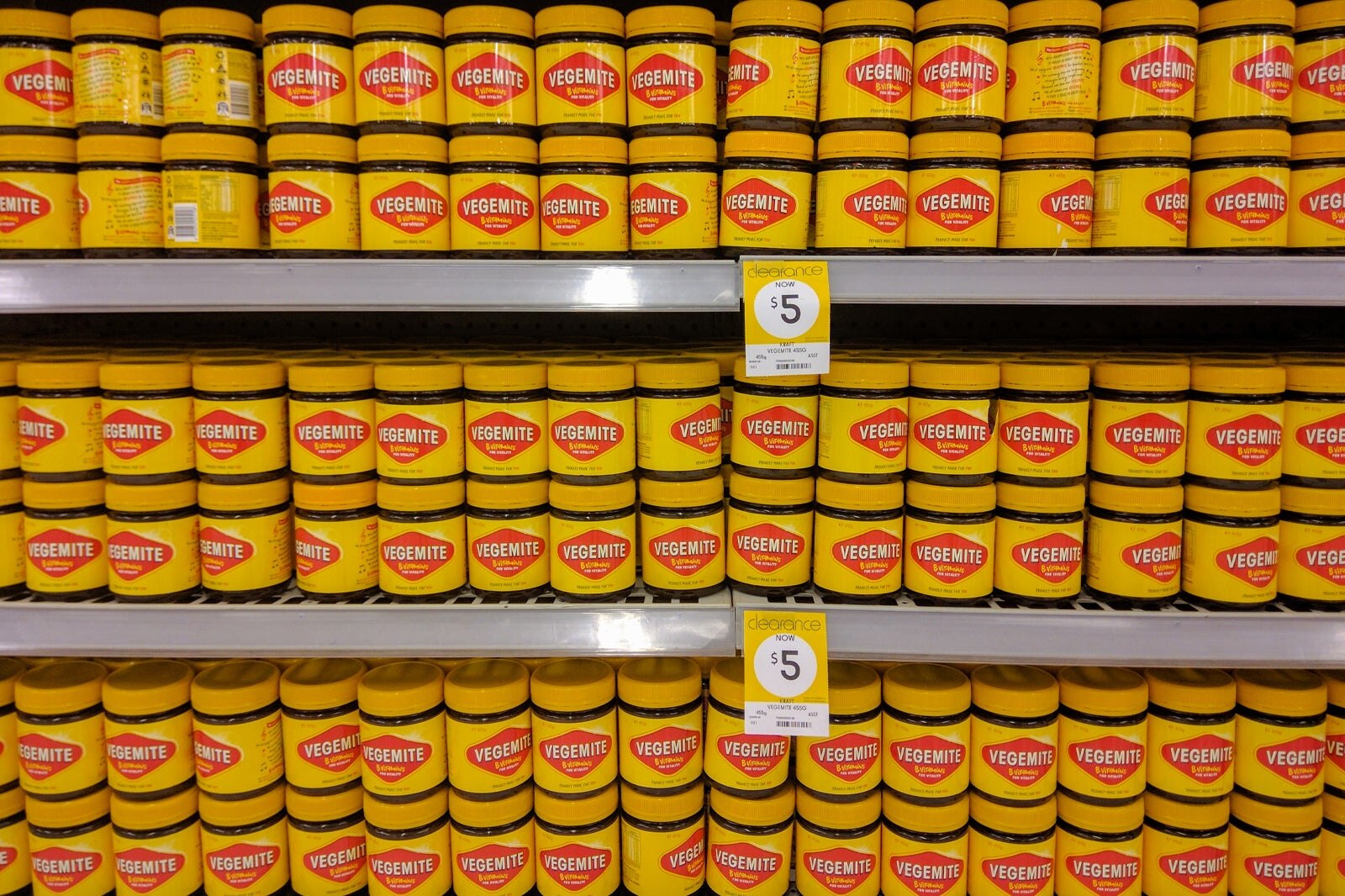 Similar to Britain's Marmite, Vegemite is a yeast spread that's commonly combined with a layer of butter or margarine and spread on toast, crumpets and cracker biscuits or used as a filling for pastries. It's enjoyed for breakfast, lunch and tea in Australia.
Marmite uses vegetable extract, but Vegemite is a dark brown paste that's more substantial and savoury, rather than sweet. It also has a salty, slightly bitter and malty taste that's similar to beef bouillon. To balance the strong flavour, you can add lettuce, avocado or tomato.
photo by Maksym Kozlenko (CC BY-SA 4.0) modified
9
Kangaroo
Surprisingly tender and great on the BBQ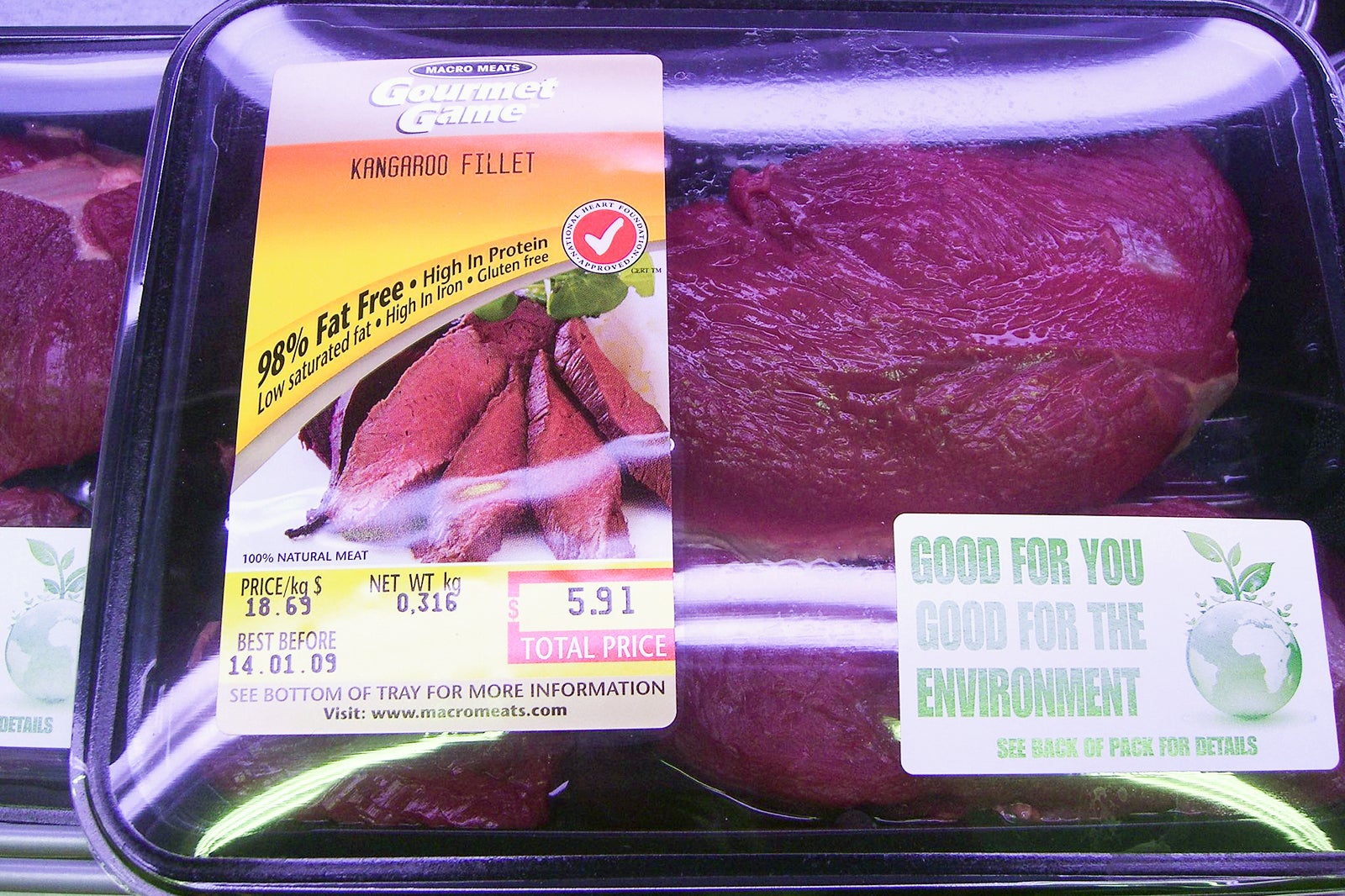 Kangaroos are abundant in many parts of Australia, low in fat and completely methane free, so its versatile meat is often used in traditional recipes.
Naturally low in cholesterol and high in iron, kangaroo meat is tender, sweet and can be grilled with distinct, powerful flavours like garlic, juniper, pepper, rosemary, plum, red currant and orange. Because of the low fat content, kangaroo meat is prone to drying out during cooking, so it's usually cooked rare to medium to preserve its tenderness and juiciness.
photo by Alpha (CC BY-SA 2.0) modified
10
Pie floater
Strange as it sounds, it's a pie in soup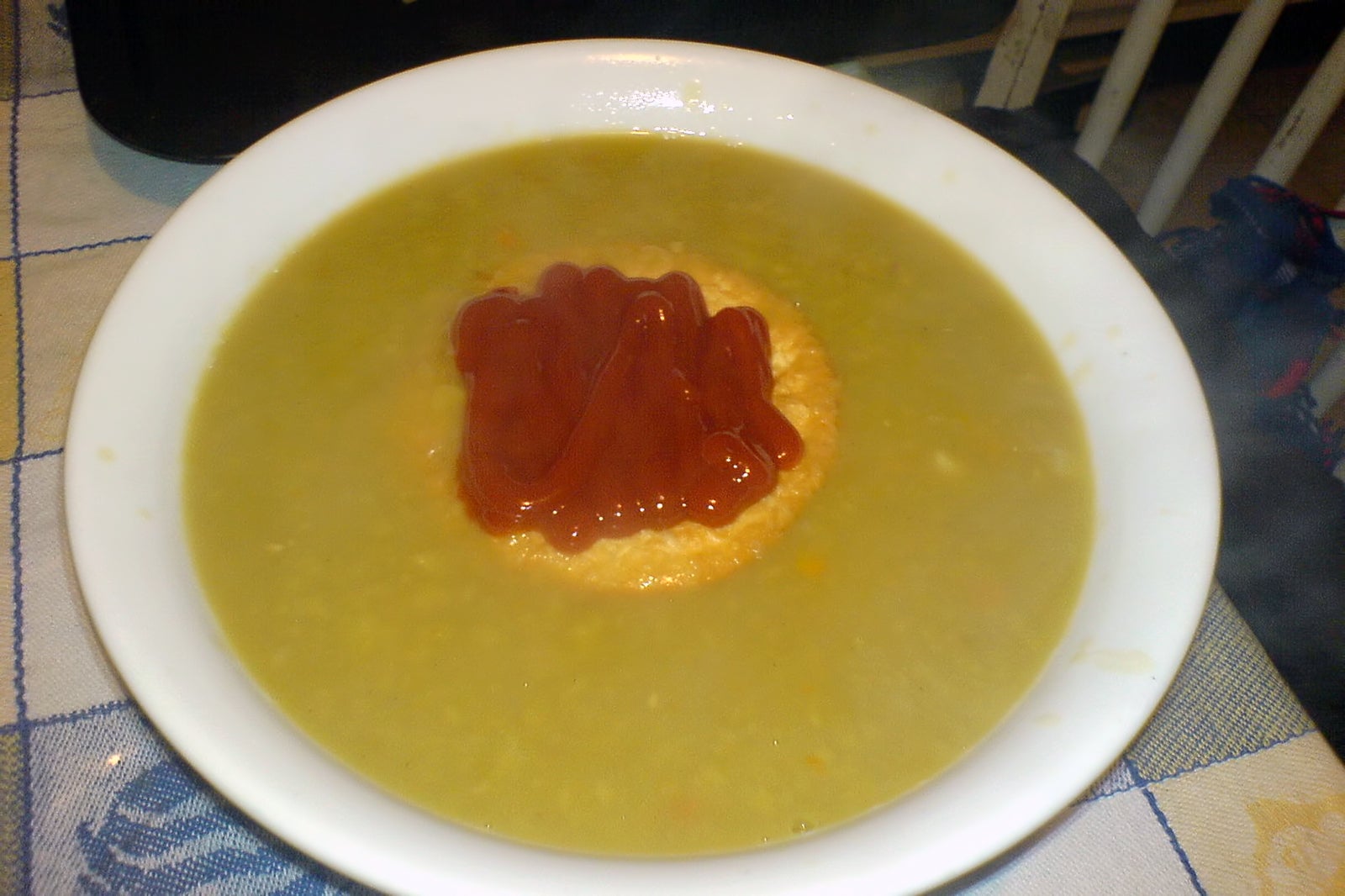 The pie floater is a traditional Australian dish that combines culinary influences of British settlers with local flavours. Pea soup with meat, a long-standing recipe in English culinary history, is combined with a traditional Australian style meat pie for a unique dish.
The pie itself is sitting or submerged in a bowl of thick pea soup from blue boiler peas, and chefs often use tomato sauce, salt pepper, mint sauce or malt vinegar to alter the flavours. The meat pie may include a variety of different meats common in Australia, such as beef, deer, rabbit, poultry or even kangaroo meat, for a leaner, healthier meal and lighter flavour.
photo by Craig Anderson (CC BY 2.0) modified