10 Romantic Ideas for a Honeymoon in Istanbul
What to Do on a Couples' Trip to Istanbul
Istanbul is an ancient city and has long been known for its exotic atmosphere, making it quite popular for honeymooners. Here's a shortlist of the more romantic spots, which gathers all the dreamy places in and around the city. We hope these will give you a memorable time together in the city, backed by the magnificent landmarks that pepper its breathtaking skylines.
Most of the great sights, such as the dazzling mosaics of the Hagia Sophia, are in the heart of the city. When Downtown Istanbul becomes frenetic, you can escape and explore the Basilica Cistern underground, or flee the city altogether to outlying islands and islets. Plan your romantic adventure with this list on what to do on a couples' trip to Istanbul.
1
Try a couples' Turkish Bath
Turkish-style pampering, for 2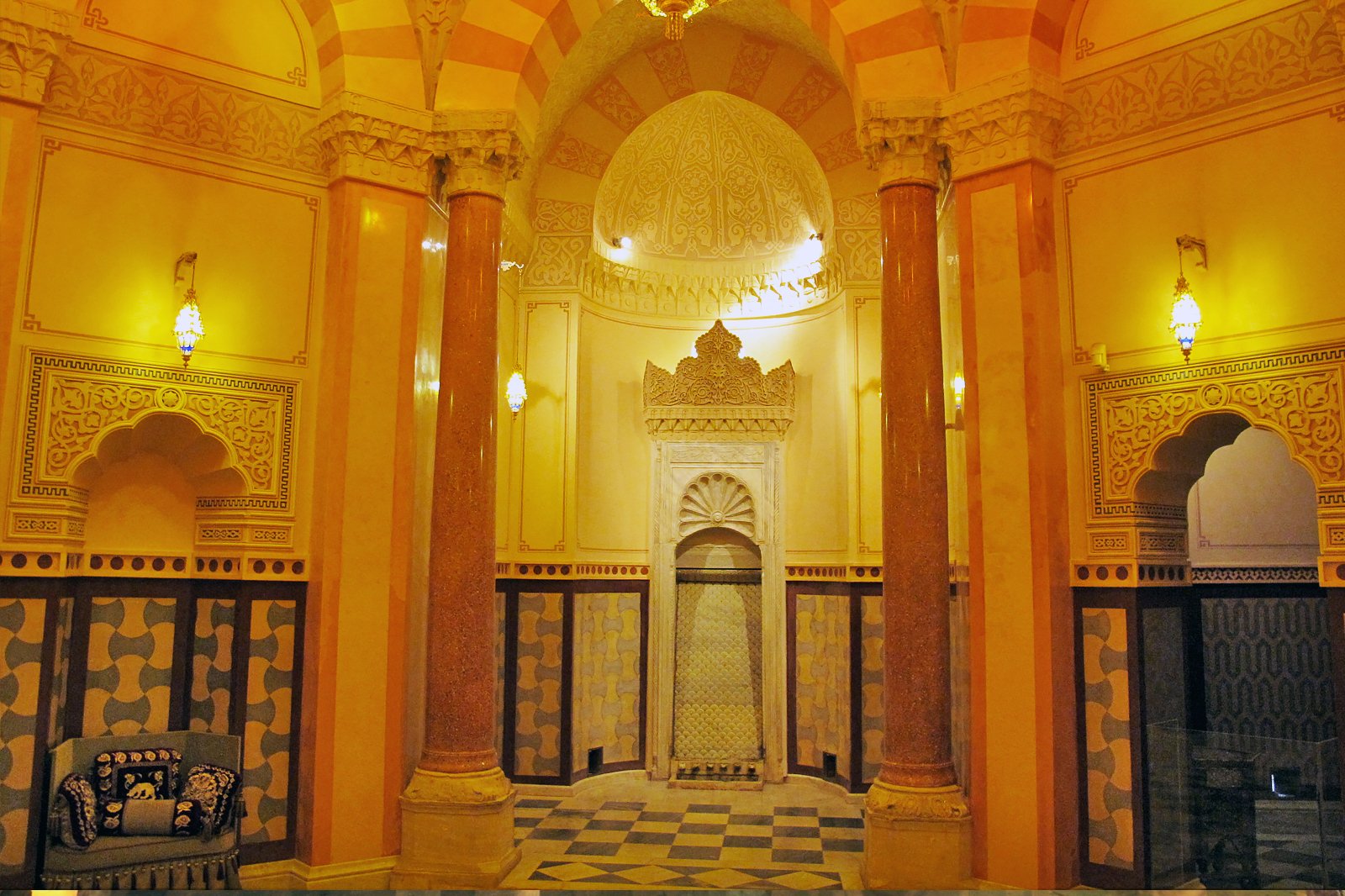 If you're an adventurous spa-going couple, then experiencing a Turkish bath on your visit to Istanbul should be high up on your to-do list. You can enjoy centuries-old Turkish spa treatments at well over a dozen notable hammams around the country's largest city. Not all classic hammams in Istanbul offer Turkish baths for couples, but among the few that do is the Sulemaniye Bath, where you can take in beautiful and historical interiors throughout your sessions. You can expect more modern and luxurious takes on the Turkish bath at 5-star hotel spas, such as Raffles Spa at Raffles Istanbul and Sanitas Spa at Çırağan Palace Kempinski.
photo by sailko (CC BY-SA 3.0) modified
2
Admire the mosaics at the Hagia Sophia
Discover the beautiful and romantic face of Istanbul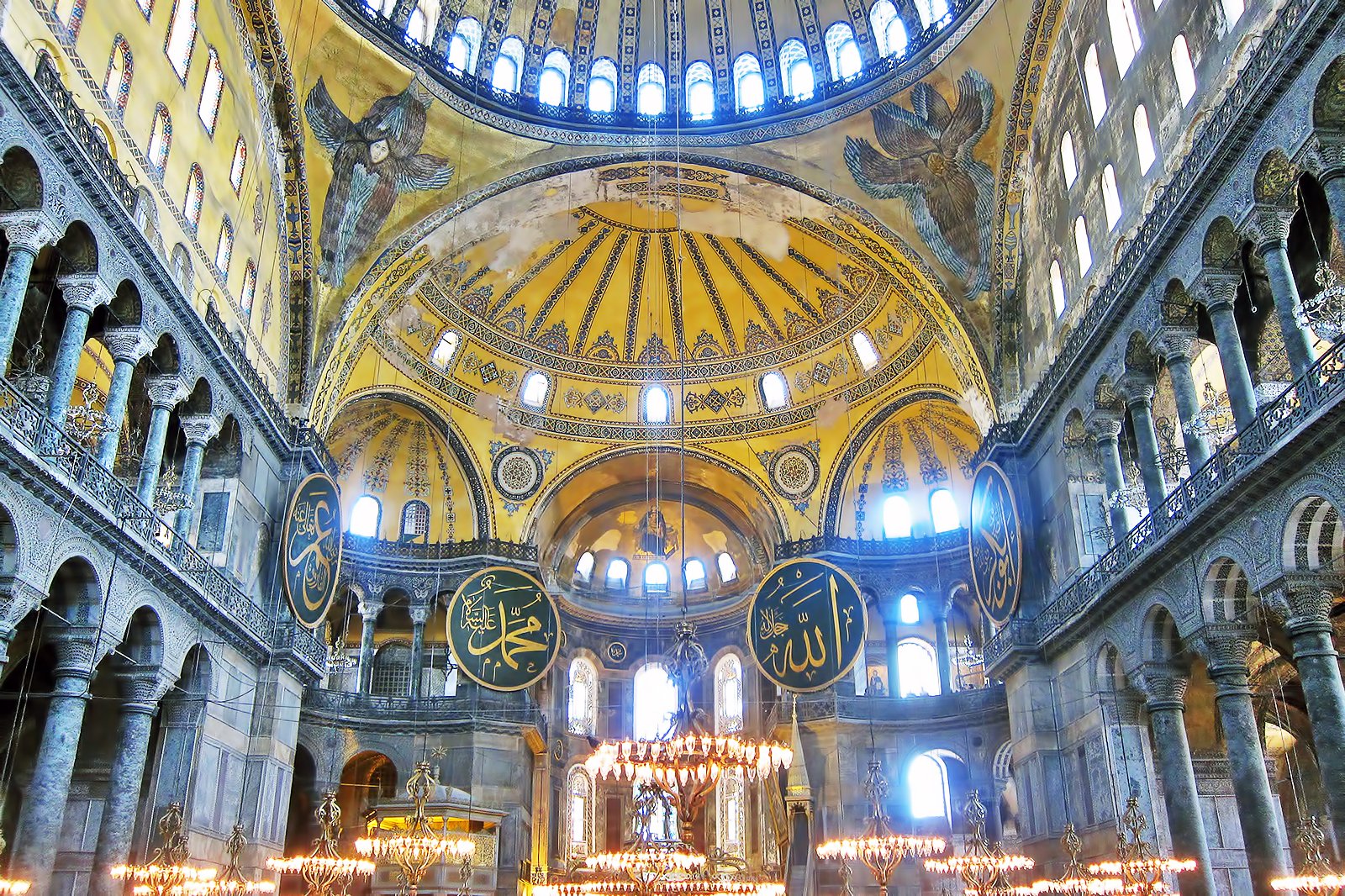 You can enjoy romantic sightseeing walks right in the heart of Istanbul. You'll find 3 of the city's greatest historical landmarks within walking distance of each other: the Hagia Sophia museum, the Blue Mosque, and Topkapi Palace. The Hagia Sophia dominates Istanbul's skyline with its giant dome and 4 towering minarets. You can walk together and marvel at this epitome of Byzantine architecture, with its gilded interiors adorned in Quranic verses and walls covered in dazzling Christian mosaics.
Location: Sultan Ahmet Mahallesi, Ayasofya Meydanı, 34122 Fatih/Istanbul, Turkey
Open: Tuesday – Sunday from 9 am to 5 pm (closed on Mondays)
Phone: +90 (0)212 522 17 50
3
Wander through the Basilica Cistern
Explore Istanbul's sunken palace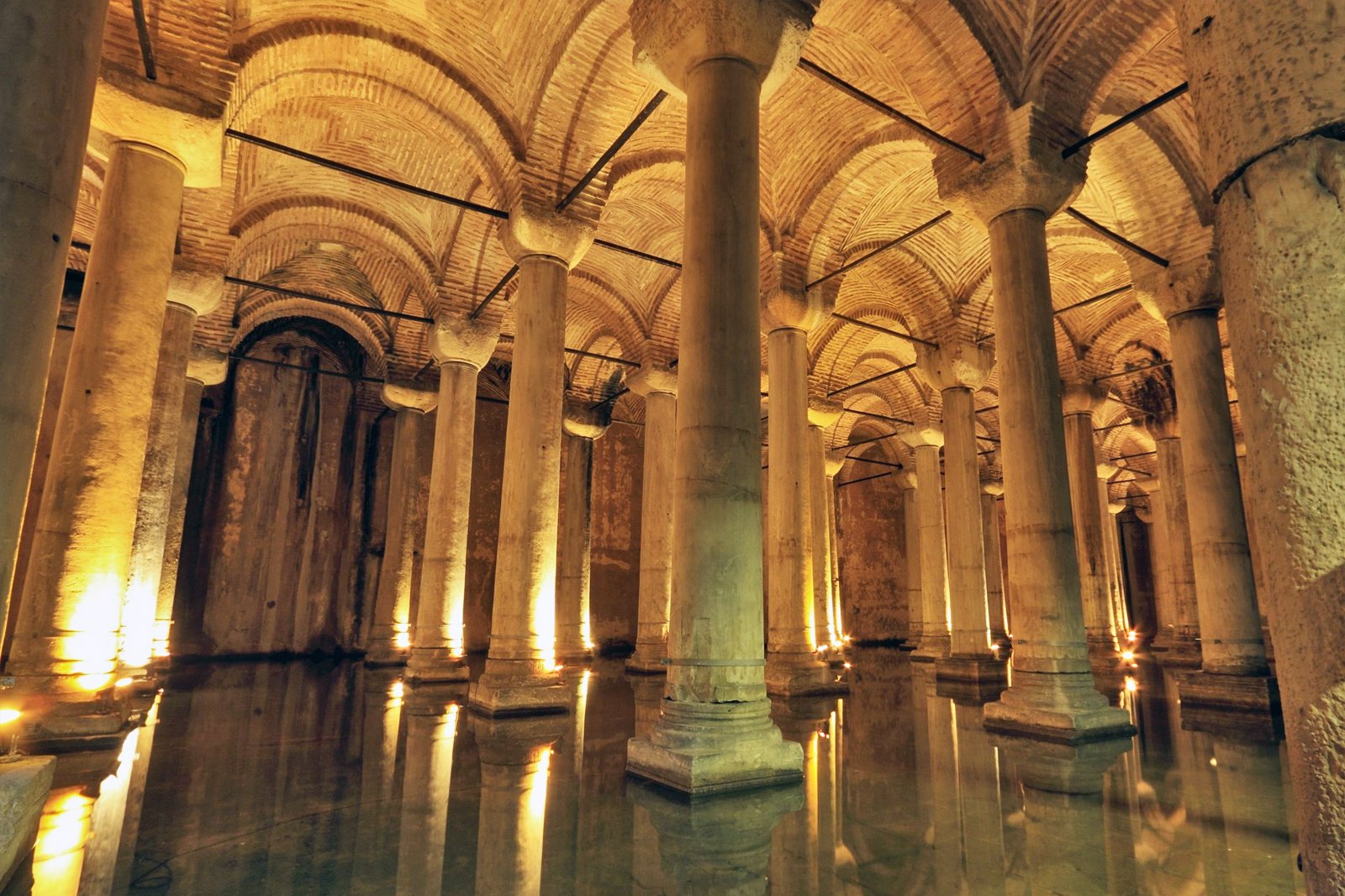 Being underground, the Basilica Cistern is, in at least one sense, the coolest place in the city – great for escaping the summer heat. You can stroll over raised walkways, through the hundreds of marble columns of Constantinople's ancient reservoir. Far from being dark or grim, walks here can be quite dreamy. For romantic couples, the atmospheric music and subtle lighting inside can be perfect. There's even a café where you can sit and enjoy Turkish-style tea in the blissful surroundings.

Location: Alemdar Mh., Yerebatan Cd. 1/3, 34410 Fatih/Istanbul, Turkey
Open: Daily from 9 am to 5.30 pm
Phone: +90 (0)212 522 12 59
4
Explore the harems at Topkapi Palace
Glimpse into a colourful piece of Ottoman history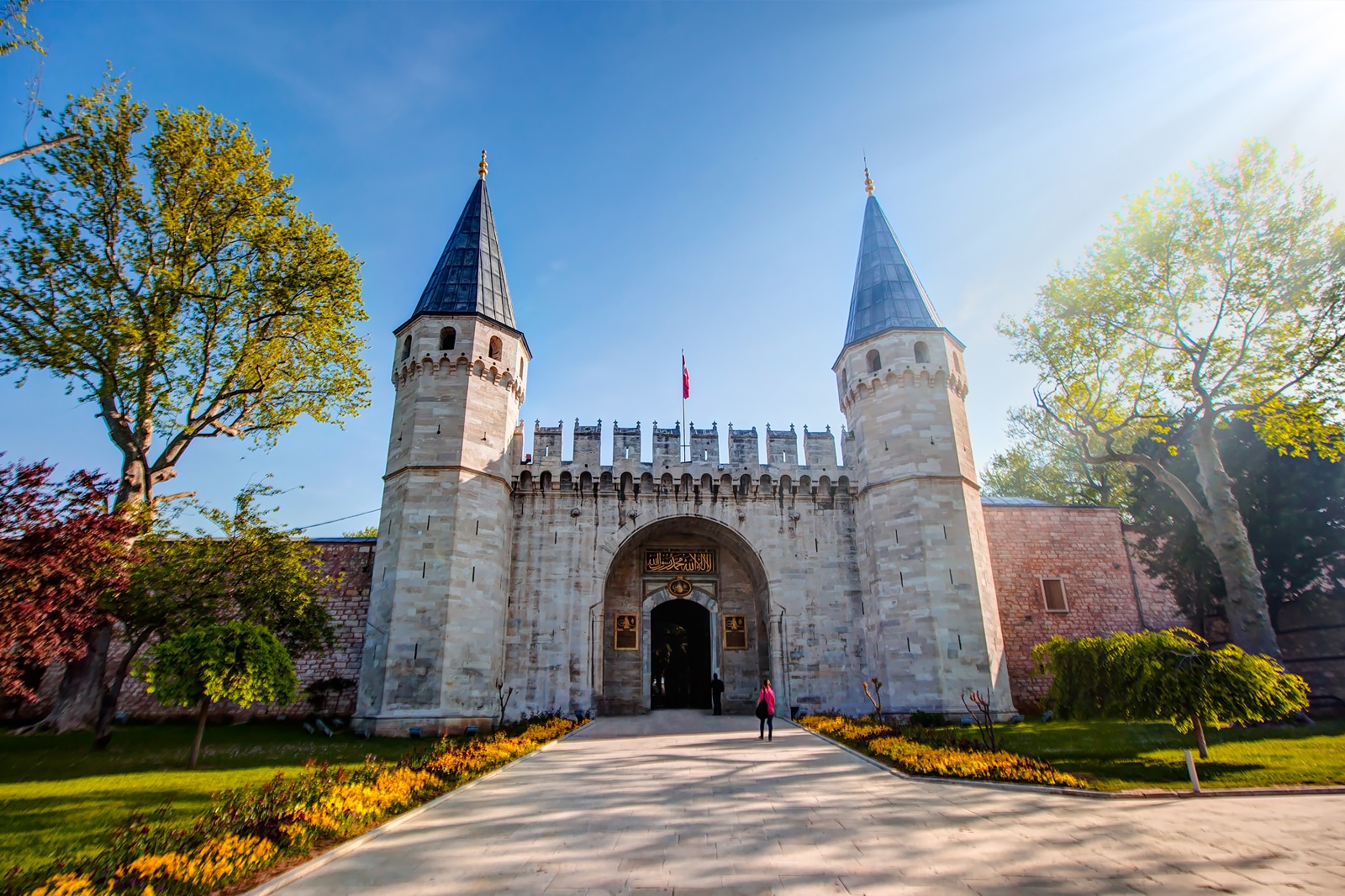 For around 4 centuries, the magnificent and well-preserved Topkapi Palace was the official residence of the Ottoman sultans. You can now stroll through its quarters for a wonderful first-hand view of some of Istanbul's finest historical relics. Walking through the palace can be a dream come true for history buffs, while romantic couples are treated to a fairytale-like walk through the harems, royal baths and kitchens, or the tree-lined courtyards with panoramas over the Golden Horn and the Bosporus Strait.
Location: Cankurtaran Mh., 34122 Fatih/Istanbul, Turkey
Open: Wednesday – Monday from 9 am to 4.45 pm (closed on Tuesdays)
Phone: +90 (0)212 512 04 80
5
Ride a fayton on The Princes' Islands
Get some peace and quiet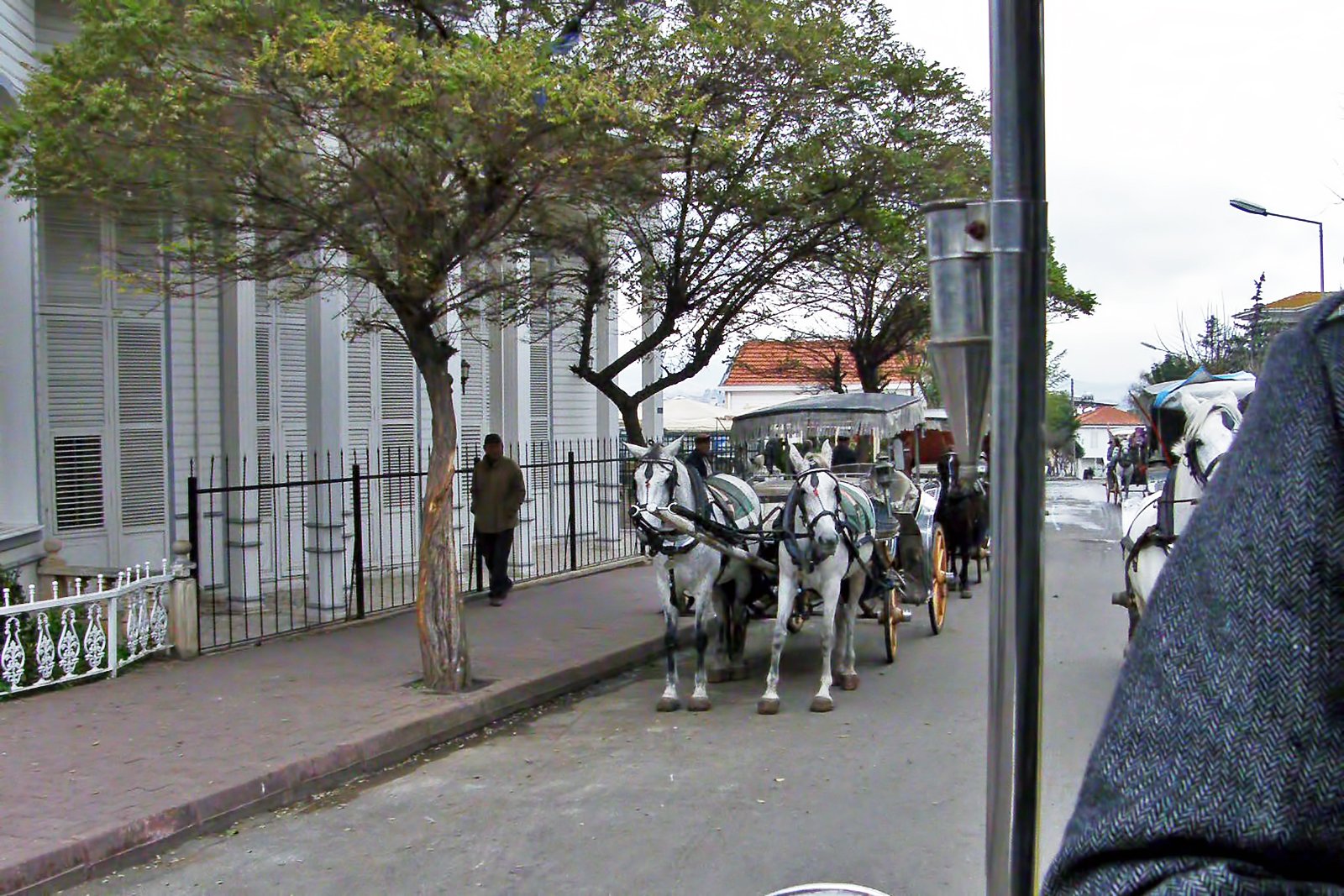 Couples can enjoy a romantic island escape off the coast of Istanbul at The Princes' Islands. It's a string of 9 islands, with most ferries from Istanbul reaching only 4 of the largest. Büyükada is among the most popular. There are no motorized vehicles on any of the islands, enabling them to retain a nostalgic and calming air since the Byzantine era. You can go sightseeing around the island in a traditional horse-drawn carriage, known as fayton, through quaint villages, past beautiful wooden chalets and along scenic coastal roads. Read more...
Location: Princes' Islands, Heybeliada Mahallesi, Adalar No:45, 34973 Adalar/Istanbul, Turkey
photo by Farhan Chawla (CC BY 2.0) modified
6
Go on a tea date at a scenic teahouse
Sit down for keyif at Istanbul's coolest spots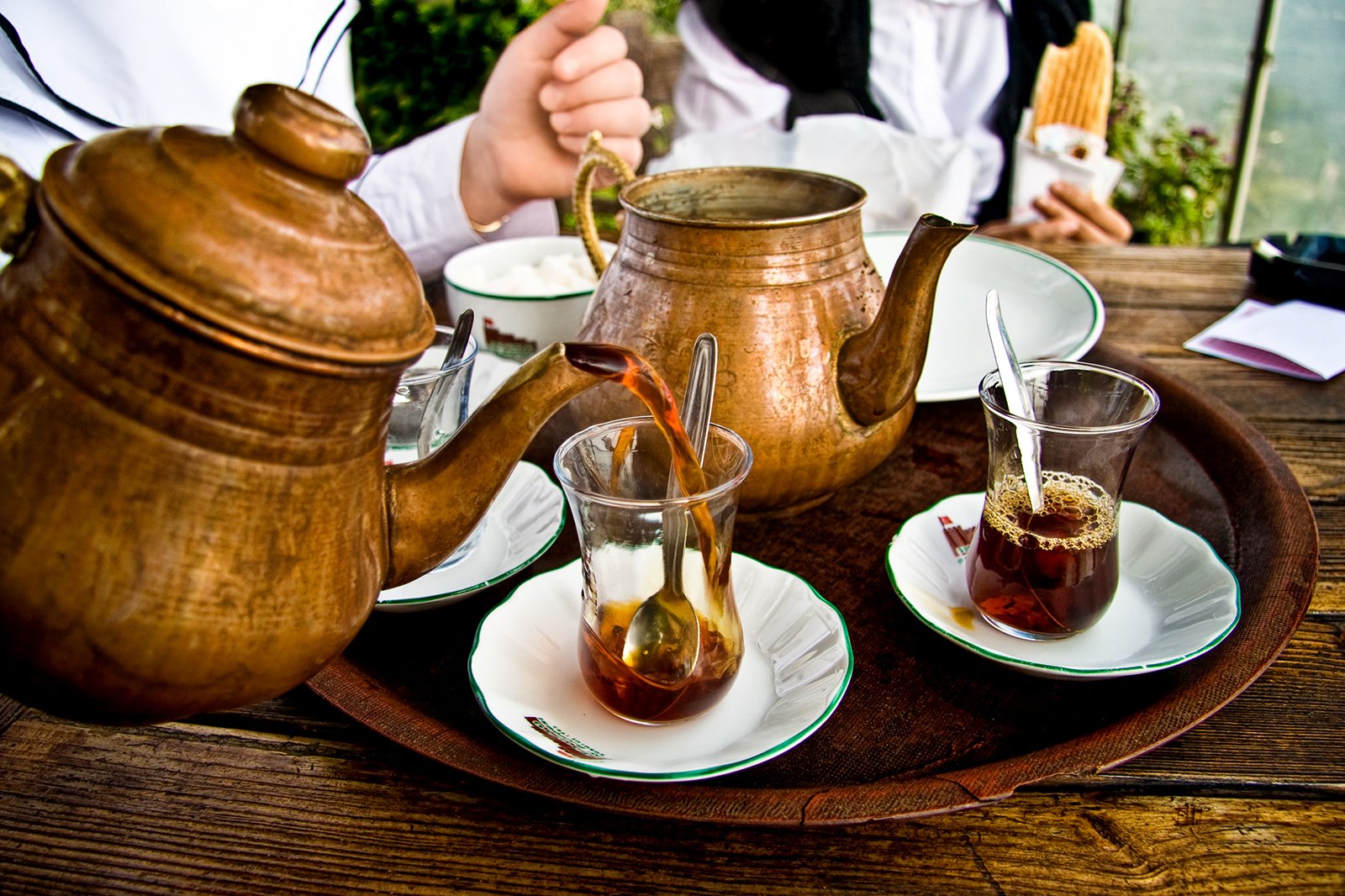 Sipping Turkish tea is among the must-tries on your visit to Istanbul. To the locals, it's one of those chillout pleasures, otherwise known as keyif. The city has plenty of teahouses, some of which offer wonderful views with their first-class beverages. All of them help you to kick back and slow down from the city's frenetic scenes. Among the many, there's Tarihi Çınaraltı on Istanbul's Asian side, with outdoor seating overlooking the Bosporus Strait. For a more intimate and rustic hilltop keyif, you should consider Pierre Loti Tepesi in Eyup, which offers teas with spectacular views over the Golden Horn.
7
Stroll through the gardens of Beylerbeyi Palace
Admire the grandeur of an imperial summer residence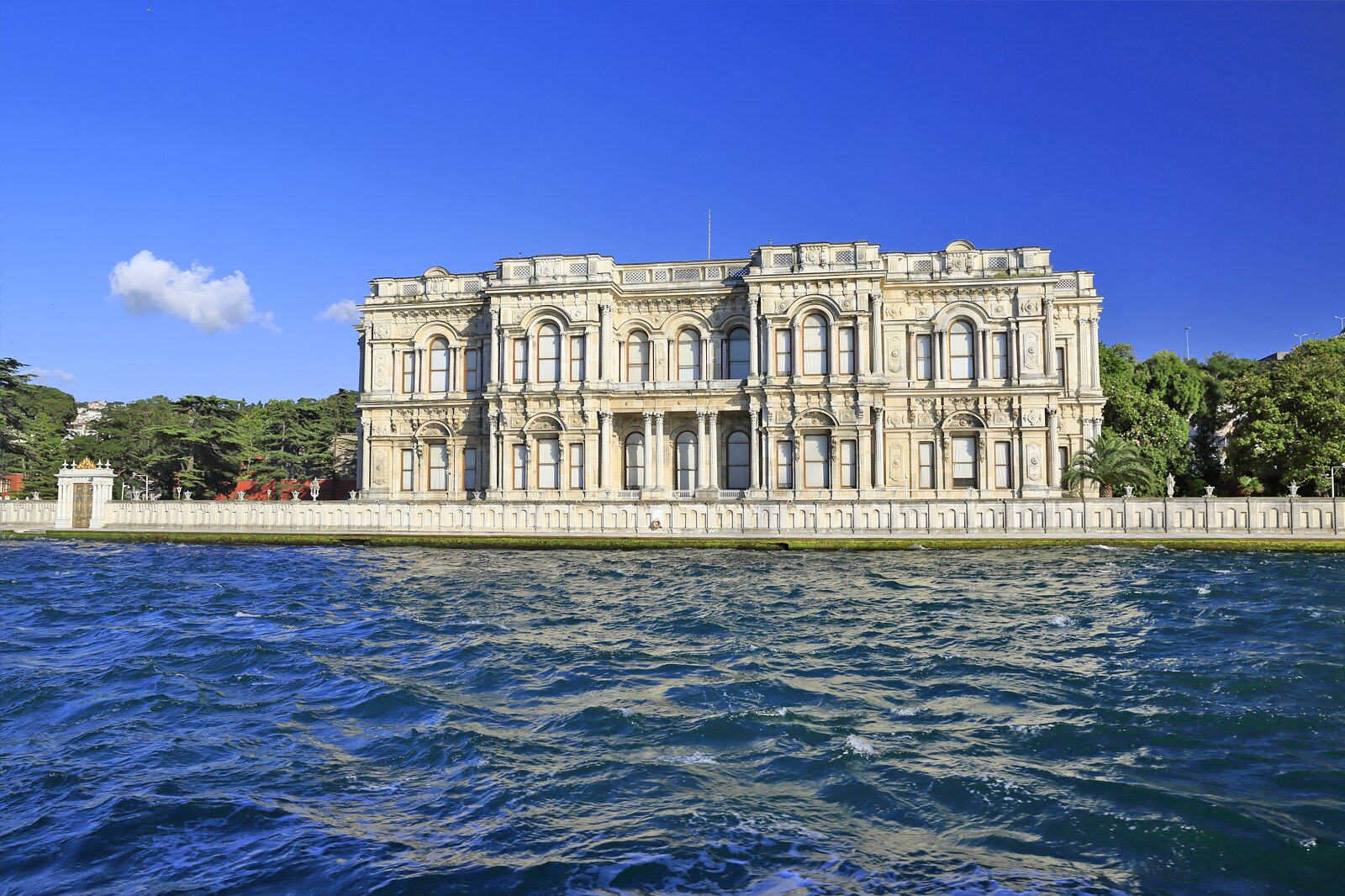 This palace's name roughly translates to "the Palace of the Lord of Lords". Beylerbeyi Palace was the summer residence of the Ottoman sultans, and it was where visiting empresses and dukes from other countries were entertained. Nowadays, you can walk in the steps of past royals and envoys and see most of its original furnishings. These include crystal ornaments, Egyptian reed carpets, curtains, and wooden furniture that was handmade by a skilled sultan. Its gardens offer romantic walks against beautiful views of the Bosporus bridge and strait.
Location: Beylerbeyi Mah, Abdullah Ağa Caddesi Beylerbeyi Sarayı, 34676 Üsküdar/Istanbul, Turkey
Open: Tuesday – Sunday from 9 am to 5 pm (closed on Mondays and Thursdays)
Phone: +90 (0)216 321 93 20
8
Watch the sunset from the Golden Horn
Take in dramatic views of Istanbul's iconic skyline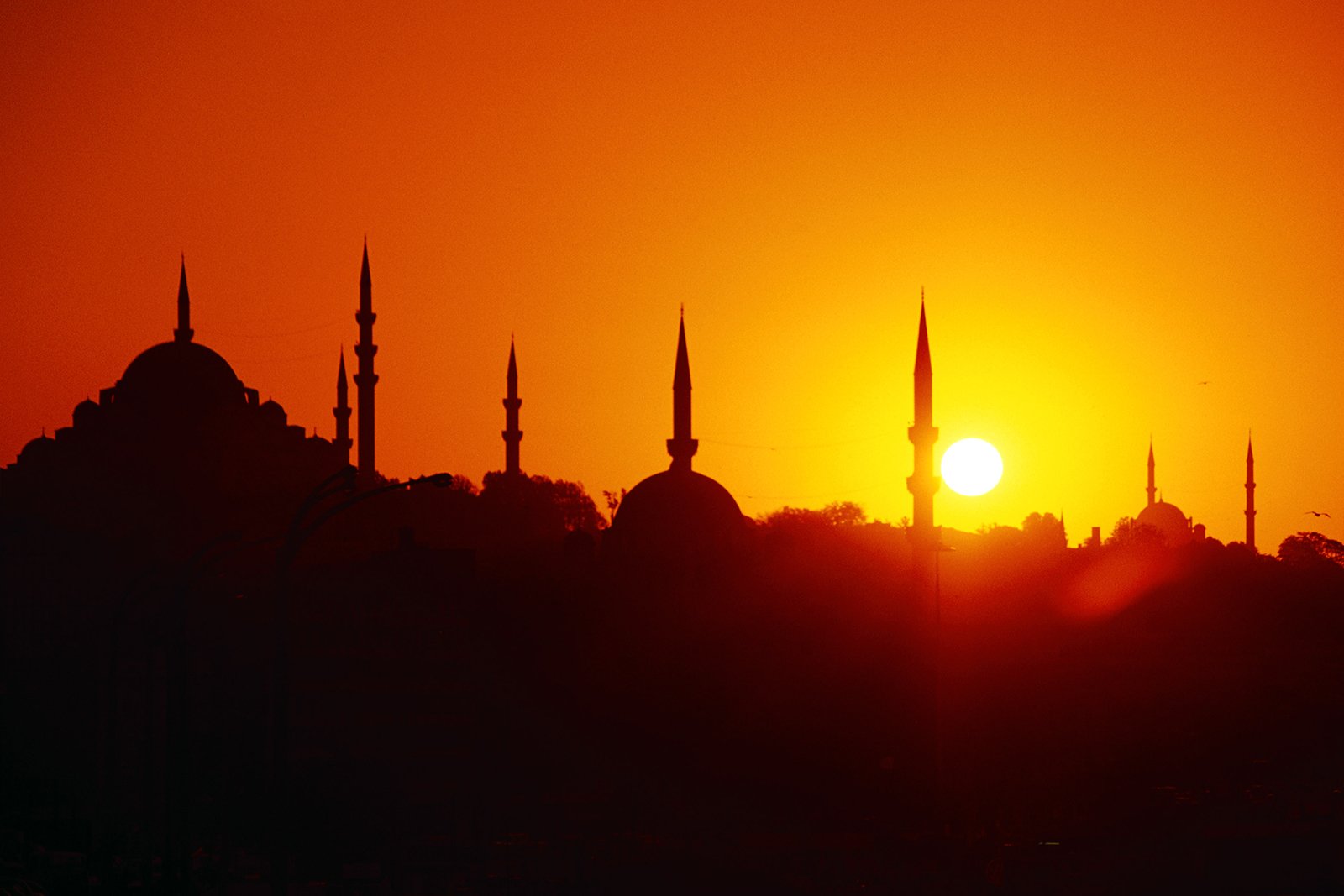 Watching a sunset in Istanbul can be one of the most memorable moments for couples to share. The sun descends over the city's iconic skyline, among the hills, domes and minarets. The surface of the Bosporus Strait shines like liquid gold just before the sky darkens, with boat and city lights speckling the scenes. Great hilltop spots in Istanbul for enjoying sunsets include Çamlıca Hill and Pierre Loti Hill. Down by the Bosporus, the Golden Horn Park is among the best sunset spots in the whole city, with its scenic pathways to explore before and after the show.
Location: Golden Horn Park, Defterdar Mahallesi, 34050 Eyüp/Istanbul, Turkey
9
Enjoy a dinner cruise along the Bosporus
With Turkish feasts and entertainment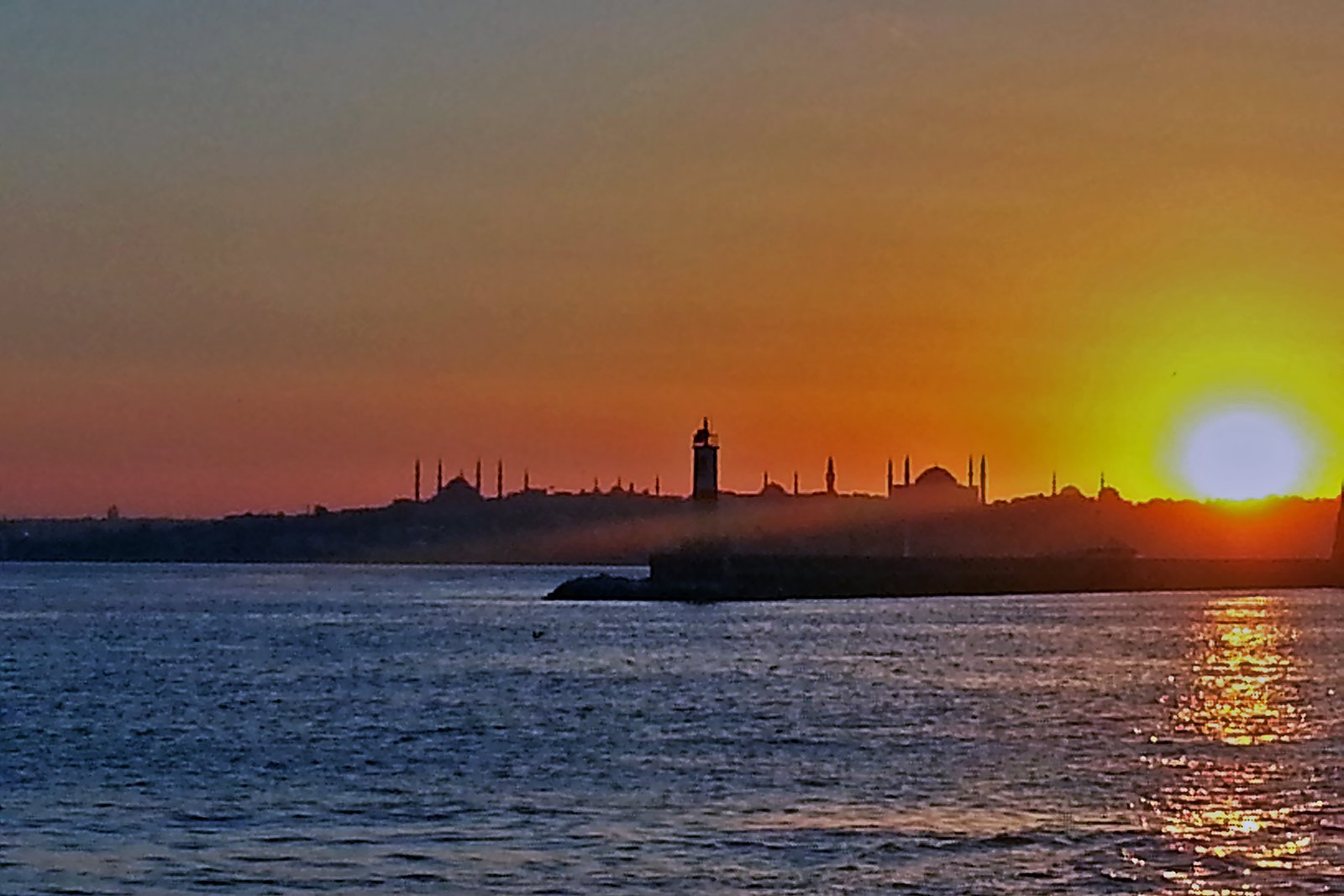 An evening cruise will give you the chance to literally travel between Europe from Asia along the Bosporus Strait. Right after sunset, the views from the river can be truly memorable as the city comes to life with shimmering lights. You can still make out some of Istanbul's magnificent landmarks, such as the Blue Mosque and Topkapi Palace, from afar. Under a starry sky, you can enjoy a feast of typical Turkish mezze, together with belly dances and other colourful folk shows. Read more...
10
Have a romantic dinner at Maiden's Tower
Escape to a lonely lighthouse in the Marmara Sea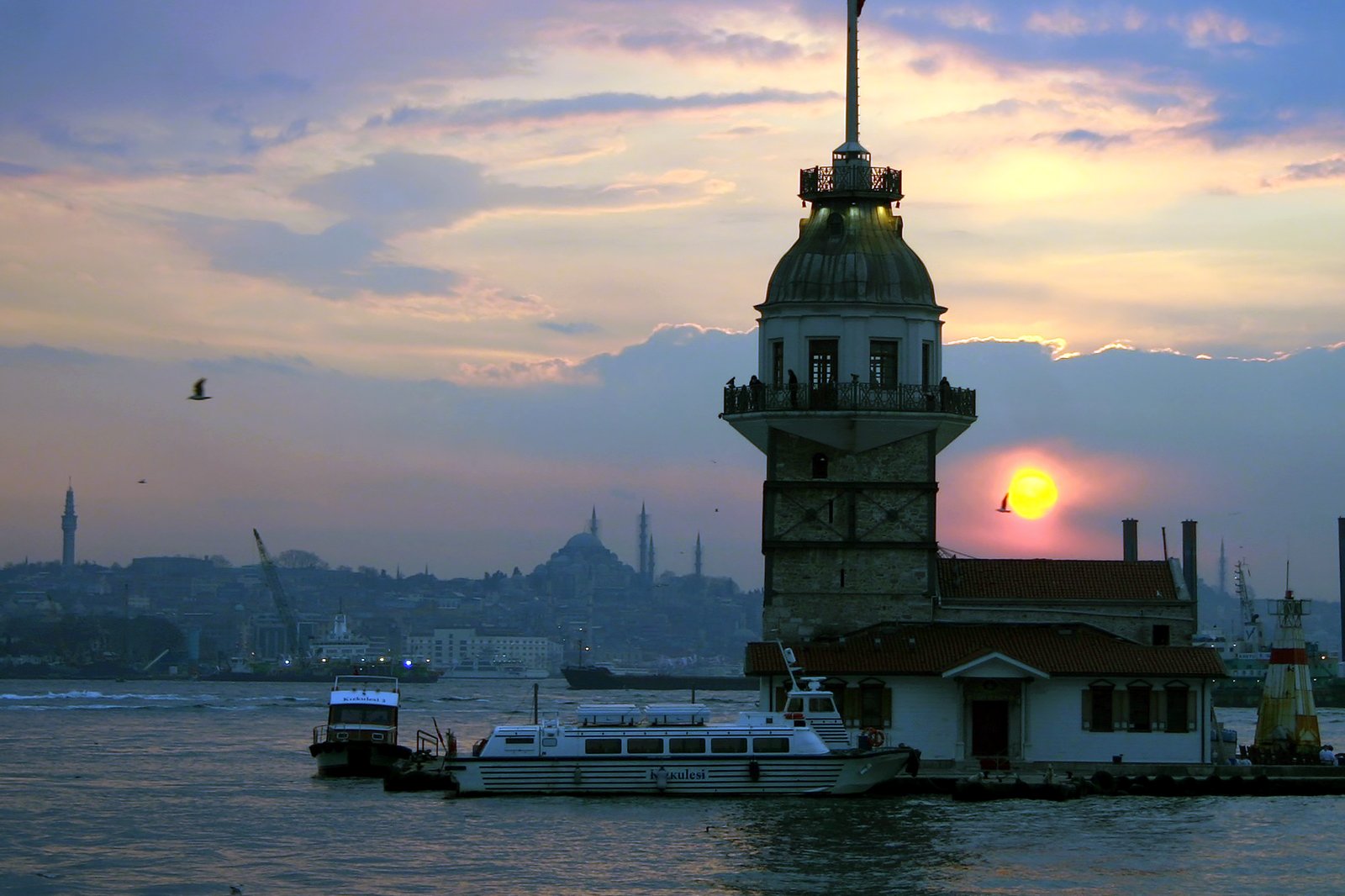 Couples can escape to this former lighthouse that sits on its own tiny islet in the Marmara Sea. A short boat ride from the docks in Üsküdar brings you here. You can climb up to the café at the top of the lighthouse for Turkish tea served with the rare views over both the European and Asian sides of Istanbul. You can also book ahead for a fine romantic candlelit dinner at the Kiz Kulesi Restaurant at its base. It offers a choice of fixed dinner menus comprising international cuisine, at around 200 or 250 lira per person.
Location: Salacak Mahallesi, Üsküdar Salacak Mevkii, 34668 Üsküdar/Istanbul, Turkey
Open: Daily from 9.15 am to 6.45 pm (Saturdays and Sundays also from 8.15 pm to 12.30 am)
Phone: +90 (0)216 342 47 47
Back to top