10 Money Saving Tips in Lagos
How to Enjoy Lagos With a Small Budget
Our money-saving tips in Lagos might help you in planning your travels to this part of the Algarve. Lagos is ripe for exploration, with a smorgasbord of sandy coves, ochre grottos, and historic buildings to explore. But the Algarve region is indeed arguably among the most expensive places to visit in Portugal. So, what can a budget traveller do to stretch their euro in this bustling seaside town?
Thankfully, cheap and cheerful attractions abound in Lagos, so there's plenty to see and do even for a shoestringer. And by factoring in a few of these money-saving tips along the way, you'll make the most of your holiday without busting your travel budget. Here are some tips on how to enjoy Lagos with a small budget.
1
Avoid peak season
For better deals and thinner crowds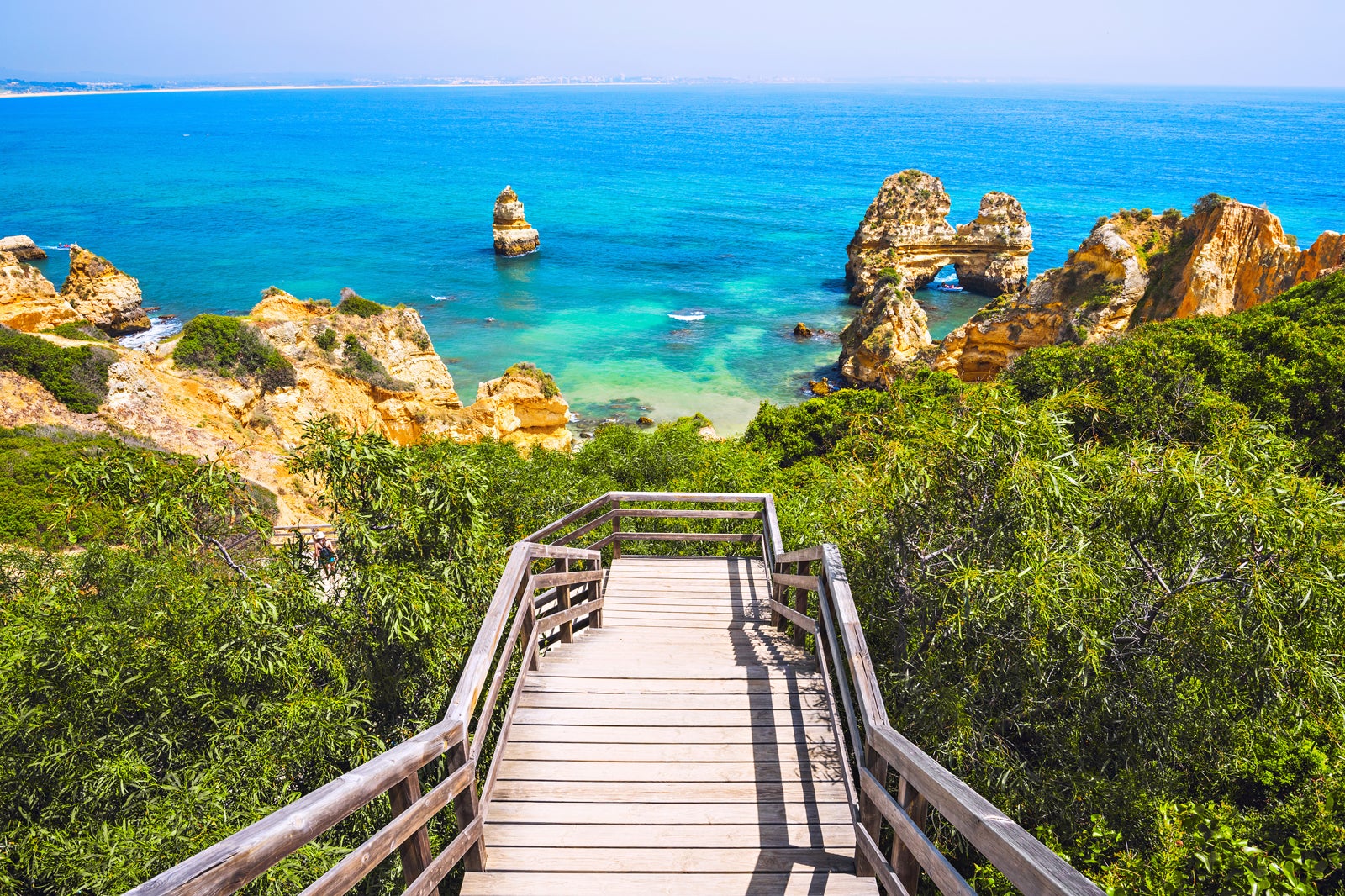 Like the rest of southern Portugal, Lagos is very much a seasonal town. During the sweltering summer months of July and August, the city – and all of the Algarve – packs out with sun-seeking holidaymakers from Europe and beyond. And with this sudden influx of cashed-up tourists, accommodation and airfare rates skyrocket.
The good news is Lagos enjoys about 3,000 hours of sunshine a year, and its beaches are balmy from May right up to mid-October. Travelling outside of peak season not only affords better deals, but also smaller crowds and better weather. Talk about a win-win scenario.
2
Stay in the Old Town or Santa Maria
Easy beach access isn't too far away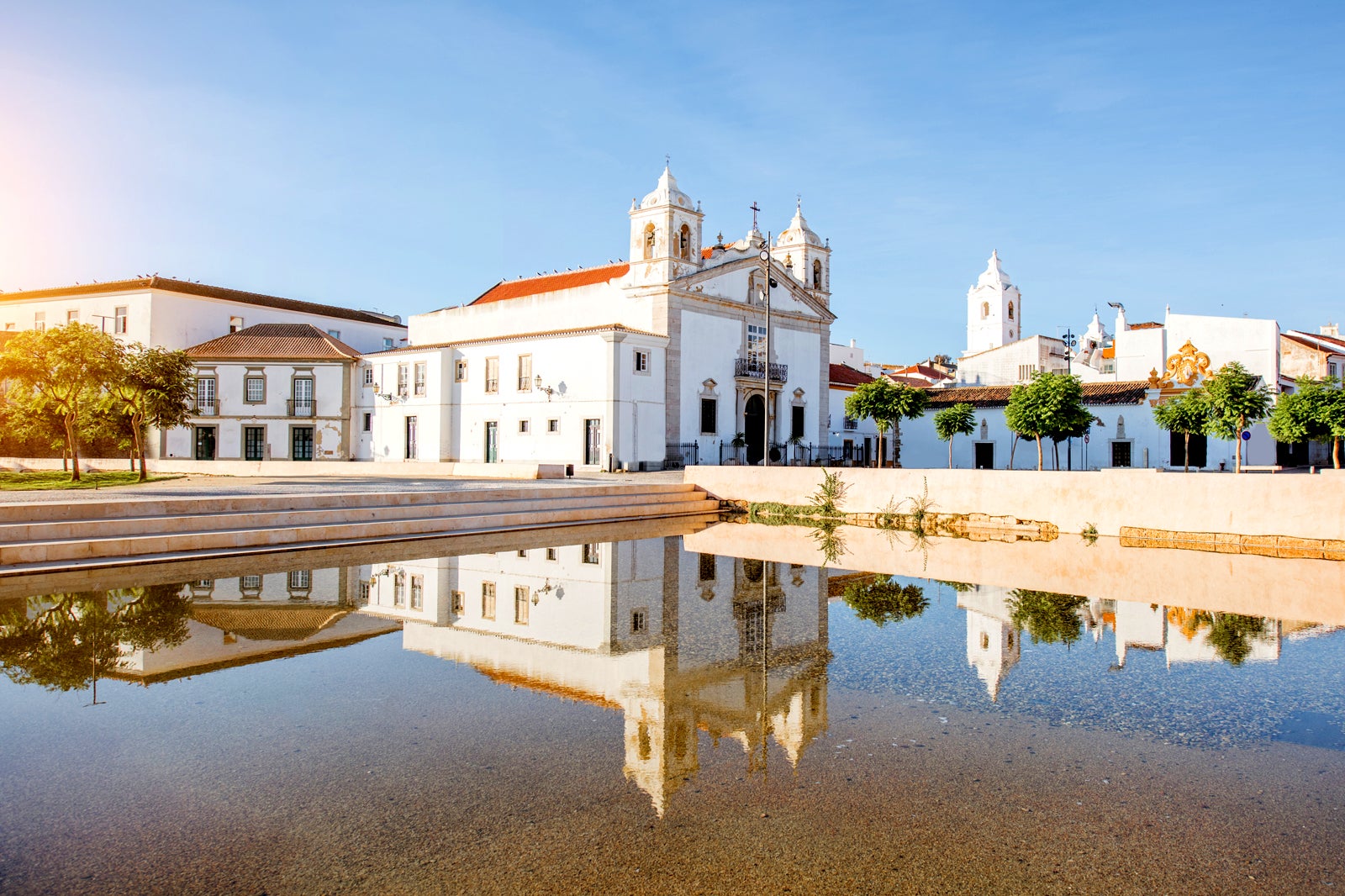 Give the plush beach resorts of Meia Praia a miss and opt to stay in an affordable neighbourhood instead. Wedged between 16th-century stone-brick walls, Lagos' historical Old Town sees quaint whitewashed buildings lining its twisted maze-like streets. Hotel rates are notably lower and you'll have an array of time-worn attractions and buzzing nightlife right at your doorstep.
For even cheaper digs, head west to the laid-back neighbourhood of Santa Maria, which boasts multiple cost-effective lodgings and easy access to the Praia Porto de Mós beach. As always, stay a few blocks back from the coast to increase your chances of scoring a deal.
3
Get between Lagos and Faro Airport by train and bus
A combination of both will get you far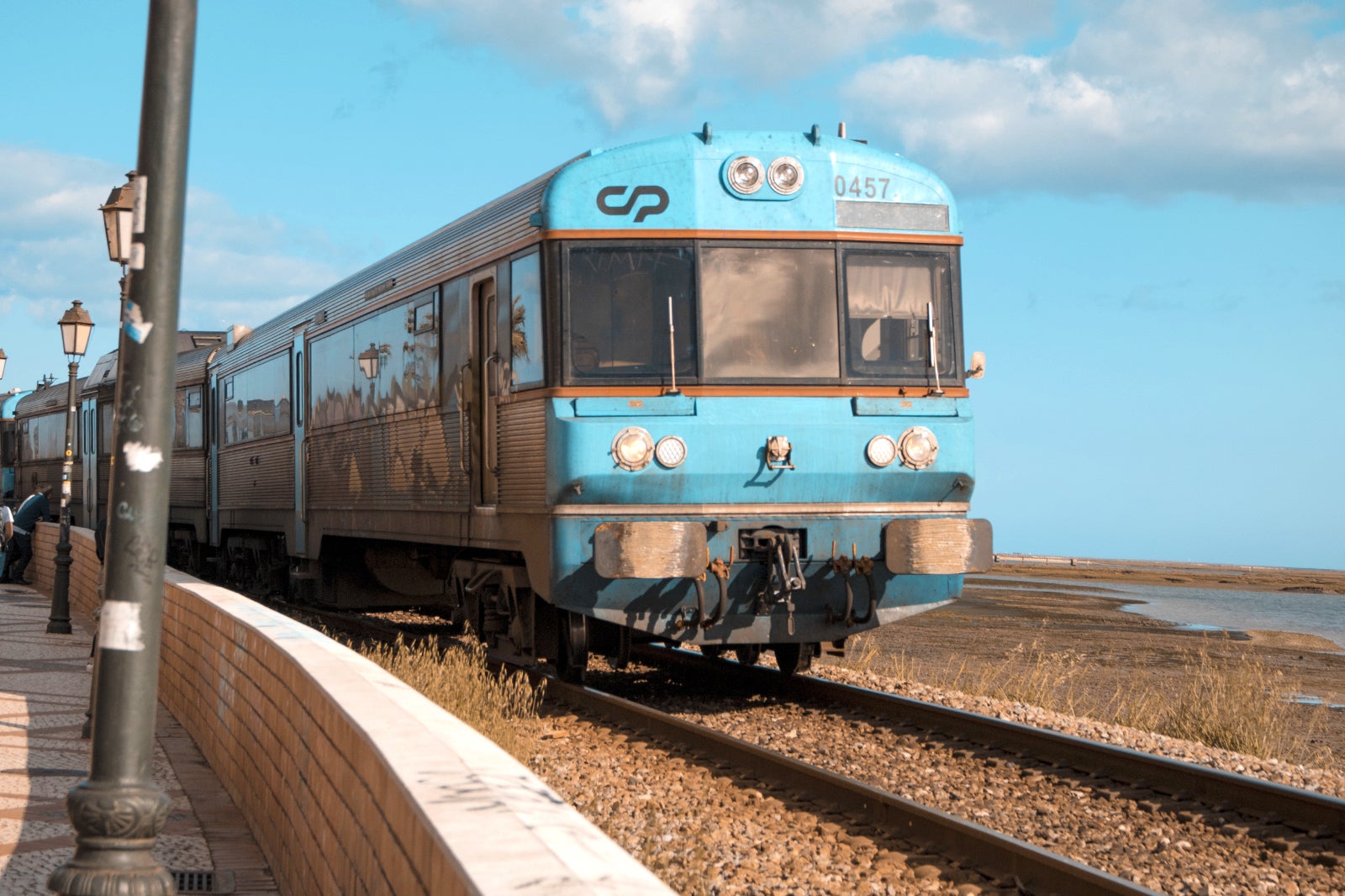 The closest international airport to Lagos is in Faro, about 100 km to the east. Taxis waiting outside are notorious for overcharging, and even a skilled negotiator might fork out over €100 for the trip. Pre-booked private transfers cost about 25% less, which is still a hefty sum for a budget traveller to pay.
The cheapest way to get to Lagos from Faro International Airport is by taking bus 16 to the Terminal Rodoviário Faro Bus Station. From there, you can either hop on a bus to Lagos or walk to the nearby Faro Train Station. It'll take about 3 to 4 hours in total, but you'll save a small fortune in the process.
4
Hit Lagos' beaches
Among the best in the Algarve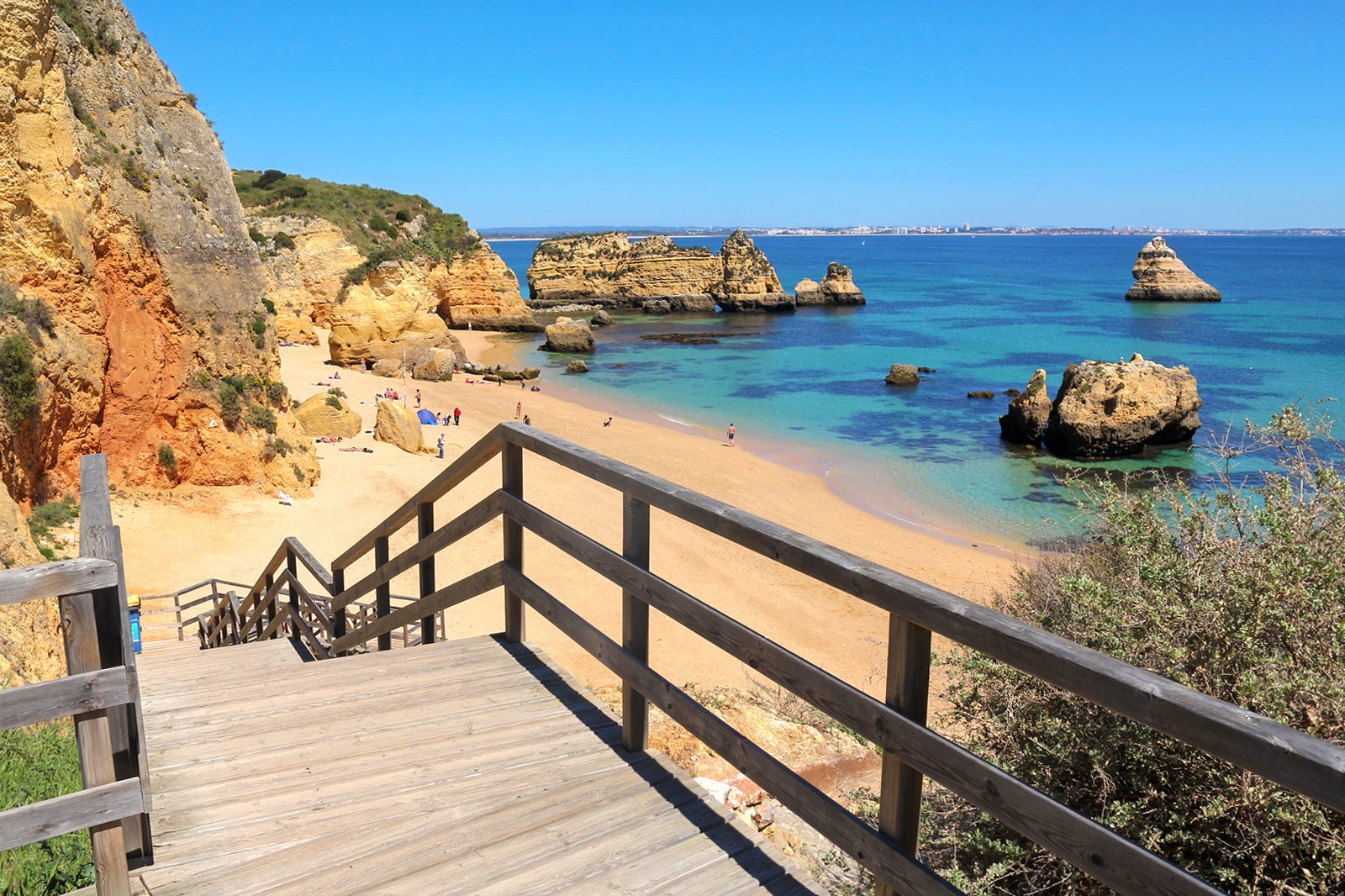 Lagos has some of the best beaches in Algarve, and pulling up a towel on these pristine sandy shores won't cost you a dime. The most convenient option is Praia da Batata, just a short walk from the Old Town. Particularly popular with the hip younger crowd, this bustling beach has a smattering of happening bars to frequent and rocky outcrops to explore.
For something more spacious, the vast Praia Porto de Mós lies just west of town – grab a local bus to get there on the cheap. Surfers will prefer to hit up Meia Praia to the east for its barrelling breaks.
5
Visit Lagos' museums
Catch up on some local history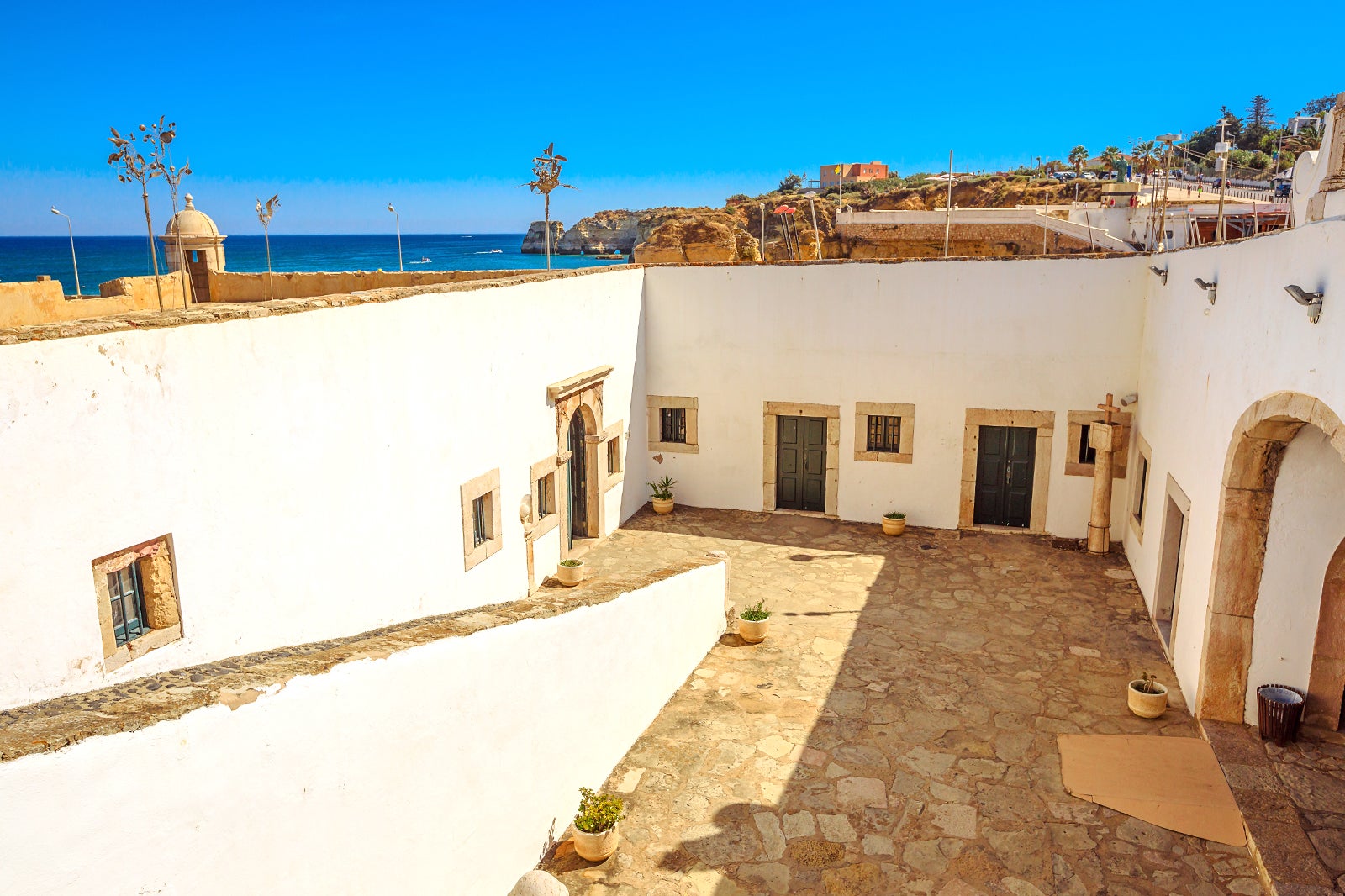 A cost-effective way to learn about the city's intriguing past is by visiting its museums. The Museu Municipal Dr José Formosinho occupies a beautiful baroque church, showcasing the archaeology, sacred art, and history of the city – a bargain at a couple of euros. Grab a combo ticket if you also plan to visit the sombre Antigo Mercado de Escravos, a former slave market that tells of Lagos' dark past.
Both kids and adults will love the Ciencia Viva Science Centre for its engaging hands-on exhibits and the bargain-basement family ticket. And don't miss the Portuguese Discoveries Wax Museum for lifelike representations of the central characters from the Age of Discovery.
6
Take in Lagos' best views
Scenic viewpoints around town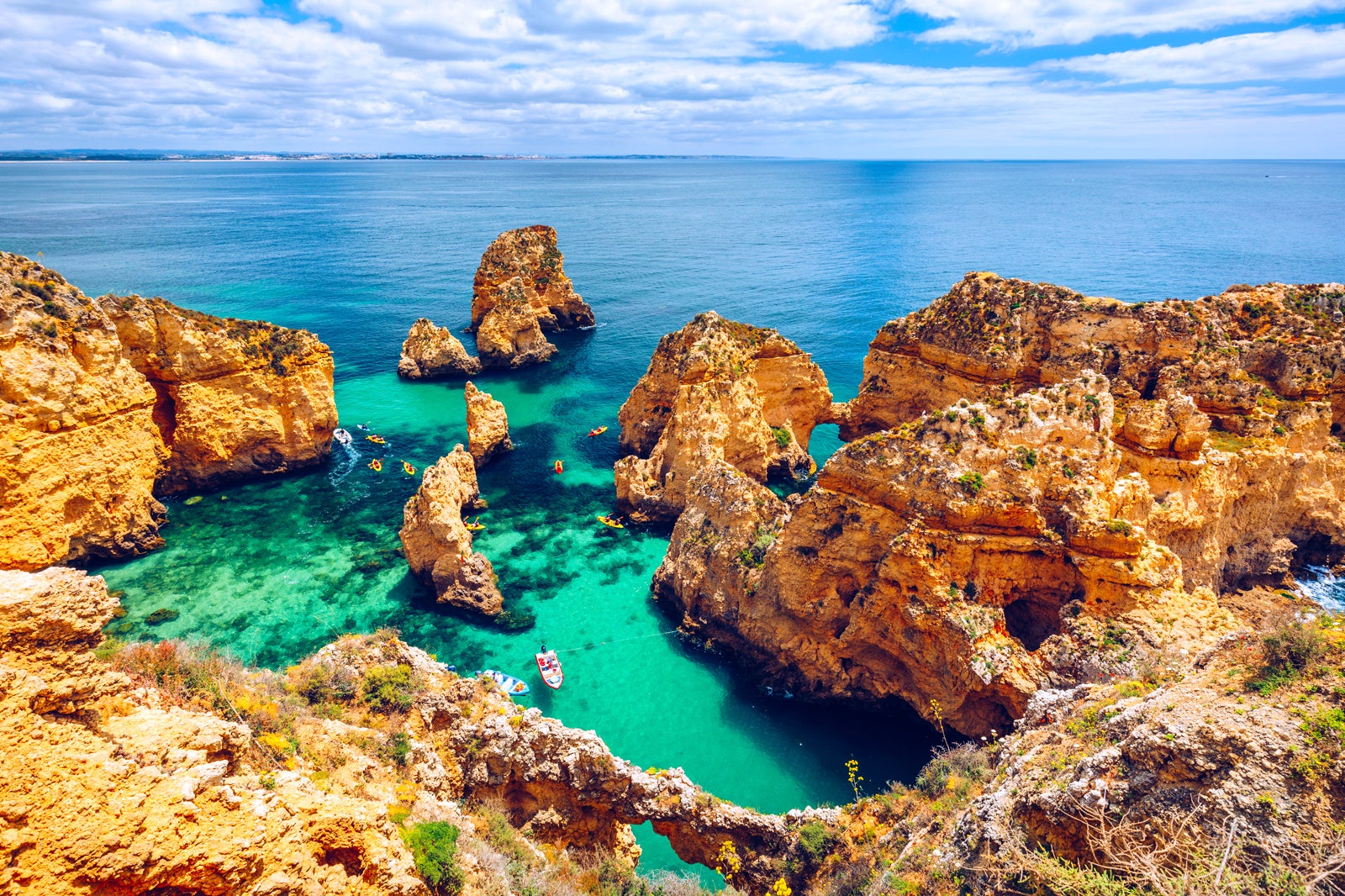 Lagos has a substantial selection of scenic lookouts to visit, none of which require an entrance fee. And gazing upon Algarve's golden beaches, ochre cliffs, and emerald waters from above is a real highlight of any trip to the city.
Overlooking the tip of the peninsula to the south of town is Ponta de Piedade, a jagged rocky headland with sweeping views (stop by the scenic Praia do Camilo on the way). Although the lookout is free, it's worth splashing out for a boat trip to explore the cragged sea caves below. West of Porto de Mos is Rocha Negra, an eroded black granite cliff top that affords lovely vistas of the beach.
7
Hike along the coast
One of the top ways to truly experience Lagos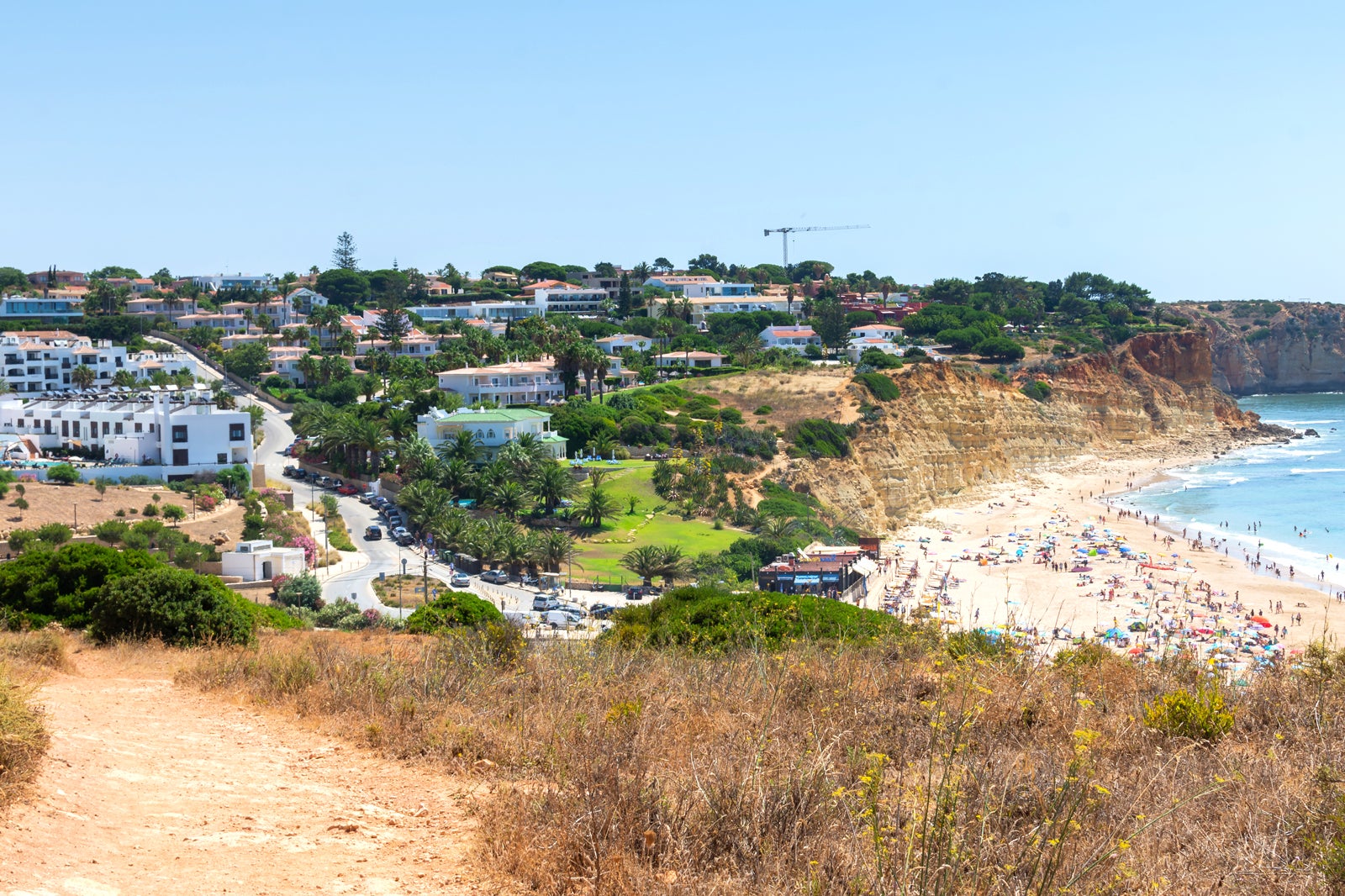 Hiking along the pristine beaches and rugged cliffs of Lagos is a fantastic free pastime. Pack a picnic lunch, plenty of sunblock, and sturdy boots to enjoy these stunning coastal routes while scarcely spending a cent.
Ponta da Piedad is one of the most popular hiking trails in Lagos. Head to Praia da Batata and follow the red dirt footpath south along the cliffs. After reaching the tip of the peninsula, take the trail west until you hit Porto de Mos Beach. If you're feeling energetic, you can hike along the sand for another 6 km towards Praia da Luz, visiting Rocha Negra en route.
8
Bargain at local Lagos markets
From souvenirs to seafood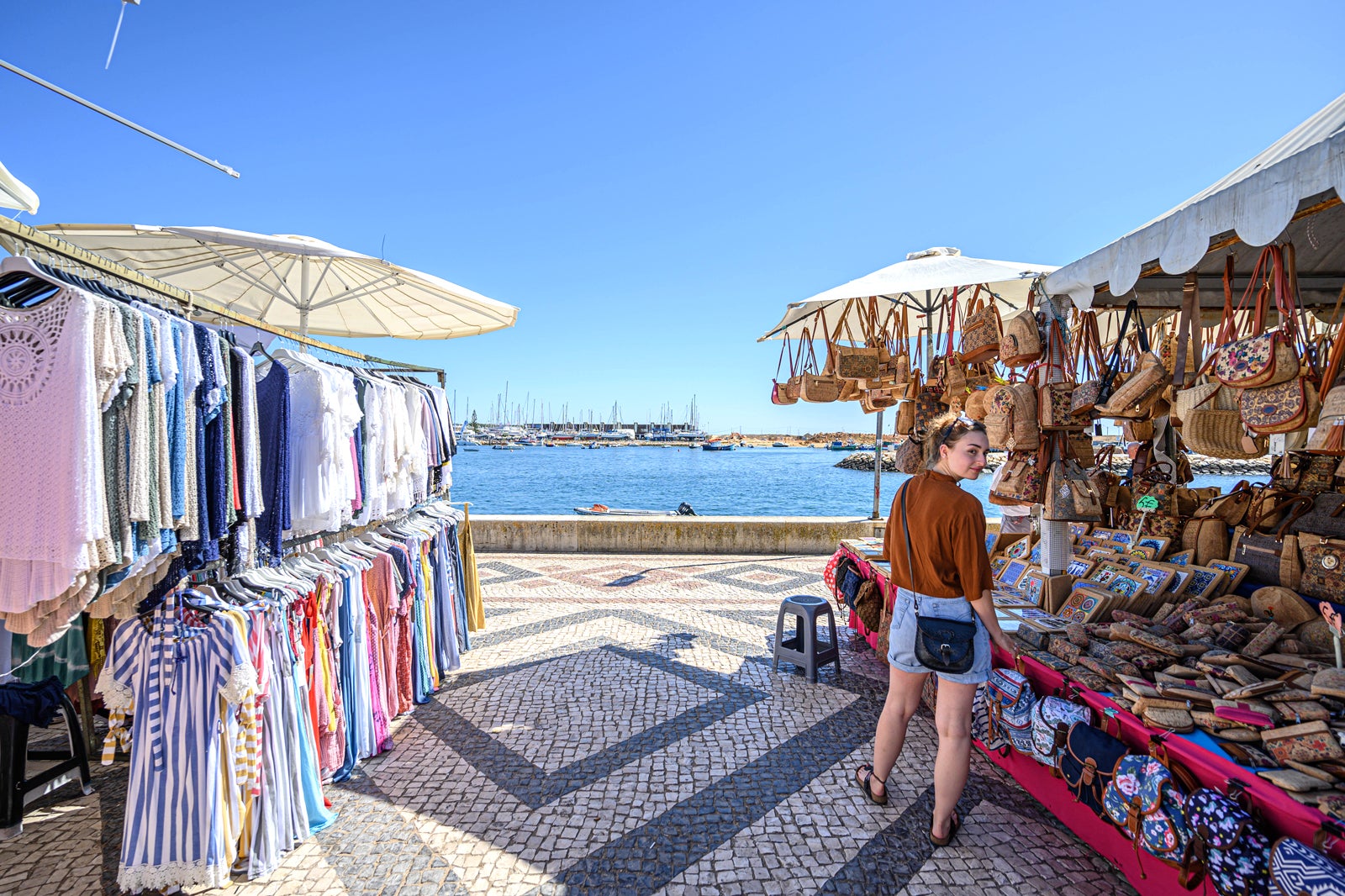 Mercado Paseo Maritimo is one of your best bets for local souvenirs at rock-bottom prices in Lagos. The laidback open-air flea market sells just about everything, from sundresses to cork wares and wide-brimmed Panama hats, at very reasonable prices – if you bother to haggle. Even if you don't find anything you like, it's worth wandering down the promenade for its pretty views of the adjacent marina.
A more authentic local market is the Mercado Municipal de Lagos, although this time you probably won't want to avail of its wares – big bucket loads of raw seafood. Fishermen unload their pungent catch of the day each morning for hawkers to flog off to hungry shoppers – always a lively spectacle to observe.
9
Visit Lagos' churches and castles
Discover the magnificent landmarks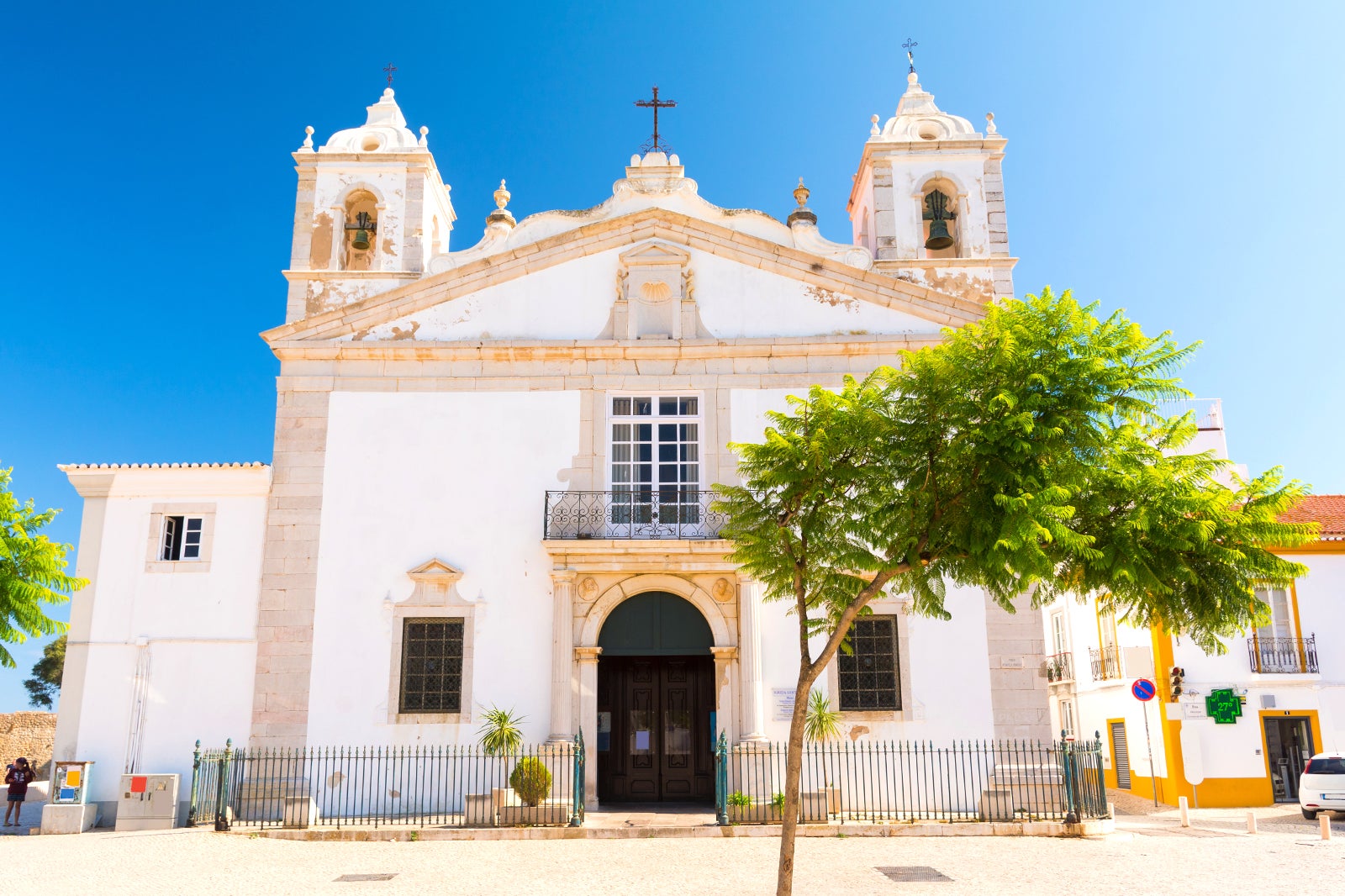 Lagos has several holy churches to visit around town, which are either free or charge a nominal fee. The beautiful baroque Igreja de Santo António is arguably the city's most visited spots – be sure to explore its glimmering golden interior. The smaller Santa Maria and St. Sebastian churches are less grandiose but still interesting to visit.
The Castle of Lagos in the Old Town is another excellent free attraction in Lagos. Overlooking the canal, the medieval construction still retains its original crenellated walls and Manueline-style windows. Further afield, the Castle of Alvor, Castle of Sai Joao do Arade, and the Castle of Silves offer inexpensive sightseeing in Lagos.
10
Picnic at Jardim da Constituição
Between the castle and the maritime canal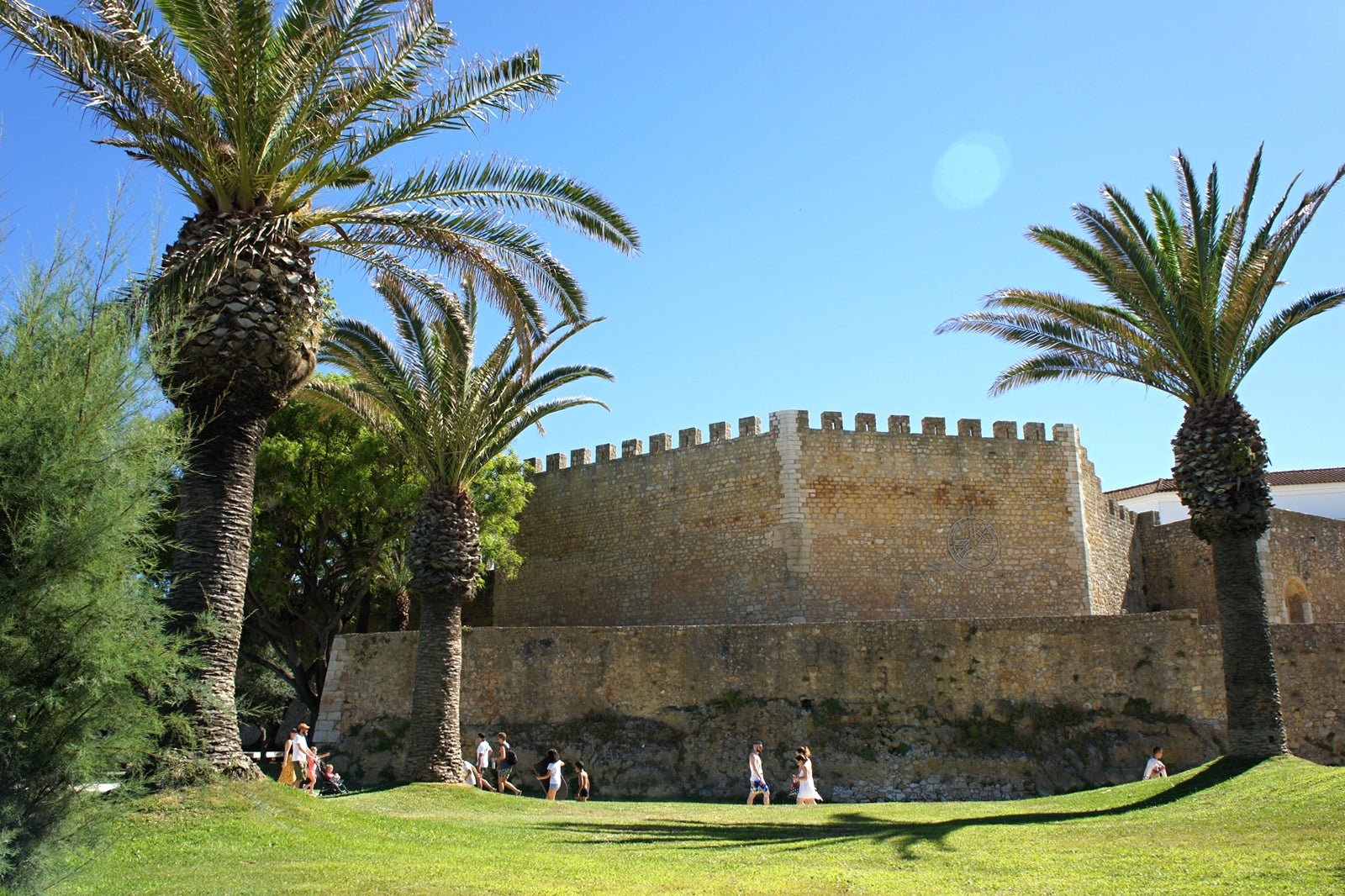 The leafy Jardim da Constituiçãoe garden envelopes the Castle of Lagos, serving as a tranquil spot for strolls and picnics. Sit under the shade of a giant palm tree to seek refuge from the sun and soak up the gorgeous views – the lush green gardens lie wedged between the shimmering canal and the ornate Castle of Lagos.
Not sure what to pack for a tasty alfresco lunch? The Portuguese are renowned for producing cheap and filling pastries, both savoury and sweet. Padaria Central in the Old Town is famous for selling delectable baked goods at reasonable rates.
Location: Jardim da Constituição, 8600-315 Lagos, Portugal
Back to top