10 Best Places to Go Shopping in Albufeira
Albufeira's Best Places to Shop
Albufeira's shopping scene mostly comprises souvenir shops and beach boutiques that dot the older parts of town, closer to the beach and the marina. Once a sleepy fishing village, Albufeira is now engulfed by the infrastructure required to support this influx of visitors: hotels, restaurants, cafés, bars, and of course, shops.
Tucked away here and there, are specialist shops selling local products such as ceramics and items made from cork. Inland, you can stroll along the main shopping streets of Avenida da Liberdade and Rua 5 de Outubro, which run broadly parallel to each other. Beyond that lie shopping malls, big and small. For your dose of retail therapy, here are the best places to go shopping in Albufeira.
1
Flea market in Rua da Escolas
Bargain hunt through the wide variety of souvenirs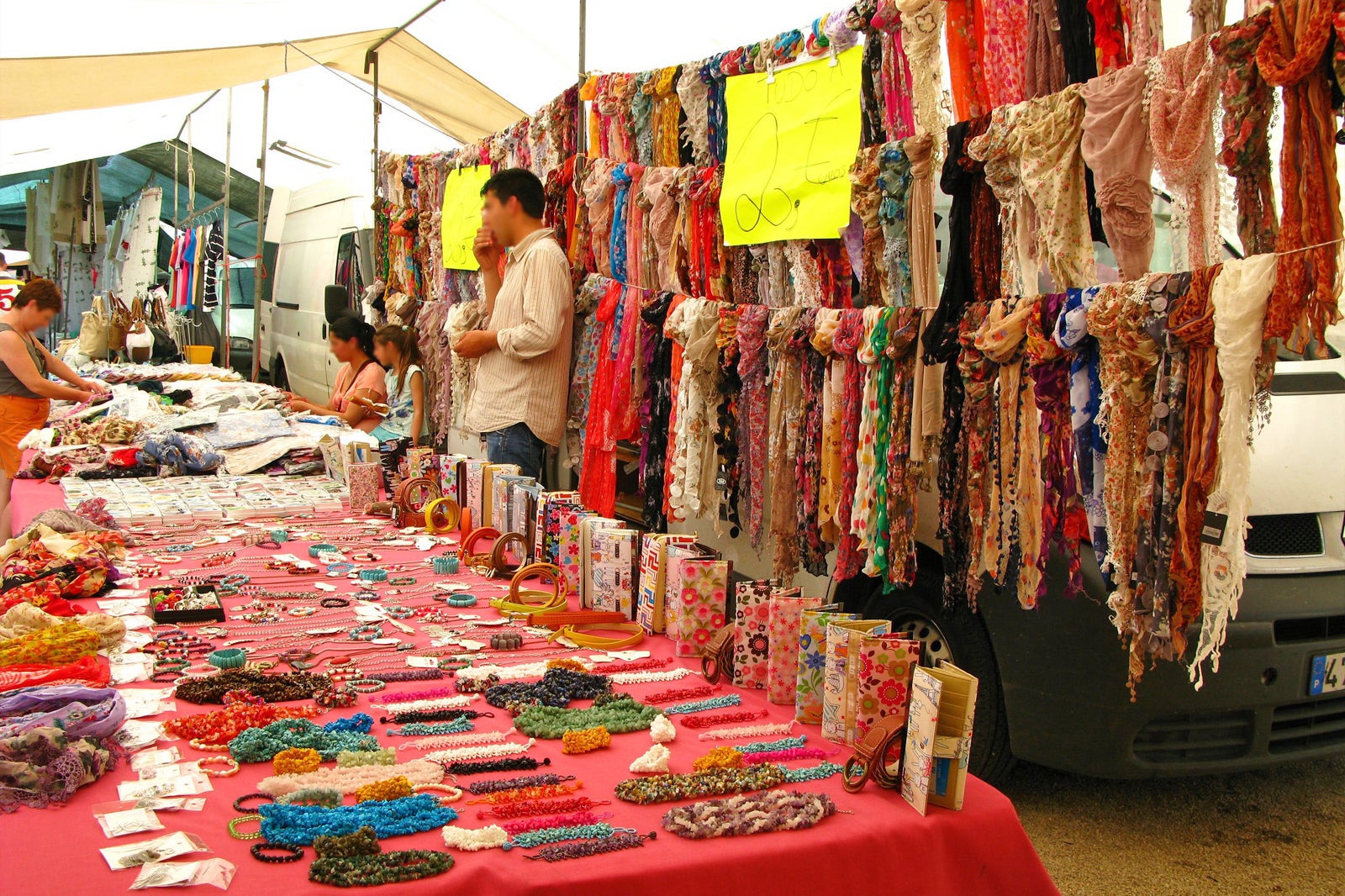 Rua da Escolas in Olhos de Água, part of Albufeira district, is home to a flea market referred to locally as the mercado mensal. It takes place twice a month (not once as the name suggests) on the 1st and 3rd Tuesday. You'll find stallholders selling a range of goods, from souvenirs to household goods – haggling is encouraged.
Other gypsy markets in the Albufeira area include the one held in front of the Municipal Market in Caliços every 2nd and 3rd Saturday of the month. It also takes place in São João on the 4th Saturday of the month. They sell goods much like those you'd find at the Rua da Escolas market.
Location: Rua da Escolas, Albufeira, Portugal
2
Mercado Municipal dos Caliços
Browse through collonaded walkways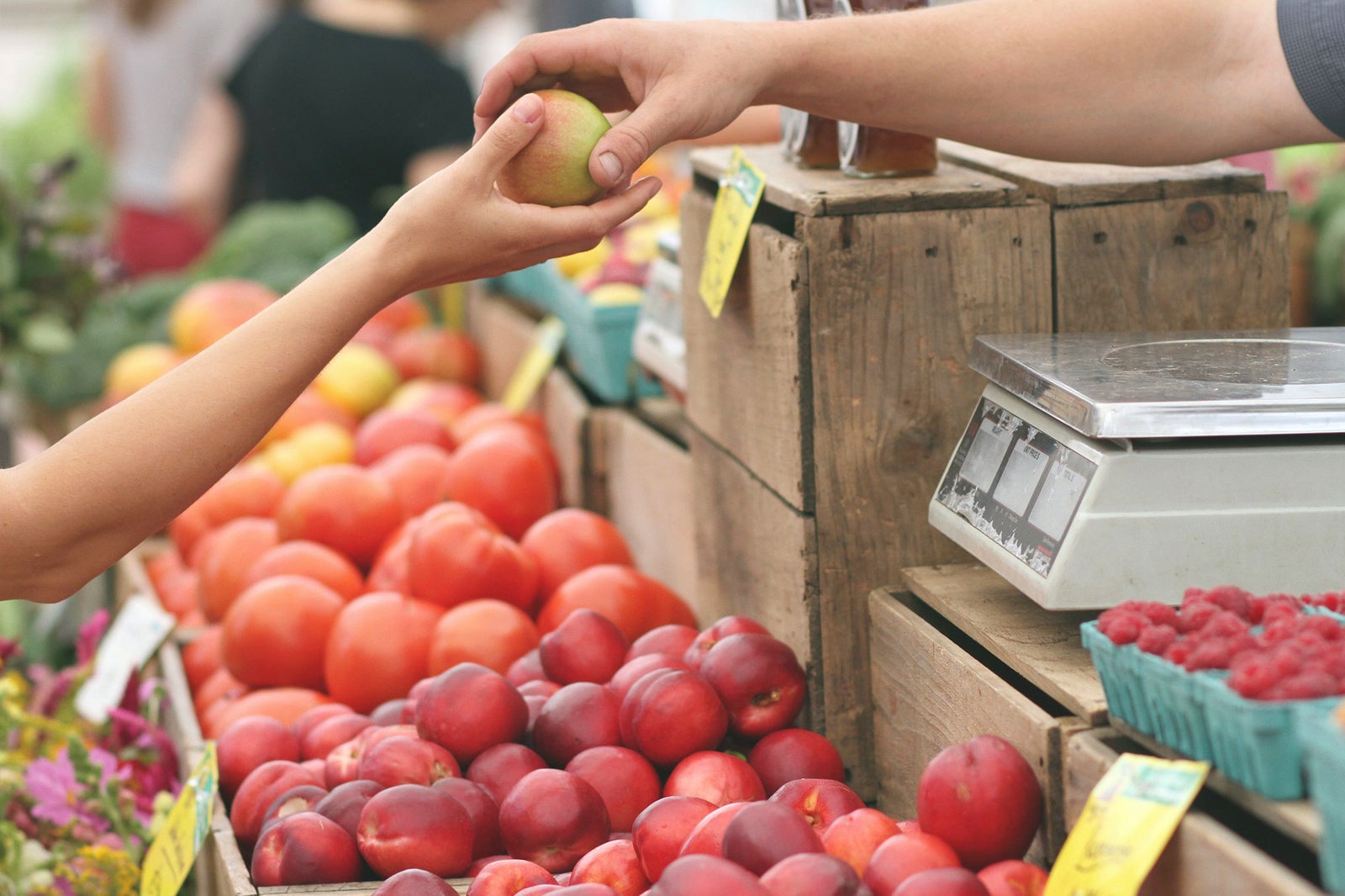 Mercado Municipal dos Caliços is a smart and well-maintained shopping space housed in the Largo do Mercado building, not far south of the bus station. It's not to be confused with the outdoor market that sometimes sprawls across Estrada de Vale de Pedras on the opposite side of the terminal.
Mercado Municipal dos Caliços occupies a smart complex with a mosaic-tiled courtyard. Duck under the terracotta-painted arches to stroll along a collonaded walkway which links the different sections of the market. Under the whitewashed ceilings, you'll find stalls piled high with fresh fruit, vegetables, fish and meat.
Location: 126, Largo do Mercado 4, Albufeira, Portugal
Open: Daily from 8 am to 2 pm
Phone: +351 289 599 500
3
Rua 5 de Outubro
From Portuguese pottery shops to fashion stores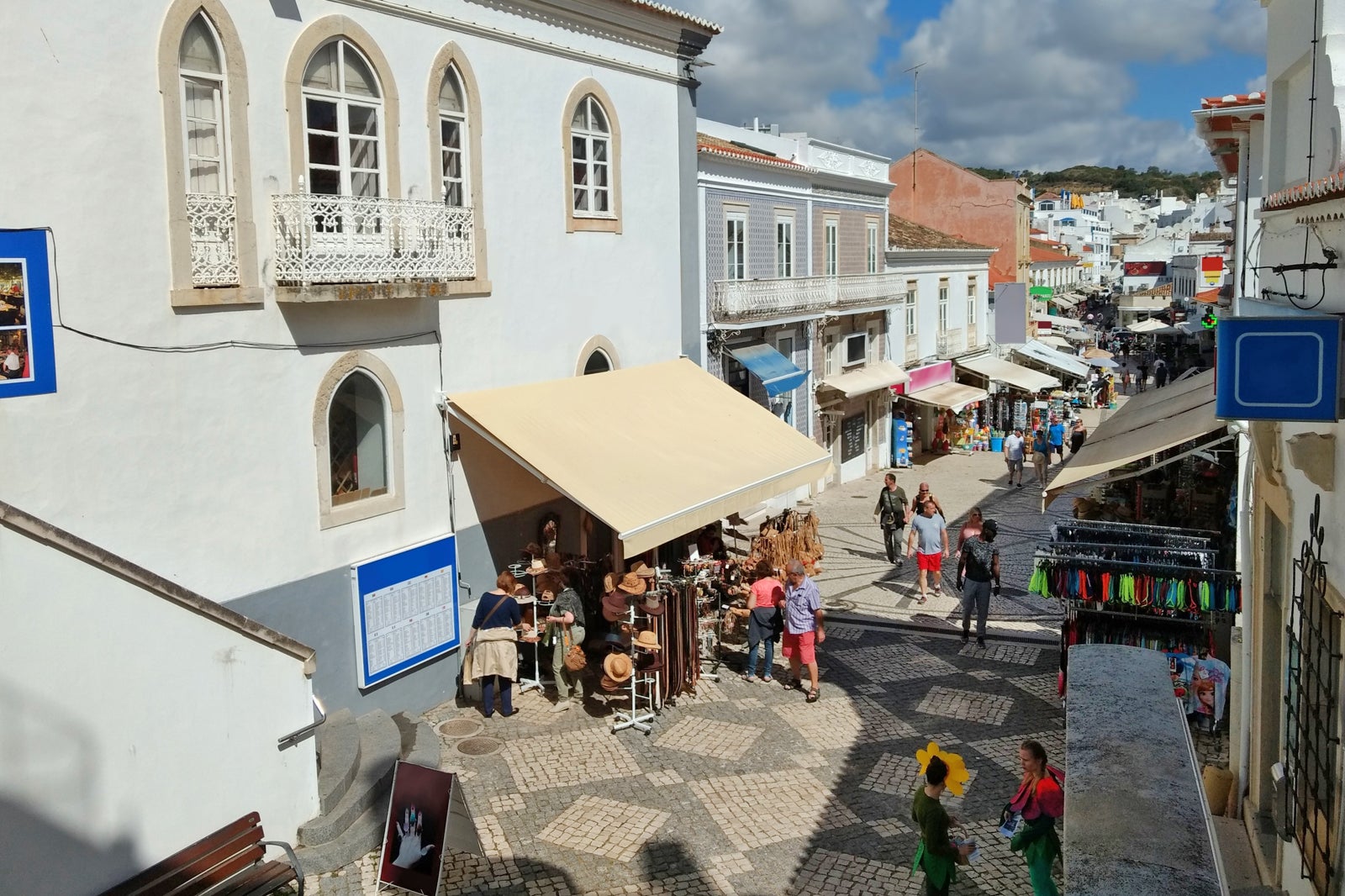 The Rua 5 de Outubro is a street that runs parallel to Avenida da Liberdade, Albufeira's main shopping street. Though a little less busy, it's a must for shoppers who are drawn by its diverse selection of stores.
One of the best places in town for handicrafts and art is Portucale. Love but Pau de Pita Artesanato Pottery and Casa Raminhos also sell good quality ceramics. Sandwiched between the restaurants and tour operators you'll also find some clothing stores, a small supermarket and a pharmacy.
Location: Rua 5 de Outubro, Albufeira, Portugal
4
Albufeira Shopping
The downtown hub for shopping and dining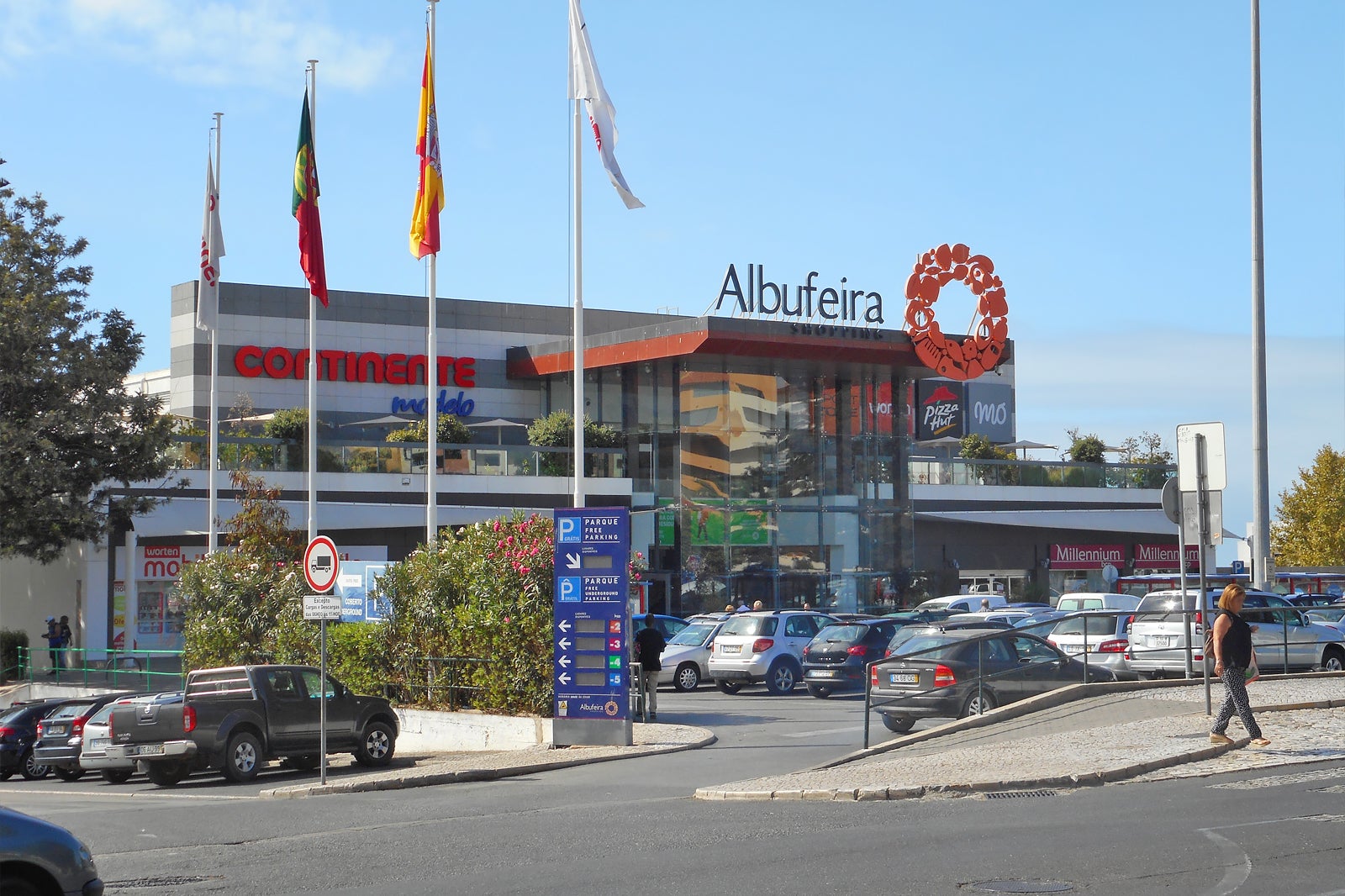 Albufeira Shopping is a downtown mall close to the centre of Albufeira where you can browse for a variety of goods, including clothing, perfume, stationery and electronics. While the mall doesn't have the range afforded by the larger Algarve Shopping mall in Guia, its handy position is more convenient.
In between your shopping, you can simply refuel at one of several restaurants serving pizza, burgers, Asian food and local dishes. There are also a handful of cafés where you can grab a coffee and a pastry and settle down at a table and people watch. If you're self-catering, you'll find the supermarket quite useful.
Location: Lote, R. do Município 32, 8200-161 Albufeira, Portugal
Open: Daily from 9 am to 11 pm (most stores open at 10 am)
Phone: +351 289 598 430
photo by Kolforn (CC BY-SA 4.0) modified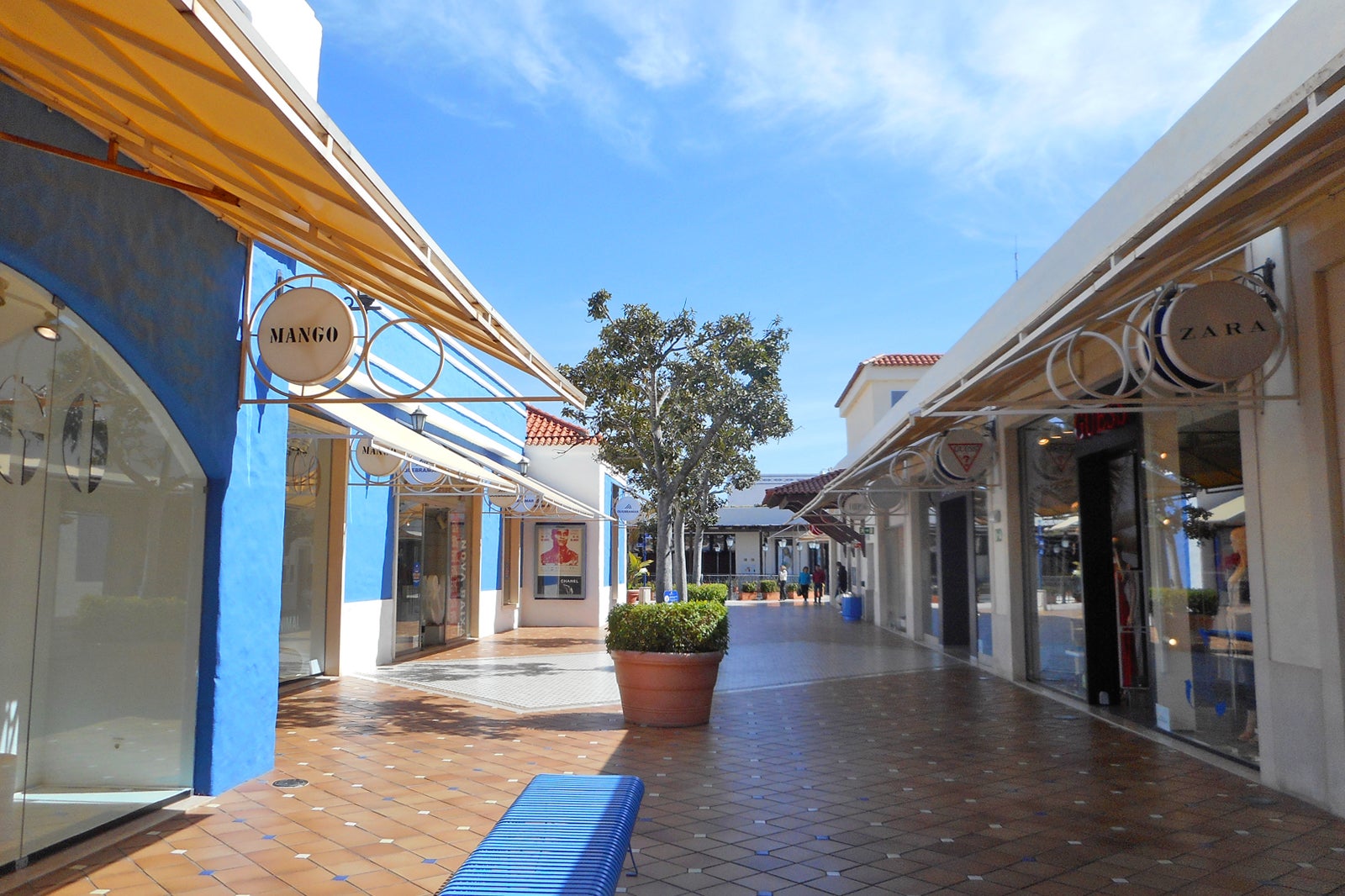 Algarve Shopping is the biggest mall in the Albufeira area, located about 6 km out of town in Guia. It's worth the short taxi ride to take advantage of the many stores that occupy this indoor mall, parking is free if you drive yourself, while some hotels offer free transfers. Flagship stores include Zara, H&M, C&A, Cortefiel and Pull&Bear. There's also a hypermarket and cinema.
Free Wi-Fi is available throughout Algarve Shopping. It also offers all the services you'd expect of a modern mall, including ATMs, strollers and wheelchair rentals, baby-changing facilities and air conditioning.
Location: Lanka Parque Comercial e Industrial do Algarve, Lote, R - Fração 3, 8201-878 Guia, Albufeira, Portugal
Open: Daily from 9 am to 11 pm (most stores open at 10 am)
Phone: +351 289 105 500
photo by Kolforn (CC BY-SA 4.0) modified
6
Albufeira's artisanal pottery
Bring home an ornate ceramic piece of Albufeira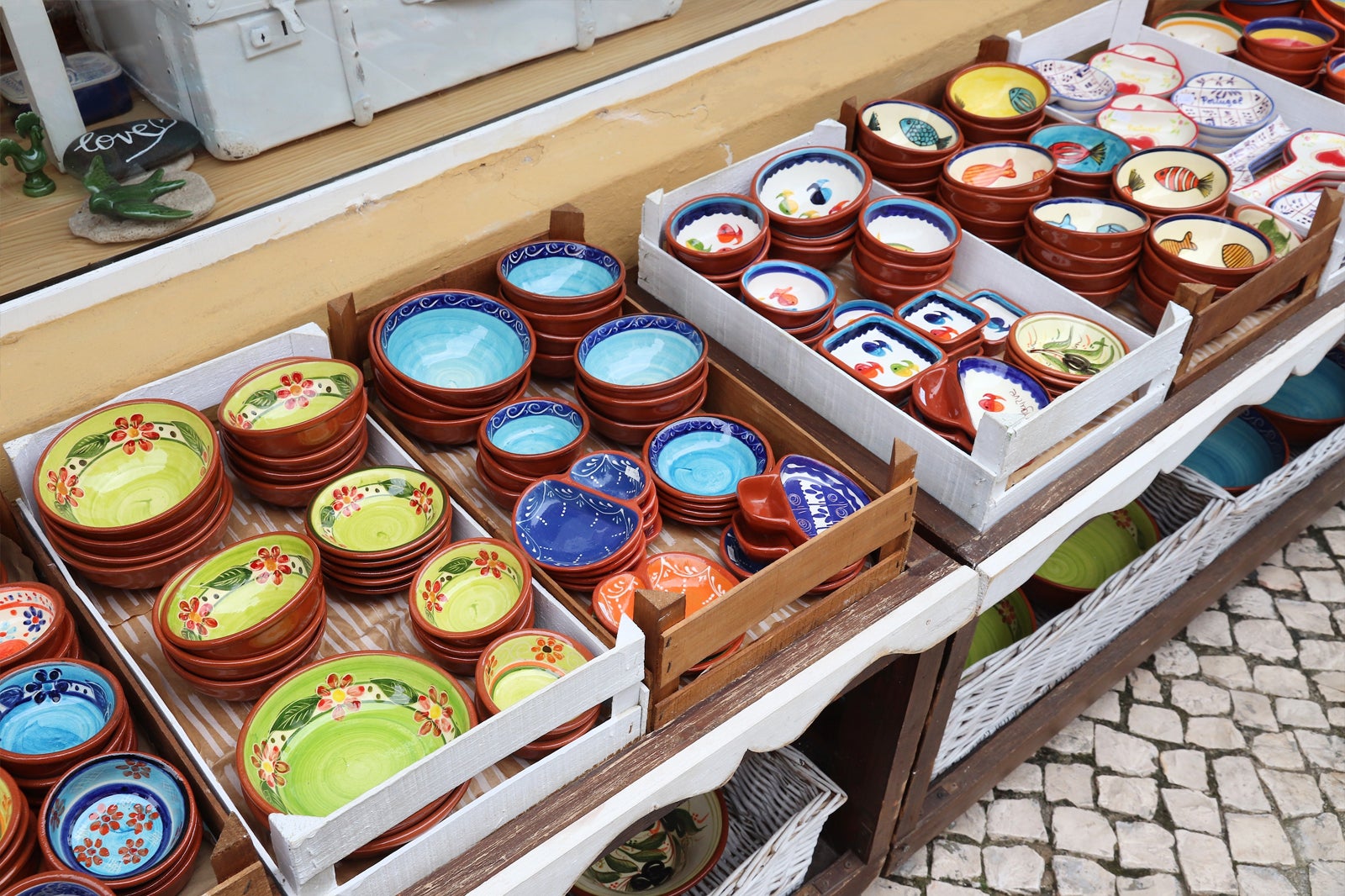 Artisanal pottery in Albufeira, or the Algarve as a whole, is well known as the ceramics and brightly painted pottery make a useful as well as pretty souvenirs. One of the best places to find a unique piece is at Pau de Pita Artesanato Pottery on Rua 5 de Outubro. Their colourful bowls will bring a dash of Portuguese flavour to gatherings at home, while vases with floral motifs will look great on a windowsill.
Casa Raminhos is another locally owned business which sells Portuguese rather than imported pottery. They have a wide variety of hand-painted tiles to choose from in their Rua 5 de Outubro premises. For something for the garden, check out plant pots on sale at Gigagarden Botanic, located close to the Algarve Shopping mall.
7
Albufeira cork products
Unique Portuguese items
When in Portugal, or the Algarve, cork products are something you should look into. Cork has many useful properties: it is lightweight yet durable, easily cleaned and waterproof. Sustainably harvested from the cork oak, its production is still commonplace in Portugal. Along the Algarve, you'll find evidence of this in the form of many shops specialising in the sale of items made from this versatile material. Albufeira is no exception.
At Cork Shop on Rua do Município you can find shoes, wallets, handbags, and belts – there's another branch in the Algarve Shopping mall. Nearby, Cork & Leather offers a similar range, while Cork World in neighbouring Olhos de Água has cork items for sale, along with a wider variety of local handicrafts.
8
Avenida da Liberdade
Albufeira's main shopping street
Avenida da Liberdade has a large concentration of retail outlets in Albufeira. If you're in a mood for shopping, this is a good place to start. The street can broadly be split in 2 – the northerly section which begins at the junction with Avenida dos Descobrimentos, where traffic is permitted, and the pedestrianised stretch at its southerly end.
Independent stores line Avenida da Liberdade, many of which are fashion outlets. Some specialise in clothing, others in sunglasses, handbags or footwear. There is also a bicycle rental shop, a small supermarket and several off-licences.
Location: Avenida da Liberdade, Albufeira, Portugal
9
Homeware stores in Albufeira
Shop for gifts or the living room back home
There are plenty of homeware stores in Albufeira where you can shop for gifts or to spruce your living room back home. One of town's most eclectic is Dinor Artesanato e Decoração – part gift shop, part homewares store, in which you'll find everything from clocks to collectables. It spills out onto the pavement close to Largo Engenheiro Duarte Pacheco, a square right at the heart of Old Town.
Ceramics, linens and other homewares are the main reason to visit Portugal 100% on Avenida da Liberdade. Ideal for those furnishing a second home or those with a passion for contemporary interior design, Simple Taste sells a mix of furniture, home accessories, and other designer pieces. You can find the store on the outskirts of Albufeira on the road to the Algarve Shopping mall.
10
Piri Piri & Co
Bring home some spicy Portugeuese flavours
Piri piri (also referred to as peri-peri) is a variety of the capsicum family. This particular pepper plant grew in Mozambique but was soon carried across the territories of the Portuguese Empire by merchant sailors. Today, it's best known as the key ingredient in a piquant sauce which typically also contains onion, chilli, citrus peel, garlic, lemon and herbs.
Bring home a bottle of Portugal's authentic spicy sauce after a visit to Piri Piri & Co, a 15-minute drive north-east from Albufeira. The business was established in 2011 by Romeu Santos and has proved popular with both the local and tourist markets. The ingredients for Piri Piri & Co's range of sauces include 30 types of piri piri grown on the company's farm.
Location: Lanka Quinta Do Piri-Piri Caixa Postal 226-Z, Beco do Paiva, Estr. de Vale Carro, 8200-625 Albufeira, Portugal
Open: Tuesday–Saturday from 10 am to 5.30 pm (closed on Sundays and Mondays)
Phone: +351 968 820 630
Back to top