Sundara at the Four Seasons Resort Bali at Jimbaran Bay is a chic beachfront dining and chill-out place on Jimbaran Bay. The luxurious venue is on one of Bali's best sunset beaches and boasts a striking design that blends in well with the bay's natural setting.
Occupying most of the southern alcove of the bay and bordering the resort's grounds, Sundara adds gorgeous features to the beach with a blue infinity pool and tree-shaded daybeds. Comprising a dedicated bar, an alfresco area and a separate main building that houses 5-star dining and meeting facilities, this all-day dining venue sets the standards in the area.
Sundara at Four Seasons Resort Bali - one of the highlights of 7 Best Nightlife in Jimbaran and 7 Best Nightlife in Uluwatu (Read all about Bali here)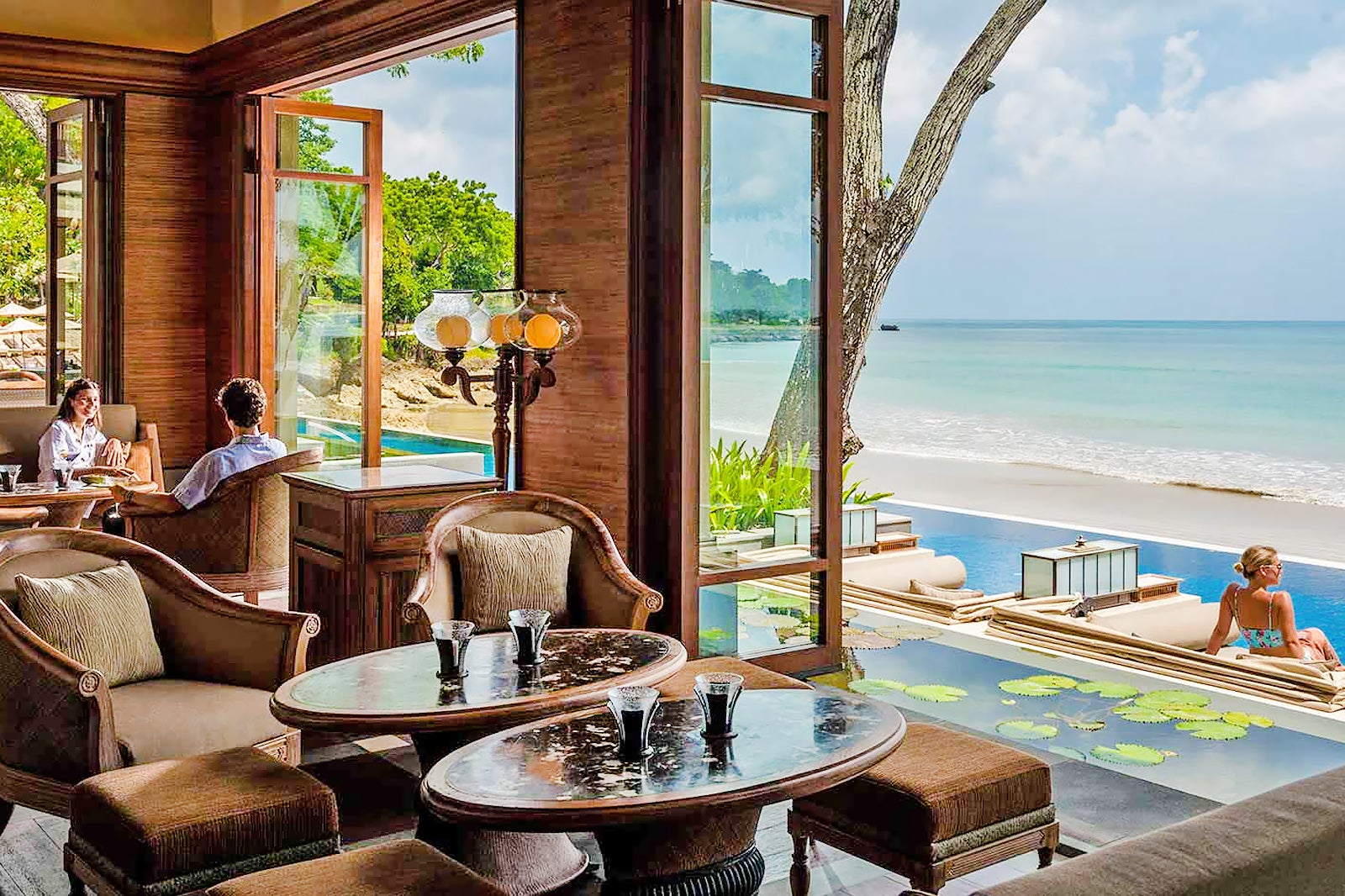 How to find Sundara
Heading up from the corner of Jalan Bukit Permai in Jimbaran and just past the array of seafood cafés, you'll come across the hard-to-miss Muaya Temple that slightly conceals Sundara's limestone walls and entrance. The entry features a canopy of high wooden beams that act as blinds, letting in modest amounts of sunlight while creating unique lateral shadows on the steps that descend to the bar.
The acclaimed Japanese design studio Spin had much to do with the novel plan. Cascading water trickling down corrugated walls and fuchsia and purple lily-filled ponds provide an eye-catching welcome.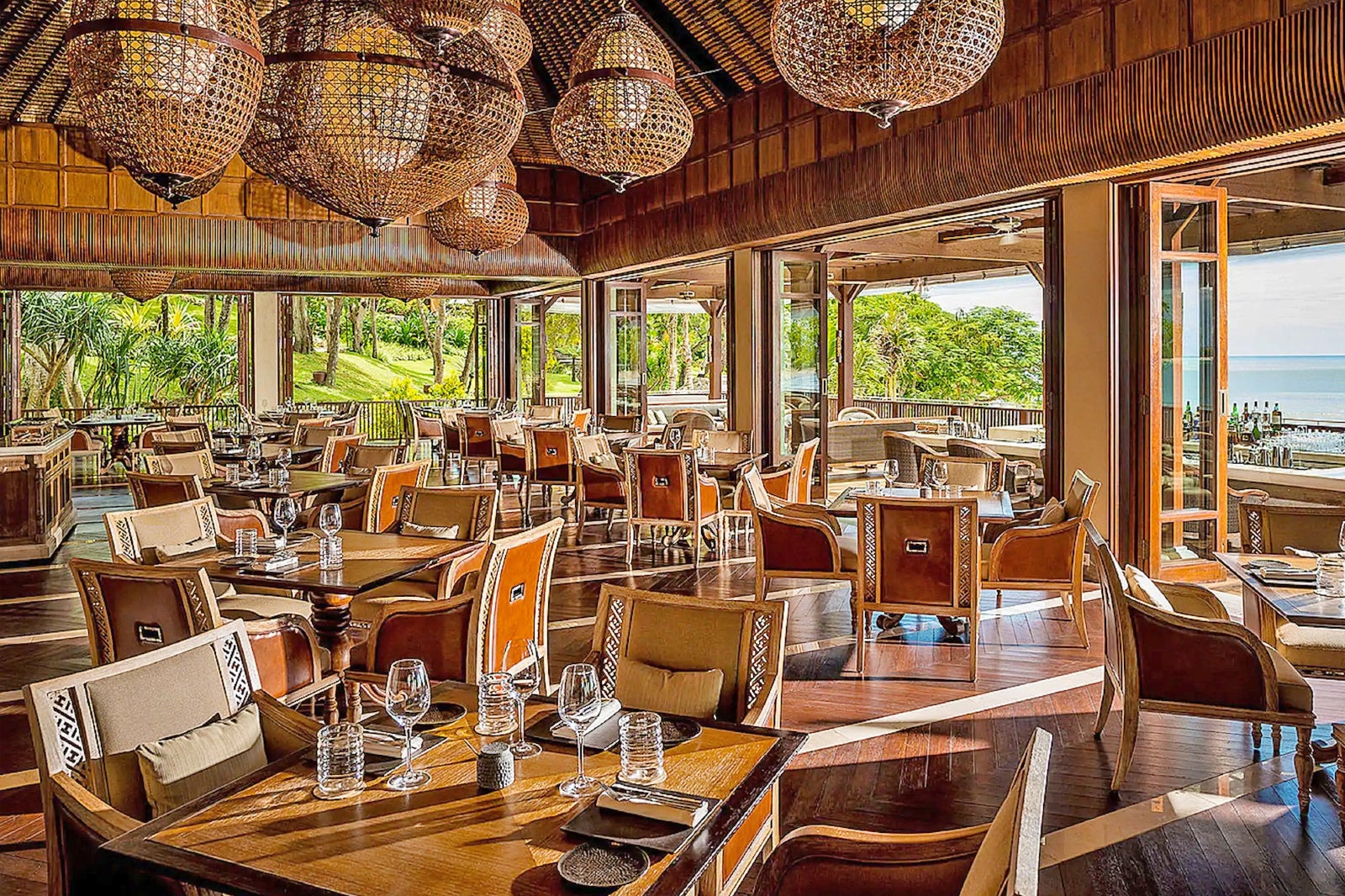 Stylish design at Sundara
At the axis of the open-beam ceiling of the bar hangs a massive chandelier – a hefty 950 kg of delicately carved and polished teakwood. Floor-to-ceiling windows fully open to provide broad views of the bay and gentle sea breezes. This Balinese-style pavilion blends artistic touches, such as carved wooden wall panels and parquets, with an ambience of relaxed luxury through regal décor and plush sofas. The poolside and beachside daybeds are only a few steps from the bar.
Named after the Sanskrit word for 'beautiful', Sundara offers bright and chic beachfront dining with the laidback 55-metre lap pool and the blue ocean as a backdrop by day. The restaurant is laid out around large mature trees that add ample natural shade over the pool and seaside lounges. Following Jimbaran's magnificent sunsets, stone cauldrons dotted throughout are lit ablaze, creating a sophisticated dining atmosphere.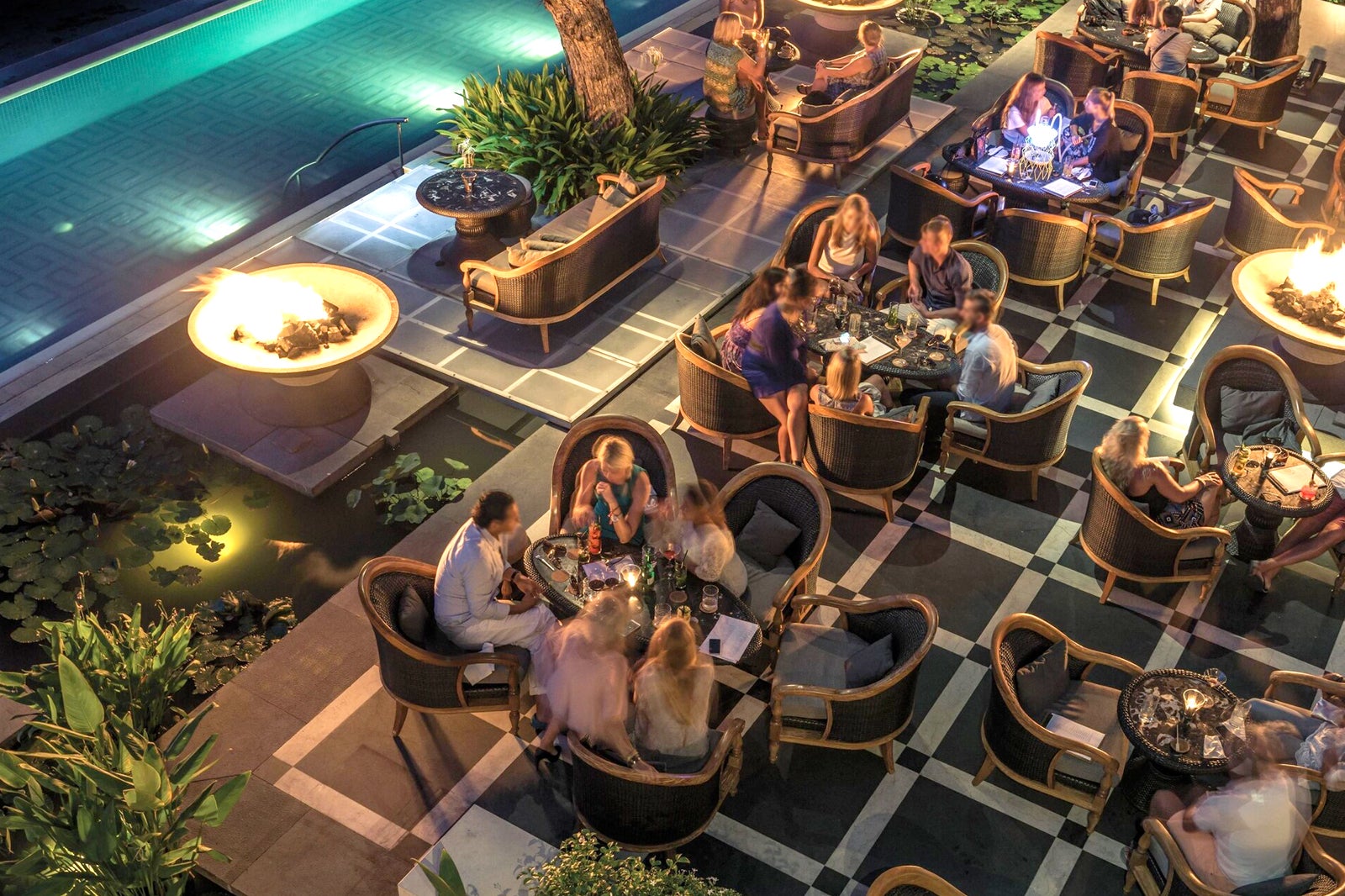 What to eat at Sundara
Across from the bar is the main restaurant, serving international selections from a semi-open kitchen. There's also a dedicated charcuterie corner conveniently located beside the open kitchen and main aisle. For lunch, guests can pick from shared plates of sushi, Wagyu steaks, salads, and wood-fired pizzas, served on the open-air rooftop deck with wide bay views. For dinners, you can expect an abundance of vibrant, innovative and classic flavours, celebrating steak and seafood.
The all-day menu offers a wide selection, while restaurant dining focuses on a grill-house concept together with prime cuts and seafood highlights. The Panzanella bread salad includes chunks of tomato, basil and olives with mangosteen, prawns, anchovy and chicken, and from the cold bar, a half lobster and various sambals provide a succulent platter. Pizza toppings come in provolone and Italian sausage, margarita and mozzarella, salami and peppers, and mozzarella and fontina cheese combinations.
What to drink at Sundara
Across the fiery cauldrons and back at the bar, Sundara proudly presents cocktails mixed by expert mixologists. Among the signature cocktail selections, try the Jim-Let Fox-Trot, a mix of Bombay Sapphire gin and tonic. The Thousand Nights is also worth a try, combining star anise, green cardamom, passion fruit, lime juice and dark rum. Resident DJs help set a cool and relaxed mood with chill-out music.
Sundara at Four Seasons Resort Bali
Location: Four Seasons Resort Bali At Jimbaran Bay, Jalan Bukit Permai, Jimbaran, Badung, Bali 80361, Indonesia
Open: Daily from 8am to 1am
Phone: +62 (0)361 708333
Back to top