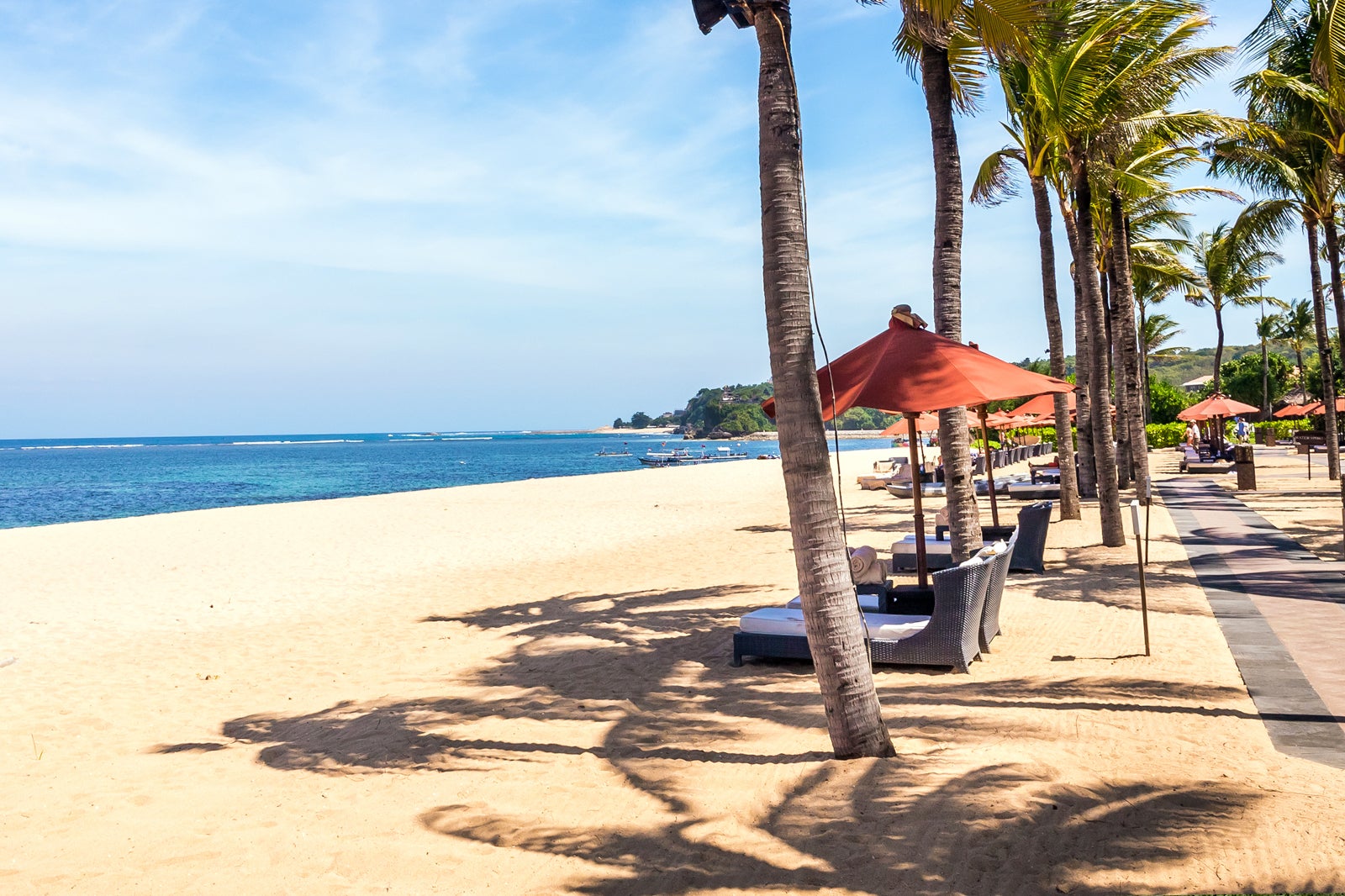 Geger Beach is a kilometre stretch of golden sand in southern Nusa Dua, shared by the Bali National Golf Club, St Regis Bali and The Mulia Bali Resort. Most of Geger Beach is open to the public and it offers picturesque seascapes, calm waters with some patches of seaweed farms and the clifftop temple of the same name as its unique backdrop.
The beach is secluded but accessible, with waves that are pleasant for swimming and the beach has long been a favourite point for paddling out among experienced surfers. You can stroll along most of the beach's length, and as a guest of a luxury hotel along the beach, you'll enjoy great privacy before Geger's bordered beachfront footpath.
Geger Beach in Nusa Dua - one of the highlights of 15 Best Things to Do in Nusa Dua and 10 Secret Beaches on Bali's Southern Tip (Read all about Bali here)
Things to do at Geger Beach
During low tide, you can get to a smaller solitary beach behind the rocky outcrop under the temple. You can also get to this 'secret beach' via the tiny dirt footpath that is somewhat hidden by tall plants, right next to Geger Temple. You can find local restaurants selling a good mix of local and international cuisine such as nasi goreng fried rice and burgers at the beach's midsection.
A small creek runs under the cliff base. A few stairs up lead you to a longstanding restaurant serving seafood grills. There are kiosks here renting out surfboards, in case you didn't bring your own. Geger Temple's piodalan anniversary celebrations are held every 6th full moon on the Balinese pawukon calendar.
Geger Beach in Nusa Dua
Location: Jalan Nusa Dua Selatan, Nusa Dua, Badung, Bali 80363, Indonesia
Back to top