10 Best Things to Do in the German Alps
What are the German Alps Most Famous For?
The German Alps are a source of seemingly endless natural beauty throughout the year. A powdery paradise for skiers and those in search of a winter wonderland during the colder months, the region's snow melts as the year progresses. The end of the snow season reveals beautiful hiking trails, rolling hills carpeted with wildflowers, and the rustic sound of cowbells echoing in the distance during summer.
Commanding castles and opulent churches lie scattered among alpine forests and spectacular turquoise lakes in the deep south of Bavaria. Cable cars carry you over hidden gorges that reveal enchanting scenes reminiscent of fairy tale illustrations. After a long day traversing these beautiful scenes, whether on skis or in your hiking boots, you can enjoy a long soak in a hot tub set among idyllic backdrops in a spa retreat.
What are the best things to do in the German Alps?
1
Ski cross-country at Oberammergau
Enjoy the castles and churches in beautiful natural surroundings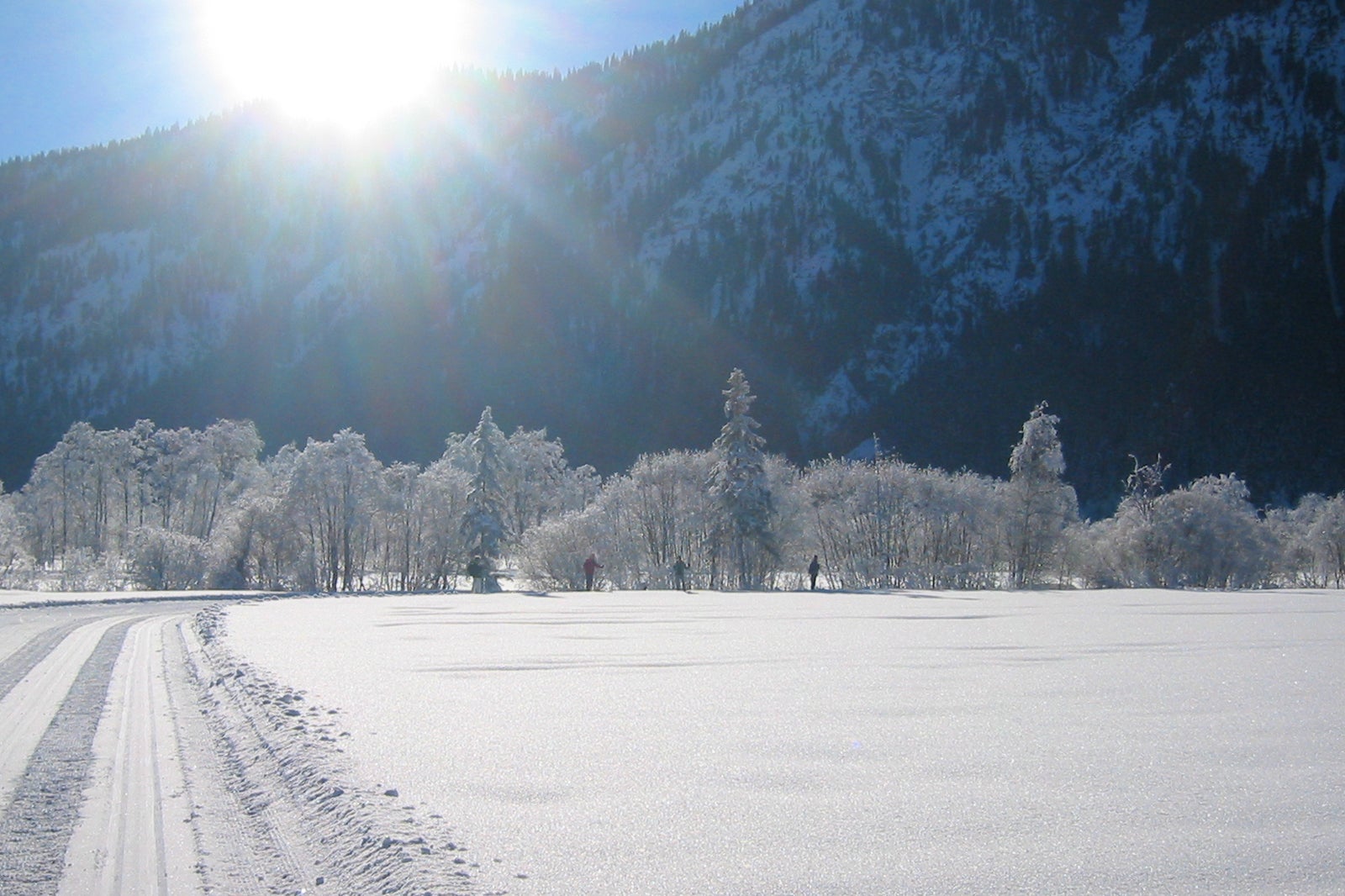 With a superb mix of forest and sunlit paths to follow, Oberammergau has a well-earned reputation for its exceptional trails. Cross-country skiers will be able to traverse over 100 km of trails throughout the region.
When snow is sparse, there's an abundance of alternative activities and sights to keep you entertained. There are opportunities to learn about local crafts at a wood carving demonstration. You could also visit the peaceful Ettal Abbey, a Benedictine monastery and Baroque church just a 5 km drive from Oberammergau. If royal dwellings pique your interest, wander the grounds of the opulent Linderhof Palace.
photo by David Pursehouse (CC BY 2.0) modified
2
Live a real-life fairy tale at Neuschwanstein
Be enchanted by the castle that inspired Walt Disney to create the Magic Kingdom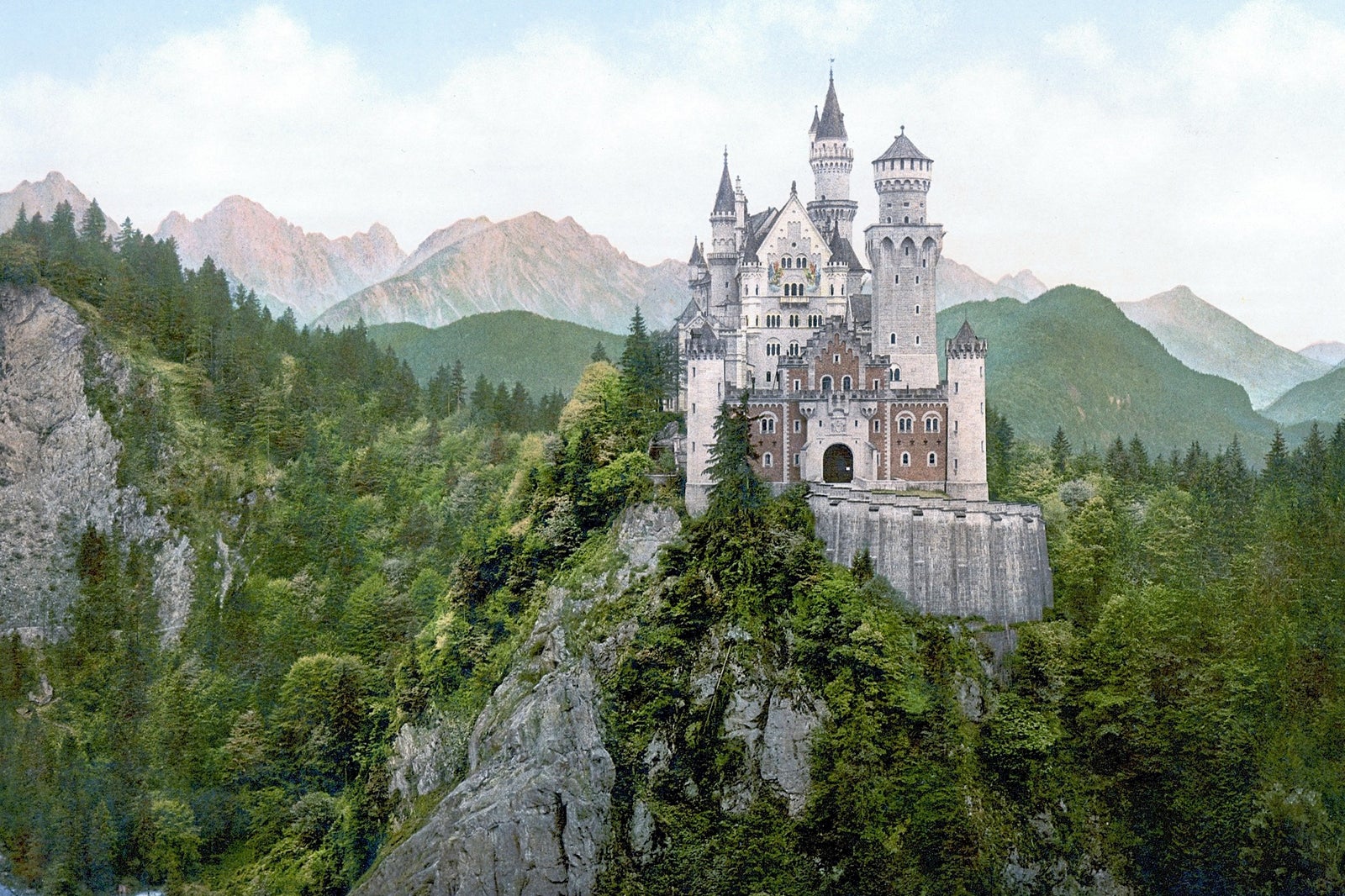 As if plucked straight from a fairy tale and nestled among a Bavarian forest, Neuschwanstein is a 19th-century Romanesque Revival palace and one of the most visited castles in Germany. Just over 1.5 hours' drive from Munich, its interior is as elegant inside as its exterior.
Picturesque in every season, the light limestone walls are particularly beautiful when viewed against golden autumnal hues. When covered in winter snow, the palace and surrounding environment take on the appearance of a winter wonderland. For the best views and photo opportunities, take a 15-minute walk uphill to Marienbrücke – the bridge overlooks the valley and plateau below.
Location: Neuschwanstein-Hohenschwangau, Alpseestraße 12, D-87645 Hohenschwangau, Germany
Open: Daily from 8.30 am to 3 pm (7.30 am to 5 pm in winter)
Phone: +49 (0)8362 930830
3
Admire alpine beauty at its finest at Eibsee
Take in the views from the highest peak in Germany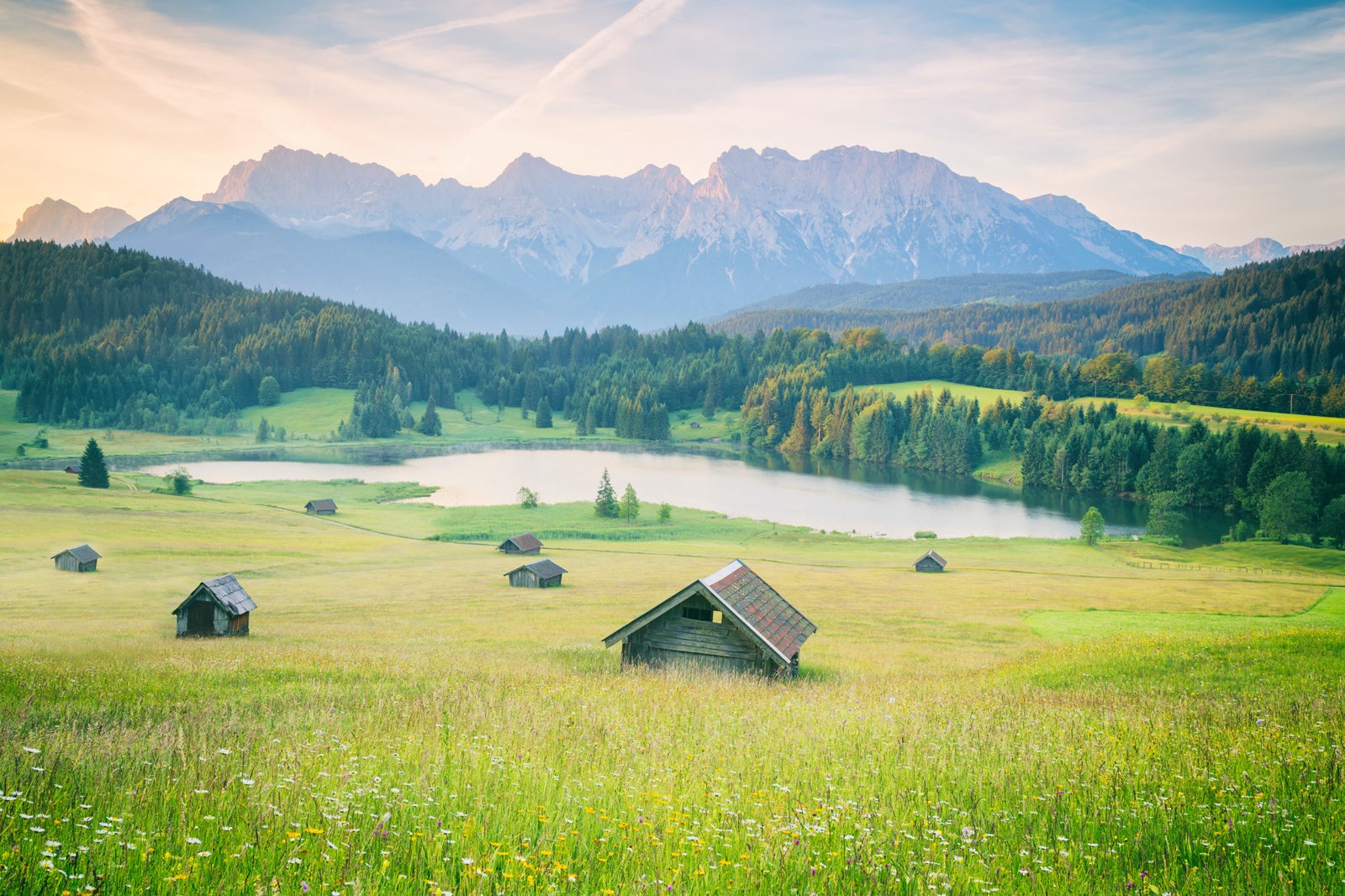 Created by the powerful forces of nature, a giant rockfall in the last ice age formed the basin of one of Germany's most stunning lakes, Eibsee. Explore the shores of the lake by strolling around the 7.1-km loop trail from the Eibsee Hotel, taking in the dazzling blue waters and the lake's 8 islands.
With Eibsee located at the foot of Germany's highest mountain, the Zugspitze, getting a bird's-eye view of your surroundings is the ideal way to take in the full beauty of the area. Opt for either the cable car or cogwheel train for the ascent. If you'd prefer to cool off during hot weather, take to the lake for a splash or go exploring by kayak.
Location: Eibsee-Hotel, Am Eibsee 1, 82491 Grainau, Germany
4
Take time to reflect at Pilgrimage Church of Wies
Bask in the beauty of this Rococo masterpiece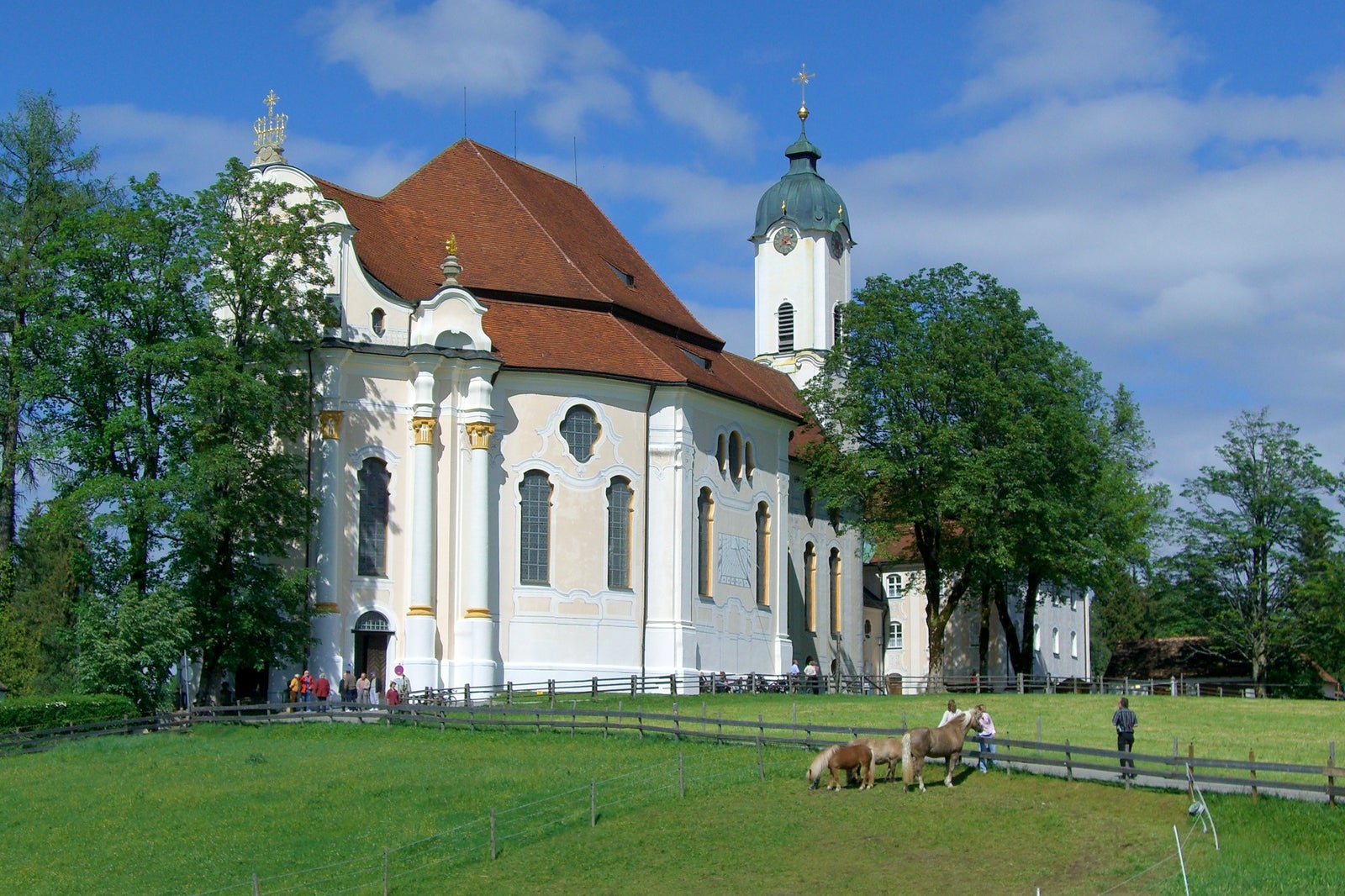 The Pilgrimage Church of Wies is a great place to shift gears in a locale best known for its high-energy outdoor activities. Located in the small village of Wies, the building's modest exterior reveals little of the creative masterpiece that lies within this church's walls.
Listed as a UNESCO World Heritage site as an impressive example of Bavarian Rococo architecture, the ornately detailed frescos deserve thorough appreciation. For those enjoying the slower pace, you can also explore the nearby rolling hills to continue basking in the serenity this area affords.
Location: The Pilgrimage Church of Wies, Wies 12, 86989 Steingaden, Germany
Open: Daily from 8 am to 8 pm (8 am to 5 pm in winter)
5
Indulge in a remote spa break in Bad Hindelang
Soak up views of the Alps while you soak in the sulphurous water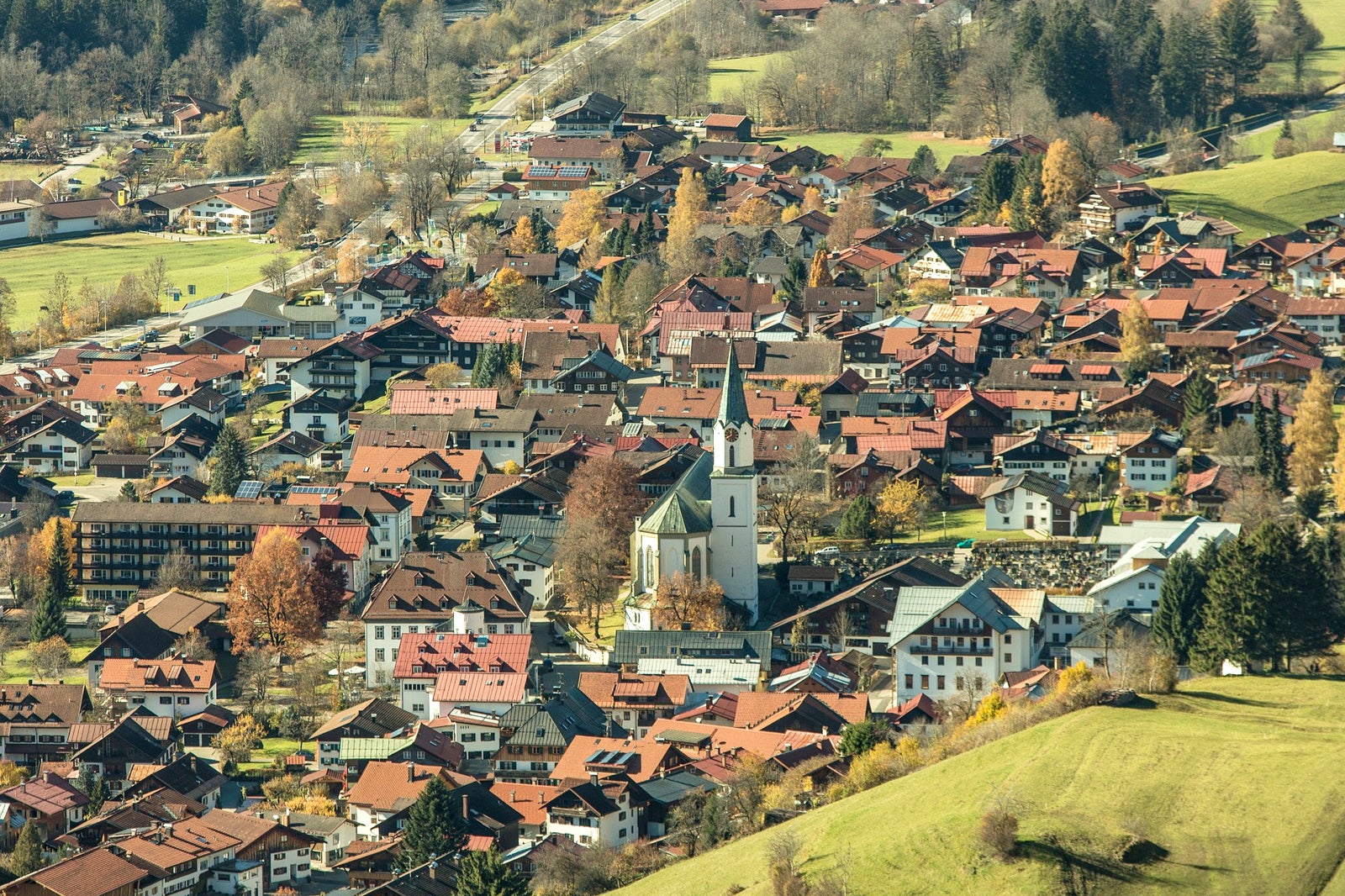 Treat yourself to a wellness break in the mountain resort region of Bad Hindelang. This is a fine place to rest tired bones after exploring neighbouring forests, skiing the region's best slopes, and taking in your fill of history. And the place does have quite a fascinating history. The townhall was once a hunting lodge and summer retreat for the Prince Bishops of Ausburg. The area became a popular spa-resort destination when sulphur water was all the rage, though it still draws those looking to relax.
Curl up by the fire with hot chocolate or wine and a good book, or warm up in an open-air hot tub overlooking the surrounding peaks. During summer, you can make the most of nearby alpine pastures with scenic walks.
Location: 87541 Bad Hindelang, Germany
6
Hit the slopes in Garmisch-Partenkirchen
Follow the trails skied by Olympic champions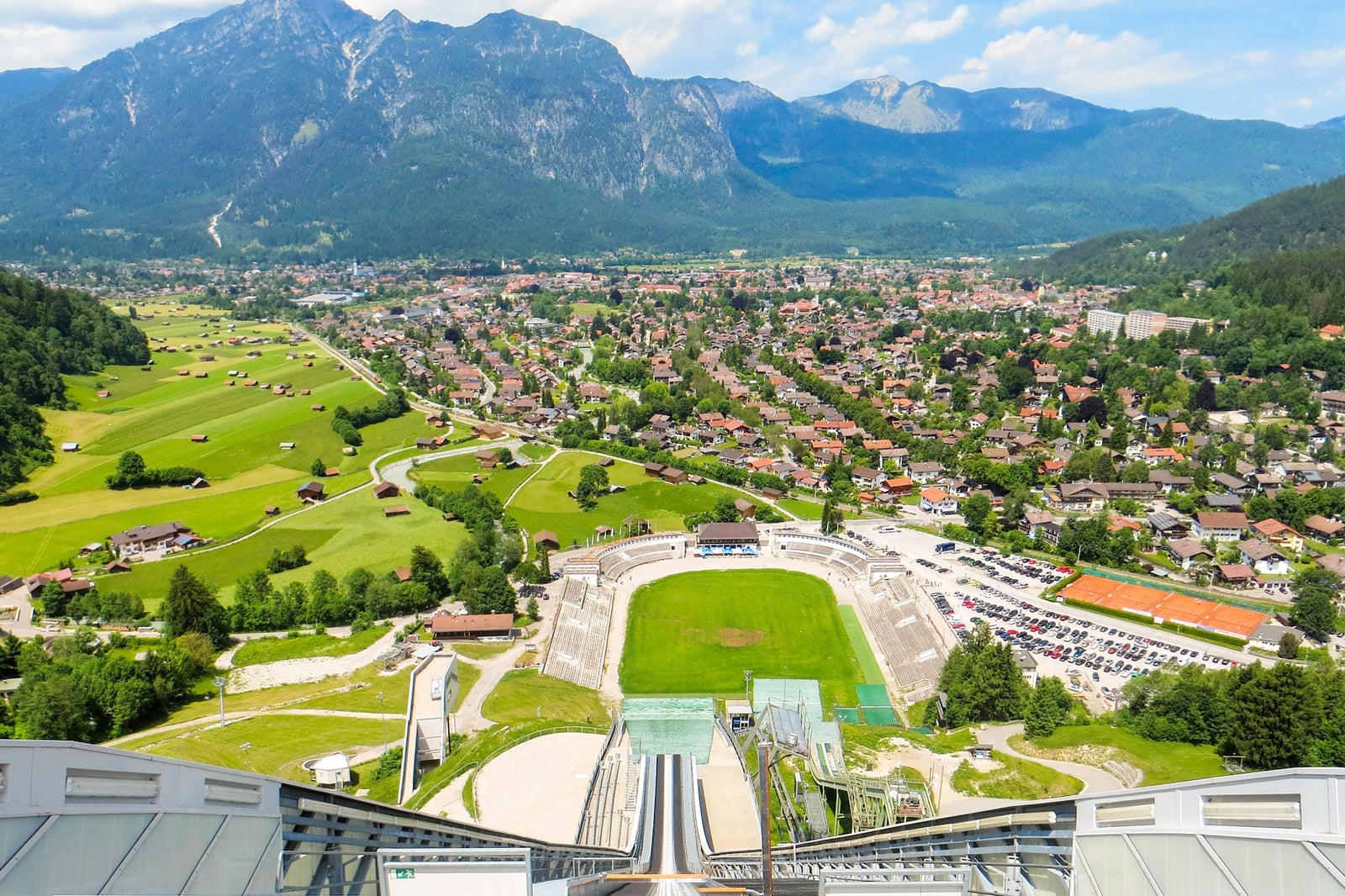 Garmisch-Partenkirchen hosted the 1936 Winter Olympics, so it's not surprising to find excellent ski trails catering to skiers of all levels. With regular ski championships held at the resort, this is one of the best ski areas in Germany. There's also a host of other winter activities available if skiing just isn't your thing.
Garmisch-Partenkirchen offers visitors a lot more than just an opportunity to play in the snow. AlpspiX, an X-shaped platform jutting out nearly 1,000 metres above the Höllental Valley, offers views of the Zugspitze and the Alpspitz north face. Alternatively, if heights make your knees tremble, Partnach Gorge covers more than 700 metres through the Reintal valley and is popular among hikers. You can also explore 3 waterfalls nestled among the forested trails at Kuhfluchtwasserfälle.
Location: 82467 Garmisch-Partenkirchen, Germany
7
Eat like a true Bavarian with these local specialities
Sauerkraut, käsespätzle, apfelstrudel and weissbier galore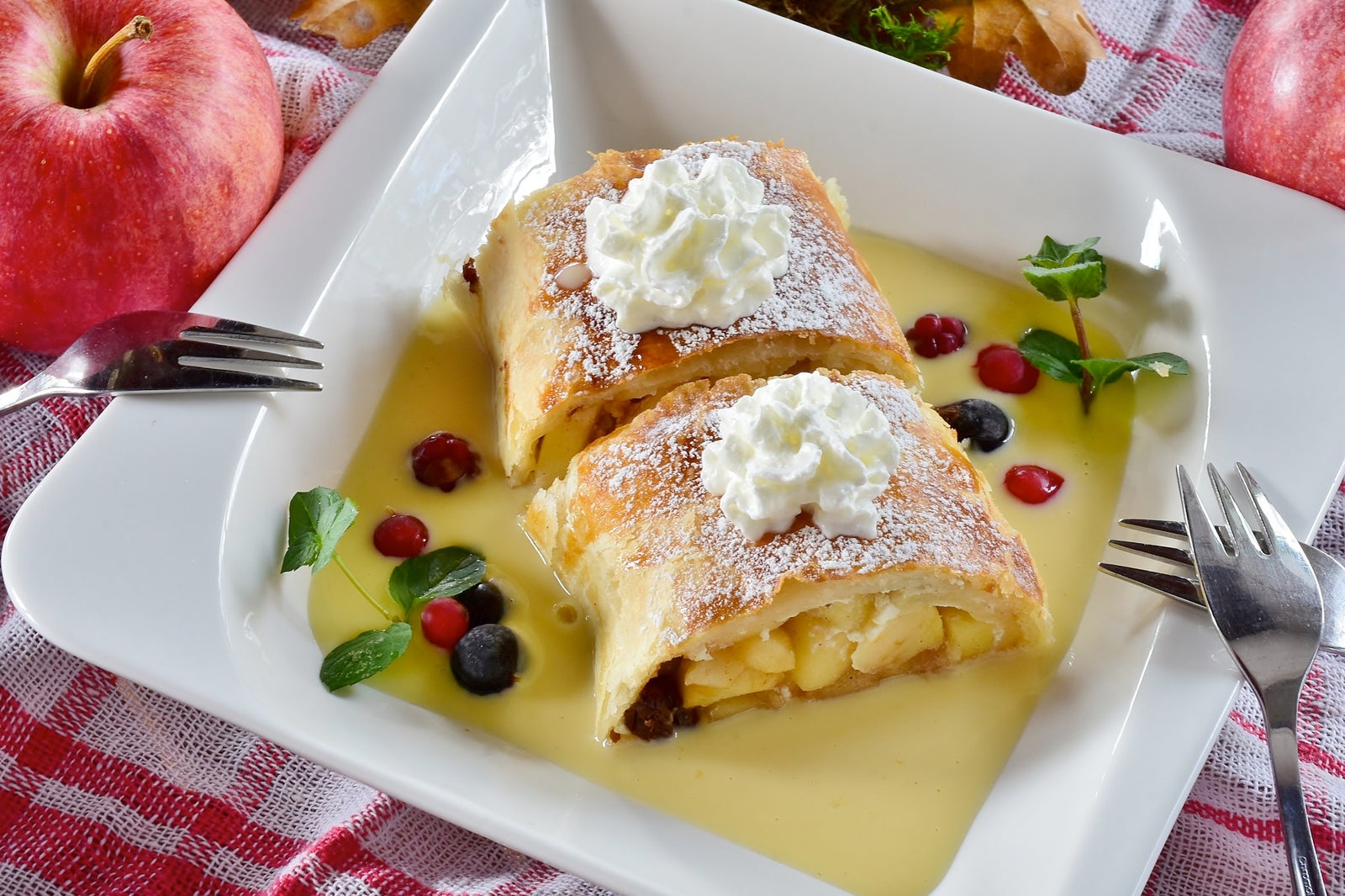 Germans are known for enjoying a hearty meal, and none more so than the Bavarians. There's an abundance of meat, potato, and cheese on offer in the region. Lots of the recipes here still following traditional methods, many of which are shared with their Austrian neighbours. Making the most of the culinary delights on offer will provide you with plenty of fuel for hiking, skiing, and exploring the alpine countryside – a must when visiting the area.
Be sure to sample käsespätzle (a cheesy noodle dish topped with fried onions), sauerkraut and schnitzel (breaded pork or turkey with fermented cabbage) – all quintessential savoury dishes. When it's time for dessert, apfelstrudel is a must-have. It's a sweet pastry filled with apple and raisins and often topped with warm vanilla custard. Complement your meal with a side of weissbier, a traditionally brewed wheat-based German beer, to round off your experience.
8
Spend a night in a castle overlooking Tegernsee Lake
Enjoy scenic panoramas over the Southern Alps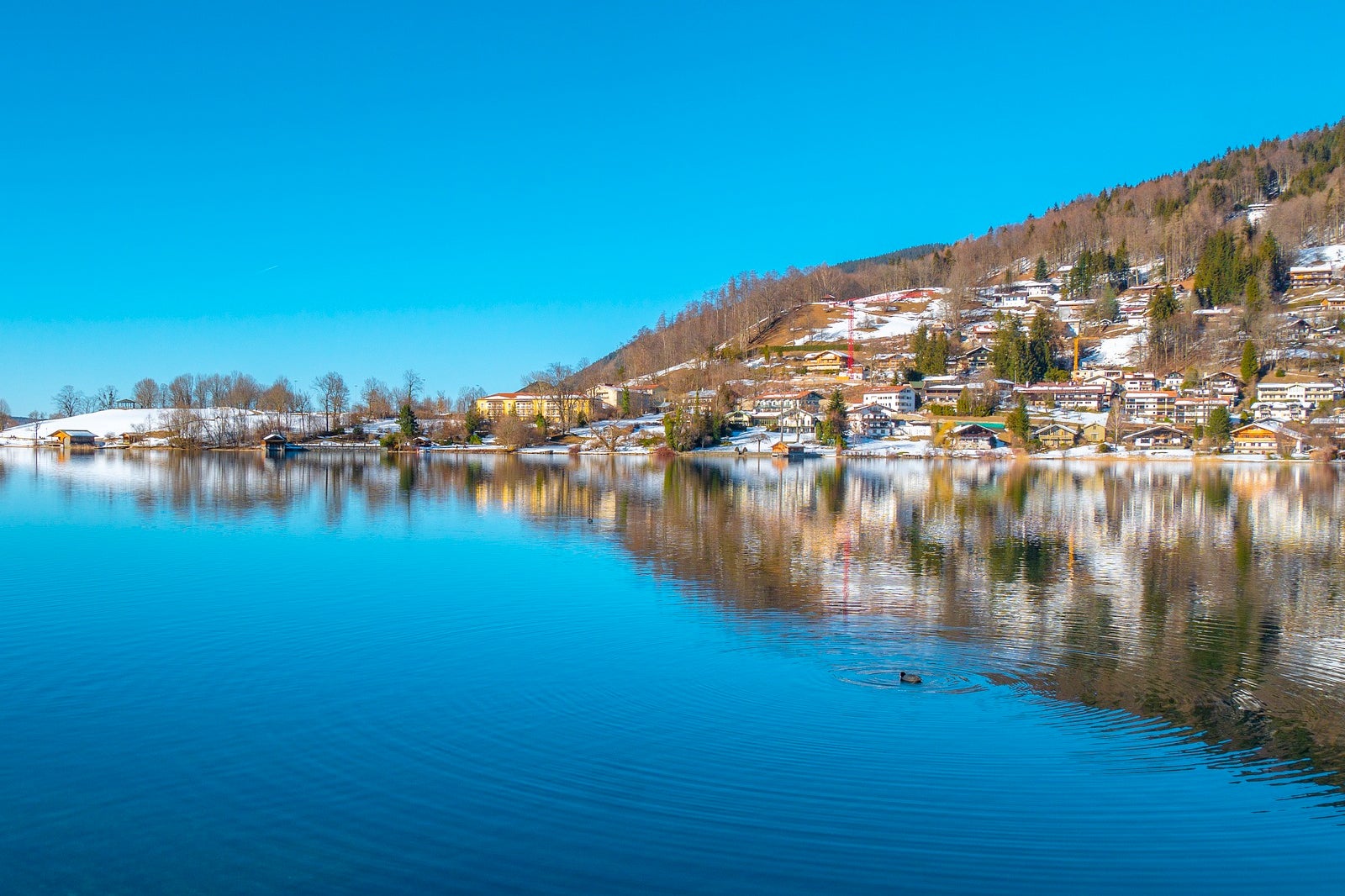 Tegernsee Lake offers some of the most scenic panoramas in the region. Here, you can expect a perfect balance of alpine lakes, lush valleys, and mountain views. The lake is about 50 km south of Munich and situated comfortably in Germany's Southern Alps.
Das Tegernsee is an Art Nouveau-style hotel positioned within a grand castle estate with views of Tegernsee Lake. The hotel is divided into 5 styles of accommodation, each of which reflects the history and culture of the area. Alpine motifs and dark wood contrast with bright spacious restaurants, terraces and a wellness centre, making this a good spot for a well-earned pampering in the Alps.
Location: Das Tegernsee, Neureuthstrasse, 23 83684, Tegernsee, Germany
Phone: +49 (0)8022 1820
9
Glide across emerald waters at Königssee
Be treated to spectacular views at this fjord-like lake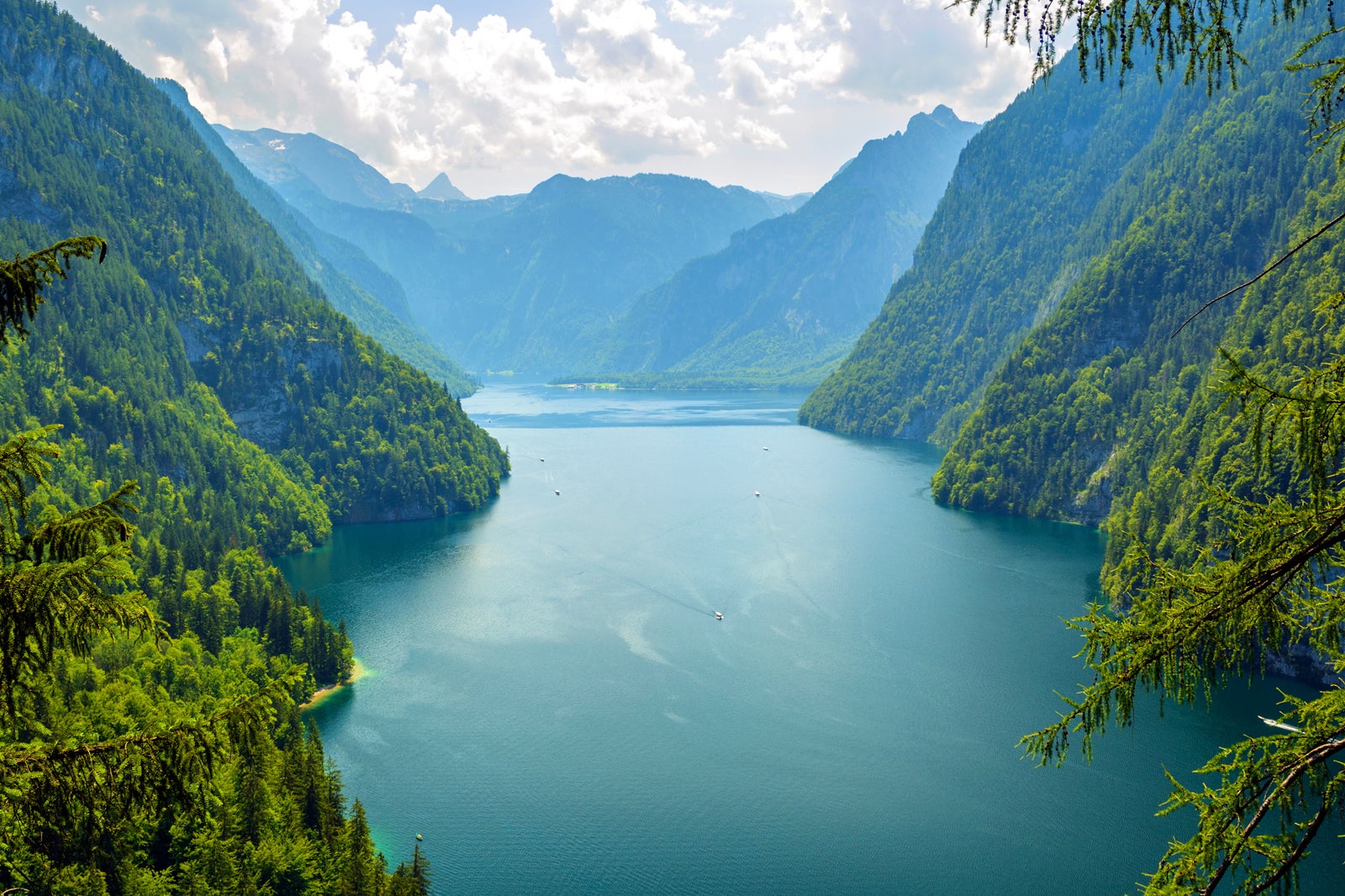 Sheer, imposing cliffs run almost vertically down to the lake's edge at Königssee, giving a fjord-like feel to its emerald waters. Head out onto the lake in an electric-powered boat and glide silently towards St Bartholomew's Church. You'll be treated to a live trumpet performance by the crew, with the music returned in echoes rebounding from the surrounding cliffs. In the winter months, you can explore the church and stop in at the café for a hot drink, while summertime is when you can find several hiking trails nearby that offer beautiful views of the lake.
From late spring to early autumn, you can continue to the far end of the lake to Salet, walking a short way from the dock to Obersee, a smaller lake with pastures at the southern end. Just 30 minutes' walk from here, Röthbach waterfall cascades more than 400 metres over a rocky ledge.
Location: Schifffahrt Königssee (boat tour), Seestraße 33, 83471 Schönau am Königssee, Germany
Open: Mid-October–mid-June: daily from 9 am to 4.15 pm. Mid-May–mid-June and mid-September–mid-October: daily from 8.30 am to 4.45 pm. Mid-June–mid-September: daily from 8 am to 4:45 pm
10
Reconnect with nature in Berchtesgaden National Park
Explore this alpine region beneath the watch of Mount Watzmann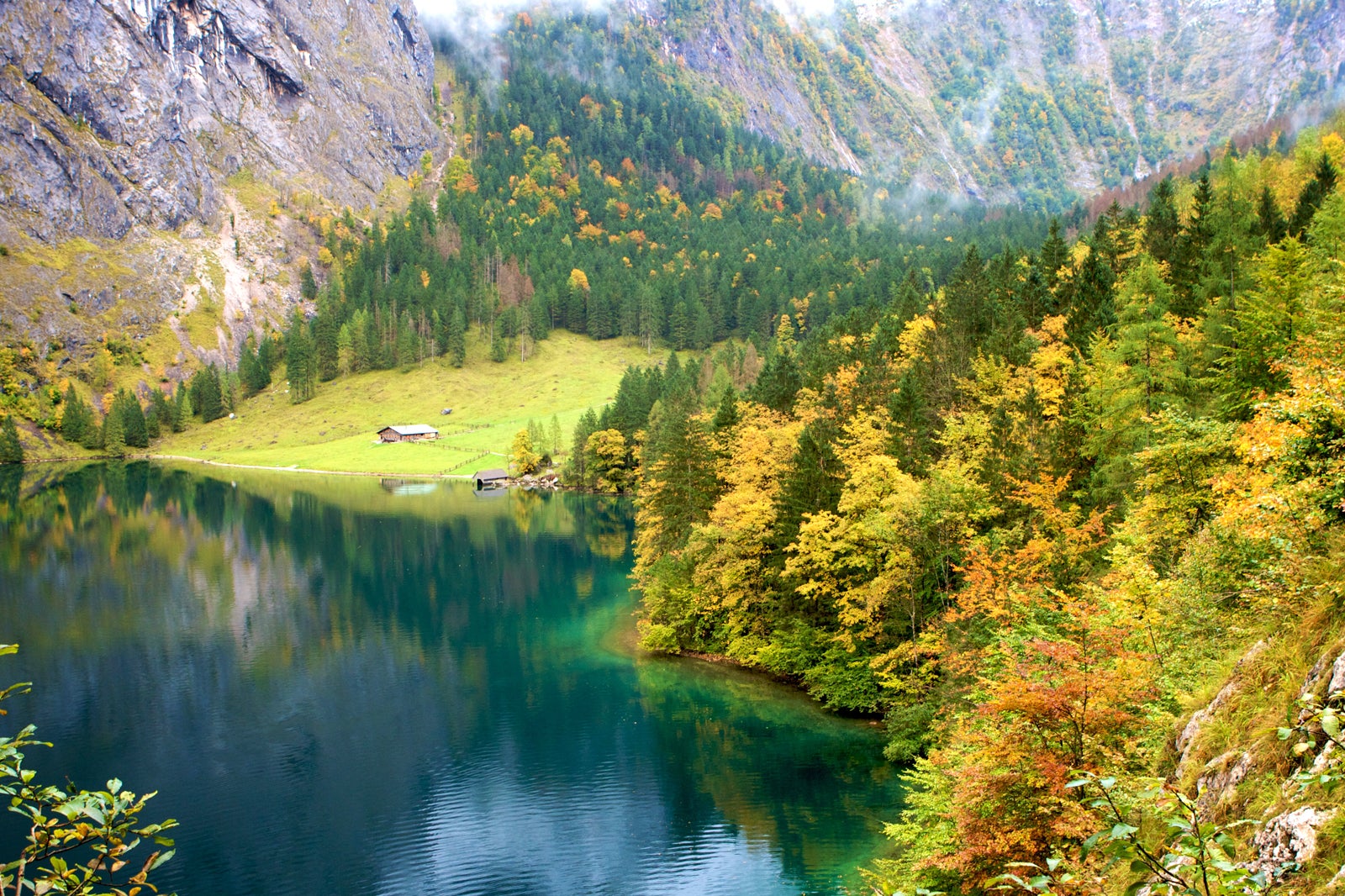 Berchtesgaden National Park has provided a sanctuary for plants and wildlife since its appointment as Germany's only alpine national park in 1978. An area of outstanding natural beauty, it's not only home to the impressive Königssee but also Hintersee, a beautiful alpine lake set against the backdrop of Mount Watzmann.
Nearby child-friendly hiking trails lead to the suspension bridge in the Klausbachtal Valley, while Wimbachklamm is home to a scenic gorge where waterfalls cascade into the river below. You can capture idyllic photos of the Parish Church of St. Sebastian in Ramsau bei Berchtesgaden or soak up some WWII history with a visit to the Eagle's Nest, a Third Reich-era building used by the Nazi Party for government and social meetings.
Location: 83486 Ramsau bei Berchtesgaden, Germany
photo by Tim Dorr (CC BY-SA 2.0) modified
Back to top