10 Best Things to Do in Tallinn
What is Tallinn Most Famous For?
Estonia's charming capital city, Tallinn, is a cultural hub featuring a UNESCO World Heritage Old Town, a bustling harbour and a surprisingly lively nightlife. With its cobbled streets, colourful architecture and encompassing city walls, it's easy to see why it's considered one of the most beautiful cities in Northern Europe.
Popular among couples and groups alike, a city break to Tallinn will appeal to anyone looking for a blend of history, culture and entertainment. So, if you're looking for some inspiration for your next getaway, here's our pick of the best things to do in Tallinn.
What are the best things to do in Tallinn?
1
Alexander Nevsky Cathedral
A unique and ornate Orthodox church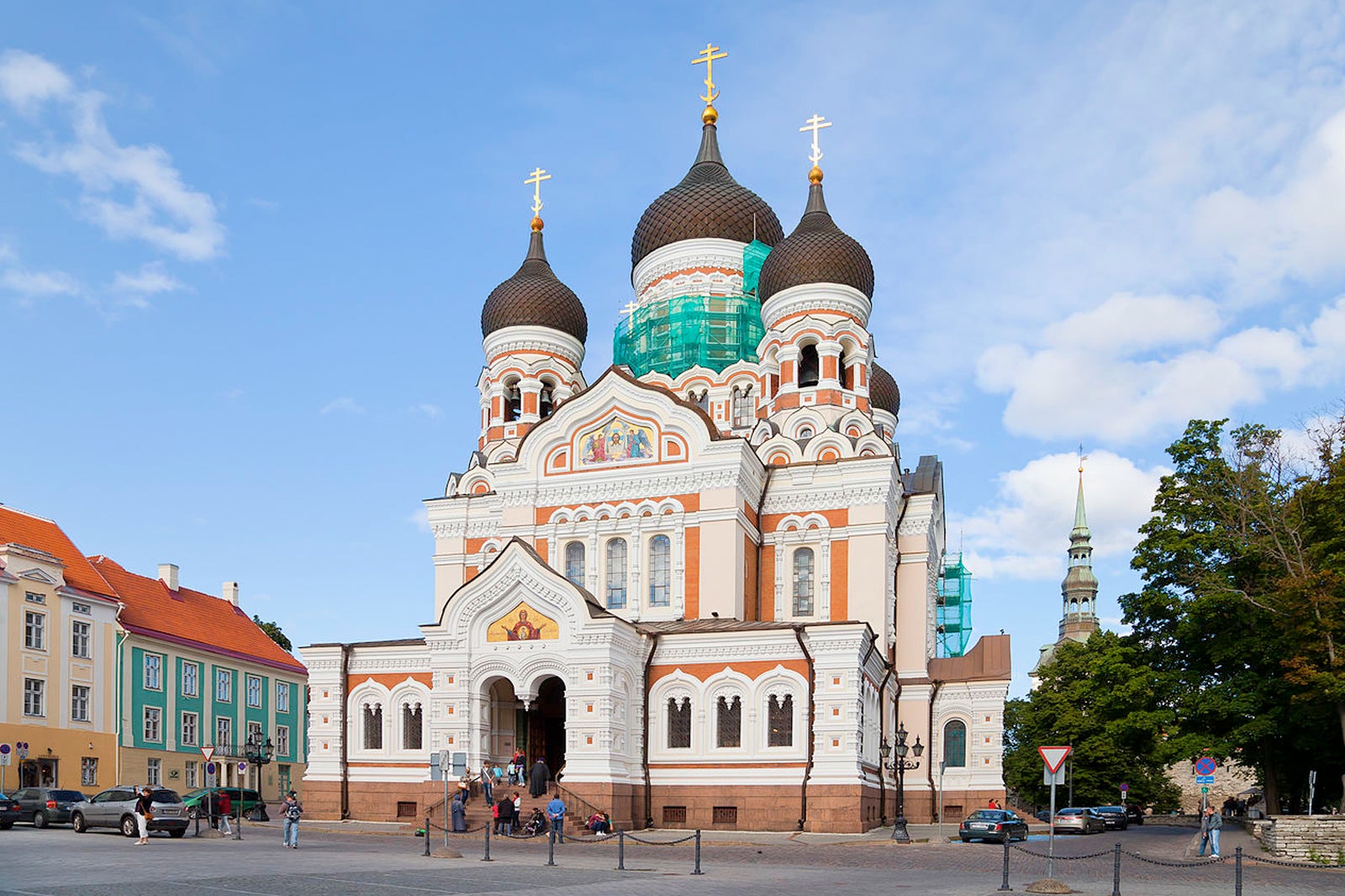 Standing out among the ancient architecture of Tallinn's Old Town, the Alexander Nevsky Cathedral is a must-see, even just from the outside. Situated at the top of Toompea Hill, the highly ornate structure features distinctive black onion domes that can be seen from all around, and is richly decorated both on the exterior and interior.
Completed in 1900, the church houses Tallinn's largest bells, which you can hear pealing across the city before each service. It's free to go inside and take a look around, but be respectful of service times, as it's still an active church.
Location: Alexander Nevsky Cathedral, Lossi plats 10, 10130 Tallinn, Estonia
Open: Daily from 8 am to 6 pm
Phone: +372 644 3484
photo by Diego Delso (CC BY-SA 3.0) modified
2
Tallinn Town Wall
What remains of the 13th-century defence system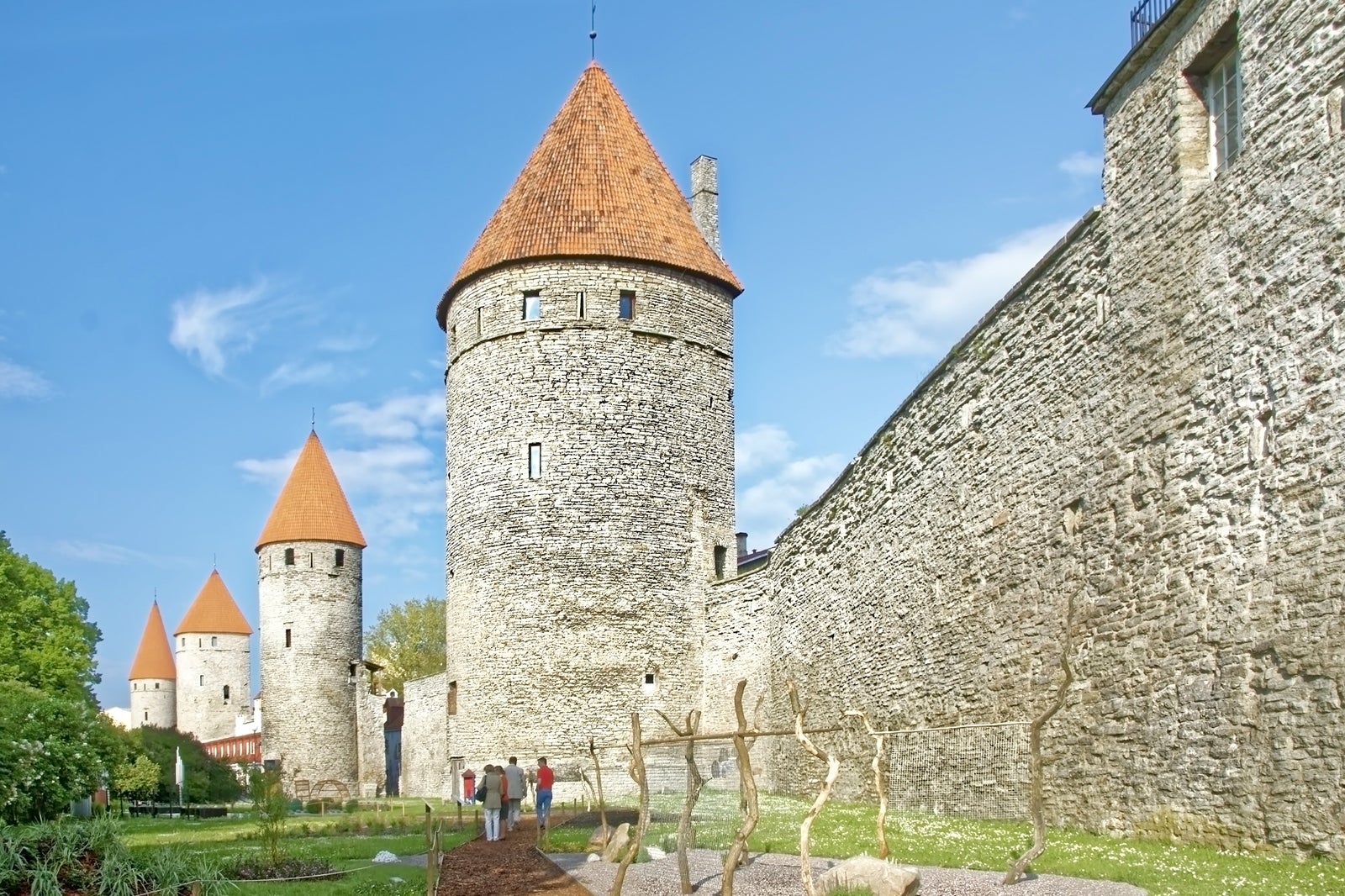 Photo
History
Budget
Adventure
Dating back to the 13th century, Tallinn's 2.4-km city wall was once one of the biggest and strongest defence systems in Northern Europe. Nowadays, while still mighty and impressive, it's slightly shorter in length – approximately 1.9 km – and has only 26 of its 46 towers remaining.
Despite its reduced size, it's still possible to walk along a small section of the wall, taking in the incredible views of the Old Town and Toompea Hill as you go. Head to the northwest corner of the Old Town and walk the wall connecting the Nunna, Sauna and Kuldjala towers.
Location: Suur-Kloostri 9, 10133 Tallinn, Estonia
Open: Daily from 11 am to 4 pm
Phone: +372 644 9867
3
Viru Gate
The gateway to medieval Tallinn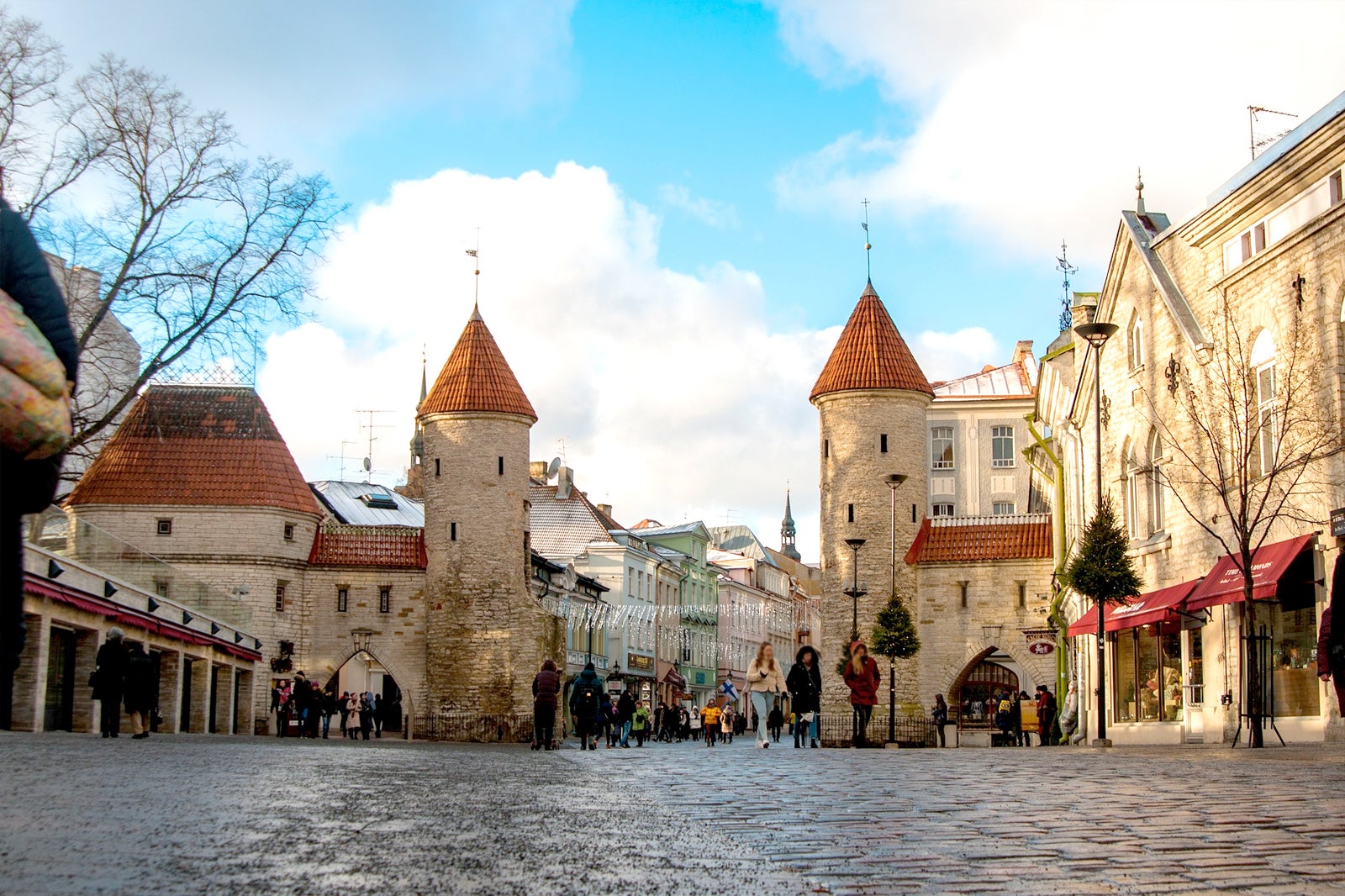 The impressive towers of the Viru Gate are the iconic entrance toward Tallinn's Old Town. They once formed part of the city's main defence barrier back in the 14th century, but were eventually part-demolished to allow access for carthorses – and now for the throngs of visitors who pass through its terracotta turrets on foot each day.
Explore the narrow, cobbled streets and browse independent markets stalls selling everything from handmade crafts to delicious local treats. Admire the colourful medieval architecture, visit ancient landmarks such as Saint Olaf's Church and soak up the authentic olden-day atmosphere, thanks to the local costumed workers.
Location: Viru Gate, Viru, 10140 Tallinn, Estonia
Phone: +372 645 7777
4
Tallinn Town Hall Square
The centre of the city's Old Town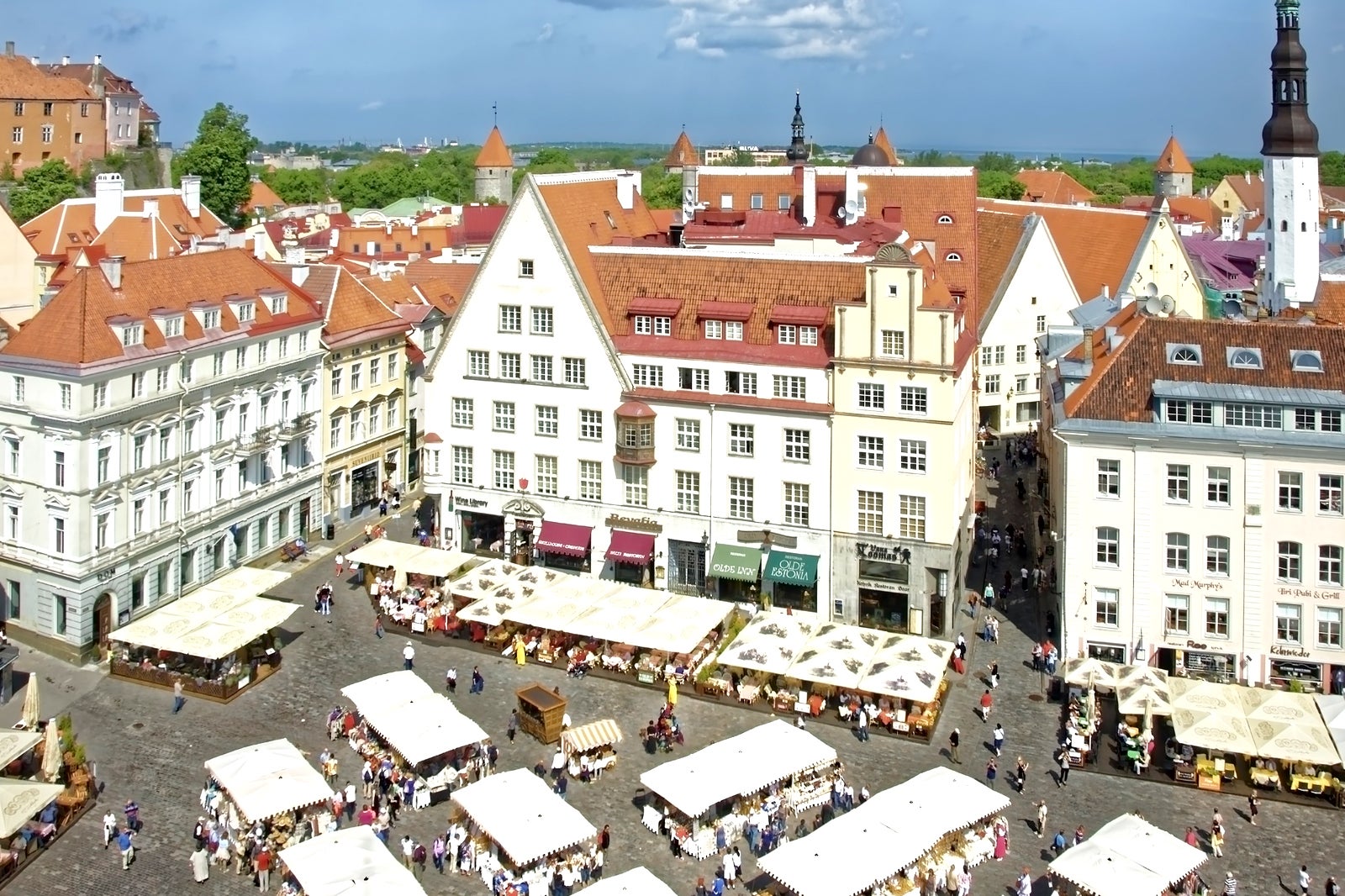 Tallinn Town Hall Square has been the central hub of the Old Town for more than 8 centuries. A pivotal part of the wider city today, it's the obvious place to begin your explorations. Charming pastel buildings line the medieval square, but its dominating feature is the Gothic town hall, where you can go inside and take a look around.
Inviting seating spills out onto the cobbles from the surrounding cafés, where you can fuel up for the day with a coffee and watch the world go by. Then, take your pick of the narrow streets leading off of the square to wander down and explore further.
5
Toompea Hill
The beautiful upper Old Town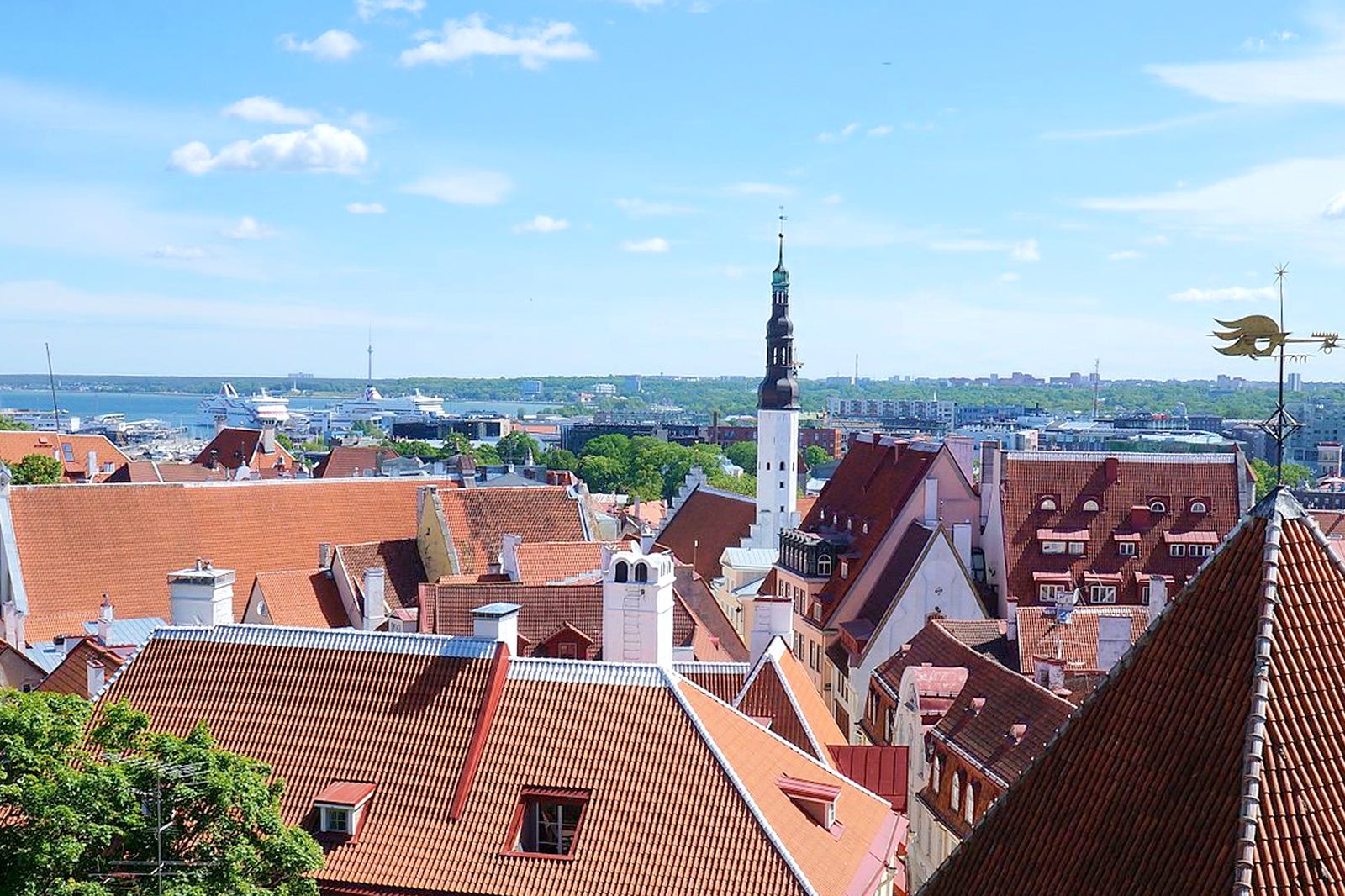 Photo
Couples
History
Budget
Toompea Hill is the upper part of Tallinn's Old Town, and home to some of the most beautiful buildings in the city. You can't possibly head to Tallinn without climbing the central limestone hill and experiencing not just the attractions at the top, but unrivalled views of the city, too.
The Kohtuotsa Viewing Platform is where you're going to get the ultimate shot for your Instagram feed, featuring picturesque bell towers, colourful rooftops and stunning harbour views. While you're there, visit Tallinn's oldest church, the Cathedral of Saint Mary the Virgin, and the dominating Toompea Castle. You can only enter the castle on weekdays, and you'll need to book ahead as well.
photo by PIERRE ANDRE LECLERCQ (CC BY-SA 4.0) modified
6
Telliskivi Creative City
The cultural centre of Tallinn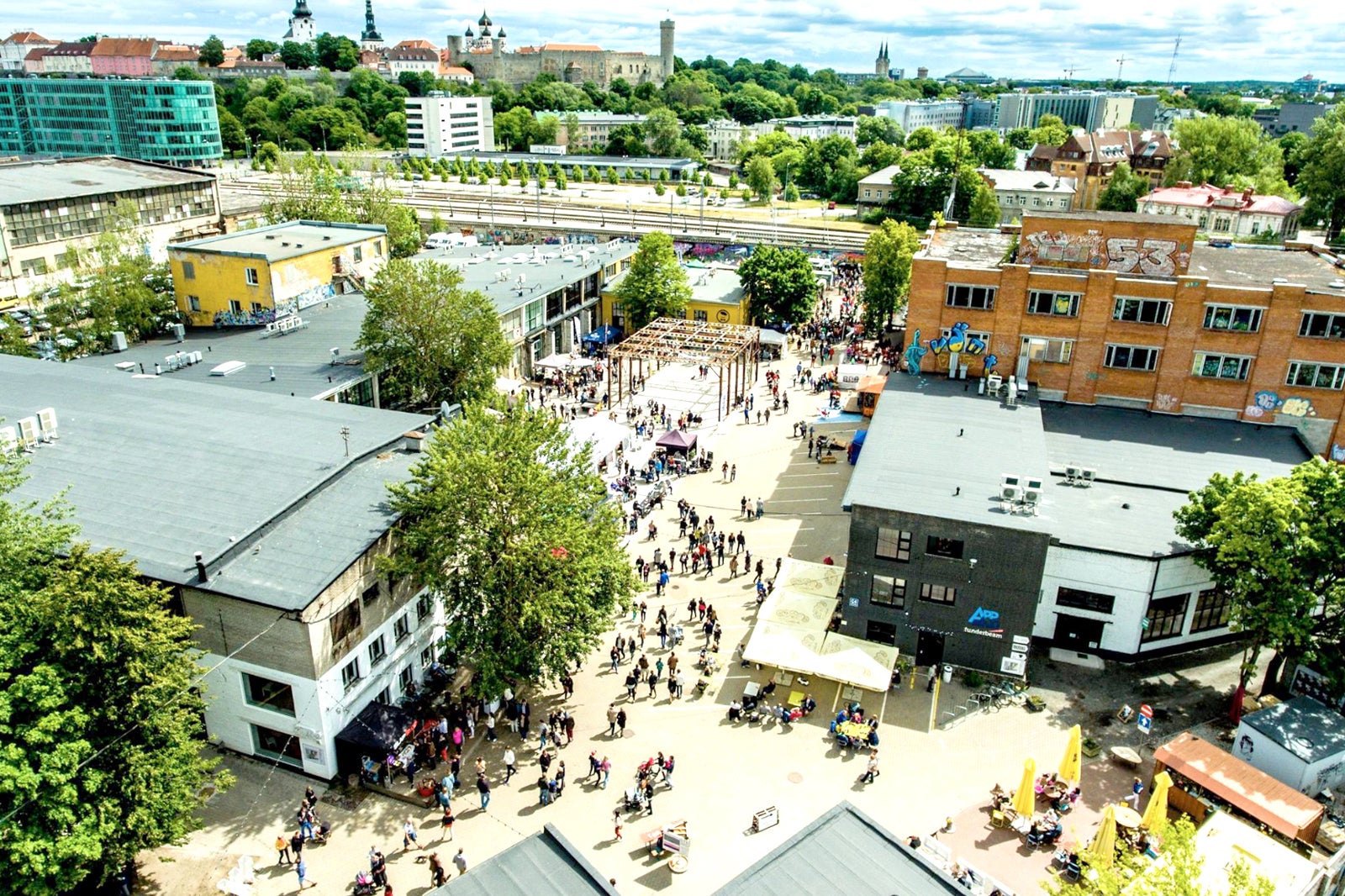 Venture slightly off-the-beaten-path, away from Tallinn's ancient centre, and experience the vibrant atmosphere and colourful street art of Telliskivi Creative City. What was once a complex of industrial warehouses has now been transformed into an artsy neighbourhood, featuring creative studios, designer boutiques, independent eateries and dynamic live music venues.
Indulge in some retail therapy at the on-site shops or head over to the area on a Saturday when the weekly flea market takes place. Chances are, no matter what day you go, you're likely to find a special event going on – there are over 600 taking place here throughout the year.
Location: Telliskivi Creative City, Telliskivi 60a, 10412 Tallinn, Estonia
Phone: +372 520 4791
photo by Relkmsaiia (CC BY-SA 4.0) modified
7
Seaplane Harbour
A fascinating maritime museum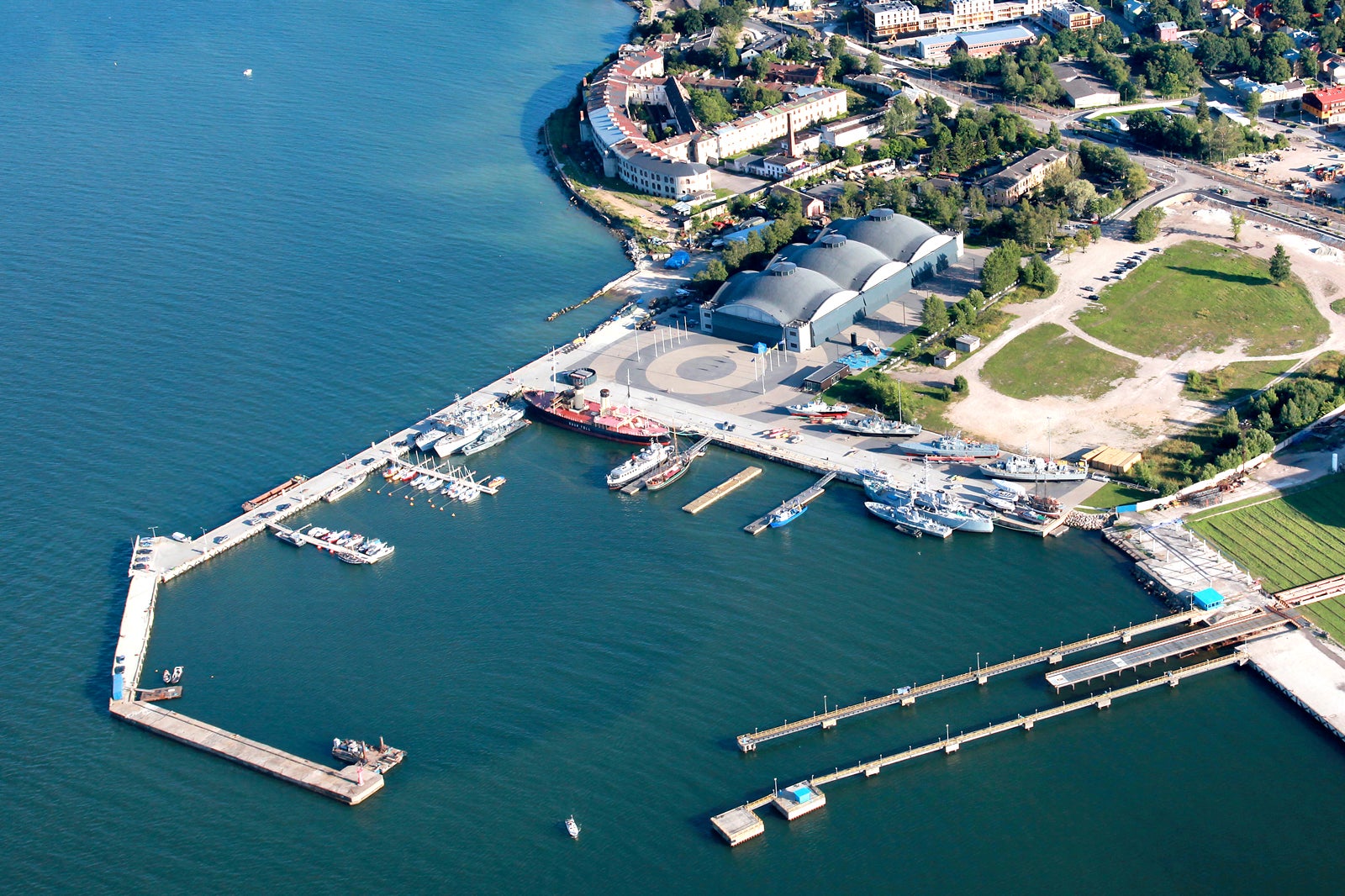 Tallinn is a coastal city with a rich maritime past, so there's loads of history to delve into at the Seaplane Harbour. The building was completed in 1917 and, back then, the triple-domed hangar with its reinforced shell frame was one of a kind.
When inside, you'll no doubt be impressed by interactive displays and exhibitions showcasing things such as underwater photos and artefacts. Be sure to explore the narrow corridors of the 1930s submarine while you're inside, then check out the huge ships moored outside before you go.
Location: Seaplane Harbour, Vesilennuki 6, 10415 Tallinn, Estonia
Open: Daily from 10 am to 7 pm
Phone: +372 620 0545
photo by Hiiumaa mudeliklubi (CC BY-SA 4.0) modified
8
Tallinn TV Tower
Sunsets from the highest point in the city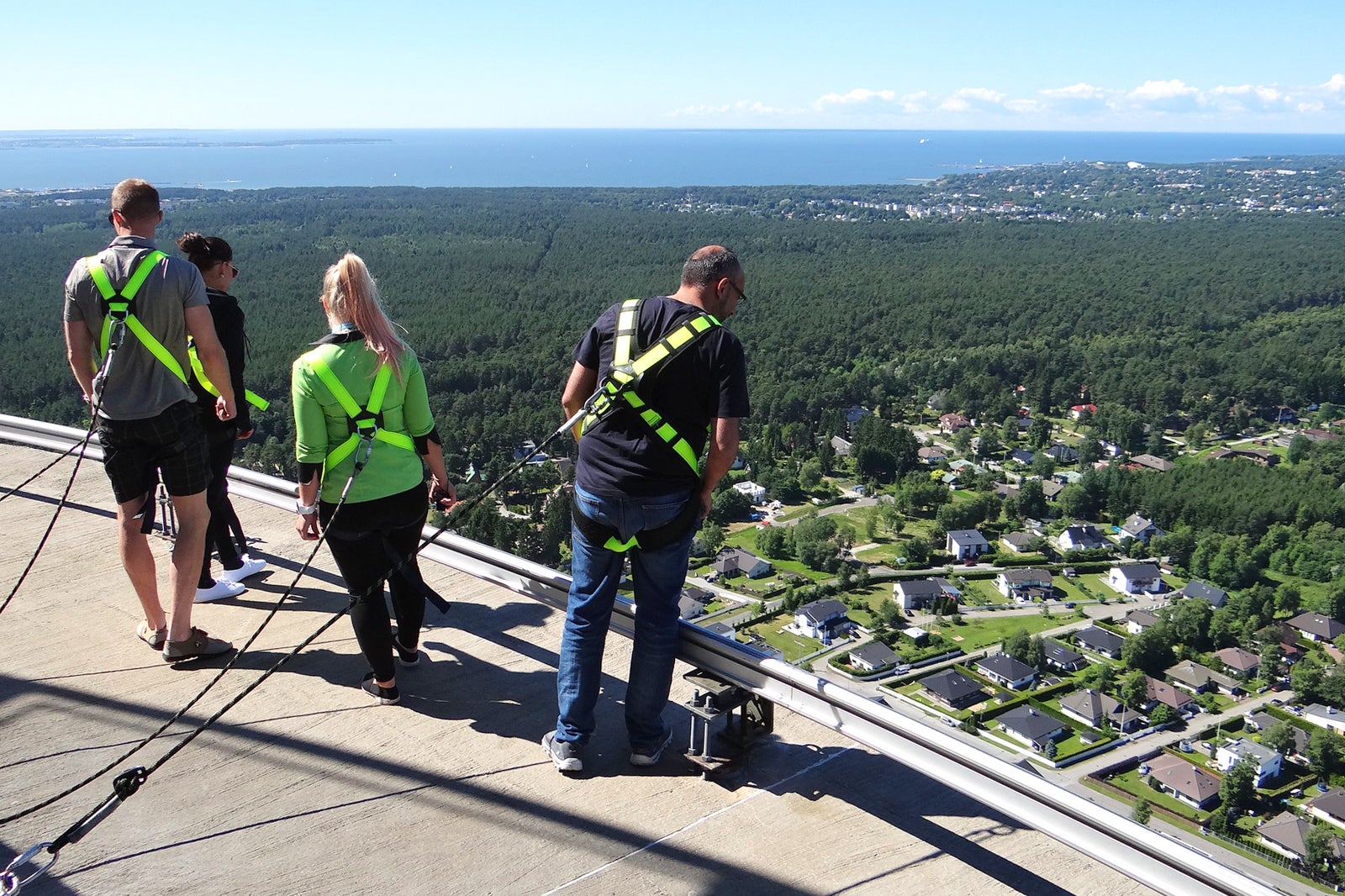 Standing at 314 metres, the Tallinn TV Tower is one of Northern Europe's highest open viewing platforms. Travel up to the 21st floor and soak up the sensational city views from the top. There's a 170-metre-high glass floor to look down from, too, and the most daring among you can even venture outside and 'walk on the edge' (attached to a safety harness, of course)!
The 360° views make it a great spot to be at sunset, watching the sun disappear beyond the horizon from such a good vantage spot. There's a restaurant up at the top too, so why not make the most of your time up there?
Location: Tallinn TV Tower, Kloostrimetsa tee 58a, 11913 Tallinn, Estonia
Open: Daily from 10 am to 7 pm (restaurant open until 11 pm)
Phone: +372 686 3005
photo by Adam Jones (CC BY-SA 2.0) modified
9
Traditional Estonian rye bread
A national delicacy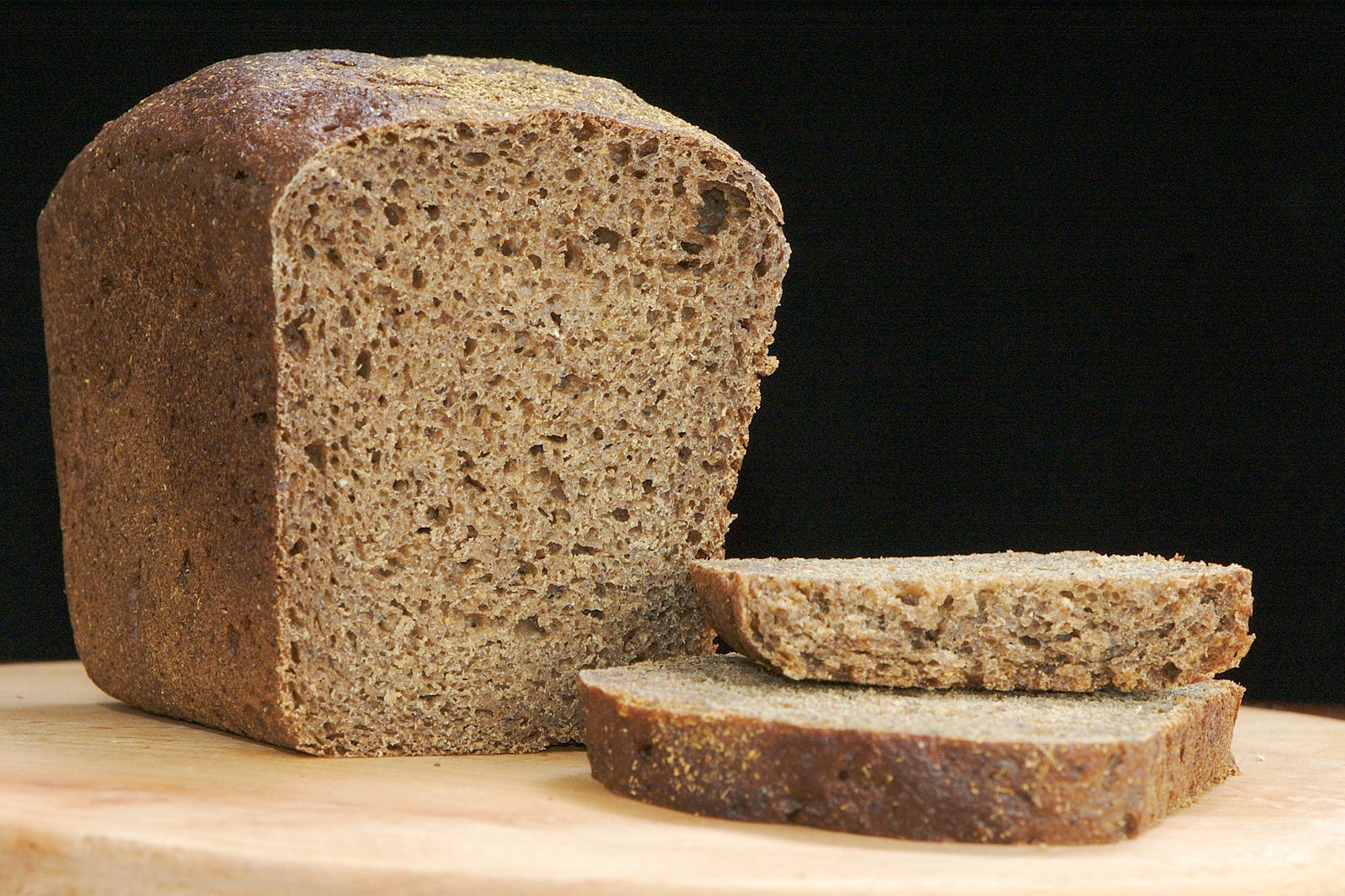 There's no Estonian dish more traditional than freshly baked black rye bread. The glory of this being that there's no excuse not to try some with any meal that you order. Estonian food is rich and hearty, from meaty stews to deep-filled chicken kievs, all of which are best served with a plate of warm rye bread.
Dense in texture, full of flavour and with a crispy crust, you can dunk it, serve it with herring on top or simply add a touch of salted butter. For some of the best, head to 1 of the 3 Muhu Leib cafés in the city.
10
Old Town nightlife
Craft beer, cocktails and clubs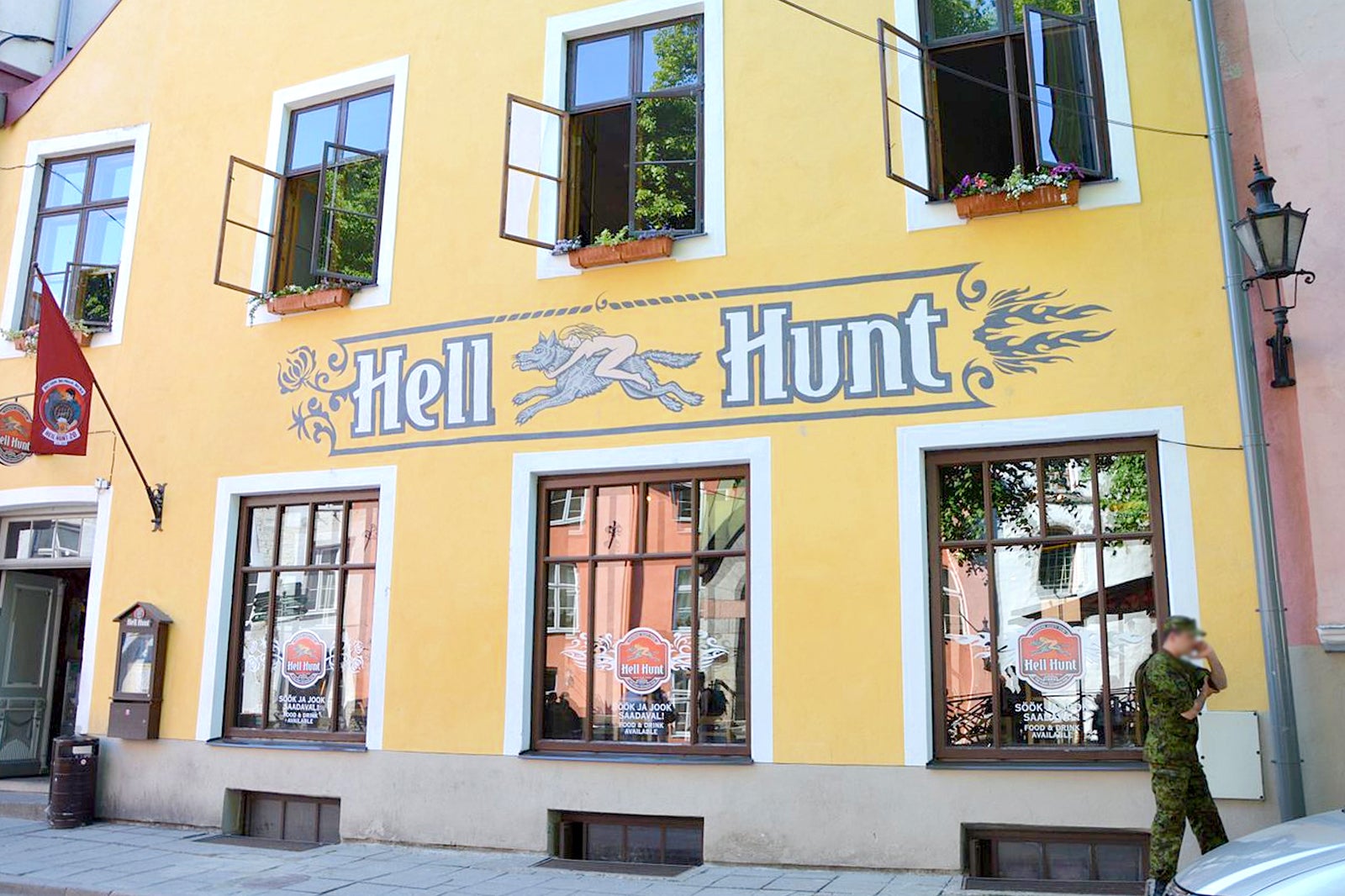 Many of Tallinn's best attractions can be found within the boundaries of the city's Old Town, and the same can be said about the best nightlife, too. The cobbled streets come to life in the evenings, with bar seating diffusing outdoors during the warmer summer months. The sound of live music often fills the air and there's enough craft beer to see you through until the early hours.
There are a surprising number of late-night cocktail bars and nightclubs in the Old Town, too. Head to Depeche Mode Baar or Hell Hunt – Estonia's 'first pub', before dancing the night away at Club Studio.
photo by Epp (CC BY-SA 3.0) modified
Back to top