10 Best Things to Do in Sheffield
What is Sheffield Most Famous For?
Sheffield has gone from one of the industrial powerhouses of England to a rising star of the UK's arts and culture scene. Formerly famous for its stainless steel cutlery, the hollowed-out husks of its once mighty factories and foundries now contain galleries, theatres and museums. Even the city hall doubles as a comedy club!
Don't be put off by its industrial image – Sheffield has plenty of peaceful green spaces, parks and gardens, even right in the heart of the city centre. It may have taken a while to move on from past glories, but the city is fast becoming a wonderful place to explore.
What are the best things to do in Sheffield?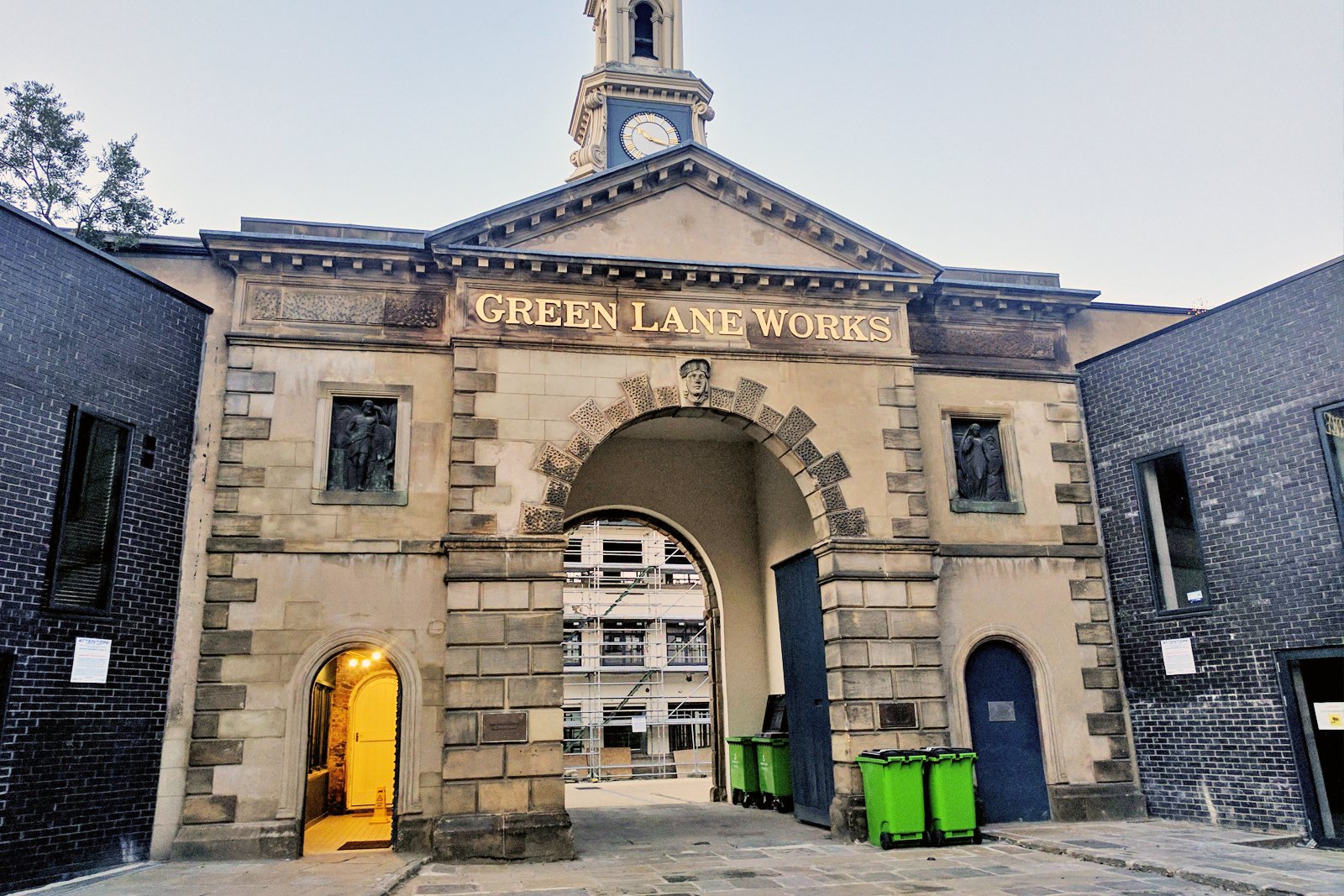 Start your day in Kelham Island
Explore Sheffield's industrial past and trendy future
Kelham Island was once a powerhouse of industry, but is now one of the coolest neighbourhoods in the UK. The legacy of one of the city's oldest manufacturing areas is still clearly visible, but the old factories and steelworks are now trendy galleries, shopping arcades, cafés and microbreweries.
Staying in a hotel near the Kelham Island Museum will provide an interesting insight into Sheffield's industrial heritage, while the Kelham Island Tavern has won several awards for its outstanding real ale. Look out for the monthly Peddler street food night market, which is extremely popular.
photo by Enchufla Con Clave (CC BY-SA 4.0) modified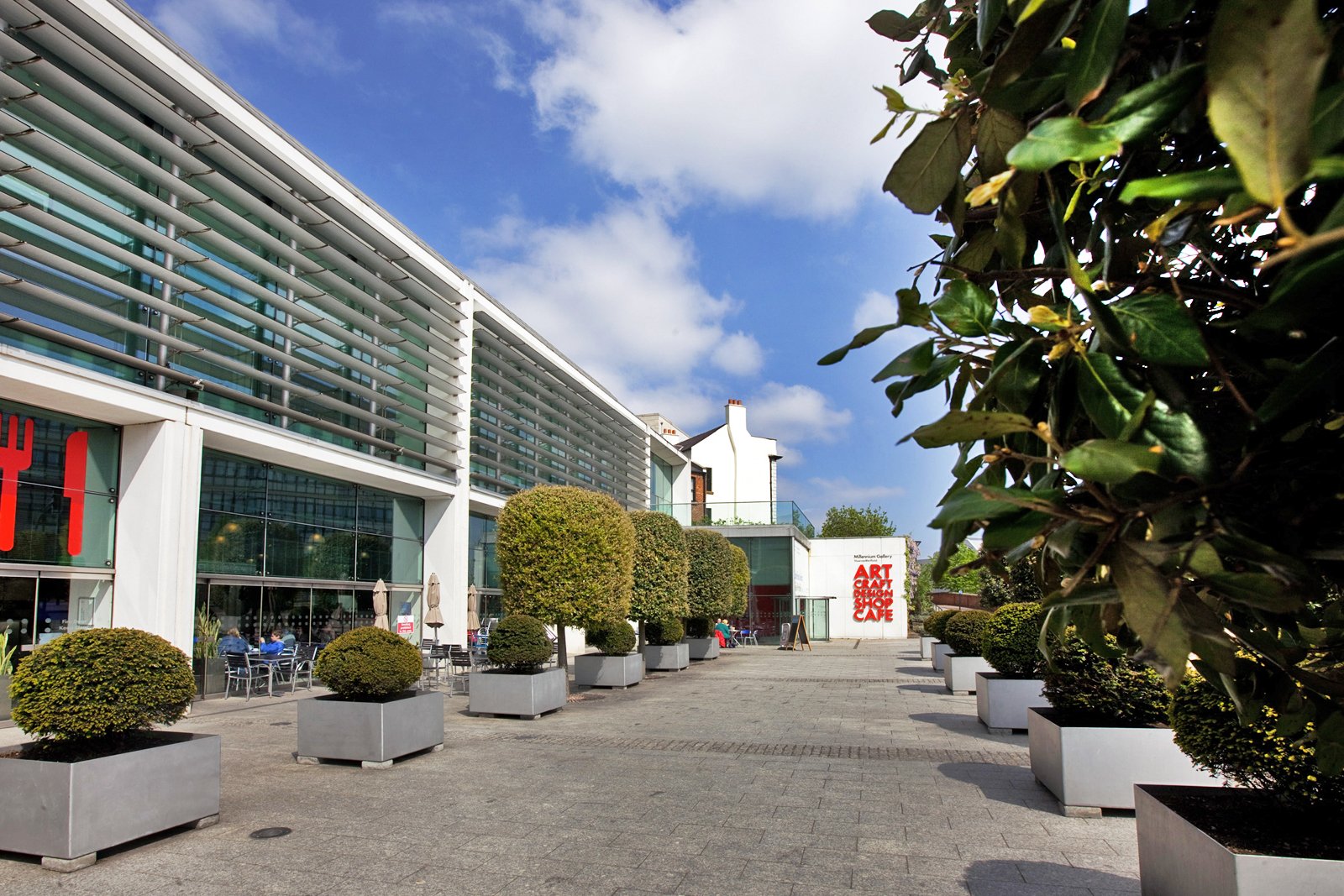 Enjoy the art at the Millennium Gallery
See some of Sheffield's finest steelware
Millennium Gallery is ranked among the most popular free attractions in the whole of the UK, thanks to its impressive collection of art. Interestingly, and kind of predictably, one of the permanent exhibitions showcases some of the world's finest metalwork, including the beautiful stainless steel tableware which made Sheffield famous.
The gallery is very conveniently located, right next to the Winter Garden, and has a good on-site café. There are also fairly regular events, including visiting exhibitions from the Tate, V&A and the National Portrait Gallery.
Location: 48 Arundel Gate, Sheffield S1 299, UK
Open: Monday – Saturday from 10am to 5pm, Sunday from 11am to 4pm
Phone: +44 (0)114 278 2600
photo by Andy Brown (CC BY-SA 3.0) modified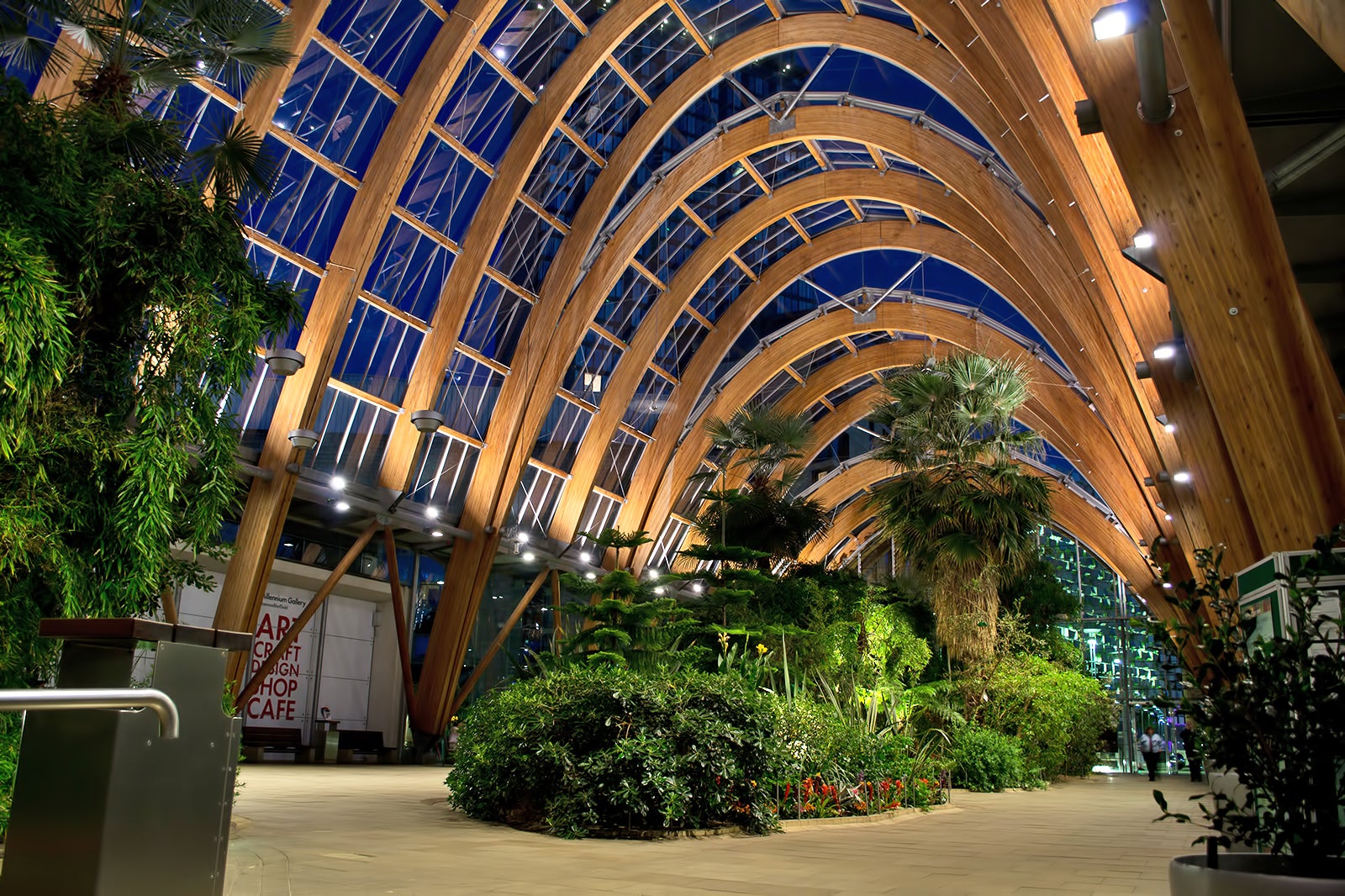 Must-See: Winter Garden
See palm trees in the middle of a British winter
Right next door to the Millennium Gallery, the Winter Garden is a beautiful little oasis in the heart of Sheffield. One of Europe's largest urban greenhouses, it contains over 2,000 plants from across the globe, which you can enjoy for free.
Being a greenhouse, the Winter Garden can support tropical plants throughout the year, including a number of tall palm trees. The building itself has an eco-friendly design, with the main supporting arches fashioned from timber. For more local plants, the Peace Gardens are just next door, and contain a small dancing fountain.
Location: 90 Surrey St, Sheffield S1 2LH, UK
Open: Monday – Saturday from 8am to 8pm, Sunday from 8am to 6pm
Couples
Families
Photo
Budget
photo by Mark Richards (CC BY-SA 2.0) modified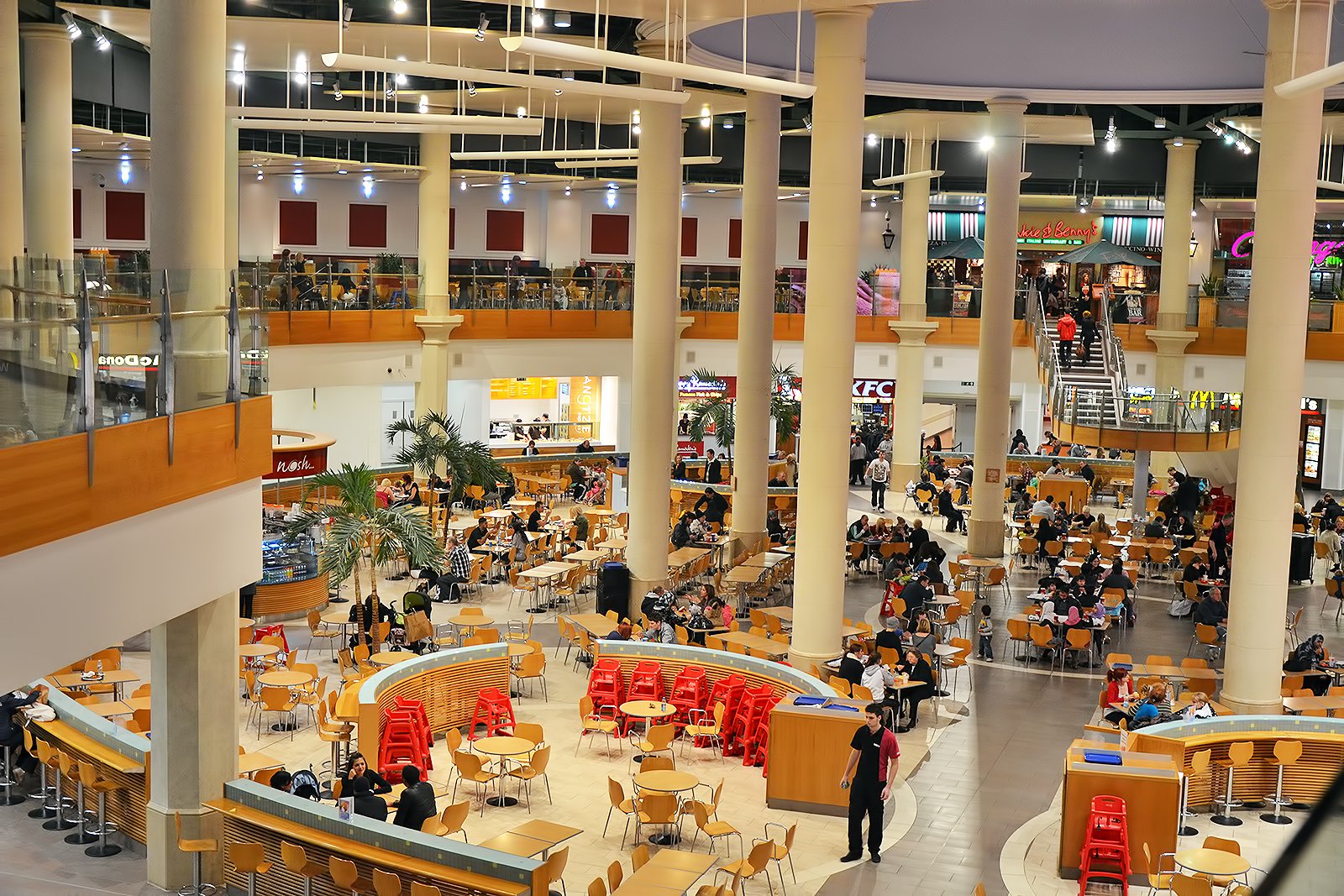 Shopping at Meadowhall
Visit one of Britain's biggest malls
Take the Yellow or Purple line on the Sheffield Supertram, take a train or stay close to the Meadowhall shopping mall, located about 3.5 miles northeast of the city centre. Meadowhall contains well over 250 stores, with big luxury brands like House of Fraser, Hugo Boss and Debenhams.
At the heart of the mall is a massive food court, as well an 11-screen cinema. Just be sure to wear some comfortable shoes because it's easy to clock up a lot of miles while browsing.
Location: Sheffield S9 1EP, UK
Open: Monday – Friday from 10am to 9pm, Saturday from 9am to 8pm, Sunday from 11am to 5pm
Phone: +44 (0)333 313 2000
photo by Ben Sutherland (CC BY 2.0) modified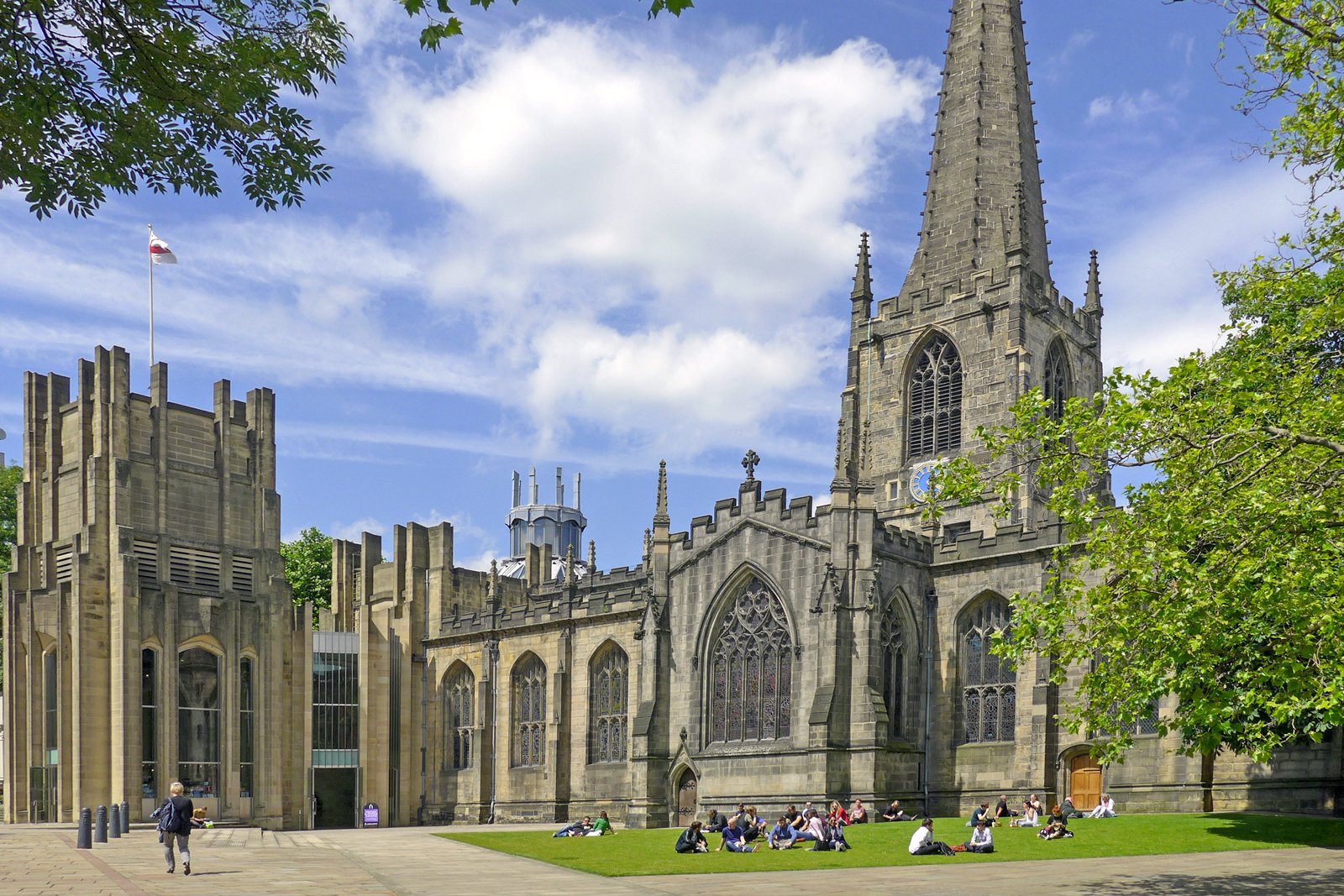 Must-See: Sheffield Cathedral
Have a moment of peace in the middle of the city
One of the oldest buildings in the city, Sheffield Cathedral was built around the 11th and 12th centuries and its old stones still show signs of a turbulent history, which includes a number of rebuilds. It's relatively small, by cathedral standards, because it only achieved cathedral status in 1914.
Featuring a particularly beautiful lantern tower, intricate stained-glass windows and various other noteworthy artworks and attractions from throughout history, Sheffield Cathedral is a pleasant place for a moment of calm in the middle of the city. It's easily reached, being on all of the Supertram lines.
Location: Church St, Sheffield S1 1HA, UK
Open: Monday – Friday from 8am to 5pm, Saturday from 9.30am to 4pm, Sunday from 7.30am to 5pm
Phone: +44 (0)114 275 3434
photo by Tim Green (CC BY-SA 2.0) modified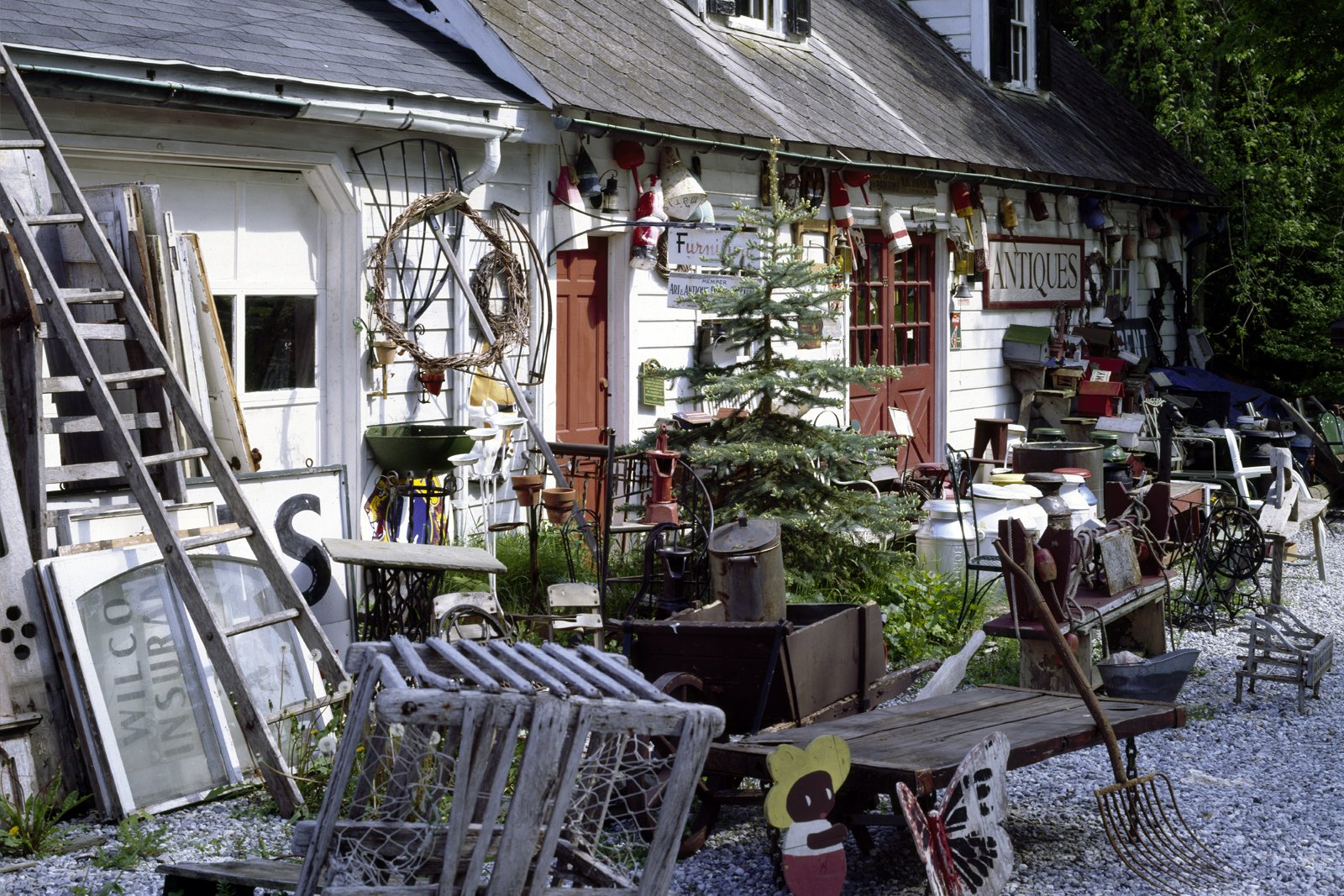 Hunt for bargains in the Antiques Quarter
Step back in time in this classical part of Sheffield
Slightly south of the city centre, the Antiques Quarter is one of the quirkier areas of Sheffield. Many of the buildings are antiques themselves, and a lot of them contain treasure troves of fascinating mementos. There are eight antiques centres and over 60 shops to explore, selling everything from old records and retro clothes to historical furniture and vehicles.
The Antiques Quarter is more than just shops, though. The whole area has an old-fashioned feel, made physical by the old picture house screening classic movies, and traditional ale houses serving handmade pies. Look out for the Pedlar's Corner Carboot and Flea Market on the first Sunday of every month, which hosts more than 70 stalls.
Have a beer in the real ale capital of the world
Start the ale trail at Sheffield train station
Yorkshire is known for its beers, but Sheffield is renowned as the best place for real ale. While other cities in the county produce big-brand beverages, Sheffield specialises in craft beers, brewing small amounts of literally thousands of different beers every year. There are even a couple of annual festivals devoted to the local beers and ciders.
Visitors to Sheffield can get their first taste of real ale right off the train, with The Sheffield Tap on Platform 1 being among the best boozers in town. There are great pubs spread throughout the city, but many of the best are found around Kelham Island.
Location: Platform 1B, Sheffield Station, Sheaf St, Sheffield S1 2BP, UK
Open: Sunday – Thursday from 11am to 11pm, Friday – Saturday from 10am to midnight
Phone: +44 (0)114 273 7558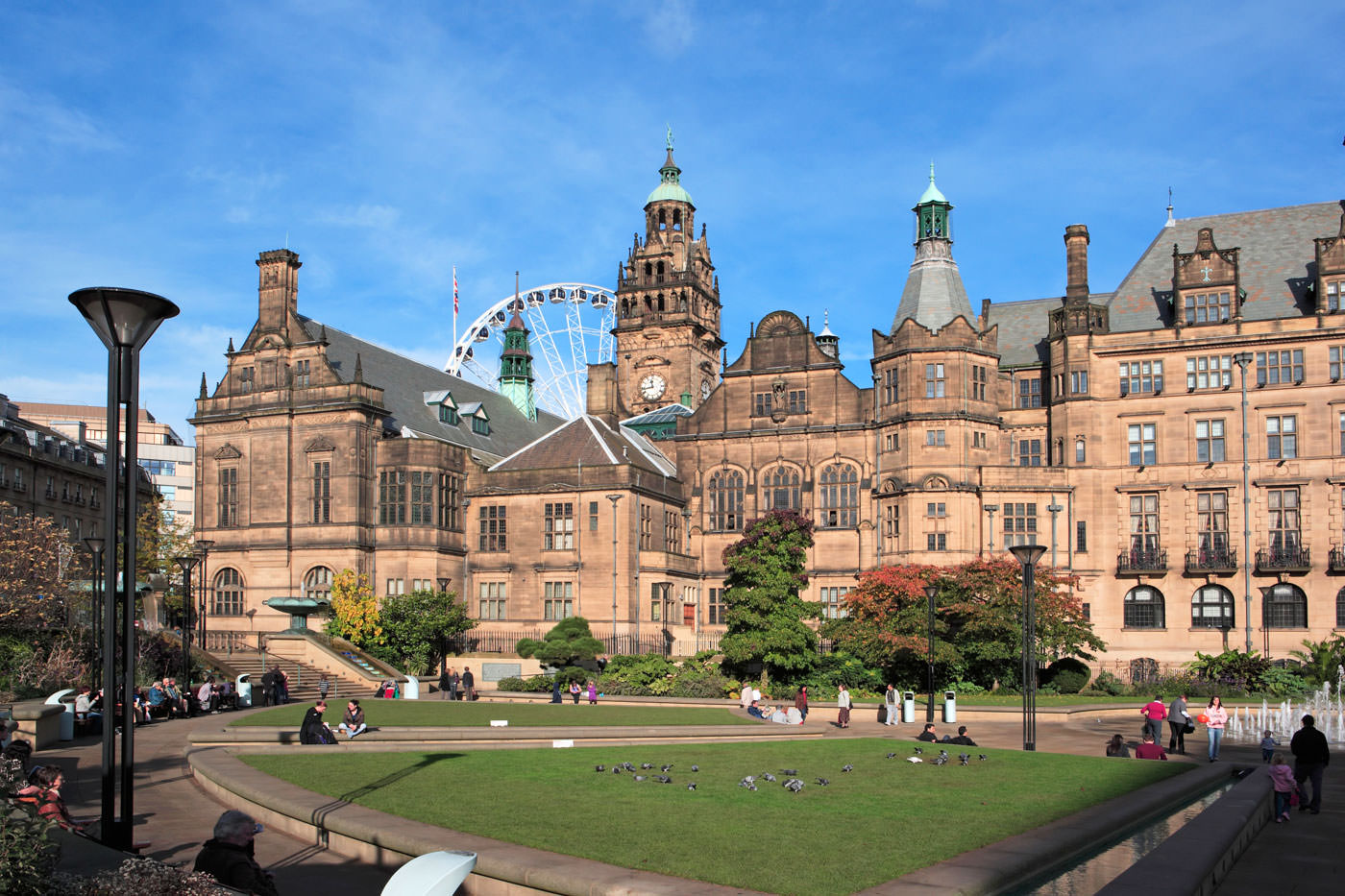 Must-See: Sheffield City Hall
See a beautiful administrative building put to good use
The City Hall on Barker's Pool is a lot more than just a stale old administrative building. Surrounded by trees, fountains and monuments, the impressive old building contains a 2,271-seat theatre, which regularly hosts comedy and music events as well as ballet, opera, banquets and conferences. The stage has been graced by acts like The Beatles, Pink Floyd and Lou Reed.
One of the oldest buildings in the city, the neo-classical structure still shows bomb damage from the Second World War. It's easy to reach, with a Supertram stop nearby on the Blue and Yellow lines. There's also a variety of hotels located close to Sheffield's City Hall, if you'd like to be within walking distance.
Location: Barker's Pool, Sheffield S1 2JA, UK
Phone: +44 (0)114 278 9789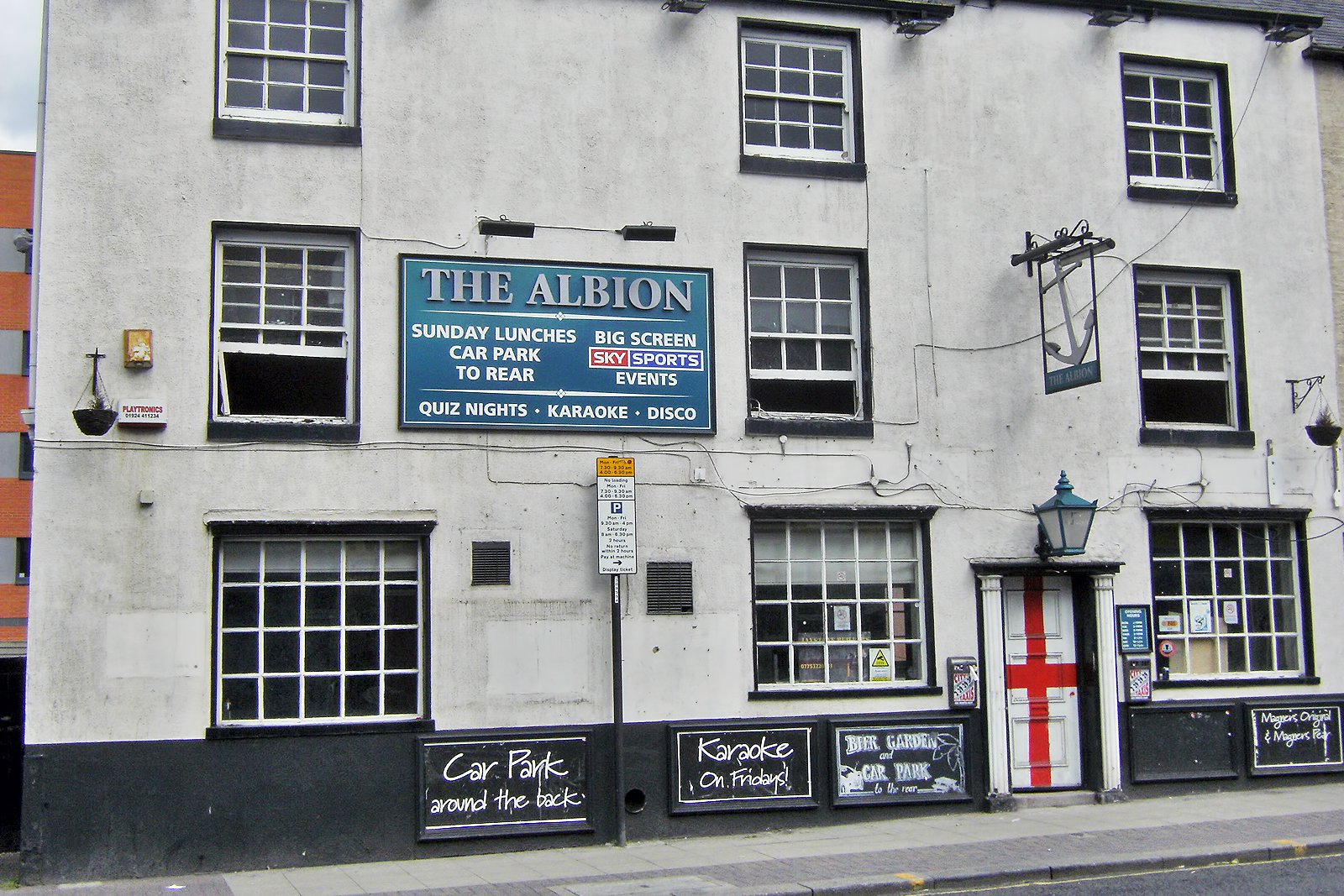 Dinner on London Road
Explore a world of food on a single road
When it comes to dining in Sheffield, London Road quite literally has it all. Despite being less than a mile long, this one lane south of the city centre contains a dizzying array of restaurants. You can find English pubs just over the road from Chinese restaurants, a few doors down from Turkish kebab shops and Thai eateries.
The selection of restaurants along London Road are mostly budget-friendly places, so don't go expecting Michelin-star quality. For sheer variety, there's nowhere in Sheffield quite like it.
photo by Warofdreams (CC BY-SA 3.0) modified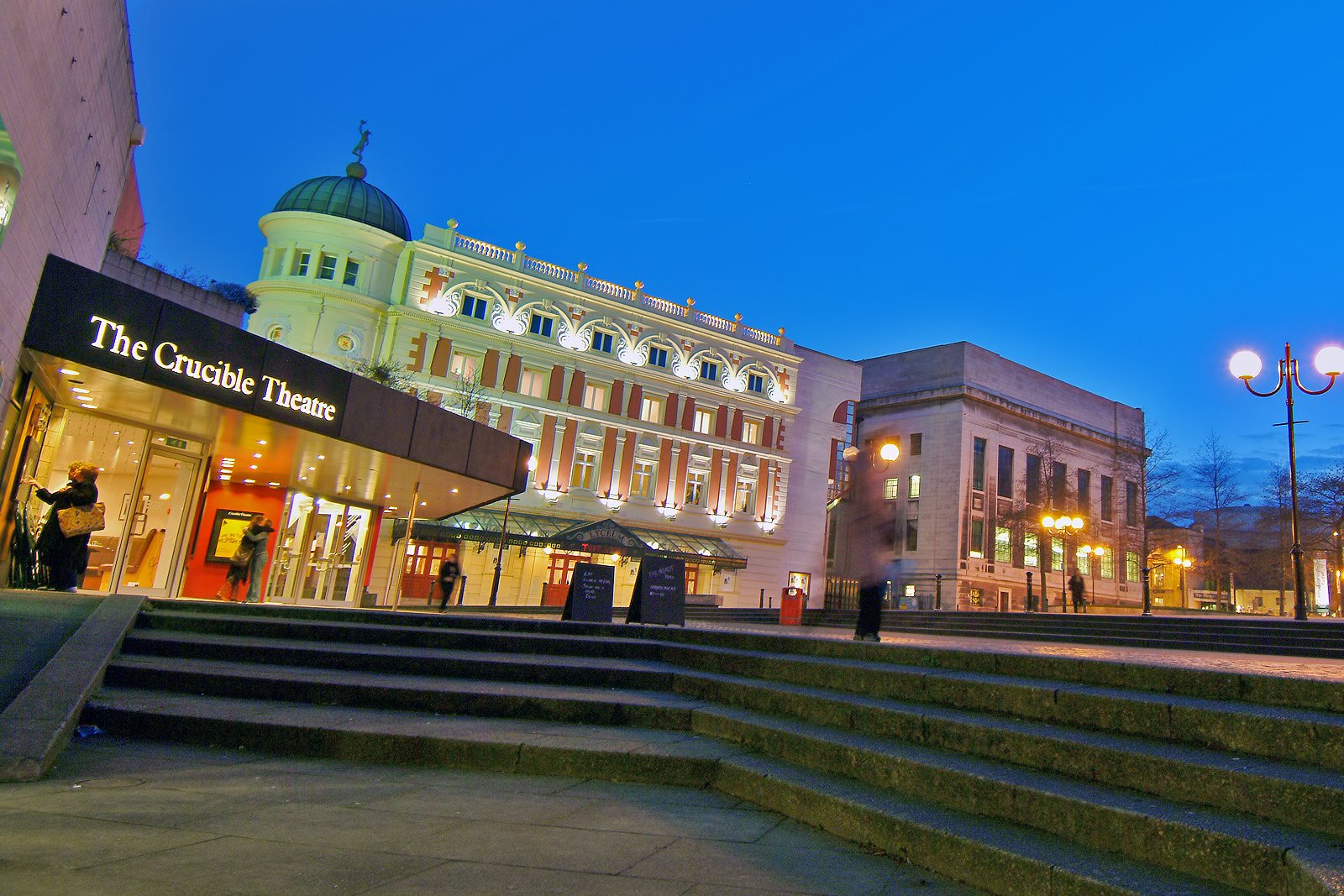 End the day with a show at Sheffield Theatres
Visit one of the biggest theatre complexes outside of London
Sheffield Theatres consists of the Crucible Theatre, Lyceum Theatre and Crucible Studio which, between them, make up one of the biggest theatre complexes outside of London's West End. The Crucible's auditorium is arguably more famous for hosting major snooker tournaments, but all 3 of these huge theatres present great local and touring shows.
There are quite a few other theatres around the city, including the Montgomery, Merlin, and Lantern. It's can be well worth exploring to find emerging talents and striking new plays in more intimate settings.
Location: 55 Norfolk St, Sheffield S1 1DA, UK
Phone: +44 (0)114 249 6000
Couples
Families
Nightlife
Luxury
photo by Aeyynlg (CC BY-SA 3.0) modified