Cambridge Travel Essentials
Useful Information to Help You Start Your Trip to Cambridge
Our Cambridge Travel Essentials lays out the essential information you need to help you plan your trip to one of the most popular destinations in the UK. No matter how often you travel, some questions will always need answers: What's the weather like? How can I get from London Heathrow Airport (LHR) to my hotel? What currency and type of plug do I need?
We have all these answers plus other basic info about the best time to go, getting there, getting around, and a few useful travel tips. You'll also learn about the most popular landmarks in Cambridge such as Great St Mary's Church, The Fitzwilliam Museum, and King's College Chapel. It's all compiled in this Cambridge Travel Essentials. After going through this short and easy-to-read guide, you'll be a little more prepared to start your trip to Cambridge.
1
When is the best time to travel to Cambridge?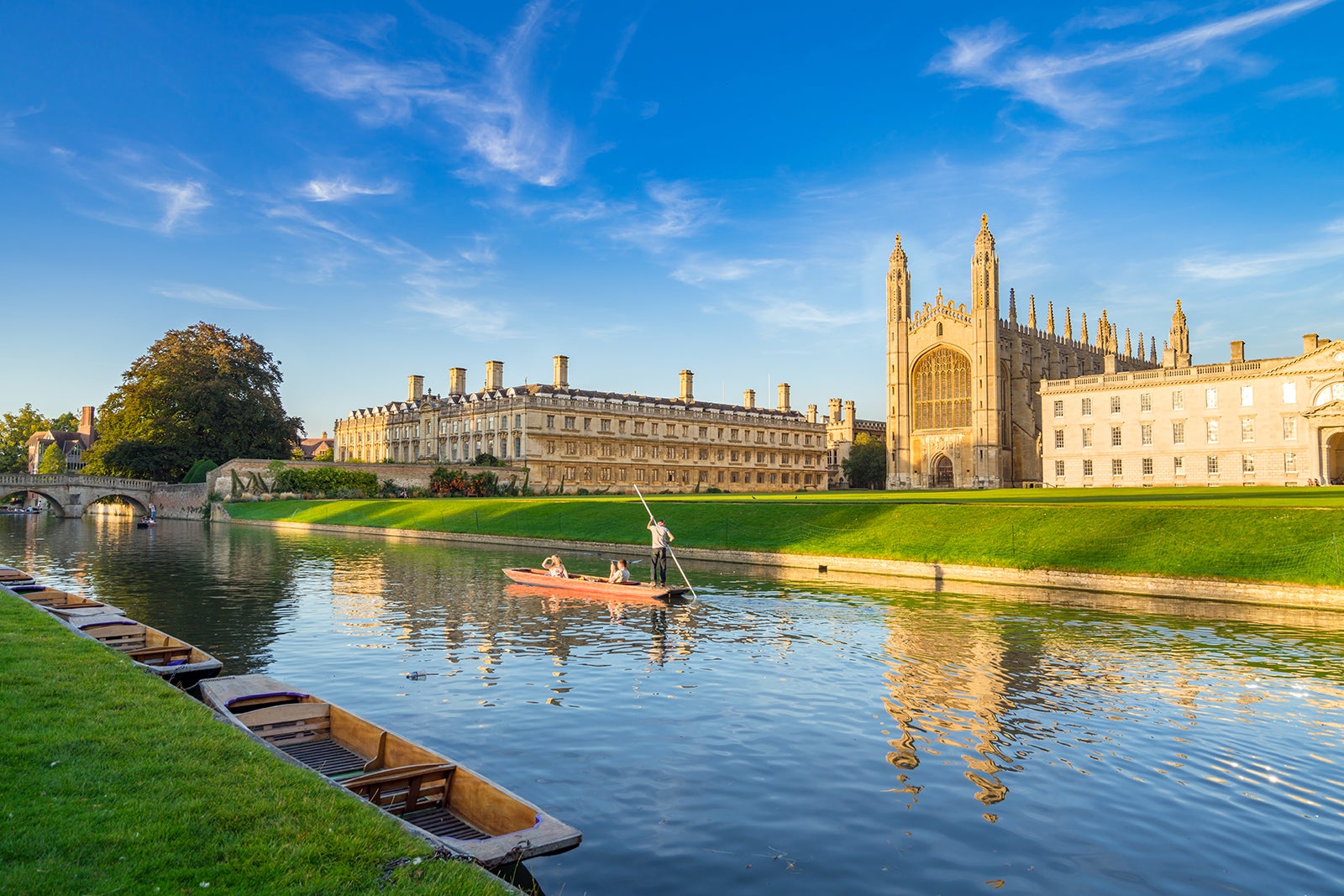 Cambridge's maritime climate brings cold and wet winters (December–February) with an average low of 4°C and mild summers (June–August) with occasional rain and an average high of 20°C.
You can expect rainfall throughout the year in Cambridge – even though the city was once named "the driest city in Britain". It has an average of 12 rainy days a month with October being the wettest month.
The summer months, between June and August, are the warmest in Cambridge which is also the usual peak season. Spring is the 2nd busiest time of the year in Cambridge.
The best time of year to visit Cambridge is in September and October when the weather's just pleasant and without the summer crowds. Visit earlier in spring, from March to May, and you'll see the city in bloom, especially along The Backs.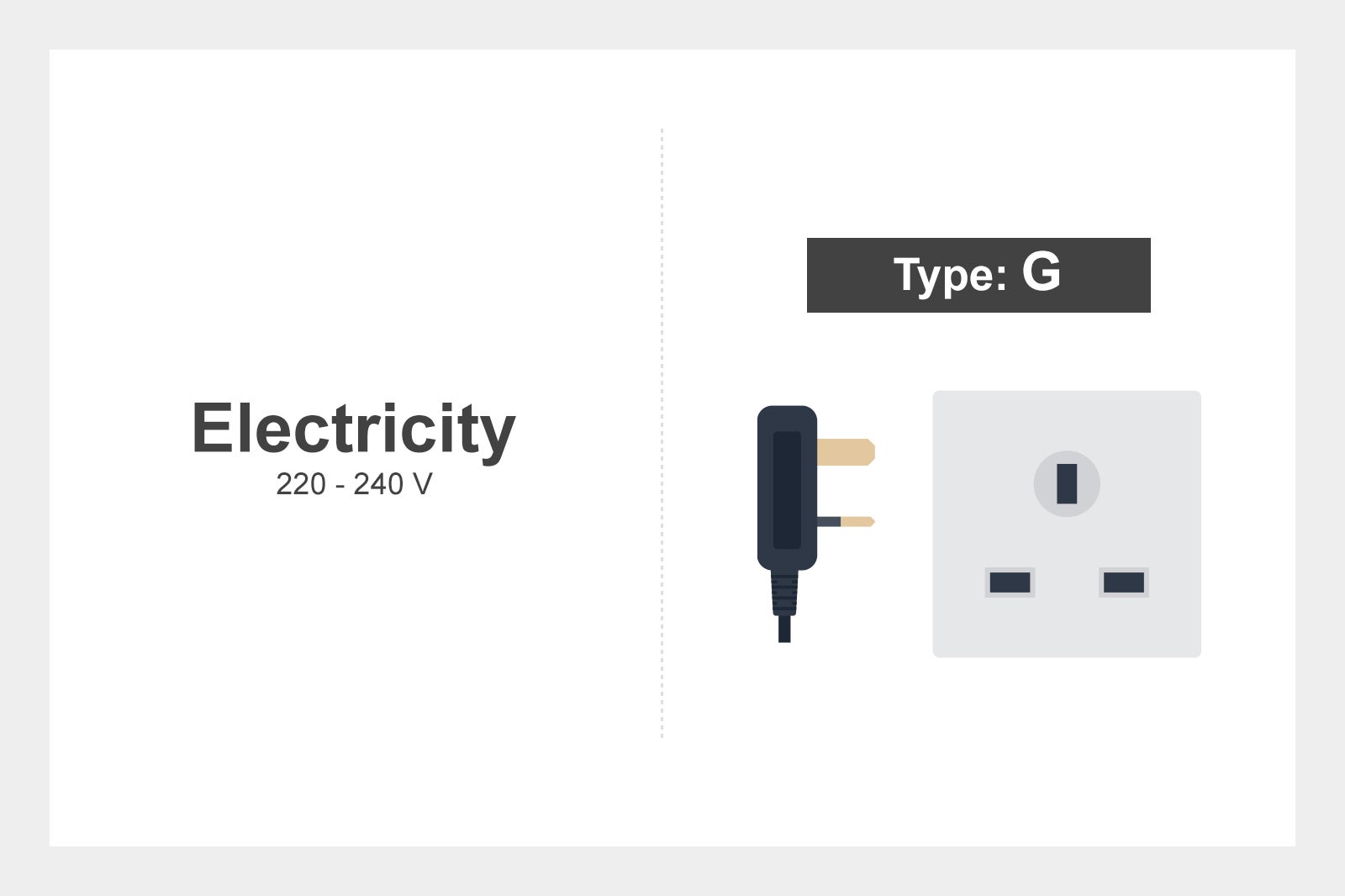 Plug type: G
Electricity: 220 - 240 V
Currency: Pound Sterling (£)
International dialling code: +44 (0)1223
Emergency telephone number: 999
3
How to get to my hotel in Cambridge?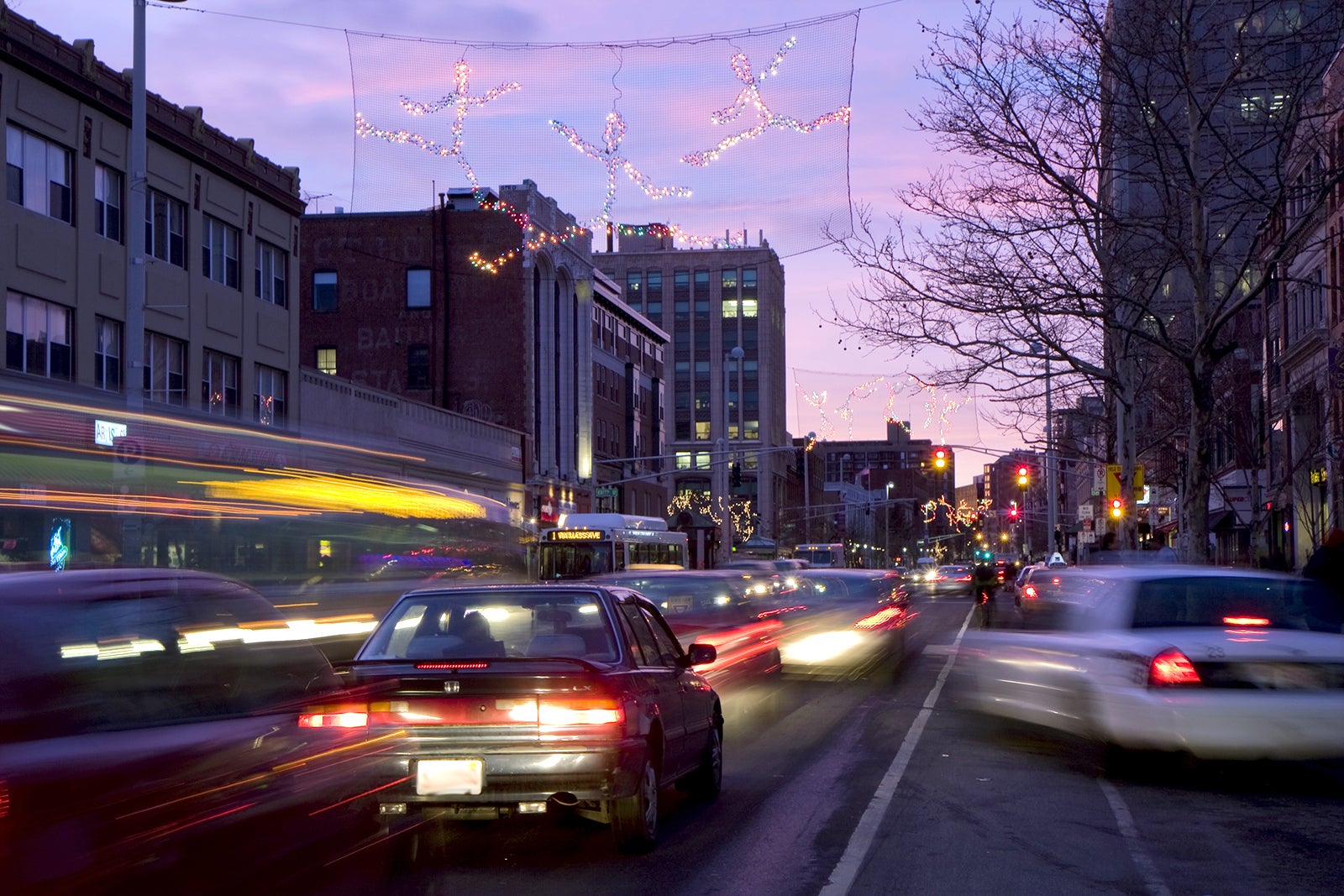 Though Cambridge City Airport (CBG) is the closest airport to Cambridge, it's a regional airport serving mostly training, private, and commercial flights. Most international passengers fly to London Heathrow Airport (LHR), from where they'd then ride the National Express Coach to Cambridge. You can also head into King's Cross station in central London then hop on a train to Cambridge. Cambridge is around 7 miles northeast of London Heathrow.
Other airports include London Stansted Airport (STN), Luton Airport (LTN), and London Gatwick Airport (LGW). From Gatwick Airport, you can take the direct Thameslink train to Cambridge. It's around 100 miles north or an approximately 2.5-hour ride.
If you're already in the UK, Cambridge is only a 90-minute drive from London via the M11. Cambridge railway station sees regular trains run from London's King's Cross and Liverpool Street stations. National Express buses link Cambridge to various cities around the UK, with direct services to London and Birmingham.
Heathrow, Gatwick, Stansted, and Cambridge airports
London Heathrow Airport has no direct rail services to Cambridge. From LHR, you can walk for 3 minutes to Hatton Cross Station and head to King's Cross St Pancras station in central London using the Piccadilly line of the London Underground. Then, walk for about 2 minutes to London's King Cross station from where you can hop on the Great Northern train to Cambridge. Alternatively, you can also hop on the Heathrow Express Coach from LHR to get to King's Cross.
From London Gatwick Airport, getting to Cambridge is convenient thanks to the 24-hour direct rail access run by Thameslink. Booking online and way ahead of time often means cheaper tickets. The railway station is at Gatwick's South Terminal, a minute's stroll from departures and arrivals. From the North Terminal, simply hop on the free shuttle to get to the station. You can also enjoy direct rail access to Cambridge from London Stansted Airport. Cambridge city centre is just a 10-minute taxi ride east from Cambridge Airport on Newmarket Road.
Taxi services are readily available at all airports, though they aren't the best option if you're travelling on a budget. You can also book local taxi services in advance so they can pick you up at agreed-upon or designated places – they tend to be cheaper than the airport taxis. Below are some of the local taxi services available:
CamCab Ltd: +44 (0)1223 704704
A1 Cabco United Regency Ltd: +44 (0)1223 313131
Ace Taxis: +44 (0)7424 102145
Panther Taxis: +44 (0)1223 715715
Cambridge railway station
Cambridge railway station is the main station serving the city, with trains running regularly from London's King's Cross and Liverpool Street stations as well as other Greater Anglia stations. Kings Cross trains, otherwise known as Cambridge Cruiser or Cambridge Express, run non-stop and are considered the fastest, taking you to Cambridge within 45 minutes or so. Other trains can take up to 90 minutes.
Cambridge city centre is a mile northwest of the rail station. Cambridge PlusBus runs buses to the city centre frequently and you can find a taxi rank right outside the station.
Another station, Cambridge North railway station is in the suburb of Chesterton and is mostly for getting to the Cambridgeshire Guided Busway, which connects Cambridge with Huntingdon and St Ives. Be sure not to get the 2 mixed when you're headed for Cambridge.
4
How to get around Cambridge?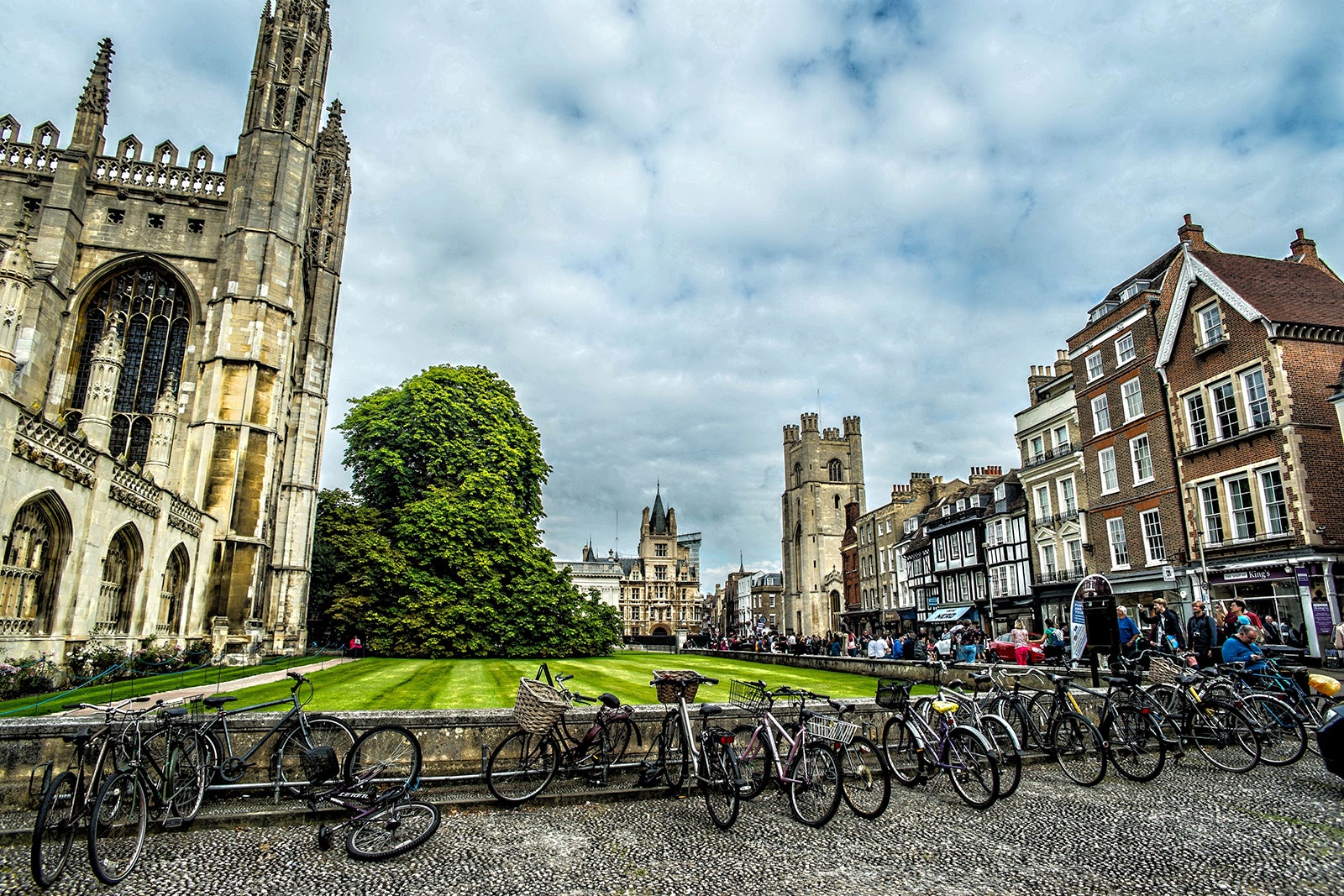 Travel tips
Cambridge, especially its centre, is pedestrian-friendly with plenty of the city's highlights such as The Backs and The Fitzwilliam Museum within easy walking distance. Do note that pedestrians, locals, and students who mostly go around by bikes in this university city often share the pavements. Enjoying the city by hiring a bike and joining the local cycling scene is a good idea.
You won't need to use the local bus services as much. However, there's a hop-on, hop-off bus with 19 stops around Cambridge, allowing you to take in the highlights of the city with little to no effort. Taxis are easy to find, and Uber is available and widely used.
Taking a taxi
A variety of licensed taxis and hackney carriages run in Cambridge – it won't be hard to find one. You can easily hail them on a street, provided they're licensed taxis and not private hire vehicles. Never use an unlicensed one.
The 3 main taxi ranks in the city centre are on Drummer Street, Cambridge railway station, and St Andrews Street, while the night-time ranks are outside the Boots pharmacy on Sidney Street and Market Hill. Some taxi companies have booking apps allowing you to pay by credit card. It's always a good idea to spare some cash for a ride back to your hotel after a night on town, though.
Local taxis like Panther Taxis (+44 (0)1223 715715) and CamCab Ltd (+44 (0)1223 704704) have apps you can use to book from your smartphone. You can order an Uber in Cambridge as well – they tend to be cheaper than regular taxis.
Travelling by bus
The local buses won't be of much use in Cambridge during your visit unless you're venturing further out of the city centre. Several operators run bus networks in Cambridge such as Stagecoach-Citi Bus, Whippet, and PlusBus. They operate a convenient and affordable network which can get you anywhere in the city.
Stagecoach Dayrider passes are valid within the city centre while the Stagecoach Dayrider Plus pass lets you ride throughout Cambridgeshire. A Multibus pass for the day allows you to travel on services run by different operators in Cambridgeshire.
Cambridge's hop-on-hop-off bus service
For sightseeing within the city, there's a hop-on, hop-off bus that can take you around for a tour of the city, stopping at 19 points and allowing you to see and snap photos of beautiful landmarks with ease.
The open-top sightseeing bus offers sightseeing commentary in several different languages. Among the notable sights that you'll be able to see along the route are the Cambridge railway station, Cambridge University, Downing Street Museums, Roman Catholic Church, Fitzwilliam Museum, Trinity Street, and The Backs.
The hop-on, hop-off bus runs every 40 minutes daily between 10.10 am and 5.10 pm, and the ticket grants you unlimited boarding at any stop within 24 hours.
Is it a good idea to rent a car in Cambridge?
Driving in and around Cambridge is discouraged by the City Council. There are rising bollards in place at many points around the city that only retract to allow licensed taxis and private hire vehicles with special transponders. Besides, navigating through the narrow streets is not so easy.
If you still want to drive, notable car rentals include Cambridge Car and Rental (+44 (0)1223 464045), Hertz (+44 (0)8433 093015), Thrifty (+44 (0)1223 244233), and Sixt Car Hire (+44 (0)20 7018 8246). You can also make good use of the convenient Park and Ride feature in Cambridge, at which you can park your car at any of the 5 car parks and catch one of the frequent buses to take you into the heart of the city.
Cycling around Cambridge
The university city of Cambridge is often named among "the UK's best cycling cities" and "the UK's cycling capital" partly thanks to its 80 miles of cycling lanes and routes. Most students and locals cycle in the city and often share the pavements in the city centre with pedestrians – it's best to avoid cycling during the rush hours.
There are plenty of bicycle rental services around Cambridge. Among them are City Cycle Hire (+44 (0)1223 365629), Rutland Cycling Cambridge Station (+44 (0)1223 352728), and PRIMO Cycles (+44 (0)1223 500502), to name a few. Some offer electric (e-bikes) besides conventional ones.
5
What are the main annual events in Cambridge?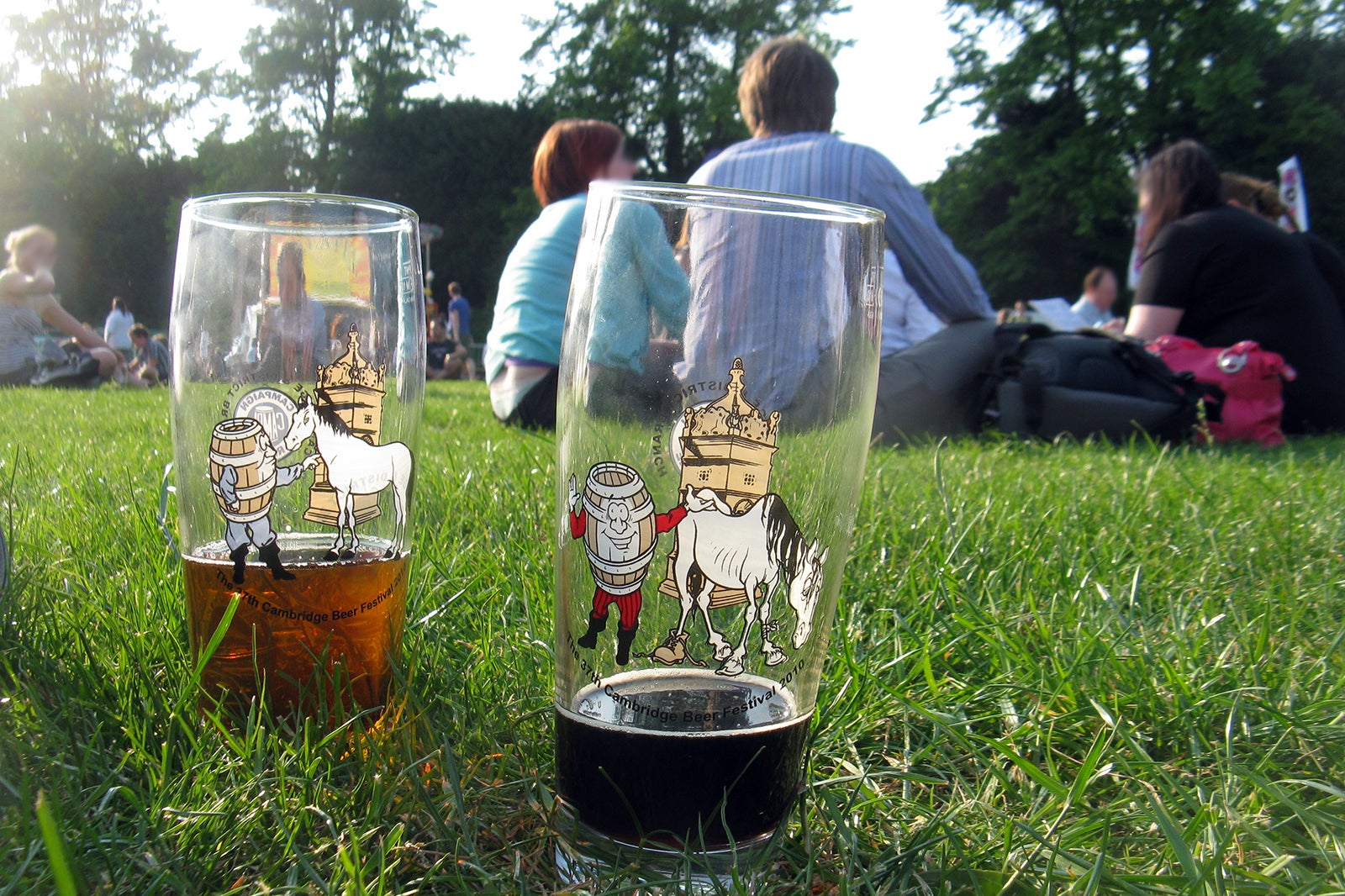 Cambridge Beer Festival
Late May
A summer beer festival held each year in Cambridge since 1974 on Jesus Green, north of Jesus College in the north of central Cambridge.
Where: Jesus Green, Cambridge
Strawberry Fair
June
A free local festival of music, entertainment, and arts and crafts dating back to 1974. It's held on the 1st Saturday in June on Midsummer Common in Cambridge, on the south bank of the River Cam.
Where: Midsummer Common, Cambridge
Cambridge Folk Festival
July/August
An annual music festival held since 1965, known for its eclectic mix of fine folk music performed by various artists over the weekend on multiple stages.
Where: Cherry Hinton Hall Park, Cambridge
photo by Simon Webster (CC BY-SA 2.0) modified
6
What are the main landmarks in Cambridge?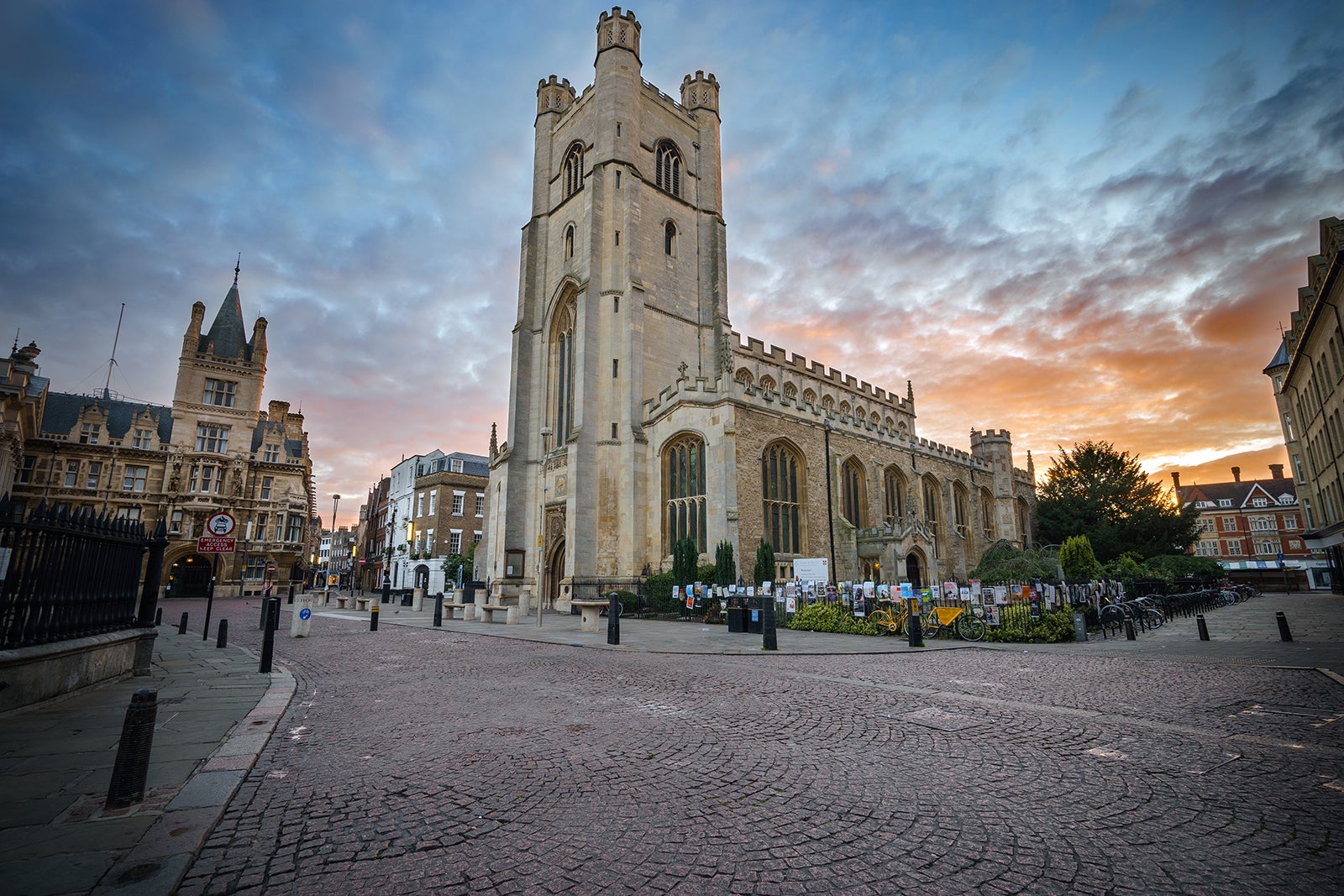 Great St Mary's Church
An impressive parish and university church overlooking the marketplace in central Cambridge. You can climb the tower for stunning views of King's College Chapel and the city.
The Fitzwilliam Museum
The University of Cambridge's art and antiquities museum, home to a huge variety of amazing artefacts and art from around the globe, including pre-Raphaelite paintings and Egyptian coffins.
King's College Chapel
One of the city's most beautiful historical landmarks, inside the University of Cambridge. It features a chapel and massive frontcourt. It's also one of the greatest examples of late Gothic English architecture.
The Eagle
A Cambridge pub where the structure of DNA was discovered back in 1953. It also features an RAF bar covered in graffiti left by WWII aircrews.
Back to top