Your Asheville Shopping Guide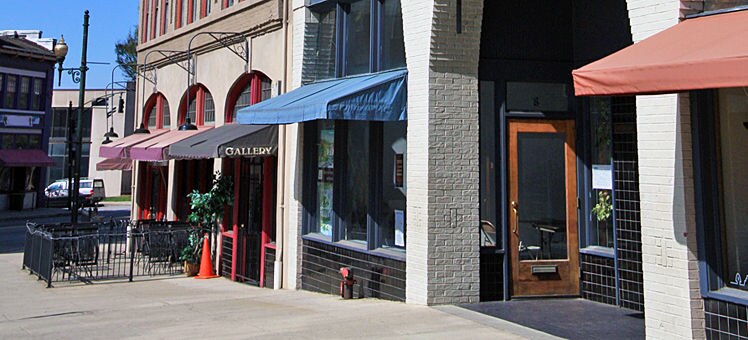 Asheville's city center provides many quirky, independently owned shops selling handcrafted and carefully curated goods that reflect the city's bohemian influence. Locally-made honeys, chocolates, and cheeses make great treats, and local bookstores thrive since downtown is virtually free of chain shops. Visitors to Asheville can take home functional art in the form of glassware, jewelry, and furniture, or an original piece of wall art.
Shopping in downtown Asheville
Two major areas of downtown beckon shoppers - Grove Arcade and Lexington Avenue. Grove Arcade resembles a traditional mall inside, with open-air eateries and bars on the outside. Visit Battery Park Book Exchange, a dog-friendly champagne bar and bookstore hybrid. About 20 other chic shops retail everything from string instruments to rare coins here. For edgier wares, head to Lexington Avenue. Shops along this street sell clothing and goods suited for free spirits. Tea drinkers won't want to miss Dobra Tea, with hundreds of loose-leaf teas in 9 varietals from all over the world for sale by the bag.
Grove Arcade, 1 Page Ave., Asheville 28801; Tel: +1 828 252 7799; Website: Grove Arcade

Dobra Tea, 78 Lexington Ave., Asheville 28801; Tel: +1 828 575 2424; Website: Dobra Tea
Biltmore Village
Truly laid out like a village, this open-air, market-style community near Biltmore Estate is a shopper's paradise. Enter individual storefronts and peruse clothing, specialty items, home goods, and artwork in the village's 40+ independent shops and national retail outlets. Many Biltmore Village stores and restaurants reside within converted historic homes. Art-lovers won't want to miss browsing New Morning Gallery, a 13,000-square-foot space filled with work by more than 500 artists.
River Arts District
Visitors looking for a one-of-a-kind keepsake will want to head to River Arts District. This neighborhood is the town's creative hub where artists live and work, with almost 200 working studios open to the public for browsing and buying. Stop by Julia Fosson Encaustic Art, owned by River Arts District Artists president, to see her wax paintings. Consider making your own pint glass at Asheville Glass Center, or purchase some of their beautiful hand-blown art.
Asheville Outlets
Asheville Outlets is an open-air retail center with over 75 stores and restaurants. All the familiar brands such as Gap and Old Navy have storefronts, while Vera Bradley Outlet and Banana Republic Factory Outlet give fans of the brands great deals. Pop in at Beef Jerky Outlet to see the shelves lined with hundreds of cured meats and homemade jams, sauces, and spices.
West Asheville shopping
This burgeoning community will suit shoppers in the market for secondhand, vintage, and unconventional items. Outdoor enthusiasts can check out Second Gear, a consignment shop specializing in outdoor gear. The owners of resale boutique Reciprocity are sisters dedicated to curating a collection of women's clothing, accessories, and jewelry they make themselves. For a taste of packaged and local foods, stop in to West Village Market & Deli - you can sip on a healthy drink from their Farmacy Juice and Tonic bar while you browse the organic produce and body care items.