Cyprus shopping guide – where and what to shop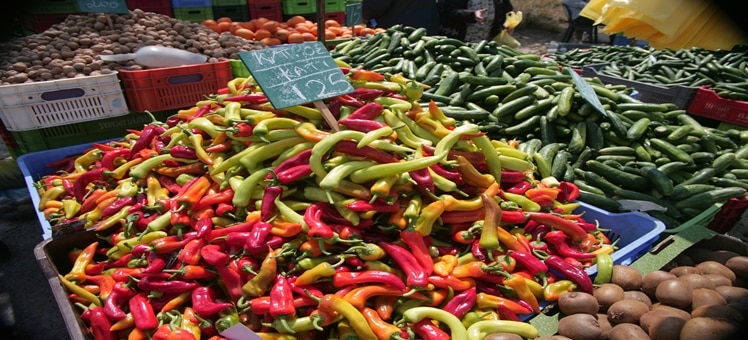 Cyprus is a real mecca for souvenirs lovers. From unique pottery to the famous handmade embroidery Lefkaritika, silverware and textiles, you'll need to make room in your suitcase to take your purchases back home.
Whether you are looking for designer brand fashion, leather goods, shoes or locally produced items, you'll find something to please the shopping bug in the convenient shopping malls, bustling open-air markets and traditional shops spread across the island.
According to legend, Leonardo Da Vinci found the Lefkaritika so beautiful that he took a tablecloth back with him to place on the 'Ayia Trapeza' altar of Milan Cathedral. Today, this typical handmade embroidery is associated with Cyprus all over the world and is the perfect purchase for every tourist. But every Cypriot product is a good buy, especially the jewelry, which is an art that has been practiced on the island since the Mycenaean period. With the stylish and affordable shoes and leather goods, Carrie Bradshaw would have a blast in the island as well as any other fashionista.
Nicosia
With its vast malls and buzzing areas awash with trendy stores, Nicosia is a shopaholic's dream. Within the medieval walls of the city, a commotion of traditional jewelers, shoes and fabric shops line the Ledra Street and its tributary roads, giving this common shopping area a mix of Middle Eastern and European feel. If you are looking for souvenirs however, your best bet is the pedestrianized neighborhood of Laki Geitonia. While the modern Makariou Avenue is packed with big chains like Zara and Marks and Spencer, expensive brands like Armani and Versace stores line Stasikratous street, a microcosm of London's Bond Street.
Limassol
Hip and trendy, the second largest of the city in Cyprus offers a fine alternative to the capital when it comes to designer and stylish shopping. But there's much more to this shopping hub, offering the whole spectrum from ultra-modern to traditional and handmade. Hardcore shoppers for sure will exhaust their credit cards in Makarios Avenue, home to many high-end boutiques and showrooms along with shops of every kind. If you're looking for handcrafted items, fine jewelry or artwork, head to St Andrew's Street. Be ready to shop till you drop in Aneksartisias Street; there's nothing you won't find here.
Larnaca
As the cradle of the famous handmade embroidery Lefkaritika, Cyprus' oldest city Larnaca is the best place to buy the handmade lace, pottery and silverware the island is famous for. Its main shopping area is Zenon Kitieos Street, a bustling maze of craft shops and markets. This city is also famous for its fine jewelry, which can be mainly found off the main Ermou Street. Fashionistas, rejoice. Larnaca has developed many large shopping centers and modern boutiques featuring top designer labels alongside local brands. For the best bargains in the city, head to the Sunday market, featuring clothes, local crafts and souvenirs.
Pafos
Stepped in history and tradition, Paphos, the birthplace of Aphrodite, is the place to buy ancient, rare and beautiful handicrafts and pottery. Check out the Fold Art and Handicraft Center to find textiles, wool, precious stones and cotton. From the numerous furniture stores on the road towards Polis to the small independent tourist shops on the harborside, shopping in Paphos can be addictive. While you'll find leather goods, handbags and all sorts of knick-knacks at the Paphos Market, there're also high-street brands at the shopping malls. Don't forget to visit Kato Paphos for some unique souvenirs.
Shopping Tips
Even though Cyprus leather, silverware and lace are of good quality, you need to watch out not to buy anything fake. In general, shops placed in big avenues, such as Makariou, Agiou, Andreou and Strasikratous, are more expensive than others you'll find in smaller roads or neighborhoods. Also, souvenirs in touristic villages tend to be pricier than in towns. Given its climate and way they are produced, wines and spirits are very popular in Cyprus. Try your luck, you might get freebies.
Discover
Find your perfect holiday in Nicosia
From 30 hotels.