Where to eat in Cyprus – a food and dining guide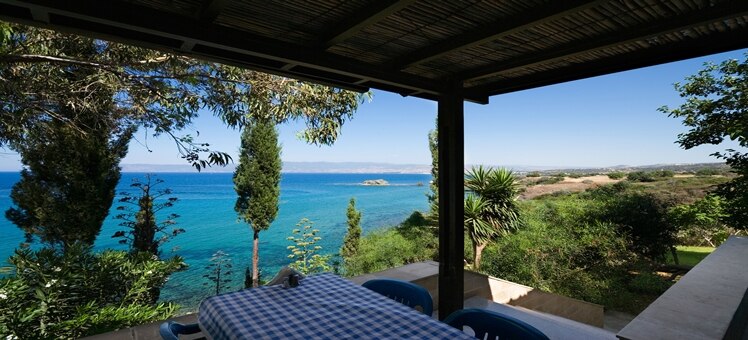 From the all-time favorite halloumi cheese to the moussaka and loukanka, food in Cyprus is a whirlwind of sensations and a melting pot of Greek and Turkish influences. With a hefty selection of dishes on the table, dining in Cyprus is a feast and each gastronomic delight should be savored slowly.
Happily, the isle of pleasures is packed with eateries in each corner to satisfy every palate and wallet, ranging from traditional taverns to five star restaurants.
Hidden away in the mountains or by the sea, tavernas in small villages are the best place to try the traditional meze. As many as thirty dishes may form the meze, a mixture of traditional dishes, including dips, salads, fresh fish, kebabs, and chickens, finishing with sweets like baklava. A tiny glass of Cyprus brandy Commandaria - the world's oldest branded dessert wine - end the banquet on a high note. If you had enough of meze, plenty of restaurants in the main resorts serve Chinese, Arabic, European and Indian food.
There's no escaping trying the most typical Cypriot dish - Halloumi, grilled cheese as a side dish or stuffed in pita bread with salad, or just as it comes with cucumbers and tomatoes.
Nicosia
From kebab houses to traditional eateries, fast-food chains, and fine restaurants, the capital of Cyprus is home to a thriving dining scene. While the shopping district is dotted with local tavernas and western food spots, posh cafes line Makarios avenue. Regularly acclaimed as one of the best restaurants in Cyprus, Kontosouvli offers home cooked Cypriot food at its best in a lovely atmosphere: live music and outdoor tables. As it name indicates, this is an idyllic place to eat that mouthwatering meat dish. For the best fish in town, head to Pyxida Fish Tavern and order the fish meze which includes 19 different plates.
•
Kontosouvli Restaurant
, 2E Kallipoleos. Tel: + 357 22 754 959 •
Pyxida Fish Tavern
, 5 Menandros Street. Tel: + 357 22445636
Limassol
With its unique fusion of modern and traditional influences, the second city of Cyprus has a varied dining scene and caters to every whim. Cheap and lively western, Lebanese, Indian and Chinese eateries flood the town center as well as the tourist area, whilst trendy and upscale restaurants can be found around the Port and the Old Town. Tucked away in corners or by the beach lie authentic Cypriot restaurants offering traditional meze. Meat lovers flock to Regato, a Cypriot restaurant with an Italian twist. Although their succulent steaks are to die for, their caramelized chicken kebab will send you through the roof.
•
Regato Restaurant
, Georgiou Neophytou 4006, Mesa Gitonia, Limassol. Tel: + 357 2559 1259
Larnaca
Eating in Larnaca can be expensive as the area is awash with restaurants catering to tourists. Luckily, some authentic traditional food can be had in neighboring villages and all around town if you follow the trail of Cypriots. For a truly Cypriot experience, visit To Kazani and try their selected mezes; a favorite is wine pork chop. As a crossroads of civilizations, Larnaca's dining scene has benefitted from other cuisines. An example is Abu Dany, the best Lebanese restaurant in Cyprus. The mixed grill, humus and falafel are out of this world.
•
To Kazani
, Aradippou n. 5, 7104. Tel: + 357 99 313236 •
Abu Dany
, Kition Annex Building, Flat shop n.3, Lordou Vyronos, 6023. Tel: + 357 24650960
Paphos
The charming town of Paphos houses myriads of dining options, from traditional tavernas to western chains and five star restaurants. All along the harbor, quaint open-air fish restaurants offer fantastic seafood, but head to a tavern in a surrounding village for authentic Cypriot cuisine and a lively atmosphere, like you'll find in Letymbou Tavern. Hidden away in a typically Cypriot village lies this gem, where you can immerse yourself in the local culture as you dance to the beat of traditional music. Only get your groove on after feasting on meze, from halloumi to dolmades, liver and snails.
•
Letymbou Tavern
, Eliados 40, Letymbou Village, Paphos 8546. Tel: + 357 266 42614
Discover
Find your perfect holiday in Nicosia
From 30 hotels.