Where to shop in Slovenia - market stalls and traditional shops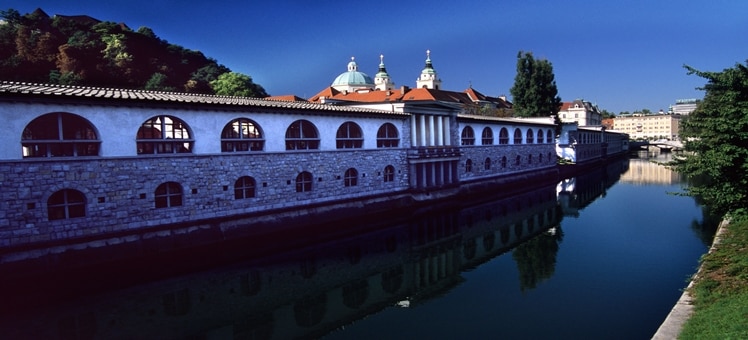 Whether you go out with the intention of splashing the cash or simply happen upon a street full of boutique stores, you're sure to find shelves of knick knacks, clothing and even art work that will inspire you to spend your holiday money.
Souvenirs
Who doesn't love a holiday souvenir? And in Slovenia there are plenty of places to purchase them. Ljubljanček is a small souvenir shop in the Grand Hotel Union in central Ljubljana selling specialist souvenirs as well as local guides and English newspapers and periodicals. Slovenia is famous for its Idrija lace, beautifully intricate and handmade, which can make a great gift or souvenir. In Indrija itself, there are two stores right next to each other, opposite from the lace making school, which both sell divine lace. Cipka Art 2000 and Studio Koder sell some of the finest lace in the world as well as a number of other beautiful handmade souvenirs. Well worth a visit.
Art
The capital of Slovenia is adorned with budding artists desperate to sell their handmade goods. For tourists, this provides a great opportunity to grab some unique artwork to take home. Trgovina Ika opposite the cathedral and market in the centre of Ljublijana is a cute little shop selling handmade items which have put a modern spin on the traditional souvenirs. They have up to 100 designers displaying their work with items like jewellery, clothing, porcelain and much more on sale. The shop Skrina sells distinctly Slovenian folk craft at really affordable prices. You'll find Prekmurje pottery, Idrija lace, beehive panels and Rogaška glassware, which provide lovely gifts or dazzling items to decorate your home.
Books
Slovenia has a number of traditional, cosy bookshops beckoning you in for a browse. Knjigarna Behemot in Ljublijana, near park Zvezda, is a pint sized English bookshop and a great place to visit. Packed to the rafters with reading material, you'll be there all day perusing the shelves. They have pages of information on current events, non-fiction literature and much of the translated works of Slovenia philosopher/king Slavoj Žižek. And if you can't find what you're looking for there, Mladinska Knjiga is Ljublijana's biggest and best-stocked bookshop where you'll find everything you need. Overflowing with guidebooks and maps to make sure your trip runs smoothly, you'll also find English written newspapers and periodicals so you can keep up with current events whilst you're away.
Markets and antiques
Carniola Antiqua in Ljublijana is a large antique gallery, which has recently been expanded to sell one of the biggest collections of vintage items in the capital. They have a great choice of 1950's and 1960's clothes and furniture so you'll feel transported back in time once you step foot inside. Alternatively, Ljublijana's antique and flea market takes place every Sunday morning between 8am and 2pm on the embankment between Triple and Cobbler bridges on the Old Town side of the river. The market sells a large variety of pretty much everything with antiques, art, general bric-a-brac and old memorabilia like coins, stamps and medals. You're guaranteed to find some quirky buys and with the hardy stallholders wrapping up warm in winter, the market is open all year round.
Shopping tips
Although Slovenia has shopping centres and high street stores like you see everywhere, the best places to purchase are the traditional shops or market stalls. Here you'll find all the authentic Slovenian trinkets like the Panjska koncnica, painted beehive panels dating back to the 18th century, or the Skrinjica, an intricately decorated chest covered in Slovene ornaments and used to store anything from clothes to linen.
Whether you're a big spender or simply want a little souvenir to remember your trip, Slovenia is littered with traditional shops, authentic market stalls as well as shopping malls and highs streets so you're bound to find something worth purchasing.