Where to eat in Slovenia - sauerkraut, sausages and stew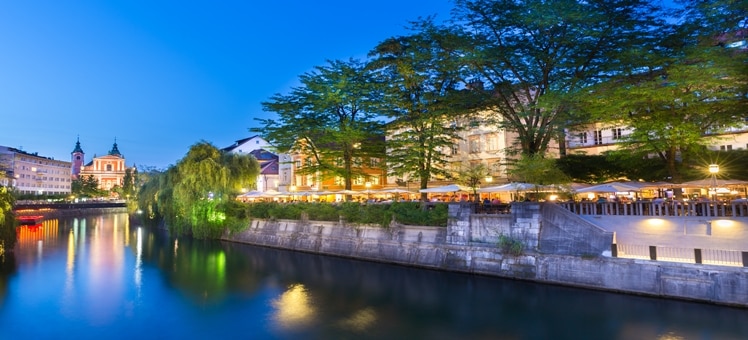 Slovenia has over 20 distinct culinary regions, and having gained its independence in 1991, the past has shaped its cuisine, which has become a fusion of Mediterranean, Austrian, Hungarian and more; guaranteed to satisfy even the most critical food connoisseur.
Traditional
When travelling, most tourists want to try some local cuisine and Slovenia has an endless choice of restaurants serving traditional dishes. Gostilna Sestica is one of the oldest restaurants in Ljublijana, and has been serving food since 1776. They have a wide selection with daily lunch menus, an a la carte selection, house dishes and international menus, all topped off with carefully selected local wines to go with each dish. Of an evening, the authentic experience is enhanced by traditional live music and Slovenian folklore. To take it one step further, the Restavracija Strelec couldn't be more traditional, set inside an old castle. The menu is a mixture of Slovenian dishes and more unusual 'castle dishes' that reflect ancient medieval cuisine. Opt for something a little daring or keep it safe with fish, seafood and homemade bread all washed down with some classic Slovenian wines.
Fancy food
If you're looking for a romantic meal to wow your other half or a celebratory dinner, there are plenty of eateries in Slovenia perfect for the occasion. Gostilna Ribič in Ptuj is arguably the best restaurant in the area. Also known as the Anglers Inn, it faces the river and has an enormous outdoor terrace, which offers spectacular views whilst dining. Due to its location, it's not a surprise that the speciality is fish. It's recommended to sample the herbed, baked perch or if you fancy something lighter, try the seafood soup in the bread bowl. Ideal for foodies, the Hiša Franko in Kobarid serves the best gourmet dining at the Hiša Franko guesthouse. They offer delectable tasting menus, which differ depending on the season as all produce is locally sourced and fresh. It's advised to go with an empty stomach, as the set menus can often comprise five or even eight courses.
Seafood
As big fans of fresh, healthy ingredients, the Slovenians love fish, so you're likely to come across a number of seafood restaurants. The informal setting of Ribca in Ljublijana might make you think otherwise, but the seafood is of great quality with really tasty fresh fish served throughout the day. The seafood bar is on the basement floor of the Plečnik Colonnade and serves up fried squid, herrings and sardines in a delicious feast. Restaurant Neptune in Piran is a family run restaurant and most popular with the locals which is always a good sign. Your best bet is the seafood sharing platter which tastes as delicious as it looks and the great value two course lunch of the day is also definitely worth a try. Restaurant Kotlar in Kobarid is another good choice for quality fish, shrimps, shellfish and an array of pastas and other speciality dishes.
Something a little different
Veggies often struggle to eat out, especially abroad. However, Vegedrom in Ljublijana has dedicated its entire menu to vegetarians and vegans. It is somewhat pricey but truly tasty, with a salad bar, sharing platters and spicy Indian inspired treats. Alternatively, if you like the idea of traditional Slovenian food, but have tired of their classic dishes, Strud'l in Bohinj is traditional with a modern overhaul. Expect to find dishes like the ričet klobaso which is a barley porridge served up with sausages and beans. The hišni krožnik is probably the best dish; known as the house plate, you get to sample a bit of everything, with hams, sausages, mashed beans, sauerkraut and cooked buckwheat. Restaurant Raduha is a little different form the typical restaurant, serving amazing local food with a twist. You can decide to stay here to as they have rooms available – with some even located in a tree house!
Typical Dishes
Slovenia's rich culinary culture comprised of 24 gastronomic regions and 178 recognisable dishes using a wide range of flavors and ingredients, means their restaurants serve a great array of dishes. You can expect German inspired sauerkraut, Austrian influenced strudels and Hungarian enthused goulash as well as lots of pork, stews and hearty soups.
Reference info:
•
Gostilna Sestica
, Slovenska cesta 40, Ljubljana. Tel: +386 12 42 0855•
Strud'l
, Triglavska cesta 23, Bohinjska Bistrica. Tel: +386 41 710 851•
Vegedrom
, Vodnikova cesta 35, Park Tivoli, Ljubljana. Tel: +386 1 513 26 42•
Restavracija Strelec
, Grajska planota 1, Ljubljana. Tel: +386 1 439 41 40 •
Ribca
, Adamič-Lundrovo nabrežje 1, Ljubljana. Tel: +386 1 425 15 44•
Restaurant Neptune
, Župančičeva 7, Piran. Tel: +386 673 41 11•
Restaurant Kotlar
, Trg Svobode 11, Kobarid. Tel: +386 538 91110•
Gostilna Ribič
, Dravska ul 9, Ptuj. Tel: +386 2 749 06 35•
Restaurant Raduha
, Luce 67, Luce 3334. Tel: +386 383 84 000•
Hiša Franko
, Staro Selo 1, Kobarid. Tel: +386 5 389 41 20