Phuket – where to shop on the island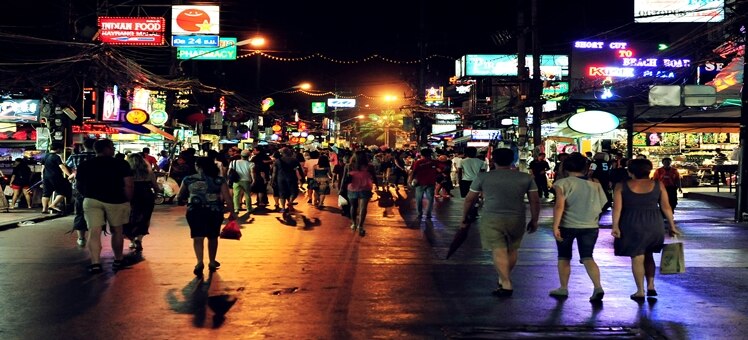 Originally, Phuket was on the major trading route between India and China and today, Phuket still benefits from this. Items to shop for include batik, Thai silk, cultured pearls, nielloware (objects with etched designs) pewterware and dried seafood. The busy beaches are overcome with people selling items from sarongs to bracelets, while the streets are lined with touts wanting you sell you tailor made suits and ball gowns. All kinds of shopping is on offer, from open air night markets to food stalls and western shopping malls.
Phuket City
Central Festival Phuket Shopping Mall is often referred to as the best shopping mall experience on the island. Here you'll find Thailand's most popular shops, along with a superstore, grocery store and over 150 fashion boutiques with the latest fashion. It also houses more than 30 Asian art and craft shops perfect for finding souvenirs and presents. When you're feeling hungry, head to one or more of the 56 restaurants, offering Thai and continental food which is all spread out over 120,000 square meters.
Western Phuket
Jungceylon shopping mall in Patong is known as 'The International Shopping & Leisure Destination'. The mall doubles up as a leisure and entertainment center with over 300 brands and food areas, everything you need under one roof over three floors. There is also the daily water fountain show to keep you entertained. Jungceylon has beauty centers, a five screen cinema and a 16 lane bowling alley as well as hypermarkets where you can stock up on snacks for the day. Patong is a good place to have clothing custom made as there is an abundance of tailor shops there.
East Phuket
On this side of the island, you'll find some of the best pearl jewelry shops in Phuket. Some of these shops have even won special awards for the design and quality of their pearls. Choose from an almost overwhelming amount of designs of the beautiful pearl that Phuket is so well known for. The western style jewelry shops have everything from the classic white pearl necklace to the black pearls set on silver rings; perfect as a present to yourself as a reminder of Phuket.
Interior Phuket
All over the island you'll find tailors who will measure you several times to create your perfect suit, ball gown or pretty much anything you want. Make sure you do go for a few fittings to make sure it is properly tailor made. If you can, try not to opt for the quickest turnaround time as you garment may not be of the best quality. However, you are sure to come away with a cheap excellent fitting outfit. On the west coast places may be more expensive, while in interior or the east coast will probably be cheaper and less busy.
South Phuket
If you want to return home with a brass Buddha statue or perhaps some objets d'art, genuine antiques, regional and decorative art or local instruments, there are shops in the south specializing in this. From Thai to Burmese and Chinese antiques of wooden sculptures, sandstone, bronze and paper maché, you will be able to find what you are looking for to take home.
Shopping tips
: As with most places in Asia, bartering is the normal way to shop whilst buying in markets. Ask the price, then offer something around half the price and go from there. Markets and street shops will have a sign saying 'fixed price' if they don't barter. Always carry cash if shopping in markets, preferable in low denominations. In shopping malls, bartering is not normally accepted, especially in high end branded stores.