Penang Travel Guide - Your destination overview of Penang, Malaysia
Penang Travel Guide - Your destination overview of Penang, Malaysia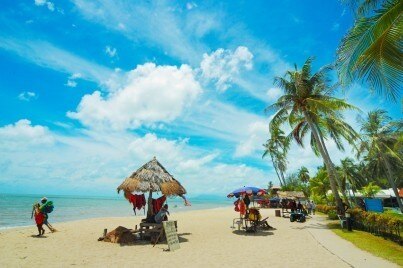 With its diverse mix of cultures, eclectic cuisine and beach-city status, Penang is a microcosm of Malaysia. Travelers who desire to experience Malaysia but have little time to tour the country, can take a wide angle shot of the country in Penang.
Penang is a turtle shaped island, situated around 8kms from mainland Malaysia. Georgetown, the main city on the island, has begun to spread eastwards. The north coast of the island is already highly developed, with many popular beach resorts dotted along its shore.

The island is multifaceted; historic buildings, temples and mosques are juxtaposed with modern developments in the city, while the coast is home to a crop of luxury resorts and sleepy fishing villages.

Penang has an interesting heritage and was once one of the three British Straits Settlements, along with Singapore and Malacca. Penang is Malaysia's most densely populated state, and is unique in that ethnic Chinese are the majority.


Georgetown
This network of chaotic streets is the capital of Penang, and a major tourist territory. The city is a UNESCO World Heritage site due to its many sites which predate WWII, as well as churches, mosques and colonial buildings.


Batu Ferringhi
This is the main beach resort in Penang, and home to a string of upmarket hotels. Tourists and locals swarm to enjoy the white sandy beaches and relaxed dining scene.


Bayan Lepas
The location of Penang's international airport, this major industrial area is home to many electronic manufacturing plants but is usually nothing more than an entry or exit point for most visitors.
Balik Pulau
This rural area is the agricultural center of Penang and home to a crop of Malay villages, paddy fields and fruit plantations. This is a great part of Penang for those who want to soak up a more traditional side to this Malaysian hub.


Teluk Bahang
Situated in the northwest of the island, this sleepy village offers a glimpse at another side of Malaysian culture for those looking for something a little less frenetic than Georgetown.


Butterworth
Part of Penang State, this mainland port is a major gateway to the island of Penang. The town has little to interest tourists other than being a useful transportation hub.

Find more information about Penang and hotels in the area:
Penang hotels | Malaysia hotels
Discover
Find your perfect holiday in George Town
From 610 hotels.