10 Best Things to Do in Cape Town
What is Cape Town Most Famous For?
Cape Town is a breezy bay city at the very southwestern tip of South Africa. With its wholesome environment preserved by the efforts of its city and locals, Cape Town has some incredible scenery to behold. The region has rich, fertile grounds where wildflowers and wildlife thrive.
South Africa has come a long way, indeed. Today, you'll see locals take pride in their love of sports, tribal heritage, diverse cuisines and its hard-won stories. For those planning to visit Cape Town or thinking about going, here are some of the absolute must-dos that'll convince you to book your tickets today.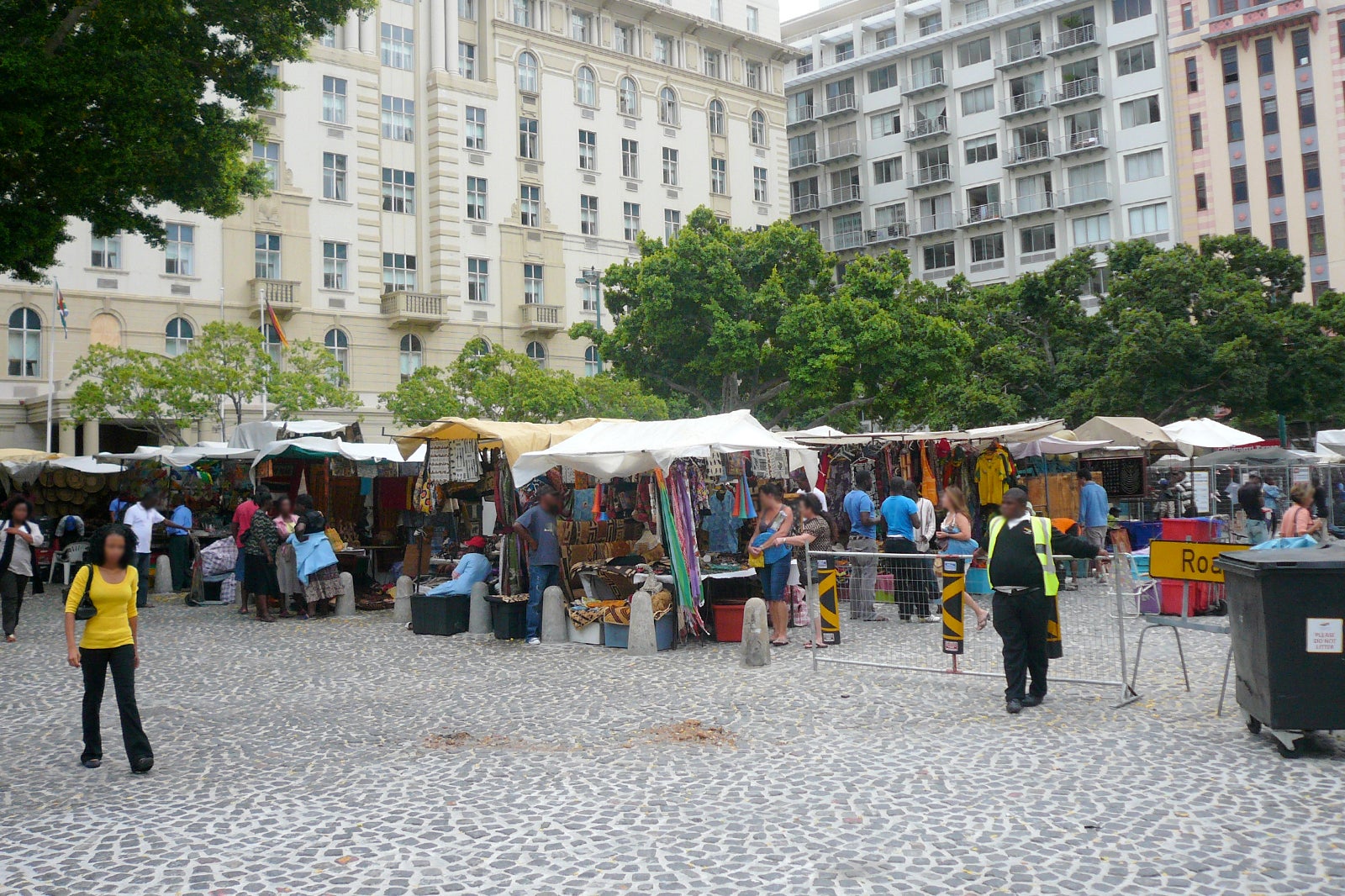 Start the day at Greenmarket Square
History, market shopping and a choice of cafés
Right in the centre of Cape Town, this area was formed in the 1700s, during the days of the Dutch occupancy. The Burgher Watch House and City Hall date from that period, providing a historical backdrop to the modern activities in the square.
Try a bit of bargaining with the vendors. Greenmarket Square is known for its flea market, with tapestries, jewellery, sculptures and traditional paintings, such as cave art prints from the San Bushmen. You can also do some art-gallery-hopping on Church Street and learn about the elements of the African aesthetic that include the human-like form, smooth surfaces, youthfulness and composure.
Location: Burg St & Longmarket Street, Cape Town City Centre, Cape Town, 8000, South Africa
photo by Maethordaer (CC BY-SA 3.0) modified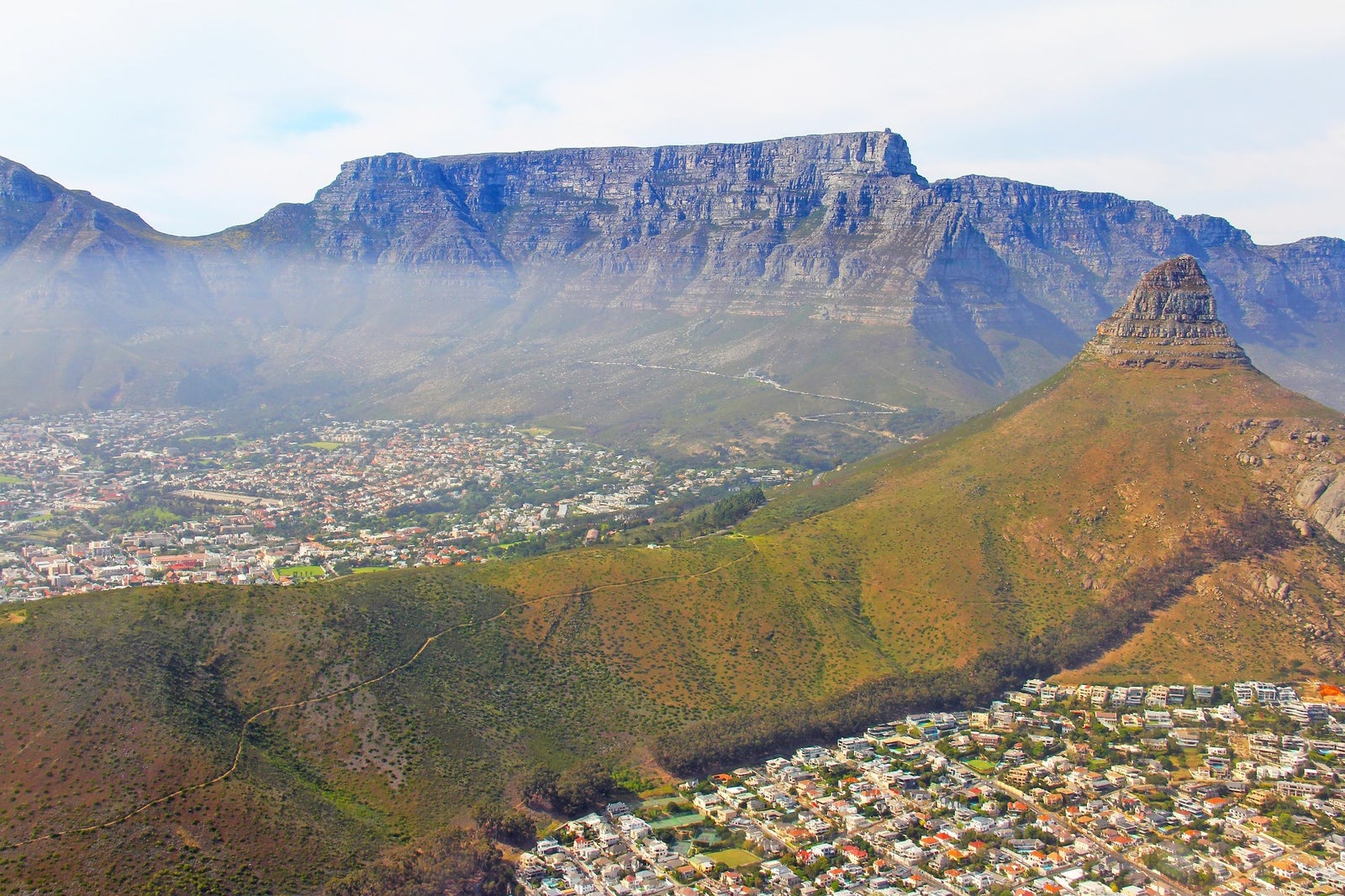 Trek through the Table Mountain National Park
An otherworldly walk on lush trails
View the Lion's Head, Signal Hill, Camps Bay, the city of Cape Town and Robben Island, all in one sweeping glance from the top of Table Mountain. There are about 1,450 plant species here along the mountain plateau, so a 2-hour uphill trek is highly preferred to the 5-minute cable car ride. Also note that a normal day in this mountainous area can be windy, with fast-moving clouds.
The witch's cauldron or the "table cloth" is a recurring phenomenon found in the spring and summer, where the warm cloud meets the cold mountain air, creating a blanket of rolling mist. This effect was once thought to be smoke created by the devil and pirates in a smoking contest. During the table cloth period, cable cars may not be in service.
Must-See: Robben Island Museum
An island steeped in beauty and history
Take a ferry from the Victoria and Albert Waterfront to Robben Island, a 7-km ride that takes about 30 minutes. The tour of the island itself is about 3 hours, where visitors get to see the different historical sites, from the limestones to the prison compound.
Aside from its wildlife and coastal beauty, this island is where Nelson Mandela was imprisoned for 27 years. Dating even further back, this place was once a leper colony and a facility for the mentally ill in the 1800s. There are tour guides who are actually former political prisoners that will give first-hand accounts of the Apartheid era. It's also helpful to check the weather forecast, as windy days will make the ferry trip a bit rough on the stomach.
Location: Robben Island, Cape Town, 7400, South Africa
Open: Daily from 9am to 3pm
Phone: +27 (0)21 409 5100
photo by April Killingsworth (CC BY 2.0) modified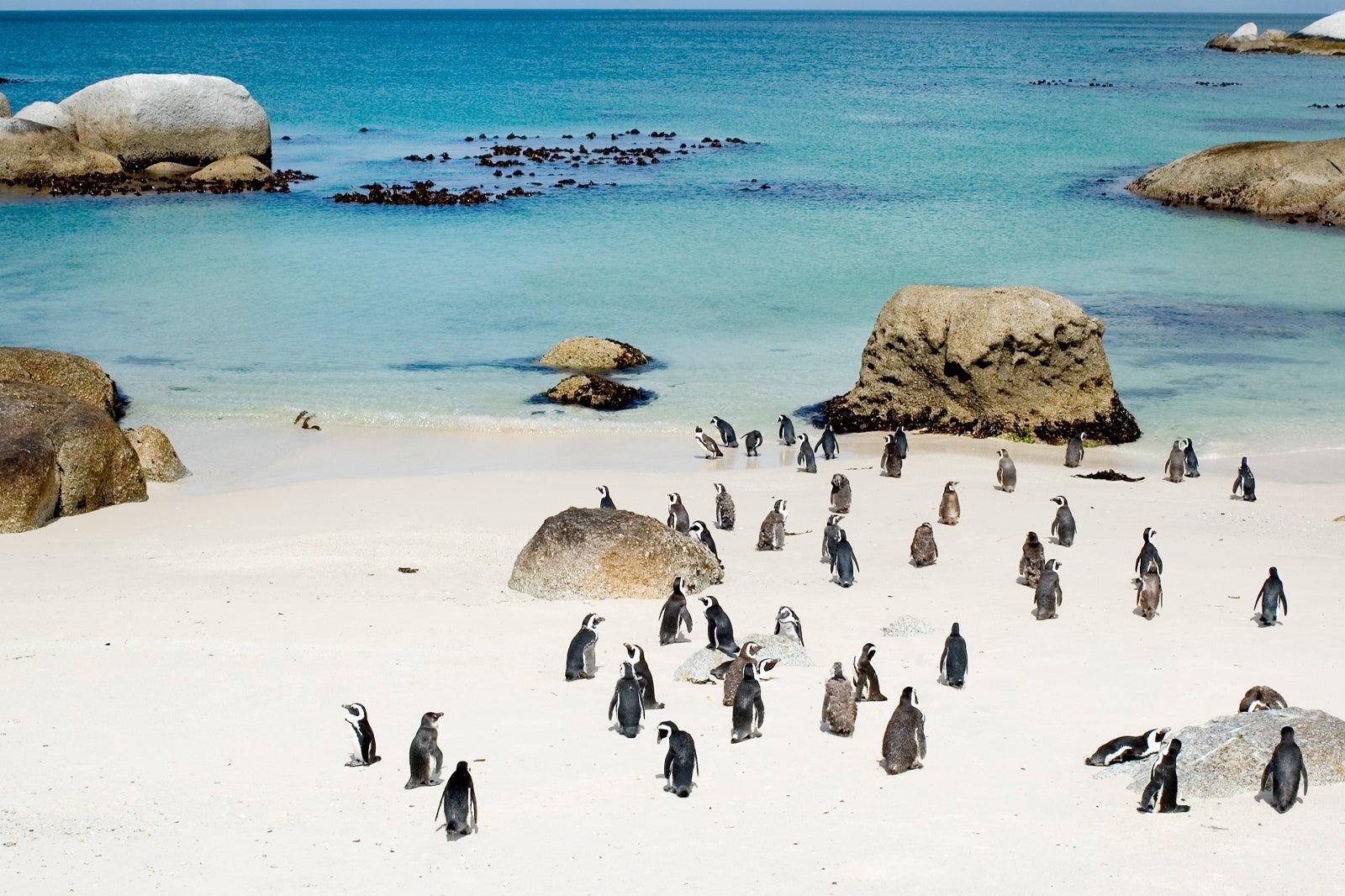 Boulders Beach Penguin Colony
Spend a sunny day with curious penguins
About an hour's drive from Victoria and Alfred Waterfront, penguins can be found basking on the sunny shores of Boulders Beach. It's the only place near the city where you can find the endangered African penguins, which are native to South Africa and Namibia. These birds are about knee-height, with a much smaller waistline compared to the average penguin. Although these waddling cuties are well-behaved, they're unfairly dubbed as Jackass Penguins for their donkey-like grunt.
For a small fee, visitors can get a closer view from the elevated boardwalk made specifically for humans, as these birds rest, nest and socialise in their space down below. Some of these curious penguins will try to approach you and make contact, so be prepared for a cute and awkward encounter.
Location: 4, Boulders Place, Secluse Ave, Simon's Town, Cape Town, 7995, South Africa
Open: Daily from 8am to 5pm
Phone: +27 (0)21 786 1758
photo by Mikkel Houmøller (CC BY-SA 3.0) modified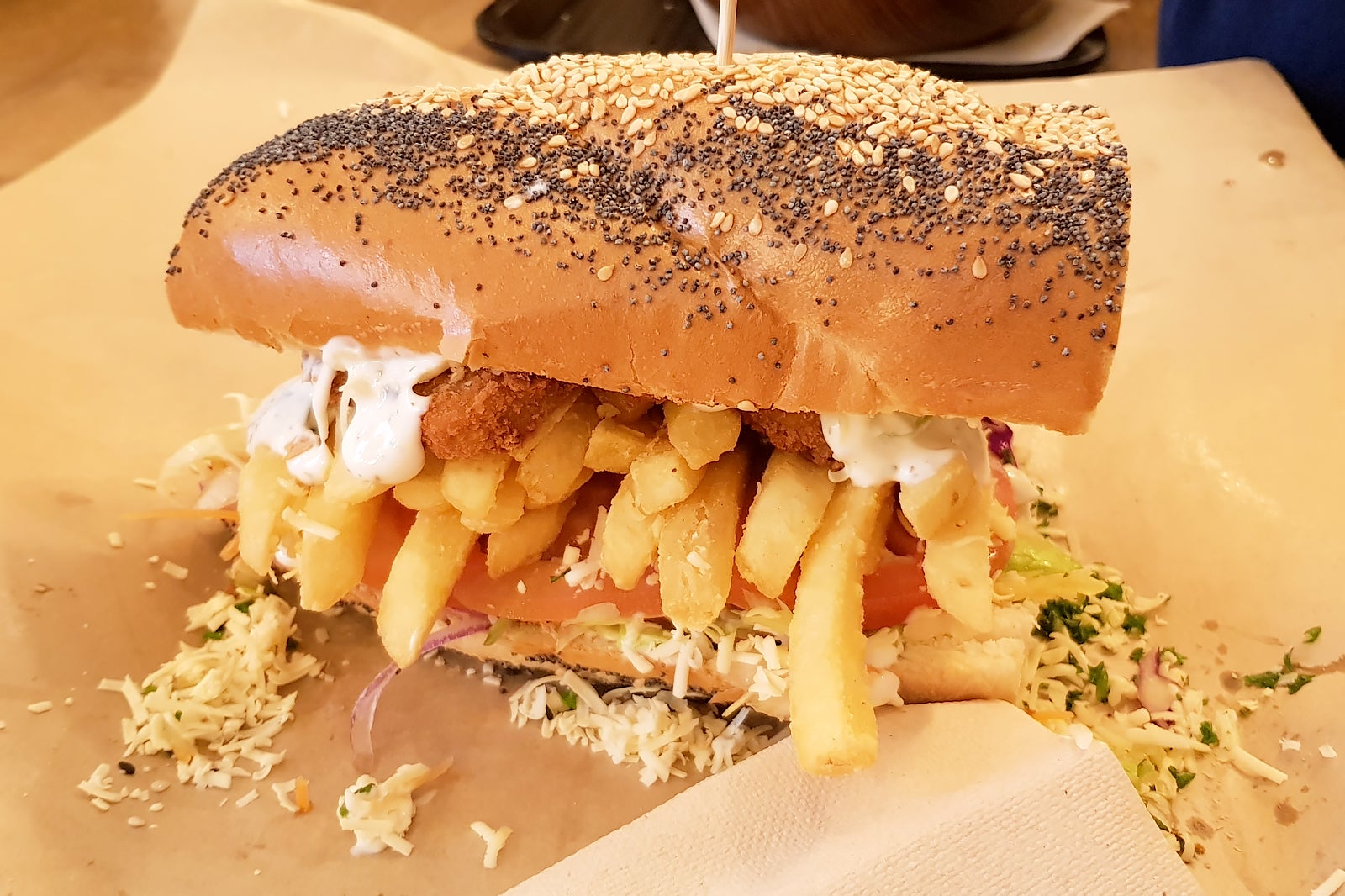 Eat a Gatsby
Cape Town's own footlong sub
These hedonistic-sized sandwiches are not for the faint of heart. Originated in the Cape Flats, this sandwich was born in the 1970s when a few house workers were cleaning the property of a fish shop owner, Rashaad Pandy. He put together polony, achar, chips, and sauce on a large Portuguese roll, and then cut it into 4 servings to feed his workers. It was exclaimed as a 'Gatsby smash' – a reference to the Great Gatsby movie that came out in the mid-'70s.
Be mindful of the generous portions, as 1 sandwich can easily serve up to 4 people. Diners can choose from polony, chicken, fish or steak, with masala, cheese, and all kinds of toppings available. At Aneesa's Takeaways, try the Full House Gatsby, made with steak, cheese, chips and their special spice, while the Masala Gatsby at Miriam's Kitchen is a rite of passage for locals and visitors. Most sandwiches are priced at an average of 155 rand.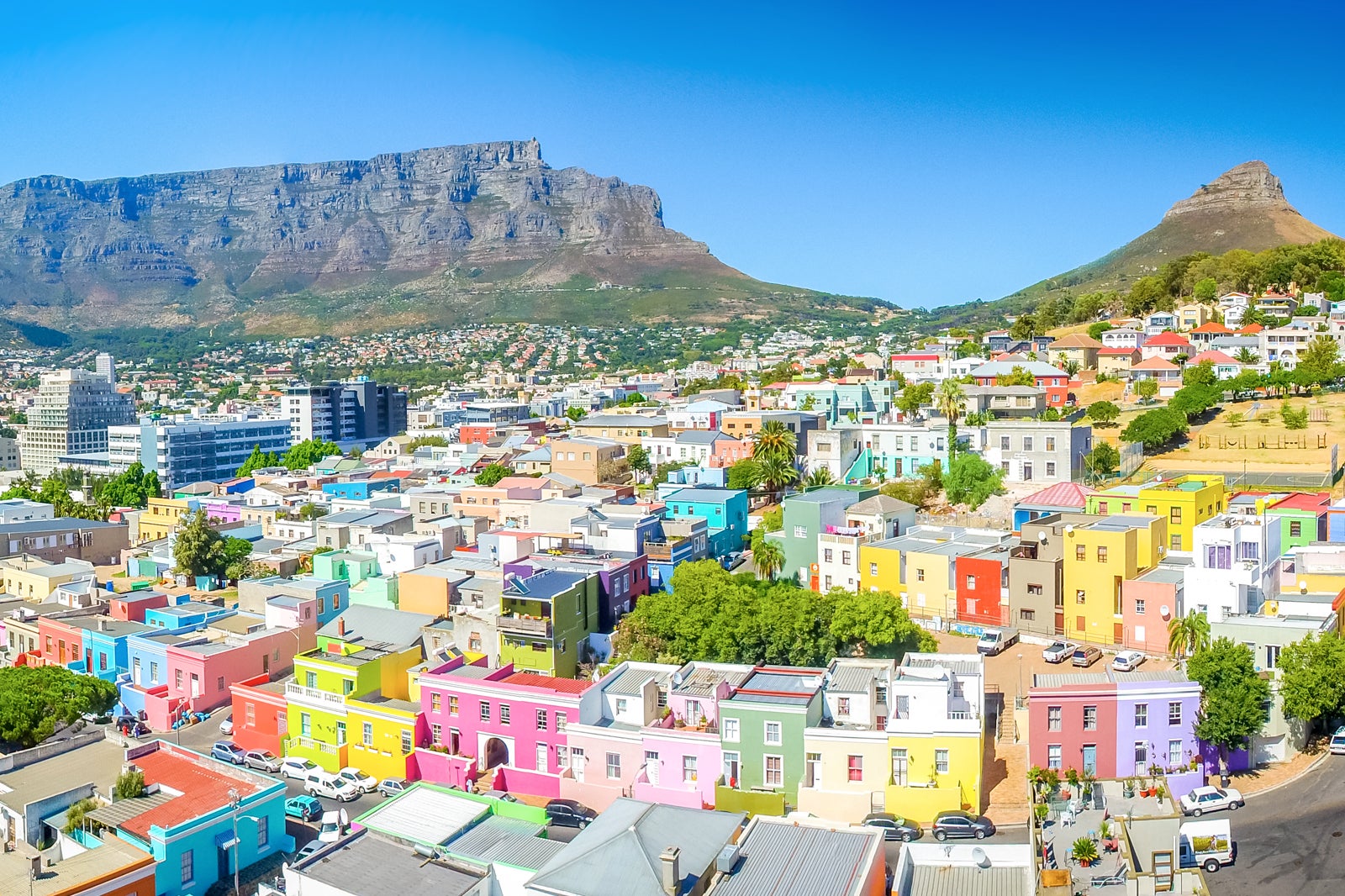 Walk the colourful streets of Bo-Kaap
Listen for the Noon Gun on Signal Hill
Bo-Kaap is the home to the Cape Malays that occupy colourful houses, having come to the city from Asian countries from India to Indonesia (including Malaysia, of course). The candy colours are a reinvention of the community as a rainbow nation, and as an expression of liberation after the apartheid years. Nearby is the historic Noon Gun on Signal Hill that used to work as a time signal for sailors to check their marine chronometers while waiting out the storm. Today, the cannon still fires daily at noon sharp as an ongoing tradition and celebration of the nation's history.
About 10 minutes' walk from Bo-Kaap is the Company's Garden, the oldest garden in South Africa. Its vegetation was originally grown to provide an important food source and herbs, as there were cases of scurvy from the lack of vitamin C among sailors. Created in the 1650s by the Dutch settlers, the first saffron pear tree can still be seen today, having been planted over 360 years ago.
photo by SkyPixels (CC BY-SA 4.0) modified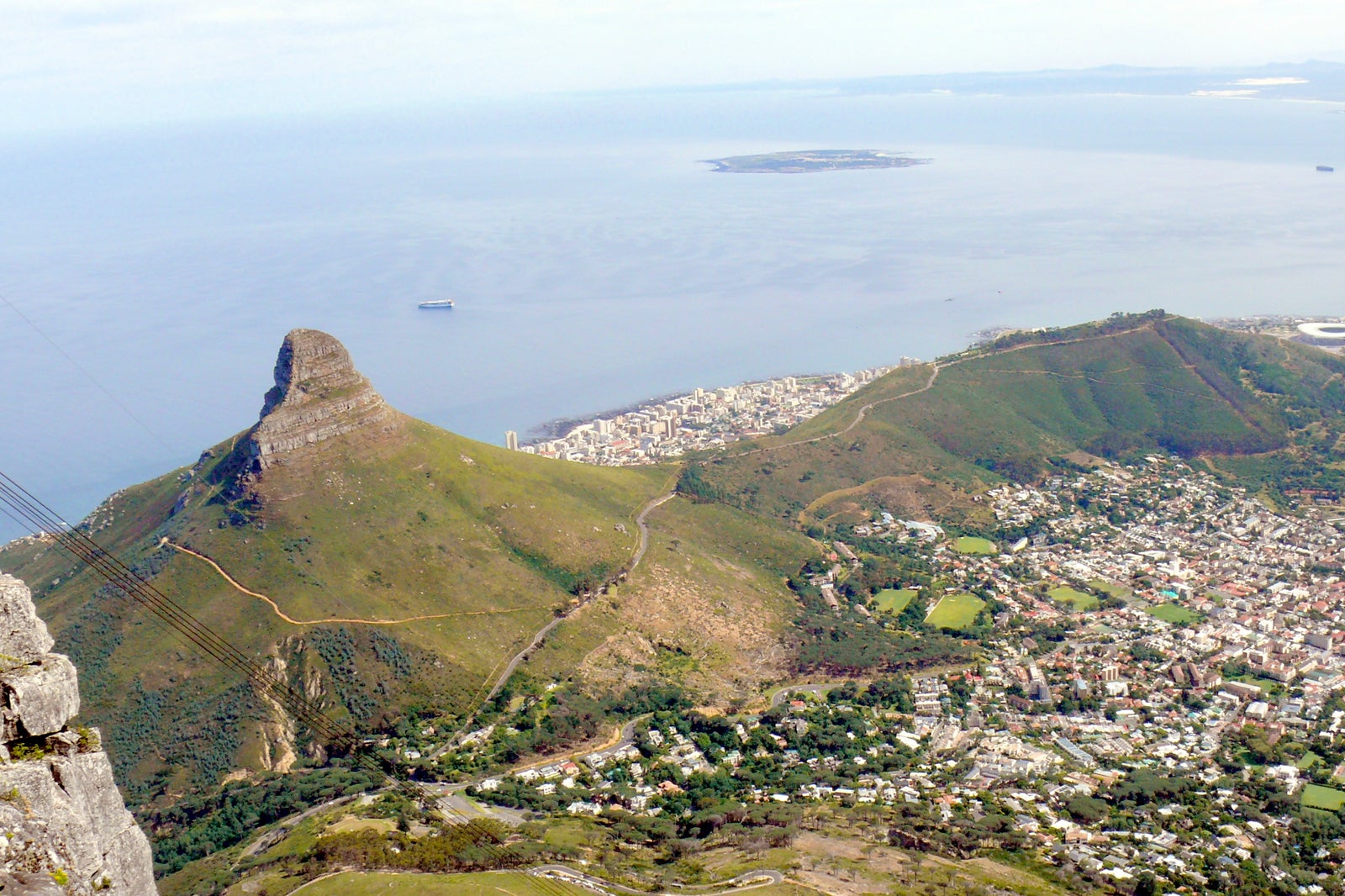 Hike the Lion's Head Peak
Panoramic views of the Mother City
Because of its beauty and celebrated landmark, the area of the Lion's Head Peak can be packed with trekkers almost all day, as visitors can enjoy different versions of the scenery, from twilight, daylight, the misty 'table cloth,' to night time sparkles. The trail to Lion's Head starts at Signal Hill Road near Bo-Kaap, and the hike generally takes about 90 minutes to get to the top. Although there are some steep stones and ladders, the best part of the hike is the scenic route along the way, so take your time on foot and enjoy the different angles of Cape Town. You should for about 4 hours for a comfortable timeframe. Also, hikers are advised to assemble at least 4 people per group for their own safety.
If you're up for some night time adventure, the area is also popular when there's full moon in the sky, with trekkers gathering for stargazing and getting a night view of the city.
photo by Hilton Teper (CC BY-SA 3.0) modified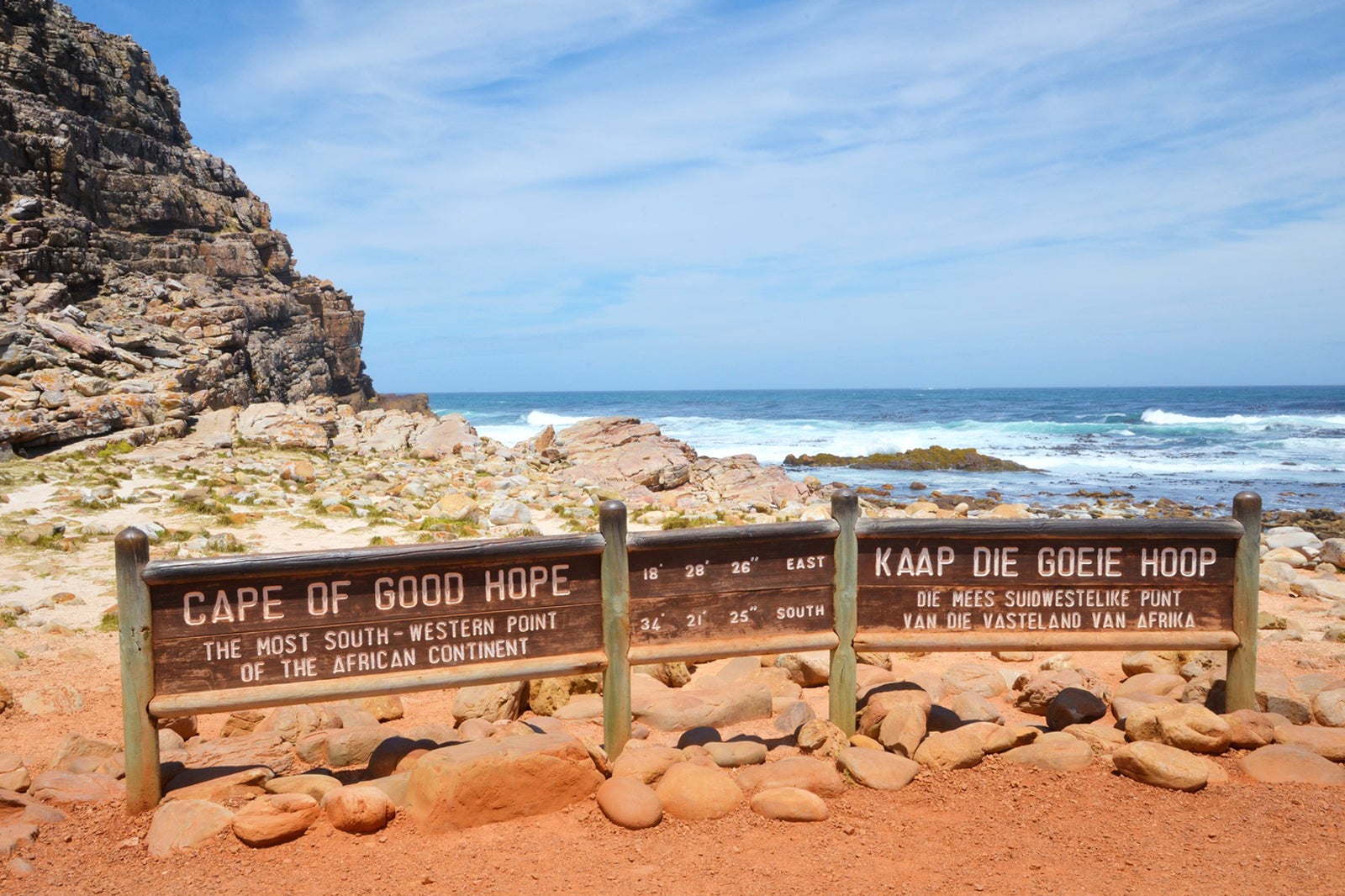 Must-See: Cape of Good Hope
Rediscover seafaring and trade winds
The southwestern tip of Africa is where the Indian Ocean meets the Atlantic Ocean. It was also once called the Cape of Storms due to its strong winds and ocean current, so bring a windbreaker as this place can get gusty. This landmark became part of a major trade route from Europe to Asia, where spices and pineapples were once all the rage. Even today, some ships still opt for this route instead of sailing through the Suez Canal. Don't forget to find out about the legend of the Flying Dutchman, as rumours have it that the ghostly ship can still be seen passing through the area.
Aside from its breathtaking beauty, the cape is rich in biodiversity, with rare species such as antelopes, humpback whales, dusky dolphins, and more than 200 species of birds. To enjoy the Cape of Good Hope, you may want to set aside about 5 hours, so you can keep a comfortable pace. Driving from the city will take you about an hour alone.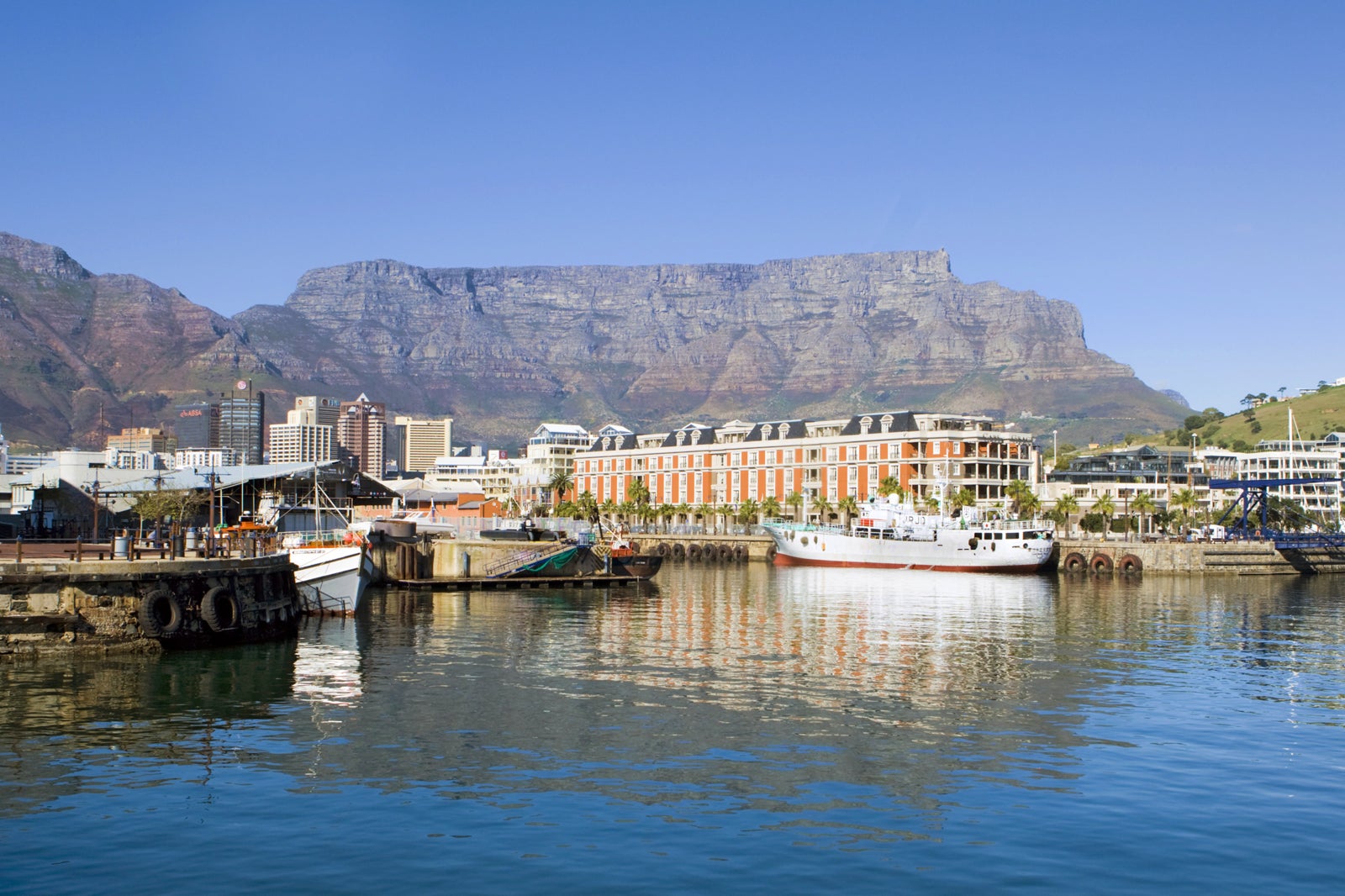 Shop at the Victoria & Alfred Waterfront
A breezy evening stroll on the historic harbour
This waterfront was once a trading dock since the days of steamship travel. The port is now among the city's most welcoming spots, with shops and restaurants lined in rows and rows of elegant pastel-coloured architecture. Visit the bright red Clock Tower as well as the port captain's former office, with original Victorian mouldings, windows and details. Also, check out the cool crafts at the Watershed storage, which has more than 150 handicraft vendors.
As for dining, visitors will be spoilt for choice with international cuisines served in street market style at the Market on the Wharf, formerly known as the Old Power Station Building. Fine-dining restaurants like Baia serves seafood and steak along with great harbour views, while Belthazar offers African wine tasting and their famous Portuguese rolls.
Location: V & A Waterfront, Cape Town, 8001, South Africa
Open: Daily from 9am to 9pm
Phone: +27 (0)21 408 7600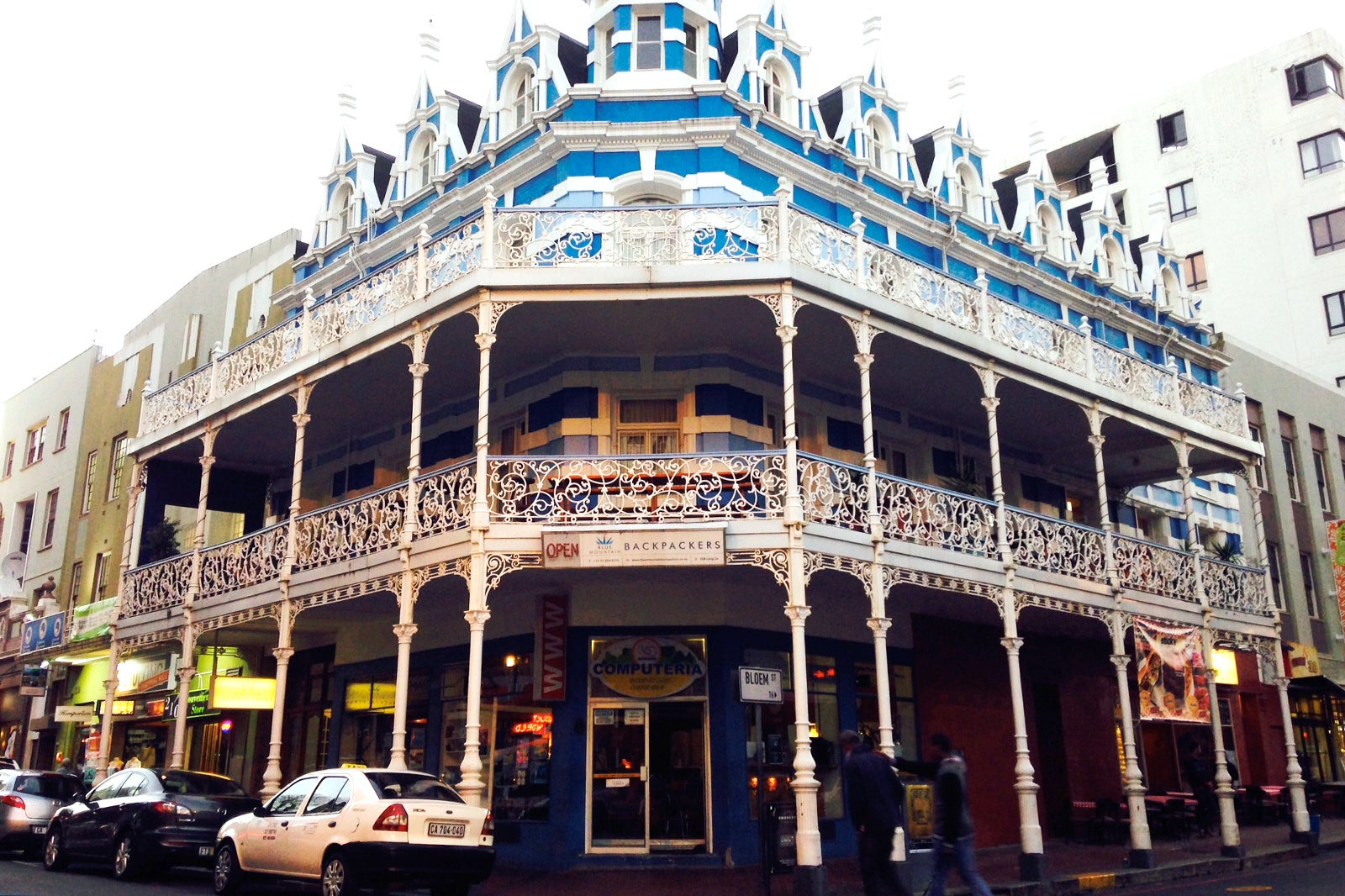 End the day on Long Street and Bree Street
Feel the pulse of Cape Town's nightlife
Long Street is where the fun vibes and African beats come alive at night. Known as one of the oldest streets in the city, the area is lined with bars and clubs established in a well-preserved architecture that stretches more than 20 blocks, in a mix of Victorian and Cape Dutch style.
Bree Street, claimed as the coolest street in Cape Town, is slowly stealing Long Street's spotlight with hipster cafés, cheese bars, gin bars, sushi bars, as well as French patisseries that will keep your taste buds busy from one end of the street to the other. Places like The Waiting Room has a great line-up of DJs and artists as well as great rooftop space, while Mother's Ruin is a gin bar that serves artisanal gin from local botanicals such as juniper, lavender and rosemary.
photo by NegativeC (CC BY-SA 3.0) modified