10 Best Beaches in Seychelles
Seychelles' Most Beautiful Beaches
Some of the best beaches in Seychelles become top reasons for visiting this archipelago. Almost everyone knows that both the surf and turf on the 115 islands are world-class. But that's not to say all of Seychelles' beaches were created equally.
You'll find great diversity in Seychelles, which range from small and secluded romantic coves to long, undeniably beautiful stretches of sand where you can also enjoy a bounty of activities and amenities. We all have a different idea of the perfect beach, but on Seychelles, you're not likely to be caught short without somewhere to stretch out and catch some rays.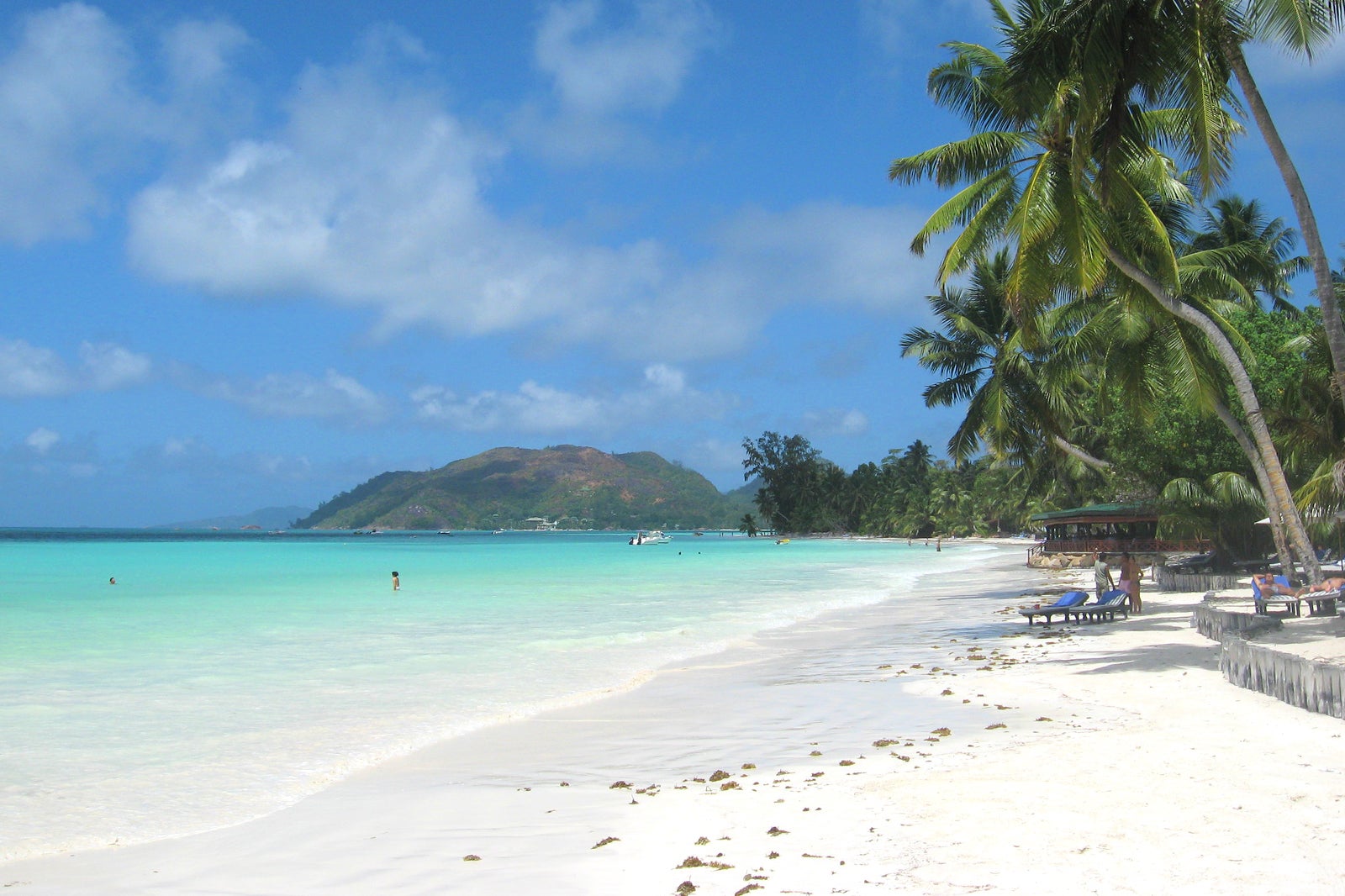 Anse Volbert, Praslin
A stunning beach with superb sunsets
Anse Volbert is a stunning stretch of sand that is also Praslin island's headline beach. It's admittedly one of Seychelles' most popular, but there's little denying that's with good reason. You're in Seychelles, so it goes without saying that the sand is blindingly white, and the inviting sea is the perfect shade of blue – meaning this is a great spot from which to simply relax on a lounger, and perhaps exert yourself enough to take a dip.
Anse Volbert is also somewhere you want to head as dusk draws close: the sunsets here, with the offshore island of Chauve Souris as the backdrop, are quite special.
Location: Praslin, Seychelles
photo by Alquiler de Coches (CC BY 2.0) modified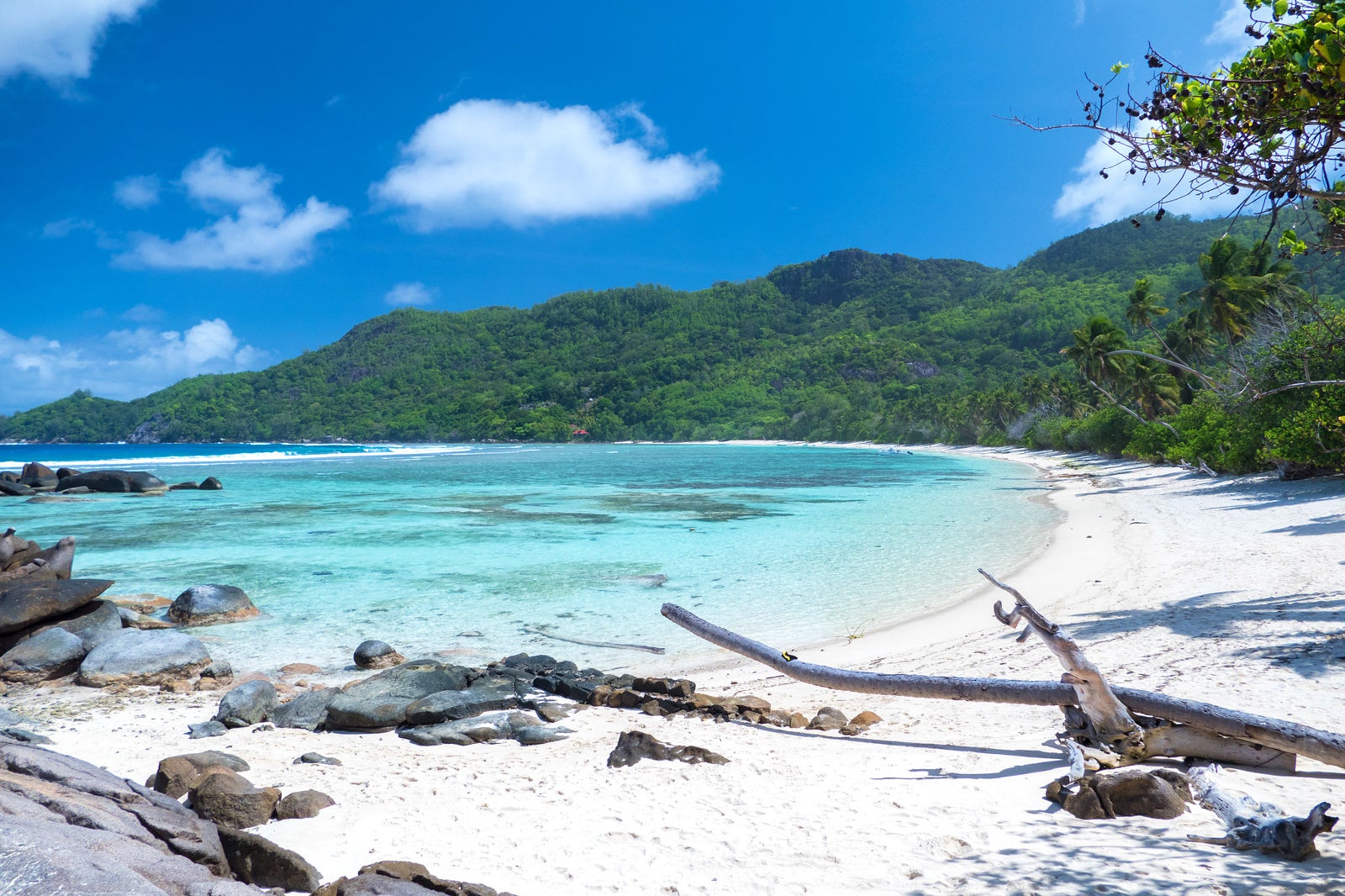 Anse Forbans, Mahe
A beach for watersports lovers
Anse Forbans is more remote than many other beaches on Mahe island or indeed elsewhere in Seychelles. But if you make the effort to get here, you'll be rewarded very well. The beach has calm waters that are perfect for snorkelling thanks to the abundance of marine life waiting for you to explore.
Anse Forbans is also a popular spot for enjoying various watersports. But if your idea of a beach holiday is more sedate then you'll be pleased to hear the gently sloping white sand is just as well enjoyed with the simple addition of a towel and a good book.
Location: Mahe, Seychelles
Families
Photo
Budget
Adventure
photo by So Seychelles (CC BY 2.0) modified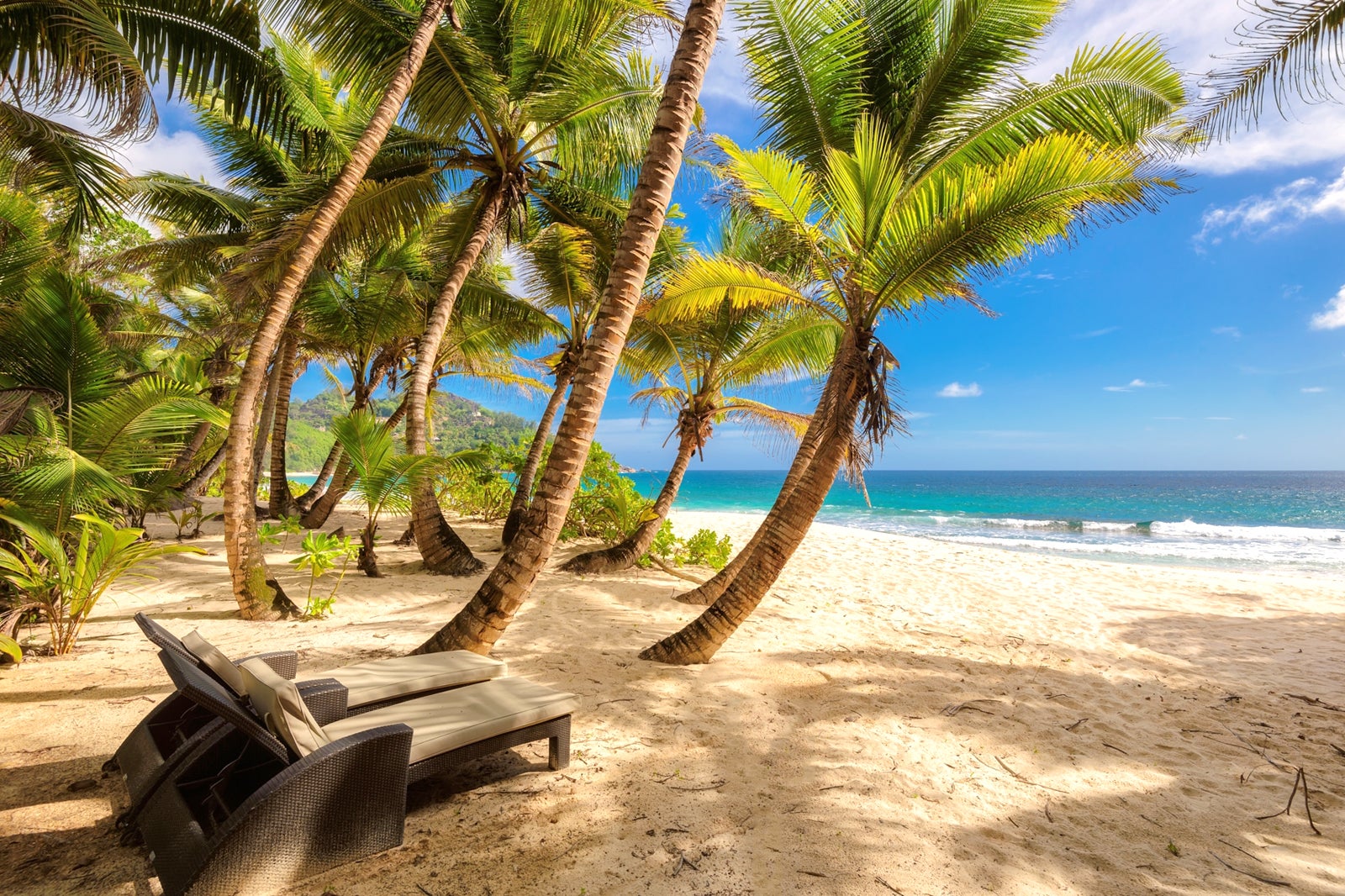 Anse Intendance, Mahe
Feel like you've escaped to the wild
Anse Intendance is a beach that you can find on the south-eastern corner of Mahe island. This beach is for those who want their beach to have a bit of bite – it's slightly more rugged than most in Seychelles. Getting here on foot involves a moderately exerting but totally worthwhile wander through a forest.
This feels like the kind of quiet paradise you've just discovered for yourself, with the boulder framed coastline fringed with palm trees and the waters that are great for surfing. Despite the rugged route to get down to the sand and waves, the location is fairly easy to reach by public transport.
Location: Mahe, Seychelles
Families
Photo
Budget
Adventure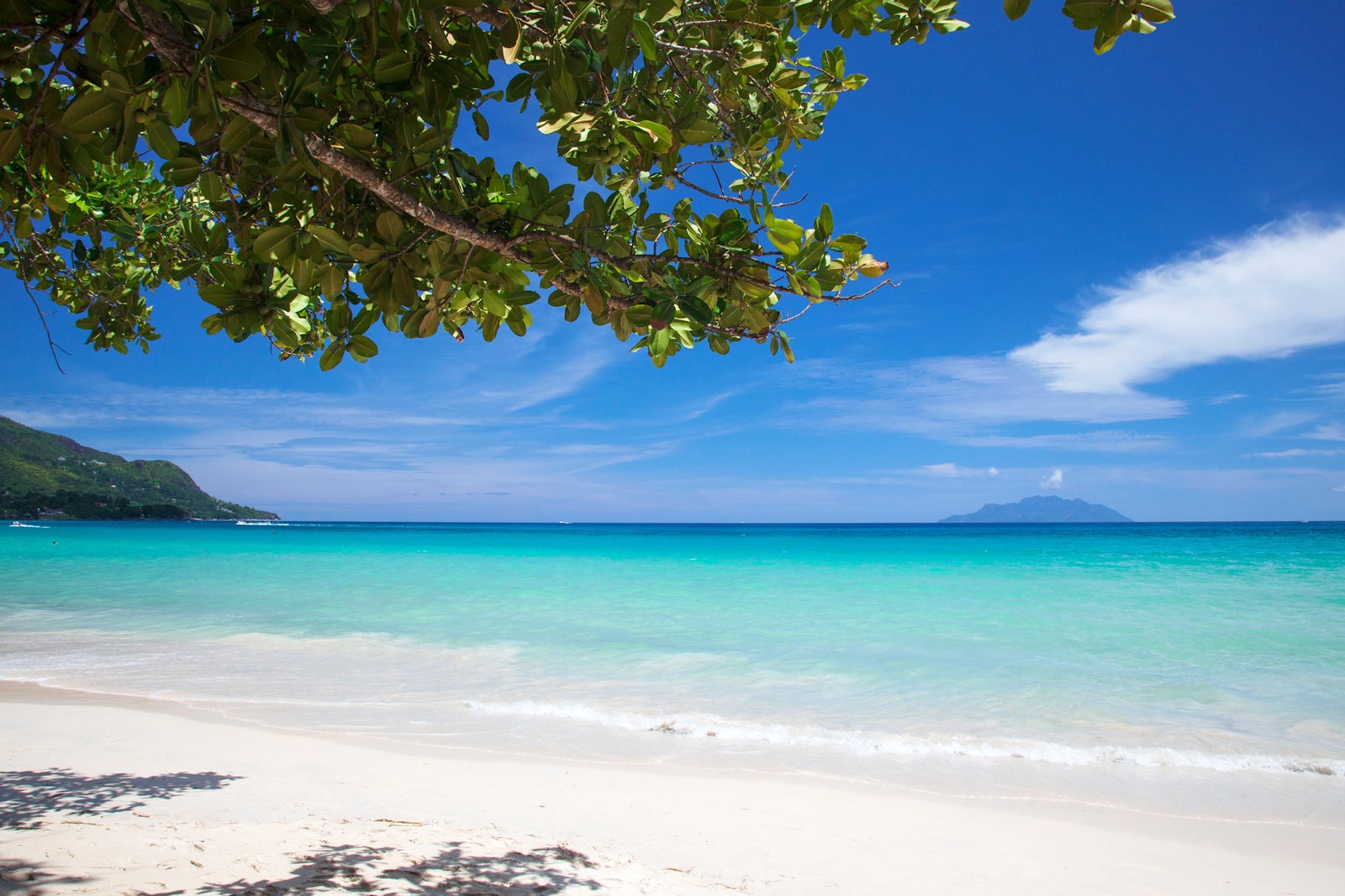 Beau Vallon, Mahe
Mahe's longest beach, and one of its most beautiful
Beau Vallon is the longest beach on Mahe, the largest island in Seychelles and the home of its capital. It's also among Seychelles' most visited beaches. You can find all the typical features of a paradise island here: stunning white sand, gently lapping waters, and palm trees fringing the shore.
The wide beach is a solid choice for a day of swimming and sunbathing. It's also a popular destination for enjoying a variety of watersports, or simply for sitting on the sand and taking in the tremendous sunsets. You can find a good number of beachfront restaurants at which you can end the night on Mahe Island on a satisfying note.
Location: Mahe, Seychelles
Families
Photo
Budget
Adventure
photo by Jean-Marie Hullot (CC BY 2.0) modified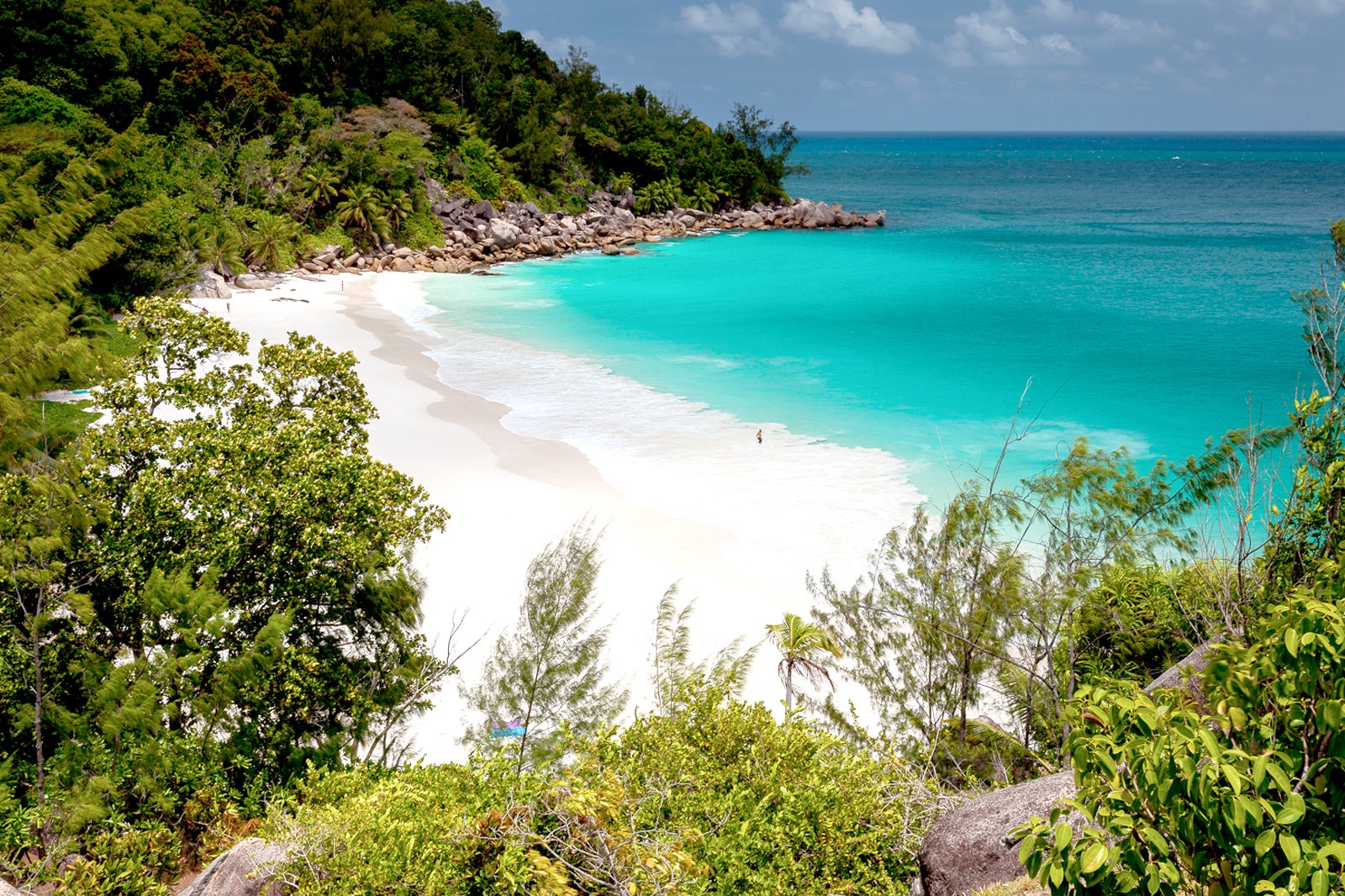 Anse Georgette, Praslin
A small but perfectly formed coast
Dramatic boulders set the scene at Praslin island's Anse Georgette beach. This is somewhere you're all but guaranteed to get some great photos, as well as a real sense of seclusion and getting away from it all. Visiting isn't all that easy, though; while it's a public beach, the most straightforward way of arriving is through the resort that fronts it, but that involves a pre-arranged escort through the property.
Crossing Mont Plaisir on foot is an alternative. But whichever way you choose to arrive, you'll be rewarded by a modestly sized yet undeniably gorgeous white sand cove that's boxed in by palm trees and photogenic hilltops.
Location: Praslin, Seychelles
Families
Photo
Budget
Adventure
photo by Svein-Magne Tunli - tunliweb.no (CC BY-SA 4.0) modified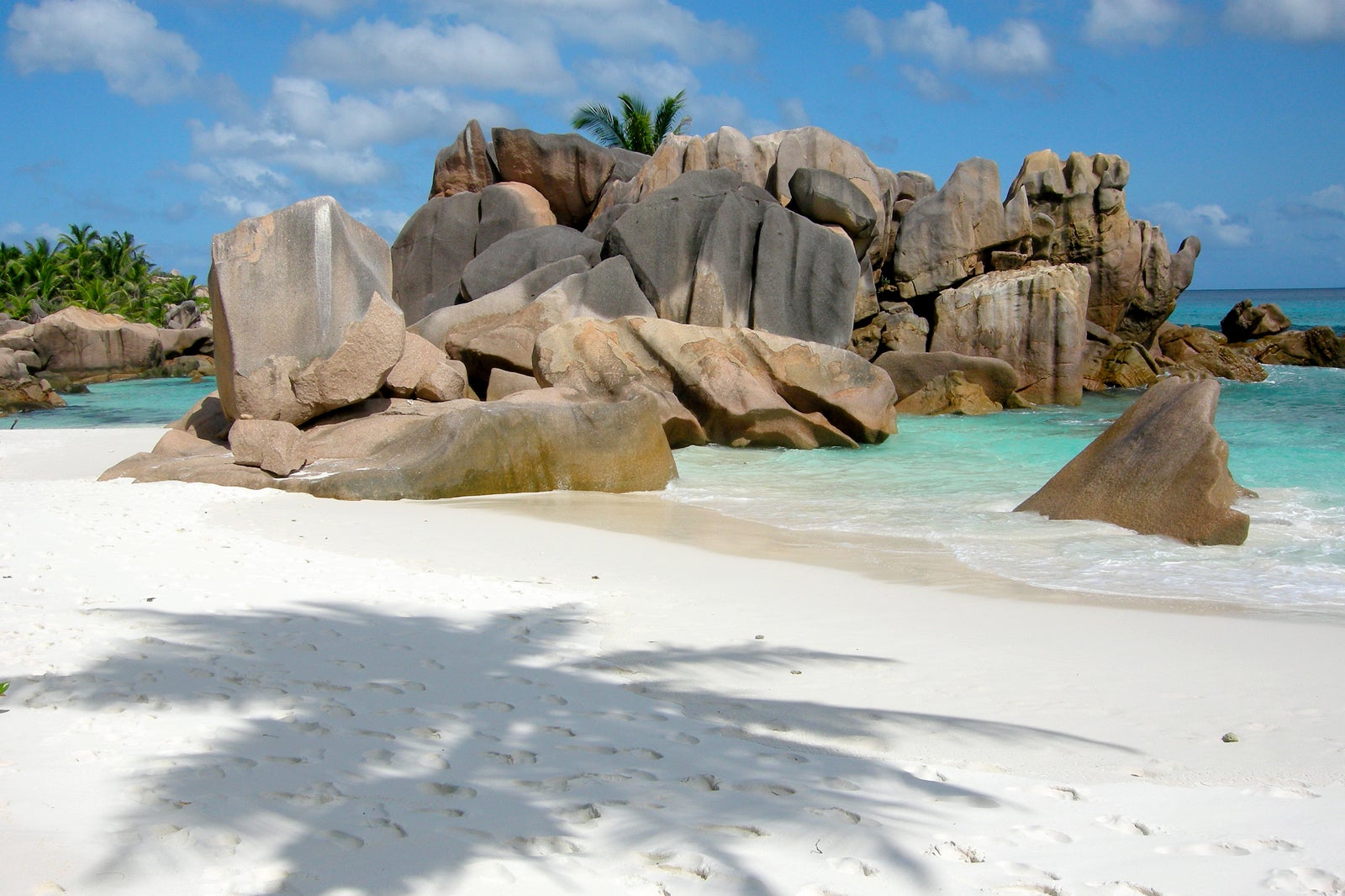 Anse Cocos, La Digue
A challenge to get to, but with a sweet reward
More adventurous travellers to Seychelles will love Anse Cocos since it allows (or rather forces) you to combine a trip to the beach with a short hike to reach. Accessible only on foot, you can find this stunningly curved, sheltered stretch of sand on the east coast of La Digue island – one of the islands within the same small cluster as Praslin and Felicite.
The big advantage of Anse Cocos' isolation is that it attracts relatively few visitors – more often than not you might even find you're the only one on the sand. Enjoy the clear and shallow waters, with formed rock pools, all for yourself.
Location: La Digue, Seychelles
Families
Photo
Budget
Adventure
photo by Tobi 87 (CC BY-SA 4.0) modified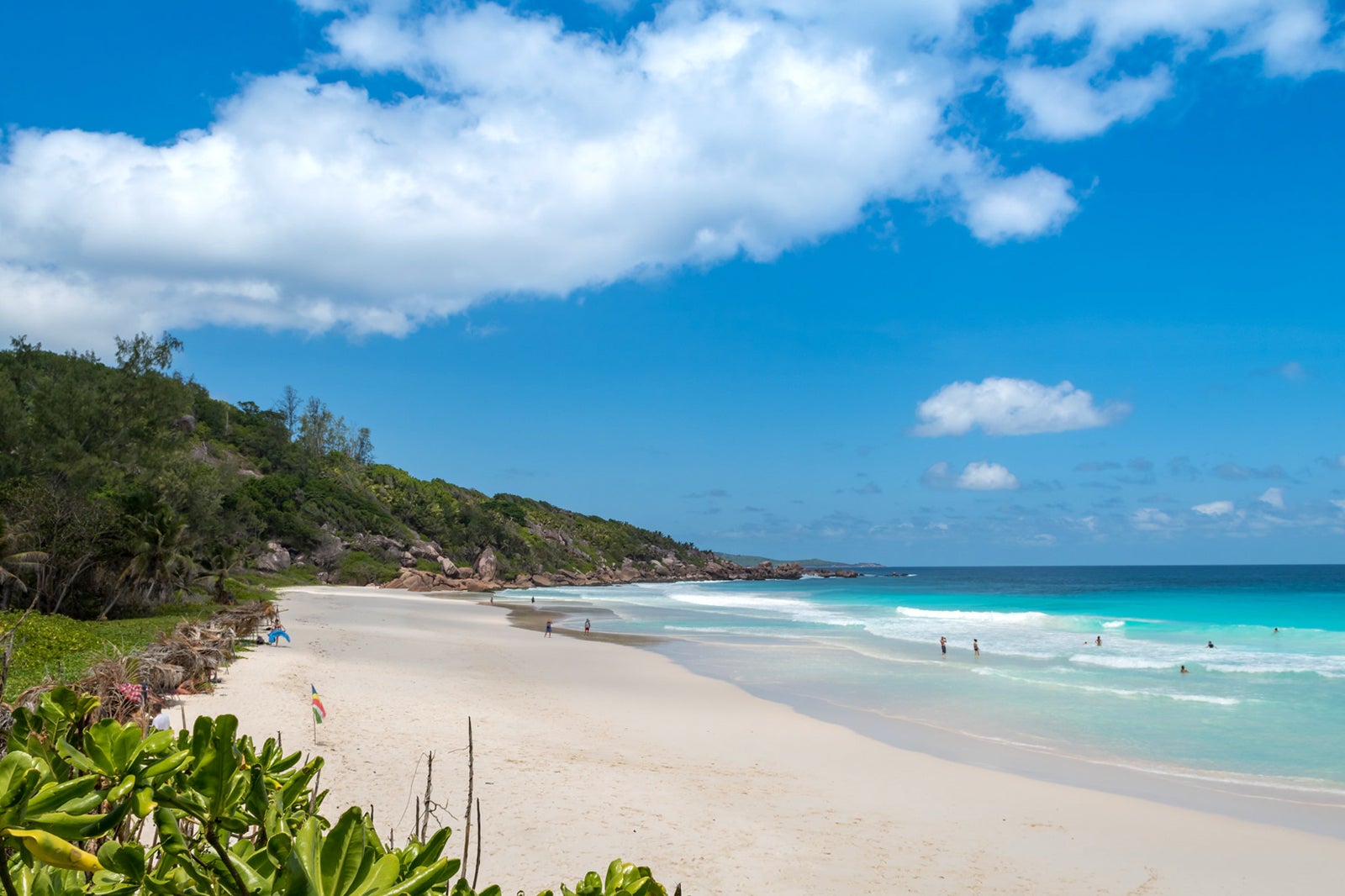 Petite Anse, Mahe
An exclusive spot with impressive views
You can find the beach of Petite Anse on Seychelles' largest island of Mahe. It's a good bet that any beach that attracts the construction of a Four Seasons Resort is going to be an especially stunning hideaway, and that's certainly the case with Petite Anse. Many travellers preferring a resort feel favour this beach over the others on Mahe.
There's an exclusive feel here to go along with the beautifully calm, emerald waves, together with the powdery white sand, and impressive views across to mainland East Africa. The green and hilly backdrop to Petite Anse adds an extra romantic vibe, too.
Location: Mahe, Seychelles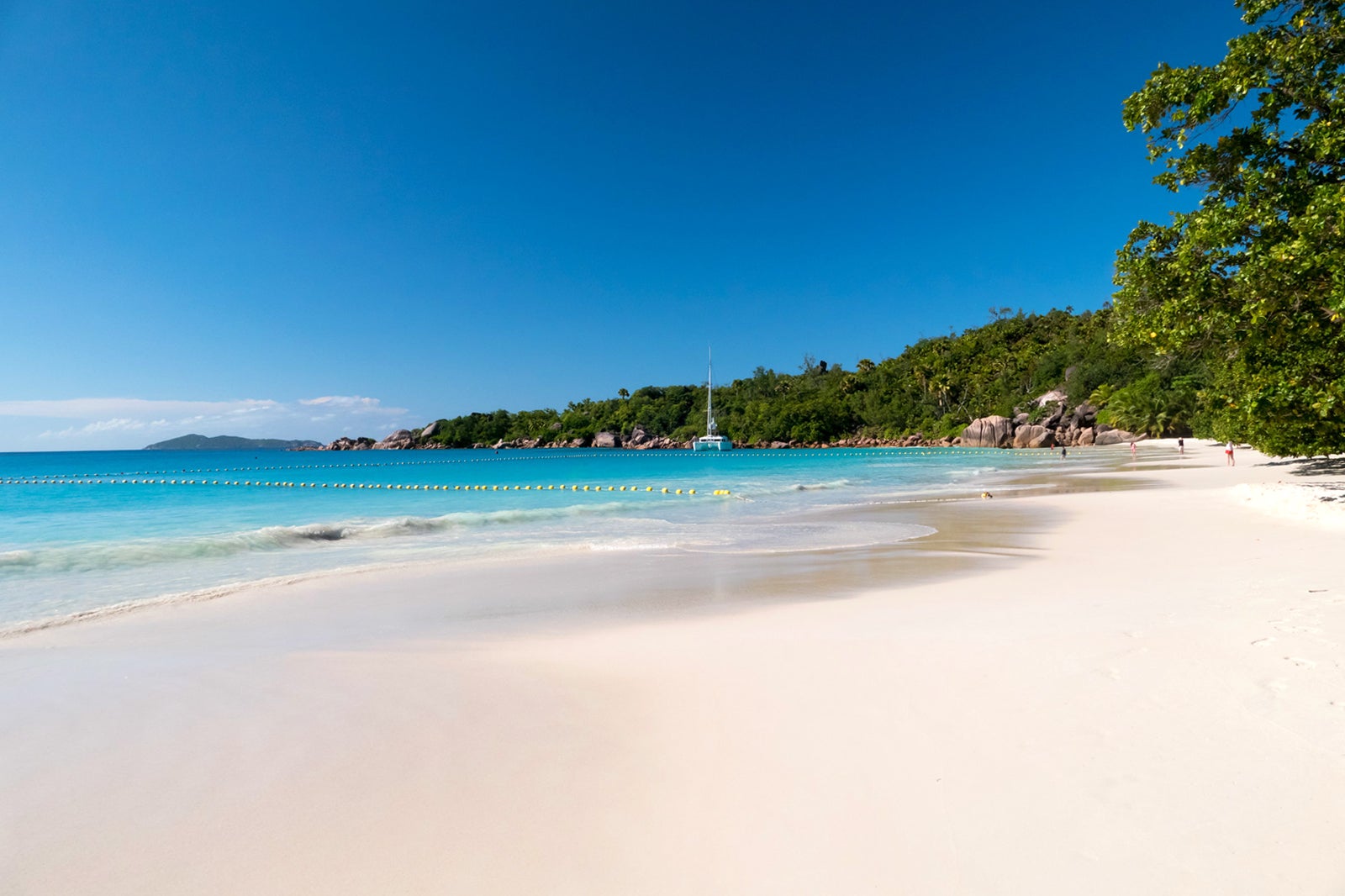 Anse Lazio, Praslin
The beach with something for everyone
On the northwestern tip of Praslin Island, Anse Lazio really stands out among Seychelles's collection of eye-catching and photogenic spots. All that beauty, of course, attracts a good number of visitors, so Anse Lazio can get quite busy at times – but that's more than worth putting up with.
Expect a combination of palm-fringed white sand, dramatic boulders studding the landscape, and the thrill of waves crashing onto the relatively unsheltered beach. Some sections of Anse Lazio are fringed by palm trees, and you can also find a few more hidden stretches along the same coastline if you're really craving a little privacy.
Location: Praslin, Seychelles
photo by So Seychelles (CC BY 2.0) modified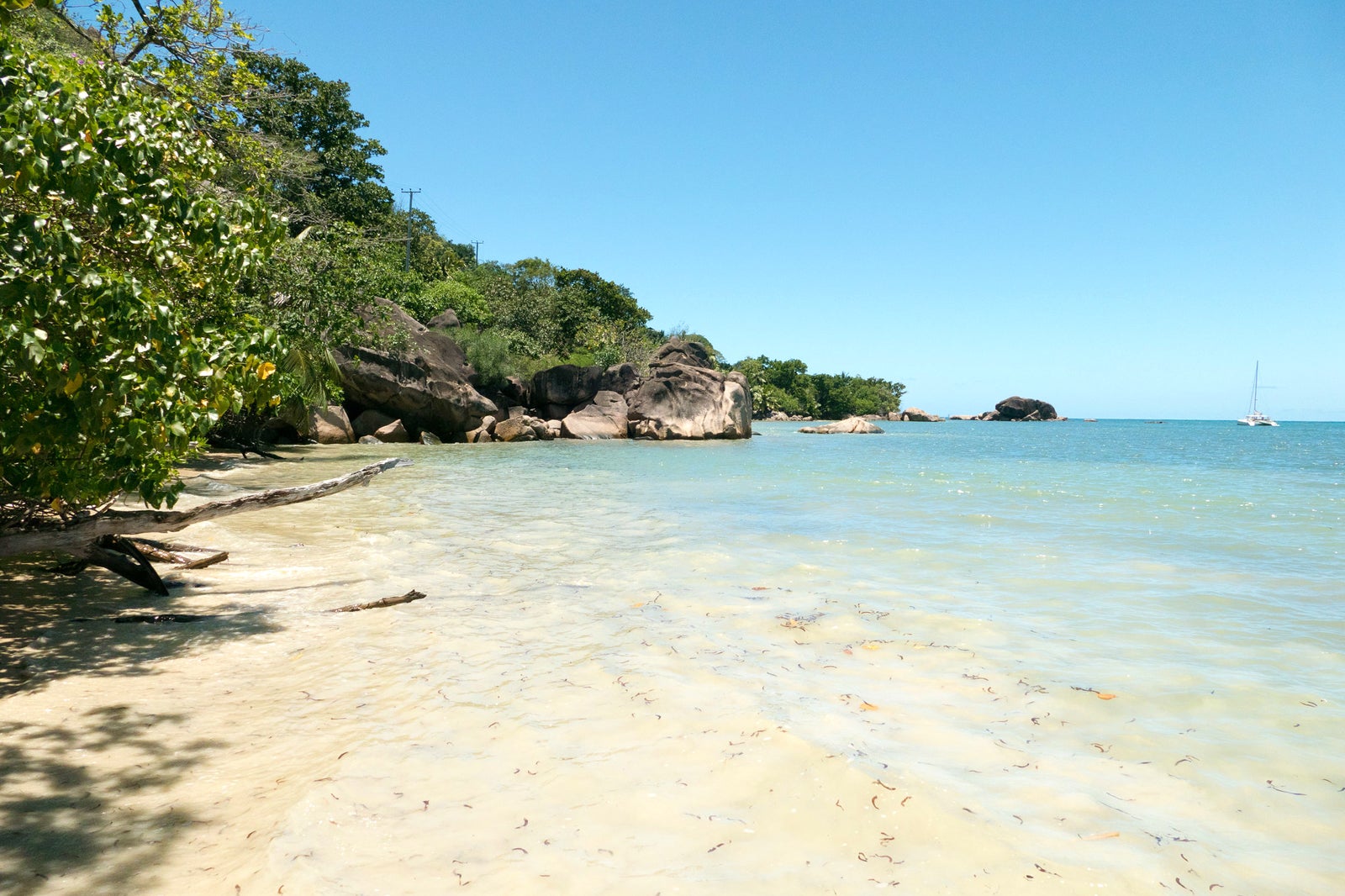 Anse St. Sauveur, Praslin
Secluded and at one with nature
At the southern end of Seychelles' Praslin island, Anse St. Saveur is smaller than many of the archipelago's other islands. It also has a more rustic and back-to-nature feel to it, with photogenic tree trunks lazily strewn across the sand in places, and a reef just offshore teeming with marine life and just waiting for you to explore.
That means Anse St. Saveur is a good choice for snorkelling – but, if getting away from the crowds and enjoying some solitude is your idea of a good time, then this is just as good a place for doing very little indeed.
Location: Praslin, Seychelles
photo by So Seychelles (CC BY 2.0) modified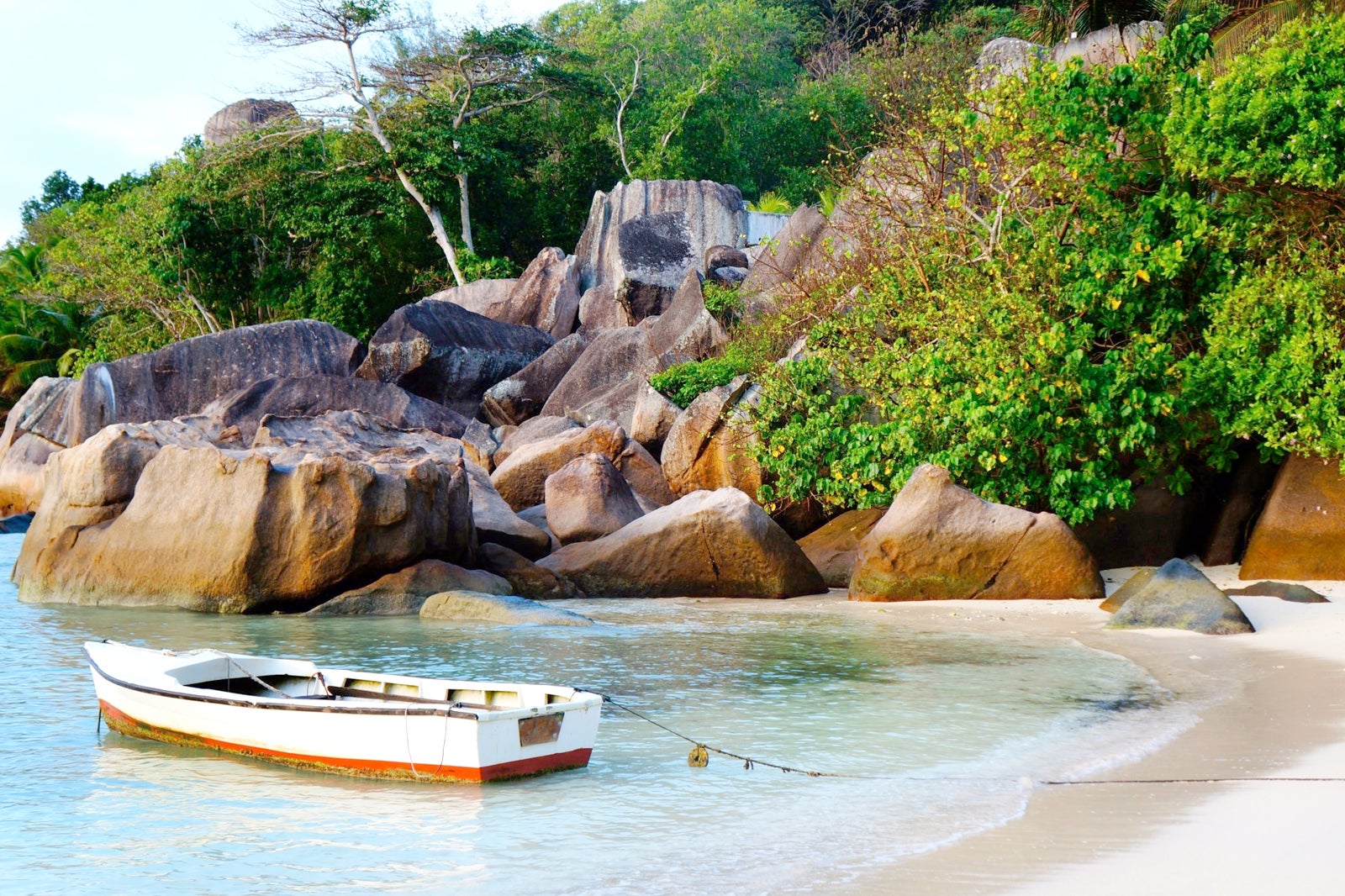 Anse Aux Poules Bleues, Mahe
Catch it before it disappears
Mahe's Anse Aux Poules Bleues might just be among Seychelles' most intriguing beaches of all. First up, it's pure tourist brochure material in terms of sheer beauty – think imposing palm trees arched out over the sand from dense tropical growth, and crystal-clear waters gentle lapping at the shore.
But even more than that, there's the fact that Anse Aux Poules Bleues is only a beach at all when the tide recedes. When the water comes in each day, the sand disappears altogether, which only add to its magic and mystery. This all makes it feel like something of a hidden secret.
Location: Mahe, Seychelles