Bermuda Travel Essentials
Useful Information to Help You Start Your Trip to Bermuda
Our Bermuda Travel Essentials lays out the essential information you need to help you plan your trip to one of the world's most popular island destinations. No matter how frequently you travel, some questions will always need answers: What's the weather like? How can I get from L.F. Wade International Airport to my hotel? What currency and type of plug do I need?
We have all these answers plus other basic info about the best time to go, getting there, getting around, and a few useful travel tips. You'll also learn about the most popular landmarks in Bermuda, such as King's Wharf, the Crystal and Fantasy Caves, and Gibb's Hill Lighthouse. It's all compiled in this Bermuda Travel Essentials. After going through this short and easy-to-read guide, you'll be a little more prepared to start your trip to Bermuda.
1
When is the best time to travel to Bermuda?
The warm waters of the Gulf Stream heavily influence Bermuda's temperate subtropical climate. The island experiences hot and humid summers (May–October) with highs of around 30°C and mild winters (December–March) averaging between 17 °C and 22 °C.
January, October, and December are the months with the most days of rain in Bermuda. October is the wettest month, which sees around 13 days of rain. Hurricane season in Bermuda is typically between June and November.
The warmest month in Bermuda is August averaging 27.5°C, while January–March is the coldest period with average temperatures of 18°C.
May–October is generally considered Bermuda's busy tourist season, with peak hotel prices expected around July–August. The best time to visit Bermuda is March or April – months with generally pleasant weather for most outdoor and beach activities while also featuring friendlier rates.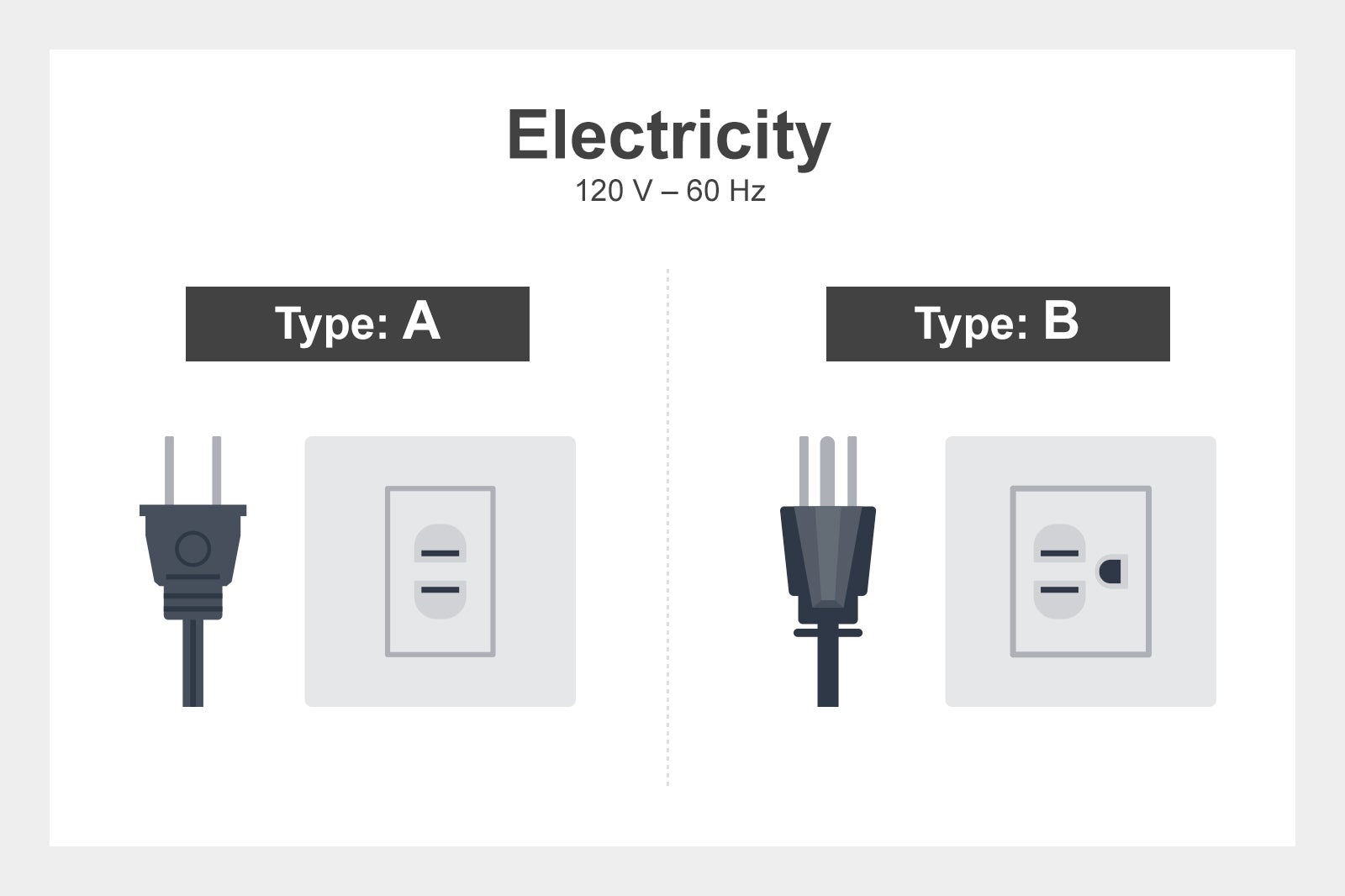 Plug type: A and B
Electricity: 120 V – 60 Hz
Currency: Bermudian Dollar ($)
International dialling code: +1 441
Emergency telephone number: 911
3
How to get to my hotel in Bermuda?
L.F. Wade International Airport is the main international gateway to Bermuda, located on St David's Island near Bermuda's far north. It's about 14 km or a 21-minute transfer from the airport southwest to the Bermudian capital of Hamilton.
Bermuda is also a major seasonal cruise destination with 3 ports of call, namely 2 wharves at the Royal Naval Dockyard at Bermuda's western end, the capital's Hamilton Harbour, and St George's Harbour just north of the airport. Cruise lines to Bermuda include Norwegian with various cruises from New York and Boston, as well as Crystal Cruises from New York City.
L.F. Wade International Airport (BDA)
L.F. Wade International Airport – which is still widely known by its former name: Bermuda International Airport – is the only airport serving the British overseas territory of Bermuda. Air Canada, American Airlines, Azores Airlines, British Airways, Delta Air Lines, JetBlue, United Airlines, and WestJet are the primary airlines serving the airport. They connect to US cities such as New York, Atlanta, Boston, Charlotte, Philadelphia, Newark and Miami, as well as Toronto, London, and the Azores in Portugal.
The airport is well organised, ensuring an easy flow of passengers. Ground transport options from the airport include metered taxis that have fixed rates based on 1–4 or 5–7 passengers, and additional luggage charged extra. They can be hired at hourly rates for sightseeing trips around the island.
For larger parties, you can pre-book minibuses from local providers such as Beeline Transport (+1 441-293-0303), Bermuda Explorer (+1 441-534-1797), Bermuda Island Tours (+1 441-704-8477), and Titan Express (+1 441-234-1096).
Royal Naval Dockyard
King's Wharf and Heritage Wharf are the 2 original ports of call for cruise ships in Bermuda, set within the Royal Naval Dockyard on Ireland Island North. As you arrive at the wharves, you'll easily find plenty of attractions as well as museums and local shops and restaurants. Metered taxis are readily available if you need one to get further afield.
Hamilton Harbour
Hamilton Harbour is home to Bermuda's yacht marinas and docks for freights and cruise ships along Front Street. Although most cruise ships today moor at King's Wharf in the Royal Naval Dockyard, passengers often ferry to Hamilton. The harbour is also home to the Royal Hamilton Amateur Dinghy Club and the Royal Bermuda Yacht Club, as well as a commercial marina on Pitt's Bay Road.
St George's Port
If you're sailing to Bermuda by private vessel such as a yacht, chances are that Bermuda Radio will direct you to St George's Port as your port of call and for customs clearance at Ordnance Island. The natural harbour in the north accommodates medium-sized ships and smaller craft compared to Bermuda's other ports of call. Even so, cruise ships also berth near the main square of St George's where passengers can then head to Hamilton and Flatts Village by bus.
4
How to get around Bermuda?
Travel tips
Once you land in Bermuda, either at the airport or any of its harbours, you can get around the main island and towns using Bermuda's bus service or you can get to other smaller islands by passenger ferry. Taxis are also abundant, especially if your cruise is docked at Hamilton Harbour – taxis are readily available along Front Street.
Depending on where you stay or plan to visit, exploring by foot can be a little challenging due to the lack of sidewalks in certain areas. Even so, the capital of Hamilton is navigable and has a good number of pedestrian-friendly streets. Unfortunately, renting a car is not possible in Bermuda for non-residents.
Taking a taxi
It's easy to find a metered taxi in Bermuda's main areas and towns such as Hamilton. If there aren't lines of them readily available in front of major hotels or ports of call, you can hail one on the street and even go for a sightseeing trip based on hourly rates. You can also arrange for one by calling Bermuda Island Taxi (+1 441-295-4141) or BTA Dispatching (+1 441-296-2121). Uber is not available in Bermuda, but an app-based online taxi service HITCH (+1 441-234-4824) is available.
Travelling by bus
Bermuda has 11 bus routes that connect all parts of the islands to Hamilton. Air-conditioned and reliable, bus services are colour-coded for easy reference. Choose either pink or blue bus stops depending on your destination of choice: pink to Hamilton and blue out of Hamilton. Bus drivers usually won't admit passengers with lots of luggage. Prepare the right amount of coins as drivers don't provide change. For frequent bus travel, daily to monthly passes are available at the ferry terminal on Front Street and the Central Bus Terminal on Washington Street in Hamilton.
Travelling by ferry
Fast passenger ferries run by the local authority can take you across the water to other areas and parishes in Bermuda efficiently. Ferry rides also add a bit of scenic sightseeing to your trip. There are 4 public routes, each colour-coded (blue, pink, green, and orange (summer only)) and all depart from the Hamilton Ferry Terminal to 11 ferry docks across Bermuda.
The single, multiple-day and monthly transportation passes that you can use for bus rides also work on ferries. In fact, they are essential as the ferries don't accept cash.
Scooters and bicycles in Bermuda
Though you can't rent a car due to local restrictions for non-residents, you can rent scooters or bicycles for getting around. They're great options for exploring Bermuda's parishes and beautiful viewpoints. As Bermuda is a British overseas territory, you drive on the left side of the road. To rent a scooter, you must be aged 18 or above and always wear a helmet when riding.
Cyclists are blessed with the beautiful Bermuda Railway Trail, which runs close to 30 km along the water's edge and with zero motorized traffic. Ask for a 'pedal bike' when you're renting one because 'bikes' usually mean 'scooter' or 'moped' to Bermudians. Electric bikes are another great option for extra convenience. Bike and scooter rental services include Elbow Beach Cycles (+1 441-296-2300), Smatt's Cycle Livery Ltd. (+1 441-295-1180), and Pedego Electric Bikes (+1 441-533-8687).
photo by Ekem (CC BY-SA 3.0) modified
5
What are the main annual events in Bermuda?
Bermuda Festival
January–March
An annual extravaganza of performing arts in Bermuda, 4 decades in the running. First held in January 1976, its latest events feature a range of performances by a diverse selection of international artists, from classical orchestras to pop music and theatre.
Where: Various hotel, museum and art centre venues in Bermuda
Bermuda Day
Last Friday in May
A Bermudian public holiday traditionally celebrating the first day of the year residents go into the sea after winter. Expect a huge street parade on this day, a half-marathon road race, as well as Bermuda shorts worn as business attire.
Where: Hamilton and throughout Bermuda
Bermuda Carnival
June
This annual event was formerly known as Bermuda Heroes Weekend due to it coinciding with a national holiday of the same name. It features various festivities over the long weekend in June with carnivals celebrating Bermudian culture.
Where: Hamilton
photo by kansasphoto (CC BY 2.0) modified
6
What are the main landmarks in Bermuda?
King's Wharf
The original cruise pier that's located within the large and historic port in Bermuda, the Royal Naval Dockyard, where large cruise ships still frequently dock.
Crystal and Fantasy Caves
A set of 2 different underground caves with pools that you can reach down a series of steps with narrated tours available.
Bermuda Maritime Museum
An important site at the Royal Naval Dockyard, where you can learn about the history of Bermuda and the British Royal Navy's Atlantic Fleet.
Gibb's Hill Lighthouse
One of the oldest cast-iron structures in the world, with 180 steps you can climb up to reach its observation platform for spectacular ocean views.
Back to top