Getting Around Qatar
Public Transport In and Around Doha
Getting around Qatar is relatively easy, thanks to the country's size and well-maintained roads. Travelling by car is the main way to get around but Qatar's public transport has seen a vast improvement in recent years, largely due to the expansion of its bus and metro services.
Most roads throughout Qatar lead to and from the capital city of Doha, where travellers will land at Hamad International Airport. Getting from one end of the country to another takes only a few hours by car. The roads can get hectic, so do take care when driving – many travellers opt for a taxi or chauffeured limousine as it's a very convenient (but expensive) way to get around Qatar. Check out our guide to public transport in and around Doha to see which option suits your budget.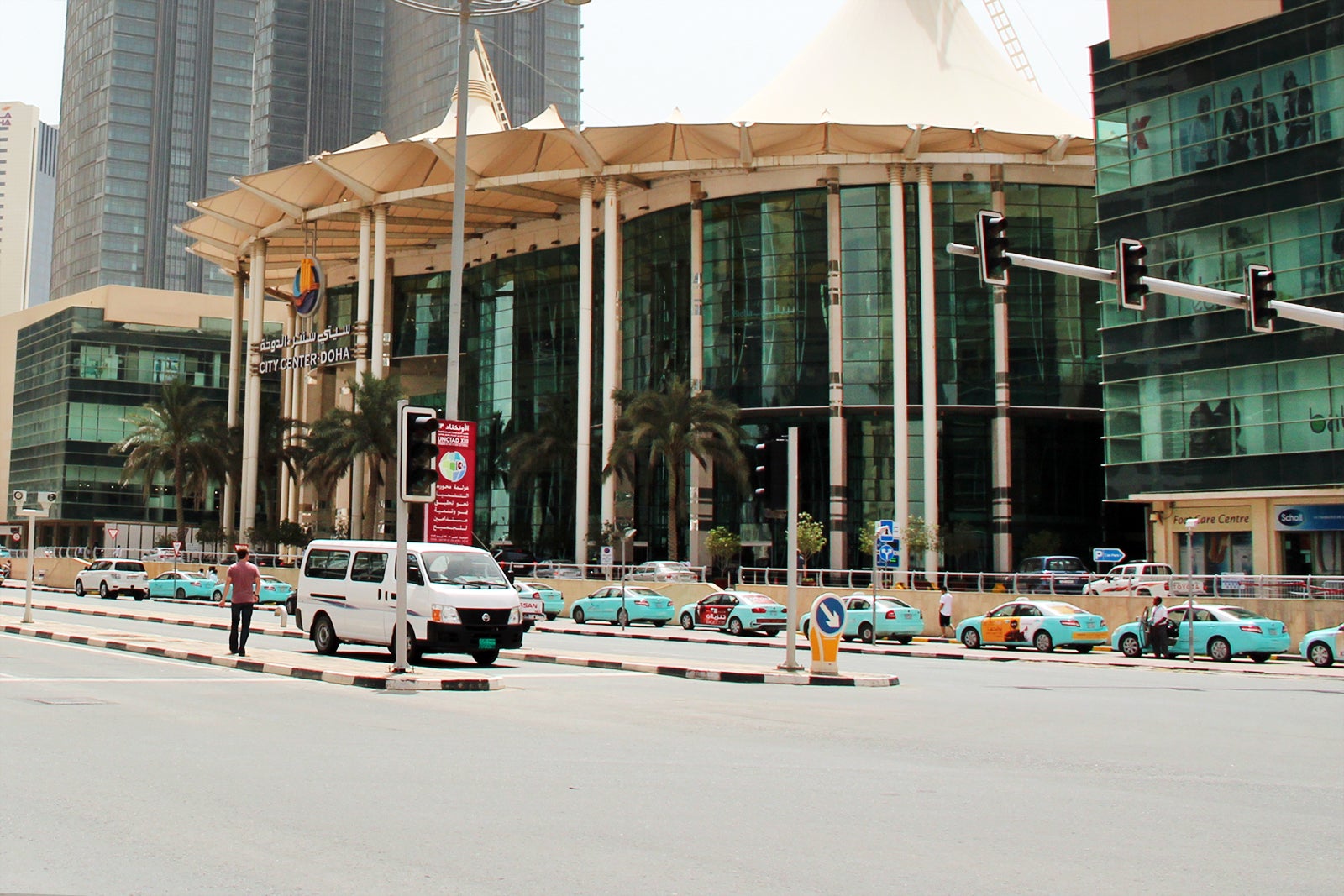 Taxis can be hired for short distances and trips beyond the city (for a surcharge). Karwa Taxi is operated by the state-run Mowasalat transport company. Besides having the biggest fleet of cars, it's the only taxi brand licensed to operate at Hamad International Airport. Other available services are the app-based Uber and Careem taxis.
Doha taxi fares are metered with a minimum tariff of 10 riyals, followed by 1.6 riyals per km during the day or 1.9 riyals per kilometre for trips at night. You can find taxis at roadside taxi ranks and almost every hotel and shopping mall. If you're not using a taxi app, call Karwa toll-free at 800-TAXI (8294) or at +974 4458 8888 (extra charge of 4 riyals levied).
photo by Lawrence Wang (CC BY-SA 2.0) modified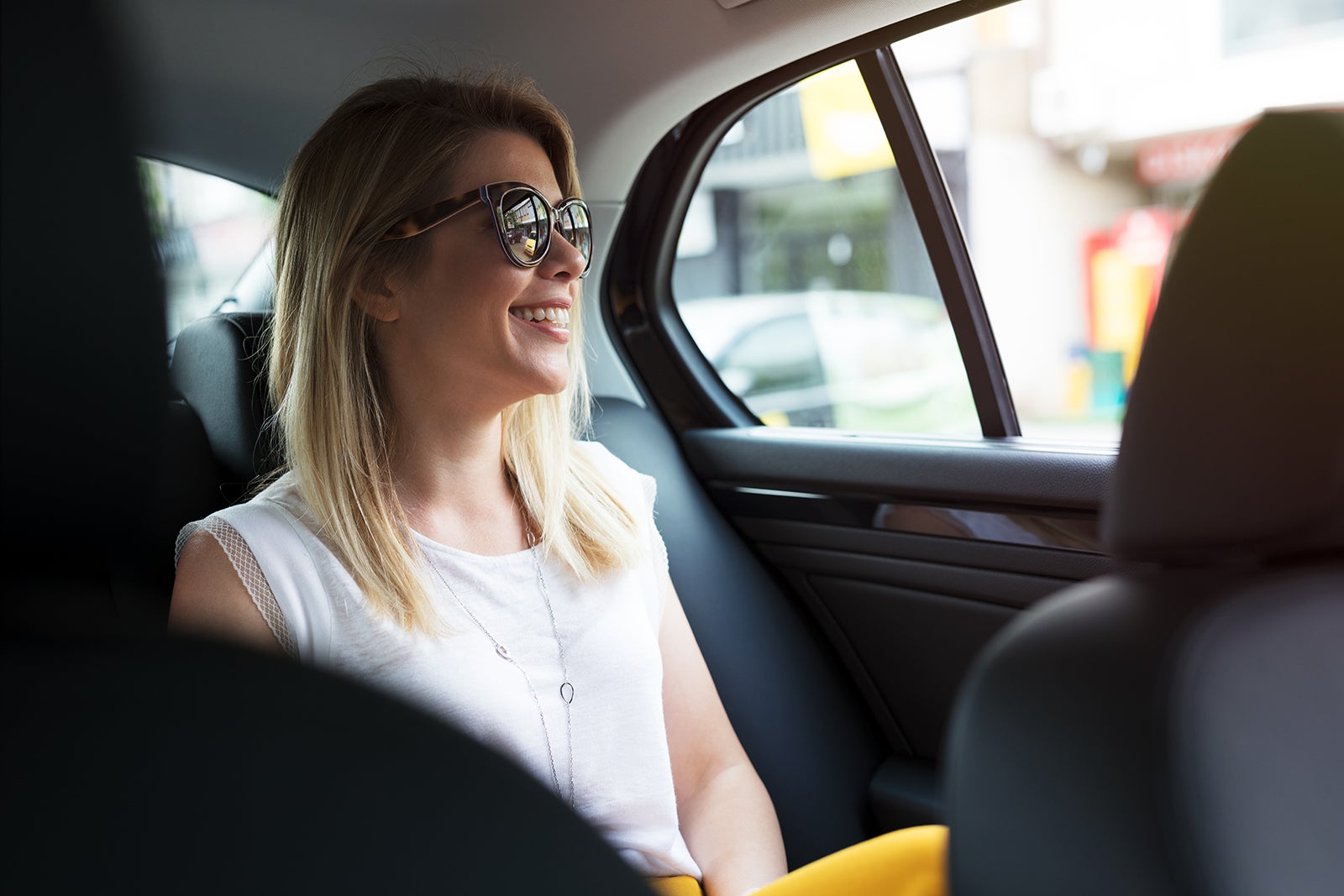 Chauffeured limousine service in Qatar is more expensive than taxis but ideal for travellers who prefer the convenience of having a driver during their holiday. Prices vary depending on the needs of the passenger, whether they want a standard limo service, a larger vehicle for groups, or a VIP ride. Limousines can be booked by the hour or by the day.
Several limousine operators are available for hire in Qatar, including the government-run Mowasalat transport service. Mowasalat offers Impala, Passat, Audi, and Mercedes Vito (7-seater), which you can book by calling 800-LIMO (5466) or 800-TAXI (8294). Limousines can also be booked using the Karwa taxi application.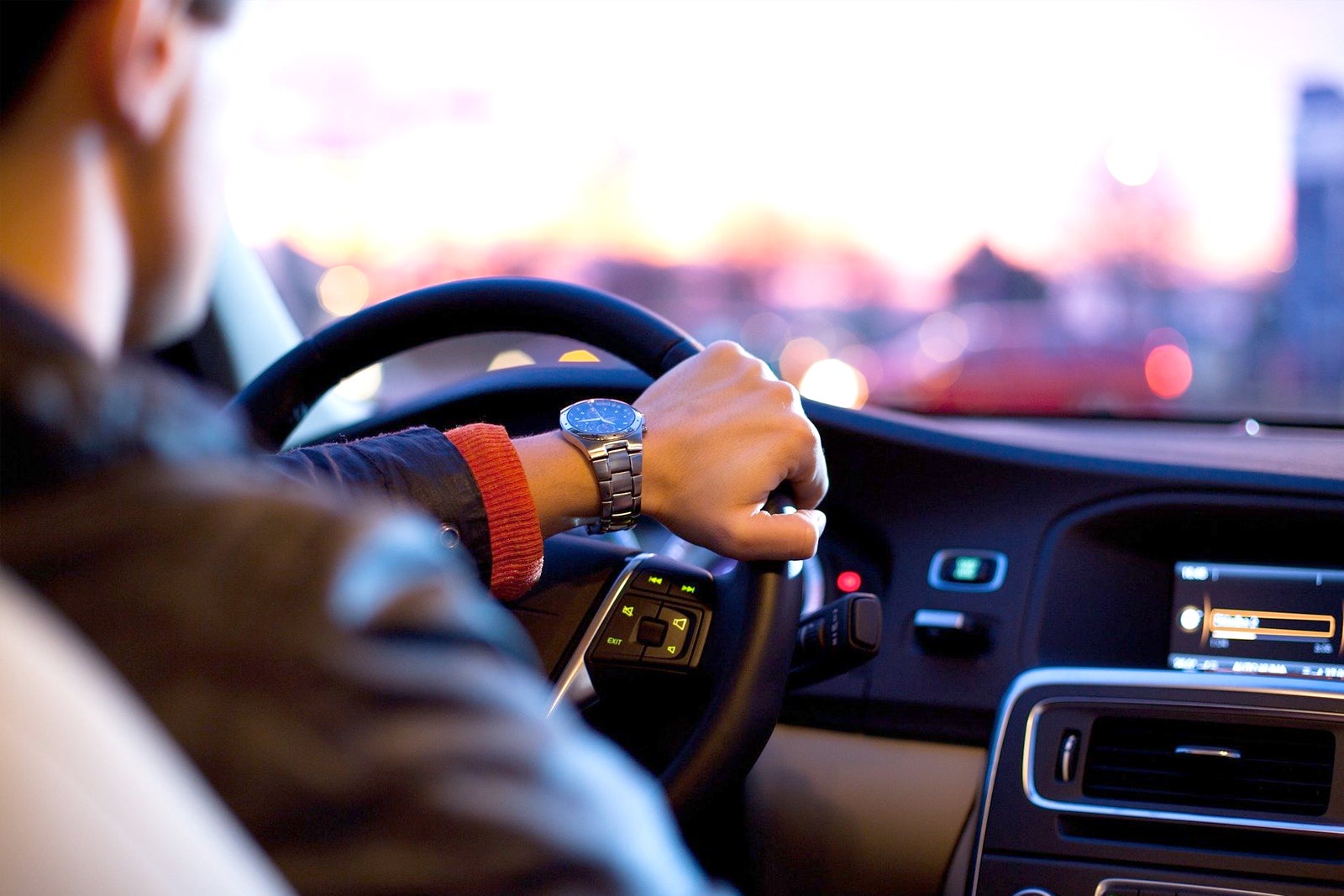 Car hire is a relatively affordable transport option in Qatar. Several operators can be found at the international airport in Doha, or you could arrange for a car by calling ahead or making an online reservation. Car rental service is available from international brands like Hertz and AVIS, as well as local rental operators.
When renting a car in Qatar, foreign drivers need to show their passport and carry either an international driving licence or a license issued from a GCC (Gulf Cooperation Council) country.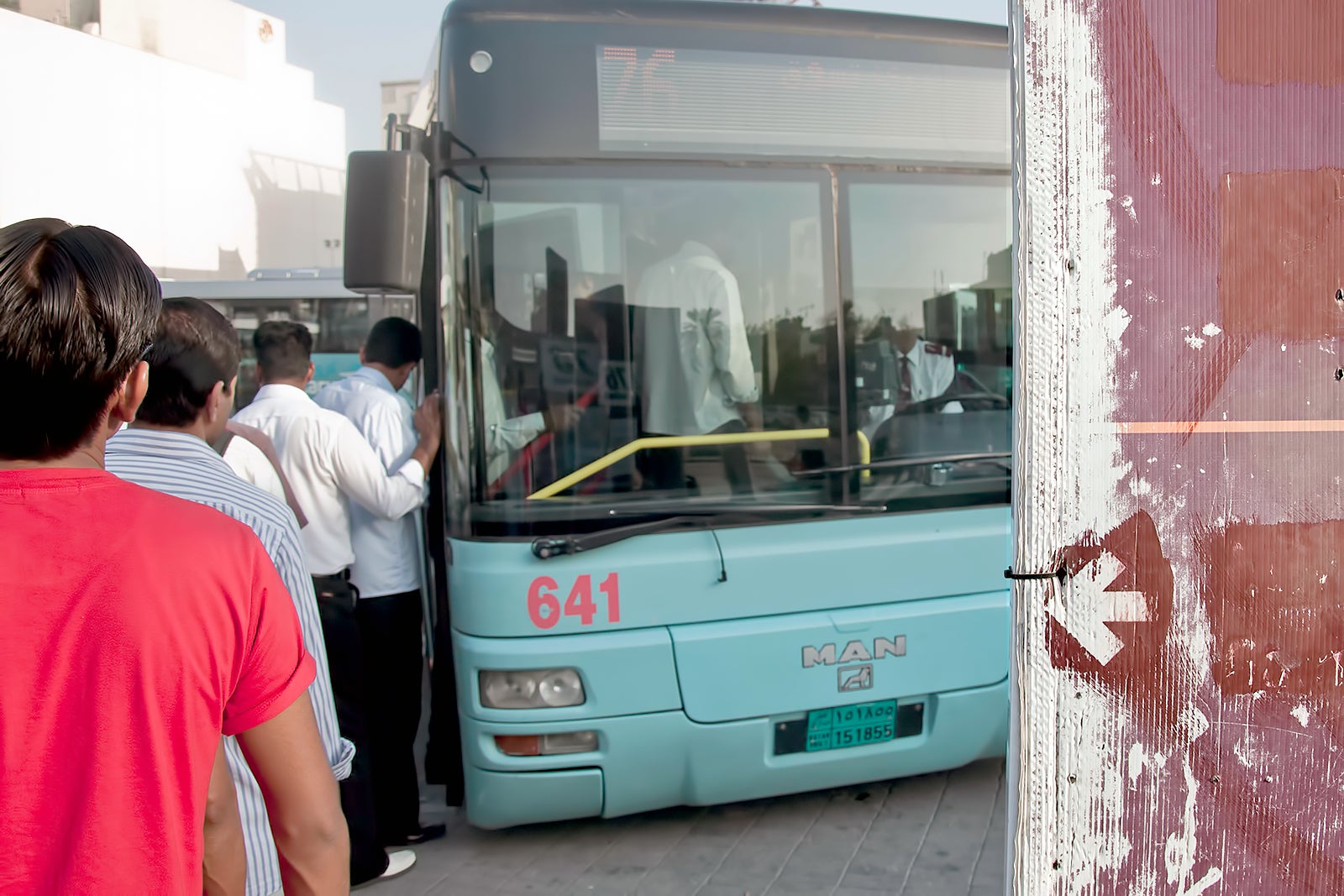 The Mowasalat transport service runs a modern and air-conditioned public bus around Doha and across Qatar, including several routes from Hamad International Airport.
Bus routes link Doha to the municipalities of Al Shamal, Umm Salal and Al Khor to the north, Dukhan city to the west, and Abu Samra and Mesaieed city to the south. Fares start from 3 riyals for trips within Doha and from 4 riyals for trips outside the capital. Bus services usually run every day from 4am to 11pm.
Passengers must first buy a Karwa smartcard, which is available at airport vending machines, Doha Bus Station, the Pearl Qatar, and dozens of merchant outlets. Visit the Mowasalat website for more details on bus routes and participating Karwa card merchants.
Bus smartcard options include a refillable Classic Card (30 riyals), a Limited Card for up to 2 journeys within 24 hours of purchase (10 riyals), and an Unlimited Card for unlimited trips within 24 hours of purchase (20 riyals). Those who board without bringing their smartcard will be charged 10 riyals.
A popular route for travellers in Qatar is the West Bay shuttle service in Doha. It links West Bay with many places of interest, including the city centre, Corniche and Al Bidda Street. Shuttle buses run every 15 minutes from 6am to midnight.
If you're flying with Qatar Airways, you can enjoy day trips on private buses, such as the Doha City tour, desert tours, and a Stop-and-Shop tour.
photo by Khalid Albaih (CC BY 2.0) modified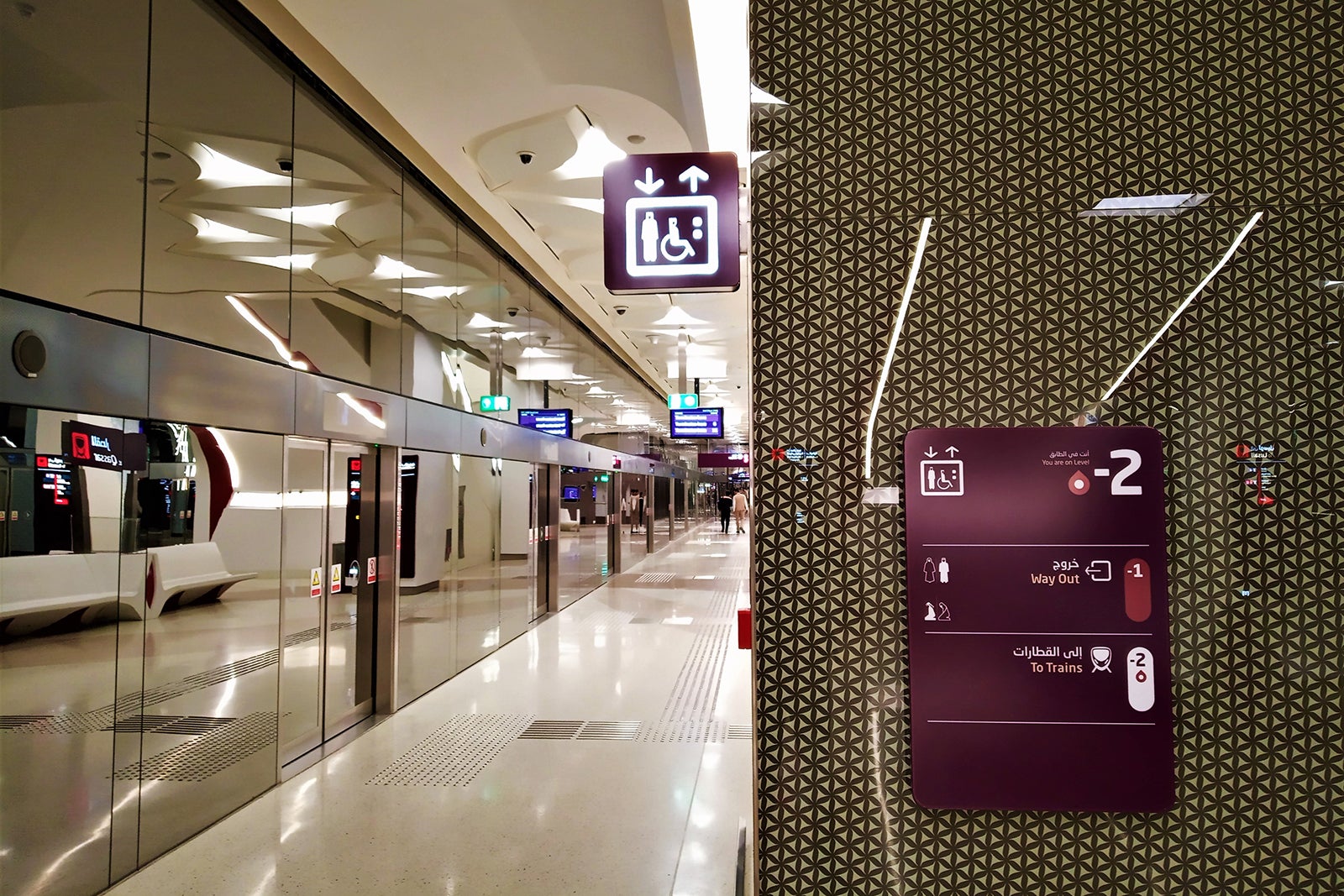 Doha Metro is one of the newest forms of public transport available in Qatar. The Metro's plan comprises 4 lines (Red, Green, Gold and Blue) covering around 300 km and 100 stations.
All passengers need to buy a travel card to use the Doha Metro. There are 3 types available: Limited Use is a paper card (around 2 riyals) for a single journey. The Standard Travel Card is a reusable plastic card (around 10 riyals) and does not allow travel on the Gold Line, while the Gold Travel Card is a reusable card (around 100 riyals) that allows access to the Gold Club sections of the metro.
The Red Line
The Red Line runs for 40 km from Al Wakra north to Lusail, with 17 stations that include West Bay QIC, Katara and Qatar University. This line also connects Hamad International Airport at Terminal 1 with downtown Qatar.
The Green Line
The Green Line runs east to west from Al Mansoura to Al Riffa. The line has 11 stations with notable stops like Hamad Hospital, Al Shaqab and Qatar National Library.
The Gold Line
The Gold Line is an east-west route with 11 stations extending from Ras Bu Abboud to Al Aziziyah. Qatar National Museum and Souq Waqif are among the key stops along the Gold Line.
The Blue Line
This fourth line is the second stage of the metro's development.
The Doha Metro service is part of a large national transport plan that includes tram routes in West Bay and Lusail.
Set to open in 2020, the Lusail Tram will cover 4 lines with 25 ground-level and underground stations in total. It will be the main transport hub for Lusail City, located around 23 km north of Doha.
Back to top