B0031 Helleville Subd. II, Agura Pajac-Bankal Rd., Lapu-Lapu, Cebu, 6015, Philippines
What guests say
Good access to airport
Comfortable beds
Clean rooms
Reception should be more attentive
Narrow reviews:
33 verified guest reviews
Dee Guesthouse
Clean, quiet room very close to Cebu Airport. Wonderful, friendly staff, comfortable bed. I would highly recommend this place to anyone looking to get a good night sleep close to the Airport. Thanks Angel
Verified Expedia guest review
The following English reviews were posted by hotel guests from other countries
Angel was a sweetheart! Good for people on a budget whole still remaining clean! If you need a taxi just use the Grab application to get here!
Verified Expedia guest review
Great place near the airport, about 20 mins. A little tricky find, but great deal. There aren't really taxis and it's hard to get grab around at odd hours, so if you plan to leave at a weird time like 3am, plan accordingly. The owners are really nice :)
Verified Expedia guest review
Airport sleep
Guesthouse was welcoming and comfortable. Close enough to the airport but really not much else around.
Verified Hotels.com guest review
Thanks anyway.
It should be amazing i f not because of the earthquake. So flight was delayed then canceled. So not able to experience using the room and tour the City of Cebu still. Maybe next time again. But they are willing to accommodate and adjust time based on our arrivals, but to no avail?
Verified Hotels.com guest review
A wonderful place in a quiet neighborhood
A great find for the money on this Island. The staff is helpful, friendly, kind. The courtyard is great for longing, relaxing, socializing. The showers are great. Wifi is decent, The place could use some maintanenance, though. That said, the spartan rooms are adequate and clean. This is not the Hyatt, you didn't pay that price!
Verified Hotels.com guest review
Not as close to the airport as it looks on the map, but a good stay none-the-less. Not a lot going on in the location, but not too far by bicycle or transportation to more interesting locations.
Verified Expedia guest review
Loved it!
It was my last night of my one-month trip to the Philippines. I booked this place because it looked close to the airport, and I had no expectations beyond that. However, the guest house was gorgeous, the service was amazing, and I was so, so happy I stayed there. There was coffee and tea, as well as a water boiler, in the room -- as well as a TV with English-speaking channels. I got to watch CNN and catch up on the news before bed! I also enjoyed the neighborhood. I'd spent one night in Cebu at the beginning of my traffic, and it was all traffic and crowds and pollution. This neighborhood was much more my speed -- it was actually kind of this trendy little area, with a few cool coffee shops and restaurants, a salon so you can be all beautiful for your trip home, and plenty of very local/authentic places to shop and get food, as well. All within walking distance of the guest house. I am headed to Cebu again soon for a long layover, and will hopefully get to stay here again! That said, it is a LITTLE further from the airport than some of the other, similarly-priced options (it was 18 minutes of driving vs. 10, but it's still only a dollar or two).
Verified Hotels.com guest review
bad guesthouse
The place was terrible, the guesthouse was hard to find , it was hard to contact , service was hopeless , no proper sign
Verified Expedia guest review
Response by Dee Guesthouse Mgmt.
Dear Sir, We are truly sorry about your reservation. You arrived here passed midnight. We waited for you and you are aware that we do not have 24 hr reception. When you arrived here it was 01:00, no call or advise from you. Your reason is that you cannot contact us yet we received calls from other guests that day. You can also send us a message thru your reservation or email just sent us an email but none. Although we truly want to accommodate you. You booked a shared room and we do not have private room, and told you that we cannot allow you since everyone's sleeping in that room, for your roommates respect and comfort. The shared room you booked was full and your bed was kept for you, even if you only have 1 room mate we will do the same. If you were the guest resting inside, you wouldn't want someone enters a room in the middle of the night, turns on the light, make noises and going in and out of the room for toilet use.
The taxi does not even know the location
My friend sais it was far from the airport and the taxi did not even recognize the address. it must be frustrating. Im sure the place is alright. I would like to suggest that they arrange a transfer from their place from the airport with extra fee just to make it convenient for the guests in the future.
Verified Hotels.com guest review
The following reviews were posted by hotel guests from other countries
アンジェラというスタッフやゲスト同士も仲良くなれるので、おすすめです!シャワーの水圧はだいぶ弱いですが、部屋は清潔です。
Verified Expedia guest review
최악의 게스트하우스
후기도 안좋고 찾기도 힘들고 치안도 안좋고 그래서 이용 안했습니다.. 돈만날렸네요
Verified Hotels.com guest review
One night stay
It was hard to find the house. The room was ok. The toilet was always wet but otherwise clean. Angel the personnel in charge was so nice and helpful.
Verified Hotels.com guest review
The location thought had reported on website, my tricycle still need sometimes to find out the right place. The area is very local that hard to find restaurant or place to eat or stay, however, this can not put any comment on the owner. For me, will not choose the same decision.
Verified Hotels.com guest review
게스트 하우스
새벽에 가서 잠만잘 생각으로 갔는데 아주 좋았어요! 위치상으로는 공항 뒤쪽이라 가깝고, 많이 외진 곳이라 당황하긴 했었는데 그냥 가정집이더라구요. 화장실 공용인데 정말 관리 잘했어요~ 허나 가격상 시티쪽에서 같은 가격에 호텔도 잡을 수 있답니다~
Verified Hotels.com guest review
周辺環境はいわゆるリゾート地ではなく貧困層の集落的な感じ。バックパッカーなどの長期滞在にはむいているかも。トイレは手動のウォシュレットみたあのがある。洗濯機ある。たまにゴキブリいる。タクシー乗り場が近くにないので街にでるのが難しい。トライシクルの停留所はあるらしいがよくわからない。 路上のパン屋さんでパン一つ40ペソでぼったくられた。相場は一つ4ペソ。 最寄りのバーベキュー屋とカラオケバーは良心的値段だった。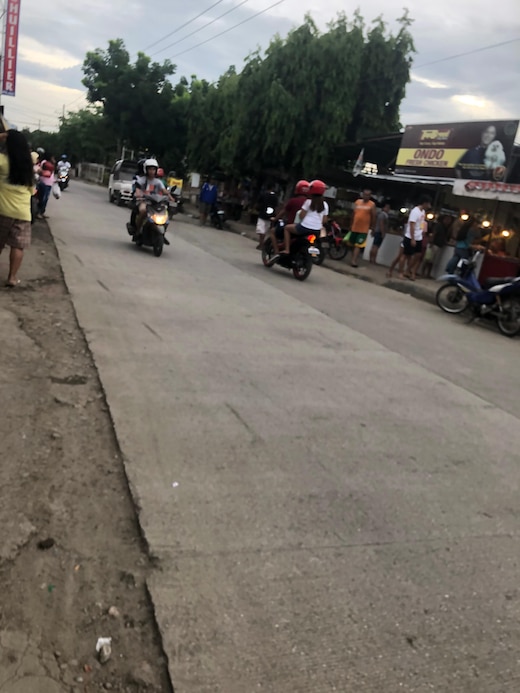 Verified Expedia guest review
Response by owner
近くのH-MALL内の乗合タクシーの乗り場があり、頻繁にセブ市内のSMまで30ペソで運行しています。また、トライシクルに停留所はありません。手を挙げれば良いだけです。ゲストハウス内の案内に詳しく書いてありますよ。 リゾート地ではないです。宿泊費と相応の中長期の欧米人が居住しているエリアです。
Prima, dichtbij AirPort
Voor een kort nachtje tussen vluchten door een prima optie.
Verified Expedia guest review
Vi anlände sent på kvällen. Skulle bara spendera några timmar innan flyget skulle avgå tidigt på morgonen. Vi hittade bedbugs i sängen och lämnade direkt. Sov aldrig där.
Verified Hotels.com guest review
Response by Dee Guesthouse Mgmt.
Enligt noggrann inspektion finns inga sängbuggar på alla våra sängar. Och det kommer bara att bli synligt om vår säng är dåligt infekterad eftersom bedbuggar är svåra att upptäcka med ögonen och du måste lyfta och vända madrassen för att se den. Våra gäster som stannar i några dagar har ingen klagomål om samma sak . Och vi är medvetna om möjligheten att ha sängbuggar så, när det är möjligt, använder vi personligen våra gäster säng och rum så vi kommer att uppleva första hand om det är något problem med våra sängar eller rum .. Vi kan acceptera och be om ursäkt och kommer inte att gå mot din recension om du berättade på plats och visa oss sängen buggar du sa att du såg veta vi hjälper dig även att kolla vår säng och det kom från din egen mun att vår madrass är så ny men efter att du vände lakan, beskyddare Din kvinnliga vän är fortfarande inte övertygad och berättade att hon är mycket känslig så du bestämde dig för att bara lämna.
Nothing special
We chose this hotel because we thought it is close to the airport. Actually it is not, even it looks like that in the map. The location was not good and it was little bit hard to find. There was nothing wrong with this place but there was nothing really good either why to recommend this place except the prize was ok.
Verified Ebookers guest review
Response by Dee Guesthouse Mgmt.
What map did you use? It is clearly positioned on the map it was at the back of the airport and airport entrance is on the other side so obviously you have to travel all the way around to exit or enter the airport. And on the booking site if you read there is a note that distance is calculated in a straight line from the property's location to the point of interest and may not reflect actual distance.
超おすすめのゲストハウスです
12月27~1月5日まで滞在した者です。 大変満足するステイとなりました。 部屋を含め全体的にとても綺麗に掃除されています。 常駐しているスタッフの方もとても親切、アクティビティなどの相談も気軽に引き受けてもらえます。 海側の方にもトライシクル(タクシー)ですぐに行けるので、アクセスも良いですよ。 ホワイトサンズのゲストハウスの方にいらっしゃるオーナー(日本人)も、とても親切です。 たまにこちらのゲストハウスにも来られますよ。 またセブに行った際には、ぜひ利用したいと思います。 ありがとうございました。
Verified Hotels.com guest review
掃除が行き届いた綺麗な施設
とてもいい感じのゲストハウスでした。探すのに一瞬迷いましたが、見つけられてよかったです。掃除が行き届いていい感じでした。また今度も利用したいと思います。

Verified Expedia guest review
ちょっと田舎っぽいけど、最高に良かったです。
とても室内も良く、スタッフさんも親切でした。他のゲストハウスよりも快適に過ごせました。場所に関しては、マリバゴから離れているのでトライシクルに乗っていく必要があります。空港からは近いように見えますが、空港のエントランスは反対側にしかないので注意が必要です。日本人のオーナーさんがやっていますが、フィリピンのスタッフさんもいるので英語での対応が必要です。 しかし上記を知っていれば、マクタンのゲストハウスでは凄い良い宿です。 飼い猫もいるので、猫好きの人にはたまらなく良かったです。 週単位の英語学校もやっているそうなので、次回はそれも使わせてもらえればと思います。(詳しくは分からないので、ホームページを見てください。) また使わせてもらいます。
Verified Expedia guest review
The hotel here is useless
Even though the owner is Japanese, but elementary school girls and men asked for taxi on the way back, Even if you ask him to change the room, because the safe is broken, such as checking it online by myself Sleeping, the neighboring Korean kids sleeping at the front sofa The front desk is absent. No correspondence
Verified Expedia guest review
Response by Dee Guesthouse Mgmt.
Thank You for taking time to leave us a review. Although we tried our best to comprehend your review unfortunately it still leaves us confused. But surely we do remember you clearly. The safety box was working fine (we tried it during your stay) and there is a non English instruction for it on how to operate it. And as per checking we did not had Korean kids guests nor of any nationality kids guests way back from how many months until to this writing and if there is, why would they slept at the "front sofa"?. The staff even go with you to help you get a taxi when you checked out late night to catch a midnight flight.
깨끗하고 이쁜 방, 주변 저렴한 숙소중에서는 여기가 제일 낳은듯
방은 정말 깔끔하고 좋습니다. 이쁩니다 방. 위치는 시내에 있지 않습니다. 하지만 택시기사가 어딘지 알고 있습니다. 화장실 공용입니다.
Verified Hotels.com guest review
:(
체크인 시간 넘기면 300페소 추가돼요 화장실은 세수 양치정도만 할 형편이고 시원한 물도 없이 물병? 에 담겨있는 물을 먹어야했어요 가는 길도 복잡해서 밤에 가시는거면 비추 ㅜㅜ
Verified Hotels.com guest review
過ごし方は自分次第
4泊滞在させて頂きました。 まず、よく言われているようにタクシードライバーが場所をわかっていません。地図を印刷して見せてもダメだったので、初めての方は空港でポケットWiFiを借りてGoogleMapでナビをしながら行くか、せめて地図をダウンロードしておきGPSで現在地を示しながらドライバーに伝えることが必要と思います。私は空港から1時間半もあっちこっちウロウロされた挙句、1000Pも取られました。まぁボッタクられただけかもしれません。通常は150Pぐらいです。 予定よりだいぶ遅くにたどり着きましたが、スタッフの女性が親切に対応してくれました。 部屋は清潔、綺麗で快適です。バスルームは少し驚きましたが許容範囲内です。 ついてすぐは食事に困りましたが、ハンバーガーショップがあることがわかり、セブシティにもバスで割と簡単に安く行ける(ただし、ローカルな交通手段なので旅慣れない方はややチャレンジ精神が必要かもしれません)ことがわかってからは、問題ありませんでした。 スタッフの方は基本的に優しく親切で人懐っこいので、心を開けばすぐに仲良くなれるでしょう。 英語が上手く話せずコミュニケーションがあまりとれなかったのが心残りです。 部屋でゆっくりするもよし、街に行くのもよし、現地の人と話すもよしなので、自分次第で色々旅のアレンジができるのではと思います。 あっ、夜11時ぐらいから朝までずっと鶏が鳴いていたので、気になる方は耳栓を持って行った方がいいかもしれません。
Verified Expedia guest review
Verified Hotels.com guest review
Verified Expedia guest review
Verified Expedia guest review
Verified Expedia guest review
Verified Hotels.com guest review
Verified Hotels.com guest review
Verified Expedia guest review
Reviews and ratings contained within this site are the subjective opinions of customers and suppliers; they do not represent or reflect Hotels.com's position. Neither Hotels.com nor the parties involved in providing review content shall be held liable for any damages of any sort resulting from use of these reviews