Narrow reviews:
46 verified guest reviews
This property has perfect view of the caldera and a very romantic place. Elizabeth provides the best hospitality throughout our stay. She is very helpful and thoughtful. Awesome!
Verified Expedia guest review
The following English reviews were posted by hotel guests from other countries
Our Concierge Elizabeth was a wealth of knowledge about the area and recommended incredible restaurants to savor incredible food. Our helper Costas was friendly and hard working and brought us our delicious breakfast every morning to enjoy on our balcony. The views of the Caldera were incredible and we captured many magical sunsets to remember for a lifetime. We highly recommend this venue. You will not be disappointed.
Verified Orbitz guest review
The complimentary breakfast, amazing front view by the caldera, pools, jacuzzi and very nice luxury suites
Verified Expedia guest review
Absolutely excellent place to stay at. Walking distance to all the restaurants, clubs, and bars. No need to book expensive restaurants for Caldera view when you stay at this Hotel. Staff were helpful and attentive. Breakfast had good choice of selection available. Highly recommended.
Verified Ebookers guest review
The property and it's location were amazing! The people who worked there, Fotini, Kosta, and Elizabeth were amazing at helping and accommodating us. We had an unforgettable experience.
Verified Expedia guest review
Amazing hotel, super location and wonderful staff
All I can say is we had another hotel booked and for one reason or another we changed to Nefeles Luxury Suites and we were not disappointed! The place is amazing, and the staff were too! the hotel is located close to the the centre of Thira and the cable car/walkway to old port is less than 5 minutes away. A special thank you to Kostas, Fotini, Anteenina, both George's!, Alexia and Irena - we could not have wished for more and will definitely be back! Do yourself a favour and book your stay in Santorini here! Thank you again A+++++
Verified Hotels.com guest review
Loved the service. The staff was friendly and helpful. They went above and beyond to make sure we had everything we needed.
Verified Expedia guest review
The staff were fabulous as was the view with breakfast on the balcony each morning. The room was clean and the lady looking after our room was so helpful and obliging. Thank you Nefeles team - it was a fab holiday!
Verified Expedia guest review
Great Service
Amazing service and amazing place
Verified Hotels.com guest review
It has a beautiful view of the volcano and sea and can see best sunsets from room . The water was not wArm and was cold in the jacuzzi so was not able to enjoy that as much. Staff is really helpful and breakfast is great. I would choose again to go back to this beautiful property. Location is very nice and right in the downtown.
Verified Orbitz guest review
The property has been completely updated and looks brand new. The views are stunning and the service is over the top good. We can't get back soon enough.
Verified Expedia guest review
Excellent
Excellent hotel, location and views! Jenny and Jeorge at the reception were so very helpful and friendly!!!
Verified Hotels.com guest review
Nice location and had the amazing view of the caldera
Verified Hotels.com guest review
The staff went above and beyond to make our stay comfortable. The hotel is located in the heart of Fira so shopping and food is easily accessible by foot. The hotel was clean had an amazing view of the caldera and sunset.
Verified Expedia guest review
Very accomodating George has great local knowledge
George made my trip to Santorini great, he had so much local knowledge to share and was very flexible and helpful if I needed anything. Highly recommended, this is a small hotel on the cliff side overlooking the Volcano, every room has a spectacular view, approximately 600 steps down to the old port giving it a very high view across the ocean. Right in the center of Fira making it great to explore. As this is on the cliff side there are no roads to the hotel, it's pathways on old cobbled stones, a taxi will drop you off at Mcdonalds and you'll have to walk a few minutes towards the cliff side, keep this in mind if you pack a full suitcase! Lots of restaurants and bars surrounding the hotel. As with all hotels in this area the buildings are old so don't expect new modern rooms and every one is different, with that in mind they're clean and well looked after. Very recommended, say hi to George from me if you book!
Verified Hotels.com guest review
Love the morning views! The manager/owner was super nice. Only thing is the property is limited on hotel workers but it's not bad. Great free breakfast. Bathroom kind of outdated dim lighting but really it serves its purpose of a shower. But overall can't beat the location! Walking distance to every where. Love it here!
Verified Orbitz guest review
Beautiful view, friendly staff, great location in Fira
Verified Expedia guest review
This hotel is centrally located in Fira. Amazing views from every angel!!! Extremelly friendly and professional staff. They help move your luggage when you arrive from a nearby location. Rooms are clean.
Verified Expedia guest review
Everything was amazing, staff, view, room, only thing that needs a little attention is the bed comfort. I would definitely come back again and again.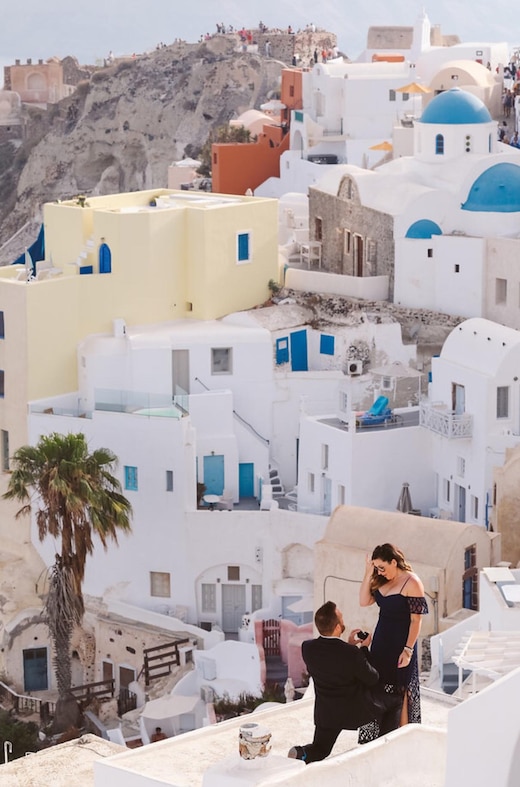 Verified Expedia guest review
Views from our balcony and the rooftop terrace were spectacular!!!
Verified Expedia guest review
Possibly the best hotel in Thira
I have nothing but great things to say about this hotel. It felt like home after 1 night and didn't even want to leave to go explore the rest of Santorini. The staff was amazing, the views and pool are unbeatable, delicious breakfast....can't wait to come back!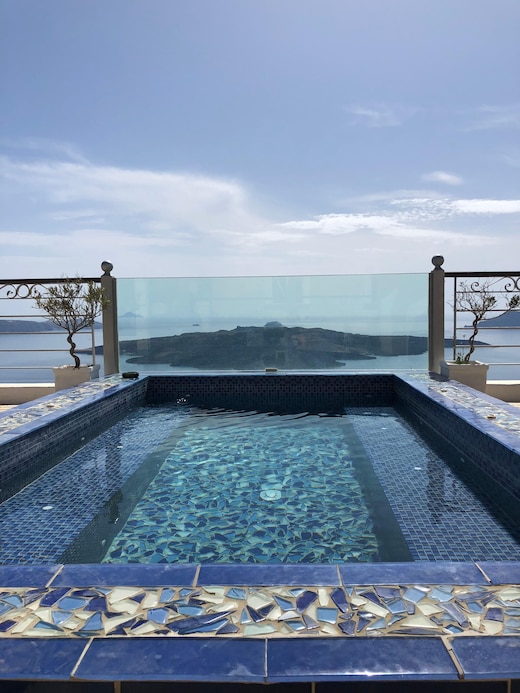 Verified Expedia guest review
Great Stay, Great Value
Awesome views, great location would stay again.
Verified Hotels.com guest review
Too much steps in this hotel.
The location is good but a lot of steps to walk down to have breakfast and lots of steps to go up to go out of the hotel. The bathroom were leaking after a shower and we have to lay towels on the bathroom floor.
Verified Hotels.com guest review
Absolutely stunning views and service! Would return again and again!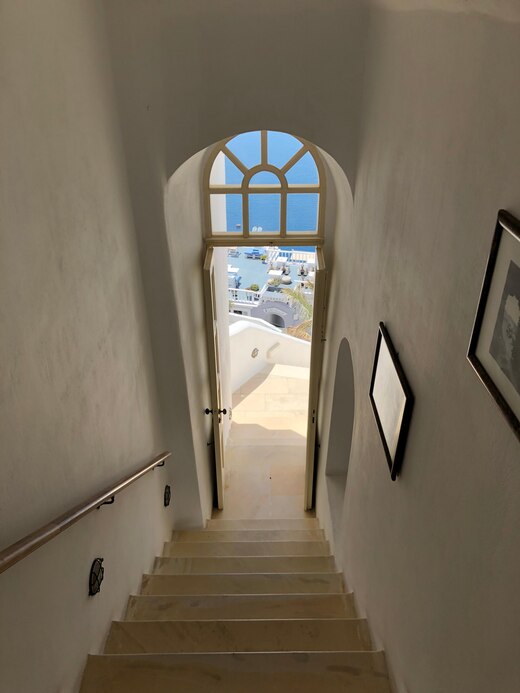 Verified Expedia guest review
Great service
We were extremely happy with the hotel and staff. We were upgraded to a larger suite because of a delay, which was very gracious.
Verified Hotels.com guest review
Awesome View!
We had a wonderful experience staying at Nefeles Luxury Suites. Although we had forgotten to advise the hotel of our arrival time, they still managed to arrange to meet us and assist us with our luggage. Through out our stay, the staff were extremely helpful in attending to all of our needs. Upon check-out the staff were there to assist us with our luggage again, even though we were leaving very early in the morning. All up, it was a lovely experience, and we would highly recommend staying at Nefeles Luxury Suites!!
Verified Expedia guest review
View is out of this world!
Beautiful authentic cave like accommodation with a view you only dream out. Check in with Akis was amazing, he is a very welcoming host who after carrying our bags to our room provided a very informative overview of Santorini. Breakfast was average and cold. Had to wait often for items to be brought out, even coffee one morning and dirty dishes not cleared from many tables limiting where you could sit. I feel Vaggelis is either a very quite man or just doesn't like talking because it is not very welcoming during the day. You have to say good morning if you want to be acknowledged. After our superb afternoon check in with Akis, this was very disappointing. Akis should be on the day shift. Vaggelis did carry our bags back to our transfer and shake our hands at the end so thats what makes me think it is a communication thing rather than just being rude. Improvements need to be made here. Rooms were lovely and traditional with amazing views but the bed was like a rock and was the worst sleep we'd had after traveling Europe for 5 weeks and sleeping in many places. We were extremely disappointed that the infinity type pool/spa you see in the photos had its heating turned off and was too cold to go in. This was one reason I was enticed when choosing where to stay. We only had the option of swiming in the cave pool. This really let my stay down. Overall we still had a nice stay but many improvements need to be made for this property to be recommendeded to others.
Verified Wotif guest review
Morning staff doesn't speak much but afternoon staff was great & very helpful.
Verified Ebookers guest review
Perfect location for Santorini
Situated in capital Fira- stunning views and perfect location from where to explore Santorini! Very quiet boutique aparthotel.... views every morning of ocean liners, ships and volcano and of course the donkeys! Sunsets are seen every night!
Verified Expedia guest review
Excellent view but wanted more from our stay
The strong points about the Nefeles Suites are: the excellent views from the rooms/ balconies (i.e. of the Santorini caldera), its central location, clean rooms, and the air conditioning (downstairs inroom). The disappointment for us lay in the fact the Nefeles Suites is not a "hotel" and therefore does not offer the level of service, space or comfort provided by a hotel or a luxury apartment (as the name implies), at least for a 7 night stay. Although parts of the accommodation are attractive, we found it was not as comfortable as the pictures suggest:(a)We had a cave room, which was just about large enough for a party of 3, but which had a large ugly fan on the upper level, to keep the area cool, but which was not fully effective; (b) The low arch of the cave room near the bed meant we had to keep leaning over to avoid banging our heads; (c)the wifi and TV reception were poor; (d) the upper sun level had no canopies and therefore no shade to allow us to sit up there when we wanted to. There was never any member of staff there to assist; (d)the breakfast was completely self service, and suffered from a lack of hot coffee/ coffee options; (e)the outside breakfast area was more functional than comfortable, in part due to the narrow space; (f) the room lounge furniture could have been more luxurious and more comfortable although the cushions helped. If you wanted comfort, there were no real options within the complex. The Nefeles is however ok for a short stay.
Verified Expedia guest review
Excellent
great service, the manager Aikis was just exceptional. He made our stay here extremely enjoyable.
Verified Expedia guest review
The following reviews were posted by hotel guests from other countries
Lage, Aussicht, Service, Sauberkeit absolut top. Insbesondere der Whirlpool mit Blick auf die Caldera ein absoluter Traum.
Verified Expedia guest review
Havre de paix avec une vue exceptionnelle. Nous avons passé un formidable moment
Verified Expedia guest review
Positivo: A cordialidade de toda a equipe, atendimento excelente. Café da manhã maravilhoso, quarto extremamente limpo e o hotel fica em uma excelente localização. A melhorar: Reservamos um quarto de acordo com a foto no site porém quando chegamos fui informada que haviam vários tipos de quartos para aquela minha reserva e que não só apenas a da foto. Fiquei bem triste na hora, informei que não era o que eu havia fechado e prontamente me ofereceram um quarto melhor, que ainda não era o que eu havia visto mas que também era muito bom. Aconselho colocar essa observação no site para que as pessoas tenham conhecimento. Além disso, na primeira noite ventava muito e a sombreira do quarto superior batia muito, o que foi impossível dormir. Tentamos contato com a recepção durante a madrugada e não tivemos apoio naquele momento, o que foi resolvido apenas quando já era de manhã. Aconselho ter um pronto atendimento 24hrs.
Verified Hotels.com guest review
나름좋음
직원분들은 아주아주 친절하심. 다만 숙소 사진 예시와는 많이 다름.
Verified Hotels.com guest review
친절
너무친절하게 모든걸챙겨줘서 만족함
Verified Hotels.com guest review
Beautiful place, Great service, Lovely location
Hotel are in the wonderfull location along the caldera. We had a luxury suite as like a villa with nice views from balcony. The bathroom tub has spa jets is appreciated. The breakfast was good and the reception desk is so kind: thanks mr. Wagellis. Overall the service was pleasant so kind and helpfull....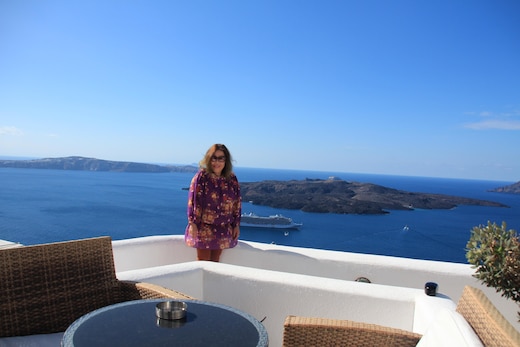 Verified Expedia guest review
Changed my room type individually. Aaaaaaaaaaaaaaaaaaaa
Verified Expedia guest review
Verified Expedia guest review
Verified Expedia guest review
Verified Expedia guest review
Verified Hotels.com guest review
Verified Hotels.com guest review
Verified Hotels.com guest review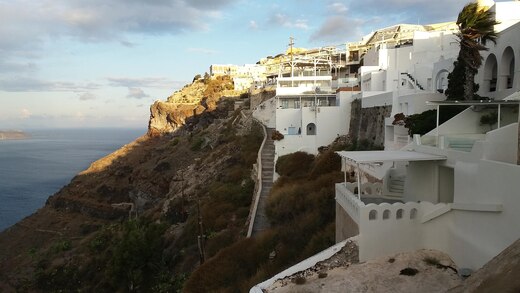 Verified Hotels.com guest review
Verified Hotels.com guest review
Reviews and ratings contained within this site are the subjective opinions of customers and suppliers; they do not represent or reflect Hotels.com's position. Neither Hotels.com nor the parties involved in providing review content shall be held liable for any damages of any sort resulting from use of these reviews