10 Best Free Things to Do in New Orleans
How to Experience New Orleans on a Small Budget
New Orleans is a city full of life and music. Known as the birthplace of jazz, it offers round-the-clock nightlife that goes hand in hand with its lively music scene. Its history as a melting pot of French, African and American cultures is reflected in its gorgeous architecture, unique cuisine and of course, the music.
The list of free things to do around New Orleans tends towards walks around neighbourhoods and visiting parks. As a city that lies along the sleepy Mississippi River, there's a relaxed atmosphere that surrounds all things in New Orleans, which is perhaps part of why it earned the nickname "The Big Easy" (though it's also known as NOLO). While it isn't the cheapest destination within the US, there are more than enough free things to do that take you around the city.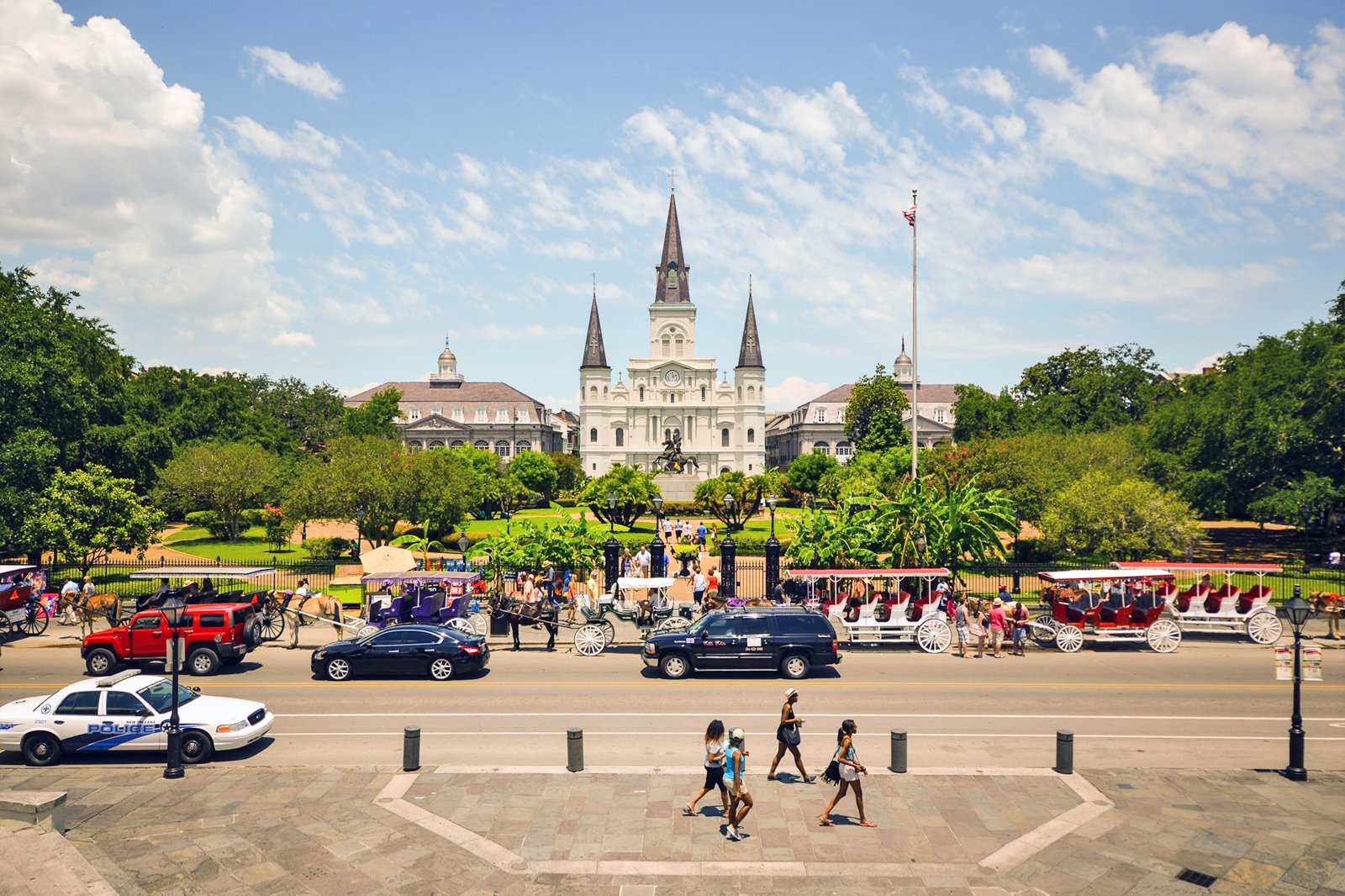 Jackson Square is a good place to start your day or rest your legs as you explore the French Quarter of New Orleans. This attractive park was declared a National Historic Landmark in 1960. It takes its name from the statue of Battle of New Orleans hero, Andrew Jackson, upon his horse with the grand, white St. Louis Cathedral in the background. The square is littered with greenery in the summer and gives off a perfectly coiffed aesthetic, as if out of a fairy tale. It's home to an open-air artist colony, where local artists paint, draw and display their artwork along the fencing.
Read more
Location: 700 Decatur Street, New Orleans, LA 70116, USA
Open: Daily from 8 am to 6 pm
Phone: +1 504-658-3200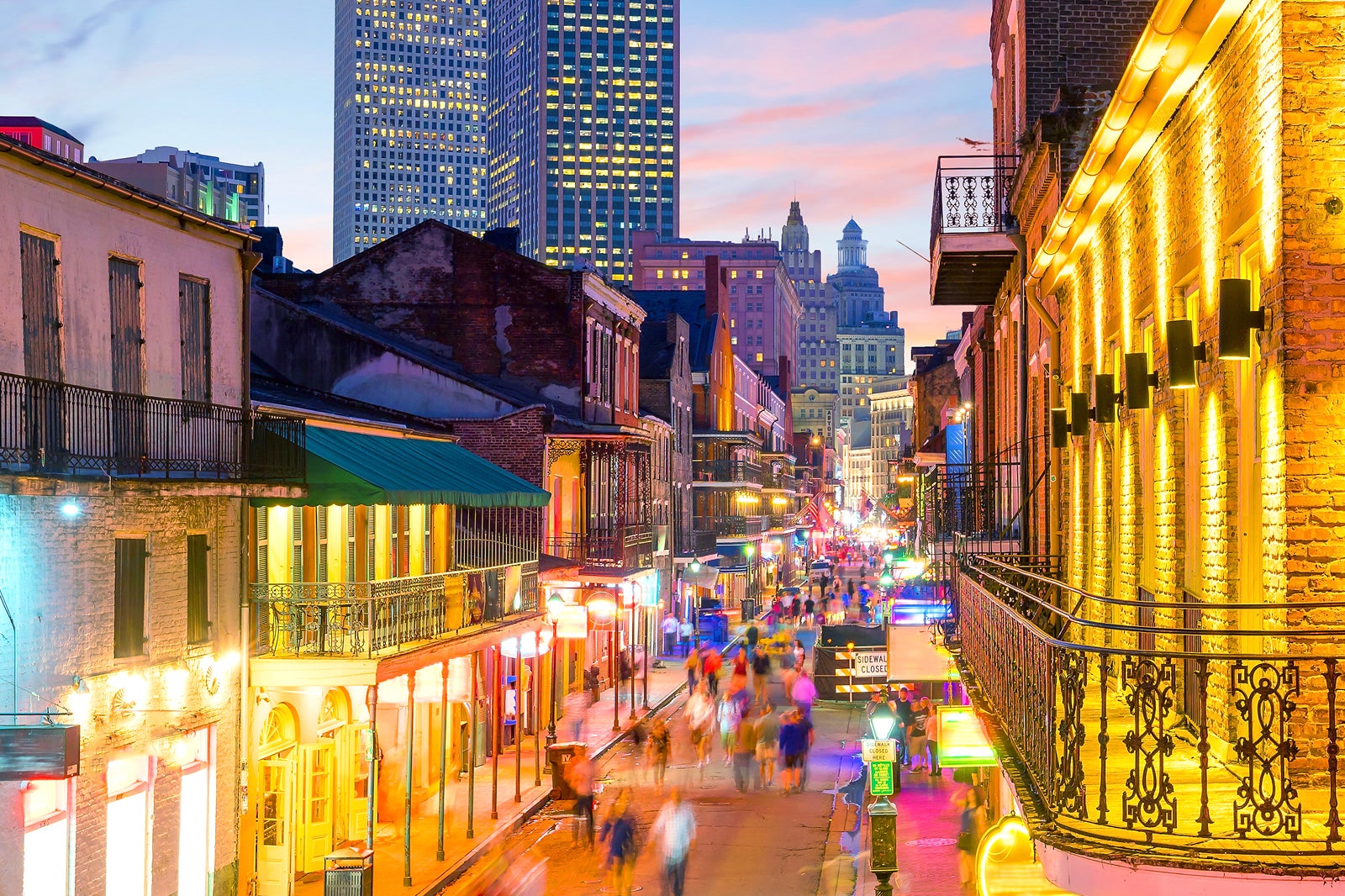 Bourbon Street brings you right through the middle of the French Quarter and is a perfect way to get a feel of the area's atmosphere. By day, there is a constant faint sound of music and chatter, the distant crashing of plates and cutlery and the frequent clatter of horse's hooves as they draw their carriages around the old roads. By night, the street is filled with music and has a golden glow of light. The 13-block-long street features many restaurants, cafés and shops. All buildings are smooth-cornered and wrapped in French-style balconies – quintessentially New Orleanian.
Read more
Location: 800 Decatur St, New Orleans, LA 70116, USA
3
Venture into one of the "Cities of the Dead"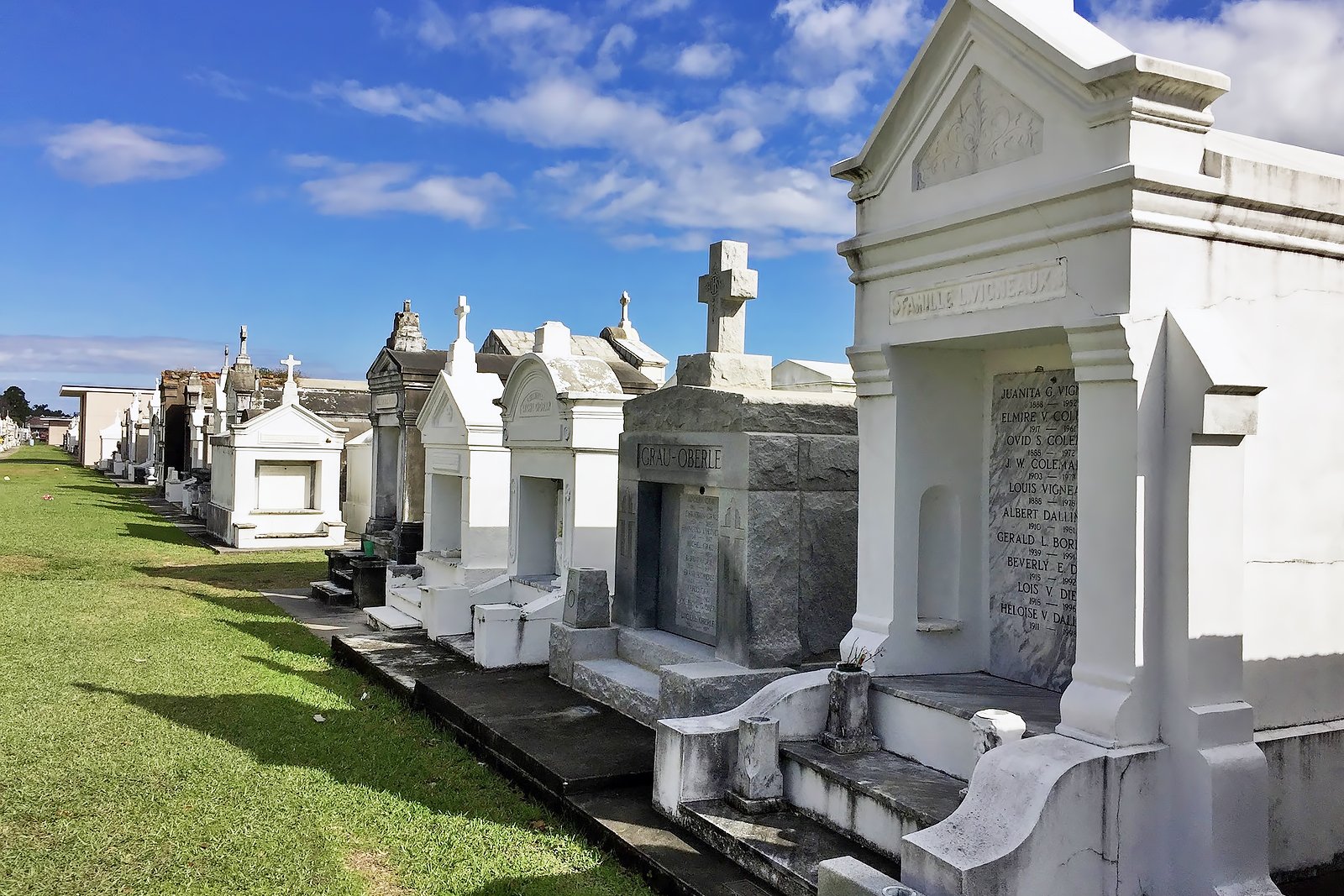 History
Photo
Budget
Unusual
The "Cities of the Dead" are rooted in New Orleans' affiliation with voodoo magic. Because the city is built on a swamp, the deceased cannot be buried underground. As a result, these "cities" feature elaborate above-ground stone crypts and mausoleums, which add to the eeriness of the cemeteries. Visitors can easily take a self-guided tour, with a daytime visit being preferable. The most frequently-visited graveyards include St. Patrick No.2, Lafayette Cemetery and St. Louis No.1, where the legendary "voodoo queen", Marie Laveau, is buried.
4
Watch boats pass by from Woldenberg Riverfront Park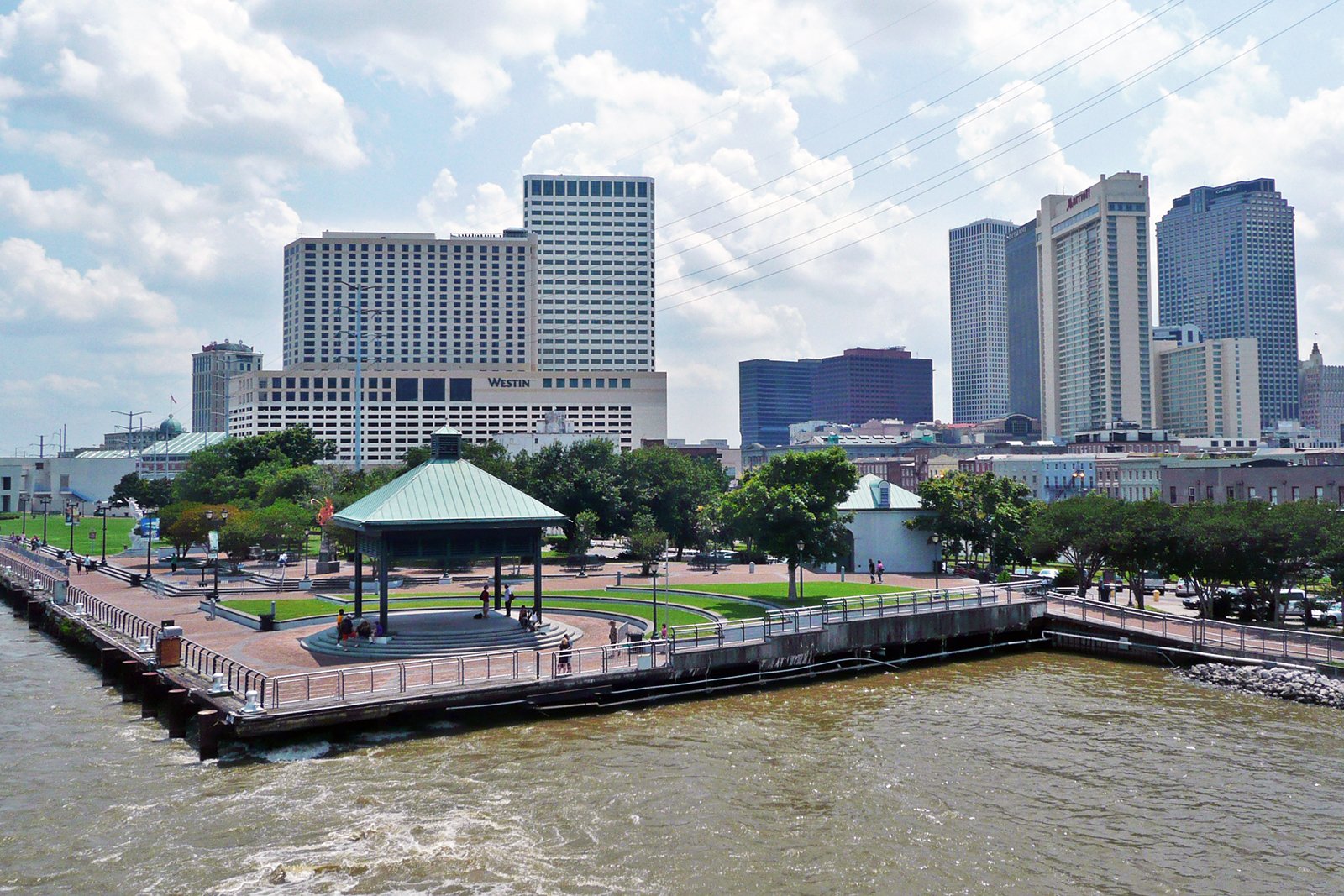 The Woldenberg Riverfront Park sits right along the Mississippi River and is a popular place for locals and tourists to relax. Art and statues litter its green spaces, one of the most notable being the Monument to the Immigrant. The many benches along the river are an excellent place to watch the boats and catch a breeze to relieve the Louisiana heat. The riverfront often hosts festivals, such as the Oyster Festival (which is typically held in June), so be sure to look out for any events.
Location: 1 Canal St, New Orleans, LA 70130, USA
Open: Daily from 10 am to 8 pm
photo by Tom Bastin (CC BY 2.0) modified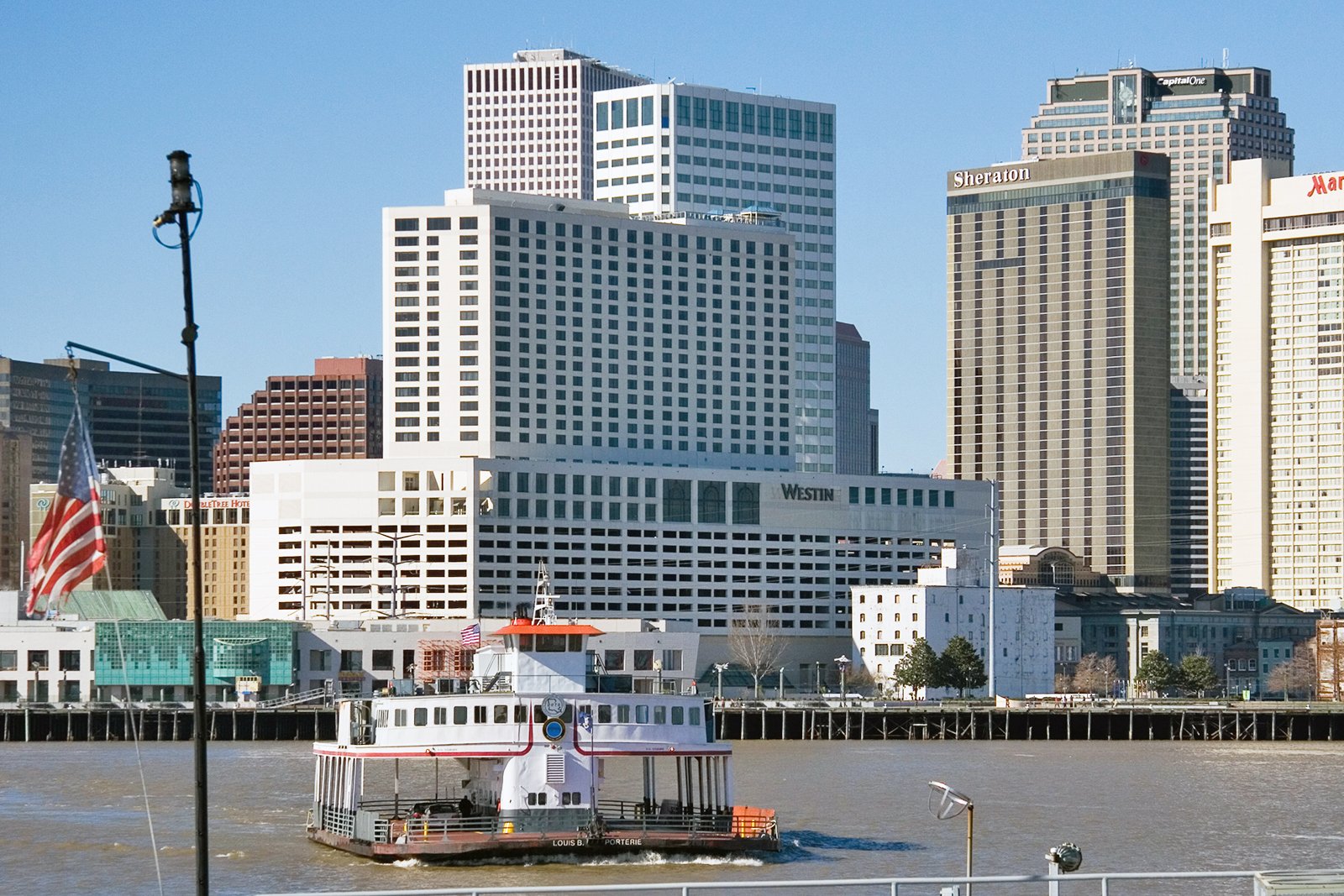 The Algiers Ferry is a pleasant way to enjoy all New Orleans has to offer – from afar. The ferry, starting from Eastbank on Canal Street, gives visitors a close-up view of the Mississippi River, as well as lovely views of the city's old and new areas. The trip offers a cooling river breeze and is a must if you want to travel quickly from Eastbank to Westbank. The view of the downtown city skyline is definitely something to capture as you head towards Algiers. Once you've left the ferry, you should roam around Algiers Point – one of the oldest parts of New Orleans' Westbank area.
Location: 1 Canal St, New Orleans, LA 70130, USA
photo by Kimon Berlin (CC BY-SA 2.0) modified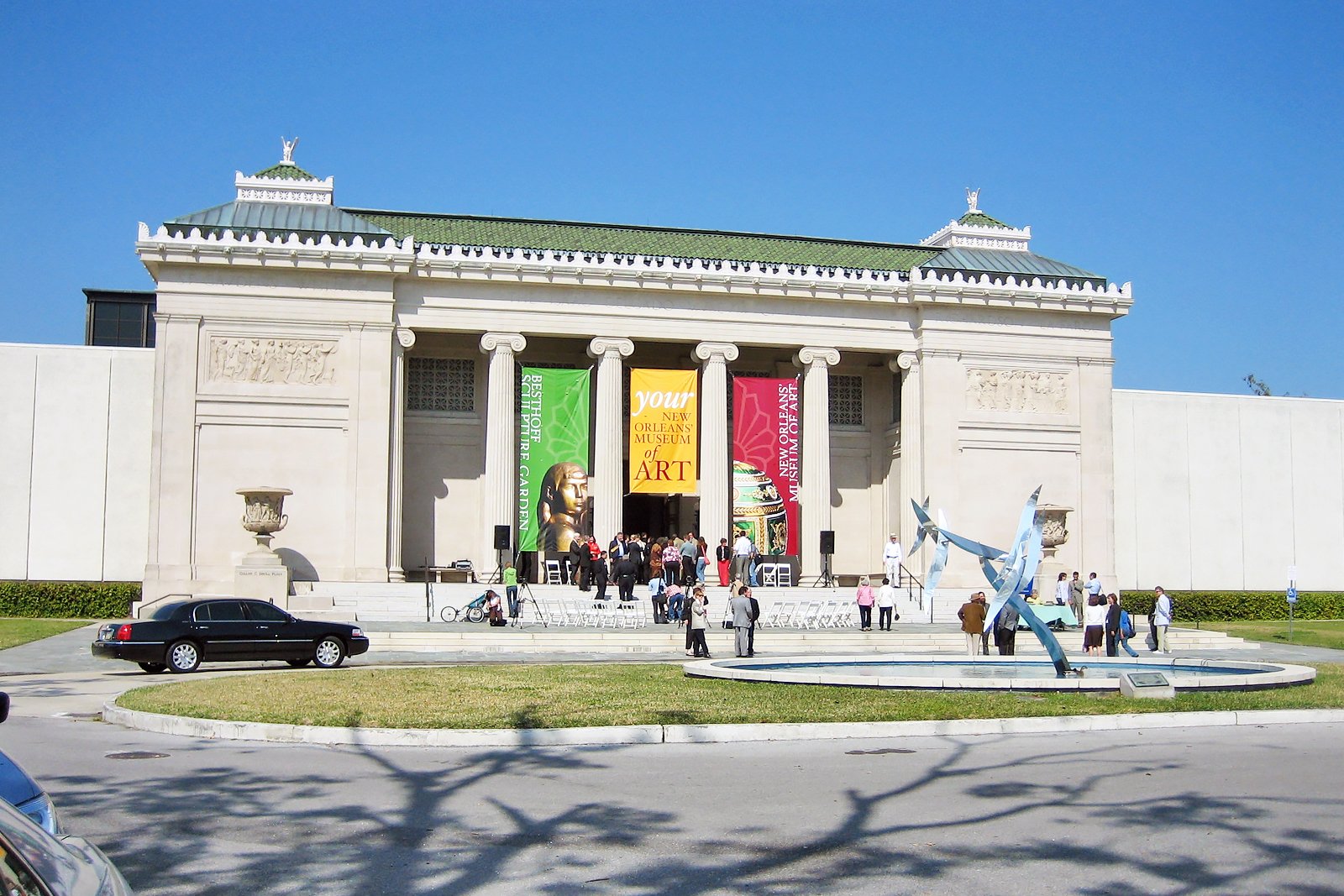 Nestled in the green of City Park, New Orleans Museum of Art impresses in content and appearance. The 100-year-old museum holds art and antiquities ranging from the pre-Christian era to the present day, with strengths in French and American art. The museum offers free admission every Wednesday to both the main museum and the gardens. Architecturally, the building is reminiscent of a Roman-style museum, with touches of modern features. Its tall, neoclassical columns provide a backdrop to the modern sculpture that sits ahead the entrance. The 5-acre Besthoff Sculptural Garden is impressive and enchanting, with over 60 sculptures surrounded by oak trees and an array of colourful flowers.
Read more
Location: 1 Collins Diboll Circle, New Orleans, LA 70124, USA
Open: Daily from 10 am to 6 pm
Phone: +1 504-658-4100
photo by Infrogmation of New Orleans (CC BY 2.0) modified
7
Lay under 100-year-old oak trees at Audubon Park or City Park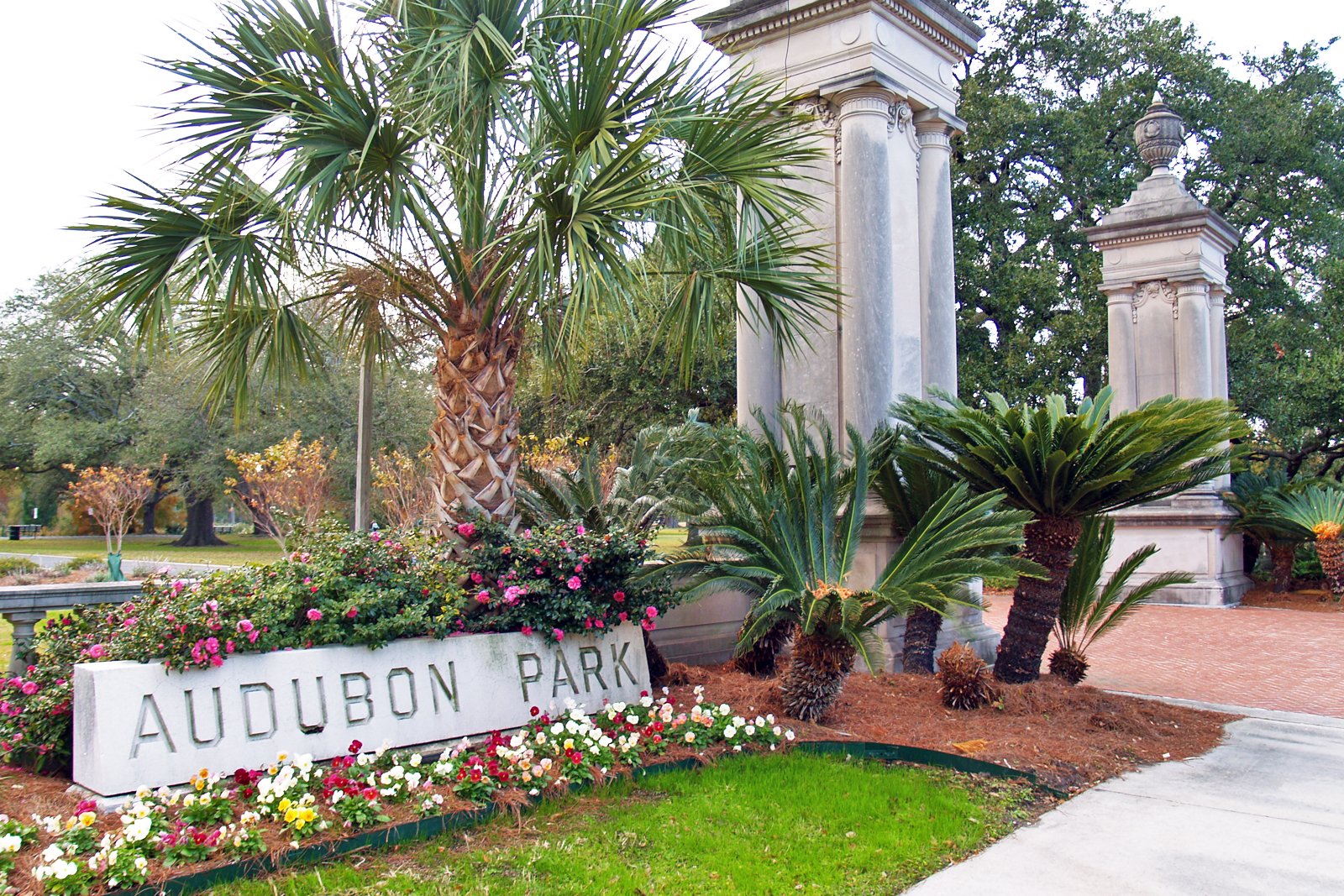 Couples
Families
Photo
Budget
What sounds better than escaping the heat and lying in the cool shadow of a great old oak tree? Audubon and City Park are both littered with ancient oaks that tower over the ground. Audubon Park is located in Uptown and has a golf club, riding stables, tennis courts, soccer fields, playgrounds and other attractions. City Park is one of the nation's oldest urban parks and has a sculpture and botanical garden, golf club, tennis court and a one-of-a-kind antique wooden carousel. The picturesque moss canopies work with the grand oak trees to create a truly peaceful environment. Both parks are green, grand and historical, and definitely worth getting lost in.
photo by Chad Carson (CC BY-SA 3.0) modified
8
Catch the sunset at Lakeshore Drive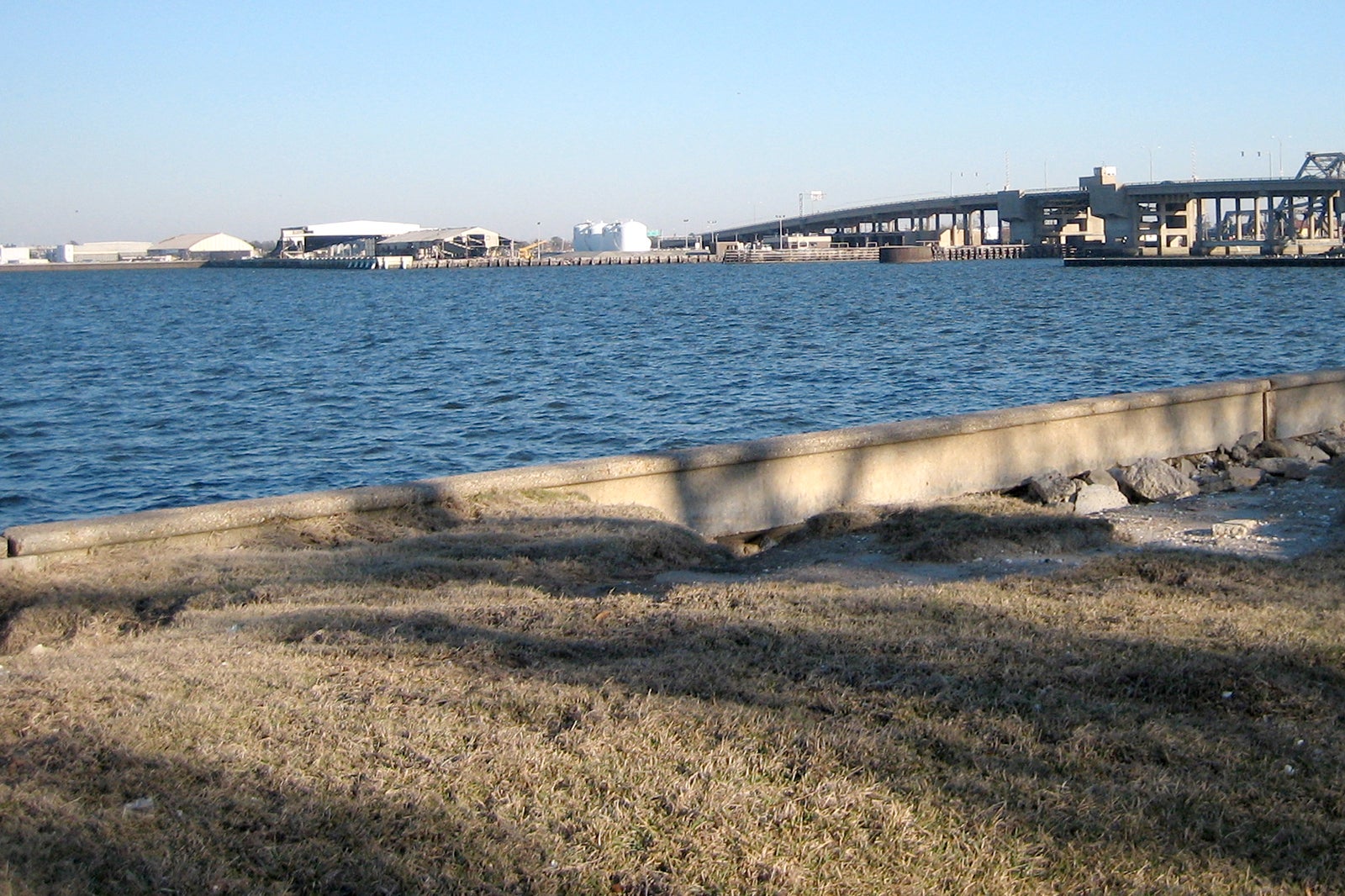 Lakeshore Drive is visited by many wanting to catch the last few rays of the day. Found along the shores of Lake Pontchartrain, the road is lined with skinny palm trees and benches, making it a relaxing place to people-watch. It can get particularly hot here during the day, so it's best to go around sunset, both for the view and the cooler atmosphere. If the weather isn't on your side, it's worth coming to watch a storm roll in – but be careful not to get caught in it.
Location: Lakeshore Drive, New Orleans, LA 70122
photo by Infrogmation (CC BY 2.5) modified
9
Snap a picture of jazz icons in the Musical Legends Park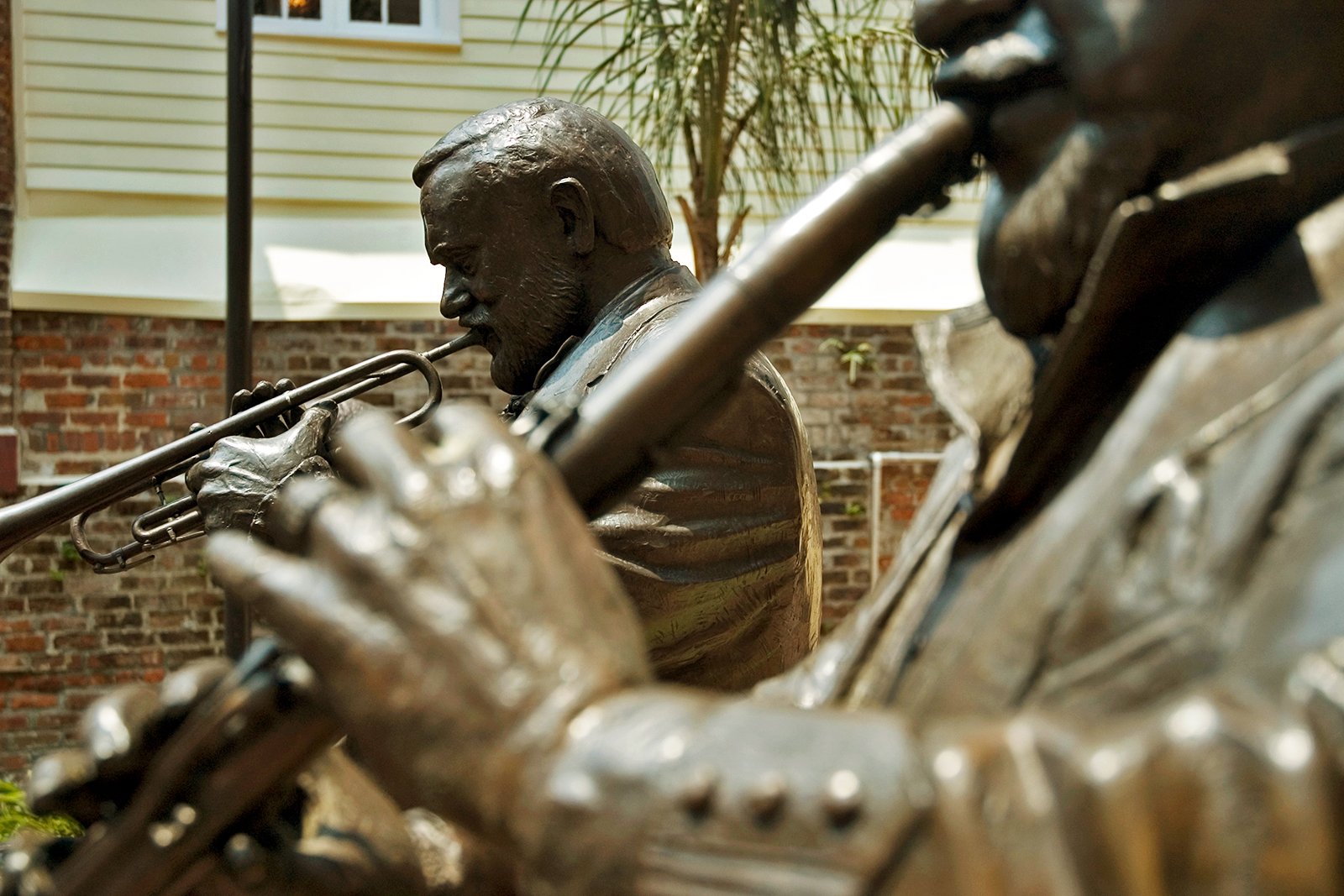 New Orleans is largely known as the birthplace of jazz music, and the Musical Legends Park honours that label. The park is a good way to take in the musical history of the city. It's decorated with commemorative displays, plaques and artworks of multiple jazz legends. Located on Bourbon Street, visitors can rest up while enjoying performances by local bands who come daily. The atmosphere is carefree, and visitors are only concerned with enjoying the music that surrounds them.
Location: 311 Bourbon St, New Orleans, LA 70130, USA
Open: Daily from 8 am to 10 pm
10
Take a look at the beautiful historical mansions of St. Charles Avenue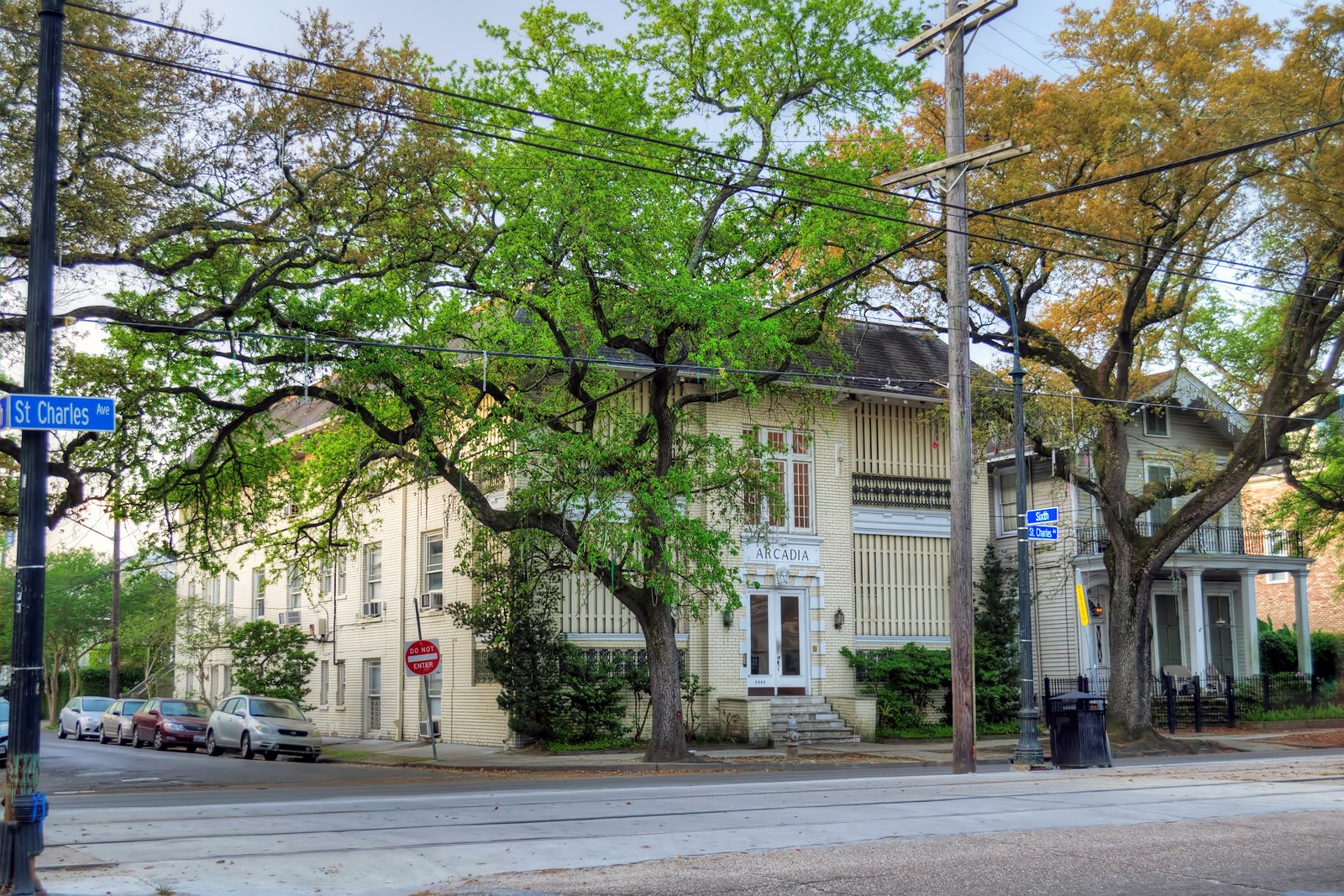 Described as "The Jewel of America's Grand Avenues", St. Charles Avenue stretches right from Uptown to Downtown. It offers one of the most impressive selections of historic mansions in the South, and is a great example of the architecture of 19th century New Orleans. As you stroll down the Avenue, the grandeur of the mansions is intimidating. The stately buildings once housed the most prestigious families in the city, which is reflected in their ostentatious style. Self-guided and guided tours are available to tell you of the unique history of each building. These typically New Orleanian mansions, coupled with the St. Charles streetcar, create a postcard-worthy snap.
Location: 311 Bourbon St, New Orleans, LA 70130, USA
photo by Mike Tilley (CC BY 3.0) modified
Why book with Hotels.com?