10 Best Things to Do After Dinner in Santa Monica
Where to Go in Santa Monica at Night
There are plenty of things to do after dinner in the beachside city of Santa Monica. Its famous Santa Monica Pier and Third Street Promenade are ideal places to wander, shop and stop for a drink, while lively bars and upscale sea-view lounges offer plenty of choices for unwinding after dinner.
Santa Monica is also sprinkled with a diverse range of cultural, art and live music venues to enjoy like the Bergamot Station Arts Center, home to several art galleries, and the World War II-era Aero Theatre. If you're in search of places to go in Santa Monica after dinner, we have a few ideas below.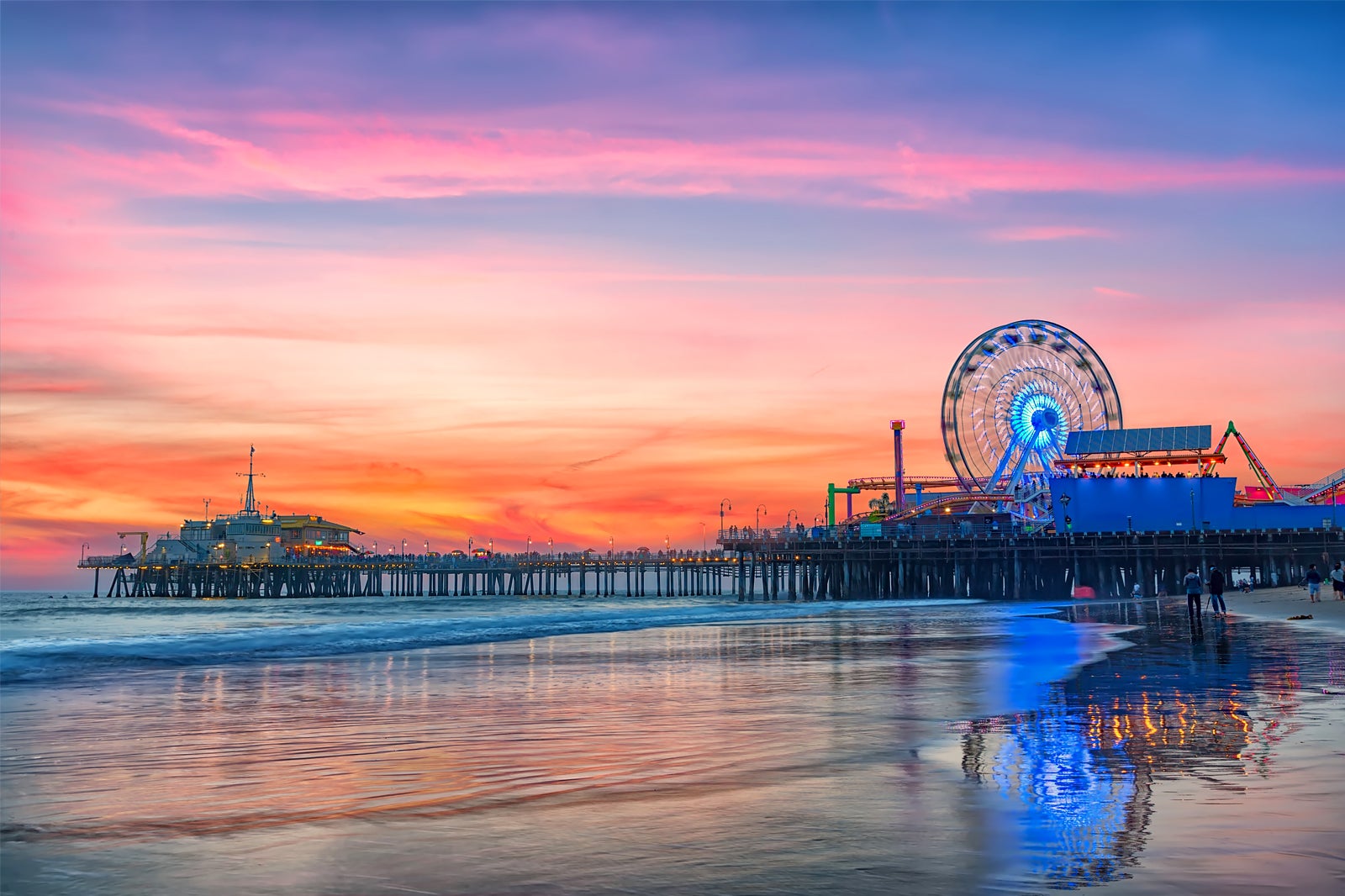 Nightlife
Families
Photo
Budget
Santa Monica Pier might feel familiar to anyone visiting this prominent city landmark, which has been featured in numerous Hollywood movies and TV shows. Aside from the scenic ocean views, the pier has a host of activities to enjoy, from games and carnival rides at Pacific Park to watching local fisherfolk reel in their daily catch.
Of course, there's plenty to buy along the pier's walkway, too, whether you need an ice cream cone, a tie-dyed shirt, or a quirky souvenir. The pier is free to enter, but there's a fee for Pacific Park and the Santa Monica Aquarium.
Read more
Location: 200 Santa Monica Pier, Santa Monica, CA 90401, USA
Open: Daily from 10 am to 8 pm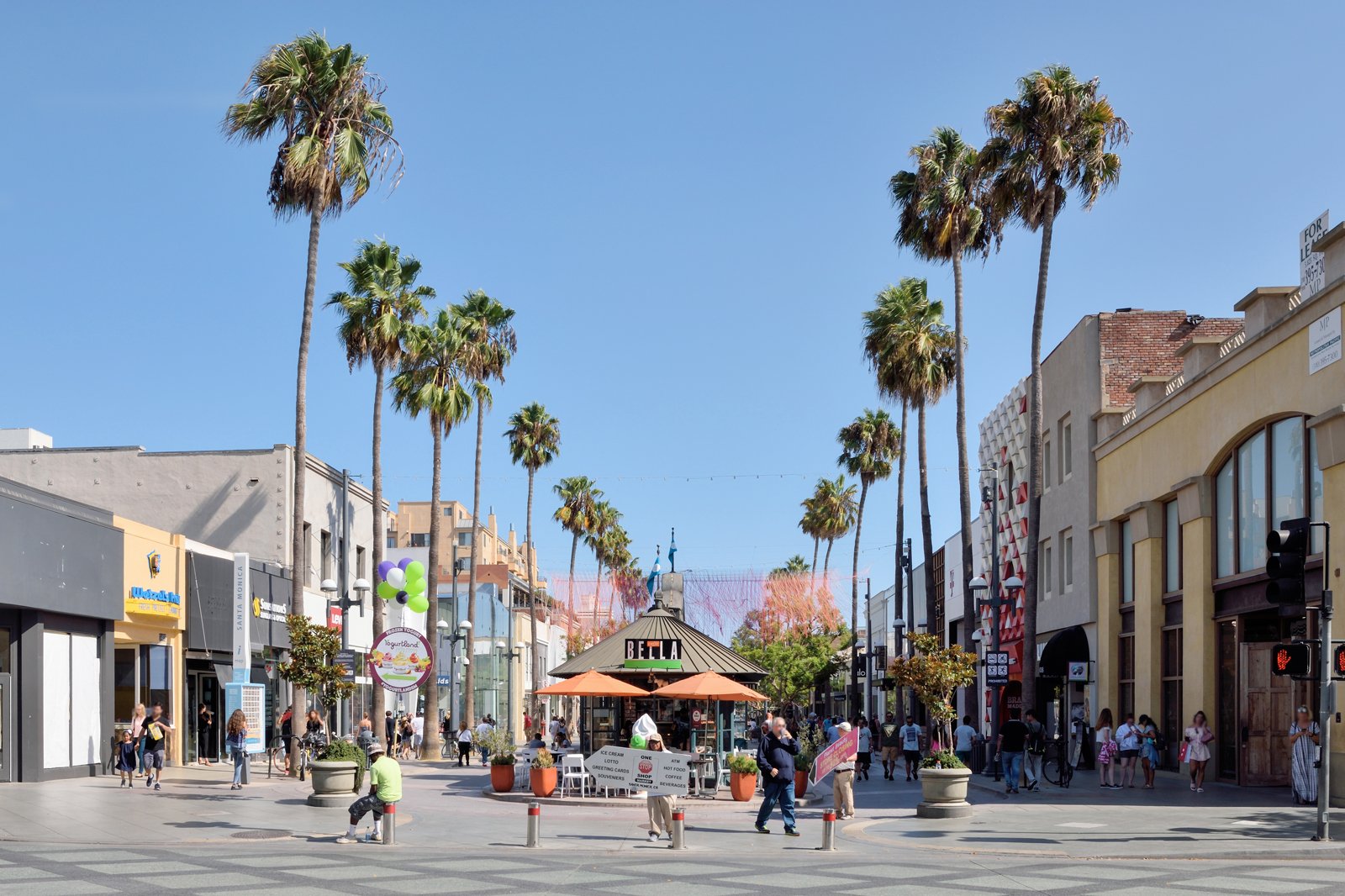 While many know Los Angeles for having a car-worshipping culture, Santa Monica's Third Street Promenade defies expectations by offering an outdoor shopping area that's blissfully car-free. Located near the Santa Monica Pier, the 3-block-long promenade has a mix of brand-name stores, local designer boutiques, cinemas and bars.
It's a great spot for people-watching in the evening hours, especially when the local street performers turn out their talents for the crowds. While some of the shops shut down at night, Third Street Promenade remains open 24/7.
Read more
Location: 1351 3rd Street Promenade, Santa Monica, CA 90401, USA
photo by Cayambe (CC BY-SA 4.0) modified
3
Bowlmor
Fun family-friendly spot with a nightclub vibe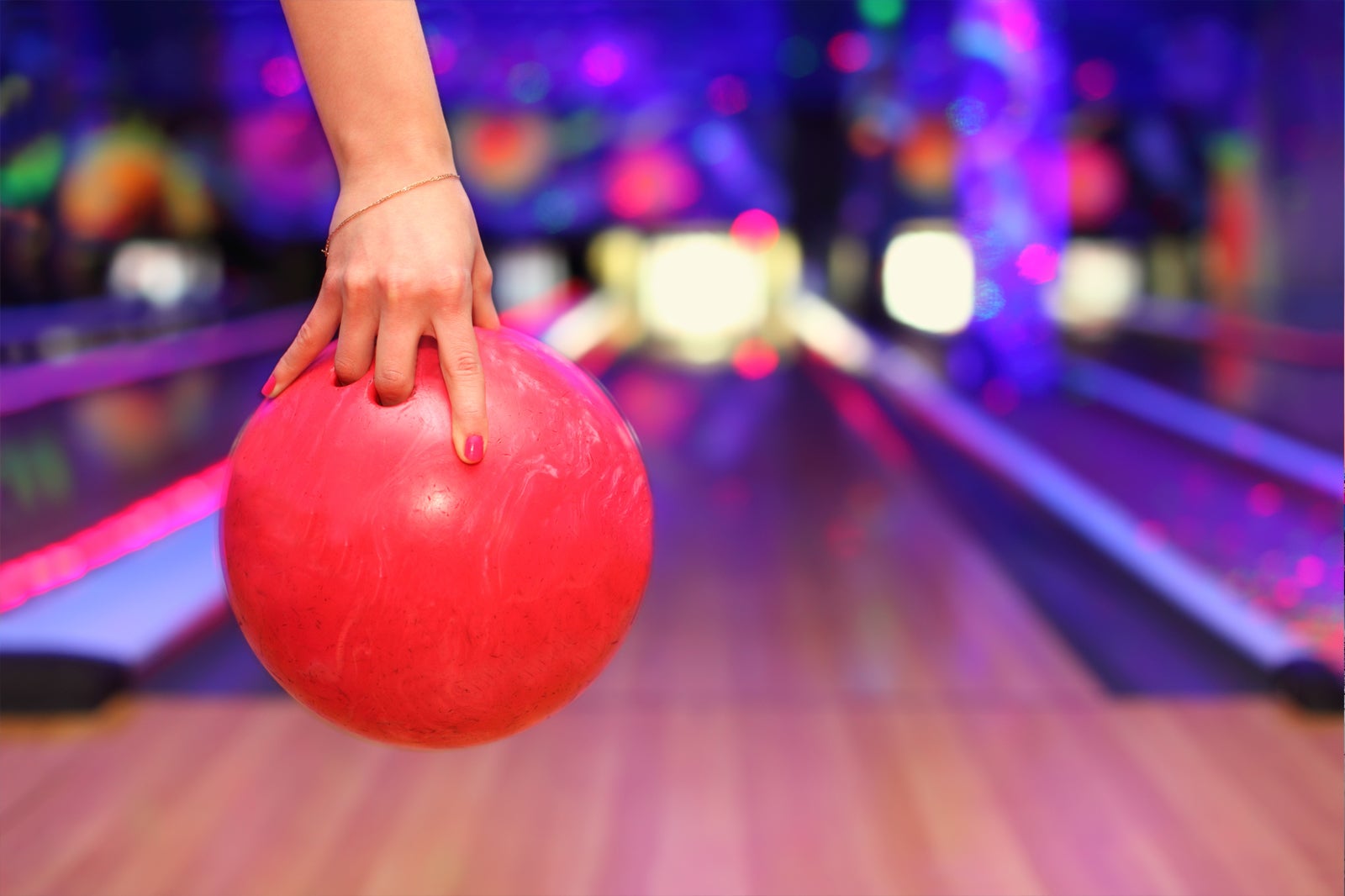 Bowlmor attracts those in search of a place to bring the kids at night in Santa Monica. Housing a 24-lane bowling alley and arcade games, the venue's stylish design, black lights and HD video walls have done their bit to make bowling cool again.
There's also a sports bar where you can catch live events on several screens while enjoying craft beer and local brews. Save money by visiting on a Monday, when Bowlmor's 'Monday Mayhem' specials include unlimited bowling and discounted arcade cards.
Location: 234 Pico Blvd, Santa Monica, CA 90405, USA
Phone: +1 310-399-7731
4
McCabe's Guitar Shop
Tiny but terrific live music venue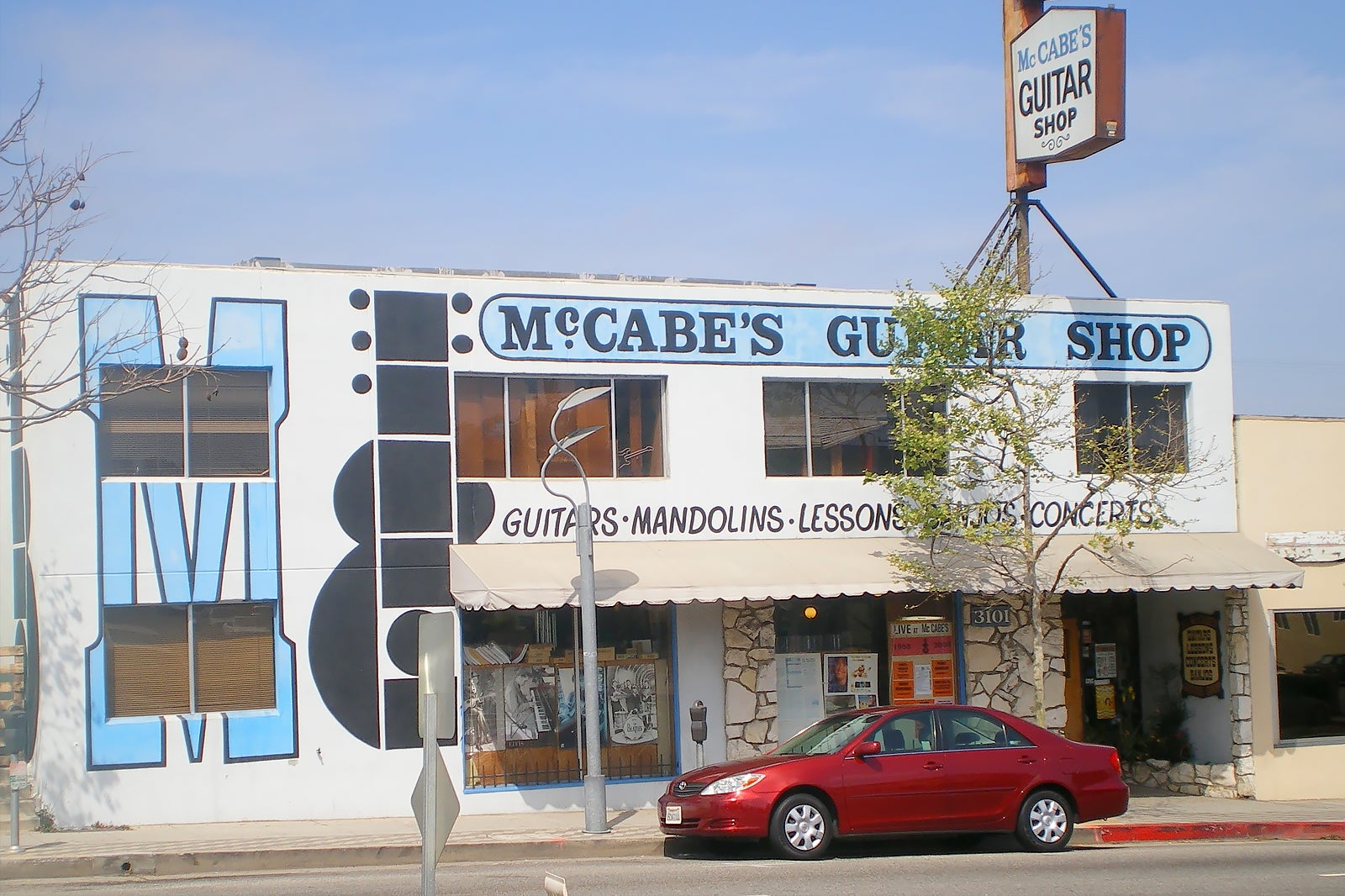 McCabe's is well-known for its great selection of guitars for sale, but the shop's backroom transforms into a lively little music venue as night falls. It has been hosting excellent shows since it first opened in the late 1960s, in a small room that can hold only 150 folding chairs.
It's been the site of some rocking performances over the years, including big-name artists like R.E.M., Bruce Springsteen and Elvis Costello. Concert tickets can be bought in advance at McCabe's shop or online on its website.
Location: 3101 Pico Blvd, Santa Monica, CA 90405, USA
Open: Daily from 11 am to 7 pm (opens later on concert days)
Phone: +1 310-828-4497
photo by Cbl62 (CC BY-SA 3.0) modified
5
Aero Theatre
One of the few remaining single-screen theatres in the area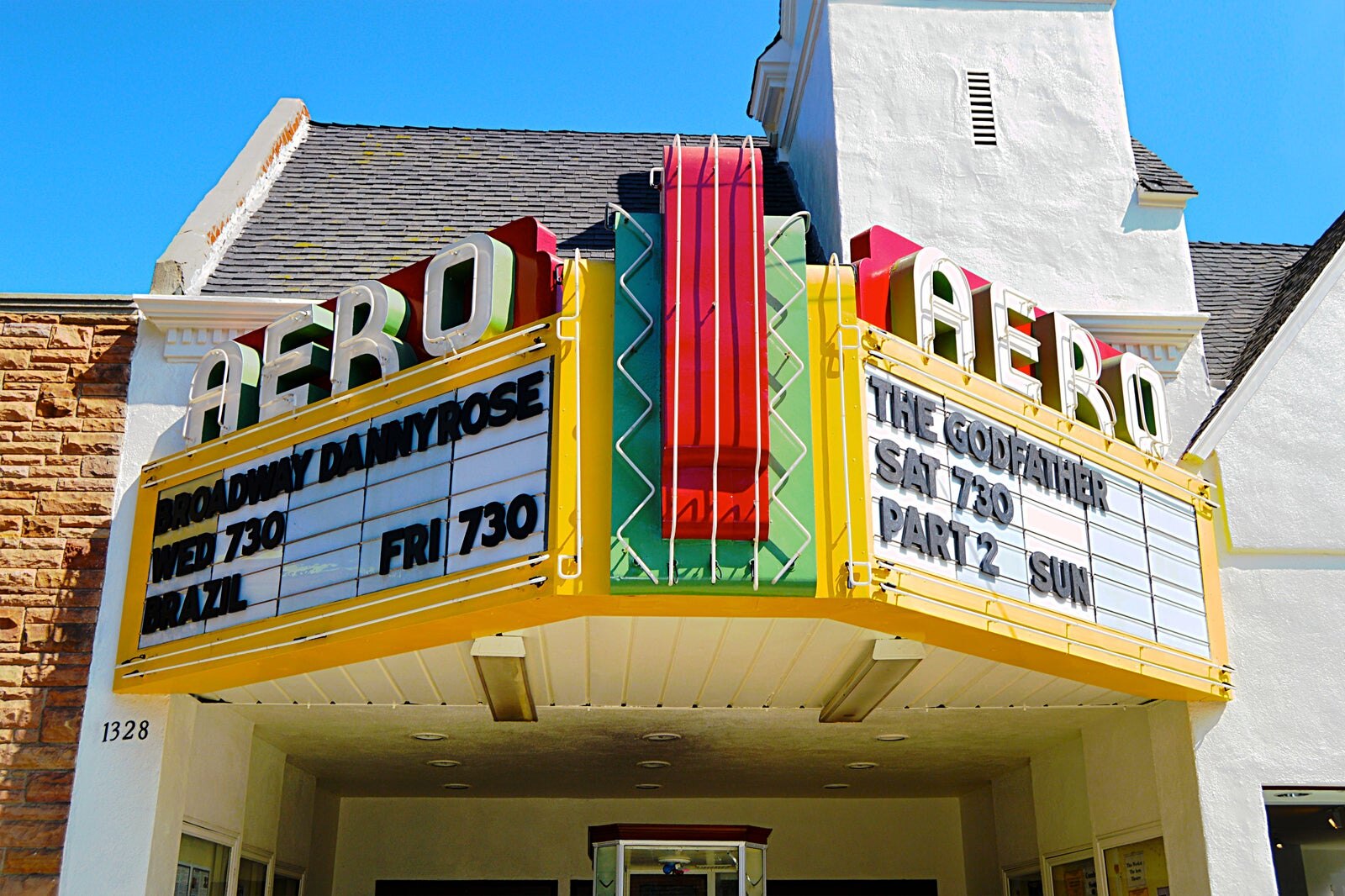 Aero Theatre has been a top spot to watch movies since it was first opened back in 1940. Its aerospace-themed name was meant to appeal to employees of the nearby Douglas Aircraft Company.
In the early 2000s, the theatre fell into disrepair and was closed for a time. After an extensive renovation, it was reopened in 2005 and officially called the Max Palevksky Theatre. However, it's still best known as the Aero. Besides showing the latest Hollywood releases, the theatre also hosts various film festivals and events throughout the year.
Location: 1328 Montana Ave, Santa Monica, CA 90403, USA
Phone: +1 310-260-1528
photo by Emily Mathews (CC BY 2.0) modified
6
Chez Jay
A dive bar and movie star hangout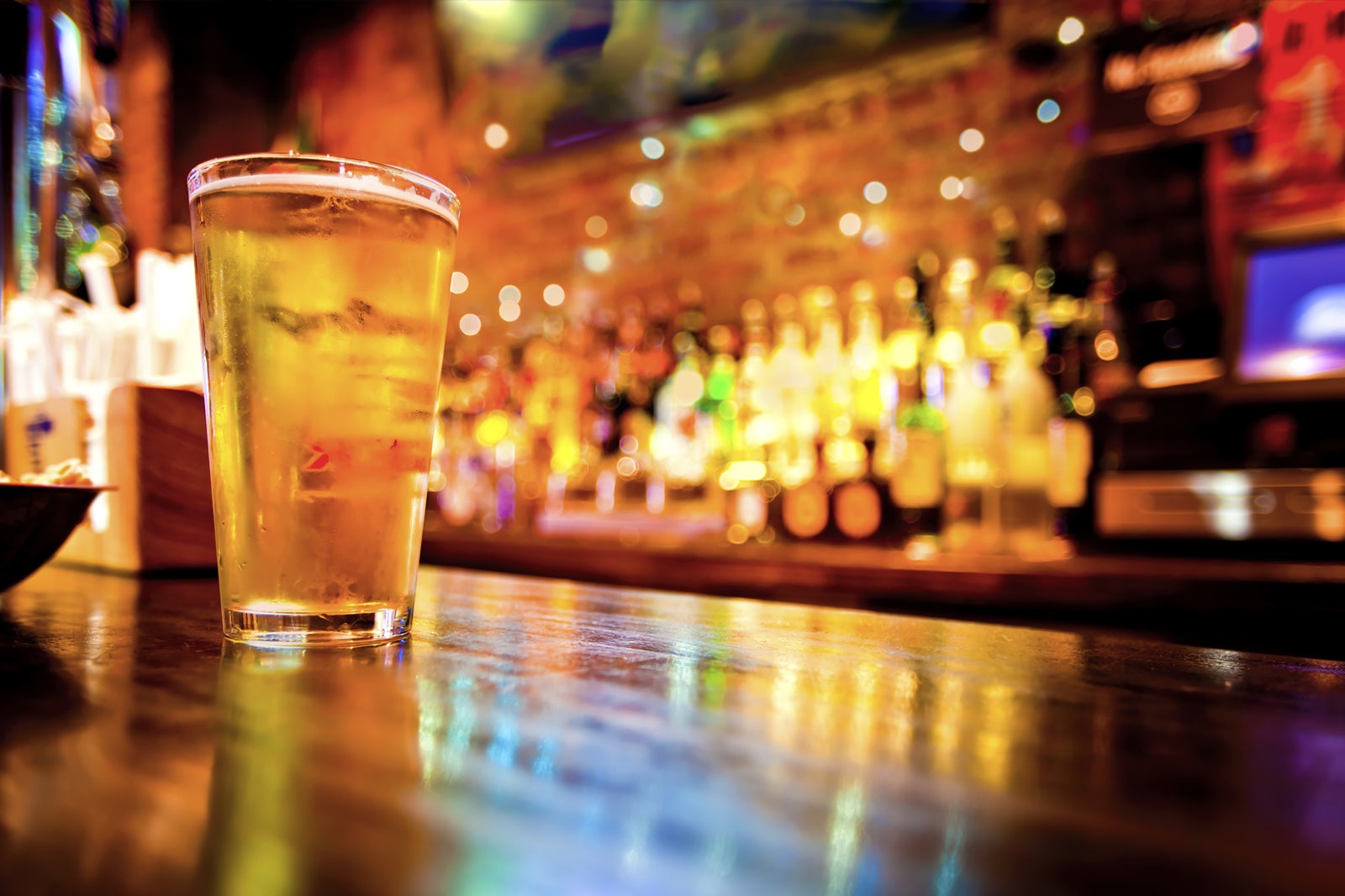 Chez Jay is a classic dive bar overflowing with character, from its cosy, peanut-shell-strewn interior to its larger patio space called the Backyard. Many come here to enjoy its famous steaks and seafood. Even the odd celebrity can be seen here, mingling among the punters.
The original owner, Jay Fiondella, was known for confiscating cameras and tossing out any would-be paparazzi who tried to snap a shot of prominent stars – Frank Sinatra and Steve McQueen were some of its previous customers. Chez Jay is found half a block away from Santa Monica Pier and within easy walking distance from many restaurants and hotels.
Location: 1657 Ocean Ave, Santa Monica, CA 90401, USA
Open: Wednesday–Friday from 3 pm to 10 pm, Saturday from 2 pm to 12.30 am, Sunday from 2 pm to 10 pm
Phone: +1 310-395-1741
7
The Basement Tavern
An underground whiskey bar with a speakeasy vibe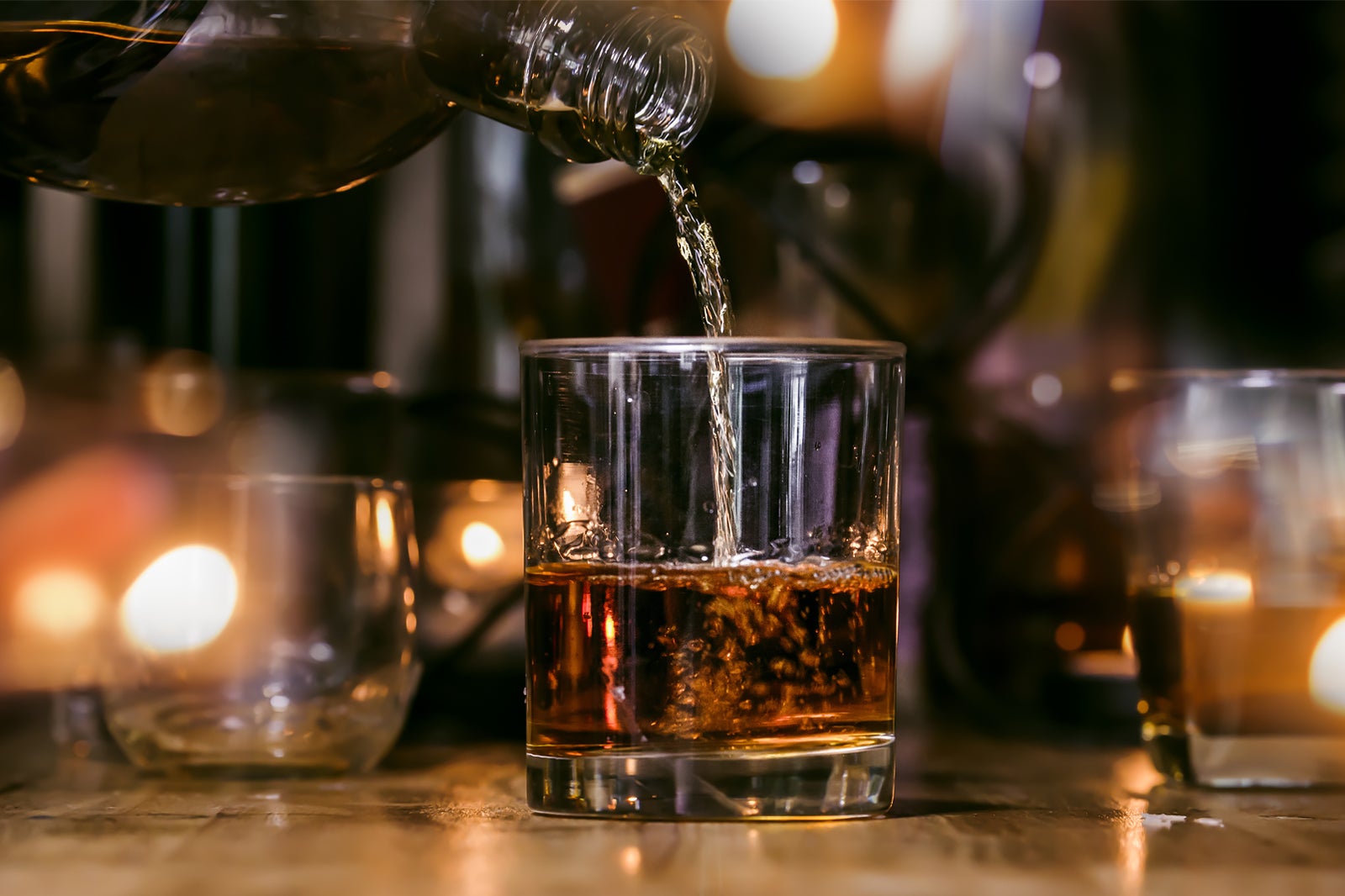 The Basement Tavern is a bit tricky to get to, with its 'secret' entrance accessible through a carpark, but once you arrive the bar's warm, welcoming ambience makes it easy to settle in. Set in a converted subterranean wine cellar, the tavern offers a wide range of whiskey and cocktail drinks for you to enjoy in a retro interior with plush green sofas and vintage chandeliers.
Generous happy hours run from 5 pm to 8 pm nightly, while most nights host live music from 10 pm onwards. Expect to wait in line to get in, especially if you arrive after the music starts.
Location: 2640 Main St, Santa Monica, CA 90405, USA
Open: Daily from 5 pm to 2 am
Phone: +1 310-396-2469
8
Bergamot Station Arts Center
More than 20 art galleries and creative venues to explore
The Bergamot Station Arts Center specialises in all things creative, offering a mix of galleries and venues showcasing a range of artistic talents. The centre's galleries and businesses hold events and exhibitions with local and international artists throughout the year, and there's free entry to all.
Stop by the Building Bridges Art Exchange to see its current exhibits or have the chance to join a talk led by some of their artists in residences. Bergamot is also home to City Garage Theatre, which puts on both contemporary and classic theatre shows throughout the year.
Location: 2525 Michigan Ave, Santa Monica, CA 90404, USA
Phone: +1 310-393-9653
9
Santa Monica oceanview lounges
Chilled cocktails and classic California seaside sights
With Santa Monica perched at the edge of the Pacific Ocean, you'd be amiss not to spend at least some of your holiday time here at lounges that make the most of the spectacular views and sea breezes. Some of the city's hotels have sensational sea-view bars, such as The Penthouse at the Huntley Hotel. Floor-to-ceiling windows offer panoramic ocean vistas – you could even book a private white booth table for better views.
Find a spot on the outdoor deck for prime ocean views at The Bungalow in the Fairmont Hotel or sip cocktails on Élephante Beach House's rooftop while taking in the scene of towering palms and the ocean.
10
Barkowski
A place to unleash your inner drunk poet
Barkowski is a no-frills bar dedicated to the life of Charles Bukowski, the late LA-based poet and short story writer. Its retro atmosphere pays homage to the writer, whose boozy exploits in the 1970s and 1980s were as legendary as his poems.
Barkowski is dimly lit with black walls and bright red leather sofas, offering a food menu of only burgers, Lay's potato chips and Fritos. You can enjoy a cold brew while hatching plans for the next great American novel about cheating hearts and hoodlums living rough.
Location: 2819 Pico Blvd, Santa Monica, CA 90405, USA
Open: Daily from 5 pm to 2 am
Phone: +1 310-998-0069
Back to top