10 Best Things to Do for Couples in Tampa
Tampa's Most Romantic Places
Our list of the best things to do for couples in Tampa will appeal to romantic travellers with a wide range of interests. From dreamy sunsets and stunning beaches to ritzy rooftop bars, Tampa is a wonderful city for a lovers' escape. The city's intriguing mix of natural wonders and urban sights offers the best of both worlds for couples.
Kayaking through the Little Manatee River, cruising around Tampa Bay and horseback riding on the beach are just a few of the romantic things to do in Tampa. Whether your sweetheart loves nature, adventure, or the finer things in life, Tampa has plenty of choices for an unforgettable holiday. Check out Tampa's most romantic places, below.
1
Tampa Dinner Cruise
Have a romantic meal and glass of wine while cruising the bay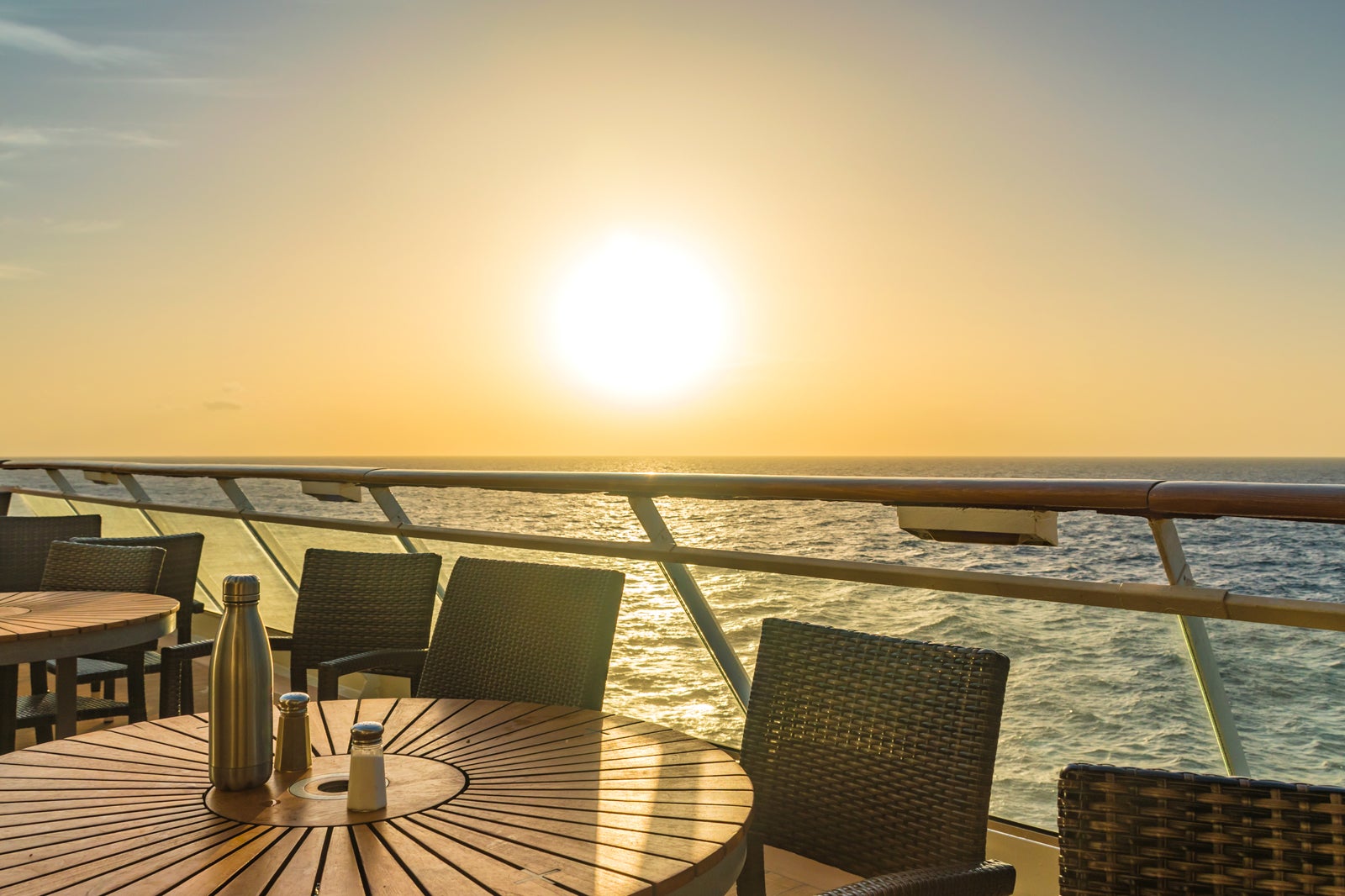 Watching the sunset on a Tampa dinner cruise is one of the best ways to kickstart a romantic evening. Tampa offers some of the most alluring sunsets anywhere in Florida, and couples can witness the awe-inspiring spectacle in each other's arms. There are numerous companies offering cruises on Tampa Bay, and couples can enjoy dancing, a 3-course meal, or celebrate the occasion with a glass of wine.
Many cruise packages provide couples with exclusive amenities and have the option of including more privacy. There is often on-board entertainment or an open-bar service, depending on the type of dinner cruise you book. Also, don't forget to check the dress code to ensure you get in the right mood, matching the setting.
2
Honeymoon Island State Park
Walk along the beach while searching for native wildlife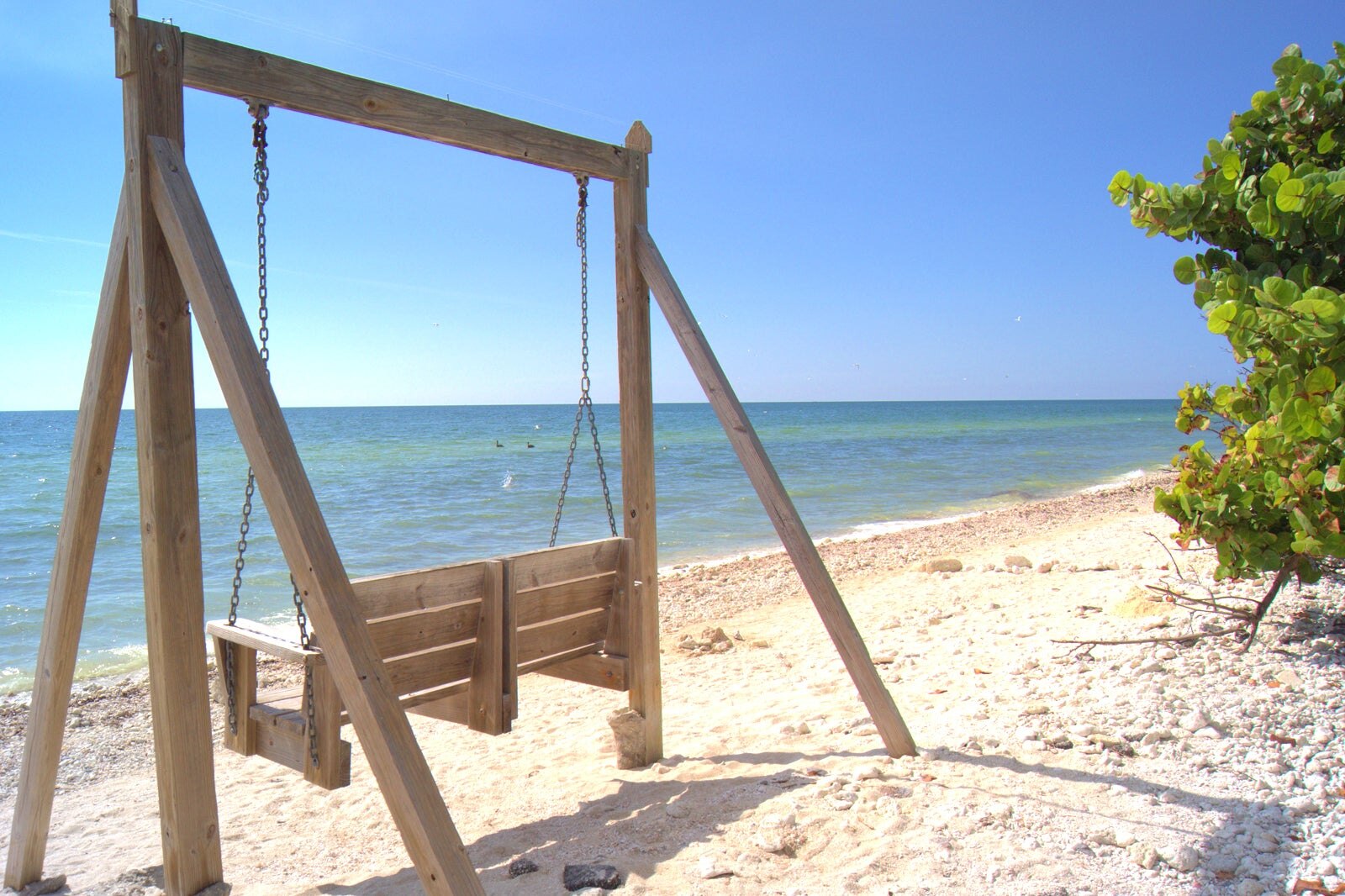 Honeymoon Island State Park is a picturesque escape for nature-loving couples. Roughly a 45-minute drive from downtown Tampa, the slither of land just off the Gulf Coast contains about 4 miles of breathtaking white-sand beaches for a romantic stroll. A nature trail around the island is a birdwatcher's paradise, revealing eagles, ospreys, and other majestic creatures. Watch the ground for critters like raccoons and armadillos scurrying around the forest.
Couples who love being active will find opportunities for hiking, cycling, swimming, surfing, and fishing in this unspoiled state park. The park has all the amenities you need for a relaxing picnic beside the warm waters of the Gulf of Mexico.
Location: 1 Causeway Blvd, Dunedin, FL 34698, USA
Open: Daily from 8 am to 8 pm
Phone: +1 727-241-6106
3
Couple's kayaking adventure in Tampa
Grab your paddles and float along crystal-clear waters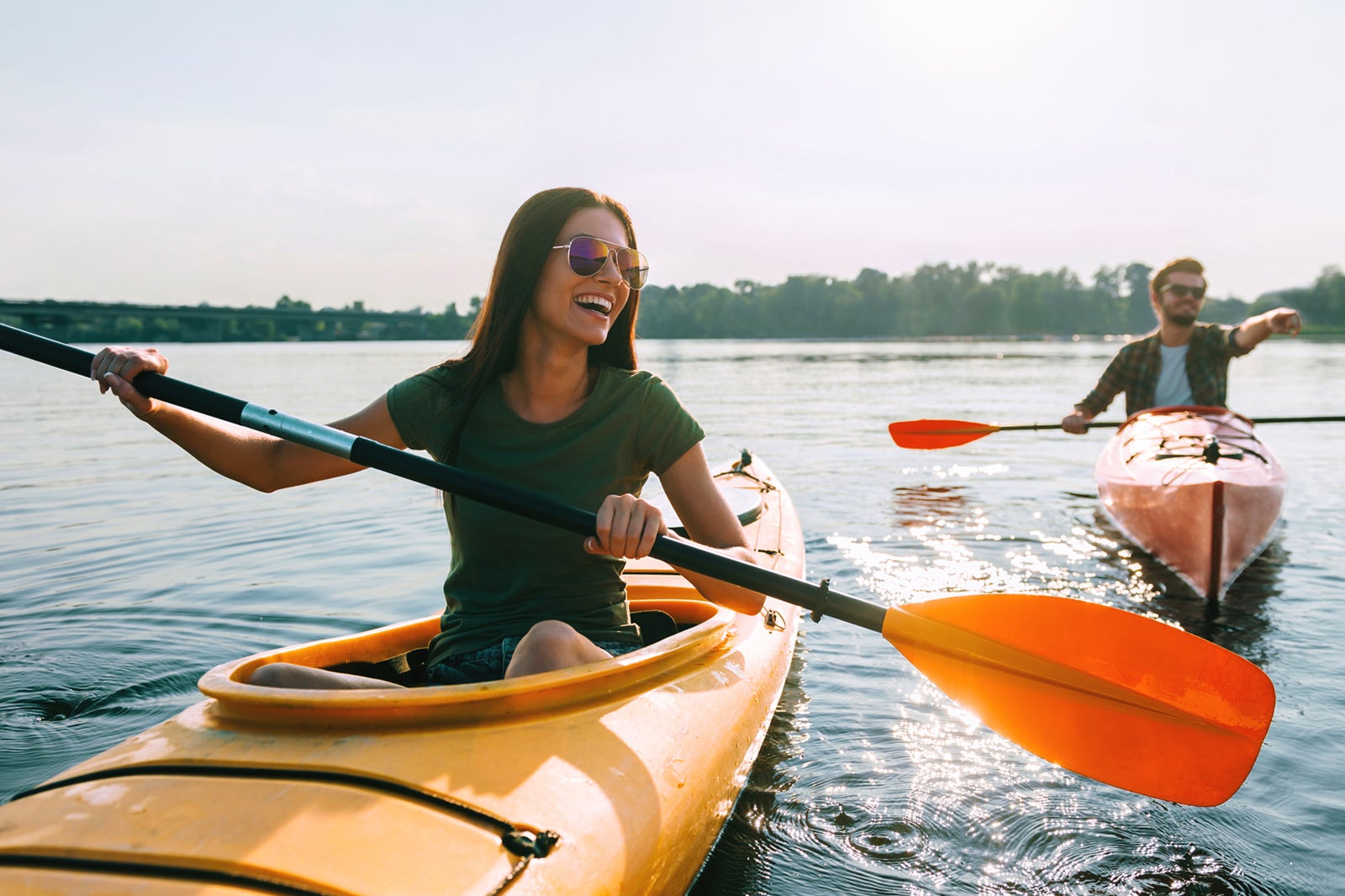 A couple's kayaking adventure is an exciting way to discover the scenic landscapes in the Tampa area. The weather is wonderful throughout the year, and there are lots of picturesque waterways you can easily reach from Tampa.
If you prefer urban kayaking more, you can paddle across Tampa Bay with the city's skyline in the distance. Nature-loving couples will be amazed by the shimmering waters, barrier islands, and wildlife of the Shell Key Preserve. Little Manatee River is only 30 minutes from downtown Tampa, and there are lots of kayaking tours for couples of all experience levels. Other beautiful kayaking locations include Tarpon Springs, Weedon Island Reserve, and the Hillsborough River.
4
Tampa rooftop bars
Enjoy a delicious meal served with incredible views of the Tampa skyline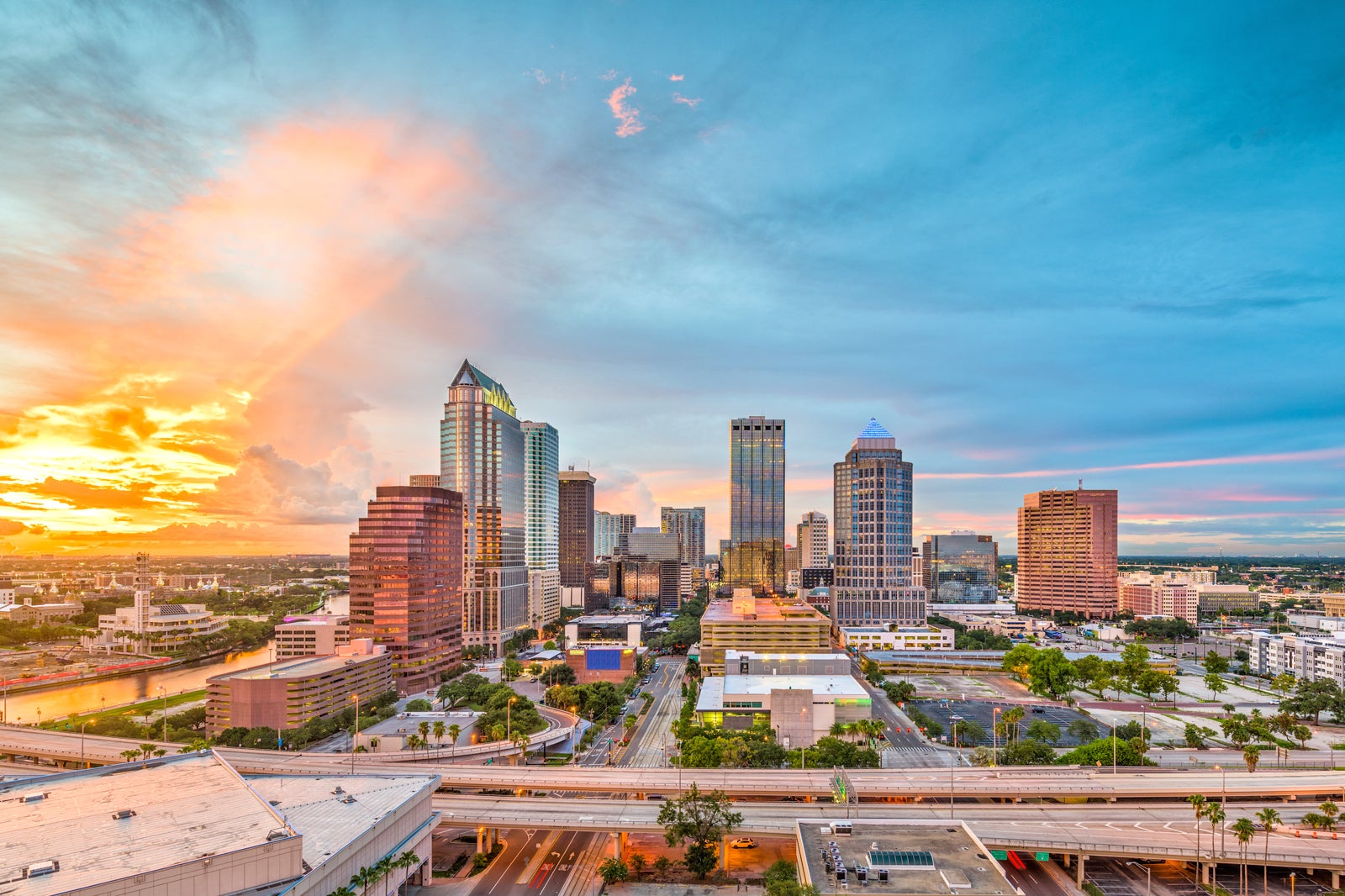 There are plenty of rooftop bars in Tampa, taking full advantage of nearly 250 days of sunshine per year and glorious city views. Many give you a glimpse of the Tampa skyline while you share a meal with your lunch date. The lively bar scene picks up energy during happy hour as patrons wait for the sunset.
Each rooftop bar has a unique character, and you'll find several venues tailored to couples looking for romance. Whether you and your partner are in the mood for a beer garden or cosy fire pits, Tampa will treat you to dinner with a view. Popular rooftop bars in Tampa include EDGE Rooftop Cocktail Lounge, M. Bird at Armature Works, and Mole y Abuela.
5
Catch a show at the Tampa Theatre
Watch classic films or attend a concert at this historic movie palace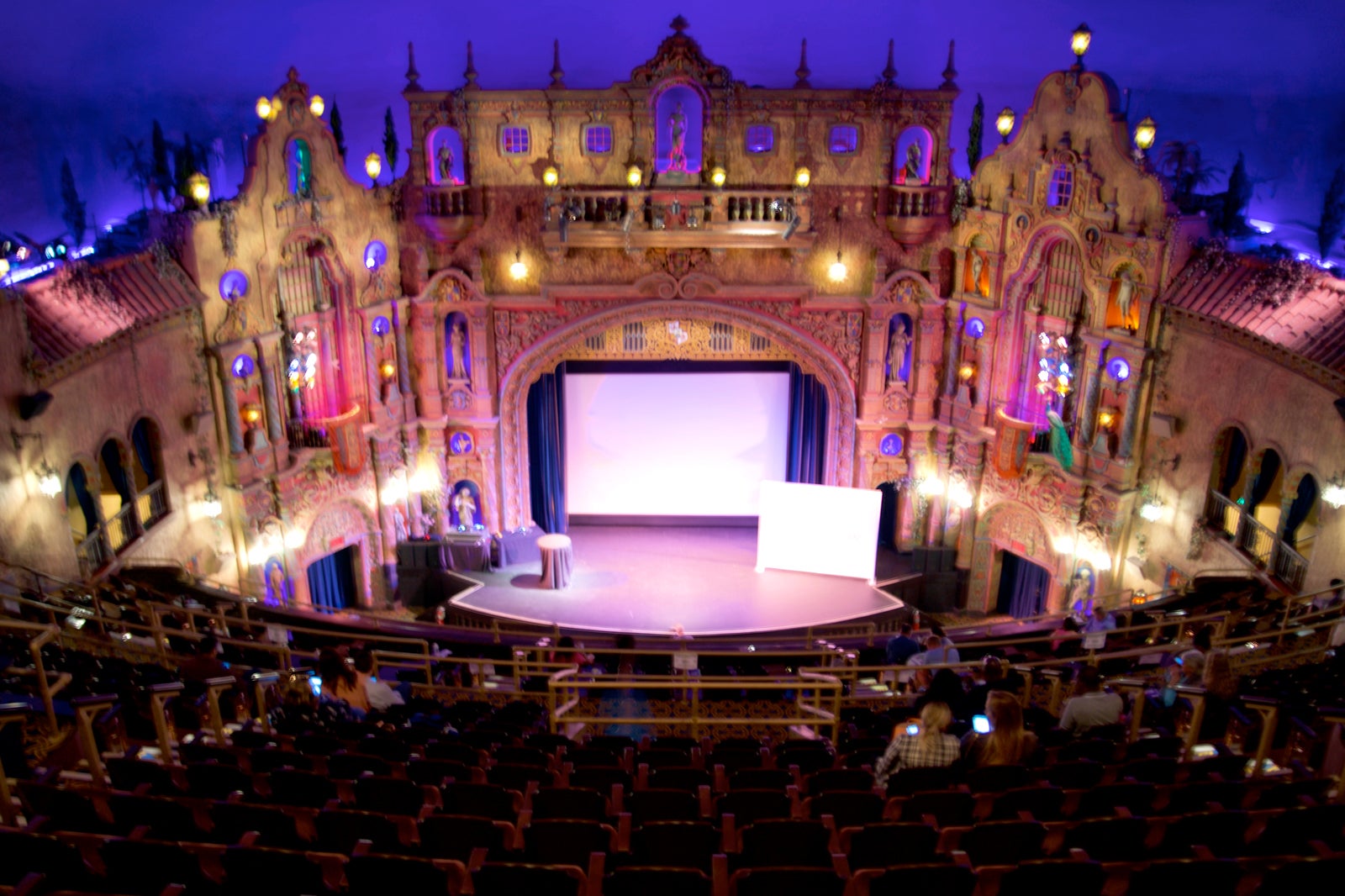 Tampa Theatre is just the place to transform a simple movie night into a magical evening. Located in downtown Tampa, this ornate movie palace will make you feel like you're attending a 1920s Broadway show. The beautiful architecture and star-filled ceiling create an enchanting atmosphere for you and your loved one.
The palace has hundreds of screenings per year and frequently shows documentaries, independent films, classic movies, and foreign films. Check out the theatre's calendar to see if there are any special events or concerts taking place while you're in town. Any event you attend in this opulent landmark will be a memorable occasion for the elaborate furnishings alone.
Location: 711 N Franklin St, Tampa, FL 33602, USA
Open: Showtimes vary
Phone: +1 813-274-8286
photo by PeterNunezPhotography (CC BY-SA 4.0) modified
6
Tampa electric boat cruises
See downtown Tampa from the water
Tampa electric boat cruises let couples enjoy the serene waterways of the Tampa harbour and it gives a unique perspective of the Tampa waterfront. Operator eBOATS Tampa has electric boats that are almost completely silent and easy to operate for an enchanting ride for couples. Boats can be rented anywhere from 1 to 4 hours, and you'll save on the hourly rate the longer your romantic excursion around downtown Tampa is.
If you'd rather snuggle up with your loved one instead of having to steer the boat, it's possible to hire a captain to give you a personalised tour. Pack a lunch to have a meal during the tour or let the captain drop you off at one of Tampa's waterfront restaurants.
Location: 333 S Franklin St, Tampa, FL 33602, USA
Open: Daily from 8 am to 10 pm
Phone: +1 813-767-2245
7
Cypress Breeze Farm
Go horseback riding on white-sand beaches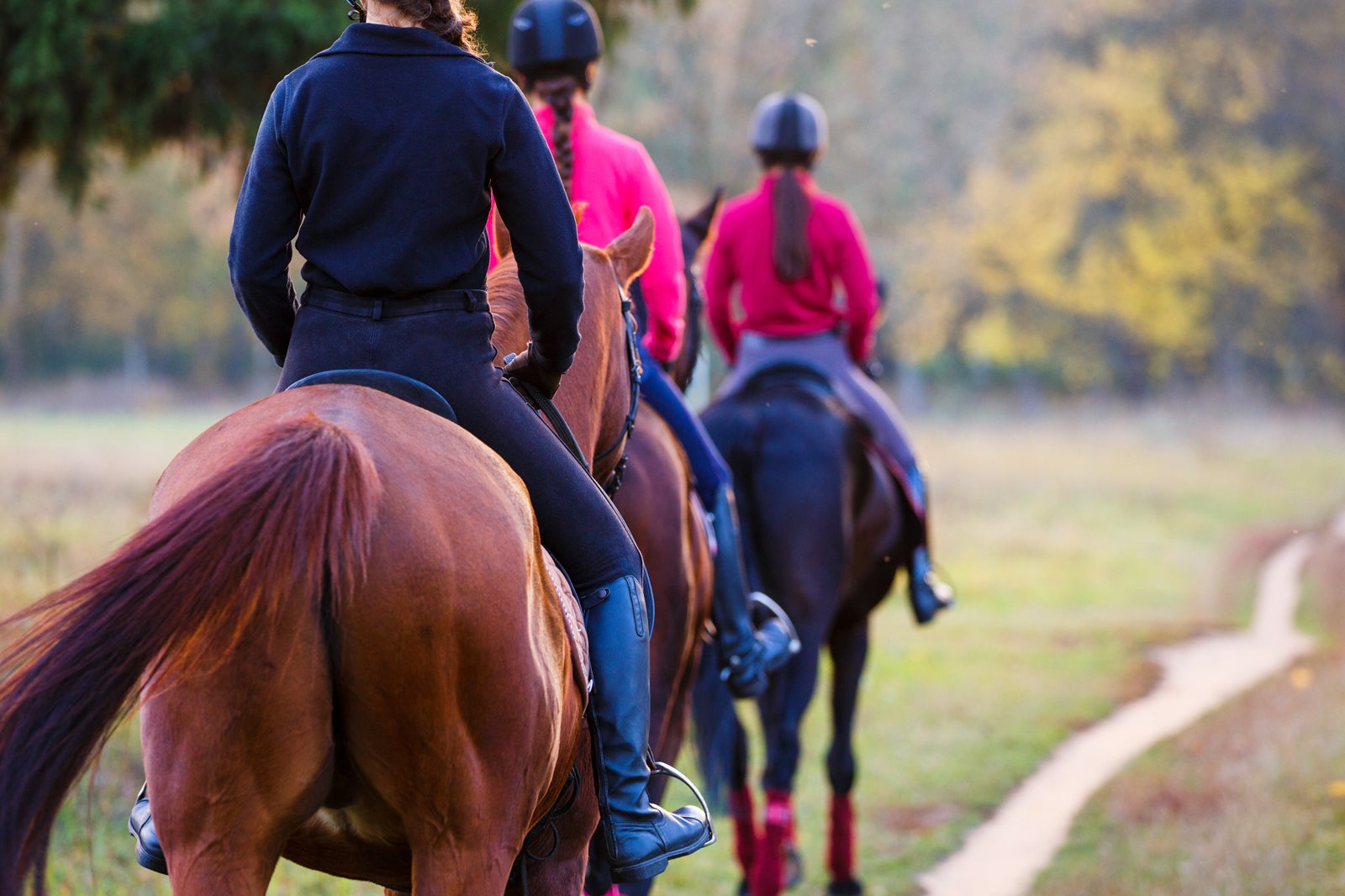 Cypress Breeze Farm gives couples the chance to explore the scenic beauty of nearby Pinellas Park while riding beautiful horses. Animal-loving couples will adore the sweet-natured horses, and riders of all experience levels can have an exhilarating horseback riding adventure. The horses are well-trained and receive excellent care to ensure a beneficial experience for you and the horses you're paired with.
Horseback riding tours last around 60-90 minutes and take you to either pristine beaches or through lush woodlands. Rides along the beach give you incredible views of Tampa Bay, and you'll witness the horses swimming through the water. If you and your partner want to build a deeper connection with your horses, inquire about the farm's equine yoga.
Location: 8690 60th St, Pinellas Park, FL 33782, USA
Open: Daily from 8 am to 7 pm
Phone: +1 727-460-0891
8
Bayshore Boulevard
Stroll down the world's longest continuous sidewalk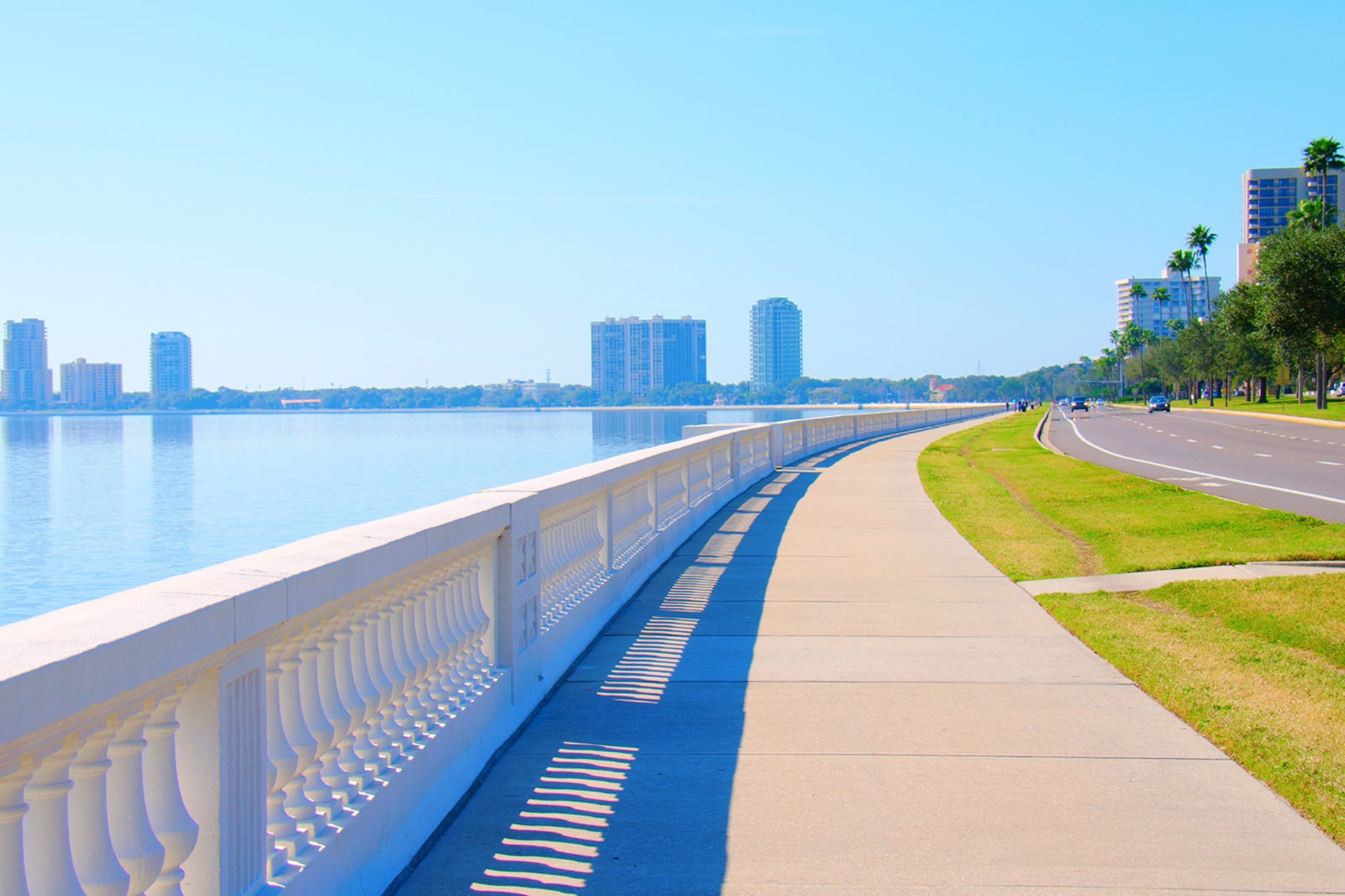 Bayshore Boulevard spans 4.5 miles along Hillsborough Bay, and the spacious walkway is one of Tampa's most romantic places for a stroll. Bask in the Florida sunshine and take in fantastic views of the Tampa skyline as joggers and cyclists race by you. Make sure to check out the historic buildings and pricey real estate hugging the promenade.
Holding hands with your loved one on this scenic sidewalk is a wonderful way to spice up the romance underneath the moonlight. The lights from downtown Tampa twinkle on the bay and the gentle sounds of the water create a magical atmosphere. There are lots of benches to sit down and enjoy the surroundings on while snuggled up with your partner.
9
Lithia Springs Park
Take a dip in a natural spring that stays warm year-round
Couples
Budget
Photo
Adventure
Lithia Springs Park's soothing hot springs is where couples wishing to relax can let their troubles melt away. Around a 30-minute drive from Tampa, the park's gorgeous setting by the Alafia River is a popular camping and swimming spot. The spring remains a toasty temperature at all times to provide a comfortable swim at any time of year.
The park also boasts numerous hiking trails through tropical woodlands, swamplands, and native plant species. Couples who love being in nature can set up camp and listen to the peaceful sounds of the park underneath the stars. With lots of picnic tables and fire pits around the campsites, you'll be able to enjoy a romantic meal in this peaceful environment.
Location: 3932 Lithia Springs Rd, Lithia, FL 33547, USA
Open: Daily from 8 am to 6 pm (until 7 pm in spring and summer)
Phone: +1 813-744-5572
photo by JaconaFrere (CC BY-SA 4.0) modified
10
Ruskin Family Drive-In Theatre
Reminisce on a simpler time from the comfort of your vehicle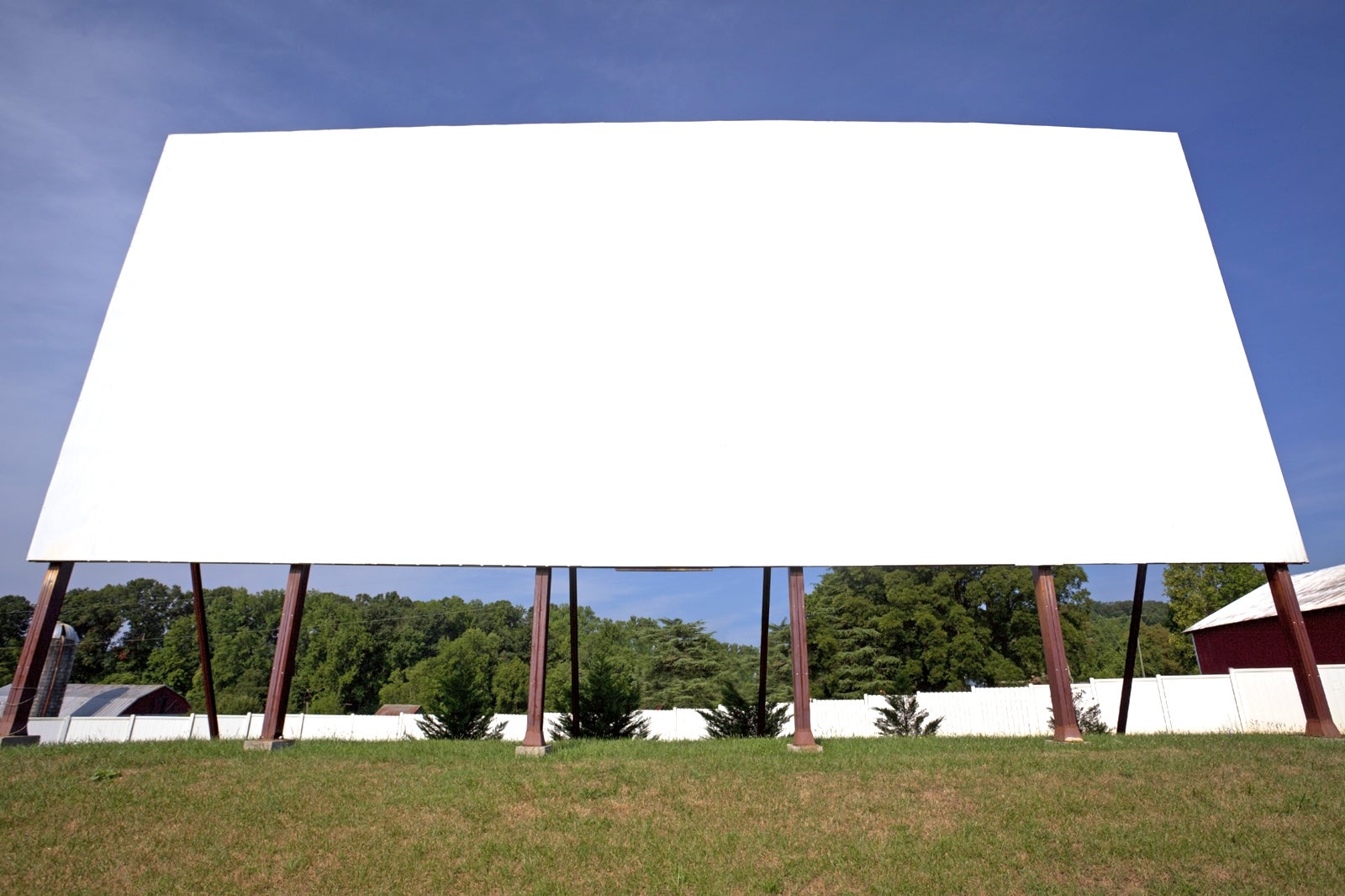 The Ruskin Family Drive-In Theatre will bring back memories for couples who lived in the glory days of drive-in theatres. For couples who have yet to experience the magic of this intimate movie-going experience, catching a flick here is a journey back in time. Whether rain or shine, park the car and grab a snack to enjoy a wholesome film while snuggled up next to your date.
Roughly a 30-minute drive from downtown Tampa, the theatre caters to moviegoers of all interests by showing a healthy balance of new movies and classic films. Check their movie page to see the weekly line-up and showtimes for each flick. Make sure you bring cash since cheques and credit cards aren't accepted.
Location: 5011 US-41, Ruskin, FL 33572, USA
Open: Showtimes vary
Phone: +1 813-645-1455
Back to top