10 Most Photographed Places in Bangkok
Where to Take the Best Photos of Bangkok
Where can you take the best photos of Bangkok? Bangkok isn't blessed with the good looks of Kyoto or Rome, but there's no arguing that Thailand's capital has a unique charm. It's a smiling, gap-toothed giant of a city, and its qualities are often captured through the lens by professional and aspiring photographers.
Our years of experience of exploring every corner of Bangkok have left us with a detailed knowledge of the best places to go to capture the best angles of the city and present it through the eyes of a foreigner at its exotic best. Follow our tips to ensure you go home with photos that will impress your friends and create a lifetime of nostalgia.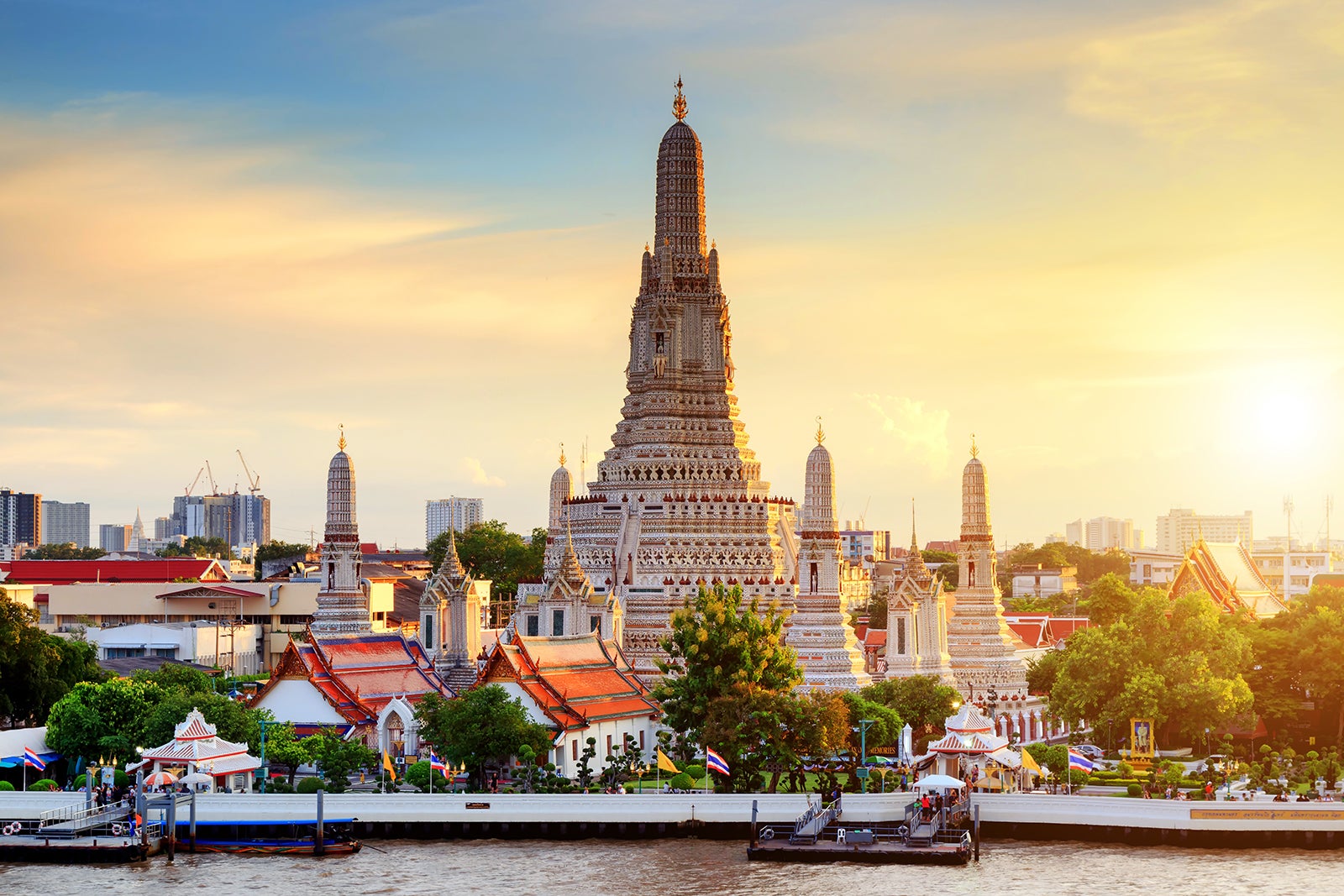 Wat Arun, also known as the Temple of Dawn, is one of the most alluring images of ancient Bangkok. While the temple is located on the Thonburi side of the river, the best photographs are taken from across the river on the city side of the water. Choose a bar opposite and take your time with a glass in hand.
Where to shoot: In the morning, the rising sun bathes Wat Arun in light when seen from the city side of the river, whereas at sunset, professional photographers can get beautiful silhouettes in front of a deep orange orb. Alternatively, take a river cruise in the evening to see this stunning Khmer-style temple lit up at night.
Read more
Location: 158 Wang Doem Road, Wat Arun, Bangkok Yai, Bangkok 10600, Thailand
Open: Daily from 8 am to 5.30 pm
Phone: +66 (0)2 891 2185
2
Golden Chedi at The Grand Palace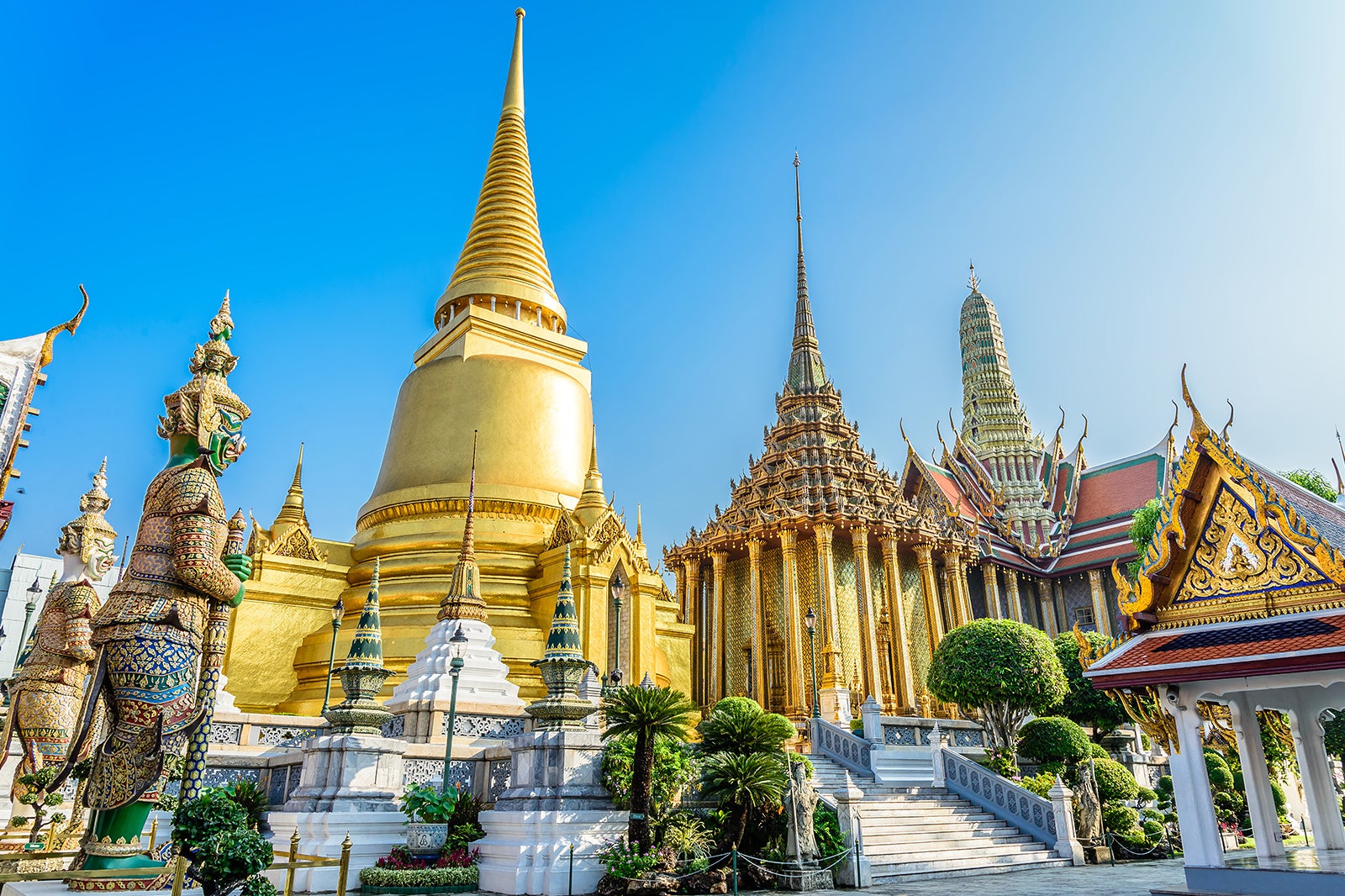 The Golden Palace is the most famous palace in Thailand. The former seat of the king, this magnificent complex has several postcard-worthy vistas. The biggest challenge for most people is finding a nice angle free from thousands of other visitors blocking the view.
Where to shoot: The most popular is in front of the patch of grass next to the ticket booths. From here you see 3 golden spires stretching elegantly into the sky, with many arched temple roofs glimmering in the sunshine. But for our pro tip, you can get a shot of Wat Pra Keaw (Temple of the Emerald Buddha) practically free of people if you run straight there when the gates open at 8.30am – remember to dress appropriately with shoulders and knees covered, otherwise you will be asked to rent long pants and a shawl.
Location: Na Phra Lan Road, Old City (Rattanakosin), Phra Nakhon, Bangkok 10200, Thailand
Open: Daily from 8.30 am to 3.30 pm
Phone: +66 (0)2 623 5500
3
Reclining Buddha at Wat Pho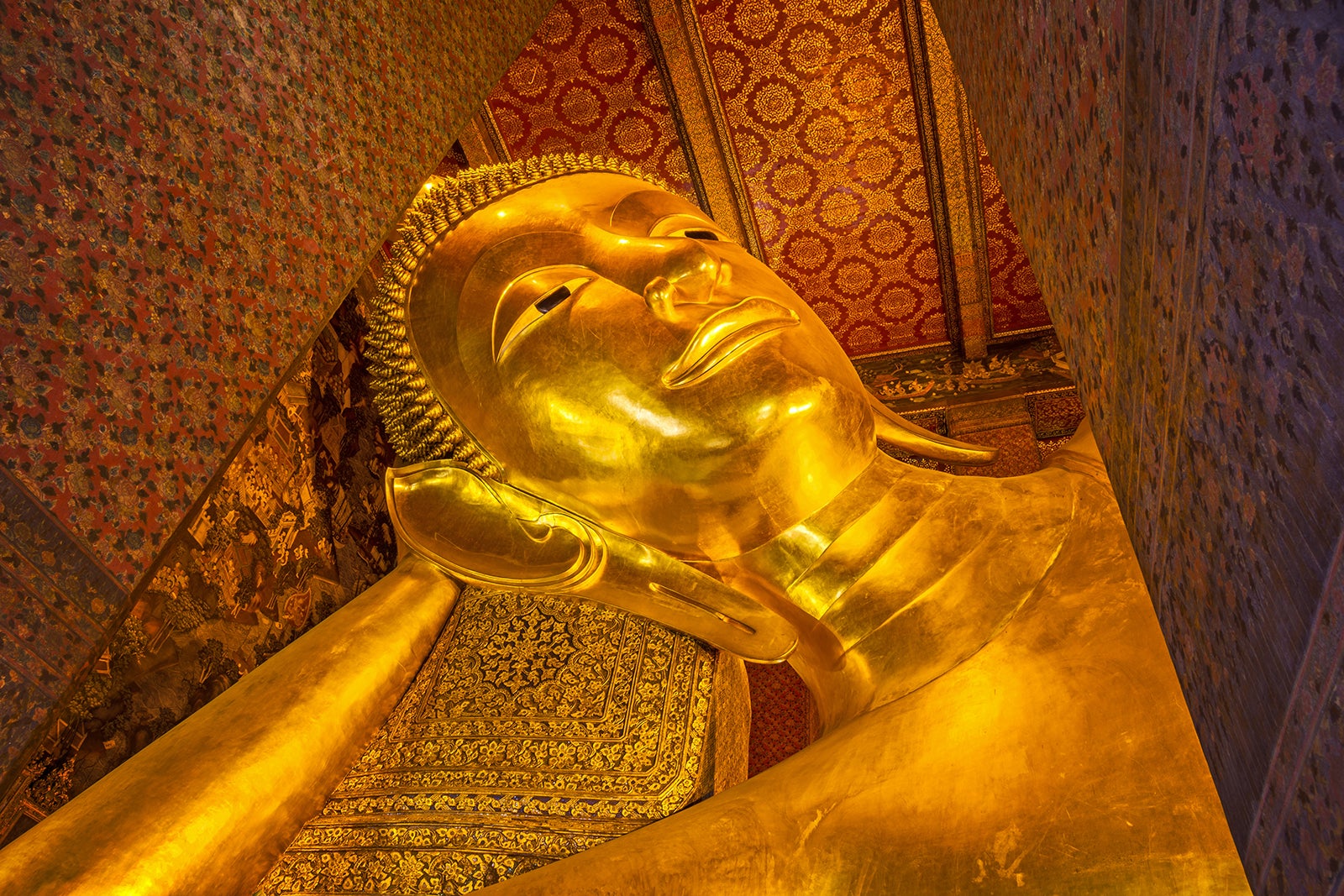 Wat Pho is a huge temple complex with many buildings and stupas inside, although it is the reclining Buddha that draws the crowds. Perhaps the most famous Buddha image in Thailand and wildly popular, there are 2 classic photos of the reclining Buddha.
Where to shoot: The first position is looking directly up at the serene face between 2 poles. Bring a wide-angle lens for best results. The other position is down by the feet of the Buddha image. Adorned with intricate mother-of-pearl details with the full length of the statue still in shot, this is where people queue for a photo with their family and friends. It's tough to get a shot here without others intruding so patience is required.
Location: Maharat Road, Phra Nakhon, Bangkok 10200, Thailand
Open: Daily from 8.30 am to 6.30 pm
Phone: +66 (0)2 226 0335
4
Yaowarat Road (Chinatown)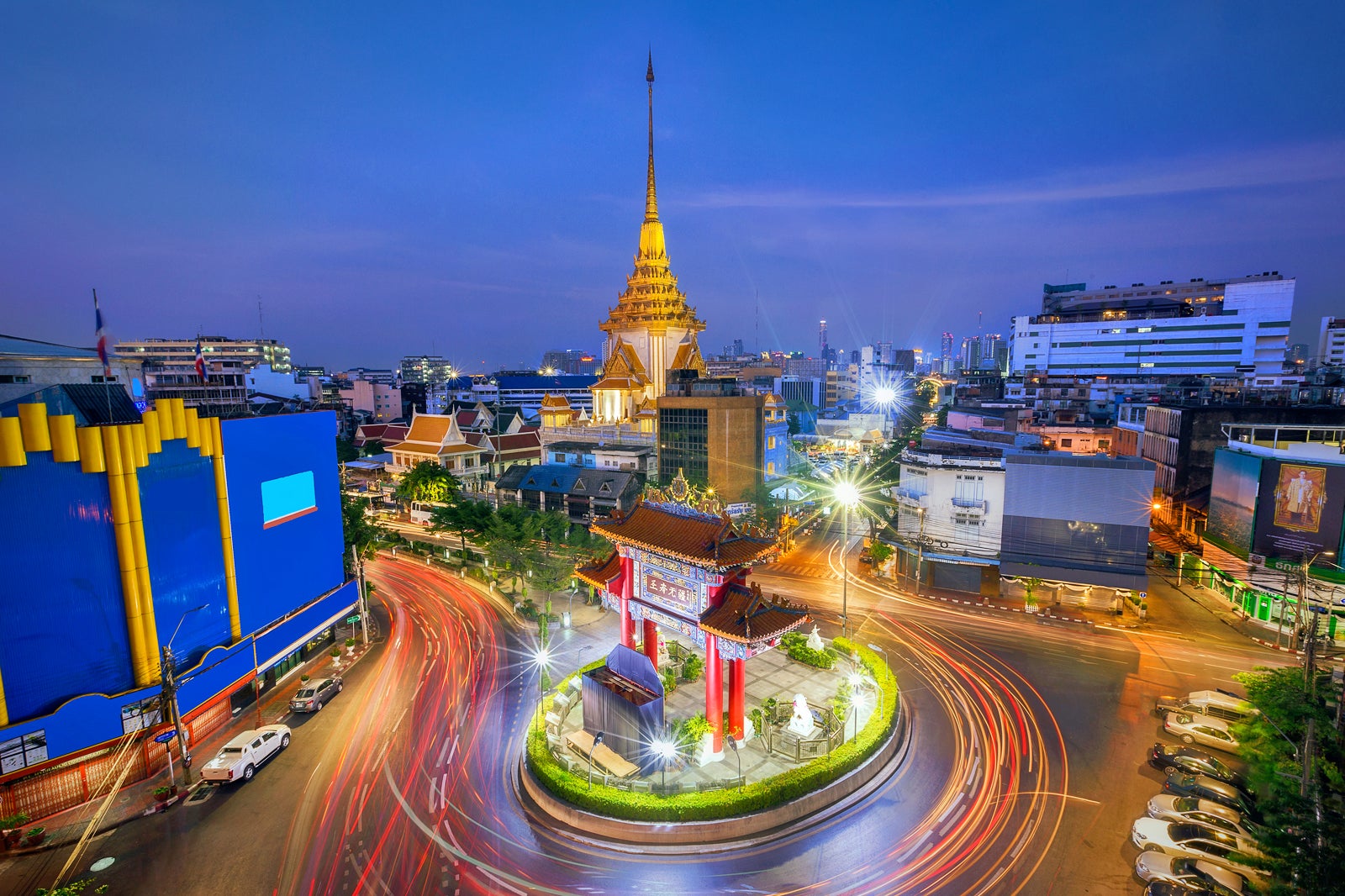 Families
Photo
Food
Nightlife
Budget
Bangkok's Chinatown is a real photographer's playground, with intriguing scenes confronting you at every turn. Even so, the most alluring image of this area of Bangkok must be the shot of the numerous shop signs with their multi-coloured Chinese characters.
Where to shoot: This scene is beautiful during day or night, but for the best shot, try to find a 7-Eleven at the beginning of a gentle curve in Yaowarat Road, as this allows for the most shop signs to be in the photograph.
Location: Yaowarat Rd, Bangkok, Thailand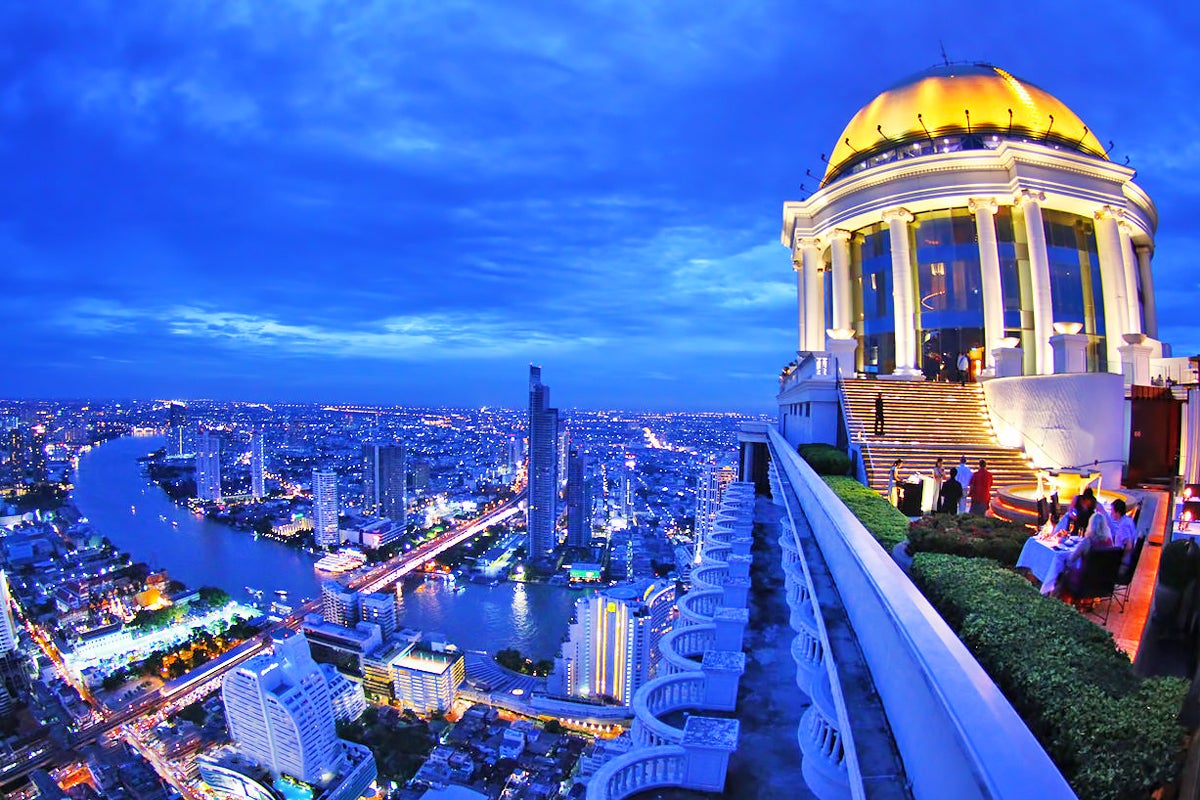 The Dome on top of the Lebua State Tower can be seen from miles away, and every night is lit up like a beacon of luxury due to the collection of fine-dining restaurants and posh cocktail bars it houses. Head up to Skybar for a cocktail and to enjoy the impeccable views or splash out and enjoy a full meal of Mediterranean cuisine at Sirocco. The classic shot of The Dome at dusk is likely to be a treasured memory.
When to shoot: Stay for another 30 minutes past sunset to see the sky dropping into a dark blue hue, which balances the light from the golden dome beautifully.
Location: 63rd Floor, Lebua at State Tower, 1055 Silom Road, Bangrak, Bangkok, 10500, Thailand
Open: Daily from 4 pm to 1 am
Phone: +66 (0)2 624 9555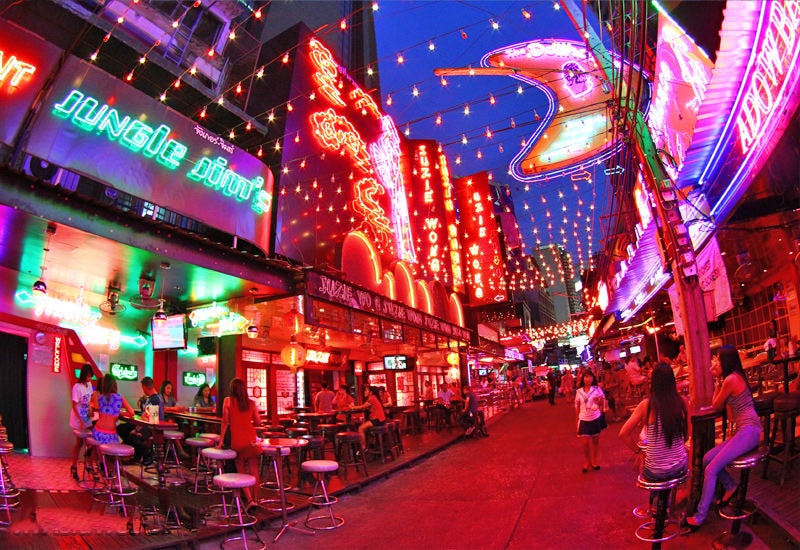 Flashing neon reds and pinks, the gaudy 50-metre-long strip of Soi Cowboy is synonymous with Thailand's naughty nightlife scene and makes a great photo. Unlike the other red-light zones in Bangkok, no one in Soi Cowboy particularly minds if you take photos OUTSIDE of the bars, yet don't be too invasive snapping the girls who may not want their faces photographed.
Where to shoot: For the best shot, stand down the bottom end of the street (furthest from Terminal 21 and the BTS Skytrain) looking back at all the neon signs and active street life. It's absolutely unacceptable to take photographs inside go-go bars.
Location: Soi Cowboy, 23 Sukhumvit Rd, Khlong Toei, Watthana, Bangkok 10110, Thailand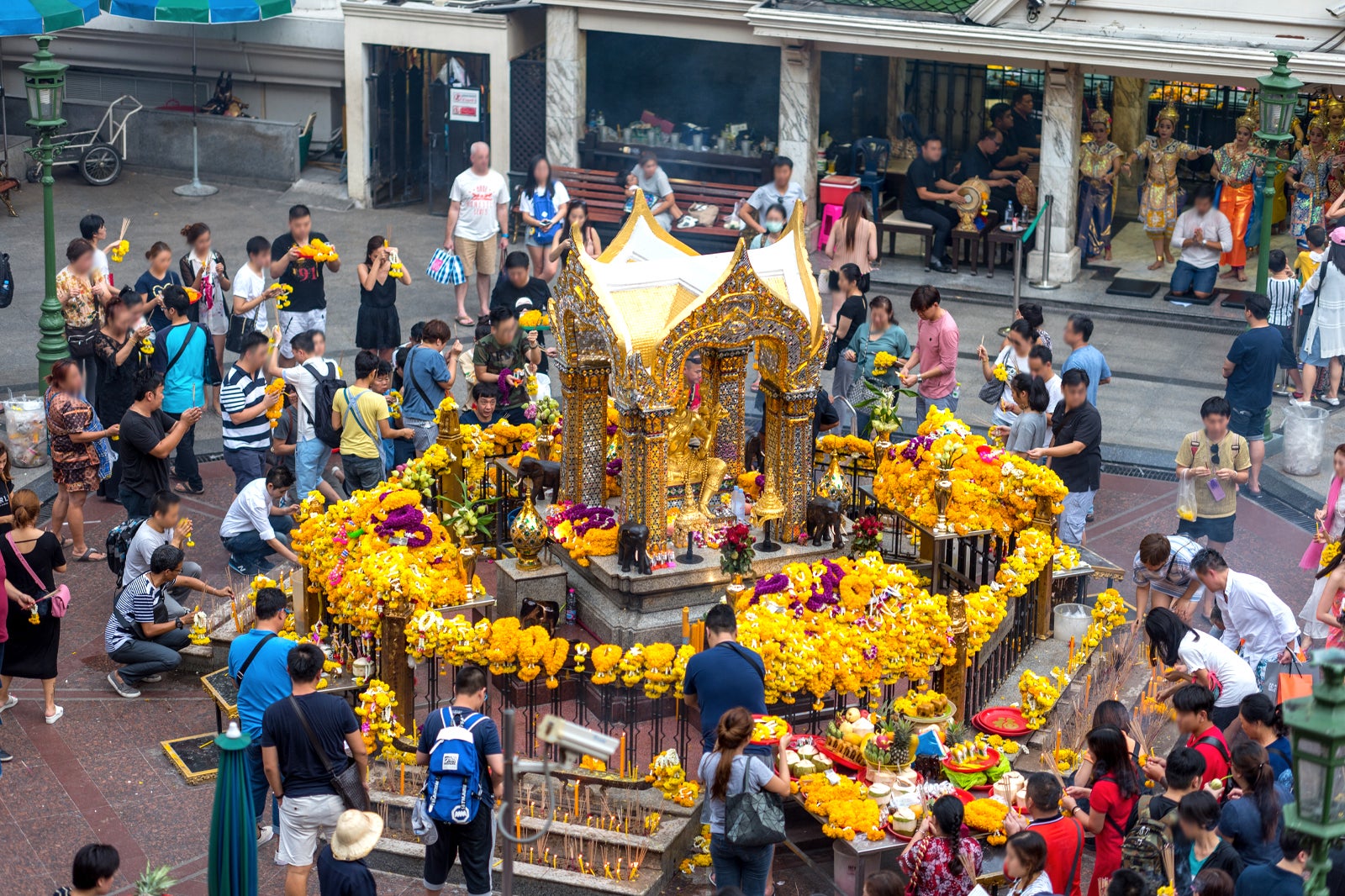 Erawan Shrine is one of the most convenient places to photograph traditional dance in Bangkok. This iconic landmark is at on Ratchadamri Junction, close to Siam. Despite being surrounded by skyscrapers, shopping malls and the trappings of modernity, the shrine attracts devotees from far and wide who believe in the power of this Hindu deity to grant wishes. It is believed that if a wish is granted, devotees must return and pay for the ornately dressed troupe to dance as a way to entertain the deity.
Where to shoot: The best angle for photos is from the overhead skywalk that passes over the shrine that links to the Chit Lom BTS Skytrain Station.
Read more
Location: Ratchadamri Rd, Lumphini, Pathum Wan, Bangkok 10330, Thailand
Open: Daily from 6 am to 11 pm
8
Lumpini Park from SO Sofitel Rooftop Bar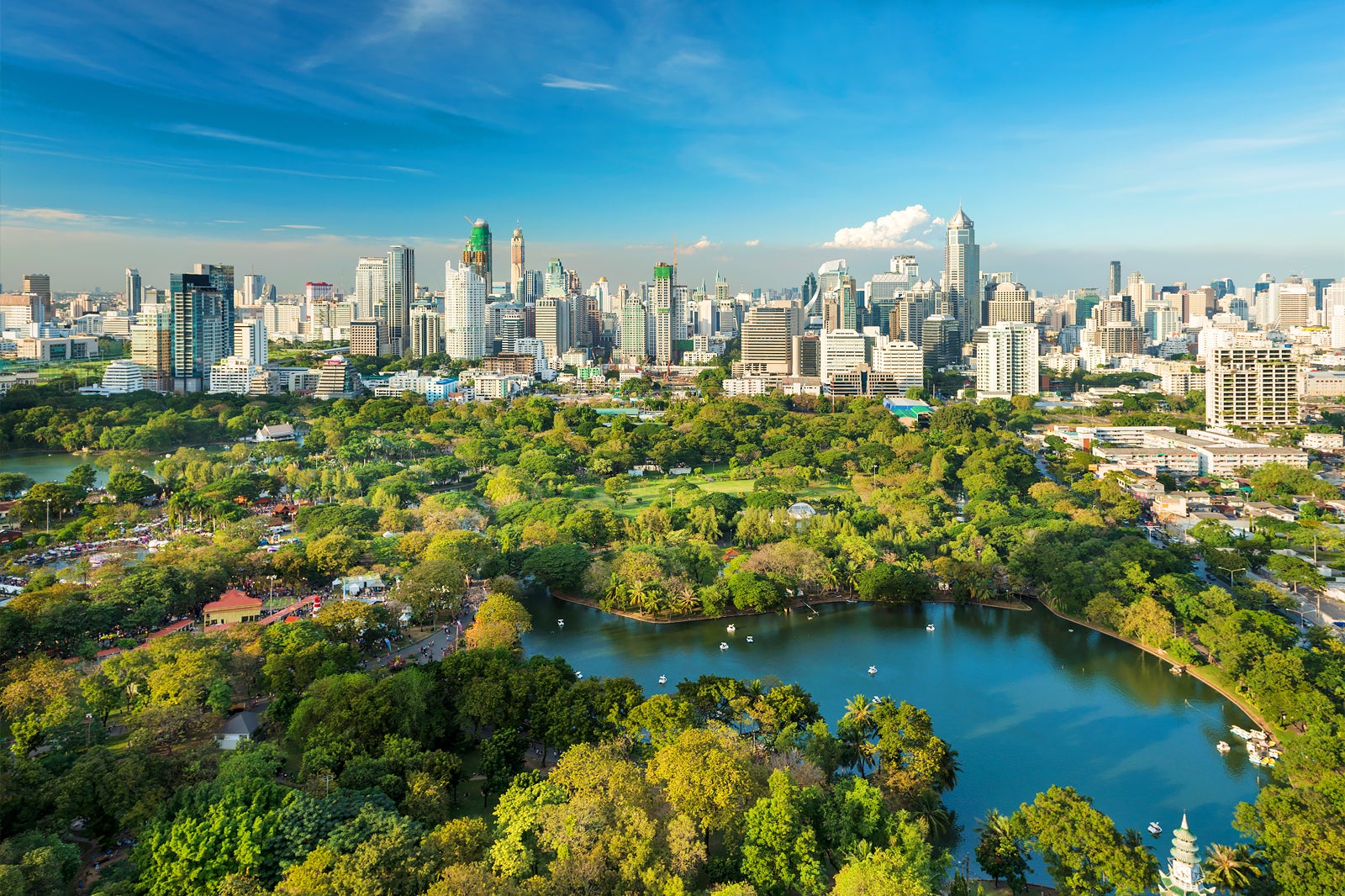 Lumpini Park is the largest green space in downtown Bangkok and it is best seen from Park Society, a rooftop cocktail bar at SO Sofitel Bangkok Hotel. Bring your tripod and if it's too busy, there bar's 2nd floor is usually empty so you won't disturb other guests.
When to shoot: Any time of the afternoon or evening is great for photos, so aim for between 5pm and 6pm. You can capture Bangkok by day and enjoy the sunset before the park's streetlights start twinkling.
Location: 29th & 30th Floor, SO Sofitel Bangkok, 2 N Sathon Rd, Bang Rak, Bangkok 10500, Thailand
Open: Daily from 5 pm to 1 am
Phone: +66 (0)2 624 0000
9
Cityscape from Baiyoke Tower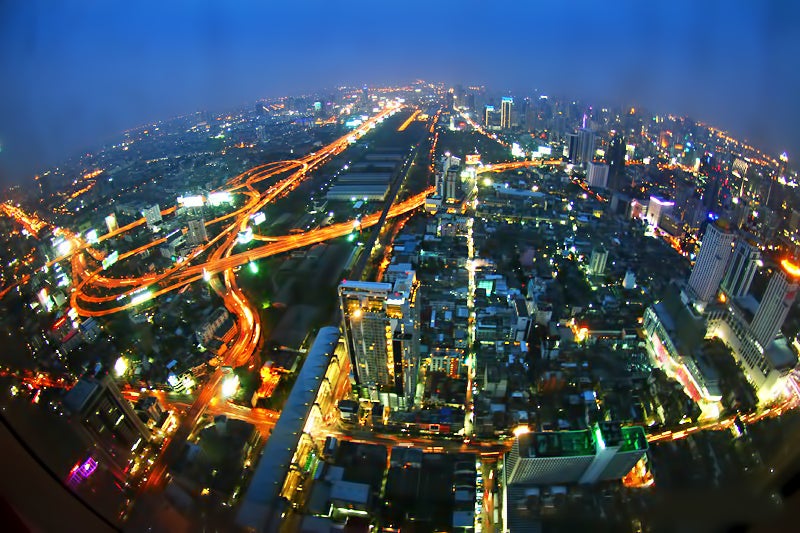 Located in Ratchathewi, the 88-storey Baiyoke Tower offers bird's-eye views over Bangkok, and on a clear day, you can see well into neighbouring provinces.
Where to shoot: The night shot from here, looking out east over the tangle of expressways, is a classic, while those with a video camera setting or GoPro might consider a time-lapse video.
Location: Soi Ratchaprarob 3, Phaya Thai, Ratchathewi, Bangkok 10400, Thailand
Open: Skywalk and observation deck open daily from 10 am to 10.30 pm
10
The fountain at Siam Paragon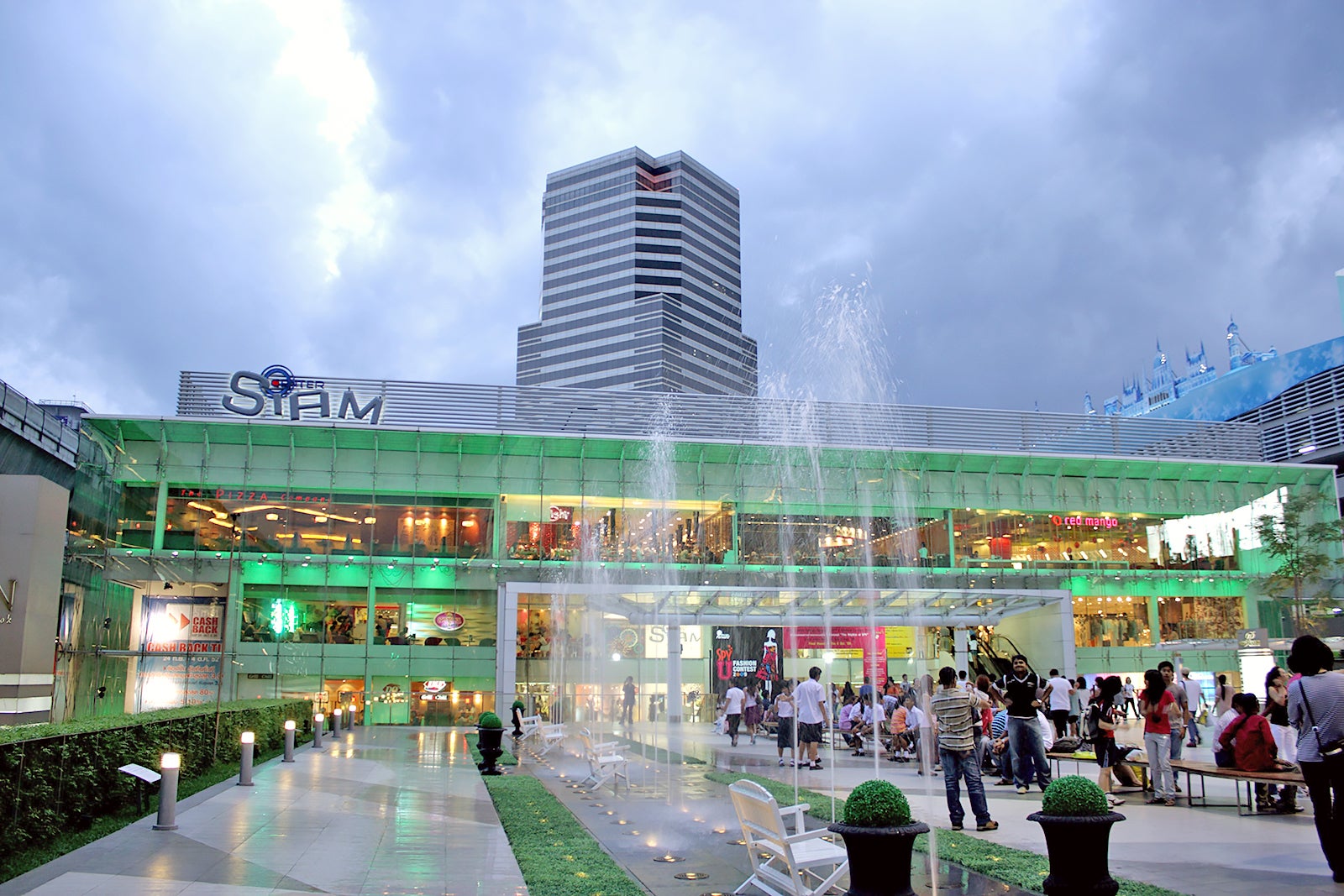 Siam Paragon is one of the most photographed places in Bangkok. While it's more popular for shopping and dining in Siam, many travellers often take a snap of its impressive structure.
Where to shoot: The best shot is from outside the shopping mall on the mezzanine level that leads to the Siam BTS Skytrain Station. Stand just behind the fountain and wait for the water to shoot out into the air, with the glass-and-steel atrium of Siam Paragon in the background.
Location: 991 Rama 1 Road, Pathumwan, Bangkok 10330, Thailand
Open: Daily from 10 am to 10 pm
Phone: +66 (0)2 610 8000