10 Cool Things We Love About Toledo, Spain
Reasons Why You Should Visit Toledo at Least Once
Toledo is one of the oldest and most unique cities in Spain. The former Spanish capital before Madrid, this city has made an important contribution to Spain's history and heritage. Here, you'll find mosques opposite Catholic chapels, as well as some irresistibly Instagrammable synagogues.
Below, we show some of the cool things we love about Toledo, many of which relate to the city's storied past and the well-preserved landmarks that it has left behind. From stunning sightseeing and rare festivals, to world-renowned swordsmiths and sweet delights that melt in your mouth, here are the reasons why you should visit Toledo at least once in your lifetime.
1
Toledo was the former Spanish capital
It's accessible from the current capital: Madrid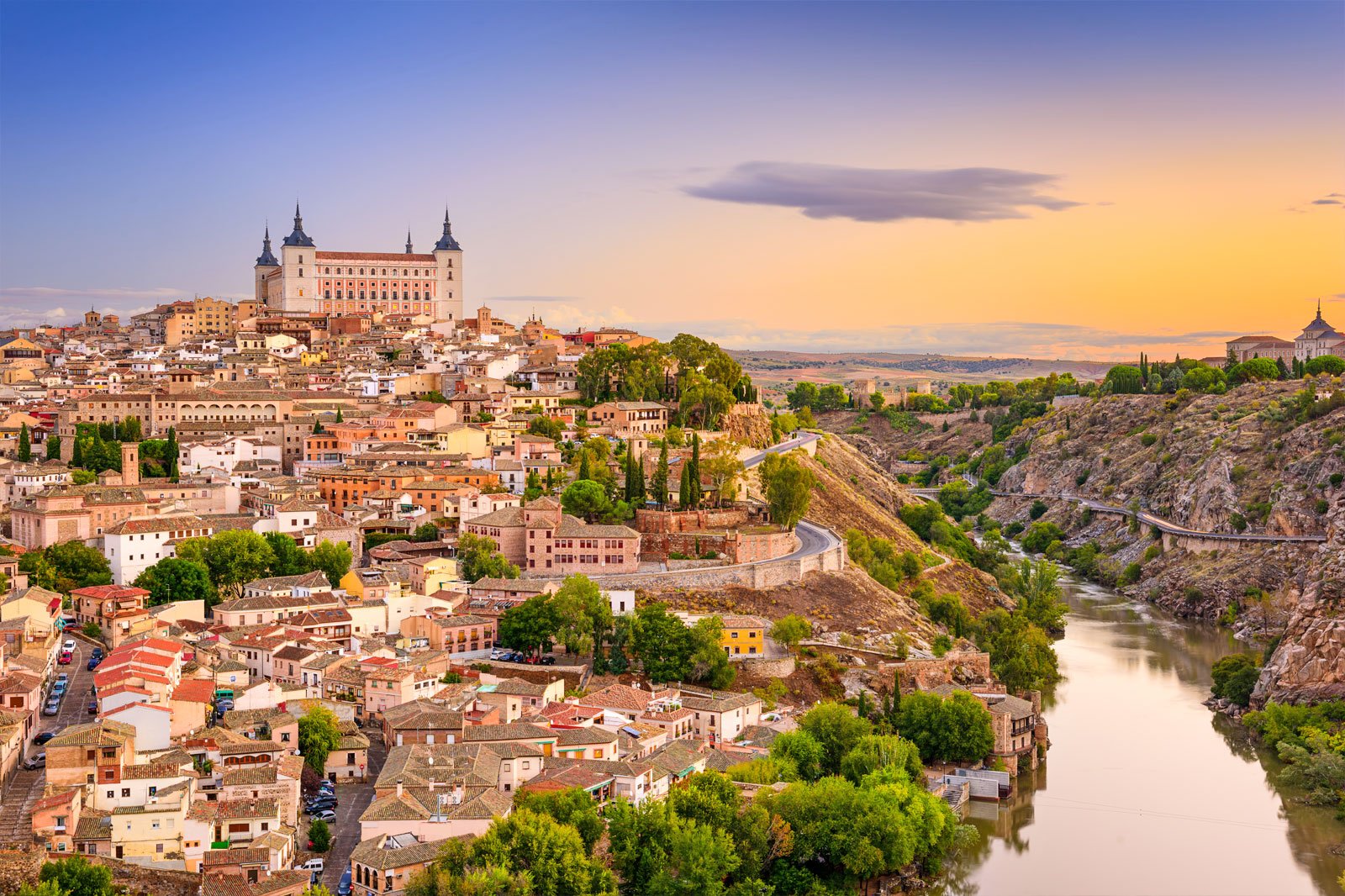 Visiting Toledo, you'll encounter the richness of Spain's history and heritage up close. It was once the capital of Spain after all, up until 1560 when Philip II of Spain moved his court to Madrid that's approximately an hour's drive away.
Toledo's historical centre is a marvellous place to explore. It's a grand and open showcase of impressive landmarks standing tall since Ancient Roman times. Several distinct cultures occupied it over the centuries. More on that, below…
2
A 'city of 3 cultures'
A Judaic, Christian, and Islamic melting pot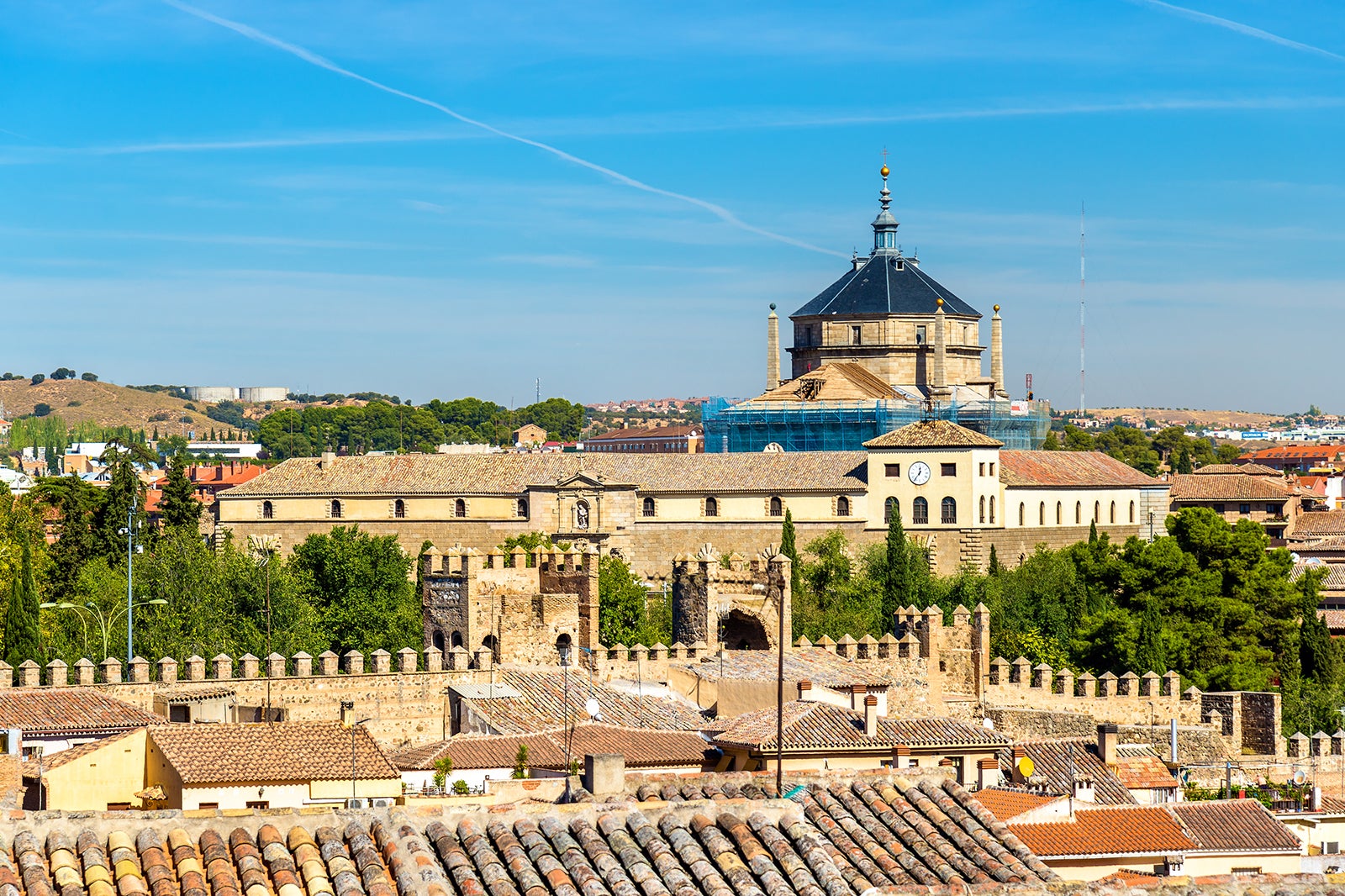 Different cultures have occupied Toledo over the centuries including the Romans, the nomadic tribes of the Visigoths, and the Moors from North Africa. Evidence of these diverse inhabitants can be seen in the representations of Christianity, Judaism, and Islam throughout the city. Here, we can find their lasting architectural marks in the well-preserved synagogues, mosques, and cathedrals.
While there are plenty of museums in Toledo, such as the Museum of Santa Cruz and Museo del Greco, the whole city is effectively one vast open-air museum. Striking monuments like the Alcázar, Synagogue of El Transito, and the Iglesia de Santo Tomé afford the sightseer some impressive views to enjoy.
3
Toledo Cathedral is one of Spain's greatest
It's a Gothic masterpiece, with a rich visual treasure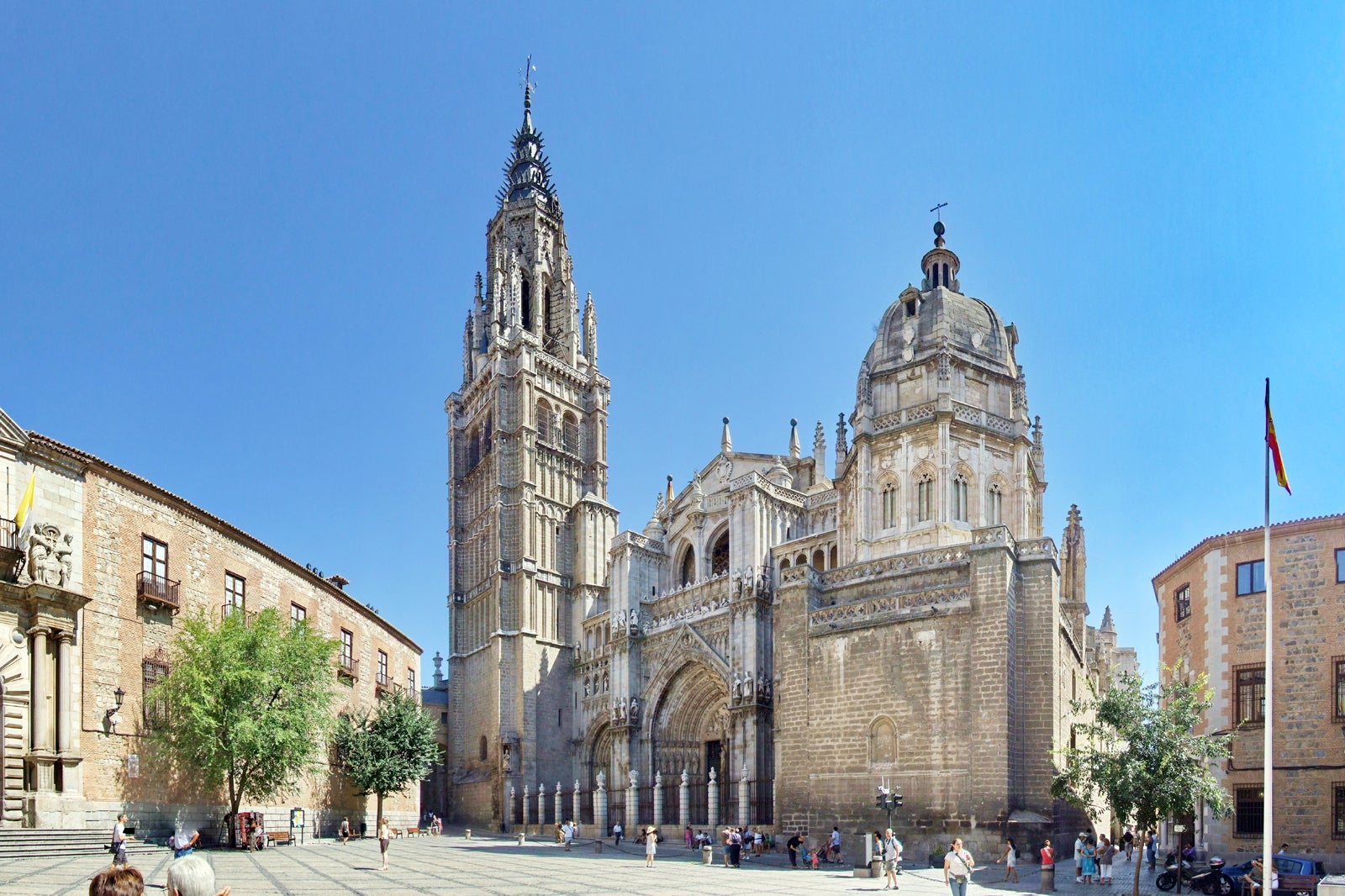 One of Toledo's standout historical landmarks is The Primate Cathedral of Saint Mary of Toledo (or simply, Toledo Cathedral). This Visigothic marvel of a church stands tall with its bell tower overlooking Plaza del Ayuntamiento, where the Archbishop's Palace also stands.
The impressive Gothic exterior is worthy of admiration. Step inside, here you'll find the Baroque altarpiece El Transparente. A massive skylight in the ceiling above lets shafts of daylight illuminate the tabernacle to mesmerising effect. Hundreds of stained glass windows also create a colourful light show in the interior.
Location: Calle Cardenal Cisneros, 1, 45002 Toledo, Spain
Open: Monday–Saturday from 10 am to 6 pm, Sundays from 2 pm to 6 pm
Phone: +34 925 22 22 41
photo by Querubin Saldaña (CC BY-SA 3.0) modified
4
It is a city of superlatives
From the largest bell to the most confusing streets in Spain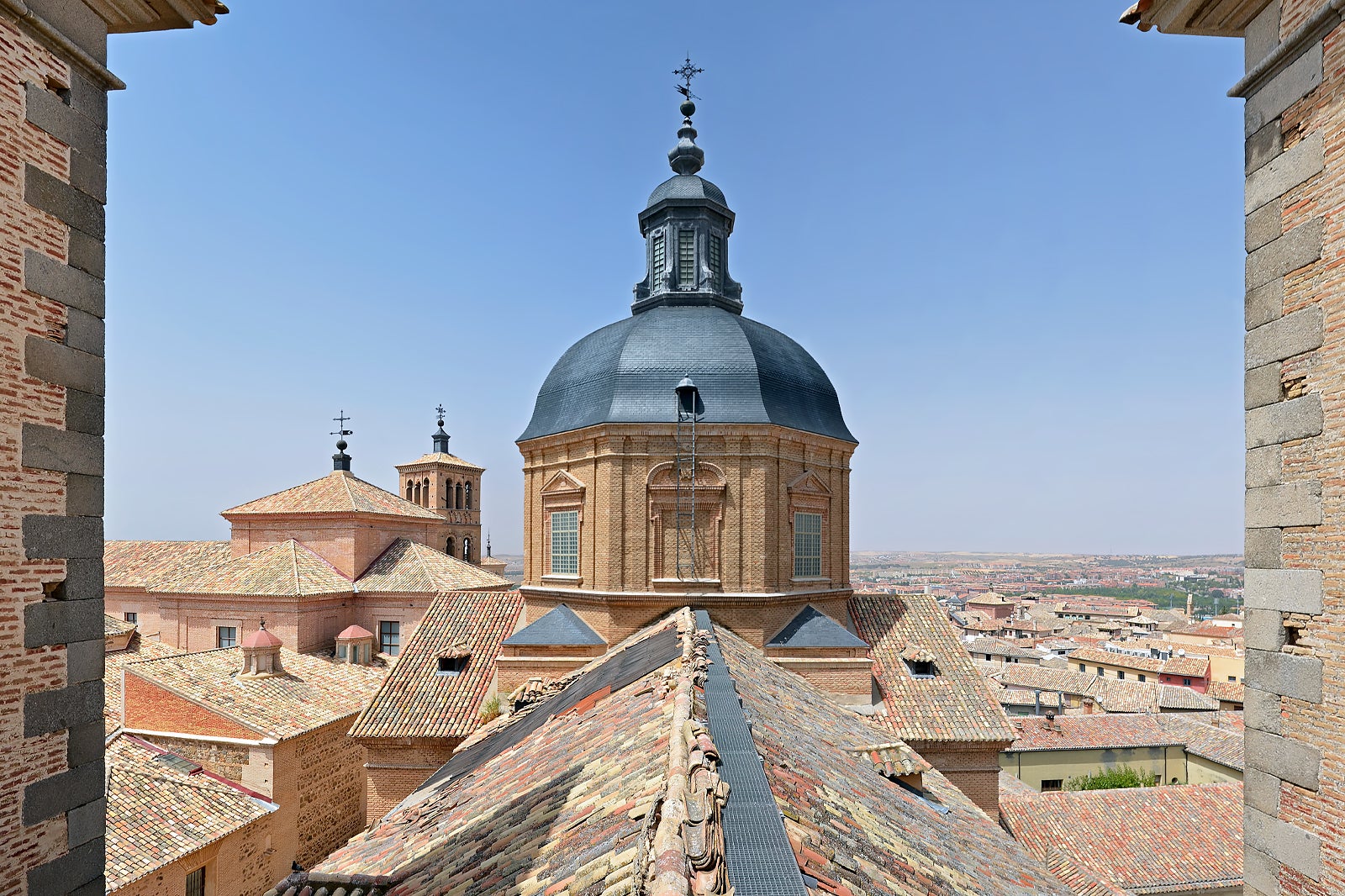 Aside from being a magnificent Gothic monument and one of the most impressive cathedrals in the country, Toledo Cathedral houses an impressive treasure: the bell tower and the massive 18th-century bell itself. Weighing close to 20 tons, it's the biggest bell in Spain.
Getting a bell of this scale up into the belfry is an impressive feat of engineering in itself. Huge heavy ropes and a special road were needed just for the task. These days it's a bit cracked, and it hasn't been rung for ages. Another distinct feature of Toledo is that it has arguably the most confusing street layout in Spain – which is great if you're adventurous.
photo by Selbymay (CC BY-SA 3.0) modified
5
Toledo swords are world-famous
From medieval times to Hollywood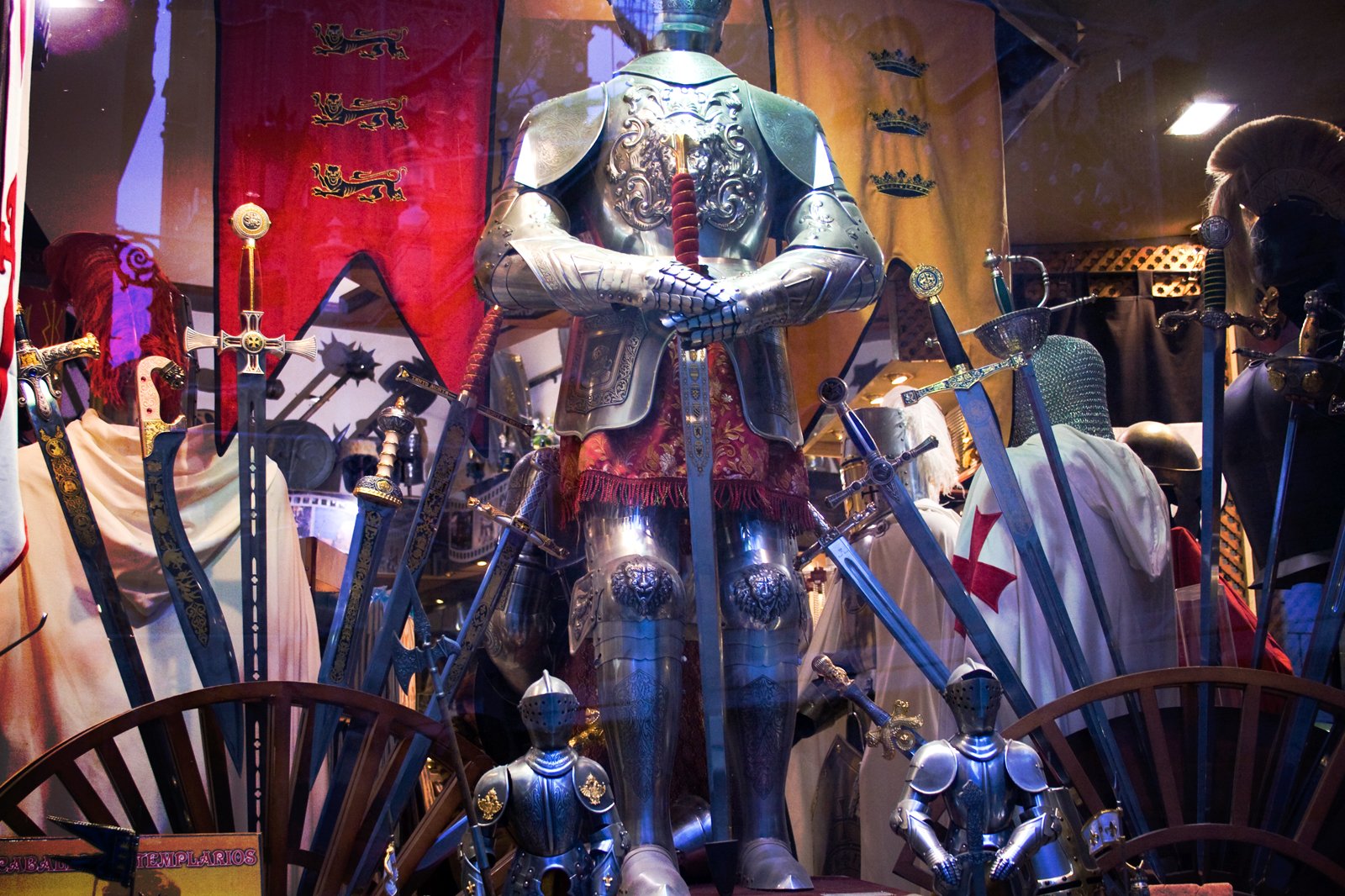 One product Toledo has been renowned for since the 16th century is Toledo steel. Famous for the high quality alloy that is remarkably durable, the steel manages to remain flexible enough to be made into swords. For this reason, Toledo became a centre of traditional sword-making and Toledo swords became the standard weaponry among the Romans.
Before the age of modern movie workshops, classic fantasy filmmakers in Hollywood are said to have sourced their metal props and swords from Toledo swordsmiths. You can buy souvenir swords from plenty of shops in the city (they might not make it through customs so easily, though).
photo by Weldon Kennedy (CC BY 2.0) modified
6
Marzipan is a culinary art here
Toledo is the go-to spot for Spain's most popular confection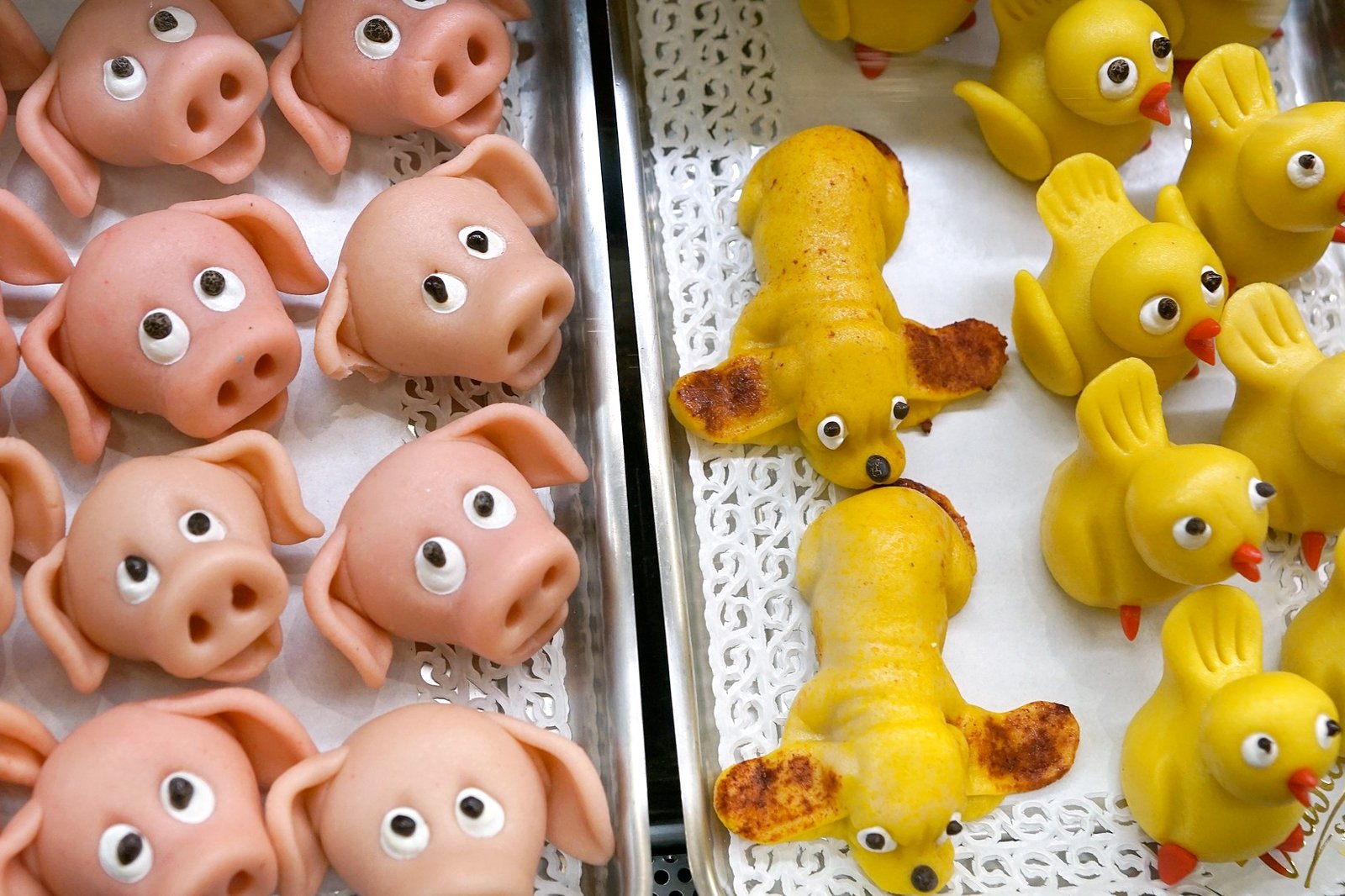 In Toledo, it's mazipan, not marzipan. The city's most beloved confectionary is delightfully balanced and not too sweet. Elsewhere in Spain, marzipan usually comes in the form of a traditional Christmas cake, but here you can find it sold as a daily snack. Mazipan is made from almond paste and is traditionally made to resemble cute animals.
While the Italian version of this sweet is usually made into the shapes of various fruits, Toledo's mazipan comes in a huge variety of shapes such as little pigs, bears, and crescent moons. Some feature egg yolk as fillings.
7
A World Heritage Site, with good reason
The city brims with historical landmarks
Toledo's cultural heritage and rich collection of historical monuments have secured its place as a UNESCO World Heritage Site. From the outset, as you arrive in the city through any of the gates of the ancient wall, you're treated to the beautiful views of pretty plazas, eclectic landmarks, and cobblestoned streets.
Toledo offers much to see with its impressive landmarks such as the Gothic Chapel of San Bartolomé and the grand Alcázar fortress, as well as ancient medieval stone bridges like the Puerta de Alfonso.
8
Mercado de San Agustín is a food haven
Traditional snacks galore on multiple floors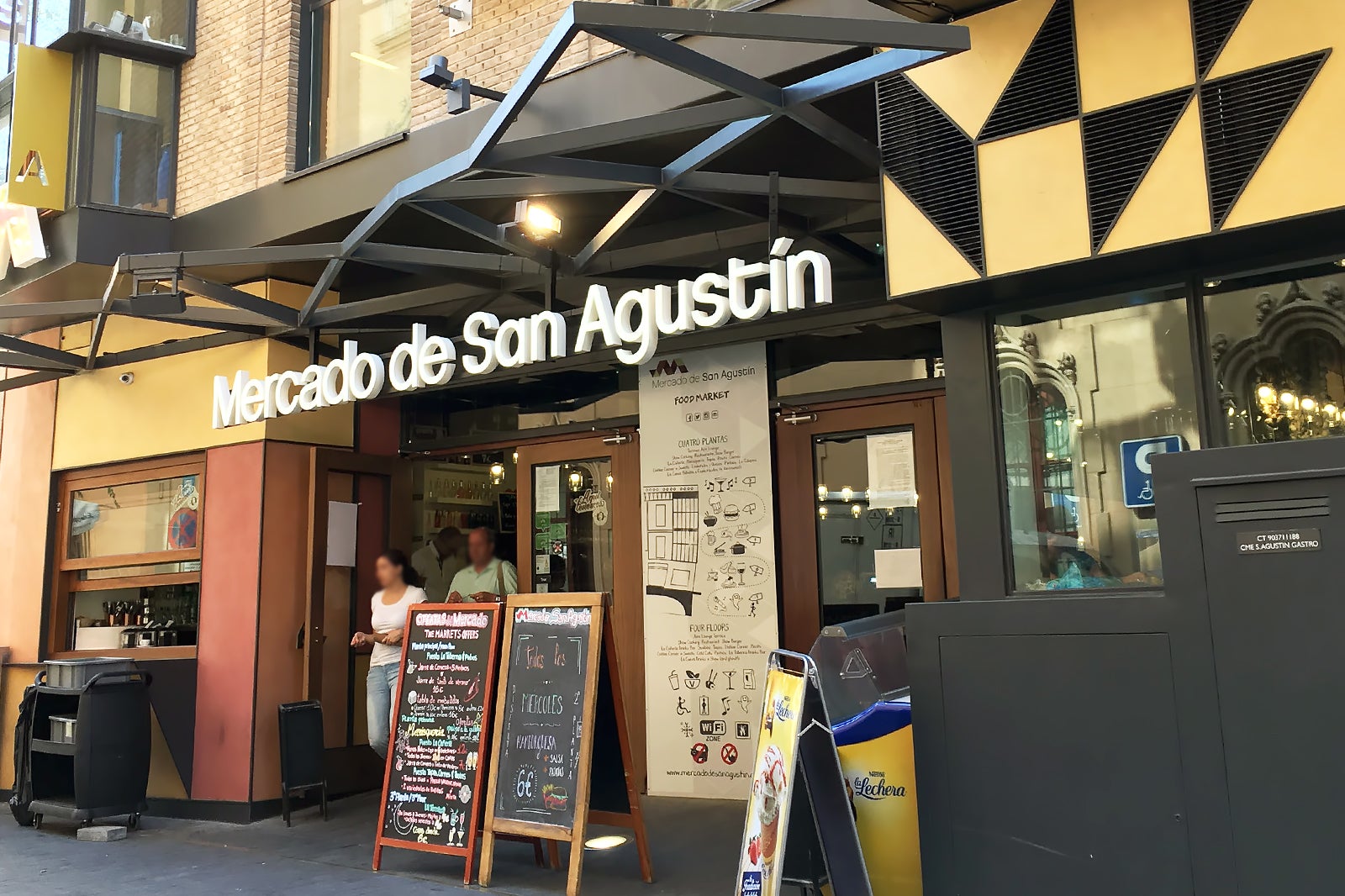 Mercado de San Agustín is a gourmet food market in Toledo. It's built over an historical site and features a modern layout, with a wide variety of vendors spread over multiple floors selling all sorts of food and drinks.
You can find specialist wine shops, restaurants with open kitchens, as well as a pleasant food terrace with a vertical garden for enjoying your tapas or seafood. You can reach the Mercado within walking distance heading north from Plaza de Zocodover.
Location: Cuesta Águila, 1-3, 45001 Toledo, Spain
Open: Friday–Saturday from 10 am to 2 am, Sunday–Thursday from 10 am to 1.30 am
Phone: +34 696 10 43 08
photo by Heparina1985 (CC BY-SA 4.0) modified
9
Wonderful festivals that date back centuries
Toledo is a Spanish cultural capital, after all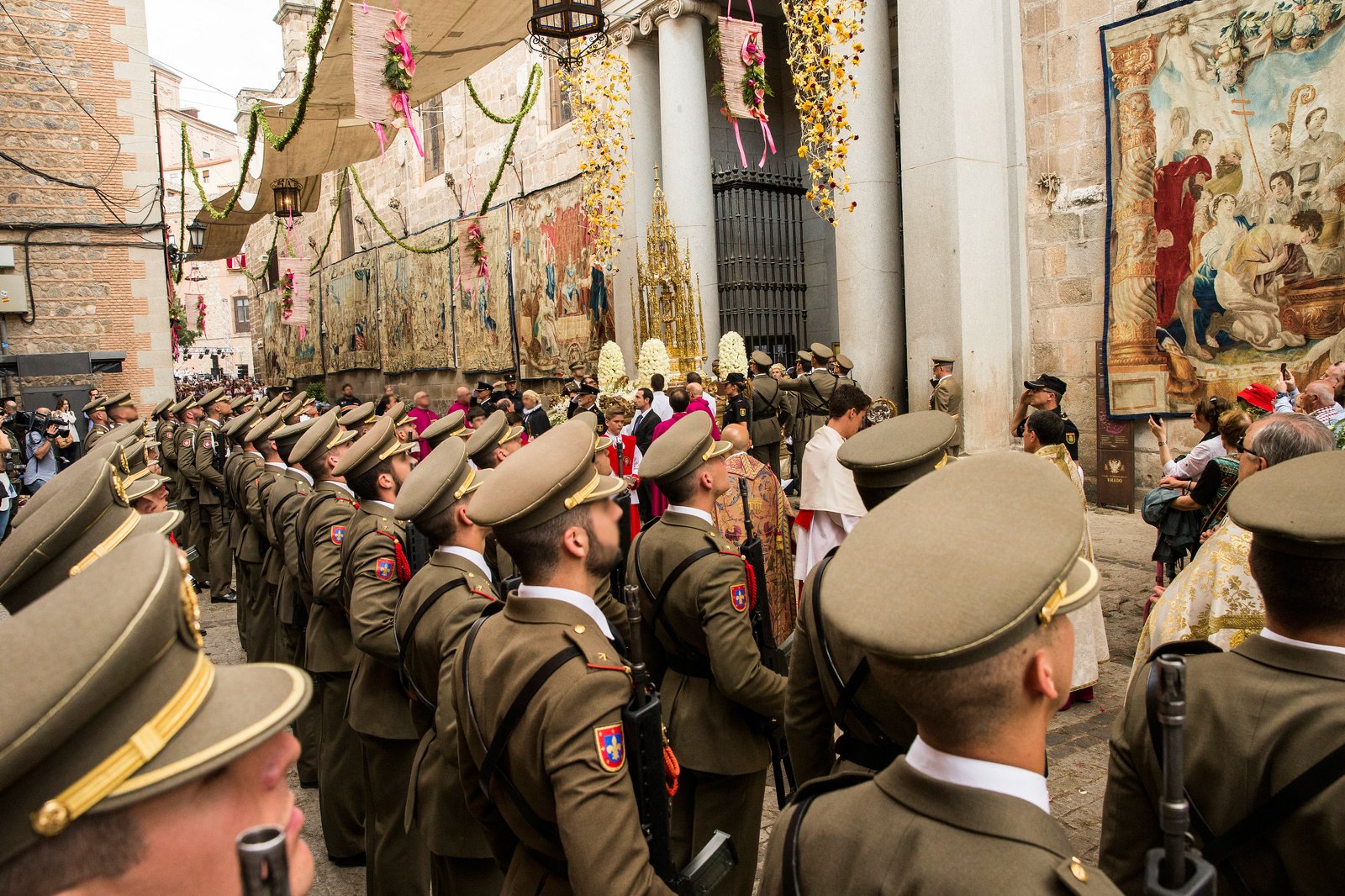 Toledo's calendar is filled with annual festivities, some of which date back centuries. One of the most important is Corpus Christi, which goes back to the 15th century. This parade features a solemn, if wonderful, street procession where a rich gold and silver Gothic monstrance is paraded on a carriage escorted by a regalia-clad cavalry.
Corpus Christi usually takes place around April. In the month prior, there's the Holy Week, known as Semanta Santa, with its range of parades that help usher in Easter.
photo by Emiliano García-Page Sánchez (CC BY-SA 2.0) modified
10
Great to visit year-round
Thanks to a pleasant continental climate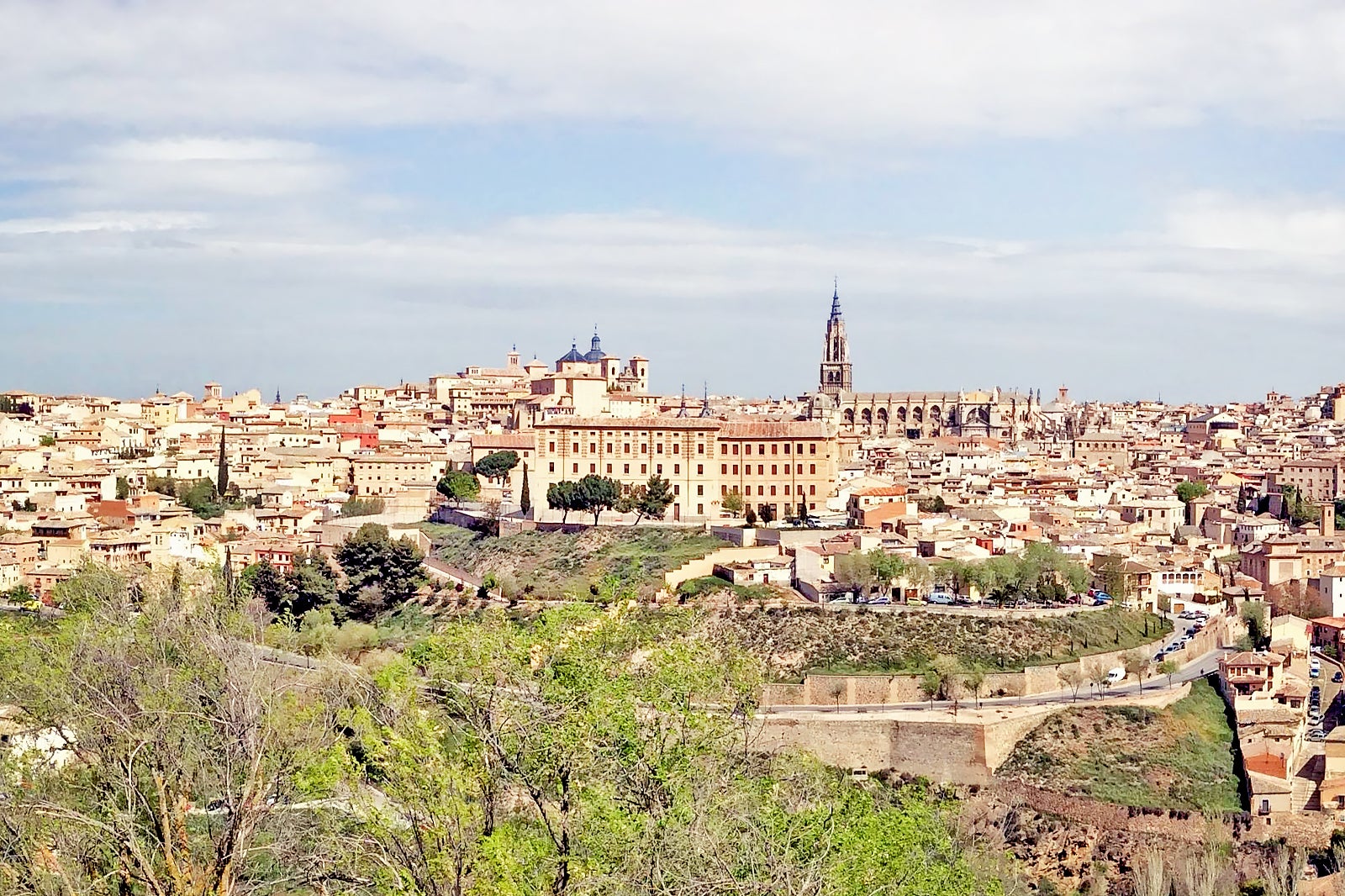 Couples
Families
History
Photo
Food
Budget
Toledo is centrally positioned in a plateau on the Iberian Peninsula and it sits about 500 meters above sea level. It enjoys a continental climate which is mostly dry and sunny throughout the year. With the crazy network of old streets aside, the city is compact enough to be explored on foot.
Strolling through the city is indeed one of the simplest but finest pleasures of the Toledo experience. Save for a few corners in the city where the gastrobars draw night owls, the city is mostly calm and subtly lit after sundown, with its magnificent landmarks and cathedrals spot-lit.
Back to top