10 Best Things to Do in Malaga
What is Malaga Most Famous For?
This guide to the best things to do in Malaga is a mix of manmade and natural attractions, all of which attract travellers from all over the world. A port city that epitomises the Andalusian lifestyle, Malaga is set along the sparkling coastline of the Costa del Sol and embodies youthful vigour in a city that has transformed itself.
Explore charming laneways and energetic plazas in the city's inviting Old Town, before sampling the full-bodied flavours of Andalusian cuisine in cosy bars and restaurants. Malaga is best known for its most famous son – artist and sculpturist Pablo Picasso. Art lovers can spend hours inside interesting museums and galleries, while those looking to rekindle a passion for natural landscapes will find a contrast of gardens and rocky canyons to delve into.
What are the best things to do in Malaga?
1
Alcazaba de Málaga
Take in sweeping sea views from this hilltop palace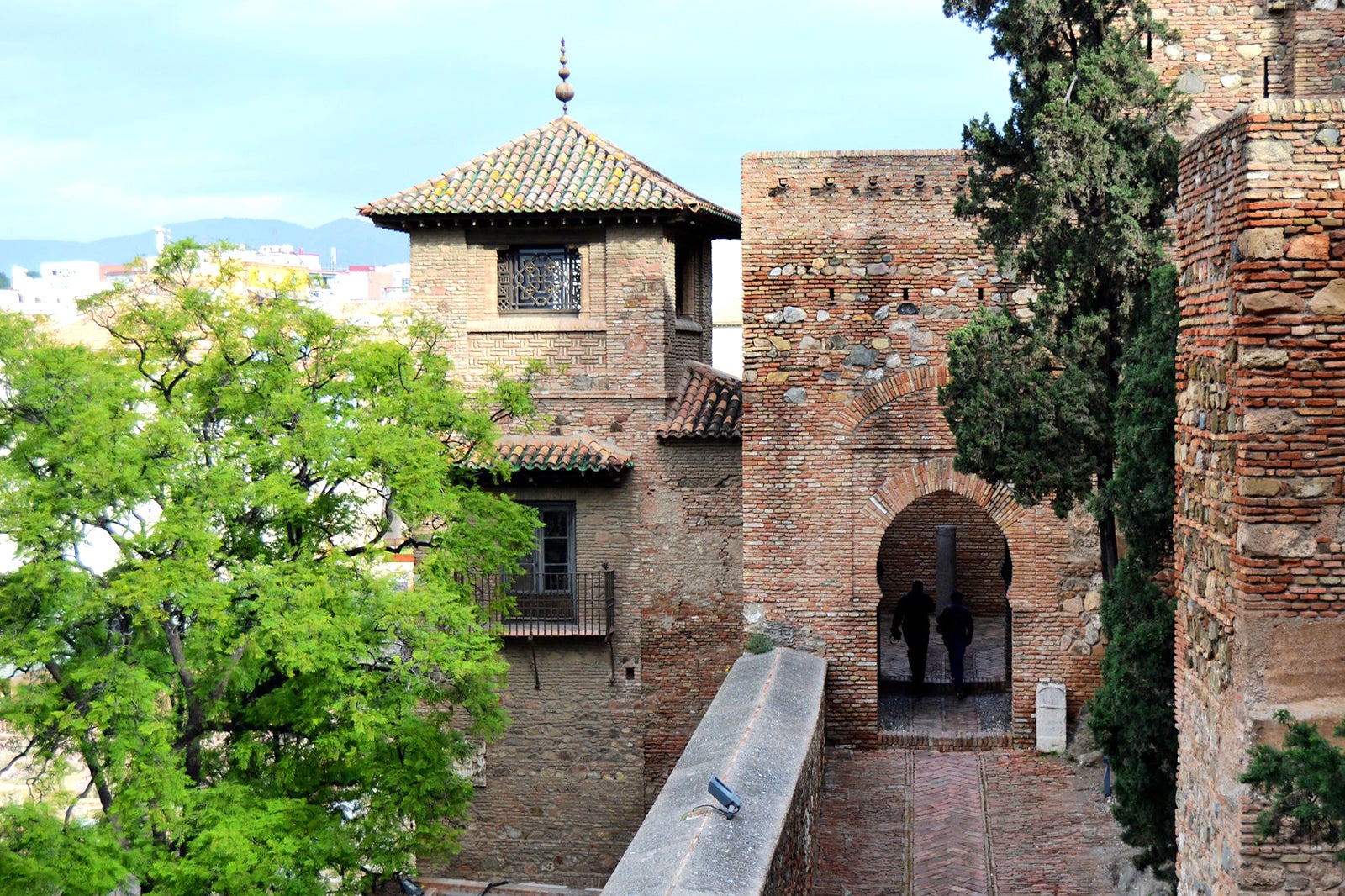 The well-preserved Alcazaba de Málaga dates back to the 11th-century Moorish period and is set among lush greenery of towering palms and orange groves. Built upon the ruins of a former Roman bastion on the hillside of the mount of Gibralfaro, the site once had 110 main towers with a series of smaller columns peppered throughout.
Due to the impressive condition of the site, you can still see many of the key elements of the architecture, including Roman marble pillars that held up Moorish horseshoe arches. The Plaza de Armas, which was once the coastal-facing defence, now houses beautiful gardens. Cobbled lanes lead to the Gate of the Halls of Granada while the Nazari Palace, at the top of the fortress, offers sweeping views across the town and coastline.
Location: Calle Alcazabilla, 2, 29012 Málaga, Spain
Open: Daily from 9.30 am to 8 pm (November–March: from 8.30 am to 6.30 pm), closed on Mondays
photo by Emilio (CC BY-SA 2.0) modified
2
Castillo de Gibralfaro
Ancient ruins with fantastic views over Málaga
Gibralfaro Castle (Castillo de Gibralfaro) is a magnificent fortress on a hill overlooking Málaga. It was originally built on top of Phoenician fortifications around the 10th-century and later re-enforced and expanded in the 14th-century. The castle's primary function was to house troops and protect the Alcazaba.
Soak up stunning views over Málaga as you can walk around the entire perimeter of the ruins along the ancient ramparts. And to learn more about the site's history, you can visit the onsite military museum. There are several ways to reach the castle. You can walk along Paseo Don Juan de Temboury which connects with a winding path to the castle, drive up the Camino de Gibralfaro, or take bus 35 from Avenida de Cervantes.
Location: Cam. Gibralfaro, 11, 29016 Málaga, Spain
Open: Daily from 9 am to 6 pm
Phone: +34 952 22 72 30
3
Malaga beaches
Different types of beaches along a stunning coastline
Malaga beaches attract a significant number of tourists each year, especially in the summer months. The golden sand and sparkling sea are among the Spanish city's greatest assets. Playa de la Malagueta is the city's main beach, with restaurants and bars dotted along the sandy shore. However, there are many beaches along this stretch of the Andalusian coastline.
Close to central Malaga is La Caleta, a well-maintained beach popular among locals. For something different, head further to the fishing village of Nerja, which overlooks Burriana Beach. This is a great spot for those looking for a pretty beach and a charming village.
4
Catedral de la Encarnación de Málaga
Explore one of Malaga's most important architectural structures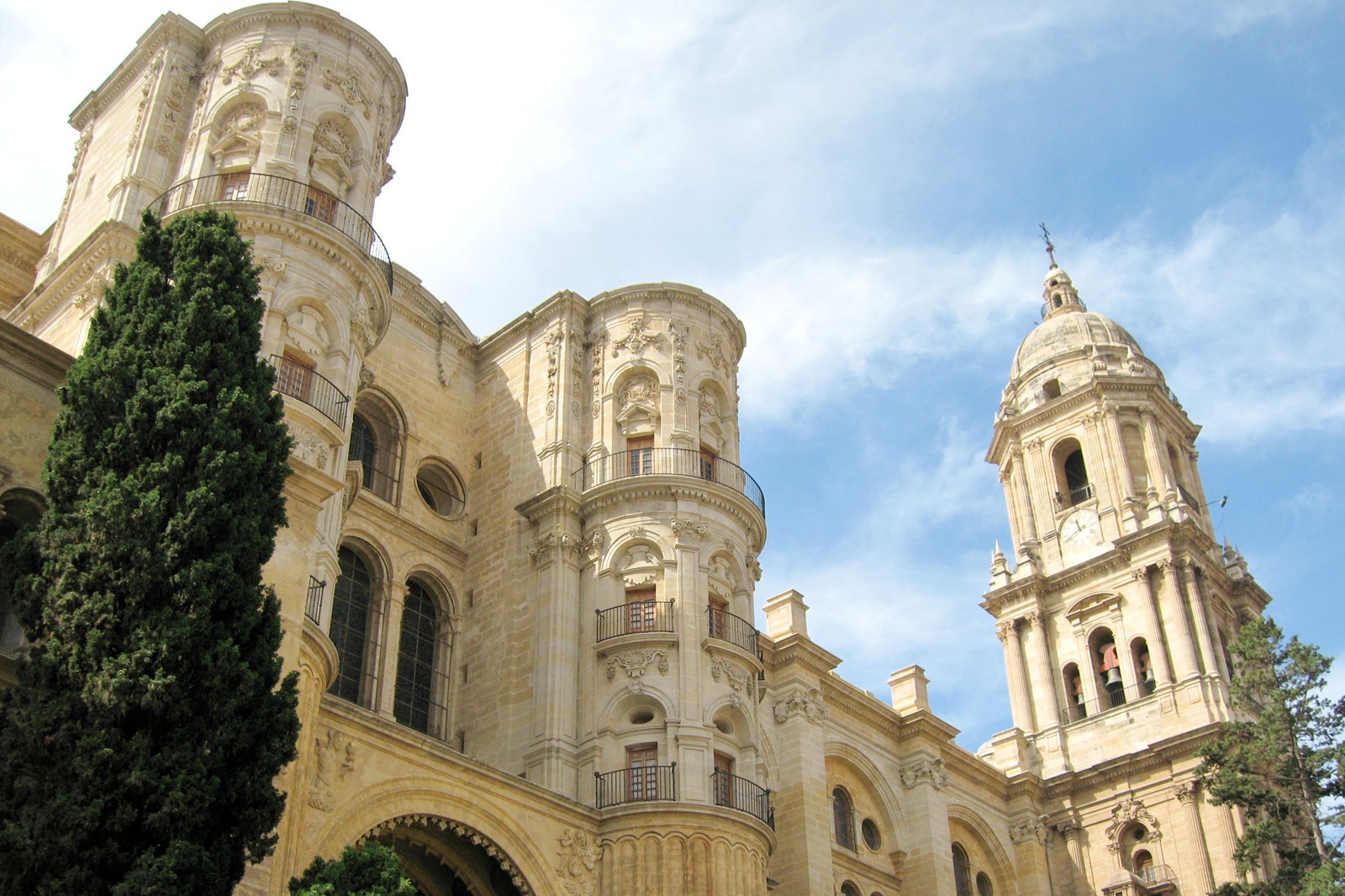 The design of the Catedral de la Encarnación de Málaga comprises an intriguing blend of Gothic, Renaissance and Baroque architectural styles, built on the ruins of the former mosque of Aljama. Malaga's historical centrepiece is more than 250 years old and, despite construction spanning the mid-16th-century to the late 18th-century, it was never fully completed due to a lack of funds. Even so, it still remains one of the most impressive cathedrals in the region.
Museo Catedralicio, housed within the cathedral building, gives you the opportunity to explore various works of art and objects of religion. Inside, guests can admire the grand marble staircase, 2 superb organs with more than 4,000 pipes and a beautiful assortment of frescoes, the most notable being the sculptural work of Pedro de Mena.
Location: Calle Molina Lario, 9, 29015 Málaga, Spain
Open: Monday–Friday from 10 am to 6.45 pm, Saturdays from 10 am to 5.30 pm (closed on Sundays)
photo by Olaf Tausch (CC BY 3.0) modified
5
Jardin Botánico Histórico La Concepción
Spend your morning among tranquil tropical gardens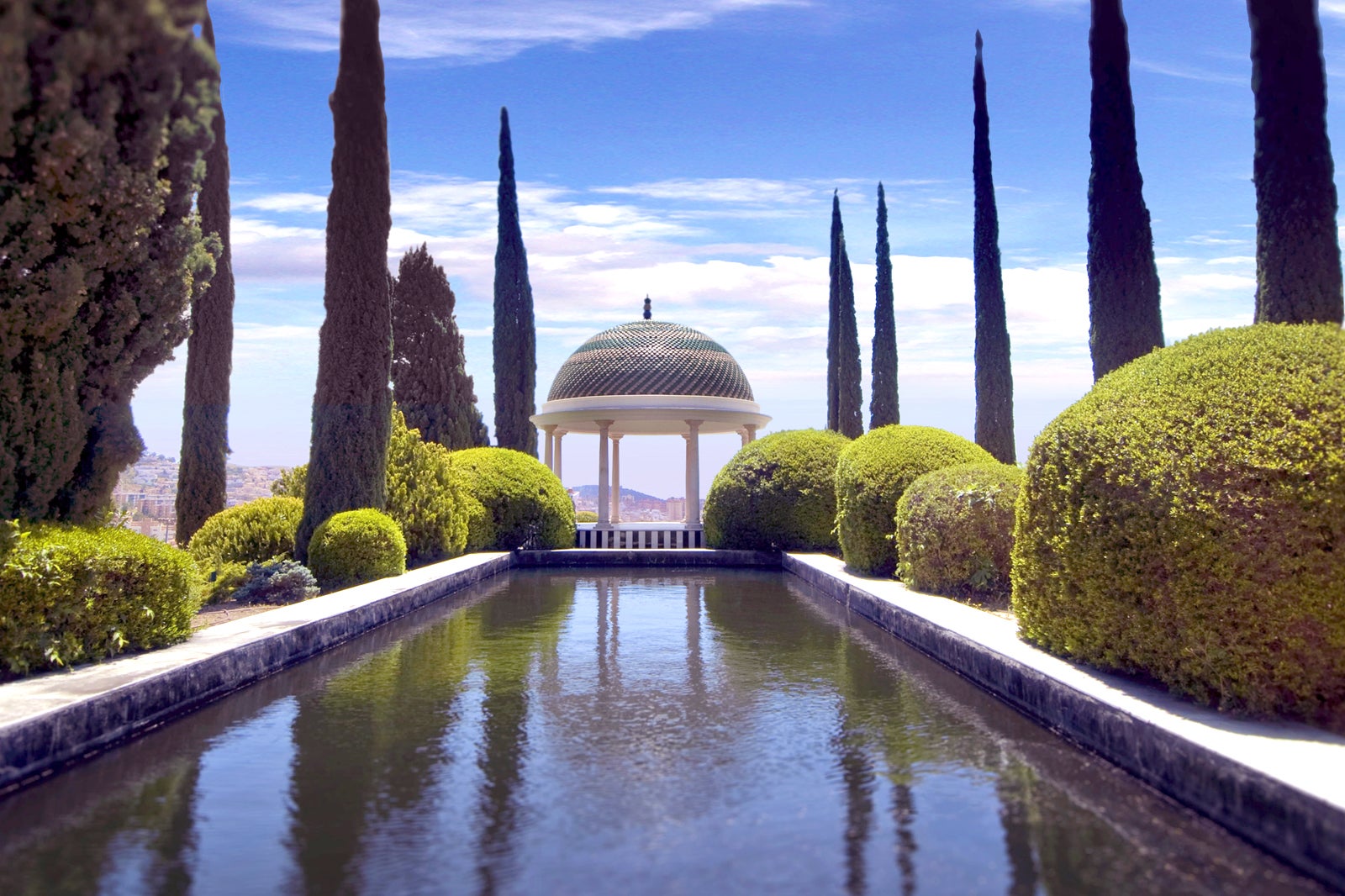 Jardín Botánico Histórico La Concepción is considered one of the most alluring and important exotic gardens in Spain. It has a rich history and hosts the largest collection of subtropical plants in Europe. Built in 1855 and originally the private gardens of members of the rising bourgeois class, a family from Bilbao acquired the property in the 20th century. They expanded its grounds to include the famous mirador at the southern end, further adding to the garden's appeal by offering stunning views across Malaga and out to sea.
Opened to the public in 1994, the grounds offer various green sanctuaries across the 23-hectare site. From the Palm Avenue to the impressive black bamboo forest, visitors can find a little bit of solace away from the contrasting buzz of the city. In March and April, the wisteria arbour teems with flows of purple flowers for a truly remarkable experience.
Location: Camino del Jardín Botánico, 3, 29014 Málaga, Spain
Open: Tuesday–Sunday from 9.30 am to 7.30 pm (October–March open until 4.30 pm), closed on Mondays
6
Muelle Uno
Shop for local products by Malaga's port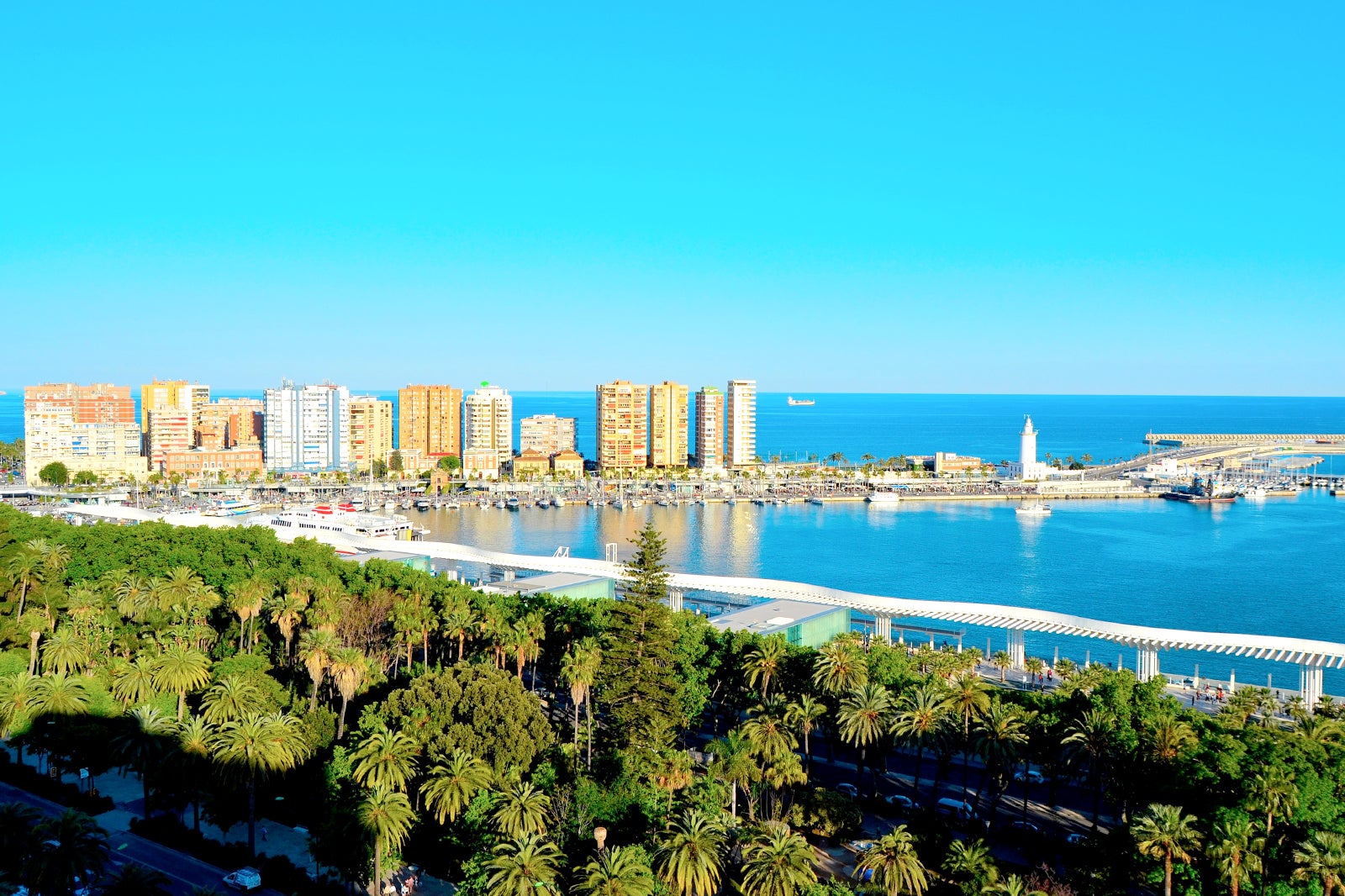 An attractive promenade lined with shops, restaurants and bars stretches out alongside Malaga's port, forming the Muelle Uno mall, just a short walk from the city's historical centre. On the second Sunday of each month, local artisans and merchants share stalls at the El Zoco de Muelle Uno, a local market selling gourmet food, handmade products and vintage clothing. Enjoy the best of open-air shopping as you idly watch cruise liners come and go.
Adjacent to the promenade lies an 18th-century Baroque church, Chapel of Muelle Uno, constructed from sandstone from a nearby quarry. As you continue along the marina, Muelle Uno extends to La Farola, the 38-metre-high 19th-century lighthouse of Malaga.
Location: Paseo del Muelle Uno, 29016 Málaga, Spain
photo by Danielmlg86 (CC BY-SA 3.0) modified
7
La Malagueta
Popular beach close to the town of Malaga
La Malagueta is great for a day of relaxation and fun along sandy shores and a seafront promenade. This beautiful palm-lined beach sits between the port of Malaga and La Caleta beach. It has been granted a Blue Flag award for following stringent environmental, educational, safety, and accessibility criteria.
The 1-km stretch of sand has ample space for tourists and residents alike. La Malagueta's onsite facilities include a children's playground and workout areas, as well as sunbeds, umbrellas, and sailing equipment rentals.
8
Caminito del Rey
Hike along the cliffside 100 metres above the river below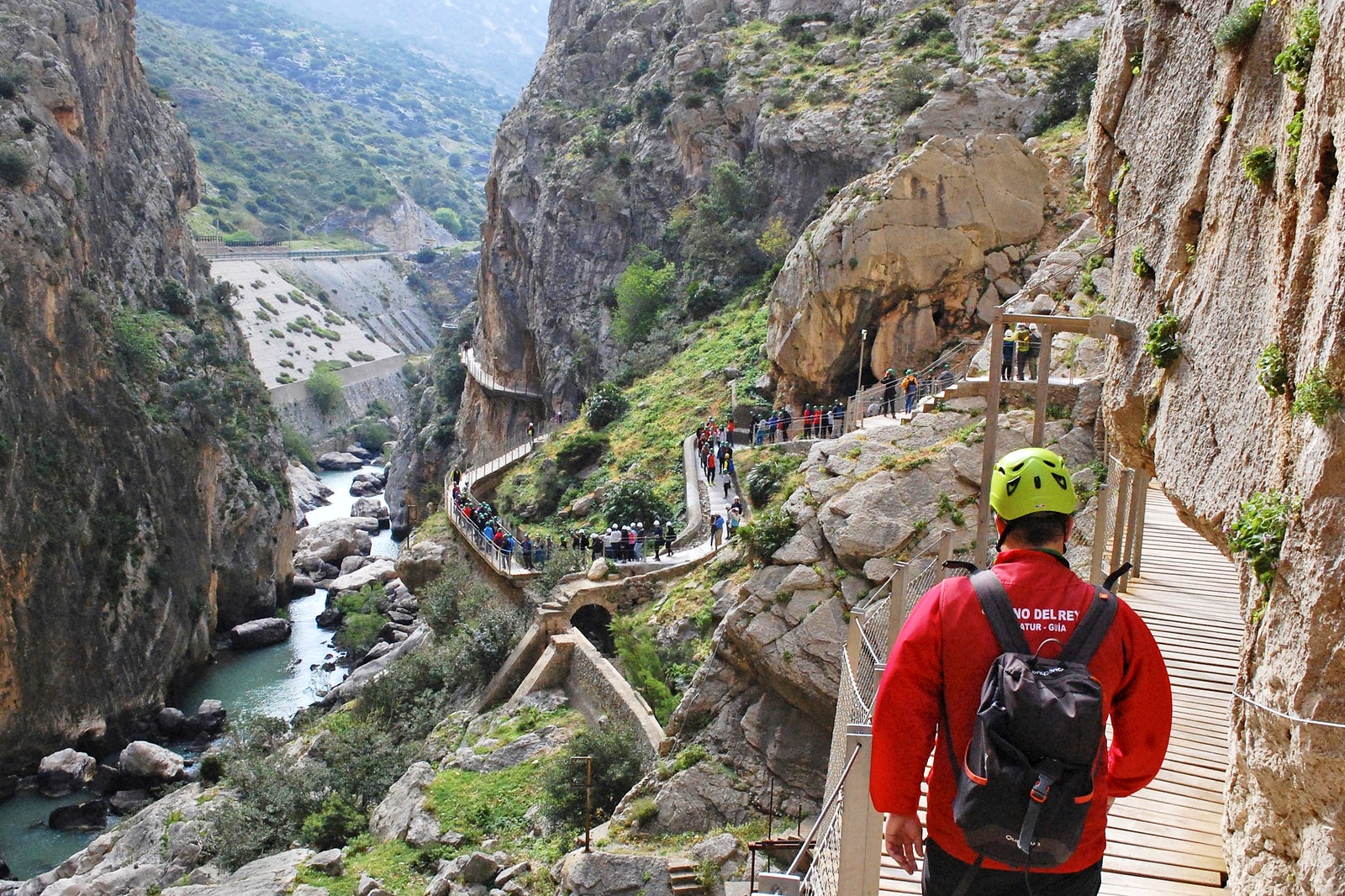 If a hair-raising challenge piques your interest, then Caminito del Rey (King's Pathway) was once dubbed the most dangerous hike in Spain – exciting enough? The multi-layered landscape encompasses reservoirs, mountains, gorges and valleys, all adding to the challenging hike.
Completely restored and reopening in 2015, the original path can be seen below the new trail jutting out from sheer cliff faces more than 100 metres above the ravine below. One of the most remarkable views along the 8-km path is from Desfiladero de los Gaitanes, offering panoramic views of the natural canyon carved by Guadalhorce River.
Location: Caminito del Rey de Ardales Entrada Norte, 29550 Ardales, Málaga, Spain
Open: Tuesday–Sunday from 9.30 am to 4.30 pm (closed on Mondays)
9
Mercado de la Merced
Fill your belly near the birthplace of Pablo Picasso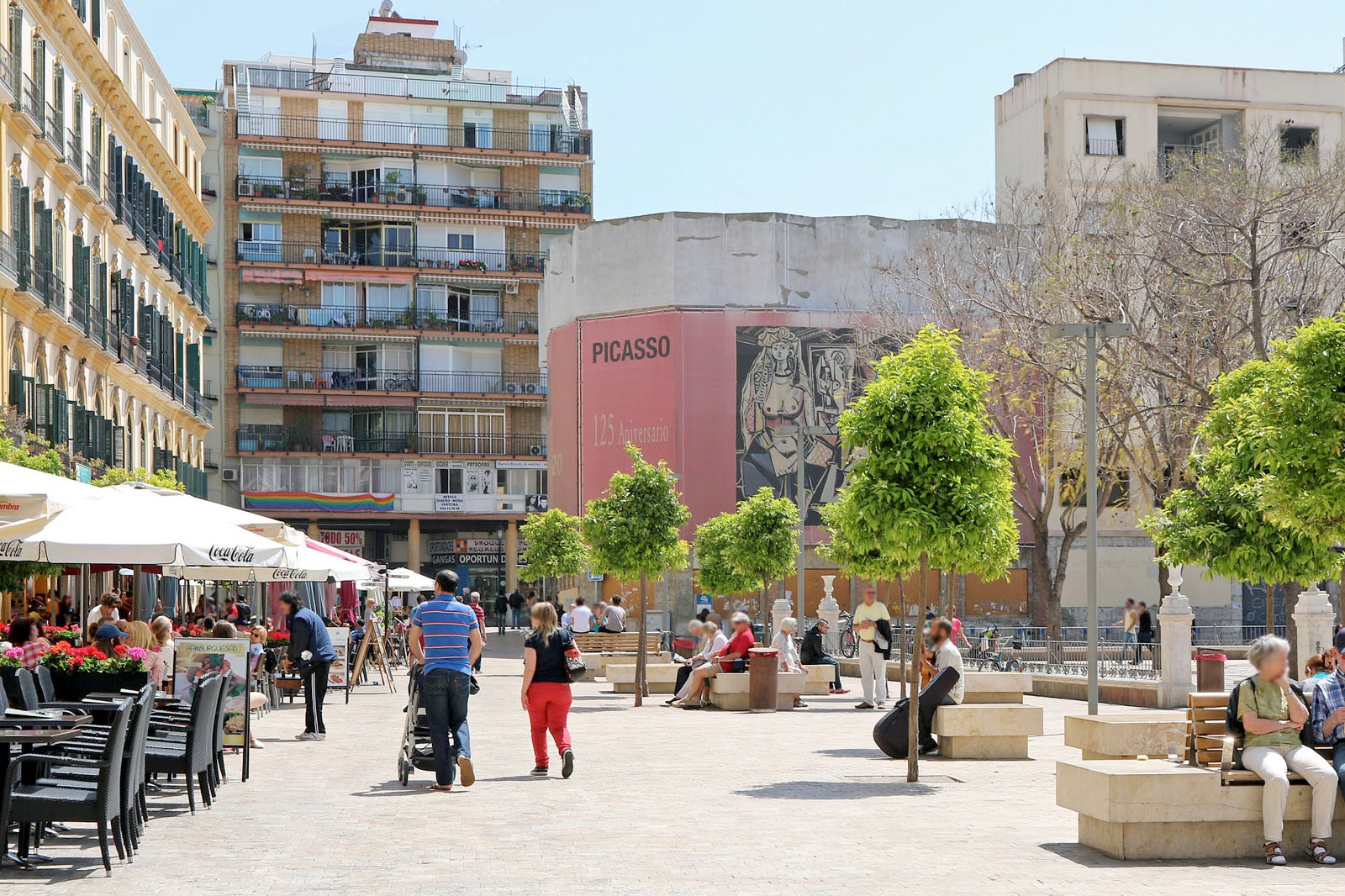 Plaza de la Merced is a handsome square in the Old Town of Malaga. Flanked by sun-trapped cafés and airy spaces, you can explore the popular plaza and admire the neo-classical obelisk in the centre of the 19th-century square. Continue making your way to the north corner to the house where famous artist Pablo Picasso was born in 1881.
Located just off Plaza de la Merced is a hive of activity at Mercado de la Merced. One of the trendiest places for dining in Malaga, you can eat your way through the gourmet market offering fresh fish and vegetables, cured ham, cheese and small bites at designer tapas bars. Housed in an industrial-style building dominated by iron and glass, the market serves as a link between the Cervantes Theatre House and Museo Casa Natal de Picasso.
Location: Calle Merced, 4, 29012 Málaga, Spain
Open: Monday–Wednesday from 7 am to 8 pm, Thursdays from 7 am to 1 am, Friday–Saturday from 7 am to 2 am (closed on Sundays)
photo by Banja-Frans Mulder (CC BY 3.0) modified
10
Museo Picasso Malaga
Escape the heat in the museum's central courtyard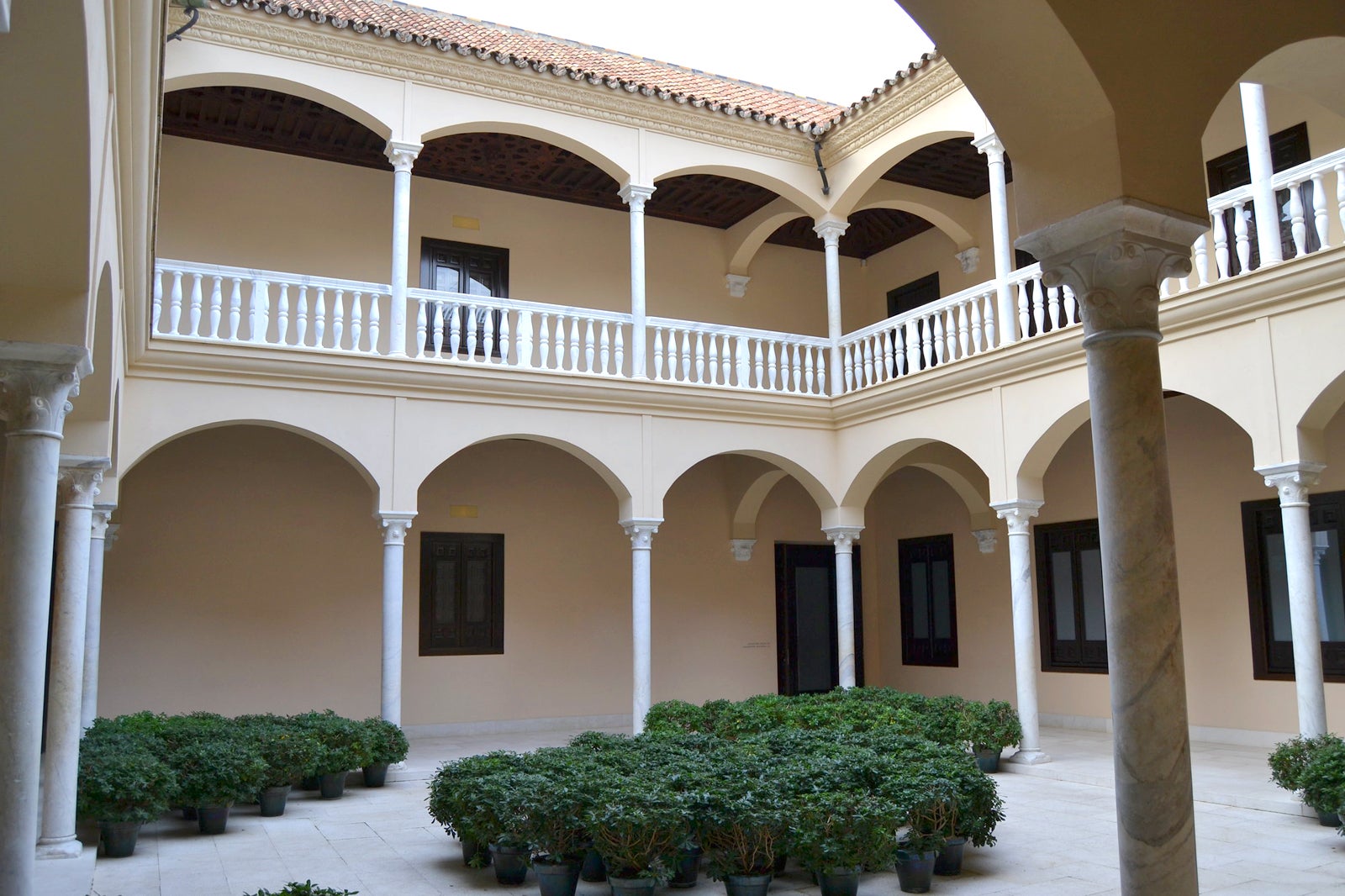 The birthplace of one of the most well-known artists of modern times, Pablo Picasso, Malaga only opened a museum honouring the work of their famous son in 2003. Set within the 16th-century Buenavista Palace in the historical heart of the city, more than 200 pieces spanning most of his career hang against white-washed walls. Works from his childhood through his late musketeer obsession are on display, with notable gaps during his 'blue' and 'rose' periods in the collection.
Set against the picturesque backdrop of the Alcazaba Fortress and Gibralfaro Castle, the museum offers visitors a deeper understanding of Picasso's work in an airy and spacious setting which has become a cultural fixture for Malaga. An ideal place to escape the midday heat, the central courtyard and excellent café offer the perfect place to reflect on his artistic marvels.
Location: Palacio de Buenavista, Calle San Agustín, 8, 29015 Málaga, Spain
Open: Daily from 10 am to 7 pm (open until 6 pm November–February)
photo by Emilio (CC BY-SA 2.0) modified
Back to top